COVID-19 Response & Recovery Task Force Staff Town Hall - Dec. 9, 2020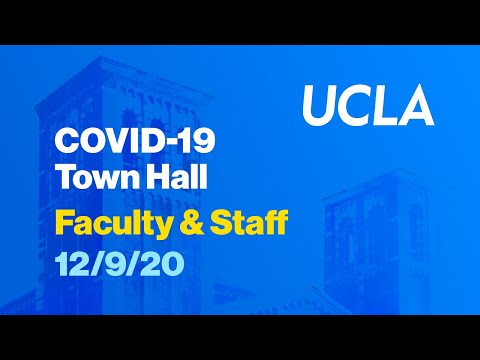 Show Video
- Good afternoon, everyone. I know we still have some staff joining us but we're gonna go ahead and get started so we can maximize our time that we have together today. Thank you for joining us for this second Staff Town Hall. I'm Jessica Alexander, President of Staff Assembly. Staff Assembly is a staff volunteer organization that is for staff by staff.
And we are happy to bring you programs and events such as this town hall to keep you all informed and engaged during this time. Today, I am joined by Administrative Vice Chancellor, Michael Beck and past Chair of the Academic Senate, Michael Meranze, co-chairs of the Response and Recovery Task Force as well as Michelle Sityar, Executive Officer of EH&S and UCLA COVID-19 Response and Recovery Task Force member, Dr. Peter Katona, Clinical Professor of Medicine at the David Geffen School of Medicine and Adjunct Professor of Public Health at the Fielding School of Public Health, and Lubbe Levin, Associate Vice Chancellor for Campus Human Resources. As a reminder, this presentation is recorded and it will be made available at a later date on our Staff Assembly website, which is staffassembly.ucla.edu.
For our agenda today, we'll have a couple of short presentations from our panel, followed by Q and A. Please feel free to submit your questions through the Q and A function rather than the chat so that we can see those, and we can take those towards the end. We'll try to get to as many questions as possible but we do also have several questions that were pre-submitted through our registration. So we're going to address those as best as we can as well.
So with that, let's go ahead and get started. And I'm happy to introduce Michelle for our first presentation. - Thank you, Jessica. Let me go ahead and screen share.
Okay. So good afternoon everybody. My name's Michelle Sityar. I'm the executive officer of EH&S and I was also the director of the Emergency Operation Center during the initial COVID-19 response for UCLA. Today, I'll be giving you an overview of our COVID-19 prevention programs, namely the "Safer Return to On-Site Work" document and also the "Back to School Guidance" during COVID-19. These two documents are effectively our governing documents that inform the Bruin community of our plan to cautiously and gradually resume on-site operations at our facilities.
It does apply to all UCLA faculty, staff, and students as well as our contract workers and volunteers though it does exclude staff and facilities under UCLA Health who are subject to their own health care protocols. It provides a phased approach to increasing both our densities as well as our onsite activities. But of course, these are contingent on permissible activities per local public health conditions.
The documents are framed by several federal state and local public health guidelines and orders; OSHA for staff safety, "The California Blueprint for a Safer Economy" for reopening industry sectors, and of course, our local public health materials and reopening protocols, namely "The Institutes for Higher Education" that is applicable to UCLA. There are a few new mandates that were issued in the past week, one being the Cal/OSHA Emergency Temporary Standard that went into effect last month, the Temporary Targeted Safer at Home Order by the County which was in response to the recent rise in cases in our County, and lastly, the California Regional Stay at Home Order which did go into effect for L.A. on December 6, based on our ICU capacity which has now dropped below 15%. All this, to say that our protocols and procedures need to remain fluid and adaptable to these changing orders.
Both documents address our campus preparations as well as our mitigation practices specific to COVID-19. These are summarized in the "COVID-19 Public Health Mitigation Requirements" for UCLA and focus on five main areas, physical distancing, wearing face coverings, sanitization and disinfection protocols, case detection, and of course, our non-pharmaceutical public health interventions. These documents also reference out to our other COVID-19 specific protocols including the Resumption Plan Review Process through EH&S for onsite activities, the COVID-19 safety training that all must complete prior to coming back to onsite work, symptom monitoring, community screening as well as diagnostic testing for COVID-19 and ensuring that you follow exposure management as well as isolation and quarantine protocols, if necessary and what to do if a COVID-19 case is identified on our campus. Specific to safer return to work, the operational levels are bucketed into four phases. In Phase One, which is curtailed operations in alignment with the California Blueprint for widespread which is the most restrictive tier and what we're currently operating under, allows up to 25% of onsite work to occur at UCLA.
As we advance into the less restrictive tiers Phase Two, in alignment with the substantial state tier, we will see up to about half of the workforce back onsite. Phase Three which is mid recovery, which we've bucketed under moderate and minimal, depending on where we are as a County, relative to the state guidance, we may see up to 75% of the workforce. And finally at Phase Four, which is full recovery, we will return to quote unquote "normal operations". I do wanna point out that while we are subject to state and local public health guidelines, we do have the ability at UCLA to enforce stricter policies and measures if we deem it necessary to do so locally.
So we have done that in certain situations. More specifically what this looks like for returning to work in Phase One we are currently limited to essential personnel, including healthcare first responders, safety and critical research. We do have some flexibility for collegiate sports and some film productions that are currently allowed on campus that we are primarily working remotely and still closed to the general public. Further down the road, when we start to advance into phases two and three, we will start to see additional activities within our pre-K through 12 schools which we are prioritizing. Additional research activities and potentially reopening recreational programs for our faculty, staff and students.
And during mid recovery, we may start to see additional in-person meetings, of course with modifications and some flexibilities with travel and indoor activities in recreation, food and dining. Finally, at full recovery, we anticipate that everybody will be able to come back to work at full capacity and we will be able to resume all events and gatherings and at that point, mitigations will no longer be required. The densities shift a little bit in the Back to School criteria because the setting is different.
In Phase One, we anticipate or we have implemented less than 10% of on-site academia. We're currently only at 4% or less of on-site courses that are being offered as I mentioned. In Phase Two aligns with about 25%, Phase Three, again bucketed under moderate or minimal tiers per the state, we'll see about half of the in-person classes in populations to come back to campus.
And at Phase Four, a full return to in-person classes and student life activities, which I'm sure all of us cannot wait to start. What that looks like now in Phase One for curtailed operations and back to school, again, only courses that are associated with essential workforce sector are allowed in person. And even with that, it's limited to the lab and clinical components that can't be done remotely. Libraries remain closed, though we are offering curbside pickup and digital loan. Housing is severely impacted. We are limiting that to students who have no other safer reliable alternative, again, with a caveat for student athletes per state guidance.
Dining, we've had to pivot. We were allowing outdoor dining for a period but with the new orders, we have had to prohibit that. We are now limited to delivery and take out until further notice. And of course, no events, gatherings or visitors at this point.
Later on, we will start to see additional flexibilities with the courses that we offer onsite, including music, art and others that require specialized equipment. Libraries and communal spaces will begin to reopen slowly as well as some flexibilities within dining and recreational facilities. In phase four, normal operations. Again, in quotes, we will anticipate to see a full capacity in housing and dining resumption of events and gatherings. And at that point, mitigation factors will no longer be required.
We do specify in the "Back to School" document how the five mitigation strategies will be implemented in residence halls, classrooms, and teaching labs as well as libraries and study areas though I won't cover that in detail today for the sake of time. But I do wanna go over the criteria to reduce on-site activities which is something that is included in both documents. This outlines, the triggers that we need to consider for ramp down and pivot in the event that the COVID-19 cases significantly increase, which we are currently in now. Those triggers include the hospitalization and ICU capacities. If those become impacted, we will wanna make a U-turn and figure out what we need to do. If we start to experience a shortage in personal protective equipment or our resources at UCLA become limited including our ability to test and our ability to analyze lab results within the turnaround times of 24 to 48 hours, if we are unable to keep up with contact tracing efforts or if our isolation and quarantine spaces become impacted, we will want to pivot.
If we continue, if we see excessive non-compliance with our COVID-19 mitigation requirements, or if L.A. County or other regulatory authority issues a directive that obligates us to reduce densities or curtail operations, we will obviously need to comply. Furthermore, I wanted to just give you guys an idea as to how the recent orders are impacting UCLA specifically. For the L.A. County temporary targeted safer at home order, again, in response to the recent rise in cases, this went into effect on November 28. We have had to ensure that our bookstore is limiting its indoor capacity to 20% or less.
Again, we have had to close outdoor dining. So stakeholders have been informed and they have executed this accordingly. We've also had to close community playgrounds that are not associated with pre-K through 12 programs or our childcare centers, and also closed community pools. And these last two points mainly impacted our offsite housing facilities. The mayor issued an order following the county's order which now also obligates individuals over the age of 16 that are traveling to L.A. city
from another state or a county or a country, I'm sorry to submit an online traveler registration form. So this has been communicated to the proper authorities at UCLA. There is a fine associated with noncompliance, so we are ensuring that this is clear. And finally, the regional stay at home order which went into effect for us on the sixth of this week because our ICU capacity did drop below 15% for our region. While this mirrors a lot of what the county has already indicated as a restriction for us, it does extend that restriction for three weeks from the effective date of the regional order.
And it will remain in place until the four-week projection for our ICU capacity is at or above 15%. What this means for us is we've had to work with Luskin and our hotel staff to ensure that they are only supporting essential activities. There's also a caveat for non-central travelers. They can also reserve with hotels if they will be saying for the duration of a quarantine period. That's a lot of money, but that's something that we're allowing.
We have had to implement stricter masking requirements, and this is in quotes because we already have a face covering policy for UCLA but this does now obligate us to wear face coverings even when alone in your cubicle. And when you need to remove your face covering, when you're eating or drinking, you need to ensure that you're physically distanced from others and try to limit that to your designated break times if practical. And finally, review and approval of new research operational plans are suspended at this time with limited exceptions under V.C. Wakimoto. And last but not least, the documents cover accountability where it says that everybody in the Bruin community is responsible for complying with these measures and any non-compliant behaviors will be addressed in accordance with our procedures for enforcement and compliance of COVID-19 public health mitigations.
And that's a lot of information. It is all posted to Bruin Safe Online along with our specific protocols. And we also provide updates on our various newsfeeds. So I encourage you to visit those. Thank you so much for your time and I look forward to your questions during the Q and A.
I'll turn it back to Jessica. - Thank you, Michelle. That was a great presentation. As a reminder, please continue to submit your questions through the Q and A function. And next we will hear from Dr. Katona - Thank you, Jessica.
Well, good afternoon, everybody. I wanted to give a more global perspective to see how UCLA fits into the scheme of things that Michelle presented that was very specific for the campus itself. So what I'm gonna talk about is the current evolving stats. I put current in quotes because it's gonna change by the time I finish this because it's evolving so quickly.
Why we're having a surge in cases, the inconsistent recommendations and restrictions and directives that have been coming out which Michelle touched upon as well as vaccine distribution and acceptance, which I know everybody's very anxious about. Well, the U.S. has reached a point of 200,000 new cases a day. Think about that.
There's a disease that is now the leading cause of death that was unheard of a year ago and is causing 200,000 new cases a day 20,000 in California and we're even talking about exceeding 10,000 in L.A. County. That gives us 81 cases per 100,000 which is very, very high. The transmissibility factor on R nought of 1.27 which is also quite high.
And test positivity seems to be going up quite quickly and it's over 11% already. And remember that these harsh measures in the county don't compare to East Asia, and they're not as bad as they were during the summer, as bad as we think they are now. And we have a lot of mutual aid agreements with other jurisdictions. Those are going to be very, very difficult because everybody seems to be having the same problem that we are. So if we look nationally, we're doing about 2 million tests a day.
Cases are skyrocketing up as our hospitalizations and even deaths, even with what seems to be better medical care, a younger population, we seem to still be getting more deaths. And we have a lot of inconsistency that I'll mention briefly. One of them is masking and you can see how the mask initiatives are so different from state to state. Cases are going up enormously fast.
You can see the numbers have way exceeded the numbers that occurred during the summer last six months ago, and as have deaths. Hospitalizations have increased by 71% over just the last two weeks. ICU admits have increased 69% over the last two weeks. Most cases in L.A. County seem to be concentrated
in the densely populated areas around downtown in the Southern regions, as opposed to us more in the West. So why are we having this surge? Well, this is a global problem, and unless it's solved as a global problem, it will keep coming back and we don't have enough cooperation amongst different international entities. There's a mistrust in institutions. Public health is often seen as just another lobbying group with all the other lobbying groups.
There seems to be a lack of compromise no consistent leadership, poor messaging, COVID fatigue that we've all talked about as well as non-compliance, this nobody tells me what to do kind of thinking as well as the cold weather. And even though testing is very good on campus and is pretty good county wise, there's a mal-distribution inadequacy of testing nationally. Contact tracing. There seems to be a reluctance on the part of many, lack of enough people, again, not on campus but elsewhere, and an app that's been talked about which is not used as much as it could be.
Young adults are getting infected with mild or asymptomatic disease. And on the one hand, this is good. but on the other hand, it's a magnifier to other age groups and other risk groups.
There's strain mutation. We have risk issues with risk perception and risk tolerance and also a lack of seeing what the big picture is. You know, if we haven't really come to grips with climate change, why are we gonna get to grips with pandemic? So getting back to campus, it looks like we kind of peaked a few weeks ago in terms of the number of cases. We're doing about 2,500 tests a day.
And it looks like hopefully, maybe we're coming down with surveillance testing. While we keep our numbers our percent positivity, very low, you can see it's just gone over 0.5% while state and County seem to be going up and up and up. The UC system as a whole is doing pretty well. The numbers seem to be much better than the community numbers around the campuses. And this is because of aggressive surveillance testing, good rules, wastewater testing, singles with attached bathrooms that have been mandated, test-sequester-retest policies, surveillance testing.
And it was an advantage that we had a very late start with when we opened our doors. There's directive confusion from the federal government to the states, to the county, to the city even having some interjections here and a backlash. And bear in mind that the smaller the jurisdiction, the stricter it can be.
So L.A. County can be stricter than the state but it can't be less strict than the state. And we're really talking about lots of inconsistencies partly because we have this fog of an outbreak where expert consensus and data-driven models and scattering of data and the fog of advisories often leads to fake news and conspiracy theories.
If you take a look at this newspaper from the Charlotte Observer this past week, on the right We have, "Please take this seriously from funeral directors." And on the left, we have North Carolina labor leader says virus is not a threat that requires safety rules. Real inconsistencies here. We have the stay at home directive that Michelle mentioned. 58 counties are now five regions.
We've switched from an epidemiological way of looking at this to an ICU capacity with lots of stay at home orders and a lot of compliance issues. We also have the quarantine if returning from out of state, the curfew. Now we have a state recommendation for healthcare worker testing.
CDC is shortening its quarantine days and the vaccine. But schools that received a waiver can stay open. Critical infrastructure is open, retail, takeout and delivery and outdoor recreation, although not on college campuses. So what about vaccine? You know, we can test efficacy of vaccine very well by doing phase three studies, but we really have a very hard time actually documenting specific transmission issues.
And we have yet to deal with this until more and more people get vaccinated. We're finding out that immunity probably is longer than we originally thought, which is a good thing. We have logistics issues going from manufacturer to the point of dispensing rare adverse events, which always come up. What do we do with special populations that haven't been tested like pregnant women and children? What about global cooperation? When is herd immunity actually achieved? We talk about 60 or 70% but is that really an accurate figure? And what about the misinformation campaign, UCLA priorities and very specific questions? And I take it if I'm infected what do I do? If I have a choice, what if a better one comes out later? These kinds of questions. So we have the two messenger RNA vaccines one that will be probably released this week and the other one being released next week. Very, very good data, but the really good data can be shown on this graph where the placebo group, compared to the vaccine recipients had a markedly different response to getting sick.
And compared to other vaccines, it's really very good, compares very well. Flu has always done badly in it and continues to do badly but this does as well as the childhood vaccines. And this messenger RNA technology is new.
It's been untried before, but it looks very promising now. But we have the virus vector vaccines. We have the recombinant vaccines, the inactivated vaccines which are yet to come.
And we've ordered lots and lots of doses. From Pfizer, we've had 100 million doses ordered. We have this controversy about not ordering another 100 million. We have way over prescribed for AstraZeneca because it's a very, very cheap vaccine and we wanted to kind of distribute this to all the other manufacturers. Who gets it. And then we kind of put this into tiers but there's a lot of discretion here in terms of how we actually look at these tiers from health care workers to long-term care facilities.
And there's a lot of ways to skin a cat, so each jurisdiction is gonna look at this slightly differently in terms of where the priorities are, which they'll be given discretion to do. So what about us? Emergency use authorization probably tomorrow for Pfizer, Moderna soon to follow. Shipments coming out very quickly. We have seven deep freeze capacities for 1 million Pfizer doses if we need to.
We expect they'll probably be enough for our healthcare workers ASHE will take care of students and Occupational Health will take care of faculty and staff. And until we get full authorization, we're gonna not be able to deal with exemptions and logistics. And that is coming in the next few weeks hopefully. Will there be a passport or a certificate if you're vaccinated that allows you to do things that you wouldn't be able to do otherwise? And that's being discussed now. And it looks by all indications, if all goes well that students will be vaccinated in April. So I'll finish off with good news.
I think this is a terrible situation but I think it's a good idea to at least have some optimism. We have new vaccine technology and it's important to understand that this technology will apply to future vaccines and future therapeutics just as much as it applies to current COVID-19. We have a whole new range of technologies here that are gonna be very useful. England last week ended its stay at home order. We're nowhere near the Spanish flu numbers where 675,000 cases died in a third of the population we have today.
And we're starting to look at harm reduction instead of absolute thinking. Zoom with all its faults is better than no Zoom. Medical school applications are up.
Residency match is at an all time high, traffic and pollution are down and we're getting a little bit better at balancing economics, mental health, school openings and public health. And there will be an end to this madness. So I will finish with that and hand it back to Jessica.
- Thank you. That was a great presentation, Dr. Katona. We appreciate all that information. So with that, we're gonna save the rest of our time for Q and A. So I would like to start with a couple of questions that were pre-submitted through registration.
So thank you to those of you who registered through our Eventbrite and submitted a question for us ahead of time. So our first question we're going to take is, is there an update on curtailment dates for 2021 and what is the plan for the extended winter closure? And if we can have Lubbe take that question, that would be great. - [Lubbe] Hi Jessica, thank you so much. And thank you for hosting the town hall. It's always very excellent to have this opportunity to talk with everyone, and I hope everyone out there is well and that your families are well also. In terms of our plans related to curtailment, we're proceeding with our campus winter closure, that was announced on November 30th.
And basically we have six additional closure days starting on Monday, December 21st plus the four holidays, of course. And as in other years, employees can use vacation, comp time if they have it accrued, or leave without pay and employees should advise their supervisors of which of these or which combination of these options they would like to utilize. We are not planning any further broad curtailment like the ideas that were presented by the office of the president.
UC President Drake is leaving a lot of flexibility to the campuses. So at this time we don't feel the need for any reductions in salary, or additional days off. So that's very good news thanks to the careful planning and financial support that's being provided across the campus. So if there are any changes in that, obviously we will continue to communicate with you. But right now that's basically our plan is the winter closure plan. Thank you.
- Thank you, Lubbe. Our next question: Will essential staff be able to get COVID tested on campus through winter break? So we'll send that to Vice Chancellor Beck or Dr. Katona if you'd like to answer. - So unfortunately on campus, our testing program will be suspended during the winter break. There's still testing available in the community near the campus at VA at the Jackie Robinson parking lot. But we do need to give the folks that have been standing at that facility a little break.
And so unfortunately, there will not be continued testing. - I would add to that, that if you are sick or you've been exposed, there are lots of resources to get tested from your own private physician's office to the hospital medical center facility. So don't, that's another possibility for you.
- Thank you for that information. Our next question is regarding the COVID notify app. Do we know how well it's working thus far and have we seen successful use of the app and contact tracing through it? - Thank you for that question. So we have seen some success. We've had about almost a little over 11,000 people who have gone to the UCLA website to review the materials.
And it looks like about 4,000 or 4,300 or so have downloaded the app to use it. We have not had any activations yet at UCLA. San Diego, where it's been active for a longer period of time, has had 47 triggers on it. So it's been a field that has been effective at that location, as well as there's been a couple at Berkeley, more at Santa Barbara where they're currently going through an outbreak and Davis and Berkeley, the Berkeley lab have also had been able to or have had activations through the app. But we have not had any at this point. - I would add that the state of California is kind of opening up to a broader audience than just the UC system.
- And that'll make a big difference in Los Angeles because so many of the individuals that we're interacting with are actually not our campus community. So we would expect to see more activations after it is more broadly distributed. - Thank you so much for that information. Our next question, we'll send to Lubbe. Are there any updates for staff regarding spring 2021 and remote work options? - [Lubbe] Well, yes, thanks Jessica.
We believe many of the remote work that is currently underway will continue beyond the end of winter quarter. And there are lots of resources available for staff if they need additional support. Please do check our website. We've converted all of our training opportunities to virtual platforms. We also have a lot of support available, both for managers and for employees on our employee counseling website under the staff and faculty counseling center and many tools that are available. So please do check our websites or let us know if you have any questions.
Thank you. - Thank you, Lubbe. So our next question, we're gonna send to Dr. Katona.
And I know you mentioned some updates about a COVID vaccine in your presentation but we had a pre-submit question and then there've been a few that have come in through our Q and A function. So are there any updates regarding the vaccine and whether it will be made available to campus essential staff or health workers? When it will be available? Who will it be available to? And is it going to be something that we're gonna mandate on campus? - Well, I don't think we can mandate it, but at this particular point, it looks like there will be vaccine available relatively soon, starting with vaccinating healthcare workers. And that's in contrast to places like England where they're going after the over 80 population in the long-term care facilities first and not the healthcare workers. But the timing of all this, the logistics of getting it from pharmaceutical manufacturing plant to point of distribution is still not clear. So there may be some rough spots there in terms of it but it looks like tomorrow the vaccine will be recommended by the advisory committee. The FDA will take the recommendation.
It will, all of a sudden start sending doses out and it should start reaching the 50 states, the six city jurisdictions and the territories the week after. So that's where we are, but there's still a lot of unanswered questions as to exactly pinpointing these dates. - I would say one, sort of side note on that is it is quite possible that the vaccine will be a requirement for students on campus, similar to other vaccines that students are required to have for participating in on campus. And if it's not, may not go include all students but more likely to include students living in campus housing. But that decision is still yet to be made. Dr. Katona was right with regard to faculty and staff.
It's not likely to be mandated. And current vaccine policy for healthcare workers is that it is not mandated. - Thank you so much for that information. So our next question will be for Vice Chancellor Beck and possibly Michael Meranze. We'll see who would like to answer it but there's been a lot of concern from staff over outdoor spaces on campus being utilized regularly when campus is supposed to be closed to the public, whether that be staff, students, faculty or just visitors from the public.
So is there anything being done to monitor who is on campus and sort of enforce the fact that campus is meant to be closed to the public? - So, Michael, if you, I guess I can take that real quickly. So we're not technically monitoring people on the campus. There are a number of ambassadors through Student Affairs that are going through the campus every day. The focus is to provide education, reminding people of the requirement to be at least six feet away and to be able to wear and wearing a facial covering and then any organized activities that are showing up like the soccer practices that periodically show up, they're being asked to leave the campus and reminded that it's not open to the public.
Now, there are, I noticed some other questions in the chat with regard to some activities that are viewed potentially as a contradiction to that policy, in particular to a filming that exists on campus. And there is some filming that is actually on campus occurring at the moment. And what we are allowing on campus is consistent with what L.A. County Department of Public Health and the State Department of Public Health actually allows to occur on campus. And so it may, in some instances may seem contradictory or inconsistent, but their goals are to allow different industries to open while not allowing everything to open, to keep densities remain relatively low.
And so what we've done on the campus is for the most part allowed activities that are permissible within the county to occur on the campus. - Thank you for that information. So our next question, we'll give to Michael Meranze. With current COVID rates increasing, how is this impacting research and in-person classes? - Well, at this point, we are assuming because of the way that we've structured research and in-person classes that the increasing rates will not force us to reduce any operations.
But we are not increasing any operations at this point. Basically, we're in a steady state as far as both research and in-person instruction. Should the health situation improve, that may allow us to have more flexibility in both areas. But at this point, basically we're in a steady state.
I know there was one question in the Q and A about whether what I take to be modifications of research plans, were they still being reviewed? And the answer to that is if you are attempting to substitute one person for another, then yes, those are being reviewed and you should submit them so long as you're not increasing the density in your lab or in your area. But we are not at this point except for very special circumstances taking or approving new research operation proposals. - Thank you, Michael. Our next question.
We'll let Dr. Katona answer. The L.A. Times has released an article earlier today discussing the question of whether the six feet for 15-minute threshold might be insufficient regarding COVID transmission. So what's the thinking on that and particularly related to folks who are working in the lab? - Well, I have not seen that article yet but the six feet is kind of a compromise that we've learned from dealing with these kinds of issues over the last century. So there's a historical precedent from it more than there is an actual scientific basis from it. And there are exceptions to the six-foot.
There are people who have gotten infected that were farther away than six feet but the problem is how often does that occur? If that occurs one in a thousand times, is it worth changing the recommendation for everybody? So, yes, it's in flux, but I don't see the data yet. And again, I haven't seen that article but I haven't seen the data yet to really nail down whether it's six and a half feet is so much better than six feet, for example. So we have to be very careful when we make these changes. The scientists are gonna look wishy-washy unless they're very clear on what they're recommending at a particular time.
- Thank you, Dr. Katona. And then I'll have another follow-up question for you. I know you talked a little bit about possible COVID-19 vaccination requirements for staff on campus and whatnot, but could you talk a little bit more about how UCLA would deploy a vaccination and what that rollout would look like for students and staff and timeframe of when that might happen? - Well, I think we're gonna take the model of testing and the test sites that we have for testing and we're gonna use that model to kind of do vaccinations.
We don't have full authorization yet, and a lot of the requirements are gonna require full authorization as opposed to conditional use authorization which is what we have now. So that's gonna take a little bit of time. And again, there's a lot of unknowns about how much we're going to get, what our supplies are going to be, how quickly they come in, the deep freezer needs of this vaccine that comes out first and second. So all those are still unanswered questions but we're headed right now in the right direction.
- Thank you so much. So our next question, we'll give to Vice Chancellor Beck. What is UCLA Health doing for contact tracing health staff specifically? And that comment was just a concern that there's been staff exposed to COVID-19 and working with other nurses in a unit, and basically who is responsible for contact tracing positive employees in that case? - So for the campus, all of that is being handled by the exposure management team that's under ASHE. For the hospital in particular, it's being handled through the COVID Hotline.
And I know that they've just in the process of adding five additional contact tracers to the hospital team, so that they're able to keep up with the current surge and we've done the same on campus. We've added quite a number of additional contact tracers and investigators on the exposure management team to make sure that we can keep up with the current demand. - If I could add to that, contact tracing is extremely important and to do it quickly and efficiently is very important. We're doing a good job on campus.
We haven't been overwhelmed by it but there's no way the county can contact trace with 10,000 new cases a day. And one of the reasons why the Asian rim countries, the South Koreas and Taiwans, and Singapore's have done so well is they've kept their numbers down to a point where they can quickly jump on any case and do the contact tracing. We can do that on campus, but we are not an island. And the county is in a different position that is just overwhelmed by how much tracing they have to do. - Thank you both for that information. So our next question.
Either Vice Chancellor Beck or Michelle if you would like to take this one. Will reporting continue to be managed centrally through The Exposure Management Team at ASHE? - So yes, for the campus population, both students, faculty and staff on the campus side, that'll be handled through The Exposure Management team centrally and for the hospital, it'll be continued to be managed at this point through the COVID Hotline. - Thank you. So our next question is for Michelle. Has UCLA sought an exemption from L.A. County restrictions so that we can reopen in some larger capacity than we are currently, and then, you know, follow up comment on that that many universities have had large numbers of students with minimal outbreaks that are on campus and the outbreaks have been quickly contained.
So even though we are currently in the purple tier for spring and fall 2020, is that the correct tier we should be in moving forward? - We have certainly proposed additional onsite activities to L.A. County and we have a regular tele briefings with Dr. Ferrera and her team to discuss where we are on our campuses and what we are doing to mitigate exposures to COVID-19 of our faculty, staff and students.
And, you know, the county takes it under advisement, but in the end, their decision is outlined in the protocols that they released for reopening the industry sector specific items and areas. And we just need to comply with those. One of the things that we are discussing with L.A. County now
is the potential to have additional flexibilities with you know, student bubbles and potentially student pods though we're having that discussion with the student population as well, to see if that's something they would be open to and receptive to. We're also having discussions with the county about additional courses and recreational activities that might be offered in the new year. But again, it's all contingent on where we are as a county and what the state allows us to do. - Thank you, Michelle. Our next question can be for Lubbe or Michelle as well.
So for some staff who are able to do their work remotely but have been told that they're considered essential staff that need to be working on campus, is there any information for staff who don't really fall into any of the specific categories for remote work or essential staff on campus and sort of what's the procedure for, you know, staff to be able to maybe have a little bit more flexibility in their work? - The general direction on that is that if you are able to work remotely and complete your tasks, you know, away from campus then that would be the ideal situation and that's the same position that the county and the state are taking for our essential sector which is institutes of higher education. If there's a specific concern or a case within a department that needs to be evaluated further we can certainly work with you on your resumption plan to see what tasks need to be performed on site versus which can be done remotely. - [Lubbe] I would agree with what Michelle just said. It's really an issue for the department to determine. We work very closely with departments and we are encouraging where the role allows for remote work to make that available.
So that's a top priority for us but it really is subject to the needs of that department. - I would add 'cause I saw one comment indicated that the individual could clearly work a hundred percent remotely and isn't permitted to do so, that if you have questions about that, Lubbe, should they contact labor relations or labor management, or what's the- - Yes, they can contact our employee and labor relations consultants who can work with the department to make sure those needs are met. - Thank you, Lubbe. And follow-up questions to that. So are previously approved administrative staff who were supporting research and education activities still considered to be essential personnel at this time? - I don't know if that's for me but I would say that they are. - Yeah, we've continued to allow employees that are here to support remote learning or essential functions that are occurring on campus.
- Great. Thank you for that clarification. Our next question, Vice Chancellor Beck. If you would like to take this one sort of related to you know, filming on campus and different things activities that are happening on campus that maybe seen inconsistent with what our policies currently are. So are the New England Patriots who are staying on campus and training this week considered essential travelers? - So professional sports are permissible within California and L.A. County. And so they're following the guidelines associated with that particular category.
So I don't know that we'll call them essential employees but they are considered an approved industry that can occur. - Thank you. Our next question also for Vice Chancellor Beck. Would there be any trigger to provide alternate care sites for UCLA community members who cannot follow public health guidelines to isolate effectively at home? - So that's a great question.
The answer to that is yes. We're providing those services for the student community. And I did notice some other comments in the chat with regard to the students. We do provide isolation and quarantine facilities for students that are living in campus facilities. And even those that are not living in campus, facilities that staff or faculty are able to stay at the Guest House.
We've converted the Guest House to a COVID recovery facility and the general community if they don't need to be hospitalized, but they cannot be at home or in their residence are also staying at the Guest House for their isolation and quarantine. And patients that are being moved from the hospital are also going there. And it's very rigid protocols associated with that where food delivery occurs and people are required to remain in their room.
- Thank you for that information. Our next question is for Michelle. What is the department's responsibility for COVID notifications related to AB 685 which is effective on January 1st, since it indicates that departments must notify those who are potentially exposed within one business day and must retain documentation for three years. Does that mean departments will be responsible for contact tracing in order to know who to notify? - Thank you to whoever asked that question. We actually just modify that SOP this week and we are no longer requiring the departments to be the designated authority to issue the AB 685 notifications when it goes into effect next calendar year. We're currently having discussions with other UC campuses as well as UCOP and the office of general counsel about potentially making a dashboard available where this information will be deposited to serve as the notice for AB685 requirements specifically.
This will not change the process we currently have in place where departments are able to issue notifications to their staff and visitors and students of COVID positive cases using the template in the SOP. The dashboard will, is intended to address the AB 685 notification specifically. But more information on that will be coming before the closure. So check back on Bruin Safe Online for the updated SOP. - Thank you, Michelle. So really quick, our next quick question for Dr. Katona just a clarifying question
regarding COVID testing for staff. Can you clarify what the current testing protocol is for staff who only come to campus one to two times a month or, you know, infrequently? - Well, the infrequent coming to campus puts them in a lower surveillance testing category. So if you're only on campus every couple of weeks, once, the surveillance testing probably doesn't apply to you that much. But it does still apply that to five testing centers that are open except during vacation will apply and they can get tested there.
So, but if the frequency of coming to campus is less than two weeks, then the surveillance testing is not indicated. - The rule of thumb that we use is if you come to campus less frequency than the cohort you're assigned to, the frequency of that, then you don't need to be tested. So if you come every two weeks and you're an essential staff member that's required to be tested every week then it wouldn't be necessary for you to test. If you want to be tested, you just need to do you could go to the testing, any of the three testing centers and do walk up testing. That's not a problem.
- Thank you for that clarification. Our next question for Michael Meranze's another clarifying question regarding research operational plans. Are we still reviewing revised plans for campus? - Yes. As I mentioned before, if what you're talking about is that you have an already established ROP that you're simply modifying, then yes, you should submit that. And it will be reviewed.
At this point, with the exception of very narrow circumstances, we're not adding any new ROPs to the research enterprise, but if you're in a situation where someone is leaving your team and you would like to replace them with someone else, then yes, you should submit that modified plan so long as it's not increasing the number of people on the ROP. - Thank you, Michael. Our next question is for Michelle. How do we report folks who are being non-compliant with COVID protocols and what are the consequences of reporting them? - There are no consequences. The procedures are outlined specifically for reporting of employees, as well as reporting faculty, students, and non-UCLA affiliates.
Those are all outlined in our "UCLA Procedures for Enforcement and Compliance" which is posted to Bruin Safe Online. And that is hyperlinked. All of these protocols are hyperlinked in my presentation slides, which will be made available to you all, following this town hall.
- And just to clarify there are no consequences for those making the reports. There could be consequences for those that are not compliant. - That's a good point. I did not make that distinction.
Thank you, Mike. - Well, it's the way the question was asked. I just thought it might've been confusing. - Thank you for that clarification. So another question for Michelle.
With California revising the playground rule, is UCLA Family Housing going to reopen playgrounds? - Unfortunately, the County Protocol for Outdoor Playgrounds still prohibits that sector from reopening. So no, we will not be reopening that at UCLA. - Thank you. Our next question is for Lubbe. What aspects of remote work is the university thinking about continuing after we're back on campus and our work has resumed? - [Lubbe] Well, I'm glad to hear this question being asked.
We have several different work groups who are looking at what the future will be, and we want to make sure that remote work will continue where it makes sense to do so. And we're developing some plans and resources for employees as well as for managers to make sure they can be successful in that remote environment. So I do expect that much of the remote work will continue. I also saw a question in the chat or in the Q and A about accommodations.
And for those employees who feel they need to work remotely and need an accommodation if the department is not already supporting that, to please contact Insurance and Risk Management so you can have the accommodation addressed through our Disability Management Group. - Thank you, Lubbe. Our next question is for Michael Meranze. Is there going to be access to campus offices for faculty who need to retrieve materials to Zoom teach during winter quarter, during the closure period for campus for winter break? - As far as I know if faculty members have the key to their offices, then yes they should be able to obtain that material just as they do at any other time. If Michael has a different sense of that, he could say but I don't see why that would be affected any more than any other break.
- No, it's the same as the break. And if they're allowed to come to campus now for those materials then that would be consistent during the closure period. - Thank you for that information. Our next question, we'll give to Michelle.
So if there are staff working in a private office on campus, is it necessary to keep a mask on at all times if they're not in a cubicle and not around other staff? - That is the one exception of the very limited exceptions that the county makes for face coverings. If you are in the confines of your own office with four walls and a closed door, you are able to take off your face covering when you're not in the presence of others. - Thank you. An interesting question we have that I wanna send to Lubbe. Given that we are currently under stay-at-home orders and they're being extended, is staff going to get an exception to vacation accrual if they're close to their max cap? - [Lubbe] We actually did receive a policy exception to go beyond the current max through June 30th.
So we'll be able to continue to accrue vacation leave during this period of time. There's a recognition by the president's office that this is an important policy to consider during this difficult period. - Thank you, Lubbe.
And I just briefly wanted to mention that we are reaching one o'clock, but we'll try to stay on for a few more minutes to maybe ask like one or two more questions, but we'll try to keep the questions that we didn't get to and answer those in a Q and A doc that we'll put on our Staff Assembly website for you all and just to reiterate as well the recording will be up shortly and we will also share our presentations from today so that if you want more information, you can go back and review. Okay, let's go with our next question. So this one's for Dr. Katona. Is there any new technologies that will be used for future vaccinations? - Well, there's a lot of technologies that are putting themselves into this sphere? The messenger RNA technology that the Pfizer vaccine and the Moderna vaccine are using is brand new.
And that is a technology that I'm very, very excited about, having broader implications. But we're seeing a lot of things with AI and information technology in many, many different spheres a lot of new therapeutics that are coming out. It's an exciting time for a lot of the science surrounding COVID. - Thank you for that, Dr. Katona. Our next question for Lubbe or Michael Beck whoever wants to take it. We were told in order to return to work or go to the office for the day, that there needs to be submitted proof of the flu vaccination.
So since this requirement includes personal information, can you speak to what is actually being required by campus and how personal information is being protected? - Actually, and Michael may wanna add to this but we are not requiring documentation. We are using the honor system through the daily monitoring survey. Employees need to indicate whether they've had the flu vaccine and that is utilized for the documentation that's necessary, but we're not asking for anything additional to be offered.
- I think- - I would add. I would add to that, that The County Department of Public Health has required healthcare people to have a proof of vaccination or wear a mask for the duration of the flu season. And that's been in effect for several years. - Right.
And that's consistent. And so the hospital is handling it as I understand consistent with what they've handled in the past. And that employees in the health system are required to show proof of the vaccination or wear a mask which is similar to what they do every year.
- Thank you for that information and sort of a follow-up question to that. And we'll probably take this as our last question so we can go ahead and wrap up and be mindful of everyone's time. So when the COVID-19 vaccination becomes publicly available, will there be a protocol for campus in terms of handling staff who may refuse to take the vaccine due to personal beliefs and not for a specific medical exemption? - So that's still being developed as to what the actual protocols will be for the campus employees. As I said earlier, it's not expected that the vaccine will be required. It's not understood at this moment what the mitigation will be if you choose not to be vaccinated.
It's much easier to handle that in the hospital where everybody's wearing a badge and the badge indicates whether or not you've been vaccinated or not. And if you haven't been then you're required to wear a mask. We don't have the same ability to do that on the campus. And we wanna make sure that we're not creating a sort of a Scarlet letter scenario/situation for individuals. And so that's still something that we're working through.
We're working through with the Office of the President and with the other campuses so that we're consistent across the system. - I would add to that also the fact that there's a mandate issue or whether or not it's mandated whether it's required, but there also going to be businesses that are gonna have rules like entering a movie theater, entering an airplane. There could be different entities that are gonna say "Hey, we want you to be vaccinated. We can't force you to be vaccinated but if you want to do what we provide you might have to show proof of vaccination."
So it's a totally different entity from the mandating by an institution, by a government by a college that may come into play now. - Thank you so much. That was really informative.
Thank you again for everybody who joined us today I hope that this town hall has been helpful to you all and informative. We'll try to make sure that we get to any of the unanswered questions and provide some additional resources on our Staff Assembly website, which is staffassembly.ucla.edu. And again, on behalf of Staff Assembly and the COVID-19 Response and Recovery Task Force, we just want to appreciate the dedication and hard work of all UCLA staff during this time and hope that you feel supported and heard.
So if you have any additional questions or concerns, feel free to email us at staffassembly@ucla.edu and we'll try to work with you and get you connected to more information. And then I also wanted to briefly mention that Staff Assembly has a few more programs coming up before the end of the year. So follow us @UCLASA to stay informed and join in all our programming. And we also have our Spark Campaign that is going to be concluding on December 16th which is our current fundraiser to support staff professional development scholarships which is a really important program that we offer to staff to be able to have some funding for your own personal and professional development.
So please visit our Spark Campaign at spark.ucla.edu/staffassembly to check it out if you have not done so already. And with that, we will go ahead and conclude our presentation. Thank you all again for joining us and thank you so much for the panelists. This was really great and informative. Have a great afternoon, everyone.
2021-02-04 20:15
Show Video
Other news