CBC News: The National | Peace talks, Emissions reduction plan, Pfizer CEO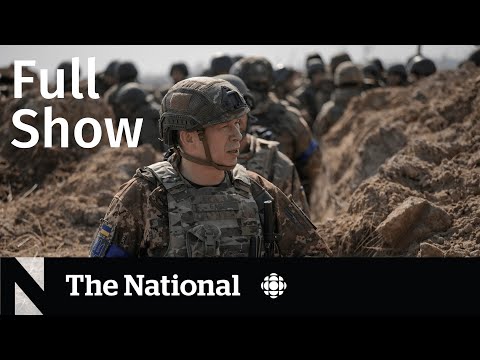 Show Video
(♪♪) >> Andrew: GOOD EVENING, I'M ANDREW CHANG. ADRIENNE IS AWAY. >>> TONIGHT, RUSSIA PLEDGES TO PULL BACK FROM UKRAINE'S CAPITAL, BUT CAN THEY BE BELIEVED? WHAT TO MAKE OF THE PROMISE TOWARDS PEACE. AND -- >> Reporter: HOW DID YOU GET OUT? >> Andrew: INCREDIBLE STORIES OF SURVIVAL AND LOSS FROM CITIES UNDER SIEGE.
>>> A CBC EXCLUSIVE. SEXUAL MISCONDUCT CLAIMS ALLEGEDLY COVERED UP IN THE CANADIAN NAVY. >> THIS WHOLE EXPERIENCE HAS DESTROYED ME. >> Andrew: A SENIOR OFFICER SAID THAT SHE WAS PRESSURED NOT TO REPORT HARASSMENT AND IT'S CAUGHT ON TAPE. >>> THE U.S. APPROVES THE SECOND BOOSTER FOR THOSE 50 AND UP.
>> I WOULD LIKE TO HAVE ADDED PROTECTION. >> Andrew: SO DO YOU NEED A FOURTH DOSE? WE'LL PUT THAT TO PFIZER'S C.E.O. (♪♪) >>> AND THE QUEEN PAYS TRIBUTE TO PRINCE PHILIP WITH ANDREW AT HER SIDE. >> I THINK THAT IT'S AN IMAGE THAT IS GOING TO PROMPT A LOT OF DISCUSSION.
>> Andrew: THE ROYAL CHOICE RAISING EYEBROWS. >>> THIS IS "THE NATIONAL." (♪♪) >>> AFTER 34 DAYS OF WAR, THIS MAY BE THE FIRST MOMENT THAT THERE'S HOPE OF DEESCALATION. RUSSIA HAS ANNOUNCED IT WILL REDUCE ITS OPERATIONS IN UKRAINE'S NORTH, NOTABLY AROUND THE CAPITAL KYIV. IT'S THE LATEST RESULT OF ONGOING PEACE TALKS, BUT UKRAINE'S PRESIDENT IS SKEPTICAL. (Speaking Foreign Language).
>> Andrew: THE TENSION AROUND KYIV REMAINS. THERE'S NO CEASEFIRE ANYWHERE. RUSSIAN ATTACKS OPENING FRESH WOUNDS ACROSS THE COUNTRY. SALIMAH SHIVJI SHOWS US HOW THOSE FACTS ALONE HAVE LEFT UKRAINIANS WITH MORE FEAR THAN HOPE. >> Reporter: HUNDREDS OF KILOMETRES FROM THE PEACE TALKS, SURVIVAL IS TOP OF MIND FOR THE MILLIONS OF UKRAINIANS DISPLACED.
AIR RAID SIRENS, EVEN IN THE RELATIVE CALM WEST OF THE COUNTRY SHATTER THE QUIET. THE FEAR OF MORE BOMBS IS EVERY PRESENT. (Speaking Foreign Language). RIJANA WAS JUST DAYS FROM GIVING BIRTH. (Speaking Foreign Language). >> Reporter: "MY MIND IS SCARRED BY THE BOMBING," SHE SAYS, "I'M TERRIFIED THAT THE SHELLING WILL HIT AGAIN, EVEN HERE."
WHAT SHE ESCAPED SHE CALLS HELL. IT'S IN RUINS AFTER ENDURING NEARLY CONSTANT BOMBING FOR WEEKS. LIKE MARIUPOL IN THE SOUTH, BATTERED AND BURNED. AND A NEARBY TOWN, THE TARGET OF A MISSILE STRIKE THAT KILLED AT LEAST A DOZEN PEOPLE. IT'S A WORLD AWAY FROM ISTANBUL WHERE AFTER MORE THAN A TWO-WEEK PAUSE THE NEGOTIATING TABLE WAS AGAIN FULL FOR HOURS OF TALKS. (Speaking Foreign Language).
>> Reporter: LEADING TO UKRAINE'S NEGOTIATING TEAM TO REMAIN NEUTRAL, AND NOT TO JOIN MILITARY ALLIANCES LIKE NATO, BUT ONLY IF THE COUNTRY'S SECURITY IS GUARANTEED BY COUNTRIES LIKE CANADA OR TURKEY. (Speaking Foreign Language). >> Reporter: RUSSIA'S RESPONSE WAS A PROMISE TO RADICALLY REDUCE ITS ATTACKS ON KYIV AND OTHER PARTS OF UKRAINE'S NORTH. IT WAS PRESENTED AS A GESTURE OF GOODWILL TO MOVE THE TALKS FORWARD. ONLY IT COMES AS RUSSIAN TROOPS WERE ALREADY STALLED ON THE OUTSKIRTS OF THE CAPITAL. PUSHED BACK BY UKRAINIAN FORCES A PROMISE THAT COULD BE A PLOY TO RETREAT AND REGROUP, SOME ANALYSTS SAY.
AND WHETHER RUSSIA WILL EVEN DO WHAT IT SAYS IT IS WILL IS DOUBTFUL, SAY THE WESTERN LEADERS, SKEPTICAL AND WARY. >> WE WILL SEE. I DON'T READ ANYTHING INTO IT UNTIL I SEE WHAT THEIR ACTIONS ARE. WE'LL SEE IF THEY FOLLOW THROUGH ON WHAT THEY'RE SUGGESTING. >> Reporter: THERE'S A LOT MORE PROGRESS COMING OUT OF THE TALKS THAN ANYONE EXPECTED GOING IN, STILL, IT'S FAR TOO EARLY FOR MUCH OPTIMISM ON A DAY OF MISSILE STRIKES AND HEAVY FIGHTING ON SEVERAL FRONTS. SALIMAH SHIVJI, CBC NEWS, LVIV.
>> Andrew: AS YOU JUST HEARD THERE ARE CONCERNS THAT RUSSIA'S INTENT TO SHIFT THE FOCUS AWAY FROM KYIV MAY BE LESS ABOUT RETREATING AND MORE ABOUT SETTING THE STAGE FOR A RENEWED OFFENSIVE. ACCORDING TO UKRAINE'S MILITARY, RUSSIA IS MOVING FORCES AWAY FROM KYIV AND OTHER FRONTS IN THE NORTHEAST. AND FOR UKRAINE, THAT OFFERS A TEMPTING OPPORTUNITY. UKRAINIAN FORCES HAVE ALREADY BEGUN TO TAKE BACK TERRITORY FROM RUSSIA NEAR KYIV, INCLUDING THE IMPORTANT SUBURB OF IRPIN. BUT THERE'S A RISK HERE AS WELL. FOR DAYS RUSSIA HAS BEEN DIGGING IN AND LAYING MINEFIELDS AND HOPING TO SLOW UKRAINE'S COUNTER OFFENSIVE IN THE NORTH.
AND IN THE MEANTIME RUSSIA HAS A CHANCE TO BREAKTHROUGH IN THE EAST. IN TOWNS THAT ARE HOTLY CONTESTED. AND TROOPS THAT RUSSIA TOOK AWAY FROM THE NORTH COULD REINFORCE ITS OFFENSIVE THERE. NOW RUSSIA HAS BEEN ACCUSED OF BRUTALITY AND VIOLATING INTERNATIONAL NORMS THROUGHOUT ITS INVASION.
TODAY CANADA ANNOUNCED MORE HELP FOR THE INTERNATIONAL CRIMINAL COURT TO INVESTIGATE ALLEGED WAR CRIMES. >> AN RCMP TEAM WILL BE GOING OVER, THESE ARE DEDICATED MEMBERS WHO HAVE THE EXPERIENCE, THE SKILLS AND THE EXPERTISE TO HELP TO COLLECT EVIDENCE AND TO BRING CHARGES ON WAR CRIMES OR CRIMES AGAINST HUMANITY IN A SUBSEQUENT PROSECUTION. >> Andrew: THE ICC LAUNCHED ITS PROBE AT THE URGING OF CANADA AND DOZENS OF OTHER COUNTRIES. THE RCMP WILL ALSO CONDUCT ITS OWN INVESTIGATION INTO POSSIBLE WAR CRIMES UNDER CANADA'S CRIMES AGAINST HUMANITY AND WAR CRIMES ACT. AND NOW LET'S TURN TO A CBC NEWS EXCLUSIVE.
TWO FEMALE SENIOR NAVY OFFICERS ARE NOW LEAVING THE SERVICE OVER ITS HANDLING OF SEXUAL MISCONDUCT. THEY ACCUSE THE COMMANDER OF THE ATLANTIC FLEET FOR FAILING TO HOLD THREE SUBORDINATES TO ACCOUNT. THE WOMEN SAY THAT THOSE OFFICERS MISMANAGED AND EVEN TRIED TO COVER UP A RECENT MISCONDUCT CASE. ASHLEY BURKE HAS THEIR STORY. >> Reporter: LIEUTENANT COMMANDER NICOLE DUGAS SAID THAT SHE USED TO WEAR HER UNIFORM FOR PRIDE. AFTER AFTER THE NAVY'S HANDLING OF HER SEXUAL MISCONDUCT CASE, CAN'T BRING HERSELF TO PUT IT BACK ON.
>> IT WOULD HAVE BEEN EASIER TO SIMPLY TO ENDURE THE SEXUAL MISCONDUCT AND THE SEXUAL HARASSMENT, RATHER THAN TO REPORT AND GO THROUGH THAT. >> Reporter:DUGAS REPORTED HER BOSS, COMMANDER IAN BYE, ABUSED HIS POWER AS A SENIOR OFFICER IN CHARGE OF ADMINISTRATION AT CFB HALIFAX. SHE CLAIMS THAT HE WAS DRINKING AT LUNCH AND SEXUALLY HARASSING HER, INCLUDING -- >> TRADEOFFS FOR SEXUAL ACTIVITIES. >> Reporter:DUGAS SAID THAT COMMANDER PATRICK PERKS SAW THE INAPPROPRIATE COMMENTS AT THE MESS AND CLAIMS THAT SHE ASKED FOR IT. AND DUGAS SAID THAT COMMANDER J.J. DOYLE TRIED TO PRESSURE HER
INTO NOT REPORTING IT. SHE RECORDED PART OF THAT CALL. >> I'M WILLING TO GO AND TO [BLEEP] VERBALLY BEAT HIM UP ABOUT IT AND TO [BLEEP] GET HIM BACK IN LINE. SO HE UNDERSTANDS THE SEVERITY AND HOW SERIOUS THIS IS. LET ME DEAL WITH IT.
>> Reporter: DUGAS DID REPORT AND BYE WAS CHARGED WITH MAKING ONLY ONE INAPPROPRIATE SEXUAL COMMENT. HE WAS LATER RELEASED AS UNSUITABLE FOR FURTHER SERVICE, BUT THE COMMANDER OF TH CANADIAN ATLANTIC FLEET DEDLIENED TO PUNISH ANY OF THE OTHER SENIOR MALE OFFICERS WHO DUGAS CLAIM THAT TRIED TO COVER UP THE CASE. SHE RECORDED A CALL WITH HIM. >> I HONESTLY DON'T BELIEVE THAT THERE WAS MALICIOUS INTENT IN ANY WAY AND, THEREFORE, WHEN WE TALK ABOUT HOLDING PEOPLE TO ACCOUNT, I THINK THAT IT IS IMPORTANT THAT WE BALANCE THE INTENT AGAINST THE IMPACT. REAR-ADMIRAL BRIAN SANTARPIA TOLD CBC NEWS THAT THE PROPER PROCEDURES WERE FOLLOWED BUT THAT THEY FAILED TO MEET DUGAS' NEEDS. SHE SAID NOW ENDING HER 12-YEAR CAREER SAYING THAT SHE'S LOST ALL TRUST IN THE INSTITUTION.
>> IF YOU'RE NOT HOLDING PEOPLE ACCOUNTABLE FROM THAT TOP LEVEL, NOTHING IS EVER GOING TO CHANGE. >> Reporter: HER ASSISTING OFFICER IS LEAVING AFTER MORE THAN 30 YEARS OF SERVICE OVER IT TOO. >> I CAN'T AS A SENIOR OFFICER CONTINUE SPOUTING WHAT I NOW KNOW IS LIES, THAT IT'S SAFE TO REPORT. >> Andrew: SO, ASHLEY, WHAT DID THE NOW RETIRED COMMANDER BYE SAY IN RESPONSE TO ALL OF THIS? >> Reporter: WELL, ANDREW, HE ADMITTED TO MAKING ONE INAPPROPRIATE COMMENT AT TH MESS, BUT HE SAID THAT IT WASN'T DIRECTED AT ANYONE IN PARTICULAR. HE SAIDA ALL OF THE OTHER ALLEGATIONS HAVE EITHER, QUOTE, BEEN MISCONSTRUED, TAKEN OUT OF CONTEXT OR ARE FALSE.
>> Andrew: WHAT ABOUT THE OTHER SENIOR MALE OFFICERS INVOLVED? >> Reporter: WELL, COMMANDER PERKS SAID THAT HE REPORTED AS SOON AS HE LEARNED ABOUT THEM BUT DUGAS SAID THAT HE WITNESSED MULTIPLE INAPPROPRIATE COMMENTS EARLIER THAT MONTH AND HE DIDN'T REPORT IT UNTIL SHE FOUND OUT THAT SHE WAS GOING TO COME FORWARD AND REPORT IT. NOW THE DEFENCE DEPARTMENT IS INVESTIGATING ALL OF THIS. >> Andrew: OKAY, ASHLEY BURKE, THANK YOU VERY MUCH. >>> NOW THE FEDERAL GOVERNMENT IS EXPECTED TO INCLUDE MORE MONEY TO BOSTON CANADA'S MILITARY SPENDING IN NEXT WEEK'S BUDGET. FINANCE MINISTER CHRYSTIA FREELAND WILL DELIVER THE SPENDING PLAN ON APRIL 7TH.
IT WILL BE THE LIBERAL GOVERNMENT'S FIRST BUDGET SINCE THE FEDERAL ELECTION. IT'S ALSO EXPECTED TO INCLUDE DETAILS ON A NUMBER OF SOCIAL PROGRAMMES AS PART OF THE DEAL WITH THE N.D.P. TO KEEP THE LIBERALS IN POWER UNTIL 2025. NOW THE FEDERAL GOVERNMENT TABLED ITS LATEST CLIMATE PLAN TODAY AS WELL, WITH BILLIONS OF NEW INVESTMENTS AND CUTS IN THE BUILDING, TRANSPORTATION, AND OIL AND GAS SECTORS.
IT'S AN EFFORT TO SLASH EMISSIONS BY 40% TO 45% BELOW 2005 LEVELS BY THE END OF THE DECADE. THE PRIME MINISTER CALLED THE PLAN AMBITIOUS AND ACHIEVABLE. BUT AS HANNAH THIBEDEAU EXPLAINS, REACTIONS ARE MIXED. >> Reporter: IN A PROVINCE HEAVILY FOCUSED ON OIL AND GAS, RANDALL BENSON OWNS A COMPANY THAT INSTALLS SOLAR PANELS AND ELECTRIC VEHICLE CHARGERS.
HE THINKS THAT OTTAWA'S PLAN BODES WELL FOR HIS BUSINESS. >> IT MEANS AN INFLUX OF INTEREST IN THESE TECHNOLOGIES, ESPECIALLY WITH GAS PRICES BEING SO HIGH. SO I THINK THAT IT'S GREAT -- I THINK IT'S FANTASTIC. >> Reporter: THERE WILL BE OVER $9 BILLION TO REACH THE GOVERNMENT'S CLIMATE TARGETS. SOME WILL GO TO INCREASING THE NUMBER OF ELECTRIC VEHICLE CHARGING STATIONS.
FOR THOSE WHO WANT TO BUY A BATTERY-POWERED CAR, THERE WILL BE A BOOST IN INCENTIVES. AND ONE IN FIVE CARS ROLLING OFF CAR LOTS WILL HAVE TO BE ZERO-EMISSIONS WITHIN FOUR YEARS. 100% BY 2035.
>> IF YOU WANT TO MAKE THE SWITCH AND YOU GO TO THE DEALERSHIP, YOU SHOULDN'T HAVE TO BE ON A WAIT LIST. >> Reporter:WHAT THIS PLAN DOESN'T MAKE CLEAR IS WHAT CAP WILL BE IMPOSED ON THE OIL AND GAS SECTOR AND WHEN. IT MAKES UP THE BIGGEST SHARE OF CANADA'S CARBON FOOTPRINT. >> WE WILL BE WORKING WITH THEM OVER THE COMING MONTHS TO ENSURE THAT WE PUT IN PLACE AN APPROPRIATE CAP THAT'S GOING TO WORK IN A MANNER THAT WILL CONTINUE TO EMPLOY PEOPLE BUT ALLOW US TO GET AT THOSE EMISSIONS. >> Reporter:THE GOVERNMENT PROJECTS THAT THE SECTOR WILL ONLY CUT 31% OF ITS EMISSIONS BY 2030.
BUT IT WILL INCREASE TAX BREAKS FOR FOSSIL FUEL COMPANIES THAT USE CARBON CAPTURE TECHNOLOGIES. MANY SAY THAT THIS PLAN CUTS THE OIL PATCH TOO MUCH SLACK. >> THAT MEANS THAT OTHER SECTORS, OTHER WORKERS, OTHER CONSUMERS, HAVE TO PICK UP ITS SLACK. >> THERE ARE A BUNCH OF PLACES THAT ARE STILL KIND OF VAGUE. SO YOU CAN'T SAY WITH CERTAINTY THAT THIS WILL GET US TO OUR TARGET. >> Reporter: CANADA HAS HAD AT LEAST 10 CLIMATE PLANS AND SET MANY DIFFERENT TARGETS SINCE THE 1990s, BUT IT HASN'T MET ANY OF THEM.
UNLIKE OTHER PLANS, THIS ONE IS LEGALLY BINDING. BUT IT'S NOT CLEAR WHAT THE CONSEQUENCES WOULD BE IF THEY DON'T MEET THE TARGETS. HANNAH THIBEDEAU, CBC NEWS, OTTAWA. >> Andrew: IN THE UNITED STATES, THE F.D.A. IS AUTHORIZING A
FOURTH DOSE OF THE COVID VACCINE FOR ANYONE 50 AND OVER. THE HIGHLY CONTAGIOUS OMICRON SUB-VARIANT BA.2 IS DRIVING CASES UP AND WITH RESTRICTIONS EASING ACROSS CANADA, THERE ARE QUESTIONS ABOUT WHO SHOULD BE ELIGIBLE HERE AND WHEN. CHRISTINE BIRAK LOOKED INTO IT.
>> Reporter: WITH DIABETES AND TROUBLE BREATHING, HEIDI SCHWINDI WANTS ANOTHER COVID SHOT. >> I WOULD TAKE A FOURTH DOSE ANY DAY, TOMORROW IF I COULD. >> Reporter: U.S. HEALTH AUTHORITIES NOW SAY THAT FOURTH DOSES MAY BE ADMINISTERED TO INDIVIDUALS 50 YEARS OF AGE AND OLDER. IN CANADA IT'S ONLY IMMUNOCOMPROMISED PATIENTS OVER 12. SOME PROVINCES INCLUDE RESIDENTS IN LONG-TERM CARE AND QUÉBEC IS NOW OFFERING FOURTH DOSES TO ALL SENIORS OVER 80.
>> WHERE THE EVIDENCE IS STRONG AND A RECOMMENDATION IS MADE. >> Reporter: RESEARCHERS IN ISRAEL STUDIED THE MEDICAL RECORDS OF MORE THAN HALF A MILLION SENIORS. EARLY RESULTS SUGGEST THAT THE DEATH RATE FROM OMICRON WAS 78% LOWER IN THOSE WHO RECEIVED A FOURTH PFIZER DOSE, COMPARED WITH THOSE WHO RECEIVED JUST THREE SHOTS.
EXPERTS SAY THAT FOUR SHOTS MAY MAKE SENSE FOR VULNERABLE SENIORS, BUT LESS THAN HALF OF CANADIANS HAVE EVEN HAD THREE DOSES. >> EVIDENCE IS SHOWING THAT THE BENEFITS OF RECEIVING A THIRD DOSE COMPARED TO A SECOND DOSE ARE MORE SUBSTANTIAL THAN THE BENEFITS OF RECEIVING A FOURTH DOSE. >> Reporter: AN AMERICAN STUDY EXAMINING VACCINE EFFECTIVENESS OF THREE SHOTS AGAINST HOSPITALIZATION FOUND THAT MODERNA AND PFIZER STILL OFFER NEARLY 80% PROTECTION FOUR MONTHS LATER. >> IT IS SOMETHING THAT PEOPLE ARE CLEARLY WATCHING. >> Reporter: IMMUNITY FROM VACCINES AND NATURAL INFECTION WILL WANE IN THE COMING MONTHS, BUT EXPERTS INSIST THAT THREE DOSES WILL STILL OFFER MOST CANADIANS STRONG PROTECTION OVER THE SUMMER. >> IN MY VIEW, A LOT OF THE NECESSITY OF THE FOURTH DOSE IS ALSO GOING TO HAVE TO DO WITH HOW MUCH SARS CORONAVIRUS 2 IS CIRCULATING IN THE COMMUNITY.
>> Reporter: A SURGE IN INFECTIONS WILL LIKELY HAPPEN IN THE FALL WHEN PEOPLE MOVE BACK INDOORS. SOME DOCTORS EXPECT THAT IS WHEN FOURTH DOSES WILL LIKELY BE RECOMMENDED FOR ALL CANADIANS. CHRISTINE BIRAK, CBC NEWS, TORONTO. >> Andrew: AND WE'RE GOING TO PICK UP ON THE QUESTION OF A FOURTH DOSE, WHO MAY NEED ONE AND WHEN, WITH THE HEAD OF PFIZER. THE CONVERSATION WITH THE C.E.O.
ALBERT BOURLA A BIT LATER IN THE PROGRAMME. >>> WELL, CANADA'S GYMNASTICS FEDERATION SAYS THAT MORE NEEDS TO BE DONE TO PROTECT ATHLETES. IT WAS RESPONDING TO AN OPEN LETTER SIGNED BY A GROUP OF CURRENT AND FORMER GYMNASTS COMPLAINING OF ABUSE. TODAY IN A STATEMENT, GYMNASTICS CANADA SAID THAT MANY MORE SUPPORTS MUST BE IN PLACE TO ADDRESS UNSAFE PRACTICES. AND IT AGREED WITH THE ATHLETES THAT AN EXTERNAL AND INDEPENDENT ORGINISATION MUST BE ESTABLISHED TO OVERSEE COMPLAINTS. OTTAWA HAS PREVIOUSLY ANNOUNCED PLANS FOR A NEW SYSTEM TO HANDLE ALLEGATIONS OF MISTREATMENT IN SPORT.
>>> WELL, AMATEUR HOCKEY IS DEALING WITH ITS OWN RECKONING. A NEW INDEPENDENT REVIEW OF CANADA'S LARGEST MINOR LEAGUE, THE GREATER TORONTO HOCKEY LEAGUE, HAS FOUND RACISM AND DISCRIMINATION. THOMAS DAIGLE TAKES US THROUGH THE FINDINGS. >> Reporter: IT MAY BE CONSIDERED CANADA'S FAVOURITE SPORT, BUT HOCKEY DOESN'T MAKE ALL CANADIANS FEEL WELCOME.
EVEN IN THIS AMATEUR LEAGUE, THE BIGGEST OF ITS KIND IN THE WORLD, HEADLINES ABOUT RACIST SLURS ON THE ICE FORCED MANAGEMENT TO SELF-REFLECT. >> I THINK THAT THE ONLY WAY TO MAKE A CHANGE IS TO INCLUDE MORE PLAYERS OF MINORITY. >> Reporter: IN A NEW REPORT, AN INDEPENDENT COMMITTEE FOUND THAT RACISM, SEX AND GENDER-BASED DISCRIMINATION AND INEQUALITY EXIST SIGNIFICANTLY WITHIN THE GREATER TORONTO HOCKEY LEAGUE AT ALL LEVELS. >> I WANT TO SAY THAT I WAS CERTAINLY DISAPPOINTED BY THE EXTENT THAT IT CAME TO LIGHT.
>> Reporter: IT'S NO SURPRISE FOR FAMILIES WHO HAVE LIVED IT. JUST ASK HOCKEY DAD HARIM KAHIM ABOUT WHAT HIS SONS HAVE BEEN THROUGH. >> THERE'S A KID WHO SAY, LOOK, WHAT ARE YOU DOING HERE, YOU DON'T BELONG HERE. YOU SHOULD BE PLAYING BASKETBALL. HOW AM I GOING TO EXPLAIN SOMETHING LIKE THAT, IT IS A LITTLE BIT HEARTBREAKING, RIGHT? >> Reporter: PLAYERS OF COLOUR ARE SPEAKING OUT, EXPOSING THE FORMER CALGARY FLAMES COACH BILL PETERS FOR A DECADE AGO USING THE "N" WORD. HALIFAX GOALIE MARK CONNORS CALLING OUT OTHER PLAYERS FOR RACIAL SLURS JUST LAST YEAR, AND THEN IN JANUARY THIS -- >> SUBBAN WANTS TO GO -- >> Reporter: JORDAN SUBBAN SAYING THAT HIS OPPONENT MADE MONKEY GESTURES ON THE ICE.
SUBBAN IS ONE OF THREE PRO PLAYERS IN THE FAMILY. THEIR FATHER CARL HELPED TO WRITE THE NEW REPORT. >> I NEVER WANTED THEM TO STOP PLAYING THE GAME BECAUSE OF THE COLOUR OF THEIR SKIN OR WHAT SOMEONE SAID TO THEM. >> Reporter: AMONG THE REPORTS 44 RECOMMENDATIONS, ENSURING THE LEAGUE'S BOARD HAS MORE DIRECTORS WHO ARE BLACK, INDIGENOUS, OR PEOPLE OF COLOUR. IN OTHER WORDS, ENSURING THAT THOSE IN CHARGE BETTER REFLECT THE COMMUNITY BEYOND THE RINK IN HOPES THAT EVERYBODY WILL ONE DAY FEEL WELCOME HERE.
THOMAS DAIGLE, CBC NEWS, TORONTO. >> Andrew: AND A PRO HOCKEY OWNER IS BEING REMEMBERED TONIGHT. EUGENE MELYNK OF THE OTTAWA SENATORS. >> WE HAVE TO BE MINDFUL OF THE FACT THAT HE CAME IN AT A TIME WHEN, YOU KNOW, THINGS WERE LOOKING PRETTY DIRE FOR THE ORGINISATION. >> WE SAT DOWN ONE-ON-ONE WITH HIM AND HAD THE OPPORTUNITY TO SEE HIS TRUE SIDE.
YOU SEE A DIFFERENT SIDE, YOU MAY HAVE SEEN THE SIDE THAT I SEE IN HIM. >> Andrew: MELNYK DIED FROM AN UNEXPLAINED ILLNESS. HIS FAMILY SAID THAT HE FACED IT WITH DETERMINATION AND COURAGE. MELNYK HAD A TRANSPLANT IN 2015 AFTER A PUBLIC SEARCH FOR A DONOR.
HE HAD OWNED THE SENATORS SINCE 2003 AND IS REMEMBERED FOR HIS COMMITTED BUT COMPLICATED RELATIONSHIP WITH THE TEAM AND ITS FANS. EUGENE MELYNK WAS 62. >>> WELL, QUEEN ELIZABETH MAKES A RARE OUTING AFTER RECOVERING FROM COVID. (♪♪) BUT SOME ARE QUESTIONING WHY SHE CHOSE TO HAVE PRINCE ANDREW BY HER SIDE.
>> I THINK THAT IT'S AN IMAGE THAT IS GOING TO PROMPT A LOT OF DISCUSSION, AND A LOT OF CONTROVERSY AND DEBATE. >> Andrew: PLUS, TRAPPED UNDER RUBBLE AND WOUNDED WHILE DRIVING. WE SPEAK TO PEOPLE WHO NARROWLY ESCAPE RUSSIA'S SHELLING. >> Voice of Translator: IN ONE SECOND I LOST EVERYTHING -- MY PARENTS, HUSBAND.
>> Andrew: BUT, FIRST, THE INDIGENOUS DELEGATIONS IN ROME SHOCKED BY THEIR VISIT TO THE VATICAN MUSEUMS. >> I SAW ARTIFACTS THAT BELONG TO OUR PEOPLE. >> Andrew: WHAT THEY SAW THAT MADE THEM UNEASY NEXT. (♪♪) >> Andrew: CHAOS AND TERROR IN SUBURBAN TEL AVIV TODAY. ISRAELI OFFICIALS SAY THAT A GUNMAN KILLED AT LEAST FIVE PEOPLE IN AN ORTHODOX JEWISH NEIGHBOURHOOD. THE LATEST IN A SERIES OF DEADLY ATTACKS IN THAT COUNTRY.
VIDEO TAKEN BY A WITNESS SHOWS THE GUNMAN WITH AN ASSAULT RIFLE. HE WAS REPORTEDLY SHOT DEAD BY POLICE. AT LEAST 11 PEOPLE HAVE BEEN KILLED IN ATTACKS ACROSS ISRAEL OVER THE PAST WEEK. >>> WELL, FIRST NATIONS, INUIT AND MÉTIS DELEGATIONS ARE MEETING WITH THE POPE THIS WEEK.
TODAY THEY TOOK A PRIVATE TOUR INSIDE ONE OF THE VATICAN MUSEUMS AND SAW SOME OF THEIR OWN CULTURAL ITEMS. AS OLIVIA STEFANOVICH REPORTS, MANY LEFT DISAPPOINTED AND WITH UNANSWERED QUESTIONS. >> Reporter: 65 ELDERS, INDIGENOUS LEADERS AND YOUTH SHUFFLED THEIR WAY THROUGH A LINE INTO THE VATICAN MUSEUMS. THEY SAW THE MASTERPIECES OF ITALIAN ART BUT ALSO CULTURAL BELONGINGS FROM THEIR HOMELANDS. >> I SAW ARTIFACTS THAT BELONG WITH OUR PEOPLE, MOCCASINS AND JEWELLERY. >> Reporter: SOME DELEGATES FINISHED THE TOUR FEELING UNEASY.
>> IT'S SOMETHING THAT I SAW THAT SORT OF DISTURBED ME WAS THE SACRED CEREMONIAL PIPE, THE SMOKING PIPE. THAT ONE THERE I HAVE BEEN TOLD BY SOME ELDERS THAT IT'S FOR SURE. >> Reporter: A RESIDENTIAL SCHOOL SURVIVOR IS ALSO CONCERNED ABOUT HOW THESE IMPORTANT ITEMS ENDED UP WITHIN THE VATICAN MUSEUMS. >> THEY STOLE OUR SOUL, SO WE KNOW THAT THEY STEAL. >> Reporter: THE VATICAN SAYS THAT MOST OF THE ARTIFACTS ARE GIFTS, GIVEN TO THE POPE. >> I THINK THAT REALLY NEEDS TO BE QUESTIONED.
>> Reporter: BUT THIS ART HISTORY EXPERT SAYS THAT THERE'S EVIDENCE THAT MISSIONARIES SEIZED ITEMS FOR THE VATICAN'S COLLECTION. >> SO IT'S DEFINITELY STOLEN, STOLEN REGALIA AND CULTURAL BELONGINGS. >> Reporter: DURING THE TOUR TH DELEGATES SAW A KAYAK, AND A PAIR OF MOCCASINS FROM BRITISH COLUMBIA AND A BABY BELT FROM THE YUKON.
THE PRESIDENT OF THE MÉTIS NATIONAL COUNCIL SAID THAT SHE'D LIKE TO SEE THESE ITEMS RETURNED BUT THE VATICAN IS KEEPING ITS FULL CATALOGUE SECRET. >> AND ONE OF THE DIRECTORS OF THE MUSEUM WHO WAS THERE KEPT TALKING ABOUT HOW THEY ARE THE CUSTODIANS OF THESE ITEMS, THAT THEY DON'T BELONG TO THEM, BUT THEY ARE THE CUSTODIANS OF THESE ITEMS. AND I THOUGHT TO MYSELF, WHY CAN'T WE BE THE CUSTODIANS OF OUR OWN ITEMS? >> Reporter: THE TRUE EXTENT OF WHAT THE ROMAN CATHOLIC CHURCH HAS, AND THEY WILL PRESS FOR TH PRECIOUS BELONGINGS LONG HELD BEHIND THE VATICAN'S WALLS. OLIVIA STEFANOVICH, CBC NEWS, ROME. >> Andrew: WELL, MILLIONS OF UKRAINIANS ARE TRYING TO ESCAPE RUSSIA'S CONSTANT SHELLING. SOME ARE BARELY MAKING IT OUT ALIVE.
>> Reporter: HOW DID YOU GET OUT? >> ONE OF THE PEOPLE -- >> Voice of Translator: I WAS UNDER RUBBLE, CALLING FOR HELP. >> Andrew: COMING UP, STORIES OF SURVIVAL AND TRAGIC LOSS. PLUS -- >> IT IS IMPOSSIBLE TO DO THIS WITH SOMEONE WHO CAME TO KILL YOU.
>> Andrew:I SPE >> Andrew: WELL, NEGOTIATIONS SEEMED TO FINALLY BE GOING SOMEWHERE, BUT ASSUMING PEACE IS ACTUALLY AROUND THE CORNER IS DANGEROUS. RUSSIA HAS A BAD TRACK RECORD WHEN IT COMES TO TALKS, ESPECIALLY WHEN IT STILL HAS LEVERAGE. NOW REMEMBER THAT NUCLEAR POWER PLANT THAT CAUGHT FIRE. IT SUPPLIES A QUARTER OF UKRAINE'S ELECTRICITY, AND RUSSIA HAS IT.
IT'S BLOCKED ACCESS TO MOST OF UKRAINE'S COASTLINE, MARIUPOL INCLUDED, WHICH IT CONTINUES TO DEVASTATE. AND RUSSIA STILL HAS KYIV AND SEVERAL OTHER CITIES IN ARTILLERY RANGE. ADVANTAGES THAT IT LIKELY WON'T GIVE UP EASILY, EVEN IF IT'S NEGOTIATING IN GOOD FAITH. WELL, JOINING TO US TALK MORE ABOUT THE PEACE TALKS BETWEEN RUSSIA AND UKRAINE IS IVANNA KLYMPUSH-TSINTSADZE, A MEMBER OF PARLIAMENT IN UKRAINE, ALSO CURRENTLY IN WASHINGTON, WORKING TO GAIN SUPPORT FOR UKRAINE AND SOON SHE'LL BE HEADED TO OTTAWA. LISTEN, YOU KNOW, I HAVE SEEN MANY CHARACTERIZATIONS OF PEACE TALKS TODAY AS BEARING SIGNS OF HOPE, BUT, TELL ME, WHAT DO YOU SENSE IN THEM? >> I DO NOT SEE ANY SIGN OF HOPE. IT IS DIFFICULT TO NEGOTIATE WITH SOMEONE WHEN THE GUN IS BEING AT YOUR HEAD.
AND IT'S IMPOSSIBLE TO DISCUSS PEACE WITH SOMEONE WHO CAME TO KILL YOU. SO RUSSIA HAS A SERIOUS TRACK RECORD OF LIES AND MANIPULATIONS, EVEN WHEN IT IS CONDUCTING PEACE NEGOTIATIONS. SO I THINK THAT RUSSIA IS USING THIS NEGOTIATION PROCESS RIGHT NOW AS A SMOKESCREEN IN ORDER TO REGROUP AND TO ATTACK WITH A NEW POWER AND ADDITIONAL RAGE THAT HAS BEEN SHOWING ALREADY ACROSS OUR COUNTRY.
>> Andrew: WELL, I WAS GOING TO ASK YOU, IF NOT HOPE, THEN WHAT? I MEAN WHAT THE CONCERN WAS, BUT YOUR SENSE IS THAT THIS IS SIMPLY A DIVERSION, AM I UNDERSTANDING YOU CORRECTLY? >> FROM MY PERSPECTIVE, RUSSIA IS LOSING AROUND KYIV AND THAT'S WHY IT'S SAYING RIGHT NOW THAT IT'S GOING TO WITHDRAW, BUT AT THE SAME TIME KYIV HAS BEEN ATTACKED SEVERAL TIMES TODAY. SO WHEN RUSSIA HAS ALREADY MADE THAT PROMISE. THAT MEANS THAT RUSSIA DIDN'T MEAN WHAT IT HAS BEEN SAYING AND THAT IS JUST USING THE TIME RIGHT NOW TO REARM ITS TROOPS AND TO ENSURE THAT IT IS ACTUALLY ATTACKING BOTH KYIV, AND OTHER CITIES BOTH IN THE NORTH, EAST AND THE SOUTH OF UKRAINE. AS WELL AS IN THE WEST AS IT HAS BEEN DOING BY MISSILES. >> Andrew: WHAT WOULD BE A SIGNIFICANT GESTURE -- IF NOT WHAT IT'S DOING NOW, TO SAY THAT IT IS SIGNALLING THAT IT'S PREPARED TO STAND DOWN TO SOME EXTENT, WHAT WOULD BE A SIGNIFICANT GESTURE IN YOUR MIND THAT COULD ADVANCE THE STATE OF TALKS RIGHT NOW? >> YOU KNOW, I THINK THAT SOME GOODWILL EVEN WITH REGARD TO OUR HUMANITARIAN CORRIDORS NOT BEING BOMBED AND NOT BEING BLOWN UP, THAT WOULD BE ALREADY BE SOME MOVEMENT TO HAVE. BUT WE ARE HAVING THE PROBLEMS OF EVACUATING PEOPLE FROM THOSE SIEGES AND THE SHELLS AND THEY HAVE POUNDED ON CITIES AT THIS PARTICULAR MOMENT.
MORE THAN HALF OF THE MILLION OF UKRAINIAN PEOPLE ARE WAITING TO BE EVACUATED, AND RUSSIA IS NOT PROVIDING FOR THAT OPPORTUNITY. SO HERE WE GO, THAT IS A VERY, VERY HUMANE THING TO DO, EVEN DURING THE WARTIME. BUT RUSSIA IS NOT WILLING TO DELIVER UPON THAT.
>> Andrew: AND I WOULD BE REMISS IF I DIDN'T ASK YOU ABOUT CANADA'S POTENTIAL ROLE IN ALL OF THIS WITH -- ESPECIALLY WITH YOUR VISIT TO OTTAWA UPCOMING. WHAT IS IT THAT YOU SEE AS PART -- IN TERMS OF CANADA'S PART THAT IT COULD PLAY HERE? THERE IS SOME TALK OF CANADA PERHAPS BECOMING A GUARANTOR OF UKRAINE'S SAFETY IF THINGS PROGRESS IN THE WAY THAT IS INTENDED. WHAT IS YOUR SENSE OF THAT? >> YOU KNOW, I THINK THAT CANADA HAS BEEN ALREADY DOING A LOT IN TERMS OF HELPING UKRAINE. BUT A LOT MORE COULD BE DONE.
AND IF THAT IS ONE OF THE OPTIONS ON THE TABLE WHERE CANADA COULD STEP IN WITH ITS GUARANTEES, THAT WOULD BE TERRIFIC NEWS. BUT AT THIS POINT I DON'T THAT WE'VE HAD A CLEAR PUBLIC SIGNAL FROM THE CANADIAN GOVERNMENT ON READINESS TO DO SO. >> Andrew: WE'LL HAVE TO LEAVE IT THERE BUT THANK YOU FOR JOINING US. IVANNA KLYMPUSH-TSINTSADZE, A MEMBER OF PARLIAMENT IN UKRAINE THANK YOU SO MUCH.
>> THANK YOU. >> Andrew: NOW NO MATTER HOW OR WHEN THIS WAR ENDS IT HAS ALREADY LEFT SO MANY SCARS ON CITIES AND TOWNS AND ON BOTH THE BODIES AND SOULS OF SURVIVORS. SUSAN ORMISTON SPOKE TO WOMEN RECOVERING IN LVIV, THEIR WOUNDS SEVERE, THEIR MEMORIES ALMOST UNBEARABLE. (Speaking Foreign Language).
>> Reporter: OLGA IS FROM MARIUPOL. HER HOME WAS DESTROYED BY A RUSSIAN MISSILE STRIKE NEARBY. SHE MADE IT TO THE BASEMENT, HER HUSBAND DIDN'T. (Speaking Foreign Language). >> Voice of Translator: MY HUSBAND WAS COMING BUT DIDN'T MAKE IT.
HE NEEDED FIVE MORE SECONDS. >> Reporter: DIDN'T HAVE ENOUGH TIME? HOW DID YOU GET OUT? >> Voice of Translator: I WAS UNDER RUBBLE CALLING FOR HELP BUT IT TOOK TWO HOURS FOR SOMEBODY TO HEAR ME. IT TOOK PEOPLE FROM THE NEIGHBOURHOOD HOMES SIX HOURS TO DIG ME OUT. >> Reporter: HER LEG WAS TRAPPED UNDER A CONCRETE SLAB, NEIGHBOURS WRAPPED ROPE AROUND IT AND PULLED IT OFF WITH A CAR.
OLGA'S LEG IS BROKEN IN THREE PLACES AND HER HEART IS SHATTERED. SHE'S ANGRY, UNBELIEVING. (Speaking Foreign Language). >> Voice of Translator: WHAT CAN YOU THINK ABOUT THE DESTRUCTION OF EVERYTHING THAT WAS SACRED AND DEAR. IN ONE SECOND I LOST EVERYTHING -- MY PARENTS, HUSBAND, AND AFTER TWO DAYS I FOUND OUT THAT MY SISTER AND HER HUSBAND ALSO DIED IN THEIR YARD.
>> Reporter: OLGA, I'M SO SORRY. (Speaking Foreign Language). >> Reporter: SHE HAD TO LEAVE THEM ALL THERE UNDER THE RUBBLE, NO GOODBYES.
MARIUPOL IS STILL UNDER SIEGE. RUSSIAN TROOPS ARE CLOSING IN, 90% OF THE BUILDINGS ARE DAMAGED OR DESTROYED. THE MAYOR SAYS THAT THOUSANDS HAVE DIED OR ARE INJURED. AND THE WOUNDS FROM SHRAPNEL ARE DEVASTATING, SAYS DR. YURI VOGKOV. >> Voice of Translator: THIS ONE HAD HUGE DAMAGE, TORN AND CRUSHED SOFT TISSUE.
AND THE TIME TO HEAL IS MUCH LONGER. AND THIS ONE IS ALSO INFECTED AND IT WILL TAKE MUCH LONGER TO HEAL. >> Reporter: PHYSICAL WOUNDS LIKE OLGA'S CAN HEAL. SHE GOES INTO HER FIRST SURGERY TOMORROW. SHE'LL WALK AGAIN.
THE EMOTIONAL TRAUMA -- SO MANY ARE SUFFERING. (Speaking Foreign Language). >> Reporter: MEET LISIA, SHE'S IN LVIV NOW RECOVERING FROM HE NARROW ESCAPE FROM HOSTOMEL NEAR KYIV. WHEN THE BOMBING STARTED SHE GRABBED 9-MONTH-OLD KEERA AND JUMPED IN THE VEHICLE. IT WAS SHELLED. THE DRIVER DIED AND SO DID HER FRIEND.
LISIA'S HAND AND WRIT WERE NEARLY SEVERED. >> Voice of Translator: I WAS REALLY SCARED AND YOU CAN'T IMAGINE, I WAS TREMBLING AND AFRAID FOR MY KIDS. YOU ARE THINKING OH, MY GOD, IS THIS THE END.
>> Reporter: WITH HER BABY AND HER FRIEND'S 3-YEAR-OLD SHE HEADED DOWN THE ROAD AND ANOTHER DRIVER PICKED THEM UP AND BROUGHT THEM TO A HOME. LISIA ALMOST BLED OUT IN THE BASEMENT. SHE'S CALLING HER HUSBAND. HE WAS TRAPPED BY SHELLING TRYING TO GET AN AMBULANCE.
(Speaking Foreign Language). >> Voice of Translator: I WAS LOSING CONSCIOUSNESS AND I WA PRAYING AT LEAST SAVE OUR DAUGHTER. >> Reporter: ARTOUM FINALLY GOT TO HER.
>> Voice of Translator: SHE WAS VERY WHITE AND I WANTED TO HUG HER, BUT I KNEW IF I HUGGED HER SHE WOULD START SCREAMING. >> Reporter:THEY SHOW US THE BAB BLANKET WHICH HAD BEEN WRAPPED AROUND CIARA. STILL HAD HARD BITS OF SHRAPNEL AND SOME EMBEDDED IN CIARA'S FOOT NOW. BUT THEY SURVIVED TOGETHER. IN THIS SENSELESS WAR THAT SHOWS NO REAL SIGNS OF ENDING.
>> Voice of Translator: WE DON'T KNOW FOR SURE BECAUSE PUTIN IS A TERRORIST. HE'S NOT FIGHTING WITH SOLDIERS, HE'S FIGHTING WITH WOMEN AND KIDS. >> Reporter: SAFE NOW IN THE LVIV AREA, THEY CAN'T MAKE PLANS BUT CIARA IS THEIR FUTURE.
AND THEY ARE GRATEFUL. SUSAN ORMISTON, CBC NEWS, LVIV. >> Andrew: WELL, QUEEN ELIZABETH STEPPED OUT IN PUBLIC TODAY, APPEARING MORE FRAIL SINCE CONTRACTING COVID. (♪♪) BUT IT IS HER SON ANDREW'S PRESENCE THAT HAS PEOPLE TALKING. PLUS -- >> IT IS ONLY WHEN THE EMOTIONS REALLY CAME OUT AND I HAD TEARS IN MY EYES. >> Andrew: PFIZER'S C.E.O.
REFLECTS ON THE COMPANY'S VACCINE AND WHETHER HE'S OPEN TO SHARING THE FORMULA WITH THE DEVELOPING WORLD. >> Andrew: WELCOME BACK. AS ANOTHER WAVE OF COVID SETS IN THERE ARE CONVERSATIONS ABOUT THE VALUE OF A FOURTH DOSE.
IT'S HARD TO BELIEVE BUT UP UNTIL ABOUT A YEAR AND A HALF AGO THERE WAS NO VACCINE AT ALL. WE'VE COME TO LEARN PLENTY ABOUT PFIZER'S MONUMENTAL EFFORT TO PRODUCE A VACCINE, BUT MUCH LESS ABOUT THE MAN IN CHARGE OF IT ALL. NOW THE COMPANY C.E.O. ALBERT
BOURLA HAS WRITTEN A BOOK CALLED "MOONSHOT:INSIDE PFIZER'S NINE-MONTH RACE TO MAKE THE IMPOSSIBLE POSSIBLE." AND RECENTLY I HAD A CHANCE TO SPEAK WITH HIM. (♪♪) >> IT WAS AN INCREDIBLE MOMENT I THINK THAT I WILL REMEMBER IT FOREVER. THE MOST MATERIAL INFORMATION IN THE WORLD AT THAT MOMENT.
AND THE RESULTS ARE ASTONISHING. ONLY WHEN I WENT BACK HOME THAT EVENING AND I SAT DOWN AND I TOOK A GLASS WITH OF WINE, THIS IS ONLY WHEN THE EMOTIONS REALLY CAME -- CAME OUT. AND I HAD TEARS IN MY EYES. >> Andrew: IN THE EARLY MONTHS OF THE PANDEMIC, ALBERT BOURLA'S TEAM NEEDED TWO MIRACLES. FIRST, A VACCINE THAT ACTUALLY WORKED USING UNPROVEN TECHNOLOGY.
BUT THEY ALSO NEEDED IT NOW. >> WHEN I FIRST HEARD THE NEWS I THOUGHT THAT I MISHEARD. THEY TOLD ME 90, AND I THOUGHT THEY TOLD ME 19. AND THEY SAID NO, NO, 90 AND I SAID WHAT IS THE EFFICACY AND THEY SAID 94.6% AND I KNEW THAT THE WORLD IS CHANGED. >> Andrew: BOURLA HANDLE PERSONALLY THE CALLS WITH WORLD LEADERS, ALL OF WHOM WANTED GREATER SUPPLIES OF VACCINE THAN THE COMPANY COULD PROVIDE.
IN YOUR BOOK, YOU WRITE ABOUT MANY DIFFERENT WORLD LEADERS. AND YOU SPEAK HIGHLY, GLOWINGLY, OF ALMOST ALL OF THEM. BUT NOTABLY NOT SO HIGHLY OF DONALD TRUMP.
WHAT SHOULD I READ INTO THAT? >> I THINK THAT I REPRESENTED THE BEST HOPE TO BRING A VACCINE BEFORE THE ELECTION. AND DIFFICULT TO WORK BECAUSE FOR ME A WEEK EARLIER IT IS NOT SAFE. AND IT WAS A STRATEGY. SO FROM HAVING ACTUAL RELATIONS, AND WE HAD ZERO RELATIONS BECAUSE I THINK THAT IN HIS MIND WE COULD HAVE DONE IT FASTER AND WE DIDN'T.
WE NEVER SPOKE SINCE THEN. >> Andrew: ALL VACCINE MAKERS HAVE FACED THE SAME CHALLENGE, AND THAT IS OF MISINFORMATION. CORRECT ME IF I'M WRONG, BUT I BELIEVE THAT I'VE HEARD YOU TALK ABOUT THOSE WHO WOULD DELIBERATELY PEDDLE IN MISINFORMATION AS CRIMINALS. IS THAT SOMETHING THAT YOU STAND BY, THAT YOU BELIEVE IN? >> YES, I DO.
BECAUSE THEY ARE LITERALLY COSTING LIVES. THEY KNOW WHAT THEY'RE SAYING IS A LIE. BUT THEY DO IT DESPITE THAT.
THERE'S AN ARTICLE AND A PICTURE OF MY WIFE AND HER -- I FORCED HER TO GET THE VACCINE AND BECAUSE OF THE VACCINE SHE DIED. I REALISED THAT THEY -- ALL WERE LIES, OF COURSE, AND THEY DID IT, WHY? BECAUSE THEY WANTED TO CONVINCE PEOPLE THAT THEY WERE ON THE FENCE TO DO THE VACCINE OR NOT -- DON'T DO IT. LOOK, HIS WIFE DIED. BUT FORGET THAT, THAT IS NOTHING COMPARED TO HOW MANY PEOPLE DIDN'T DO THE VACCINE AND DIED BECAUSE OF THAT. SO THEY ARE CRIMINALS. >> Andrew: ANOTHER LARGE PROBLEM -- VACCINE EQUITY.
PFIZER HAS SOLD PRIMARILY TO WEALTHIER COUNTRIES. ITS REVENUE DURING THE PANDEMIC DOUBLED, TO $80 BILLION. ITS PROFITS UP 50% IN JUST ON YEAR. AND SO CAME THE CALL FOR PFIZER TO SHARE ITS SECRET RECIPE. THE INTELLECTUAL PROPERTY SIDE OF THIS -- YOU KNOW WHERE I'M GOING WITH THIS.
THERE HAVE BEEN REPEATED CALLS IMPLORING PFIZER TO SHARE THE FORMULA WITH THE REST OF THE WORLD. WHY HAS PFIZER DECIDED NOT TO DO THAT? >> IT WAS NEVER A QUESTION OF INTELLECTUAL PROPERTY WHY WE DIDN'T HAVE ENOUGH VACCINES IN THE FIRST HALF OF 2021. IT WAS A LACK OF RAW MATERIALS.
IT WAS NOT EVEN, AND FOR THOSE THAT KNOW EVEN BASIC THINGS ABOUT HOW SOPHISTICATED THIS TECHNOLOGIES IS. TO SAY THAT WE CAN TRANSFER KNOWLEDGE OR WE WILL HAVE SOME COUNTRIES IN AFRICA TO START MANUFACTURING THIS HIGH-TECH -- THEY ARE COMPLETELY DREAMING. THIS IS NOT POSSIBLE. >> Andrew: OR IS IT? THE WORLD HEALTH ORGANIZATION IS ESTABLISHING A GLOBAL mRNA HUB IN AFRICA WITH SIX COUNTRIES SET TO RECEIVE THE TECHNOLOGY REQUIRED TO MANUFACTURE mRNA VACCINES. PFIZER IS ALSO LAYING FOUNDATIONAL GROUNDWORK IN AFRICA, BUT ONLY TO PRODUCE ITS OWN VACCINE. THE VAST MAJORITY OF AFRICANS HAVE YET TO RECEIVE EVEN A SINGLE DOSE.
THERE'S AN ADVOCATE WHO WE'VE SPOKEN TO, AN ADVOCATE FOR VACCINE EQUITY, BUT PARTICULARLY IN AFRICA, AND HE HAS SORT OF A QUESTION ABOUT THIS AND I'M WONDERING IF YOU COULD ANSWER IT. SO LET'S GO AHEAD AND PLAY THIS FOR YOU. >> MY NAME IS EDWARD AND I'M THE AFRICAN EXECUTIVE DIRECTOR OF THE ONE CAMPAIGN. MR. ALBERT BOURLA, AFRICA DOES PRODUCE 99% OF ITS VACCINES, SO WHY DOES PFIZER NOT SUPPORT THE REGIONAL HUBS IN AFRICA SO THAT AFRICANS CAN MAKE THEIR OWN VACCINES FOR THIS PANDEMIC AND THE NEXT? >> SO I THINK THAT HE HAS A VERY FAIR POINT, AND WITH mRNA, THE QUESTION WAS THAT SOMETHING THAT HAD NEVER BEEN MANUFACTURED BEFORE IN THE WORLD, WE MANUFACTURE IT AT SCALE IN THE MIDST OF A PANDEMIC. AND TRYING TO DEVOTE ATTENTION FROM THE BIG CENTRES THAT WERE MAKING MASSIVE PRODUCTION FOR THE WHOLE WORLD TO TRY TO DO SOMETHING IN PLACES THAT THEY DON'T MANUFACTURE EVEN SIMPLE FORMS, THAT WOULDN'T BE SUSTAINABLE.
>> Andrew: SO WHAT IS NEXT? WHAT DOES THE NEXT WAVE LOOK LIKE? WHAT SHOULD WE BE PREPARING FOR? I MEAN, YOU KNOW, THERE'S A TIME WHEN TWO DOSES WAS CONSIDERED FULLY VACCINATED. I HAVE THREE. WILL I NEED A FOURTH? WHAT'S NEXT? >> I THINK THAT WHAT MOST OF THE PEOPLE ARE ASKING RIGHT NOW, INCLUDING THE PUBLIC AND THE EXPERTS, IT IS SOMETHING THAT WILL LAST, AT LEAST ONE YEAR. I THINK THAT THERE IS A FATIGUE WITH I NEED TO DO A THIRD OR A FOURTH OR A SIXTH.
BUT WE HAVE GOOD REASONS TO BELIEVE THAT WE HAVE FOUND GOOD SCIENCE THAT COULD HOPEFULLY GET US TO THIS RESULT. IF THAT'S TRUE, I THINK THAT WE WILL BE ABLE TO PROVE IT IN THE NEXT SIX TO 12 MONTHS, AND THEN HAVE SOMETHING THAT WILL TAKE US FOR THE YEARS TO COME WITH JUST ONE ANNUAL VACCINATION. SO A LOT OF ACTIVITY RIGHT NOW. AND WE ARE COMMITTED TO NEVER LET GO. >> Andrew: DR. BOURLA THIS HAS
BEEN A WONDERFUL CONVERSATION. THANK YOU FOR YOUR TIME. EXCELLENT TALK. >> THANK YOU VERY, VERY MUCH.
HAVE A NICE DAY. >> Andrew:ONE FOOTNOTE, ON THE QUESTION WHERE ELSE mRNA TECHNOLOGY MIGHT LEAD THE COMPANY, BEFORE THE PANDEMIC STARTED PFIZER IN WAS IN A PARTNERSHIP WITH BIONTECH TO HAVE A mRNA FLU VACCINE. JUST ONE OF MANY APPLICATIONS OF THE TECHNOLOGY THAT COULD HOLD PROMISE. OKAY, COMING UP, A MORE PERSONAL ACCOMPLISHMENT. (♪♪) AN ONTARIO MUSICIAN'S EXTRAORDINARY ROAD TO NASHVILLE.
>>> PLUS, QUEEN ELIZABETH SHOWS SUPPORT TO PRINCE ANDREW AND MANY ARE QUESTIONING HER >> Andrew: POLICE IN THE U.K. HAVE ISSUED 20 FINES OVER ILLEGAL PARTIES HELD BY THE PRIME MINISTER AND HIS STAFF DURING COVID LOCKDOWNS, WITH MORE FINES LIKELY TO COME. INDIVIDUALS WON'T BE NAMED BY POLICE, BUT THE PRIME MINISTER'S OFFICE SAID THAT IT WOULD CONFIRM IF BORIS JOHNSON GETS A FINE. EARLIER THIS YEAR, JOHNSON APOLOGISED TO PARLIAMENT FOR MISTAKES MADE. >>> WELL, DELAYED ALMOST A YEAR BY PANDEMIC RESTRICTIONS, A MEMORIAL SERVICE WAS HELD TODAY FOR THE LATE PRINCE PHILIP. THE QUEEN WAS THERE IN HER FIRST PUBLIC APPEARANCE SINCE TESTING POSITIVE FOR COVID, BUT AS ELLEN MAURO SHOWS US, IT WAS WHO SHE WAS WITH THAT WAS DRAWING MUCH ATTENTION.
(♪♪) >> Reporter:TRUMPETERS SIGNALLING THE QUEEN'S ARRIVAL, A MOMENT THAT HAD BEEN IN DOUBT. (♪♪) THE 95-YEAR-OLD MONARCH INCREASINGLY FRAIL ENTERED THROUGH A SIDE DOOR, USING A WALKING STICK, ESCORTED BY HER SON PRINCE ANDREW. HER ATTENDANCE ONLY CONFIRMED JUST BEFORE THE SERVICE BEGAN. WESTMINSTER ABBY WAS FULL, HUNDREDS THERE HONOURING THE LIFE OF PRINCE PHILIP. THE MEMORIAL THAT WASN'T POSSIBLE LAST YEAR WHEN HE DIED.
COVID RESTRICTIONS THEN MEANT THE QUEEN SITTING SECLUDED AT WINDSOR CASTLE. OUTSIDE THE ABBY, A CROWD REFLECTED ON THE MOMENT. >> IT KIND OF FEELS LIKE THE NATION'S GRANDPARENTS AND SO IT WAS JUST NICE TO BE HERE FOR HER TODAY. >> I THINK THAT OBVIOUSLY SHE'S BEEN GRIEVING AND THEN SCARRED BY HER FAMILY'S PROBLEMS, SO SHE GOING TO BE UPSET, ISN'T SHE? >> Reporter: THE SCANDAL AROUND PRINCE ANDREW. HAD SETTLED A CASE WITH VIRGINIA DUFFRE. WHO SAID THAT SHE WAS FORCED TO HAVE SEX WITH HIM WHEN SHE WAS A MINOR.
ALLEGATIONS THAT ANDREW DENIED, BUT HIS PLACE OF PRIDE AT THE CEREMONY HAS BEEN SLAMMED BY CRITICS AS OFFENSIVE. >> I THINK THAT IT'S AN IMAGE THAT WILL PROMPT A LOT OF DISCUSSION, AND A LOT OF CONTROVERSY AND DEBATE. >> Reporter: THIS ROYAL COMMENTATOR SAID THAT WOULD HAVE COME DOWN TO THE QUEEN'S WISHES.
>> BY HAVING PRINCE ANDREW SO FRONT AND CENTRE AT THIS SERVICE, THAT WON'T BE HELPFUL IN TERMS OF COVERAGE. >> Reporter: AT WHAT IS ALREADY A TIME OF TURMOIL FOR THE ROYAL FAMILY. THE RIFT WITH HARRY AND MEGHAN NOT IN ATTENDANCE AND THE QUESTIONS OF THE MONARCHY'S REACH WITH MORE COUNTRIES POISED TO REMOVE THE QUEEN AS THE HEA OF STATE OVER BRITAIN'S BRUTAL COLONIAL LEGACY. SO MUCH TO CONTEND WITH IN THIS PLATINUM JUBILEE YEAR.
THE FIRST MAJOR MILESTONE WITHOUT PHILIP BY HER SIDE. (♪♪) ELLEN MAURO, CBC NEWS, LONDON. >> Andrew: WELL, THE FOO FIGHTERS HAVE CANCELLED ALL REMAINING TOUR DATES FOLLOWING THE DEATH OF THEIR DRUMMER TAYLOR HAWKINS. THE ROCK STAR WAS FOUND DEAD ON FRIDAY DURING A TOUR IN SOUTH AMERICA AFTER COMPLAINING OF CHEST PAINS. TAYLOR HAWKINS WAS 50 YEARS OLD.
IN A STATEMENT THE BAND SAID THAT IT IS SORRY FOR THE DISAPPOINTMENT AND CALLING ON FANS TO TAKE THIS TIME TO GRIEVE. THE FOO FIGHTERS WERE SCHEDULED TO PERFORM HERE IN CANADA BETWEEN JULY AND OCTOBER. >>> WELL, AFTER THE BREAK, THE YOUNG TRUMPETER FROM MISSISSAUGA, ONTARIO, WHO LANDED AN IMPRESSIVE GIG AFTER GRADUATING FROM A VERY IMPRESSIVE SCHOOL. (♪♪) WHY HE CREDITS HIS ACHIEVEMENT TO THE GENEROSITY OF FRIENDS AND STRANGERS NEXT.
(♪♪) >> Andrew: THAT IS TRUMPETER WILLIAM LEATHERS MAKING HEADLINES. NOW, FOUR YEARS AGO HE WAS ACCEPTED TO JUILLIARD BUT NEEDED SOME SUPPORT TO MAKE THE PRICEY TUITION. WELL, THANKS TO SOME GENEROUS CANADIANS AND STRANGERS AROUND THE WORLD, HE CROWDSOURCED TENS OF THOUSANDS OF DOLLARS. NOW HE'S ABOUT TO GRADUATE AND HE'S ALREADY SECURED A PRETTY PRESTIGIOUS FIRST JOB. HIS LATEST ACHIEVEMENT AND THE PEOPLE WHO HELPED TO MAKE IT HAPPEN ARE PART OF OUR "MOMENT" TONIGHT. (♪♪) >> BECAUSE OF THE GENEROSITY OF CANADIANS AND PEOPLE ALL OVER THE WORLD DONATING TO MY GOFUNDME CAMPAIGN I WAS ABLE TO GO TO JUILLIARD FOR THE FIRST TWO YEARS OF MY UNDERGRAD AND THEN AFTERWARD I WAS BLESSED WITH A COUNTER FELLOWSHIP AT THE JUILLIARD SCHOOL WHICH COVERED THE REST OF MY BACHELORS.
(♪♪) ABOUT A MONTH AGO, I WON THE PRINCIPAL TRUMPET AUDITION FOR THE NATIONAL SYMPHONY ORCHESTRA AND THEY INVITED ME TO PLAY. SO I WENT DOWN THERE AND I WENT THROUGH THREE ROUNDS OF AUDITIONING. AFTER I PLAYED ALL THREE ROUNDS THEY INFORMED ME THEY WANTED ME TO BE THE NEXT PRINCIPAL TRUMPET PLAYER. (♪♪) WELL, THEY CERTAINLY DO CALL ME TO THE CITY FOR A REASON. THERE'S A WHOLE LOT OF COUNTRY MUSIC THERE AND THERE'S A LOT OF POP MUSIC AND, OF COURSE, I'M JUST REALLY EXCITED TO GET THERE. NONE OF THAT WOULD HAVE BEEN POSSIBLE WITHOUT THE GENEROSITY OF THE PEOPLE WHO DONATED TO THE CAMPAIGN.
(♪♪) >> Andrew: YOU KNOW, I'M NOT ONE TO GUSH EASILY, BUT, BOY! THAT IS OUTSTANDING! WHAT AN INCREDIBLY CRISP, CLEAN, FULL SOUND. TUITION FOR FOUR YEARS COSTS HUNDREDS OF THOUSANDS OF DOLLARS AND I SUSPECT THAT HE'LL MAK THAT BACK IN SPADES. THAT IS "THE NATIONAL" FOR THIS MARCH 29TH. HAVE A GREAT NIGHT.
(♪♪) (♪♪)
2022-03-31 18:21
Show Video
Other news