U of T Scarborough (Business; Commerce; Economics; DPES) Spring 2022 Convocation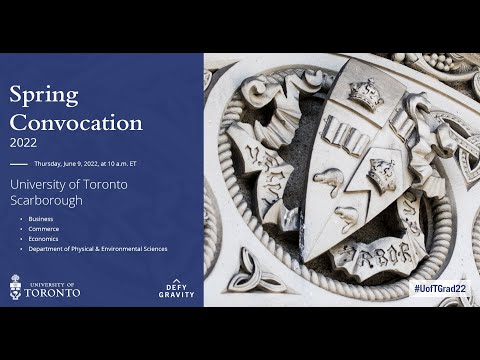 Show Video
We wish to acknowledge this land on which the University of Toronto operates. For thousands of years, it's been the traditional land of the Huron-Wendat the Seneca and the Mississaugas of the Credit. Today, this meeting place is still the home to many Indigenous people from across Turtle island.
And we are grateful to have the opportunity to work on this land. We also grateful to have the opportunity to celebrate the achievements of our scholars who graduate today on their behalf. Let us express gratitude for the support of their families and friends and for the faculty and staff who have guided them in their pursuit of knowledge, whatever our own traditions, let us reflect. As we proceed through the ceremony today on the many years of effort, sacrifice and success that have brought us this time of celebration. In concilium Universitatis Torontonensis vocati sumus. Graduands please remain standing. All guests be seated.
Insignissime Cancellaria: Praesento tibi hosce scholares ut admittantur ad gradus varios, testorque eos quoad omnia quae statuta requirunt aptos et idoneos esse. Ad profectum huius provinciae huiusque magnae patriae, et ad profectum omnium nationum omnibus in terris coniunctarum, ego, ex auctoritate mihi et toti Universitati commissa admitto vos ad gradus varios quorum iura vobis do et peto quoque ut omnia conficiatis munera quae ad illos gradus pertinent. Please be seated. My name is William Gough, and it is my great privilege to serve as the vice principal academic and Dean at the University of Toronto Scarborough.
Today, I have the additional privilege of assisting professor Wisdom Tettey vice president of the University of Toronto and principal of the University of Toronto Scarborough in conducting this convocation. The university is an institution with deep historical roots and many enduring traditions among those is our use of the language of the medieval university in today's wonderful celebration. For those in attendance who like me are less than fluent in Latin, a translation may be helpful. for my part, I said, "most distinguished chancellor.
I present to you these scholars that they may be admitted to their various degrees. And I bear witness that as far as all things, which the statutes require they are fit and suitable much more significantly." From the standpoint of the graduating class, principal Tettey then replied, "to the benefit of this province, this great country, and to the worldwide community of nations. I, by the authority vested in me and in the whole university, admit you to your various degrees. Grant to you,
the rights and ask of you the responsibilities of doing all those things, which pertain to those degrees." So as my first order of business, I am delighted to salute you the graduating classes of 2022 from the University of Toronto Scarborough, That's it. You're done. Warmest congratulations. I would also like to be a warm welcome to everyone who has joined us here in a historic convocation hall. It is wonderful to be able to celebrate the first in person convocation season since November, 2019, You can clap. This is a big moment. Graduates, today the University of Toronto is formally recognizing your hard work, your accomplishments, your perseverance, and this milestone.
Speaking of perseverance, you have successfully completed your program in extraordinary and challenging times. And today's celebration is all the more meaningful for it. Each of you as a member of the graduating class is joining an extraordinary family of University of Toronto alumni, which I am part of. They number over 600,000 in more than 190 countries around the world, they are the university's living legacy and our greatest ambassadors, U of T alumni serve in leadership roles in every corner of the globe. And in every walk of life, they are prime ministers, justices, scholars, authors, community, and business leaders, scientists, and professionals of every description.
Their endeavors have shaped the world we live in. And the way we understand that world. We have no doubt that the University of Toronto's high international standing can be attributed to generations of dedicated and very talented faculty and staff members, Some of whom are joining me today. But we also understand that this reputation has been built by our alumni, a group that now includes each and every one of you. So to the graduating class, let me say: thank you.
Thank you for your many contributions to the university while you were a student and thank you for what you will do as member of Canada's largest, and I believe, most distinguished alumni community. One more word of thanks is in order. I'm sure all graduates share a sense of gratitude to the friends and family members who have helped them bring help, bring them to this special day.
So I would ask you to join me in the platform party in thanking them with a vigorous round of applause. Let me continue with a request. One of the distinguishing features of our convocation is that graduates come forward individually to be recognized. You will leave the stage using the ramp, exit out the door and around the hall. At that point, you will turn left quickly. Re-entered the hall. As your peers continued to be recognized in this regard, I encourage you to think of the very last person to be on stage.
I believe it will be Chen Hao Zhu. can Chen Hao please stand up? Where's Chen? Wave. Yes. There he is. Stay standing. So congratulations. No, no, no. Stay standing. Congratulations. Is it this a big day for you? [Chen] Yes. [Gough] So Chen Hao I'm committed to be here, I mean, I have a busy day, but I'm gonna be here for your graduation.
Everyone here is gonna be here for graduation and I invite everyone else to be here for you. Finally, in light of ongoing health and safety concerns regarding the pandemic, we respectfully ask that all individuals present wear properly fitting mask throughout today's ceremony. Similarly, we will forgo the traditional handshake, but promise to offer a friendly wave of acknowledgement as you pass by us on the stage. I really thank you for your understanding and assistance on this and once more warmest, congratulations.
It is now my privilege to introduce today's convocation speaker, Mr. Roy Ratnavel. An alumnus of the University of Toronto Roy Ratnavel has over 30 years of experience in the financial services industry. He currently serves as the executive of vice president of CI Financial and the head of distribution at CI global asset management, the largest independent asset management firm in Canada. Mr. Ratnavel is involved in many philanthropic causes,
including the 2019 climb of Mount Kilimanjaro to raise awareness and funds to combat mental illness. For his leadership in the industry, Mr. Ratnavel has received the Report on Business Canada's 50 best executive 2020 award. Please welcome Mr. Roy Ratnavel to the podium. Thank you for that introduction. So wonderful sounding. I'd like to meet that guy. Good morning and thank you.
I'm honored to be with you today at your convocation from one of the finest universities in the world. Congratulations graduates today is a great day. It's a day to celebrate with your families and friends. While joining you on this joyous occasion I wanna talk about three stages of my life and what I learned from them.
Just three stages,: traumatized, transformed and triumphed. First stage: traumatized. Traumatized. Fighting through adversity. In 1987, at the age of 17, I was a political prisoner. After being tortured badly,
I remember thinking in life at sometimes we find ourselves in situations we could never envision being in. I was in one of those situations in prison with my right bicep, cut, open bleeding, badly alone. In that painful moment, I realized I don't choose the times I live in. The only choice I have is how I respond, because what is in the way is the way.
Life has numerous struggles, whatever the sufferings are. If you stand there defeated the problems won't run away, but if you can bear anything, there will be peace till the end. How I responded to my awful predicament, miraculously got me out of that conscious nightmare I was in, and got me into Canada at the age of 18. I landed at Toronto Pearson international airport on April 19th, 1988, with $50 in my pocket, Alone. And with a lot of hope. Second stage: Transformed.
Fighting for opportunities. I long believe that over the top optimists hallucinate, pessimists get depressed. However, both will not get anywhere in life, But hopelessness is an awful state of mind. If I said that I am a victim, then I will get sympathy from people. That much is for certain.
I knew solving my problems was my own responsibility. I can't transfer my trauma to others. The world owed me nothing, except freedom and choice. When I have freedom, the outcome will necessarily be different. I'll be rewarded for good choices and penalized for the bad ones.
That's the price of freedom. During my struggles, I realized that it was not the weight that broke me down. It was the way I carried it. The last freedom a person has is a right to choose their own actions. I'm very fond of D.H. Lawrence's famous poem about self pity. Lawrence said, "I never saw a wild thing, sorry for itself."
"A small bird will drop from frozen dead from a bow without ever having felt sorry for itself." In the natural world, self pity doesn't exist. Self-pity is unique among human beings. It is the burden and the locus of, of self destruction.
Self-pity was the fastest way to destroy myself. So I had to change. I had to transform myself because what is in the way, is the way. Third stage: triumph. Fighting to conquer myself. Conquering my own mountains was something I battled daily. I still do. At first, I got a daytime job in a factory. And then I,
at night I would clean office buildings. On the weekends, I had a job as a security guard, all the while still trying to finish my high school at night, which eventually led me to this amazing educational institution where I obtained a degree. One night after a very long day, I flipped through the job listings in the Toronto Sun newspaper, and there was one ad that said "office health needed." I applied, even though I didn't know what the job was all about. My offer letter for a mail room clerk from years ago now hangs in my office. It has been an amazing ride and I have learned so many lessons along the way.
If I subsidize undesirable behavior, I will get more undesirable behavior. Hard work wins. I can't be upset by the results I didn't get with the work I didn't do. I can't control the outcome, but I am 100% in control of the effort. And before blaming others, I must get to the nearest mirror and ask myself, "what could I have done to change the outcome?" Graduates. Please do not. I repeat, please do not tacitly relinquish responsibility for your welfare to someone else. If you do that, you may be the last one to know the potential changes that will impact your life.
Hubris kills careers, companies and countries in life. We never know if you're at the peak or the trough, The only solution to stay humble and hungry. Always outwork, everyone and everything, and learn, grow, and evolve everyday. Though, the past events are unchangeable, they can serve as an important lesson in overcoming the struggles of life to strive for a better future. We are all worthy of a life we desire, but it can only happen if you exhibit the right behavior and mindset. Be like that bird. Have no self-pity.
Stand up proudly with a stiffest spine, as if you're about to draw a bow. Don't go home defeated while pitying yourself because opportunities are never lost, but someone will take the ones you miss. When you get out there in the world, sometimes you have to deal with mean difficult and unreasonable people, but it doesn't fundamentally make a huge impact on your ability to make a difference and make a positive impact in this world. Humanity has no better path forward than to accept this fact with humility. If life handed you bad cards, shuffle the pack and pick another set of cards.
Strive to be the best, but keep an open mind and always, always take the high road. You will never regret it. Question the most obvious because critical thinking will keep you relevant, exhaust your potential. Don't quit until you have nothing left to give. You are given a toolbox and a set of tools.
You are supposed to work those tools as hard as you can. For every heartbeat you got, how many heartbeats you have left, nobody knows. So take every heartbeat as a very big deal and go for it.
And remember that success in life in is it isn't just about money or material things. It's about conquering yourself and doing the best you can to leave this world better than you have found it. If I have learned anything in my time on this planet, it is in the power of hope. Now go on and take control of your destiny because what is in the way, is the way. Congratulations. And thank you.
Professor Wisdom Tettey, I have the honor to present to you the following candidates from the school of environmental science, Candidates from the University of Toronto Scarborough who are being admitted to the degree of bachelor of business administration, Candidates from the University of Toronto Scarborough who are being admitted to the degree of bachelor of business administration, honors, bachelor of science, Candidates from the University of Toronto Scarborough who are being admitted to the degree of honors. Bachelor of arts, Candidates from the University of Toronto Scarborough who are being admitted to the degree of honors. Bachelor of science, Now on behalf of the University of Toronto and by virtue of the authority pressed in me, I hereby I've made all of those candidates, not here present to their degrees in absentia.
Thank you for returning on behalf of Chen Hao, his family and friends, As we conclude convocation, I wish to thank all of you for your participation and patience to the families and friends and to those in the procession. Let me say, thank you. You have made this a more memorable event for each member of the graduating class.
I would like to thank professor Wisdom Tettey vice president of the University of Toronto, and the principal of the University of Toronto Scarborough for presiding over today's ceremony. I wish to thank as well, the many other colleagues and friends of the university who participated in this convocation whose names will find in the program. And I want to specifically mention the inaugural chair of the department of management, Dr. Sandy Borins. This year, the University of Toronto is proud to introduce a new and important ceremonial element at convocation. As you will have noticed the chancellor's procession was led by an Eagle Feather Bearer. The Eagle feather remained on the stage during the ceremony.
This Eagle feather was gifted to the office of the president by elders at the 2017 entrustment ceremony for the report of U of T's truth and reconciliation steering committee to many indigenous cultures. The Eagle feather is sacred because it flies closest to the creator, delivering our thoughts and messages, the Eagle and its feathers often symbolize respect, honor, strength, courage, and wisdom. As such the Eagle Feather is an appropriate and meaningful addition to our convocation ceremonies. I now invite principal Tettey to bring today's ceremony to a close.
As I bring this convocation ceremony to a close on this your special day. I hope we will see you often in the years to come. And I invite you to stay connected. We will be very interested in your journey, and we know that you'll make an impact for the better in whatever path you choose. Concilium dimissum est
2022-06-14 08:58
Show Video
Other news