Tippie College of Business Commencement - May 14, 2022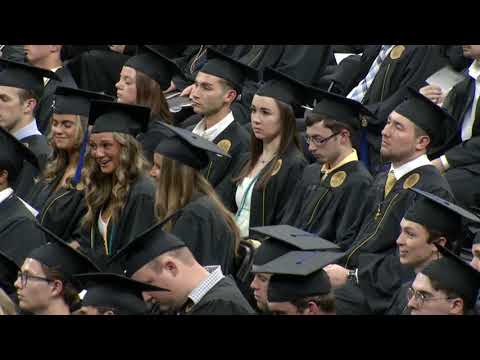 Show Video
THIS IS A CAPTIONING TEST. THIS IS A CAPTIONING TEST. ... ... TEST TEST TEST TEST TEST TEST TEST TEST TEST THIS IS A CAPTIONING TEST. TEST TEST TEST TEST TEST TESTT TEST TEST TEST TEST TEST TEST TEST TEST TEST TEST TEST TEST TEST TEST THOMAS: LADIES AND GENTLEMEN, WILL YOU PLEASE RISE FOR THE ACADEMIC PROCESSION. THOMAS: THE CANDIDATES FOR THE BACHELOR OF ADMINISTRATION DEGREE FROM THE TIPPIE COLLEGE OF BUSINESS HAVE GATHERED TO CELEBRATE COMMENCEMENT. ALL ARE IN THEIR PLACES. THESE PROCEEDINGS ARE
HEREBY CALLED TO ORDER. YOU MAY BE SEATED. IT IS MY PLEASURE TO INTRODUCE THE DEAN OF THE TIPPI COLLEGE OF BUSINESS AND PROFESSOR OF MANAGEMENT AND ENTREPRENEURSHIP, DR. AMY KRIST KRISTOF-BROWN: GOOD EVENING. ON BEHALF OF THE TIPPIE COLLEGE OF BUSINESS AND THE UNIVERSITY OF IOWA, I WELCOME ALL OF YOU ━ GRADUATING SENIORS, FAMILY MEMBERS, FRIENDS, FACULTY AND STAFF OF THE COLLEGE ━ TO THIS COMMENCEMENT IN THIS MEANINGFUL SPACE, CARVER HAWKEYE ARENA. THIS IS A FITTING PLACE TO HOLD OUR CEREMONY, AS IT REMINDS US OF ALL THE THINGS WE HAVE TO BE PROUD OF AT THE UNIVERSITY OF IOWA - ESPECIALLY TODAY ━ OUR G COMMENCEMENT ALLOWS US TO HONOR THEIR ACCOMPLISHMENTS, BY CELEBRATING AND REFLECTING UPON THIS IMPORTANT MILESTONE. THEY
SET A GOAL, WHICH THEY HAVE NOW COMPLETED, AND IT IS THE START OF SOMETHING NEW. TODAY, MANY EMOTIONS FILL THIS ARENA. FOR OUR GRADUATES, THESE EMOTIONS RANGE FROM RELIEF, EXHAUSTION, AND EXCITEMENT OF HAVING COMPLETED A JOB WELL DONE, AND ANTICIPATION AND APPREHENSION ABOUT WHAT COMES NEXT. FOR FAMILY, FRIENDS OR SPOUSES, THESE EMOTIONS CERTAINLY INCLUDE PRIDE AND IN SOME CASES, I SUSPECT, A PROFOUND SENSE OF FI. [LAUGHTER] BEFORE PROCEEDING FURTHER, I WOULD LIKE TO INTRODUCE YOU TO THE FACULTY AND INVITED GUESTS JOINING US TODAY TO HONOR OUR GRADUATES AS THEY EARN THEIR DEGREES. PLEASE STAND WHEN I
INTRODUCE YOU. JOINING ME ON TH EEAN CRAWFORD, ASSOCIATE PROFESSOR OF MANAGEMENT AND ENTREPRENEURSHIP AND HENRY B. TIPPIE RESEARCH FELLOW, ANN CAMPBELL, PROFESSOR AND DEPARTMENT EXECUTIVE OFFICER OF BUSINESS ANALYTICS, AND CLEMENT T. AND SYLVIA H. HANSON CHAIR I MANUFACTURING PRODUCTIVITY, AMY MCDONALD, LECTURER OF ACCOUNTIN CHARLES KEENE, ASSOCIATE DEAN, UNDERGRADUATE PROGRAM AND PROFESSOR OF INSTRUCTION OF MAR BARRY THOMAS, SENIOR ASSOCIATE DEAN AND PROFESSOR OF BUSINESS J. MARTIN SCHULTZ, VICE
PRESIDENT FOR RESEARCH AND PROFESSOR OF BIOCHEMISTRY AND MOLECULAR BIOLOGY, JEFF LORENGER, CHAIRMAN, PRESIDENT, AND CEO OF HNI CORPORATION, ROB ROUWENHORST, ASSOCIATE PROFESSOR OF INSTRUCTION OF MARKETING, LARRY COOK, LECTURER AND PROFESSIONAL DIRECTOR, MASTER'S IN FINANCE PROGRAM, MICHELE WILLIAMS, ASSISTANT PROFESSOR OF MANAGEMENT AND ENTREPRENEURSHIP AND JOHN L. MICLOT FACULTY FELLOW IN ENTREPRENEURSHIP, DAVID COOPER, PROFESSOR AND DEPARTMENT EXECUTIVE OFFICER OF TIPPIE FACULTY AND STAFF SERVIN AS MARSHALS ARE KEN BROWN, PROFESSOR OF MANAGEMENT AND ENTREPRENEURSHIP AND TIPPIE CHILDREN PROFESSOR, MICHAEL COLBERT, ASSOCIATE PROFESSOR OF PRACTICE AND DIRECTOR OF UNDERG STUDIES IN BUSINESS ANALYTICS, MIKE DURNEY, ASSISTANT PROFESSO OF ACCOUNTING, SARAH FRANK, LECTURER AND DIRECTOR OF UNDERG STUDIES IN ECONOMICS, RICHARD PETER, ASSOCIATE PROFESSOR OF FINANCE AND NATIONWIDE FACULTY TOM WALSH, ASSOCIATE PROFESSOR OF PRACTICE AND DIRECTOR OF UNDERGRADUATE STUDIES IN MARKET THANK YOU FOR JOINING US TODAY. [APPLAUSE] I WOULD ALSO LIKE TO GIVE SPECIAL THANKS AND RECOGNITION TO THE MEMBERS OF THE IOWA BRAS ON TRUMPETS, AMY SCHENDEL AND STEVE WHEELER, ON HORN, KATY AM ON TROMBONE, TODD SCHENDEL, ON TUBA, JOHN REYNA. ALL OF THESE PROCEEDINGS WILL BE INTERPRETED BY SCOTTIE VAN ISEGHEM.LET'S THANK EACH OF THESE INDIVIDUALS FOR PARTICIPATING TODAY.
[APPLAUSE] IT IS MY PLEASURE TO INTRODUCE OUR COMMENCEMENT SPEAKER, JEFF JEFF HOLDS THREE DEGREES FROM THE UNIVERSITY OF IOWA, RECEIVING HIS BBA IN MARKETING IN 1987, HIS JURIS DOCTORATE IN 1991, AND HIS MBA IN 2001. AFTER GRADUATING WITH HIS J.D. JEFF SPENT SEVERAL YEARS PRACTICING LAW IN MINNEAPOLIS, MINNESOTA BEFORE STARTING HIS CAREER WITH HNI CORPORATION IN 1998. JEFF BECAME PRESIDENT AND CEO OF HNI CORPORATION IN JUNE 2018, AND CHAIRMAN OF THE BOARD OF DIRECTORS IN FEBRUARY 2020. HNI CORPORATION IS A NEW YORK STOCK EXCHANGE LISTED COMPANY BASED IN MUSCATINE, IOWA THAT OPERATES IN TWO BUSINESS SEGMENTS. THE WORK
FURNISHINGS SEGMENT IS A LEADIN GLOBAL DESIGNER AND PROVIDER OF COMMERCIAL OFFICE FURNISHINGS. THE RESIDENTIAL BUILDING PRODUCTS SEGMENT IS THE NATION' LEADING MANUFACTURER AND MARKETER OF HEARTH PRODUCTS WHICH INCLUDE A FULL ARRAY OF GAS, ELECTRIC, WOOD, AND PELLET-BURNING FIREPLACES AND S JEFF CURRENTLY IS SERVING AS TH CHAIR OF THE BOARD OF DIRECTORS FOR THE BUSINESS AND INSTITUTIONAL FURNITURE INSTITUTIONAL FURNITURE MANUFACTURERS ASSOCIATION. AMON OTHER COMMUNITY ROLES, JEFF IS MEMBER OF THE TIPPIE ADVISORY BOARD AT THE COLLEGE OF BUSINES. JEFF, I'D LIKE TO INVITE TO YOU ADDRESS OUR ADVOCATES. [APPLAUSE] LORENGER: THANK YOU, DEAN KRISTOF-BROWN, AND THANK YOU TO ALL WHO ARE ASSOCIATED WITH THE TIPPIE COLLEGE FOR ALL THAT YOU DO TO MAKE THE INSTITUTION STRONGER EVERY DAY. IT IS AN
HONOR TO BE WITH ALL OF YOU TODAY ON THIS VERY SPECIAL OCCA FIRST, LET ME BEGIN BY SAYING CONGRATULATIONS TO ALL THE TIPPIE GRADUATING STUDENTS. ALL WHO CAME BEFORE YOU, AND ALL WH WILL COME AFTER, SHARE A BOND WITH YOU THAT WILL EBB AND FLOW FOR THE REST OF YOUR LIVES. LET ME ALSO SAY CONGRATULATIONS TO ALL THE FAMILY AND FRIENDS OF THE GRADUATES. YOUR SUPPORT AND GUIDANCE IN ALL ASPECTS ━ BIG O SMALL ━ PLAYED AN IMPORTANT ROL IN EACH AND EVERY GRADUATE'S JOURNEY. THAT TOO IS A MIGHTY ACCOMPLISHMENT AND NO SMALL PAR OF TODAY AS WELL! AS WE ALL REFLECT ON THE LAST 4-5 YEARS IN WHICH YOU ACHIEVED SO MUCH ON YOUR JOURNEY TO REACH THIS POINT, WE MUST ACKNOWLEDGE THE UNPRECEDENTED IMPACT OF THE PANDEMIC ON YOUR TIME AT TIPPIE YOU ALL IN YOUR OWN WAYS HAD TO OVERCOME THE NORMAL ADJUSTMENTS TO COLLEGE LIFE, AND TO LIFE AS TIPPIE BUSINESS STUDENTS, WHILE NAVIGATING PATHS NO ONE WHO HAS COME BEFORE, OR LIKELY ANYONE WHO COMES AFTER YOU, WILL HAVE TO REPEAT. SO, STOP AND REFLECT
ON WHAT YOU LEARNED, HOW YOU ADAPTED, HOW YOU PRESSED AHEAD TO CONTINUE YOUR INDIVIDUAL JOURNEYS TO ARRIVE AT THIS POINT. IT MAY BE TOMORROW, OR IT MAY BE FIVE YEARS FROM NOW, BUT YOU WILL NO DOUBT LOOK BACK ON TIME PERIOD AND LEAN ON WHAT YO LEARNED ABOUT YOURSELVES. YOU MAY NOT BE AWARE OF IT YET, BUT I HAVE NO DOUBT THIS MINDFULNESS WILL SURFACE IN YOUR PROFESSIONAL OR PERSONAL LIVES, AND YOU WILL BE STRONGER FOR IT SO NOW YOUR NEXT CHAPTER BEGINS IN ALMOST EVERY WAY, YOUR CLASS HEADS OUT INTO A WORLD THAT IS MUCH DIFFERENT THAN WHEN I SAT WHERE YOU ARE NOW SITTING. WELL, LET'S BE HONEST, WE DID NOT EVEN HAVE CELL PHONES OR APPLE COMPUTERS WHEN I SAT WHERE YOU ALL KIDDING ASIDE, THE WORLD IS DRAMATICALLY DIFFERENT THAN WHE TIPPIE GRADS SAT WHERE YOU ARE EVEN JUST 10 YEARS AGO. TO PUT
THE CURRENT STATE INTO PERSPECTIVE, PREVIOUS INDUSTRIA REVOLUTIONS TOOK 30, 40 OR EVEN 50 YEARS. TODAY WE ARE ENTERING INDUSTRY 4.0, DRIVEN BY 5G, WHICH IS EXPECTED TO TAKE ONLY EIGHT YEARS. SOCIAL CAPITAL AND WILL BE FAVORED OVER KNOWLEDGE, EXPERTISE, AND ONE-DIMENSIONAL YOU WILL ON AVERAGE CHANGE JOBS EVERY 2.3 YEARS. YOU HAVE THE
FREEDOM TO WORK FROM ANYWHERE. YOU BEGIN YOUR WORKING CAREER A A GROUP WITH A COLLECTIVE MINDSET THAT IS KEENLY FOCUSED ON A SENSE OF PURPOSE TO BE CHALLENGED, DOING GOOD, AND BEING PART OF A COMMUNITY IN AL THAT YOU DO. I COULD GO ON AND SO, THERE WILL BE NO SHORTAGE O AT THE SAME TIME, I WOULD OFFER THERE ARE ALSO SOME TIME-TESTED AND UNIVERSAL TRUTHS TO KEEP IN MIND AS YOU BEGIN YOUR JOURNEYS ALL OF WHICH WILL SERVE YOU WEL ON YOUR INDIVIDUAL ADVENTURES. I HAVE FOUND THESE TO BE INGREDIENTS FOR SUCCESS IN ANYTHING YOU CHOOSE TO DO: WORK HARD, PARTICULARLY IN MAKING THE MOST OF EVERY OPPORTUNITY YOU H LOOK FOR AN OPPORTUNITY TO LEAR FROM EVERY INDIVIDUAL, PROJECT TEAM MEMBER, AND TEAMMATE YOU ENCOUNTER - IT WILL NOT ALL BE POSITIVE - BUT YOU WILL STILL LEARN AND BE ABLE TO ADD TO YOU PERSONAL TOOL KIT. BE CURIOUS AND FOLLOW YOUR CURIOSITY IN ORDER TO SEEK OUT AND TRY NEW T TAKE CHANCES. THE ENVIRONMENT TODAY MORE THAN ANY OTHER TIME WILL REWARD THOSE WHO TAKE CHANCES AND PURSUE THEIR CURIOS I JUST STARTED READING A BOOK CALLED IMPACT PLAYERS THAT WAS GIVEN TO ME BY A COLLEAGUE. IT
IS EXTREMELY RELEVANT RIGHT NOW AND IT TOUCHES ON HARD WORK, OPPORTUNITY, CURIOSITY, AND RIS THE AUTHOR POINTS OUT THAT ORGANIZATIONS TODAY RECOGNIZE THAT THE BEST IDEAS COME FROM PEOPLE WHO ARE CLOSEST TO THE ISSUES OR PROBLEMS. THAT WILL BE MANY OF YOU, EVEN ON DAY ONE YOU WILL BE IN POSITIONS TO MAKE AN AN IMPACT PLAYER MINDSET IS A MODE OF THINKING THAT, WHEN CONSISTENTLY ADOPTED, LEADS TO HIGH-VALUE CONTRIBUTION AND HIG AN IMPACT PLAYER MINDSET WILL HAVE YOU DOING THE JOB THAT'S NEEDED VERSUS JUST DOING YOUR ASSIGNED JOB. AN IMPACT PLAYER MINDSET SEES MESSY PROBLEMS, UNCLEAR ROLES, AND UNFORESEEN OBSTACLES AS OPPORTUNITIES TO ADD VALUE VERSUS SEEING THOSE THINGS AS CHALLENGES. AND, IN MANY WAYS, I SHOULD NOT TELL YOU TO "TAKE RISKS" BECAUSE WHAT I AM REALLY SAYING IS TO LOOK FOR WAYS TO HAVE EXTRAORDINARY IMPA THE BUSINESS CLIMATE YOU ARE ENTERING IS BUILT FOR THIS APPROACH LIKE AT NO OTHER TIME IN THE LAST 30-40 YEARS. THE
BOTTOM LINE IS THAT YOU ARE ENTERING YOUR NEXT CHAPTER ━ TH BEGINNING OF YOUR WORKING LIFE━ AT A TIME THAT IS AS DYNAMIC AS EVER GIVEN THE CONVERGENCE OF CHANGE THAT IS HAPPENING. ALL ENTERPRISES, BIG AND SMALL, PROFIT AND NON-PROFIT, ARE LOOKING FOR INDIVIDUALS JUST LIKE EACH AND EVERY ONE OF YOU, TIPPIE GRADUATES ARMED WITH TALENT AND CURIOSITY. SO, I SAY AGAIN, CONGRATULATIONS ON ACHIEVING THIS SIGNIFICANT MILESTONE. I WISH YOU ALL A PERSONALLY AND PROFESSIONALLY REWARDING JOURNEY AS YOU GO FORWARD. I HOPE YOU ARE ALL AS
EXCITED ABOUT THE IMPACT YOU WILL MAKE, AS I AM EXCITED FOR SOCIETY, WHICH WILL BENEFIT FRO YOUR TALENTS. THANK YOU AND ENJOY THE REST OF YOUR EVENING WITH FAMILY AND FRIENDS, AND, G! [APPLAUSE] KEENE: THANK YOU, JEFF, FOR YO INSPIRING REMARKS. THE BUSINESS WORLD EXPECTS GREAT THINGS FROM TIPPIE GRADUATES AND, FROM WHAT I KNOW OF THEM, OUR GRADUATES HAVE WHAT IT TAKES TO MEET AND EXCEED THOSE EXPECTATIONS. IT IS
MY PLEASURE TO INTRODUCE TODAY'S STUDENT SPEAKER ALLISON KLAGE. ALLISON IS FROM WHEATON, ILLINIOS, AND IS GRADUATING WIT A B.B.A IN MARKETING AND BUSINESS ANALYTICS WITH A CERTIFICATE IN INTERNATIONAL BUSINESS. DURING HER TIME AT TIPPIE, SHE HAS BEEN INVOLVED A A MARKETING INSTITUTE SCHOLAR, MEMBER OF ALPHA KAPPA PSI BUSINESS FRATERNITY AND ALPHA DELTA PI SORORITY, IS THE VP OF MARKETING FOR THE BUSINESS STUDENT AMBASSADOR ORGANIZATION AND WAS A 2021 RECIPIENT OF THE TIPPIE TOP 21 AWARD. AFTER GRADUATION, ALLISON WILL BEGIN HER CAREER AS AN ALLOCATION ANALYST WITH KOHL'S DEPARTMENT STORE, AT THEIR CORPORATE OFFIC IN MENOMINEE FALLS, WISCONSIN.
[APPLAUSE] KLAGE: FRIENDS, FAMILY, ESTEEM FACULTY, AND THE GRADUATING CLASS OF 2022, I WANT TO EXTEND A SPECIAL WELCOME AND MY SINCEREST GRATITUDE TO THE PARENTS, SIBLINGS, BEST FRIENDS AND EVERYONE WHO ENCOURAGED AND SUPPORTED ALL OF US GRADUATING TODAY. WE WOULDN'T BE HERE WITHOUT THAT SUPPORT. MY FELLOW TIPPIE STUDENTS, ON THIS, OUR LAST DAY AS UNDERGRADUATES, I WANT TO SHARE A STORY WITH YOU FROM ONE OF MY FIRST WEEKS AT IOWA. IT WAS THE FRIDAY OF ON IOWA! WEEK, AND SOME NEW FRIENDS OF MINE HAD FOUND A BACK ENTRANCE ONTO THE ROOF OF STANLEY RESIDENCE HALL. AFTER SEEING THESE GORGEOUS PHOTOS OF THE SUNSET, THE REST OF US PILED ONTO STANLEY'S ROOF AND EXPERIENCED A SOLID 5 MINUTES OF PEACEFUL VIEWS BEFORE WE HEARD THE SHOUTS OF 2 RAS TELLING US TO CLIMB DOWN AND LINE UP IN THE HALLWAY OFF THE STAIRCASE. AS
SOMEONE WHO HAD NEVER BEEN IN TROUBLE BEFORE, I WAS ABOUT TO HAVE A HEART ATTACK ON THAT ROO THE RAS WROTE EACH OF US UP AND THE NEXT MORNING WE ALL RECEIVE A LETTER REQUESTING INDIVIDUAL MEETINGS TO DISCUSS THE CHARGES OF "TRESPASSING ON UNIVERSITY " HEART ATTACK NUMBER 2. WALKING INTO THAT MEETING, MY WORRIES RANGED FROM THINKING I WOULDN'T GET INTO ANY STUDENT ORGANIZATIONS, TO GETTING KICKE OUT OF THE UNIVERSITY ALTOGETHER. I WAS ON THE VERGE OF TEARS SPIRALING THINKING MY DAYS AT IOWA WERE NUMBERED. NOW THE FIRST 5 MINUTES OF THAT MEETING WAS ME EXPLAINING WHAT HAPPENED THAT NIGHT AND WHY WE WERE ON THE ROOF OF STANLEY. TH NEXT 25 MINUTES INVOLVED THE HEAD OF HOUSING AND DINING ASKING IF I'D MADE ANY FRIENDS OR GOTTEN INVOLVED ON CAMPUS. AT THE END OF THAT MEETING, I ACTUALLY ASKED WHY I WASN'T IN MORE TROUBLE AND LEARNED THAT SINCE IT WAS A LOW-STAKES OFFENSE IT WASN'T WORTH MORE THAN A CONVERSATION. I WAS SHOC
I DON'T TELL YOU THIS STORY TO MAKE MY PARENTS RELIVE THE PANICKED PHONE CALL, OR TO ENCOURAGE YOU TO CHECK OUT THE ROOF OF STANLEY. I HOPE MY EXPERIENCE REMINDS YOU OF A TIM WHEN YOU MADE A MISTAKE, ONE YO THOUGHT WOULD RUIN YOUR LIFE. MAYBE YOU BOMBED AN INTERVIEW, OR FAILED YOUR FINANCIAL ACCOUNTING FINAL, OR MAYBE EVEN TRESPASSED ON UNIVERSITY PROPER YET YOU'RE STILL HERE TODAY, GRADUATING FROM ONE OF THE TOP 25 PUBLIC BUSINESS COLLEGES IN THE COUNTRY. IT IS NOT ABNORMAL TO HAVE KNOTS IN YOUR STOMACH WALKING ACROSS THIS STAGE. IT'S
EXCITING AND TERRIFYING ALL AT THE SAME TIME. WE ARE WALKING INTO AN UNPRECEDENTED WORLD THA KNOW HOW TO NAVIGATE, AND THE FEAR OF MESSING UP IS HIGHER THAN IT'S EVER BEEN BEFORE. BUT I REFUSE TO ACCEPT THE NOTION THAT OUR GENERATION WILL BE DEFINED BY EVENTS WE DID NOT CONTROL, INSTEAD WE WILL BE DEFINED BY HOW WE RESPONDED WIT HENRY TIPPIE ONCE SAID, IF YOU SAY NOTHING AND YOU DO NOTHING, THEN YOU WILL BE NOTHING. I URGE YOU TO NOT LET THE MISTAKES YOU HAVE MADE, OR ARE FEARFUL OF MAKING, STOP YOU FROM TAKING A RISK AND MAKING A MISTAKE BECAUSE NO MATTER HOW HARD YOU FALL YOU HAVE A COMMUNITY OF HAWKEYES WHO WILL LIFT YOU BACK TIPPIE IS BUILT OF INDIVIDUALS WHO WILL DROP EVERYTHING TO HEL SOMEONE. THAT DOESN'T END TODAY
IT JUST MIGHT BE A LITTLE MORE COMPLICATED THAN A SIMPLE "YOU IN THE BIZ HUB?" TEXT TO MEET U IT IS DIFFICULT TO PINPOINT ONE MOMENT TO HIGHLIGHT THE HUNDRED OF TIMES I'VE FALLEN AND HAD MY FELLOW TIPPIE STUDENTS PICK ME UP. NICK, HUNTER, AND COLE, THANK YOU FOR BECOMING MY ANALYTICS SOUNDING BOARD EVERY TIME MY CODE WOULDN'T RUN AND CONVINCING ME TO KEEP GOING WHE I CONSIDERED DROPPING MY ANALYTICS MAJOR. ANDREW, NICHOLAS, HANNAH, AND MARA, MY DREAM TEAM, THANK YOU FOR NEVER GIVING UP ON OUR MARKETING INSTITUTE PROJECT AND THE COUNTLESS HOURS WE SPENT LOCKED IN A ROOM REBUILDING AND REFORMULATING OUR PRESENTATION.
SAMMY, THANK YOU FOR BEING THE PERSON I COULD SOB TO THINKING WASN'T READY TO GRADUATE AND QUESTIONING IF I ACTUALLY KNEW WHAT I WAS DOING AFTER COLLEGE. I KNOW I AM NOT ALONE IN THESE MOMENTS. WHETHER THEY WERE IN GROUP PROJECTS, IN STUDENT ORGANIZATIONS, WITH OUR BEST FRIENDS, THERE ARE TIMES WE WANTED TO GIVE UP TRYING OR COULDN'T SEE A WAY OUT AND WE WERE GUIDED TO THE FINISH LINE BY A FELLOW HAWKEYE. OUR DEGREE
FROM TIPPIE ENCOMPASSES MORE THAN JUST OUR ABILITY TO MEMORIZE FORMULAS OR HOW WELL WE CAN MAKE PRETTY POWERPOINT PRESENTATIONS. IT ALSO INCLUDES HOW WE GREW AS PEOPLE. ROB ROWENHORST MADE EACH OF HIS MARKETING STUDENTS TRY TO FOSTER A NEW HABIT EACH WEEK TO BETTER THEMSELVES OUTSIDE THE CLASSROOM. EEAN CRAWFORD ENCOURAGED EACH CLASS TO FOCUS THEIR LIVES ON CULTIVATING MEANINGFUL RELATIONSHIPS, WITH THE PROMISE THAT WE'D ALL BE HAPPIER, HEALTHIER, AND LIVE LONGER BECAUSE OF THEM. WE DIDN'T JUST LEARN HOW TO BE BETTER BUSINESS PROFESSIONALS.
TIPPIE TAUGHT US HOW TO BE BETTER HUMAN BEINGS. TIPPIE TAUGHT US THAT IT'S OK TO MAKE MISTAKES BECAUSE WE WON'T BE THE ONLY ONES TO EXPERIENCE FAILURE IN MY TIME AS A TIPPIE STUDENT, THERE WERE AWARDS I APPLIED FOR AND FAILED TO GET, JOBS I REALL THOUGHT I HAD A SHOT AT AND NEVER EVEN GOT AN INTERVIEW, I QUESTIONED MY MAJORS, I QUESTIONED HOW I GOT TO THE LEADERSHIP POSITIONS I WAS IN, AND I AM STILL QUESTIONING IF I MADE THE RIGHT CAREER CHOICE. AFTER TODAY, YOU WILL MESS UP AGAIN. YOU WILL SAY THE WRONG THING DURING A PRESENTATION. YO PERSONAL RELATIONSHIPS. YOU WIL
MAKE A BAD FIRST IMPRESSION ON SOMEONE YOU SO DESPERATELY WANT TO LIKE YOU. THESE MISSTEPS ARE BUT, IF YOU TAKE A LOOK AROUND YOU, YOU WILL SEE OVER 500 ALMOST ALUMNI WHO MADE JUST AS MANY MISTAKES AS YOU DID, AT LEAST A HUNDRED FACULTY WHO HAV PROBABLY MESSED UP HERE AND THERE, TOO, AND FRIENDS AND FAMILY IN THE STANDS WHO ARE SO PROUD OF HOW YOU HAVE GROWN FRO YOUR SUCCESSES AND YOUR FAILURE WHAT YOU DON'T SEE ARE THE THOUSANDS OF TIPPIE STUDENTS WH NEXT SEMESTER WILL TALK ABOUT HOW THEY WISH THE SENIORS WERE STILL HERE. OR THE INSTANT FRIENDS YOU WILL MAKE AT THE MOST RANDOM PLACES BECAUSE YOU FOUND OUT THEY TOO ARE A HAWKEY THESE INDIVIDUALS DON'T CARE THAT YOU DIDN'T GET THAT ONE POSITION OR THAT YOU SLEPT THROUGH A PRESENTATION OR THAT YOU GOT CAUGHT ON THE ROOF OF A RESIDENCE HALL. THEY KNOW THAT THE MISTAKES YOU MADE WILL NOT BE YOUR DEFINING CHARACTERISTIC AS A TIPPIE GRADUATE. THE FRIENDS WE MADE, THE MEMORIES WE SHARE, AND THE BETTER HUMAN BEINGS WE ARE BECAUSE OF OUR TIME AT TIPPIE ARE WHAT WILL LA SO, GO FORWARD AND MAKE MISTAKES. WE'LL BE HERE TO CATC YOU WHEN YOU FALL AND CONGRATULATE YOU WHEN YOU SOAR.
CONGRATULATIONS AND GO HAWKS! [APPLAUSE] KEENE: THANK YOU, ALISON. AT THIS TIME, SENIOR ASSOCIATE DEAN THOMAS AND I WOULD LIKE TO RECOGNIZE SEVERAL STUDENT HONOR AND ACHIEVEMENTS. EACH YEAR, DELTA SIGMA PI AWARDS THE SCHOLARSHIP KEY TO THE GRADUATING SENIOR WITH THE HIGHEST GRADE POINT AVERAGE. THIS YEAR'S AWARD IS PRESENTED TO ALEX HINGTGEN, WHO IS RECEIVING A BBA IN ACCOUNTING AND BUSINESS ANALYTICS.ALEX?
[CHEERS AND APPLAUSE] THOMAS: CONGRATULATIONS, ALEX. THE TIPPIE COLLEGE OF BUSINESS AWARDS DEGREES WITH HIGHEST DISTINCTION TO STUDENTS IN THE HIGHEST 2% OF THE GRADUATING CLASS, WITH HIGH DISTINCTION TO STUDENTS IN THE NEXT HIGHEST 3% AND WITH DISTINCTION TO STUDENT IN THE NEXT HIGHEST 5%. DISTINCTION IS DESIGNATED BY GOLD STARS WORN ON THE LEFT SLEEVE. AS I CALL EACH GROUP OF STUDENTS, PLEASE RISE TO BE RECOGNIZED. AUDIENCE, I ASK THA
YOU HOLD YOUR APPLAUSE. WILL THOSE GRADUATING WITH HIGHEST DISTINCTION PLEASE STAND. WILL THOSE GRADUATING WITH HIGH DISTINCTION PLEASE STAND. WILL THOSE GRADUATING WITH DISTINCTION PLEASE STAND. PLEASE JOIN ME IN CONGRATULATING THESE. [CHEERS AND APPLAUSE] WE WOULD ALSO LIKE TO RECOGNIZ THE STUDENTS WHO ARE GRADUATING WITH HONORS IN THEIR MAJOR AND UNIVERSITY HONORS. WILL THOSE
GRADUATING WITH HONORS PLEASE S PLEASE JOIN ME IN CONGRATULATIN THESE STUDENTS. [CHEERS AND APPLAUSE] MEMBERSHIP IN BETA GAMMA SIGMA IS THE HIGHEST RECOGNITION A BUSINESS STUDENT CAN EARN. TO B ELIGIBLE FOR MEMBERSHIP, STUDENTS' INDIVIDUAL ACADEMIC RANKING MUST PLACE THEM IN THE UPPER 10% OF THE JUNIOR CLASS O IN THE UPPER 10% OF THE SENIOR WOULD THE STUDENTS GRADUATING A MEMBERS OF BETA GAMMA SIGMA PLEASE STAND. CONGRATULATIONS. [CHEERS AND APPLAUSE] AND FINALLY, WE ALSO RECOGNIZE STUDENTS WHO UNDERTOOK MULTIPLE HANDS-ON LEARNING EXPERIENCES THROUGH OUR TIPPIE RISE PROGRAM THOSE STUDENTS ARE NAMED IN THE INSERT IN YOUR COMMENCEMENT PRO. THANK YOU. [CHEERS AND APPLAUSE] KRISTOF-BROWN: WILL THE CANDIDATES FOR THE DEGREE OF BACHELOR OF BUSINESS ADMINISTRATION PLEASE RISE.
[APPLAUSE] VICE PRESIDENT SCHULTZ, THESE CANDIDATES HAVE COMPLETED ALL THE REQUIREMENTS FOR THE DEGREE BACHELOR OF BUSINESS ADMINISTRATION, AND ARE RECOMMENDED TO YOU BY THE FACULTY OF THE HENRY B. TIPPIE COLLEGE OF BUSINESS FOR THE CONFERRING OF THIS DEGREE. SCHULTZ: ON RECOMMENDATION OF THE FACULTY OF THE HENRY B. TIPPIE COLLEGE OF BUSINESS, AND BY THE AUTHORITY VESTED IN ME B THE BOARD OF REGENTS, STATE OF IOWA, I CONFER ON EACH OF YOU THE DEGREE BACHELOR OF BUSINESS ADMINISTRATION AS QUALIFIED AND.
[APPLAUSE] KRISTOF-BROWN: WILL THE GRADUATES PLEASE BE SEATED. CHARLES KEENE, ASSOCIATE DEAN O THE UNDERGRADUATE PROGRAM AND PROFESSOR OF INSTRUCTION OF MARKETING AND MICHELE WILLIAMS, ASSISTANT PROFESSOR OF MANAGEMENT AND ENTREPRENEURSHIP AND JOHN L. MICLOT FACULTY FELLOW IN ENTREPRENEURSHIP, WIL NOW RECOGNIZE THE GRADUATES INDIVIDUALLY. WILL THE MARSHALS PLEASE BEGIN LEADING THE GRADUATES FORWARD TO BE RECOGNI. [READING GRADUATE NAMES] [READING GRADUATE NAMES] [READING GRADUATE NAMES] [READING GRADUATE NAMES] [READING GRADUATE NAMES] [READING GRADUATE NAMES] [READING GRADUATE NAMES] [READING GRADUATE NAMES] [READING GRADUATE NAMES] [READING GRADUATE NAMES] [READING GRADUATE NAMES] [READING GRADUATE NAMES] [READING GRADUATE NAMES] [READING GRADUATE NAMES] [APPLAUSE] KEENE: THE "TURNING OF THE TASSEL" IS THE TRADITIONAL GESTURE BY WHICH EACH STUDENT SIGNIFIES PASSAGE FROM DEGREE CANDIDATE TO GRADUATE. WILL EAC OF YOU NOW MARK YOUR NEW STATUS BY TURNING THE TASSEL OF YOUR CAP FROM THE RIGHT SIDE TO THE LEFT SIDE.
[APPLAUSE] MEMBERS OF THE FACULTY, VICE PRESIDENT SCHULTZ AND DEAN KRISDOF-BROWN, WE REPRESENT THE TIPPIE COLLEGE CLASS OF 2022, WE CONGRATULATE YOU ALL! KRISTOF-BROWN: WE ARE SO PROUD OF THE TIPPIE COLLEGE'S CLASS O 2022. WITHOUT THEIR DEDICATION AND HARD WORK, THIS DAY WOULD NOT HAVE BEEN REACHED. THOSE OF YOU IN THE AUDIENCE SHOULD ALSO BE PROUD OF ALL YOU HAVE DONE T HELP YOUR GRADUATE ACCOMPLISH THEIR GOALS.
YOUR GUIDANCE, UNDERSTANDING AND COMPASSION, YOUR FAITH IN THEIR ABILITIES, AND YOUR LOVE AND SUPPORT HAVE ALL BEEN CRITICAL TO THEIR SUCCESS. FOR WHAT YOU HAVE DONE TO HELP THESE GRADUATES, WE THANK YOU. [APPLAUSE] GRADUATES, TODAY MARKS A PERSONAL MILESTONE IN YOUR LIVES. YOU HAVE RECEIVED A
DEGREE FROM THE UNIVERSITY OF IOWA'S HENRY B. TIPPIE COLLEGE OF BUSINESS. YOU HAVE WORKED HARD TOWARD THIS GOAL. YOU FACE MANY CHALLENGES, MADE DISCOVERIES ABOUT YOURSELF AND OTHERS, AND GREW INTO LEADERS WHO WILL MAKE A DIFFERENCE IN OUR COMMUNITIES. IN FEBRUARY OF THIS YEAR, HENRY TIPPIE PASSED AWAY AT THE AGE OF 95. ALTHOUGH HE IS NO LONGER WITH US PHYSICALLY, HIS ENTERPRISING SPIRIT, HIS DEEP SENSE OF GRATITUDE, AND HIS COMMITMENT TO EXCELLENCE IS ALIVE AND WELL IN OUR COLLEGE. HENRY FORMALIZED
HIS BUSINESS AND LIFE PHILOSOPH SOMETHING HE CALLED TIPPIE'S LAWS. YOU WILL FIND A COPY OF THEM IN YOUR PROGRAM TODAY, AND I ENCOURAGE YOU TO KEEP THEM WITH YOU TO TAKE SOME OF HENRY' WISDOM WITH YOU WHEREVER YOU GO I HIGHLIGHT TWO OF THESE LAWS TODAY, "EVERY DAY IS A FRESH START," AND "OPERATE WITH A SENSE OF URGENCY." TOMORROW IS A NEW START FOR YOU, AS COLLEGE GRADUATES. YOU HAVE SACRIFICED MUCH AND WORKED TOWARD A MEANINGFUL GOAL. YOU HAVE EARNED THE RIGHT TO REST AND REJUVENATE, BUT ALSO THE PRIVILEGE TO GO AND DO GREAT THINGS IN THIS WORLD. WITH EVER
ACTION YOU TAKE, PURSUE EXCELLENCE WITH URGENCY, TO MAK BUSINESS, YOUR COMMUNITY, AND YOUR RELATIONSHIPS WITH OTHERS BE STRENGTHENED AND CREATE SOMETHING MEANINGFUL. HENRY HAS DONE THIS FOR ALL OF US HERE TODAY. I ENCOURAGE YOU, STARTIN TOMORROW, TO FIND WAYS TO MAKE YOUR POSITIVE IMPACT ON THE WOR WE HOPE THAT IN THE YEARS TO COME, YOU WILL FONDLY REMEMBER YOUR TIME IN THE TIPPIE COLLEGE STAY ENGAGED WITH US IN THE YEARS TO COME THROUGH OUR ALUMN EVENTS AND TIPPIE YOUTUBE CHANNEL WHERE YOU CAN FIND ALUMNI PANELS WITH INDUSTRY INSIGHTS, AND INSIGHTS FROM SOM OF YOUR FAVORITE TIPPIE PROFESSORS. YOUR CONTINUED ENGAGEMENT WITH US AS ALUMNI, THROUGH TIME, TALENT, AND TREASURE, WILL HELP KEEP THIS COLLEGE GREAT, IN THE SAME WAY THAT ALUMNI HAVE SUPPORTED YOU WHILE YOU WERE HERE. CONGRATULATIONS AND THE BEST OF LUCK TO YOU IN THE FUTURE. [APPLAUSE] THOMAS: THANK YOU, DEAN KRISTOF-BROWN. AND NOW, WE WILL
CONCLUDE TODAY'S COMMENCEMENT CEREMONY. I ASK THAT EVERYONE PLEASE REMAIN SEATED FOR THE RECESSIONAL. THE PLATFORM PARTY WILL EXIT FIRST, FOLLOWED BY TH. [MUSIC] CONGRATULATIONS, GRADUATES.
AS NEW TIPPIE ALUMNI, JOIN YOUR FRIENDS AND FAMILY ON THE CONCOURSE LEVEL. THESE PROCEEDINGS ARE NOW ADJOURNED. [APPLAUSE] [MUSIC] [MUSIC]
2022-05-16 17:20
Show Video
Other news