Profitable Options Buying Strategy by an Experienced Trader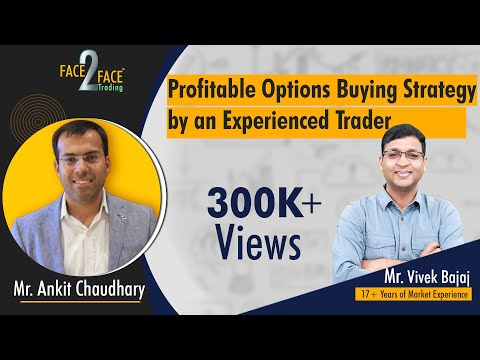 Show Video
Hello friends! I'm your friend Vivek Bajaj, Co-founder of StockEdge and Elearnmarkets. Friends, in today's Face2Face we're going to talk to a 16-year-old young boy who is going to share with us the trick of trading in the market. Actually, 16 years is not his biological age. His age in the market is 16 years and he's 30+ but has gained great experience over a period of time. In today's date, he's an option buyer, and he knows the skill to make money by buying options. A small thing before I invite my guest is, option buying is like a double-edged sword. If done in the right manner the risk-reward ratio is very good.
but in general, the retail investors who trade, as someone called me yesterday he made lottery tickets, he thought he will take 1000, 10000 without thinking much if someday he gets a lottery so that 1000 and 10000 will turn into 1 lac but it doesn't happen like that because it is a lottery, only limited people get that, so people who think options buying is lottery then this video is not for them, but if they want to learn this as a scientific method and earn money then they should watch this then this is the video for you. I have made many videos for options buying in the past with Asit Baran and others people who specialize in options buying, the guest for today is also good, it will be really informative for you all you will get the knowledge and strategy, the strategies that he use he will tell you that you will get a lot of wisdom, he has been in the market for 16 years, which means he has been doing something because market will not let you stay for so long so let me welcome the guest for today, Mr. Ankit Chaudhary Hello Ankit. Thank you sir for inviting me to your Face2Face I have seen the other face2face videos you have recorded with other market participants so it is my pleasure to be on this face2face today it is also a pleasure to have you here Ankit. I hope you didn't mind that I called you a 16 year experienced dashing trader not young sir, but getting old now. Balding due to the market
so this is the experience, I have been in this market for 16 years hopefully, this journey continues, yes it will. I think anyone who stays here for so long, the market also understands them they stay for long, so Ankit let's talk about your journey, how did you started? when did you started? and today you are doing options buying and I am sure you were not doing that since day 1 so let's talk about your journey and then get into the whole discussion of options buying so I started after 12th in 2005 I opted for engineering from a college near my house only 12-15 kilometers from my house, in the first year you understand that every subject is similar for all streams the subjects are same so it also has finance and economics, and basics of everything when I was in my first year, there were dividends and inclination towards that so I used to ask my father, what is that firstly, he didn't show me any interest then he explained how it happens I was an inquisitive person, so I started asking in detail how it happens then he got my trading account made by a broker, he said starting early works so initially I had basic knowledge, and not much that I can earn money on my own I entered in 2006-2007 it was a roaring bull market I earned a lot of money at that time, also lost double the amount in 2008 I feel very lucky and blessed that 2008 came really early in my life someone who sees a bear market early in their trading career, see a lot in their life I am blessed that I saw a bear market early in my career, and then I realized that I lost a significant amount of money in 2008 At that time the money was very significant because the I had no earning of my own then I realized that I should do some professional course then enter the market so I credit all my success to Fidai sir he trained and mentored me, and then he also took me into his team I learnt a lot from this job so I will recommend all the newbies to not do the mistakes that I did always take a course or read a book, and do not enter the market just like that and because knowledge is very very important in this market that's my journey and now I am a full time trader I manage my own funds, the learnings in the market is my very own I make sure that the same mistakes are not done again, and I try to make it right this is so good, their is a term for this in hindi someone has done it and created a framework that they will do this only this is very good, I think people will get inspired by your journey let's get into conceptual discussion, so let's share the screen with us so we will discuss option buying as we have already discussed so the strategies of options buying, basics of stock options, and then buying and selling and the portfolio that I run, the trade management, the risk management how to select it, how to trail the stoploss and in the last, I will talk about the trading principle or the hacks that I use so let's start with the basic if you bought anything at stock price or options and it has an expiry in options their is no obligation in this contract like if you bought a share of maruti or likewise then you come as a contract seller, and that is how it is done every contract has an expiry, which is on the last of every month so this is basic you will do profit when the price of the stock goes up and you will lose when the stock price goes down some have a call option, this was a put option this is how it is, if you buy call option then you are bullish and if you buy put option then you are bearish if there are new traders then we have to tell them the basics if you do it well without any leverage then it is fine strategies that are 2 legged or 4 legged, even they have an advantage so you can take it in that ratio and hedge your portfolio it will also have disadvantages that we need to know it is said in investing that time is not important, timing in the market is important You'll mostly earn in a trailing stop loss if you're executing it in a disciplined way. So this is one scenario How to book? Suppose you keep on trailing it and it didn't trigger but the option ran out too much. This is the second scenario. On a 15-minute chart, when the RSI goes till 80, see this is not written in any book, it's my experience. You can tweak it a little bit. So when the RSI of that option price goes to 80, you book half, and if the RSI of that option price goes to 90, then book fully.
So this is my experience. You can tweak a bit, you may take 75-85 according to your strike. So this is my way of trailing the stop losses.
2022-07-24 06:13
Show Video
Other news