Insider EuroLeague Documentary Series: "Road to Greatness"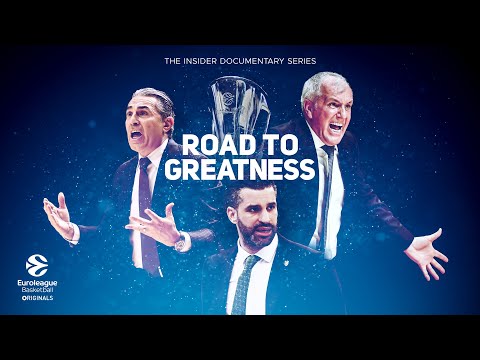 Show Video
Good evening. Let's go, Žoc. Our favorite coach is back home.
It's the first home game for the EuroCup and the first European performance, and we're really, really excited to have him back. They've been doing great, the team's been doing great in the regional league and it's the first one we can watch for the EuroCup, so, it's going to be a great deal of cheering tonight. Partizan is my club, I like this club, I feel this really deep inside of myself. And, okay, it was one moment after so many years that I work outside of my country, the possibility to come over here, to enjoy the life with friends, that I miss them.
The reason that I said, it was Partizan is something special, more than special for me. I understand that the job is very tough, very difficult, everything, we have young team, we have some experienced players. However, the only way is to be in the gym, to continue to work very hard. I will be very happy if all my players come close to have this feeling for Partizan that I have. Love for the team, it just keeps flowing; and as long as I live, I'll be shouting, I love you, Partizan.
I was happy in Toronto, great organization, great coaching staff, I was having really very rewarding role into the coaching staff. Then at the end of the season, the Virtus came up with a really interesting proposal. And was especially the right situation to go back to Europe, to go back to full time head coaching position, and also back home.
But moreover, because the project of Virtus Bologna is really interesting. It's one of the few European projects who are clearly going upwards. And they have an upside, they have a big city.
And I really felt how great this is to be involved in basketball in this town. Everybody's dream this year would be to end up in the EuroLeague next year, because the effort of the ownership, the tradition of this club team, the city itself, the fans, everybody deserve to be back where they believe they belong. Everybody said this is the most competitive EuroCup ever, right? This is what people say, and I agree with this. And it's challenging and it's nice to be in this competition this year. All of us in Serbia, in Europe, at first, we couldn't believe it when the news began circulating. I felt fantastic, because I knew that it would mean a lot for Partizan, for Serbian, and for European basketball.
He is a man who needs no introduction, a genius at basketball, and for him to bring Partizan back and, I'm telling you, returning our basketball team to the paths of glory, like it used to be. After a difficult season and the return of Zoran Savić, that is, bringing Zoran Savić to the position of director, we immediately started talking about the coach. When I mentioned Zeljko Obradovic, he gave me a blank look and didn't say anything.
I think he thought I was crazy; he told me that later. As time went on, when I told people that I just wanted Zeljko Obradovic to come back, most of them told me: Well, I'd also like to drive a Formula 1 racing car, but it's not going to happen. That's literally how it was, there were these types of comparisons, and as time went on, I became increasingly convinced that it was going to happen, and they were more and more convinced that I was just not normal. And when it actually happened, and when I was trying to find a way to inform the public without it looking like a joke, the public had already believed that Zeljko Obradovic had become a coach. The whole process was very, very easy, and very strange, you know.
I know him personally from 90s, was my roommate, in the old preparation national team. I know him personally very well, you know, but I know that he is the guy that he's crazy about the Partizan and he loves everything connected with the Partizan. He is one of the biggest fans of Partizan ever. And, I don't need to convince Željko Obradović, you know, we don't need to convince Željko Obradović to sign for Partizan. With Željko, we bring unbelievable enthusiasm and the fans, you know, in the club and everything, everything is completely different comparing with the last season. First EuroCup game, you know, there's a lot of expectation, so, just to have that first game at home. A really important competition for us this season. So, you know, there's a lot of emotion,
a lot of energy in the building. I was able to come here and play for them and help this city, club, just help everybody that's part of Partizan, get back to EuroLeague. So, that would really mean a lot to me to help this team get back to EuroLeague. I think the fans also missed the game, and also to see a team live, so it was very good atmosphere like always, and I think everybody enjoyed it, players, coaches and, of course, fans. It was just to my players important victory at the first home game. However, this incredible atmosphere thanks to everybody who came tonight.
- Thank you very much. - Thank you. Well, I think it's time for us to receive him nicely and greet him, after all, he's brought a lot to the team, you know, positive things. Because Čačak is not known for its politicians, it is known for him, Kićan. They gave him their big seal of approval. Sure, I also played my part, helping however I could, and I'm happy to say that they became successful people and athletes and players. I think that's just a part of my commitment to make it happen.
I grew up over there, you know, and I was until my age of 24, so, the period that I was young that I was over there, I start to feel like man in this period, you know, you have 24 years. You're not any more kid, I will always be thankful with all the people they helped me over there in my, let's say, time that I played for Borac and I'm very happy because now, you know, I'm in Belgrade, and I don't need so much time to go to Čačak and to see first of all my mother that is over there, and to see a lot of friends, friends that I grew up with them, that even on the same street. And any time that I go over there, you know, I meet a lot of them. I feel extraordinary, especially since we are great friends and I am very happy about it. Every city would like to have such a person representing their city. Of course, it means a lot to Čačak, they love him a lot.
He is known all over the world, so why wouldn't he be in Čačak. It holds great meaning for us. He has been an honored citizen in the town of Čačak since 2017. The city is trying to pay him back in some way. He really deserves it.
So, what can I tell you. I play over there from, let's say, 15 years old, so, you know a little bit more, until 24, so almost 10 years I was over there every day. Every day two times, lot of hours, you know, people, some of people is over there also, some of them they play basketball with me, and now they're in a different position. Ok, people from Čačak recognize they know how much I like city, and how special is for me every time to go over there, and especially to play official game. I'd say that I was always thankful how they applaud me before the game and during the game.
So, they know that after Partizan, they're in my heart and they will be always in my heart and I wish to them all the best. He loves it. He sleeps, eats, drinks basketball. Like, seriously, he's extremely detailed. He still does it as if he didn't win any titles, so, that's, I feel like that just makes him great. Always play hard, always fight, he say that a lot to us, just always fight, always fight.
And so, for me personally, it personally resonates with me a little deeper in, when he says fight, cause for me, most of my life career, I had to do a lot of that. So, when he says that, you know, it means a lot so, a lot of times when I'm on that court, he don't care about you being perfect or anything, but he just wants you to play hard and just fight. And, don't be soft, you know what I'm saying, just always give your all, that's the main thing he cares about. If you do that, everything else will handle itself. I love him like my own eyes, and I pray for him every day, for the glorious team. The Belgrade Partisans. Well, it's always a mix, right, of feelings, because you are happy to see your family, your friends.
You feel like you are beloved in that gym in that arena, and so many people who would, who even grew with you when you were a child. And helped you, and even during your first steps in basketball. It's going to be a tough game. Going to be a tough game from a basketball standpoint.
And a pretty emotional one, probably, for myself, from a personal, let's say, personal-wise. I saw a lot of people there I played with, people I played against. People I find on the street when I come home.
That little experience that obviously makes you actually feel at home. This is my city and I'm very proud of my roots. Where I was born, where I grew up, where I was educated. I was definitely excited.
It's such a moment, but then when the game started it was over, and maybe now that the game is actually over you can savor it. The roster of Virtus Kinder Bologna was just impressive, Antoine Rigaudeau, Rashard Griffith, later on Manu Ginóbili. Fitting in, into that team, was like, I always explain, like a kid coming to a candy shop. Ettore will always be somebody that had a great effect on my career, not only as for my life, not just my career, my life.
Not as a coach or as a mentor, but also as a teacher, maybe a father figure that I never had. I will always remember his passion, his energy. He is just somebody that will bring out the best in you. He will be very hard on you, but he will be also somebody that will push you to your limit.
And he will be there with you in the bad and in the good moments. Ettore was all about defense. That was his thing back then. Order and defense. Discipline and concentration.
Concentration and knowing what you have to do and doing it at the exact point in time that you were supposed to do that. In 2001, it was a very special and unique season, probably, because we had a completely new team, Rashard Griffith, Antoine Rigaudeau and others. But we had Manu Ginóbili, Marko Jarić, Matjaž Smodiš, David Andersen, a bunch of young players, great stars that would eventually become amazing players. And a key role was played by Antoine Rigaudeau.
Because Antoine, until then back in 98 when we won the Euroleague, he was our starting point guard. And he easily moved to the wing position and basically was our cerebral player on the court, giving the confidence to the young players that they could really go up and down like they liked. Because, Antoine was backing them, you know, with his intelligence and understanding of the tempo of the game. But that was a very, very special team. The 2001 season was memorable. I was personally delighted because I was captain. Manu Ginobili's athletic abilities, his technical skills in that match.
The strength, the physicality of Rashard Griffith was tremendous. Marco Jaric also played a great game. We were playing in front of our crowd of eight to nine thousand people. We couldn't lose. I think in a player's career, the first win in a big competition really changes you. In terms of your personal confidence,
but also in how you understand, how you have to play in those big games. There are a lot of players, a lot of teams, that have transformed themselves after their first win. And for sure, to win such a competition changes completely everybody's life. The things that I learn at Virtus Kinder Bologna were with me through the whole of my career.
And I think I was extremely lucky that I was a part of this group that made so great impact in European and even world basketball. These things are unique, aren't they? They don't happen often and when they do they leave their mark. The ties that remain form part of our DNA, our history, which is very important for Virtus. We hope to one day see
or walk in the same footsteps again. The relationship with Virtus has been going on for so long because I've lived here; I'm half Bolognese and Bologna Virtus is an institution. My daughter went to university in Bologna and I had a lot of Virtus caps at home. If I had to cheer for a basketball team, it would be Virtus. One day, Bucci called and asked if I'd help him because Virtus was in bad waters, in difficulty.
I felt like I had to help Alberto Bucci to try to help Virtus out in some way. It was a success because we won the A2 championship, we made the Italian cup twice. Then we won the Champions League, then the Super Cup, then the championship. We won something every year, so it was a big success.
But, I always say on behalf of Virtus that I would be so honoured and gratified, and perhaps the goal I would appreciate most would be to win the championship with the girls. And the second goal is to win the EuroCup and to be able to join the EuroLega because my companies are pretty much all over the world, so it's very important for us to be basically all over Europe. We are indeed there with the EuroCup, but the EuroLega is, let's say, the prize that matters more. These are two genuine title contenders. I think it's important for us to control the rhythm, and to control our turnovers, because Virtus score score a lot of points after they steals the balls, I think it's the most important. Scored those points so efficiently as well, and this is a sloppy turnover from Valencia this time.
Here is Cordinier for the three. And only just hit one, but misses from the corner, and Mannion pounces, Hangs one high. Once we calmed down a bit and had the patience to pass the ball to each other and move the ball, we got into the game and then we balanced it out. We did have a few moments of inspiration from the three-point line. Dubljevic, the captain had to be the man! Forget the road to greatness, Valencia. Show your hands to the referees.
No foul on the shot... watch out for grabbing. Win this game. Prepelic free for the three, beautiful Valencia basketball! Valencia get it down the floor and get the win! From 21 down, Coach Penyarroya's team weathered the storm of the many offensive weapons of Virtus.
Well, it was a complicated point in the season for us, with a lot of injuries and an incomplete team. That didn't allow us to play the game we wanted to play at the start of both the EuroCup and the domestic league. That game allowed us take a step forward because, in a difficult situation with lots of players missing, we saw that it was a year to be together, not to make excuses and, in the end, we got a very important victory.
We want to be all the way in the finals this year, try to get another title for this big club. We were down almost 20 points, and this is the heart of this team. I mean, we never give up, and today we get paid off. Ribas, can't get it to go, still might just do it, and Bassas! Ferran Bassas drills the triple! What a dog fight this game is turning into! I was born in Badalona. Badalona is where I was raised. I spent thirteen years over there, I remember my son, one of my sons came to the game with two friends.
And he told me, "Hey daddy, we couldn't listen each other one centimeter," because the fans were pushing and cheering. He couldn't explain better than me the feeling, the way they are. We have to understand, Badalona has a lot of experienced players. This is the biggest difference between them and us, we have a lot of young players, and I remember we wanted to stop the creators, because they know how to pass the ball, that was our main concern.
Guillem Vives, finds Birgander, going for the slam dunk, Simon Birgander, over LeDay. A crucial game in Group A. Kevin Punter gets his first points of the second half. Vives, weighs up Smailagić, oh my word! Guillem Vives! One footed leaning away, at the shot clock buzzer.
And he gets it back, and it's Ventura, and he says my turn! Albert Ventura, with his first three of the night, and smiles all round, celebration in the stands! Incredible La Penya, incredible. It's been a while since I've seen a team of mine like this in the second and third quarter. Most of all, because we've had an atmosphere, an audience, people who have gone crazy with us, and we're very grateful to them. When you play against Partizan, with the fans crazy and the team playing with passion, this is basketball, no? If everyone will focus, we're unbeatable. I feel like that's going to be the main thing for us once the playoffs come around.
Because you didn't play these teams already, you know what they're going to do. So, it's just a matter of just being focused and getting it done. I think we are doing a good job, not, maybe not excellent but, we are doing a good job. We understand, we have a new team, with many new players with a lot of young players. We have to get the person on the right way, and that is what we are trying. Partizan 69, Bursaspor 72, four and a half minutes to play.
And LeDay, left unguarded. That will be more important part of the season. You know, because you play one game, you continue competition, you out.
We need to be ready for that. Again, if you have difficult time in front of you, always is same solution. Court, work hard, stay together, help each other, and fight until the end. And Belgrade belongs to Mathias Lessort! It feels and sounds like the glory days again! Left in the game, is that an offensive foul – it is! On Yama Madar. Partizan could choose to foul.
It's Holland, sidestep, three-point shot! History still beckons for Bursaspor! 7.1 to try and get the score to send them to the quarter finals. I am in peace with myself because, you know, I work very hard, I try to give everything that I have inside of me. I will continue in that way. I will try really, this that I have inside, this wish, this motivation… And we are heading to overtime. Andrew Andrews, with a hand in his face, hits the big shot! And Bursaspor believe.
The dream is dying for Partizan. Bitim, taking it to the basket! The dream killer! And Bursaspor, in their first ever playoff game, have produced an almighty upset. Dušan Alimpijević gets the better of Željko Obradović. It was not in the fairytale return script for the club legend to go out in the last 16.
How would you describe everything that happened tonight especially…? It's very difficult. Congratulations to the team of Bursa. I believe that it was easy for us to finish the game in regular time. Happens what happened, it's basketball. Congratulations to them. Thank you, Coach. The margins are so fine, as we get set to enter the final four minutes.
It's going to be the final four minutes of the season for one of these teams. Willis, into Birgander, got a little look at the basket, and that's all he needs. Would get them within touching distance and Semaj Christon obliges. And the Joventut flame is still faintly flickering. Ribas, almost lost it, recovers it, steps back, three-point shot, pow! Pow, pow, pow! Joventut aren't done yet! They do get possession, they only have eight seconds though, for two threes and a stop.
Tomic, went for the quick points, got stripped. And we have the first major shock of this curious new EuroCup concept. All the underdogs bite hard in Badalona.
Coach, very, very tough match, that must be disappointing. Terrible game for us, terrible. I'm sorry for the fans. Only twenty percent in the three-point shots. Now it's difficult for me now talk with you. I'm sorry, okay? In this EuroCup, there are great rivals, great teams.
We've had a complicated season, with a lot of things happening to us throughout the year and, well, we have to be calm. I think we're at a good point and we prepared for the next opponent, and today we played a good game. For me, win the EuroCup will be something amazing.
I'm now captain and, for me, I mean, I'm really motivated for that. And nothing, we go step by step and try to win, you know? Every year this club is bigger and bigger, and this club deserves to play EuroLeague, stay in EuroLeague and play a lot of years in EuroLeague. They play amazing in their league, and then, they play amazing games in EuroCup. But we have home court and with our amazing fans, I think that we can, if we stay focused, if we play our game, I think we can win.
Bojan Dubljevic. Valencia, with the score. Surely sends Valencia to the semi-finals, and the score could come from Jasiel Rivero! Off the pass from Dubljevic. The celebration begins in the stands. The clock runs out. The end of the season,
the 7DAYS EuroCup ends for Metropolitans. Valencia march on, they move along the road to greatness. Now, you play against Virtus in the semifinals, and again, here at La Fonteta, which is a key factor, isn't it? Yea, of course, we play maybe the best team on the list, by the names, so, going to be really hard. But I think if we have fans like tonight, we can fight with them too. John Holland, you are in front, and how do you see, how did you see first half? Grr! We some dogs! We some dogs, not just any dogs, we some pit bulls, underdogs and we don't care, we some pit bulls.
Great first half. Good luck. I mean, I felt like we were dogs, and we were, we did what we had to do. Obviously, they came back, and they made it a close game, so a lot of respect to them. But like, at the time, that's how I was feeling so,
that just kind of came out in the interview. Two points the difference. There's about a four second differential between shot clock and game clock. This possession could be the ball game, if Bursaspor score here, it's all but over. Can Cedevita get a stop? He does! Ferrell walls up, on Andrew Andrews! And draws the charge! Three to win it. Ferrell's been the hot hand, now the mismatch, with Hayes. Ferrell, going to try and break down Hayes.
Pullen, Pullen, has to let it go, does he get it off in time? And it will all come down now to this instant replay. It is now all down, video monitor. Everyone looks at Luigi Lamonica, the lead referee, and he waves it off! So Bursaspor stand tall here in Ljubljana. And after upsetting Partizan Belgrade in the Serbian capital, they beat Cedevita Olimpija Ljubljana, right here in the capital of Slovenia. What a performance! I mean, honestly, I'm out of mind right now but, I will tell you one thing.
I think this is one of the best dreams in European basketball right now, and still dreaming. Bursaspor, a small club in the north west of Turkey, have come into the playoffs, and they've shocked the world. They beat Partizan Belgrade in overtime, in front of 19,000 fans in the Štark Arena. Last week in Ljubljana, the capital of Slovenia, they beat Cedevita Olimpija Ljubljana by two points. That wasn't enough, and they come here, on the road, to the capital of the principality of Andorra. And here in Andorra La Vella, the capital city, Bursaspor have booked their place to the finals, for the first time in the history of the club.
They record a comfortable win here. What do you think it was the key for your team to win tonight? Oh, that's easy, we always focus on defense. We knew defense would win us this game. We came out hard, tried to be the best pit bulls we can be, came off the leash! Grr! Yeah man, I'm probably not going to hear the end of it. I'm probably going to hear 'Grrs' for the rest of my life, you know. But it's cool, it'll be worth it, it'll all be worth it if we win. Rivero, against Weems, he likes that match up, and he converts it.
Teodosić, makes the three point shot. Belinelli fumbles, stolen, Lopez-Arostegui dances down the court. And that quality like there is quite low as Tobey… I was in Virtus Bologna when I was fourteen, fifteen, sixteen years old, you know then I went to NBA for thirteen years. To be here with Virtus Bologna with this organization, for me is amazing. Especially, you know, because I got the possibility to stay close to my family, my wife Martina my daughter, you know like. So, is amazing feeling
and every practice, every game I try to be ready and try to give everything for this team. We finally got the, say, the definitive setup with a couple more players. And we have been playing well. From then on, we show maturity, we show more experience, toughness, our defense improved a lot. So, and of course you've got to give credit to an opponent so strong, so good, pushed forward from their fans which have been unbelievable throughout the whole game. Weems, Hackett, can he make the shot, yes he can! What a play from Bologna! Shengelia finds Sampson who raises for the slam dunk and JaKarr Sampson tonight is the hero of the paint for the team in black.
When I signed my contract, I spoke with Zanetti, with Luca and Paolo that, you know, this team needs to be in EuroLeague, win championships in Italy and needs to be in Europe, you know, in EuroLeague. The job is not done. Come on, let's enjoy this evening. Winning here in front of this crowd, this great team, is not easy.
It's not easy. Great result. One more, one more, one more. The job is not done yet. We have one more game.
We're a lot of experience in this and I know that, you don't have to be euphoric about nothing. I mean, we beat a great team, we did it on a tough court. We had a good game, actually, we played a good game, for sure, but we need one more.
So, we have to focus on performance and forget who's at home, just, focus on the game. Have a good solid game plan, implement it in the game. Compete, play together, accept roles, and fight on the floor, that's it. Ciao, ciao, yes. Coach, how are you?
Congrats for Coach of the Year, - well deserved. - Thank you. - Great job you are doing here. - Yeah, well, we are here! Coach, it's the final, I suppose you feel underdog also tonight? I mean this is something that follow us from the beginning of these playoff games, playoff rhythm.
And, you know, for today, there is one game, nothing else after this. This is five on five, so, there is nothing more. We will play as best as we can, and I'm sure that my guys are aware of the importance of this game. At home court, our fans are amazing. But also, you know, on the road, it doesn't matter for us either, you know? It really doesn't matter who we play, it's about us. Let's go.
For sure we're going to have a lot of help from our fans, they're really important for us. You know, like, we deserve to be in EuroLeague, but we need to prove that. And our fans and Bologna, Virtus Bologna need to be in Europe. So, for sure, it's going to be like a crazy atmosphere. But we need to stay together, and then we're going to try to be ready for that game. Even if we get into trouble, we'll never leave you.
Come on, nere! Even if we get into trouble, we'll never leave you. Come on, nere! We support only you. Even if we get into trouble, we'll never leave you. The arena here is alive with the voices of the Bologna fans, Weems with a three and he strings it. The point guard, he'll let fly with a deep three, and he's got it. That's a big, big basket for Bursaspor.
Watch this pass from Pajola, bullet pass to Belinelli who lays it up and in. Teodosić, around the corner on a screen rises for the mid-range jump shot, banks it in. Holland for the three, and a nice three from Holland. Stolen now, Bologna look to turn it into points, nice pass along the baseline. And Sampson with the finish inside, off the nifty bounce pass from Pajola. And terrific deflection by Hayes, with the pass inside to Sampson.
Teodosić lets fly, Teodosić is feeling it! The troika from Miloš Teodosić. Yeah, wide miss there from Pajola, Holland, knocks down a three. He'll get to the elbow, got it! Well, Bursaspor will force a time out from Coach Scariolo! Inside hard-nosed basket by Shengelia. Belenelli, and Belenelli does what he does best, he knocks down a triple. The pass, right down to Jaiteh, who lays it up and in. The block, from none other than Kyle Weems, who has been superman tonight.
Totally dependent, I can't be without you. Bianconero blood runs in my veins. It's a EuroCup Championship, it's a ticket to the EuroLeague. Yeah, a return back to the EuroLeague. They haven't been in the EuroLeague since 2007-2008 season. And so, Bologna will ink their name in the 2022 EuroCup as the champions of the 20th edition. We should win this one. It was one of our goals.
This victory is for you. I'm so proud of this team, man, we went through a lot this year, a lot of injuries, Covid, whatever. We kept fighting, and our coaches kept coaching.
That's what it's about, I've got my kids, my wife, my family back home is watching, but this is for the city of Bologna. - Thank you so much, and congratulations. - Come on! He was a EuroLeague MVP with Olympiacos all the way back in 2010, regular season MVP in the EuroCup 2020 and 2021. Well, the reason why he's worthy as the Most Valuable Player is he made the big shots at the big moments. And he gets to raise the 20th edition of the 7DAYS EuroCup. The 2022 champions, Virtus Bologna.
2022-07-06 00:12
Show Video
Other news