From a Working Professional to a Homemaker to a successful Rule Based Trader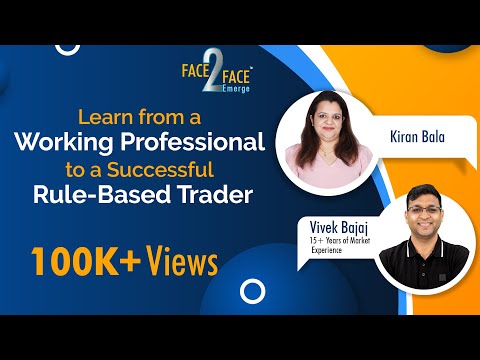 Show Video
Welcome to another video of Face2Face Trading I am really excited about this video, today you will get a lot of knowledge sharing, inspiration sharing, and wisdom sharing as you know I am Vivek Bajaj and I have been making face2face since months I have recorded almost 150 videos, it is very learning for me, but I am not sure about you people who are connected to me they give the same feedback they have said that they find something or the other in these videos, so I hope you find something valuable if you are new here then let me tell you this series will help you a lot in your trading journey and how to participate in the stock market so let me welcome the guest, maybe some of you know her, so I will tell the name her name is Kiran Bala, so how are you? Yes, I am good thank you for coming from Delhi just to shoot this, and thank you for giving me the opportunity. It is actually my pleasure you are here just to record it, which is so exciting, it is also for me so she is active on social media, she has her YouTube channel too and she is a real trader she actually uses her money and she has also shown me her leisure she makes money and she also shares her wisdom on Twitter given your background you were professional and now you are a bigger professional as in a homemaker you have your own path, which is an exciting journey, there were other women traders too who I covered in Face2Face before which is very exciting and inspiring. Also, you are a Punjabi right? yes! I know I am going to get some great content from you so there are no time constraints, it can be a long video, I want everyone to learn. I want everyone to see this video, get inspired and get into the stock market also us men, it's not that we need any less inspiration so we all can get inspired, so the journey from 0, to your strategy to how we are doing it be open about your strategy, you are following rule based trading I want everyone to eventually follow that, so let me see what you have got so let's just start! First, we will know about you I am Kiran Bala, I am a Punjabi as you have introduced me also, I am also a mother of two, I will start about how I started with Stock Market and how I learnt let's go to 2007, I was working in IBM, and I come from an IT background as you will know the market was going in a boom in 2007, it was really good everyone used to talk about the stock market in front of me, and my colleagues used to talk about that at lunch that they bought a certain stock so there was a curiosity around, how do I earn from the stock market because everyone wanted a side income I was curious so I asked him, what is the stock market, how do you earn money he told me this is the stock market, we buy share and then sold it in 2 days I started by opening my Demat account and asked him everything. This was pre-marriage? Yes! in 2007, yes pre-marriage! What you were doing in IBM? I was a software engineer I am a software engineer by profession, I think software engineers understand market in a better way I don't think so. To understand the stock market you do not need to have an education, but you just need to understand stock market the stock market doesn't require education. Okay, I will keep interrupting you in between. I would love that, no issues
so when I started with the stock market in 2007, I opened my demat account I wasn't aware of what was happening, I used to buy a stock and in 2 days I used to sell them and you know the stock market has a beginner's luck, when you enter the stock market the market let's you make money in the beginning, so my beginner's luck was very good in 2007 I started earning the money and I got good money, but after the beginner's luck the market will also give you a shock I got the shock in 2008, when the market crashed it was a global recession, and I thought that I will buy a stock then sell it as usual, the person who told me about stock market also told me the same they also came during the bull run in the market, so this is the deal so that time I didn't want to take any risk, which was my wisdom so I stopped at that time I shifted from Gurgaon to Delhi, and I was no able to manage everyday somewhere as a housewife I wasn't able to expect it, I was a financially independent women I wanted to go there but that time I knew I won't be able to manage both the things together if you do stock market even once then you will not be able to forget because I did earn money from stock market to convince myself it took me a month that I can do stock market or not being a woman if you say you want to do a job then it is okay, if you say you want to do business then it is still okay but if you say you want to get into stock market then it is difficult this is gambling in a way, so I did convince them somehow nowadays if you want to know something about stock market then you have too many information, youtube, blogs etc read about the indicators, stock market, I gained I lost, and few times I also blew my capital there were 10 indicators in the chart and I saw no candles, I just used to tick it off I was doing it and then again going through a loss, so I realized that I need to learn something more you do you understand and then you learn, also with books you learn, I read about price action you will have to read many books, I read Frank's Pivot point, also read something on EMS you will not know everything about stock market from books, you will have to experiment that experimentation you have to do because books will just give you knowledge plus supply and demand, and then there is a setup with the EMS so you took 4-5 years to reach here? Yes you can say that my whole journey has been like this even when I started I used to miss out on things, the EMS setup, I used to make mistakes it was going on but it still felt like something was missing, so he said that now you have to work on your psychology I will recommend that to every trader, that book is really good if you want to control your emotions then please read that book I will give the link down below so if you want to do it fast then you can you can say that I grew from a breakeven trader, even then I thought I had many mistakes then I thought why not tell my system to do something that I can do then I started with algo trading setup, then I took it to clouds, even then I was not feeling if it had any problem then someone needed to switch it on and off, you need someone for maintenance you have to make indicators you can use the trading bridge, and then you can do trading you can connect to the next level setup, and then connect to the broker, I will show how to do that so this has been my journey. So failed trader, successful homemaker, and then an experimental trader I would like to put out some points that will help the new traders we have both dettol and savlon, but we Indian mothers prefer dettol because when we use it their is a slight irritation so if I will show my setup to someone they will think I am doing smart data and she is doing so well so it is an assumption of people that dettol will work and savlon will not, which is not right if you will not follow the rule then it won't be of any help, so rule based trading really helped me in algo I don't know if I should ask this, but as a trader are you able to handle it better things emotionally or see it in a different way so as a woman, I needed to control myself emotionally and this was the part, which was difficult for me I did one with Mukta ji, she has a similar kind of profile, also she has 2 kids she has been for a longer time and has seen a lot of market, so she is used to it now we wish more traders will emerge, even your kids will be traders. Will you make your kids a trader? if they want to be a trader then I don't mind. That's nice our country is changing. So let's go to the strategy they mostly have algo, which is systematic trading. So if they know this is a level, assume it is Nifty before the pullback, the market consolidated. Which market does that my first step is to understand the momentum of the market. I will add something here
where is the market opening and where it can go you only do in indices? I also do in stocks. I do both in indices and stocks it is a source of income, maybe nifty is not performing well so you can look at other stocks then algo trading comes into picture, now I will show you my chart I will tell you how I mark it then I will take you on the chart these are all the levels that are marked. So when do you do this homework? at least 1-2 hours, if you study the market from 9:15 to 3:15 then you will get a lot of idea like if I mark in Nifty then I will mark below the range of 500 or above the range so I keep adjusting it according to the price of the market this is the selling price you also have to give the respect, that is true but that is not as important as this level, which I have given here So if the market reaches here, then I'll try to book my profit immediately. And here, I'll wait for the market reaction. After that, if we come down, then that'll be my zone. It'll be a high purity because you must have seen that when Nifty tried to go up
we've seen the selling and the next day we saw the gap down. So its purity will be high because this level has never been breached. So I'll mark this level a zone because the zone above wick is also a pressure zone. So I'll mark. But since Its purity is high so the color will be dark. Yes, I missed it. I'll color it dark since its purity is high. So now I know that the purity is high. Then, we'll again come down, and while going down, this will be the zone because here we've seen the selling pressure the next day during closing.
And here if you see, when the market came down first he got the closing but after that, it became such a zone that he got selling constantly. So I'll mark this zone also. Its purity is also high because it has still not broken yet. After that, we'll come down and mark this zone because here we've seen that the market got pressure when it came down and it again went up. So the next day also if you see, the market got a great push from here. Although it broke him still it's a zone. So I'll mark this zone.
So I mark the zones this way. So either I mark the zone as 30 minutes or I try to find out where the market got pressure, where did it get the buying or selling from. I try to identify those. There's no tool for this. Because I get many queries saying that can the level be marked automatically. Not everything can be automated. I get this asked a lot that ma'am, do you have any tool which helps you to mark this? I say, that there's no tool. You've to do at least this much hard work on your own.
Interestingly you're not seeing Volume? You're saying big player but not looking at volume. I don't look at Volume, I do it on spot and you don't get volume on spot. I don't see volume and it's working fine for me. Because I'm following it for many years now and you can say that it's working very well for me. And anyway if such a huge wick is created then he's a big player, volume wouldn't matter otherwise. I always look at the spot because if you'll see it in the future, then in the future there will be that much volume in that month, we don't know what happened in the previous month. In the spot, you get the previous data also. Because if we come to 16,188 we'll get the data. But if we go below than that then we have to go backward Like the market came down to 15,000 a few months back, then I wasn't getting any latest data. I had to search for the data by going on to the September'21 data.
Because the market never reached that level. That's why I always give the preference to Spot Chart because I get the old data also. It's working for me, and I've not needed the volume till this date. You asked a good question but I didn't require it. Now that we're discussing volume, one thing came to my mind volume sometimes causes a problem also. Many times volumes are being created to make you fool.
So I just follow this- I open the spot chart, see 30 minutes and I try to find out the levels. So I'll mark the levels this way. You've put a level on every price. Doesn't it create confusion? No. Because for every price you have got a resistance. This is for intraday no, so for intraday, this will be small. But if I go for swing, then I'll go for 4 hours. So for 4 hours, these zones will decrease. Because you'll get different in 4 hours. Like, if you go for 4 hours, then this zone is not that important because it has been broken, The one above this is fine. This zone is not that important for me because this has also broken. So if you're doing for Intraday, it's 30 minutes but if you're doing it for swing then you've to increase the timeframe. You'll go for 1 day because you'll get a good supply and demand.
So for intraday it's good. If you get 100-200 points for intraday, then you're good to go. If you do this in every stock, then you must have your own limited stocks? No, I follow this on a limited stock- I follow this on Nifty, Bank Nifty. I follow Camarilla on stocks. It is an automatic pivot point. I'll show you how I do it. So this works on Nifty, Bank Nifty, and 1-2 specific stocks like Reliance, Apollo Hospitals, Bajaj Finance but I trade most of the stocks with Camarilla. Fair enough! Let's move ahead.
30 minutes. So these levels have been marked. I'll show you how I trade. Like I said, I understand the momentum of the market. To understand the momentum of the market, I need EMAs. Here in my chart, there are 2 EMAs- 5 and 20. Only 2? Yes. 2 is enough for 15 minutes. Now these EMAs help me understand what is the momentum in the market whether it's bullish or bearish. Let's see yesterday's Bank Nifty and replay to see how I understood the market's momentum yesterday and how I traded.
Friends, we're recording this video on 11th June so we'll be discussing 10th June. We'll release it after a few days. So this is yesterday's market, I'll replay this so that it gets easier to understand. So when the market opened yesterday, it opened between this. Now, it's not showing the pre-market level but it opened in this zone.
So first I check out, where does the market go first? I first understand the market for 15 minutes. I generally avoid trading in 15 minutes. Generally, if it's a great conviction that the market will do good, then I take the trade but I give 15 minutes to the market to get stable. Because the market remains volatile in the first 15 minutes 9.15-9.30. So I avoid the trade during this time. I understand the market first. So this was the candle which formed. It broke one zone and logically it should go down because it has broken one zone.
I'll add my theory, I don't know about others. I've one theory that if within 9.30 a strong bearish has been formed sorry, if 9.15s candle is string bearish the 9.30s candle will go opposite. This is my theory. I'll tell you the reason why? Market gives a settlement between 9.15-9.30. Tell me one thing, a gap down happened, market went up day before yesterday, So whatever longs will be there, they will all settle between 9.15-9.30. So I believe that the market settles between 9.15-9.30. If this candle would not have been strongly bearish, had it taken a reversal then I'd have expected the next candle to be red. Now this is my theory, my experience. If the 9.15 candle is red then I always expect the 9.30 candle to be green. Yes, I'll wait for the next candle that how it came out to be.
If a wick would have formed in this candle and then 9.30 candle's would have started, then I'd have traded. But since it's very strong, I'll see the 9.30s candle. But this is a 15 minutes candle and you originate trade by looking at a 30 minutes candle. No, I mark the levels by looking at 30 minutes and I trade by looking at 15 minutes. Okay! I forgot to mention that I do it in 15 minutes. So the next candle as per my expectation was green. Now this candle has touched this level so now from this candle if it'll form a red candle reversal, I'll take the trade.
I'll enter into that trade because now I'll get a reversal from that zone. Now I'll take a trade from here for this. So this candle, I entered into short. I've created a short position in Bank Nifty. There's one more reason behind it, the market is below 5 EMA. Below 5 EMA means, the momentum of the market is bearish. And in this I'll wait for the upper zone. I'll wait for the upper zone, this will be my stop loss if the market touches the upper zone, I'll exit. I also do a trail here, I'll show you the trail, I'll show you how I'm doing it. One thing I want to add, here when the market touched 5 EMA, Bank Nifty gave a reversal from the zone, it gave me a double confirmation that market is still bearish because the market touched 5 EMA and 5 EMA pulled it. So if I took the trade here then I'll add something here.
And I'll average my trade because of two reasons. First, it formed below the zone, and second, 5 EMA pulled. So this is double confirmation that the market is still bearish. Now I'll tell you how I trail. I'll draw a Fibonacci from this zone to this zone, from the target to the entry point. We draw a Fibonacci from the target to the entry point. I'll draw a level on 786
I'll book my 50% here. If the market is coming down then there's a 90% chance that it'll touch the level of 786. It won't reverse. This seems like magic to me. I'll show you Nifty also. So the market came down. You can see the 5 EMA, 5 EMA is trying to push the data again and again. So 5 EMA states the momentum of the market very nicely. If the market is taking a push from 5 EMA then it means that the momentum of the market is strongly bearish. This is a 15 minutes chart? Yes.
I book 50% here because now the candle is formed but when I'm trading it's forming slowly. So I book 50% here and I'll book the 25% of the remaining 50% here. Upper zone of my next level. Now I've 25% left for which the target is this and when I book here, I get 50% of my trade cost to cost. 50% of the profit is booked. And even if it gets cost to cost for 50%, still I'll be in profit. This means you're trading for 4 lots, right?
this is also support and resistance, which is Camlila. It has a breaking point, and we have to see how it works so this is my strategy that I have to trade with camlila, which I have to start you can also give a trading count, when you have to trade off what is the square off time
2022-07-15 14:49
Show Video
Other news