Bloomberg The Open 07/08/2022 The Jobs Report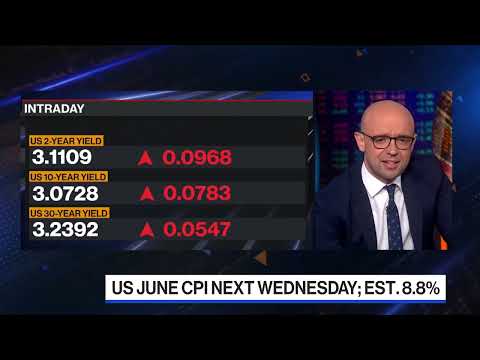 Show Video
♪ JONATHAN: AN UPSIDE SURPRISE ON PAYROLL, YIELDS CLIMBING, EQUITIES LOWER. THE COUNTDOWN TO THE OPEN STARTS NOW. ♪ >> EVERYTHING YOU >> THIS IS BLOOMBERG'S THE OPEN WITH JONATHAN FERRO.
JONATHAN: LIVE FROM NEW YORK, WE BEGIN WITH THE BIG ISSUE. IT IS JOBS DAY IN AMERICA. >> IT IS FRIDAY'S PAYROLL REPORT. >> WHAT WE WILL WATCH IS WHETHER THE UNEMPLOYMENT RATE PICKS UP. >> EMPLOYMENT AND EARNINGS. >> WE NEED TO SEE A REAL DETERIORATION IN THE LABOR MARKET TO WORRY ABOUT A SIGNIFICANT CONTRACTION. >> GOOD NEWS IS BAD NEWS. THAT MEANS THE FED COULD GO 75.
>> WE HAVE A FEELING THE FED WANTS IT TO SLOW. >> THE REPORTS ON FRIDAY WILL BE INTERESTING. >> I DON'T THINK IT IS THIS MONTH OR NEXT MONTH WE NEED TO LOOK OUT FOR. >> IT IS A TIGHT JOB MARKET. >> IT IS TWO OR THREE MONTHS FROM NOW. JONATHAN: THIS JOBS REPORT LOOKS ROUGH TO ME FOR IT HERE IS MICHAEL MCKEE.
MICHAEL: IT WAS MUCH BETTER THAN ANYONE EXPECTED, COMING IN AT 72,000 FOR THE MONTH OF MAY. A LITTLE BIT OF A DOWNGRADE FOR APRIL. FOR MAY, 384,000. THE NUMBER THAT WILL CATCH THE FED'S EYE IS AVERAGE HOURLY EARNINGS, REVISED UP TO 0.4% AND A 5.3 PERCENT ANNUAL RATE.
IT COMES DOWN TO 0.3/5.1%. WE ARE SEEING JOBS GROWTH WITHOUT A LOT OF WAGE GROWTH. THAT MIGHT NOT BE WHAT YOU WANT TO SEE. THE INFLATION PRESSURES ARE
EASING A LITTLE BIT FROM THIS HIGH JOB GROWTH. PROFESSIONAL BUSINESS SERVICES, 74 THOUSAND JOBS. LEISURE AND HOSPITALITY, 67,000. HEALTH CARE IS ONE OF THE LOWER PAID CATEGORIES. RETAIL AND WAREHOUSING ARE PUTTING THESE TOGETHER BECAUSE WE ARE SEEING FEWER PEOPLE IN STORES. MORE PEOPLE IN THE AMAZON
WAREHOUSES. IT IS ALMOST ONE CATEGORY RIGHT NOW. WHERE DOES THAT LEAVE US? I THINK THIS KIND OF DIMINISHES THE IMPORTANCE OF THE CPI REPORT NEXT WEEK. WE HAD THE DECLINE OF 74,000 IN THE PRIOR TWO MONTHS. AS PETER PUT IT IN A NOTE THIS MORNING, THAT IS NOT IN THE MARKET. THE MARKET NOW IS WHERE WE ARE
WITH INFLATION AND GROWTH. INFLATION IS STRONG ENOUGH AND JOHN -- JOB GROWTH IS STRONG ENOUGH THAT THE FED CAN GO 75 AND IT DOES NOT MATTER WHAT THE CBI INFLATION RATE WILL BE. THE MARKETS WILL BE A COP -- BACK UP THERE AS WELL. JONATHAN: LOOKING AHEAD TO JULY 13, NEXT WEDNESDAY, THE CPI REPORT.
HERE IS THE MARKETS STORY. FUTURES GET LOWER AND BOUNCE BACK A LITTLE BIT. DOWN HALF OF 1% ON THE S&P. YIELDS BREAK OUT. IF I WAS GOING TO PICK ONE POINT ON THE CURVE FOR TREASURIES, IT IS THE TWO-YEAR. THE TWO-YEAR IS UP THREE TO 3.1% OF NINE BASIS POINTS. THAT IS THE STORY WITH THE MARKET FOR A LET'S GET TO THE PANEL.
IT HAS BEEN A WHILE SINCE WE HAD YOU BOTH ON. THANK YOU VERY MUCH. MOHAMMED, I WILL START WITH YOU. YOUR REACTION TO THE JOBS NUMBER FROM 30 MINUTES AGO? >> LIKE YOU AND MIKE SAID, IT IS A STRONG REPORT. IT HAS ONE DISAPPOINTMENT. I WANT TO STRESS THAT. IT IS GREAT TO SEE SO MANY JOBS CREATED. IT IS GREAT TO SEE WAGE GROWTH AT 5%. BUT WE NEED LABOR FORCE
PARTICIPATION TO GROW UP. LABOR FORCE PARTICIPATION IS TO THE LABOR MARKET WHAT HIGH PRODUCTIVITY IS TO THE ECONOMY AS A WHOLE. IT CAN SOLVE A LOT OF PROBLEMS. MOHAMED: UNFORTUNATELY, LABOR FORCE PARTICIPATION CAME DOWN.
THAT COMPLICATES THE TAKEAWAYS FROM THIS JOB REPORT. >> I AGREE. I AM SURPRISED WITH THE CHARACTERIZATION. THIS IS A SOLID REPORT. IT KEEPS THE FED MOVING. IT IS STRONG ENOUGH.
I WOULD MODIFY A LITTLE BIT OF HOW STRONG THIS REPORT IS. LOOK AT THE HOUSEHOLD SURVEY, IT WAS DOWN OVER 300 THOUSAND JOBS. THERE IS SOMETHING STRANGE WITH THE DIVERSIONS BETWEEN THE PAYROLL AND THE TOP LINE PAYROLLS OF THE HOUSEHOLD SURVEY. THE LAST THREE-MONTH SCUM OF THE HOUSEHOLD SURVEY HAS BEEN SOFT. IT IS INTERESTING. IF YOU GO BACK AT THE JOBS REPORT AND YOU LOOK AT A COUPLE OF SECTORS, PROFESSIONAL AND BUSINESS SERVICES WERE DOWN OVER 300,000 JOB OPENINGS. MANUFACTURING WAS DOWN 200,000
JOB OPENINGS. THERE IS CLEARLY A TRANSITION TAKING PLACE. THE FIRST THING YOU DO AS YOU START FREEZING HIRING. YOU START CUTTING THOSE OPENINGS AND IN CYCLICAL PLACES, YOU SAW A PROFOUND WAY. I'M CURIOUS WHY HOUSEHOLD SURVEY IS SO SOFT COMPARED TO THE OTHER ONE. IF YOU LOOK AT, THIS IS A
STRONGER REPORT. IF YOU LOOK AT THE THREE-MONTH MOVING AVERAGE VERSUS SIX MONTHS AND 12 MONTHS, THERE IS NO QUESTION IT IS SLOWING. IT IS SLOWING AS THE FED WOULD LIKE IT. BUT IT DOES NOT TAKE THEM AWAY,
THEY HAVE TO KEEP GOING AND THEY WILL KEEP GOING. JONATHAN: THE LAST TIME YOU AND I CAUGHT UP LAST MONTH, YOU TURNED AROUND AND SAID THIS MIGHT BE THE LAST, THE FINAL BIG SOLID JOBS REPORT WE GET. 372 IS PRETTY SOLID TO ME, RICK. RICK: SO, I -- IT IS STRONGER THAN I THOUGHT IT WOULD BE FROM THAT TOP LINE. AGAIN, THERE IS SOMETHING FUNKY GOING ON AROUND WHY IS THE HOUSEHOLD SURVEY CREATING THIS SORT OF SOFTNESS? YOU LOOK AT THE ISM DATA AROUND EMPLOYMENT, IT IS PRETTY CLEAR. THE EMPLOYMENT NUMBER IS SLOWING PRETTY QUICKLY.
THIS WAS A SOLID REPORT. NO AMBIGUITY TO IT. MORE SOLID THAN I EXPECT. I AM CURIOUS TO SEE OVER THE COMING MONTHS HOW THE REVISIONS WILL TAKE PLACE.
IT IS MORE SOLID THAN I WOULD HAVE THOUGHT IT WOULD BE. JONATHAN: IS THERE ANYTHING IN THE DATA IN YOUR SPEC TO -- PERSPECTIVE THAT GIVES THE FED PAUSE AND MIX THEM THINK WE NEED TO SLOW DOWN? MOHAMED: THEY WON'T GET THAT FROM THE CPI DATA. THEY WOULD GET IT IF THEY TOOK A MORE HOLISTIC VIEW OF THE ECONOMY. THIS FED IS NOT STOPPING. THIS FED WILL DO 75 BASIS POINTS.
WHEN IT MEETS THIS MONTH. AND THIS FED NEEDS TO CATCH UP. THEY ARE NOT JUST REACTING, THEY ARE CATCHING UP. THAT IS WHY THEY SIMPLY CANNOT WAIT. 75 IS THE NEW 50 FOR NOW.
JONATHAN: CAN WE TALK OF A HUB RESTRICTIVE YOU THINK THEY NEED TO GET? -- ABOUT HOW RESTRICTIVE YOU THINK THEY NEED TO GET? MOHAMED: I THINK THEY WILL TRY TO GET TO THE RESTRICTIVE LEVEL. I WORRY THAT ON THE WAY THERE, THEY MAY WAGE SOMETHING AND THEN YOU GET THE STOP GO THAT WOULD BE THE WORST POSSIBLE OUTCOME FOR THIS ECONOMY. WE NEED TO TAKE ADVANTAGE, WE SHOULD HAVE TAKEN MORE ADVANTAGE LAST YEAR OF THE STRONG ECONOMY. WE NEED TO TAKE ADVANTAGE OF THE STRONG LABOR MARKET TO GET THAT DONE. OTHERWISE, WE WILL HAVE AN
INFLATION PROBLEM AND A GROWTH PROBLEM NEXT YEAR. JONATHAN: SOMETHING YOU HAVE SAID, RICK. THEY NEED TO GET TO NEUTRAL, FIRST. ARE THEY ANYWHERE NEAR NEUTRAL IN YOUR MIND, FROM YOUR PERSPECTIVE? MOHAMED: SO, YOU GET TO 75 -- THE 75 IN JULY. THEN YOU GET TO THE NUMBER THAT WOULD HAVE BEEN NEUTRAL.
YOU HAVE TO GO A BIT PAST NEUTRAL. I THINK THEY WILL GO TO 75. I THINK THEY WILL GET UP 50 DONE IN SEPTEMBER. WE HAVE SEEN A LOT IN THE LAST WEEK AND A HALF. YOU HAVE THE PERSONAL SPENDING DATA AND YOU LOOK AT PMI'S. THE DYNAMICS AROUND EUROPE.
I THINK YOU ARE SEEING A NUMBER OF CHARACTERIZATIONS THAT WE ARE GOING TO SEE THROUGH EARNINGS AS WELL, OF A SIGNIFICANTLY SLOWING ECONOMY. WE ARE WATCHING THINGS BREAK ALONG THE WAY. WHETHER IT IS A VERY LEVERED STRUCTURE THAT IS COMING UNDER PRESSURE. WHETHER IT IS THE REFINANCING IN PARTS OF REAL ESTATE READY COMMERCIAL -- RESI-COMMERCIAL THAT ARE STARTING TO CRACK A LITTLE BIT. I THINK THEY WILL GO UP 75, I THINK THEY WILL GO UP 50. THIS THING WILL HAVE TO SLOW DOWN. I THINK THE DATA WILL CORROBORATE THAT THEY WILL SLOW
DOWN. WE ARE SEEING A BUNCH OF EVIDENCE OF THAT. JONATHAN: RICK, YOU ARE BECOMING MORE RISK-AVERSE OR LESS AS THIS YEAR PROGRESSES? RICK: LESS. LESS BY A GOOD AMOUNT. A BUNCH OF PEOPLE ARE RUNNING HIGH LEVELS OF CASH FOR A VERY LONG TIME. YOU HAVE GOTTEN FINANCIAL CONDITIONS. THEY HAVE PRESSED ON -- THESE LEVELS HAVE MOVED.
WE TALK ABOUT EQUITIES WHICH I THINK ARE JUST OK. I CAN'T FIND A LOT OF INDUSTRIES THAT ARE SUPERCHEAP AT THESE LEVELS. NOT MANY AT ALL. WE STARTED TO LET THE LINE OUT ON SOME OF THAT CASH. IF WE ARE GOING TO BE RUN RATE INFLATION OVER THE NEXT FIVE TO 10 YEARS, LET'S SAY IT IS A BIT HIGHER. IT IS THREE-ISH, WHICH IS HIGHER THAN MARKETS ARE PRICING.
IF YOU CAN BUY YIELD AT NINE OR 9.5, YOU CAN INVEST IN THE MEDIUM PART OF THE YIELD CURVE AT FIVE-ISH, THAT IS A GOOD RATE. EUROPE WILL HAVE SOME DURESS. THERE IS SOME STUFF TO DO. I THINK WE WILL GET MORE CHANCES BECAUSE THE DATA IS GOING TO BE SOFT. WE ARE LETTING THE LINE OUT A LITTLE BIT. IT DOESN'T DISSUADE US FROM DOING THAT.
THE FEDS YIELD WILL BE MORE COMES WHAT WITH MOVING. JONATHAN: I THROUGH THE SAME QUESTION TO YOU, MORE OR LESS RISK-AVERSE AS THE YEAR PROGRESSES? MOHAMED: I HAVE BEEN RISK-AVERSE, AS YOU KNOW. LIKE RICK, I THINK THERE ARE SOME BARGAINS OUT THERE. THIS IS NOT A GENERAL STATEMENT. THIS IS A SELECTIVE STATEMENT. WHAT WOULD MAKE ME HAVE A GENERALLY CONSTRUCTIVE VIEW AS OPPOSED TO A SELECTIVELY CONSTRUCTIVE VIEW, ONE IS INFLATION IF INFLATION PROVES NOT TO BE STICKY. THAT IS A MAJOR QUESTION YOU HAVE TO ASK ALL YOUR GUESTS.
HOW STICKY WILL INFLATION BE AS THE ECONOMY SLOWS. TWO IS SOMETHING YOU AND I HAVE TALKED A LOT ABOUT. RICK MENTIONED IT, WHICH IS THE MARKET DYNAMICS AND THE LIQUIDITY. THESE -- THAT IS GREAT IF YOU DEFENSIVELY POSITION. IT IS NOT SO GOOD IF YOU ARE OVERWEIGHT FOR RISK ASSETS.
JONATHAN: SOMEHOW, YOU CAN HAVE THE FLOOR NOW. YOU HAVE ASKED YOUR OWN QUESTION, ANSWER IT. HOW STICKY DO YOU THINK THIS WILL BE? AND WHAT NUMBERS DO YOU THINK WE SETTLED DOWN AT AT THE END OF THE YEAR? MOHAMED: I WILL GIVE IT TO RICK. RICK, YOU SAID THE ECONOMY WOULD SLOW DOWN. WHAT HAPPENS TO INFLATION? HOW STICKY IS INFLATION? HOW WORRIED ARE YOU ABOUT THE THIRD OR FOURTH ROUND OF FEDS? RICK: DO I HAVE SOMEONE TO PASS THIS TO? WE ARE GOING THROUGH A DEGLOBALIZATION PHENOMENON THAT IS REAL. THAT MEANS WE WILL HAVE HIGHER LEVELS OF INFLATION THEN WE HAVE SEEN IN THE PAST. QUITE FRANKLY, A SLOWING ECONOMY DOES NOT BRING DOWN THE SUPPLY SHOCK CREATED WHEN YOU TAKE 11 MILLION BARRELS OF LIQUIDS OFF THE MARKET IN RUSSIA. YOU DON'T REPLACE THAT.
IT TAKES -- TO GET 1.2 MILLION BARRELS, YOU HAVE TO GET THE RATE UP 1.2%. YOU WOULD HAVE A STICKY HIGH ENERGY AND A STICKY HIGH FLUID IN VAIN -- INFLATION. AT THE MARGIN, IT IS COMING DOWN. WE THINK TOP-FLIGHT CPI WILL SHOW EIGHT OVER SEPTEMBER. YOU LOOK AT THE PC AND WEDGE AND THAT IS COMING DOWN SIGNIFICANTLY. IT IS COMING DOWN.
SOME OF THESE ROCK -- MARKETS THAT ARE GIVING YOU REAL RATES ABOVE ELEVATED LEVELS OF INFLATION, YOU CAN GET COME TO WITH. WHEN UD GLOBALIZE AN ECONOMY AND YOU SEE COMPANIES THAT WILL HAVE TO BRING MORE REGIONALIZED BUSINESS, YOUR HURDLE RATE ON INVESTMENT HAS TO BE REFLECTIVE OF THAT. JONATHAN: THE NASDAQ 100 DOWN A LITTLE MORE THAN 1%. ABOUT 17 MINUTES AWAY FROM THE OPENING BELL. >> THE MOVE IN YIELDS ON THIS JOBS REPORT IS PERCEIVED AS INFLATIONARY OR GIVING THE FED THE GREEN LIGHT TO KEEP RAISING.
THE NASDAQ DOWN MORE THAN 1%. APPLE AND MICROSOFT ARE DOWN MORE THAN 1%. FEARS OF VALUATION AND GROWTH ARE COMING BACK IN PLAY. TWITTER IS DOWN 3.4%. THAT UNDERPERFORMANCE HAS MORE
TO DO WITH ELON MUSK'S POTENTIAL DEAL IS AT RISK. ONE BRIGHT SPOT WITH YIELDS RISING, WE HAVE BANK OF AMERICA AND SOME OF THE OTHER BIG BANKS HIGHER RIGHT NOW, UP ALMOST 1%. JONATHAN: COMING UP WITH RICK AND MOHAMMED, THE BIDEN ADMINISTRATION NEARING A DECISION ON TARIFFS ON CHINA.
>> WE HAVE OTHER TOOLS TO MAKE SURE WE ARE PROTECTING KEY SECTORS OF THE AMERICAN ECONOMY THAT WE ARE HOLDING TO ACCOUNT. JONATHAN: WE WILL CATCH UP WITH AMH IN WASHINGTON, D.C., UP NEXT. >> THERE IS NO QUESTION THAT IF YOU LOOK AT THE CHINESE ECONOMY AND THE NONMARKET PRACTICES THAT CHINESE LEADERSHIP ARE UNDERTAKING, THERE ARE SECTORS OF THE ECONOMY WHERE THEY ARE ENGAGING IN UNACCEPTABLE ACTIVITIES.
AND THAT THOSE PRESENT A STRATEGIC RISK TO OUR ECONOMY AND OUR NATIONAL SECURITY. TARIFFS ARE ONE TOOL BUT WE HAVE OTHER TOOLS AS WELL TO MAKE SURE WE ARE PROTECTING KEY SECTORS OF THE AMERICAN ECONOMY. JONATHAN: PRESIDENT BIDEN SET TO DISCUSS A POTENTIAL CALL BACK OF U.S. TARIFFS ON CHINA. AS THE MINISTRATION TRIES TO CURB SURGING PRICES.
AND READ HER DORM -- ANNMARIE HORDERN JOINS US. >> IT SEEMS THAT HE IS INCHING VERY MUCH MORE SO CLOSER THAN WE WERE MONTHS AGO WHEN WE WERE DISCUSSING WHETHER OR NOT HE SHOULD LIFT SOME OF THOSE TARIFFS FROM THE TRUMP ERA TARIFFS ON CHINA. THE BIG ISSUE IN THE MINISTRATION IS THIS IS A DEBATE BETWEEN THE FARM HAWKS ON CHINA AND THOSE WHO ARE TRYING TO DO ANYTHING WHEN IT COMES TO EASING INFLATION. I WOULD SAY BIG PICTURE, WHAT YOU SEE FROM THE ADMINISTRATION IS DOMESTIC POLICY GOALS, NAMELY BRINGING INFLATION DOWN, BRINGING DOWN FOOD PRICES AND THE COST OF GASOLINE HAS HAD THIS ADMINISTRATION SHIFT SOME OF THEIR FOREIGN POLICY GOALS LIKE POTENTIALLY LIFTING SOME OF THESE CHINESE TARIFFS. BUT ALSO THE PRESIDENT NEXT WEEK, HEADING OFF TO THE KINGDOM. JONATHAN: THANK YOU.
MOHAMED AND RICK, STILL WITH US. CAN YOU HAVE AN INCREDIBLE FORECAST ON INFLATION WITHOUT AN UNDERSTANDING OF WHAT WILL HAPPEN WITH THE CHINESE ECONOMY? STOP START THERE HAS CONFUSED ME AND I IMAGINE MANY OTHERS TOO. MOHAMED: YOU'RE ABSOLUTELY RIGHT. I AM WILLING TO PUT MY NECK OUT AND SAY IT IS GOING TO CONTINUE TO BE A PROBLEM.
YOU CANNOT RECONCILE ZERO COVID POLICY WITH OMICRON IF YOU DON'T HAVE THE MRNA VACCINES. UNLESS WE SEE CHINA CHANGE ITS VACCINE POLICY, AND THEN IT WILL TAKE TIME TO VACCINATE ITS POPULATION, WE ARE GOING TO SEE AND CONTINUE TO HAVE A ZERO COVID POLICY. HIT THE REALITY OF OMICRON AND HAVE SHUTDOWNS AND DISRUPT SUPPLY CHAINS. IT IS ALMOST A DONE DEAL, GIVEN WHAT THIS VARIANT OF COVID IS LIKE. JONATHAN: IT RAISES QUESTIONS ABOUT THE CREDIBILITY OF THE RECENT ROTATIONS WE HAVE SEEN IN THE EQUITY MARKET. HIGHLIGHTING THAT ROTATION FROM INFLATION COMMODITIES TO TECH ASSETS, YOUR THOUGHTS ON THAT, RICK? HOW CREDIBLE IS THE ROTATION AND BOUNDS WE HAVE SEEN? RICK: I THINK GENERICALLY, THAT IS RIGHT. I THINK IT IS A LOT MORE
NUANCED THAN THAT. MATERIALS HAVE COME OFF A LOT. COPPER, ALUMINUM, PRICES HAVE GONE DOWN A LOT. THERE IS SOME VALUE THERE BUT THE ECONOMY WILL BE SLOW FOR A WHILE. ENERGY, AS WE JUST TALKED ABOUT, IT IS PRETTY WELL SUPPORTED AND WILL BE FOR A WHILE. WE HAVE BROKEN DOWN SOME
EXPOSURE IN ENERGY, JUST BECAUSE OF HOW VALUATIONS HAVE MOVED AND THE RELATIVE FORWARD CURVES, WE THINK IT WAS WORTH SOME CROWDING THAT HAS GONE INTO THAT. IF THE GROWTH IS SLOW AND THERE IS AN OVER SLOT -- OVERSUPPLY, THAT IS A TOUGH AREA. SOFTWARE COMPANIES ARE GOING TO SPEND MORE ON CLOUD AND AI AND SOFTWARE. I THINK THOSE AREAS, TO MOVE
INTO OR INCREASE EXPOSURE IN PARTS OF BIG TECH. THAT, I THINK IS DURABLE. THOSE VALUATIONS, PEOPLE TRADE THEM WITH INTEREST RATES. IT IS CRAZY. TOP LINE REVENUE IS 25% TO 30%. YOU BECOME TUBAL WITH THESE MULTIPLES. -- BECOME COMFORTABLE WITH THESE MULTIPLES. JONATHAN: I KNOW YOU HAVE HEARD FROM THE
SAME PEOPLE, THAT YOU'RE SURPRISED WE HAVE NOT HAD ENOUGH EARNINGS PROFICIENCIES. THE U.S. DOLLAR HAS HAD A 10% RALLY SINCE THE END OF Q1. FOR THE S&P 500, I CAN THINK OF ONE BIG MULTINATIONAL HAS SAID THIS IS A BIG PROBLEM AND THAT WAS MICROSOFT. NOW THAT YOU FACTOR IN THE POTENTIAL RECESSION IN EUROPE, LET'S TALK ABOUT REALITY, HAVE YOU BEEN SURPRISED BY HOW MUCH THE EARNINGS REVISIONS HAVE REMAINED STEADY IN SOME PLACES? MOHAMED: SURPRISED? NO. THERE IS AN INERTIA TO THAT. ONCE YOU START REVISING DOWN, IT BECOMES INHERENT BEHAVIOR AND IT BUILDS ON ITSELF. I'M NOT SURE WE WOULD BE HAVING THIS CONVERSATION IN THREE MONTHS TIME FOR THE REASONS YOU'VE CITED. WE HAVE GONE FROM A COST ISSUE
FOR CORPORATE AMERICA WHICH YOU COULD PASS ON TO HIGHER PRICES, TO A REAL QUESTION AS TO WHETHER YIELD DEMAND WILL HOLD. THE FOCUS WILL BE MUCH MORE ON REVENUES AND THE CURRENCY ISSUE YOU RAISED AMPLIFIES THAT FOR COMPANIES. I SUSPECT WE WILL HAVE AN AVALANCHE OF REVISIONS COMING OUR WAY IN THE NEXT THREE TO SIX MONTHS. JONATHAN: RICK, LET'S FINISH ON THAT. WHERE ARE THE REVISIONS, BASED ON FOREIGN EXCHANGE ALONE? THAT IS REALITY. HOW ARE WE GOING TO ADJUST TO THAT? RICK: A COUPLE OF THINGS.
THE LAST QUARTER, A LOT OF THE EARNINGS HAVE COME THROUGH. WHEN YOU BREAK IT DOWN, YOU SAW REVENUE IN A GOOD SPOT, BECAUSE YOU WERE GETTING RISING POWER. WHAT IS STARTING TO HAPPEN IS YOU ARE GETTING -- THE INABILITY TO PASS THROUGH PRICE.
I THINK THERE IS A LAG TO THAT. YOU WILL START TO SEE THAT OVER THE COMING QUARTERS. I THINK SOME AREAS WILL STILL BE DURABLY HIGH WHEN YOU BREAK DOWN PLACES, YOU ARE STILL GETTING -- WE TALKED RIGHT ENERGY AND OTHER PLACES -- WHERE YOU CAN PASS IT THROUGH. I THINK THERE IS A TRANSITION TAKING PLACE. THERE IS A REAL LAG OF GOSH, I GOT MY REVENUES ARE GOOD BUT MY UNITS ARE DECLINE.
THE RATE OF GROWTH -- CERTAINLY IN RATE OF GROWTH, IF NOT ACTUAL DISSENT. I THINK THE EARNINGS ESTIMATES OUT THERE ARE TOO HIGH. AND THAT IS PART OF WHY I THINK EQUITIES ARE JUST OK. THOSE WILL COME DOWN AND I THINK YOU WILL SEE THAT OVER SUBSEQUENT QUARTERS. THERE WILL BE MORE DISPERSION. THERE ARE STILL COMPANIES. THEY ARE NOT SEEING THAT THERE BACKLOG IS STILL DURABLE.
I THINK IT IS MORE DISPERSION THAN IT IS A SHEER DEVASTATION OF EARNINGS. I THINK THEY ARE DOWN BUT NOT THAT BAD. JONATHAN: AWESOME TO CATCH UP. A SPECIAL THANKS TO MOHAMED, WHO WAS LIVE TEXTING ME TO MAKE SURE HE COULD MAKE THIS SEGMENT. BOTH OF YOU, THANK YOU.
♪ JONATHAN: HERE ARE YOUR MORNING CALLS. TIGHTER FUNDING AND LIMITED VISIBILITY. EXPECT AN UPCOMING RADIO -- RECESSION TO HIT RADIO HARD. UP NEXT, REACTION TO A SOLID PAYROLLS REPORT FROM THE WHITE HOUSE.
♪ JONATHAN: THE HEADLINE NUMBER DELIVERS AN UPSIDE SURPRISE ON PAYROLLS FRIDAY, THIS MORNING. GOOD MORNING. EQUITIES ARE LOWER. EQUITY FUTURES, DOWN HALF OF 1% ON THE NASDAQ AFTER A TIDY WEEK OF GAINS ON THE NASDAQ 100. THE RUSSELL, DOWN BY 4/10 OF 1%.
10 YEAR YIELD IS CLIMBING HIGHER. TWO YEAR YIELD BY A LOT MORE. UP FIVE BASIS POINTS ON THE TWO-YEAR. OF 10 BASIS POINTS ON A TWO-YEAR. THE 10 -- I WILL GET MY NUMBER IS CORRECT FOR YOU.
THE FED WILL HAVE TO DO MORE, GOING 75 BASIS POINTS. THE EURO-DOLLAR, BRIEFLY BREAKING 101. RESILIENCE AFTER GETTING HAMMERED OVER THE LAST FEW MONTHS. EURO-DOLLAR, 1.0168. WE HAVE A RALLY AGAIN ON CRUDE.
LET'S GET YOU SOME MOVES AROUND THE OPEN. >> STICKING WITH THE STOCK AND BONDS STORY, AND THE HOTTER THAN EXPECTED JOBS REPORT, YIELDS HIGHER, STOCKS ARE LOWER. MICROSOFT BIG TECH IS ONE OF THE BIG CULPRITS, DOWN 1.4%. RISING YIELDS BRING INTO CONCERN VALUATION. TWITTER IS UNDERPERFORMING ON THAT THEME. IT HAS TO DO WITH THE DEAL -- ELON MUSK'S POTENTIAL DEAL TO BUY TWITTER IS AT RISK BASED ON THE FACT THEY MAY NOT BE ABLE TO VERIFY THE COMPANY'S BOUGHT INFORMATION.
OCCIDENTAL PETROLEUM IS UP TO PERCENT AS OIL STICKS AROUND $105 PER BARREL. THE SAME THING FOR BANKS. BANKS ARE ANOTHER ONE OF THE UP SECTORS. JP MORGAN, UP 3/10 OF 1%, GETTING A YIELD -- LIFT FROM RISING YIELDS. JONATHAN: THE STOCK IS DOWN FOUR PERCENT. HE IS THE QUOTE FROM THE WASHINGTON POST STORY THAT ABBY REFERENCED -- HERE IS THE QUOTE FROM THE WASHINGTON POST STORY THAT ABBY REFERENCED. MUSK WILL DELIVER EIGHT SPEECH. -- A SPEECH.
>> THE SPREAD ON THE DEAL, OFF THE PRICE AND WHERE WE ARE CURRENTLY TRADING, THE TIMING OF THE WASHINGTON POST STORY IS INTERESTING. YESTERDAY MORNING, TWITTER EXECUTIVES BRIEFED THAT THE NUMBER OF USERS ON THE PLATFORM ARE LESS THAN 5%. THEY SAID THAT THE METHODOLOGY AND DATA WAS NOT VERIFIABLE BY A THIRD PARTY. THEY COULD VERIFY IT. YOU HAVE THE WASHINGTON POST STORY COME OUT. THAT IS WHAT IT IS ABOUT, ACCORDING TO ANONYMOUS SOURCES. THE MUSK CAMP DOES NOT THINK IT
IS VERIFIABLE. WHAT IS INTERESTING ABOUT THAT REPORTING IS THAT THEY SAY MUSK HAS STOPPED TALKING WITH AT LEAST ONE POTENTIAL EQUITY PARTNER ON THE FINANCING SIDE. I FIND THAT INTERESTING BECAUSE REPORTS HAVE BEEN THAT MUSK WAS TALKING WITH MANY POTENTIAL EQUITY PARTNERS. IF YOU START TALKING WITH ONE, IT IS HARD TO DRAW AN INFERENCE FROM THAT. MUSK ARRIVED AT SUN VALLEY YESTERDAY EVENING. HE IS HERE AND HE WILL SPEAK SATURDAY. MY UNDERSTANDING IS HE WILL
ADDRESS THIS ISSUE. JONATHAN: ED LUDLOW, THANK YOU. LOOKING FORWARD TO THIS SPEECH AND YOUR COVERAGE OF IT. I CAN'T NUMBER THE LAST TIME WE WENT ANYWHERE NEAR THAT GREEN PRICE ON TWITTER.
LET'S CALL IT 37.30. THAT IS THE STORY FOR 20. STOCKS ARE LOWER BY 4/10 OF 1%. BANK OF AMERICA PUTS OUT IT'S NO ON A FRIDAY MORNING. I ALWAYS ENJOY READING IT. HERE IS A SNIPPET OF IT FOR YOU. IT IS A SUMMER NARRATIVE OF SECOND HALF RECESSION AND 23 FED RATE CUTS, A BIG ROTATION FROM INFLATION, COMMODITIES TO DEFLATION. TECH ASSETS, LET'S GO TO KAILEY
LEINZ. KAILEY: THE BASIC IDEA IS RATES WILL GO UP. GROWTH IS GOING TO GO DOWN. WHERE DO INVESTORS GO? INVESTORS BELIEVE CASH. THAT IS WHAT WE SAW WHEN THE WEEK ENDED ON WEDNESDAY. 63 BILLION DOLLARS FLOODING INTO CASH. OR IN SOME SENSE, GETTING OUT OF OTHER ASSETS.
THE MONEY IS GOING INTO BONDS, 2.4 BILLION DOLLARS. THAT SIGNALS THE DESIRE FOR A SAFE HAVEN. EQUITY OUTFLOWS, 4.6 BILLION DOLLARS. WHAT DOES THAT SIGNAL ABOUT THE TRAJECTORY OF THIS MARKET? WE ARE GOING TO BE RANGE BOUND, BETWEEN 3800 AND 4200, RATHER THAN SEEING A CONTINUED REBOUND. WE HAVE ALREADY BEEN IN THAT
RANGE FOR THE LAST TWO MONTHS. HE GOES ON TO SAY THE BEAR MARKET IS NOT OVER AND THE BIG GROW HAS YET TO BE REACHED. ON THE SURFACE LEVEL. 'NEATH THE SURFACE LEVEL OF THE INDEX, HE TALKS ABOUT THE ROTATION.
OUT OF COMMODITIES PLACED INTO TECHNOLOGY AS IT SHIFTS FROM INFLATION TO ONE OF DEFLATION. WE HAVE SEEN THAT IN COMMODITIES PRICES THEMSELVES. THE METALS AND OIL, THOSE PRICES COMING DOWN. IT HELPS EXPLAIN WHY ENERGY, AFTER BEING FAR AND AWAY THE OUTPERFORMER IN THE FIRST HALF, A WEEK INTO THE SECOND HALF, IT IS THE WORST PERFORMER. JONATHAN: KAILEY LEINZ, THANK YOU.
THE EQUITY MARKET SHIFTS LOWER, YIELDS BREAK OUT. THERE IS A BROAD CONSENSUS OFF THE BACK OF IT THAT THIS FED HAS GONE 70 53 HERE IS JEFF ROSENBERG. >> THE LACK OF PAYROLL SLOWING HERE AND THE LACK OF AN INCREASE IN PARTICIPATION IS TO GET HIGHLIGHTING PRESSURES ON THE FED HERE, THAT YOU HAVE AN OVERHEATING ECONOMY.
AND THEY NEED TO PUSH ON THE DEMAND SIDE. YOU ARE SEEING THE REACTION IN THE FRONT-END, REFLECTIVE OF THAT. JONATHAN: THE PERFECT PANEL ON FIXED INCOME. DO YOU AGREE THAT WE GO 75 AT THE END OF THIS MONTH, ALL OVER AGAIN? >> MOST LIKELY, GIVEN THE FACT THAT WE HAD A VERY STRONG PAYROLL.
THERE IS NO REASON THE PAYROLL NEXT WEEK WILL BE DIFFERENT. WE HAVE HEARD FROM A FEW FED SPEAKERS WHO ARE IN FAVOR OF THE 75 BASIS POINTS RATE HIKE. THIS IS THE PERFECT OPPORTUNITY FOR THE FED TO BE ABLE TO DELIVER THAT RATE HIKE. AND THEN PERHAPS THINK ABOUT SLOWING DOWN THE PACE OF HIKES AFTER THAT. JONATHAN: WHEN DO THEY PAUSE, THIS KEEPS
COMING UP. THIS SUMMER, THEY WILL KEEP GOING. MEMBERS OF DEUTSCHE BANK TOLD US ON BLOOMBERG SURVEILLANCE, THEY GET TO 4%. DO YOU SHARE THAT CONFIDENCE THAT THEY GET TO 4%? SABADRA: I DON'T. WHAT HAPPENS IS THEY PROBABLY GET TO THREE TO 3.5% IN A RUSH AND THEN TAKE A MUCH MORE
MEASURED APPROACH ON RATE HIKES. I DON'T SEE ANY POINT IN TRYING TO RAISE RATES UP TO 4% OR BEYOND AND THEN HAVE TO CUT RATES SOON THEREAFTER IF THE ECONOMY SLOWS DOWN. WHY NOT TAKE A MORE MEASURED APPROACH AND GET RATES UP TO MAYBE 3%, THREE POINT -- 3.25% AND THEN SEE HOW THE ECONOMY IS
DOING AND THEN THINK ABOUT RAISING RATES IF THE ECONOMY STILL GOES DOWN. JONATHAN: THAT TEASE YOU UP, MIKE COLLINS. WESTERN 1, 70 5% AT THE END OF THIS MONTH? THAT IS THE EASY ONE. QUESTION TWO, CAN THEY GET IT TO 4%? MICHAEL: 75% IS IN THE CARDS. THIS GIVES THEM THE OPENING TO DO THAT, FOR SURE.
I'M TAKING THE UNDER ON THE 4%, FOR SURE. THE MARKETS ARE PRICING IN AT 3.5% RIGHT NOW. THAT IS YOUR OVER UNDER. THE QUESTION IS WHERE YOU GO
FROM THERE? I WILL TAKE THE UNDER ON THE 3.5%. IF THEY DO 75, TWO WEEKS FROM NOW, THE SEPTEMBER MEETING IS ALMOST NOT FOR 2.5 MONTHS FROM NOW. MAYBE THEY DO 50 OR 75. THEY ARE CLOSE TO 3% AROUND THAT POINT. MAYBE THEY GET ANOTHER HIKE OR TWO IN.
I THINK THE DATA WILL START TO DECELERATE PRETTY QUICKLY, BEFORE THEY GET TO 3.5%. JONATHAN: YOU ARE CONFIDENT WE HAVE SEEN THE PEAK ON THE 10 YEAR YIELD. DO YOU SHARE THAT VIEW? MICHAEL: YEAH. I DON'T KNOW IF I WOULD SAY IT WITH 100% COMPETENCE. I THINK 3.5, ABOVE THAT ON THE 10-YEAR IS A HIGH WATERMARK FOR THE MARKETS. THE MARKETS ARE PRICING IN, IF
YOU WEEKS AGO, IT MONTH AGO, A 4% TERMINAL FUNDS RATE. I THOUGHT THEN THAT THAT WAS A PEAK IN TERMS OF FED RATE HIKE EXPECTATIONS. I THINK WE HAVE PASSED THAT PEAK. WHEN THE CURVE INVERTS LIKE IT HAS AND IT IS TODAY, TYPICALLY THAT IS NOT A SIGNAL TO GO WITH THE CASH. IT IS A SIGNAL TO START EXTENDING.
JONATHAN: SABADRA, YOUR VIEW? SABADRA: I AGREE WITH MIKE. THE CURVE WILL CONTINUE TO FLATTEN AS THE FED REMAINS ON ITS PATH TO HIGHER POLICY RATES GOING FORWARD. THE ONE THING WE ARE NOT PAYING ATTENTION TO IS BOND SHARE IS STARTING TO GET UNDERWAY. BY THE TIME SEPTEMBER ROLLS AROUND, THE FED WILL BE ROLLING OFF -- CLOSE TO $100 BILLION WILL BE ROLLING OUT THE FED'S BALANCE SHEETS. YOU WILL SEE TIGHTENING FROM THE BALANCE SHEETS AND THE INTEREST RATE HIKES BEING DELIVERED.
AFTER SEPTEMBER, A MEASURE APPROACH OF POLICY MAKES SENSE. ESPECIALLY GIVEN THE FACT THE CURVE IS STARTING TO FLATTEN AND THAT WILL START SIGNALING A GROWTH IN THE NEXT 12 TO 18 MONTHS. JONATHAN: WE WILL CATCH UP WITH SECRETARY WALSH FROM THE WHITE HOUSE OFF THE BACK OF A DECENT PAYROLLS REPORT. 372, A NICE REPORT ON PAYROLLS, DELIVERING GAINS INTO EQUITIES, YOU WOULD HOPE. THAT IS NOT HOW IT WORKS.
IT IS YIELDS HIGHER, EQUITIES LOWER. ON THE S&P 500, WE BREAK DOWN A LITTLE BIT ON MASTEC -- NASDAQ, A WHOLE LOT MORE. ON A 10 YEAR, UP SIX BASIS POINTS.
THE -- TO 3.052. I AM JONATHAN FERRO. I AM PLEASED TO SAY THAT WE WILL BE JOINED BY SECRETARY WALSH IN JUST A MOMENT. I WANT TO JOB BACK AT TOM KEENE, WHO HAS BEEN TROLLING ME. TOM MESSAGED ME EVERY OTHER MINUTE WHEN THE MESSAGES OPEN. TOM KEENE TELLS ME WE ARE DOWN
44. THANK YOU, TOM, FOR SHARING THAT WITH ME. I WILL DO CREDIT SPREADS A LITTLE LATER. SECRETARY WALSH JOINS US LATER. A DECENT PAYROLLS REPORT. YOUR PERSPECTIVE, FIRST OF ALL? >> IT WAS A GOOD REPORT. THE THINGS I AM HAPPY TO SEE, IN THE PRIVATE SECTOR, WE ARE SEEING EMPLOYMENT BACK TO PRE-PANDEMIC LEVELS. IN THE CHILDCARE SECTOR, WE HAVE SEEN SOME GAINS, WHICH MEANS OUR CHILDCARE FACILITIES ARE GETTING BACK TO -- I WOULD NOT CALL THEM PRE-PANDEMIC LEVELS BUT WE ARE SEEING SOME GROWTH.
WAREHOUSING AND MANUFACTURING, WE ARE SEEING GROWTH THERE. WE ARE SEEING THE JOB ECONOMY MOVING FORWARD. THE WAGE GROWTH WAS SEEING SOME OF THE BIGGEST GAIN AND THE LOWEST INCOME EARNERS, WHICH IS GOOD. WE ARE STILL DEALING WITH INFLATION. THE WAGE GROWTH IS NOT KEEPING UP WITH INFLATION. WHAT WE WANT TO DO IS BRING INFLATION DOWN.
THIS SHOWS THE COUNTRY, WITH PRESIDENT BIDEN LAYING PLANS, IS MOVING FORWARD ON THE JOB SIDE. AS YOU MENTIONED, THERE IS A LOT OF ON ANSWERED -- UNANSWERED QUESTIONS ABOUT THE ECONOMY. JONATHAN: OVER THE LAST FEW MONTHS, THEY HAVE GIVEN ME UPDATES ON WHAT IS HAPPENING WITH THE WEST COAST. THE WEST COAST UNION CONTRACTS HAVE EXPIRED AND TALKS ARE ONGOING. YOU HAVE SAID YOU ARE NOT CONCERNED.
ARE YOU CONCERNED NOW? SEC. WALSH: NO, I'M NOT CONCERNED. BOTH SIDES, BOTH PARTIES PUT OUT A STATEMENT, TWO STATEMENTS LETTING PEOPLE KNOW THEY WILL CONTINUE NEGOTIATIONS WHEN THE CONTRACT EXPIRES ON JULY 1. I DID NOT SPEAK TO THEM. I SPOKE TO BOTH SIDES.
THEY SAID IT IS MOVING IN THE RIGHT DIRECTION. THE UNIONS AND THE COMPANIES. OBVIOUSLY, WE HAVE NOT HAD THAT ISSUE THAT MIGHT POP UP THAT WILL CAUSE A LITTLE INDIGESTION FOR BOTH SIDES. I LIKE WHERE IT IS GOING.
THE INTERESTING THING ABOUT THIS NEGOTIATION, IT DOES NOT START UNTIL SIX WEEKS PRIOR TO THE EXPIRATION OF THE CONTRACT. THAT IS SOMETHING THAT IS DIFFERENT FROM MOST CONTRACTS. SOME CONTRACTS, YOU CAN START NEGOTIATION SIX MONTHS PRIOR TO EXPIRING. I FEEL GOOD ABOUT WHERE WE ARE GOING. WE DON'T WANT TO HAVE ANY ISSUES LIKE WE DID LAST HOLIDAY
SEASON AND LAST FALL, WITH SHIFTS OUT IN THE HARBOR. I FEEL GOOD WHERE WE ARE. JONATHAN: THIS IS A REALLY IMPORTANT TOPIC.
I CAN TAKE YOUR WORD FOR IT THAT YOU FEEL GOOD. OTHER MEMBERS OF THE AUDIENCE MIGHT NOT. CAN YOU HELP THEM UNDERSTAND WHAT IS AT STAKE HERE AND THE DETAILS OF THE NEGOTIATIONS? WHAT IS STOPPING THIS ONE FROM CLOSING? HOW BIG IS THE GAP AND WHAT IS IT OVER? SEC. WALSH: JUST SO PEOPLE UNDERSTAND, WHEN THEY DO THE NEGOTIATIONS, THEY GO ON FOR LONG PERIODS OF TIME.
HISTORICALLY, IN 2014, IT WENT ON FOR A LONG TIME. THERE WERE NO STRIKES OR SLOWDOWNS OR LOCKOUTS. WHAT WE WANT TO DO, IN THE TIME THAT WE ARE LIVING IN, MAKING SURE PEOPLE'S PRESSURE, THEY FEEL THE PRESSURE AT HOME, THEY PAY FOR GOODS AND SERVICES AND THEY ARE SEEING INFLATION IMPACTING THEIR FAMILIES. I WANT TO MAKE SURE AND PRESIDENT BIDEN MAKES -- WANTS TO MAKE SURE WE DON'T HAVE A BREAKDOWN IN NEGOTIATION THAT ADDS ADDITIONALLY TO INFLATION AND COSTS. THAT IS WHAT IS AT STAKE, QUITE HONESTLY. THE CONTRACTOR THEY ARE
NEGOTIATING IS EVERYTHING FROM WAGES WORKING CONDITIONS TO EVERYTHING THAT YOU CAN IMAGINE. IT IS A MASSIVE CONTRACT. THERE ARE TENS OF THOUSANDS OF WORKERS. THERE ARE NINE SHIPPING COMPANIES INVOLVED IN THIS NEGOTIATION. IT IS A VERY LONG NEGOTIATION. A VERY CHALLENGING NEGOTIATION
AT THE TABLE. WHAT I HEAR FROM BOTH SIDES IS THE SAME THING, IT IS MOVING ALONG. I AM PLEASED WITH THAT. I'M NOT WORRIED ABOUT THE CONTRACT EXPIRING ON THE FIRST OF THIS MONTH. NEXT MONTH, IF WE ARE NOT CLOSE TO A CONTRACT, WE MIGHT HAVE A DIFFERENT CONVERSATION BUT RIGHT NOW, I FEEL GOOD.
JONATHAN: YOU CAN'T TAKE THEIR WORD FOR IT, EITHER. ARE YOU PREPARING FOR THE POSSIBILITY OF A STRIKE? CAN YOU TALK TO ME ABOUT WHAT THOSE PREPARATIONS LOOK LIKE? SEC. WALSH: I'M NOT CONCERNED ABOUT A STRIKE.
THE LAST TIME THERE WAS A STRIKE IN LONG BEACH, IT WAS IN 1972. WE HAVE NOT HAD A STRIKE IN QUITE SOME TIME. THESE WORKERS AND THESE SHIPPING COMPANIES AND THESE SUPPLIERS, EVERYONE WERE GOOD -- WORKING, THEY HAVE WORKED THROUGH AND LIVED THROUGH A PANDEMIC LIKE A LOT OF US HAVE. THEY WANT TO WORK -- WENT TO WORK EVERYDAY AND RELOADING. -- WERE LOADING. -- MANUFACTURING STOPPED IN CHINA.
THEY STOPPED MANUFACTURING LIKE THEY DID THIS YEAR. WORKERS WANT TO GO TO WORK. IF WORKERS DON'T GO TO WORK, THEY DON'T GET PAID. THEY ARE NOT SALARY. THEY ARE HOURLY WORKERS. THERE IS AN INTEREST FOR THE PEOPLE THAT WORK ON THE PORCH TO MAKE SURE THIS CONTRACT GETS RESOLVED AND THEY CONTINUE TO WORK. JONATHAN:
I JUST WANT TO SQUEEZE THIS IN. YOU MENTIONED TO CHINA. THE PRESIDENT, WE UNDERSTAND, WILL BE MEETING WITH ADVISORS TO CONSIDER REMOVING TARIFFS ON CHINA. WE HAVE BEEN TOLD MANY TIMES OVER THE PAST FEW YEARS FROM THE PREVIOUS ADMINISTRATION AND THIS ONE THAT A LOT OF THIS IS ABOUT PROTECTING AMERICAN JOBS. DO YOU HAVE A SEAT AT THE TABLE IN THAT CONVERSATION? SEC. WALSH:
I'M NOT AT THE TABLE. I'VE BEEN INVOLVED IN SOME CONVERSATIONS. I'M NOT SURE WHAT WILL HAPPEN TODAY AT THE WHITE HOUSE. JONATHAN: WHAT IS YOUR VIEW? WHAT HAVE YOU SENT BACK TO THEM? SEC. WALSH:
IT'S ABOVE MY PAY GRADE AS FAR AS WHERE I AM RIGHT NOW. I THINK HAVING THIS CONVERSATION IS IMPORTANT. WHEN WE ARE THINKING ABOUT THE PRESSURES OF INFLATION, BUT ALSO WE ARE KEEPING AN EYE ON THE JOBS IN THE UNITED STATES. THE PRESIDENT LAID OUT AT THE BEGINNING OF HIS PRESIDENCY A BIG OPPORTUNITY TO CREATE MORE OPPORTUNITIES IN MANUFACTURING.
ONE THING THAT IS INDIRECTLY RELATED, THE BIPARTISAN INNOVATION ACT THAT IS IN FRONT OF CONGRESS RIGHT NOW. THAT IS AN IMPORTANT PIECE OF LEGISLATION TO PASS. THAT WOULD ALLOW US THE OPPORTUNITY TO BUILD MORE IN AMERICA AND HAVE MORE PRODUCTS BUILT AROUND AMERICA. SOME OF WHAT WE ARE SEEING ARE THE COMPUTER CHIPS IN ALL OF OUR PHONES AND OUR DOORBELLS. WE ARE DOING IT RIGHT NOW ON TV.
WE SHOULD BE MAKING THOSE IN THE UNITED STATES OF AMERICA. THAT IS AN OPPORTUNITY TO RELIEVE LONG-TERM INFLATION AND PRESSURES DOWN THE ROAD. JONATHAN: NEXT TIME WE ARE IN WASHINGTON, D.C., TOM KEENE AND I WOULD
LOVE TO CATCH UP WITH YOU. RIGHT TO CATCH UP WITH YOU NOW. COMING UP, EARNINGS GUIDANCE SOURING THE MOST SINCE 2019. >> IT LOOKS LIKE WE WILL HAVE AN EARNINGS DROP NEXT YEAR. I DON'T THINK THAT WILL BE REFLECTED SO MUCH IN EPS. JONATHAN: THAT CONVERSATION, UP NEXT. ♪
>> LIVE IN THE PRINCIPAL ROOM -- THIS IS BLOOMBERG. >> -- SEC. WALSH: THIS FED IS -- >> THIS FED IS GOING UP 75 BASIS POINTS. THEY ARE NOT JUST REACTING, THEY ARE CATCHING UP. THAT IS WHY THEY SIMPLY CANNOT
WAIT. 75 IS THE NEW 50 FOR NOW. JONATHAN: 75 IS THE NEW 50 FOR NOW. LET'S GET THE FINAL WORD FROM OUR PANEL. MIKE COLLINS, YOU SAID YOU HAVE SEEN THE HIGH ON THE 10 YEAR YIELD.
HAVE WE SEEN THE WIDE ON HIGH YIELD SPREADS? MICHAEL: THAT IS A TOUGHER ONE. HIGH YIELD SPREADS ARE BOUNCING AROUND CLOSE TO 600 BASIS POINTS. OR AT LEAST THEY HIT THAT A WEEK OR SO AGO. WHAT THAT IS PRICING IN IS A MILD RECESSION.
IF YOU THINK WE ARE GOING TO HAVE A MILD RECESSION, THAT IS A FOREGONE CONCLUSION. YOU WILL HAVE NEGATIVE YIELD GDP. YOU WILL HAVE EARNINGS COME DOWN. MAYBE EVEN SOME EARNINGS CONTRACTION AND DECLINES. YOU WILL HAVE THE COLTS -- DEFAULTS INCREASING A LITTLE BIT. THAT IS PRICED IN. WHAT IS NOT PRICED IN IS A DEEP RECESSION, A BIG DECLINE IN EARNINGS AND A BIG DECREASE IN DEFAULTS. I DON'T THINK THAT IS IN THE CARDS. YOU ARE SEEING VALUE.
THE RECESSION CONCERNS GETTING WORSE, SPREADS COULD CERTAINLY WIDEN FROM HERE. JONATHAN: WHAT ARE YOU AND THE TEAM LOOKING FOR NEXT WEEK? >> I THINK NEXT WEEK'S NUMBER IS ALMOST A FOREGONE CONCLUSION. IT WILL BE A CONSENSUS. EVEN IF IT IS SLIGHTLY LOWER, IT IS NOT GOING TO CHANGE THE TRAJECTORY FOR THE FED FOR THE JULY MEETINGS.
THE QUESTION FOR ME IS IN THE DETAILS OF THE REPORT. IF WE START SEEING ANY PARTS OF THE REPORT SHOWING INFLATION PRESSURES STARTING TO EASE, I THINK YOU HAD THIS DISCUSSION EARLIER ON IN YOUR PROGRAM, WHICH SECTORS ARE STICKING AND WHICH SECTORS ARE NOT. YOU ARE GOING TO SEE PERHAPS SOME SIGNS OF DEMAND DESTRUCTION. SOME SIGNS -- THOSE ARE THE DATA POINTS I WOULD BE LOOKING TOWARD. JONATHAN: THE BOTH OF YOU ARE FANTASTIC
AS ALWAYS. JUST GOT A MESSAGE FROM THE CHEAP SEATS IN THE BACK. NO WAY IF HIGH YIELD SPREADS THAT THERE IS NOT A RECESSION. IT IS A SUBSCRIBER WHOSE NAME I WON'T SHARE. JONATHAN: A ROCKSOLID JOBS REPORT. YIELDS UP, STOCKS DOWN. STOCKS DOWN 7/10 OF 1%.
WE WILL HEAR FROM -- AT 11:00. PRESIDENT BIDEN AT 11:30. BIDEN IS HEADING TO THE MIDDLE EAST ON WEDNESDAY. WE WILL GET THE LATEST READ ON INFLATION WITH U.S. CPI AFTER THAT. FROM NEW YORK THIS MORNING, GOOD MORNING. THIS WAS THE COUNTDOWN TO THE
OPEN. THIS IS BLOOMBERG.
2022-07-12 23:23
Show Video
Other news