Bloomberg Surveillance 6/15/2022 Fed Day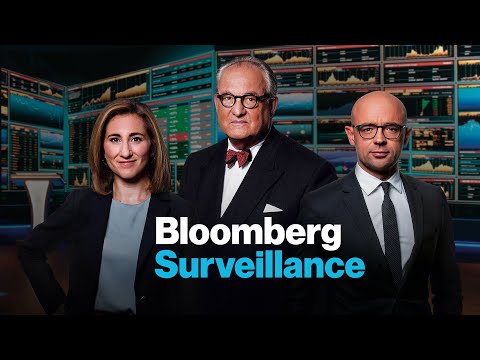 Show Video
>> EVERY TIME CENTRAL BANKS HAVE GONE OUT SHOOTING FOR INFLATION THEY CAUSE A RECESSION. >> IT MIGHT WIND UP BEING PROBABLY A RECESSION AND MAY A COUPLE HUNDRED POINTS DOWNSIDE ON THE S&P. >> WHAT THE FED HAS DONE IS CREATE AN EQUITY RECESSION. >> THE FED HAS DONE A GOOD JOB TO LOOK FOR UPSIDE INFLATION SURPRISES. >> HAS THE MARKET PRICED IN MAXIMUM FED CONFIDENCE? WE DO NOT THINK IT HAS.
>> THIS IS OVER GO TO BLOOMBERG SURVEILLANCE WITH TOM KEENE, JONATHAN FERRO, AND LISA ABRAMOWICZ. JONATHAN: THIS IS BLOOMBERG SURVEILLANCE LIVE ON TV AND RADIO. I AM JONATHAN FERRO. EQUITY FUTURES UP .6%. IT IS DECISION TIME. TOM: IT IS DECISION TIME AND THERE
WAS A SHIFT YESTERDAY AFTERNOON. BILL DUDLEY WHO WE WILL HAVE ON THE SHOW TODAY, HE CAME OUT AND SAID THIS IS A 75 POINT MEETING AND THE MARKET SHIFTED. JONATHAN: HE IS NOT ALLOWED. BARCLAYS, DEUTSCHE BANK, JEFFRIES, A LONG LIST OF COMPANIES AND BANKS LOOKING FOR 75. LET'S SAY THEY GO WITH 75.
WHAT IS NEXT? TOM: WHAT IS NEXT WILL BE WHAT IS IN THE PRESS CONFERENCE. 75 AND WHAT COMES NEXT. DOMINIC KONSTAM COMING UP IN IT MOMENTS ON THIS HUGE DISTINCTION OF THIS MEETING. JONATHAN: BEFORE WE GET THERE THERE'S ANOTHER CENTRAL-BANK DECISION. I WOKE UP THIS MORNING ON EXPECTING THIS. THE ECB. LISA:
THEY'RE HAVING AN EMERGENCY MEETING TO ADDRESS ITALIAN YIELDS. THEY ARE WATCHING SPREADS BLOWOUT TO 2020 LEVELS. IT IS A CONUNDRUM. THOSE NAMES ARE AT ODDS. WHAT DID THEY SAY AT THIS MEETING OTHER THAN SIT AROUND AND SAY WHAT WE DO? JONATHAN: THE CONTRADICTION OF ECB OBJECTIVES.
KID SHOOTS OF SOCGEN -- KIT JUC KES OF SOCGEN PUT OUT THE MESSAGE, HOW DO YOU -- THAT IS THE BIG CHALLENGE FOR THIS ECB. LISA: HOW DO YOU HAVE ADDITIONAL BOND PURCHASES WITHOUT PUSHING DOWN YIELDS, WITHOUT GOING IN THE OPPOSITE DIRECTION AND LOOSENING MONETARY CONDITIONS? THEY ARE IN A DIFFICULT SPOT. THEY ARE TRYING TO NORMALIZE THE SITUATION THAT IS NOT NORMAL. JONATHAN:
THE ITALIAN 10 YEAR JUST ABOVE 50 BASIS POINTS. TOM: ITALY IS THE FOCUS BUT I DO NOT THINK IT IS THE ONLY FOCUS. ITALY, SINCE THE BEGINNING OF THE YEAR, THE ITALY 10 YEAR HAS GONE 100 DOWN TO 76. GO OVER TO HUNGARY, 175 SINCE THE BEGINNING OF THE YEAR. WHAT GETS MY ATTENTION IS FINLAND, DOWN 8% FROM 100 TO 92 IN 12 DAYS. JONATHAN: UNREAL. SO MUCH PAIN IN BOND AND
EQUITIES. EQUITY FUTURES BOUNCING BACK A LITTLE BIT ON THE S&P, UP .5%. THE PAIN OVER THE PREVIOUS FIVE DAYS, FIVE DAYS OF LOSSES DOWN MORE THAN 10% ON THE S&P 500. INTO THE BOND MARKET WHERE IT
DOES TO A YEAR YIELD IS HIGHER BY 70 BASIS BITES. THE 10 YEAR COMING BACK A LITTLE BIT, JUST SOUTH OF 3.40. TOM: CAN WE AGREE THE PAIN OVER THE LAST FIVE DAYS HAS BEEN JONATHAN HAS BEEN IN CAPRI AND WE HAVE NOT. LISA: WHEREVER HE WAS HE WAS KEEPING TRACK OF THIS MARKET AND IT HAS BEEN MOVING QUICKLY. THAT MOVE IN THE TWO YEAR YIELD WAS THE BIGGEST GOING BACK TO 1987. THE MOVE IN THE ITALIAN BOND
MARKET THE BIGGEST BACK TO 2014. THIS IS WHAT IS GETTING THE ECB ATTENTION WHEN THEY CALLED THE EMERGENCY MEETING. HOW DO YOU ADDRESS BOND TURMOIL WHILE ALSO TIGHTENING FINANCIAL CONDITIONS? HOW DO YOU TAMP DOWN THE VOLATILITY YOU HAVE BEEN TAMPING DOWN FOR OVER A DECADE WITH BELOW ZERO INTEREST RATES? JONATHAN, YOU WERE SAYING THE ECB MAY HAVE A TOUGHER JOB THAN THE FEDERAL RESERVE.
HOW THEY DEAL WITH THIS AT A TIME WHEN PEOPLE SAY IF YOU LOOK AT THE CREDIT OF ITALY THIS IS JUSTIFIED? JONATHAN: I THINK IT IS SO TOUGH FOR THIS ECB. THEY HAVE BEEN TALKING WITH NO LIMITS. THEY WILL SAY THEY WILL DO THIS WITH NO LIMITS.
THE PROBLEM WITH THEIR CURRENT PLAN, THE REINVESTMENT OF PEPP, IT HAS A LIMIT. IF THEY WANT TO COMMUNICATE THERE ARE NO LIMITS TO WHAT THEY WILL DO, THIS MARKET WANTS TO HEAR IN DETAIL WHAT THE MECHANISM IS TO DO THAT. LISA: THEY WANT DETAILS TO HAVE THE BELIEVE THEY CAN ACHIEVE IT. 8:30 WE GET U.S. RETAIL SALES AT A TIME CONSUMER
CONFIDENCE HAS PLUNGED THE LOWEST ON RECORD ACCORDING TO THE UNIVERSITY OF MICHIGAN CONSUMER SENTIMENT SURVEY. 2:00, THE FOMC RATE DECISION FOLLOWED BY A PRESS CONFERENCE WITH JAY POWELL. THIS AFTER A CATASTROPHIC MOVE IN THE BOND MARKET. CATASTROPHIC BECAUSE IT HAS BEEN A 20% DECLINE IN THE OVERALL AGGREGATE INDEX SINCE THE HIGHS OF LAST YEAR. IT HAS BEEN A SHOCKING MOVE. WHEN WE START TO SEE THINGS BREAK DOWN AND AWAY PEOPLE WERE WORRIED ABOUT? JONATHAN: YESTERDAY I SAID FRAME THE CHART, THE TWO YEAR CHART IS RIDICULOUS, JUST TO SEE THAT MOVE. TOM: THIS IS FULL FAITH AND CREDIT.
I WOULD GO TO LISA'S WORLD. I DID A STUDY THIS MORNING. CORPORATE BONDS HAVE SHIFTED DOWN IN PRICE OVER FOUR STANDARD DEVIATIONS. THAT IS UNHEARD OF. JONATHAN: LET'S GET TO DOMINIC KONSTAM. LET'S START WITH THE FEDERAL RESERVE. WHAT ARE YOU LOOKING FOR LATER? DOMINIC:THAT IS UNHEARD OF. JONATHAN: WE ARE LOOKING FOR THE FED TO BE VERY HAWKISH, WHICH MEANS THEY WILL PROBABLY GO TO 75 AND GUARANTEE A QUICK MOVE TO NEUTRAL.
THEY COULD GO MORE THAN 75. IF THEY DO 50 THEY WOULD HAVE TO GO OUT OF THEIR WAY TO CONVINCE THE MARKET THEY WERE ACCELERATING RATE HIKES. TOM: YOU PARSE A DISTINCTION BETWEEN UNLIKELY AND UNNECESSARY. IT IS A 75 MOVE UNLIKELY OR
UNNECESSARY? DOMINIC: AT THIS STAGE NOW, GIVEN THE MARKET REACTION, IT IS ABSOLUTELY NECESSARY TO MOVE TO 75. THE PROBLEM IS THAT IF EVEN THE FORECAST IS CORRECT AND THERE IS A SOFT LANDING WHERE INFLATION CAN COME DOWN WITHOUT DAMAGE TO GROWTH, THE MARKET IS TIGHTENING FINANCIAL CONDITIONS TOO AGGRESSIVELY, BOTH IN EUROPE AND THE U.S.. THEY HAVE TO STABILIZE THE LONG END.
IT IS A DIFFERENT GAME PLAN FOR WHAT THEY HAD ENVISAGED. STABILIZING THE PLAN WILL HELP THEM AVOID A HARD LANDING. LISA: WHAT IS THE BIGGER RISK, THAT THE FED IS OVERLY HAWKISH OR OVERLY DOVISH VERSUS MARKET EXPECTATIONS? DOMINIC: THE BIGGEST RISK IS THEY PUSH BACK. JAY POWELL TOOK 75 OFF THE TABLE LAST TIME. IF THEY STICK TO THEIR GUNS AND TRY TO DO A BOJ AND DRAW A LINE IN THE SAND AND SAY WE WILL NOT GET PUSHED AROUND THEY WILL GET IN A STICKY SITUATION. THEY ARE NOT LIKE THE BOJ. THEY DO NOT HAVE THAT KIND OF COMMITMENT. BOTH THE BONDS AND EQUITIES SELLOFF HARD.
IT IS NOT A PROBLEM -- THERE MEASURE OF NEUTRAL MAY BE TOO LOW. NO ONE KNOWS WHERE NEUTRAL IS. IT IS NOT A QUESTION OF HOW RESTRICTIVE THEY MIGHT HAVE TO BECOME. PEOPLE START TO ASK THE QUESTION MAY BE INFLATION IS TOO LONG. TOM: THE MOTHER OF ALL TEXTBOOKS IN THE UNITED KINGDOM IS JOHN BAG AND HIS ONE VOLUME ECONOMIC TEXTBOOK. ALL OF THIS IS NOT IN BAG. THIS IS ORIGINAL TERRITORY.
WHAT IS THE LEVEL OF YEN WHERE THIS UNFOLDS? WHEN DOLLAR-YEN IT'S TO SUCH AND SUCH WEAKNESS, WHERE THE PIECES BEGIN TO FALL APART? DOMINIC: FOR JAPAN THE ISSUE IS WAGE INFLATION THAT DRIVES PRICE INFLATION. IT IS A SIMILAR ISSUE ACROSS THE MAJOR ECONOMIES. THE INFLATION IS BAD INFLATION. WAGES ARE BARELY KEEPING PACE WITH INFLATION. JAPAN IS THE SAME SITUATION. THEY WILL NOT REACT TO INFLATION UNLESS WAGES ARE GOING UP. DOLLAR-YEN CAN KEEP ON GOING DOWN.
THEY WILL TRY TO PUSH BACK ON IT. IT IS MORE ABOUT STABILIZING THE GLOBAL BOND YIELDS AND THAT WILL MAKE THE BOJ LIFE A LOT EASIER IF YOU STABILIZE THE 10 YEAR YIELD THERE IS A LIMIT TO HOW FAR DOLLAR-YEN WILL GO DOWN, AND THAT WILL CAP SOME OF THIS INFLATION. UNLESS YOU CAN GET TO WAGES I DO NOT THINK THE JAPANESE WILL START TO TRY TO HAVE ANY KIND OF NORMALIZATION ON POLICY. JONATHAN: I WANT TO FINISH ON THE FEDERAL RESERVE.
A LOT OF PEOPLE WONDERING IF THEY SHOULD COME OUT AND GO BIGGER THAN 75, GET BACK TO NEUTRAL. WITH THAT RESTORE CONFIDENCE IN THIS MARKET WERE SCARE THIS MARKET? I'M TRYING TO UNDERSTAND THE TIPPING POINT BETWEEN HAWKISH ENOUGH AND TOO HAWKISH. DOMINIC: I THINK IT WOULD IN THE BACK END. I DON'T THINK THE EQUITY MARKET WOULD INITIALLY REACT VERY WELL BUT AT THE END OF THE DAY THERE IS A REQUIREMENT FOR A MASSIVE REALLOCATION AND THAT NORMALLY HAPPENS WHEN DEBT YIELDS ARE STABILIZING. WE HAVE TO GET TO THAT.
I SEE NO LIGHT AT THE END OF THE TUNNEL. IF YOU SEE THE LIGHT YOU SEE A WAY IN WHICH THIS STABILIZES. RIGHT NOW YOU'RE IN A VOID. YOU DO NOT KNOW WHERE THE TUNNEL ENDS. COMMITTING TO 75 ALMOST GET YOU THERE. JONATHAN:
THANKS TO DOMINIC KONSTAM. A BIG QUESTION GOING INTO THE DECISION LATER. TOM: IS A HUGE QUESTION AND WE HAVE A WONDERFUL LINEUP COMING UP. WE BEGIN IT AT THE 1:00 HOUR. TO ME IT IS NOT JUST 75 BASIS POINTS AS YOU JUST SAID. THE IDEA IS THAT THEN WHAT IN THE PRESS CONFERENCE.
HE WILL BE MAKING IT UP, READING OFF PREPARED WORDS, PLUS HE HAS THE ECB MEETING TO WORRY ABOUT. JONATHAN: MICHAEL MCKEE HAS SOME DETAILS ON THAT. THEY ARE FACING A BIG RISK. THEY RISK "TURNING THE PERCEPTION OF THE FED FROM THE MOST POWERFUL CENTRAL BANK TO AN INSTITUTION THAT TOO CLOSELY RESEMBLES AND EMERGING-MARKET BANK." LISA: TRYING TO CATCH UP WITH A MARKET THAT IS GOTTEN AHEAD OF ITSELF. JONATHAN: STRONG WORDS FROM MOHAMED EL-ERIAN ON BLOOMBERG OPINION THIS MORNING. FUTURES UP .5%. THIS IS BLOOMBERG.
RITIKA: KEEPING YOU UP-TO-DATE WITH NEWS FROM AROUND THE WORLD. U.S. DEMOCRATS CONSTRAIN NEW ENERGY LEGISLATION. THE SENATOR MAY PROPOSED A TAX OF UP TO 42% ON COMPANIES THAT REPORT A PROFIT MARGIN BETTER THAN 10%. DEMOCRATS IN THE WHITE HOUSE
ARE STRUGGLING TO CURB U.S. ENERGY COSTS AND BROADER INFLATION. THE EUROPEAN CENTRAL BANK GOVERNING COUNCIL IS READY TO STEP IN IF IT CONSIDERS MOVING GOVERNMENT BOND MARKETS TO BE UNJUSTIFIED.
THE GROUP'S OPEN TO TAKING ACTIONS. THE ECB IS HOLDING AN EMERGENCY MEETING TO DISCUSS A SELLOFF IN GOVERNMENT BONDS. THE U.K. HAS CANCELED ITS FIRST FLIGHT
DEPORTING MIGRANTS TO RWANDA. THE ASYLUM-SEEKERS -- THE GOVERNMENT SAYS IT IS TRYING TO DISPARAGE THE WORK OF HUMAN SMUGGLERS. CHINA'S ECONOMY HAS HAD A MIXED ECONOMY IN MAY AS COVID-19 RESTRICTIONS EASE. CONSUMER SPENDING AND THE
PROPERTY MARKET CONTRACTING. INDUSTRIAL OUTPUT ROSE FROM A YEAR AGO ACCORDING TO THE NATIONAL BUREAU OF STATISTICS, WHILE THE ALMOST 7% CONTRACTION IN RETAIL SALES WAS BETTER THAN THE PRIOR MONTH PLUNGE. GLOBAL NEWS 24 HOURS A DAY, ON AIR AND ON QUICKTAKE BY BLOOMBERG, POWERED BY MORE THAN 2700 JOURNALISTS AND ANALYSTS IN MORE THAN 120 COUNTRIES. I AM RITIKA GUPTA. THIS IS BLOOMBERG. ♪ JONATHAN: LIVE FROM NEW YORK CITY FOR OUR AUDIENCE WORLDWIDE, TOM KEENE JAMMING OUT TO THE MUSIC ON THIS FED DECISION DATE. IN ECB DECISION AS WELL. IS THAT YOUR GO TO DANCE MOVE? THAT IS NICE. TOM:
I AM LEARNING A LOT ABOUT EUROPE. JONATHAN: HOW'S THAT WORKING OUT? WE MISS THE DANCE MOVE. DO YOU WANT TO DO IT AGAIN? TOM: COMING NEXT MONTH, BOBBLEHEADS, WE WILL HAVE SURVEILLANCE BOBBLEHEADS, WE ARE STARTING WITH LISA. I HAD NO IDEA HUNGRY WAS 1/10 THE SIZE OF ITALY'S ECONOMY.
JONATHAN: ON ECB FED DECISION DATE, THAT IS YOUR FOCUS? FUTURES POSITIVE HALF OF 1%. ON THE NASDAQ UP .7%. THIS IS REAL TURNAROUND FOR THE LAST FIVE DAYS. TOM: CAN YOU IMAGINE CHAIRMAN POWELL, BUSY DAY AT THE FED AND GETTING READY AND ALL OF THE SUDDEN A COURIER DROPS IN EMAIL, THE ECB WILL GET OUT FRONT WITH AN EMERGENCY MEETING. IT CHANGES THE TONE. JONATHAN: GET OUT FRONT? THE FX CHANNEL IS FASCINATING. SOMEBODY WILL BE UNHAPPY. CABLE AROUND 1.20.
EURO-DOLLAR THREATENING 1.03. SOMEBODY WILL BE UNCOMFORTABLE WITH WHAT THE CURRENCY IS DOING. THIS IS THE PREVIOUS DECADE IN REVERSE. MEMBER THAT? GET INFLATION HIGHER, TRYING TO
GET A WEAKER CURRENCY. TOM: LET'S GET SOME PERSPECTIVE FROM ANNMARIE HORDERN IN WASHINGTON. RIGHT NOW IN BRUSSELS, LEADING YOUR ECONOMIC COVERAGE IN EUROPE, MARIA TADEO JOINS US.
I AM SUGGESTING THIS IS NOT JUST ABOUT ITALY. FOR GLOBAL WALL STREET, THAT WILL BE THE MOVE. I WALKED THROUGH FINLAND'S CHAINS OF PRICE -- CHANGE YOUR PRICE. IT IS NOT JUST ABOUT ITALY. WITH HUNGARY WELL OVER 600 BASIS POINTS. MARIA: I THINK IF YOU SEE A RECALIBRATION IN MANY WAYS IT IS THE RESULT OF THE CHANGE IN POLICY FROM THE EUROPEAN CENTRAL BANK. NOT JUST AN ITALIAN STORY. I THINK THE IMPORTANCE OF ITALY IS SOMETHING THAT CANNOT BE UNDERSTATED. THERE IS REASON WE TALK SO MUCH
ABOUT THIS COUNTRY. THIS IS THE THIRD BIGGEST ECONOMY IN THE EURO AREA, THIS IS A FOUNDING MEMBER OF THE EURO , AND IT DOES CARRY A LOT OF WEIGHT. FOR MANY IN THE EUROPEAN CENTRAL BANK, THEY HAVE BEEN IN A ROOM FOR ABOUT AN HOUR AND 30 MINUTES.
THIS IS A COUNTRY THAT YOU HAVE TO TREAT DEFINITELY -- HAVE TO TREAT DIFFERENTLY. TOM: DID GERMINATE FORCE THIS MEETING? MARIA: I DO NOT THINK IT WAS THE GERMANS. IT COMES FROM LAST WEEK TO THE GOVERNING COUNCIL CANNOT AGREE WHAT DANGER FROM THE BTP AND THEY DID NOT ANTICIPATE THE MOVES. IF YOUR MEMBER THE PRESS CONFERENCE BY CHRISTINE LAGARDE, SHE WAS ASKED HOW ARE YOU GOING TO FIGHT FRAGMENTATION, AND SHE CANNOT GIVE ANY DETAILS. THAT MEANS THERE WAS NO CONSENSUS BEHIND THE SCENES. THAT MEANS WE HAVE SEEN THE
MARKET PILE ON THE ITALIANS. THERE HAS BEEN JITTERS FOR THE LAST TWO DAYS. I DO NOT THINK THIS IS COMING FROM THE HAWKS. THIS IS ABOUT THE PERIPHERY, HOW TO AVOID THE FRAGMENTATION. IF TODAY THE EUROPEAN CENTRAL BANK DOES NOT TACKLE FRAGMENTATION AND THEN WE TALK ABOUT REINVESTING THE -- AND ONLY TALK ABOUT REINVESTING THE PEPP PROGRAM, THIS IS A BIG DISAPPOINTMENT. JONATHAN:
WHAT IS THE MOOD AT THE WHITE HOUSE ON THE OTHERS OF THE POND. INFLATION IS TOO HIGH FOR THIS PRESIDENT TO GET REELECTED. CONSUMER SENTIMENT HAS PLUMMETED. WHAT IS THE MOOD IN WASHINGTON, D.C.? ANNMARIE:
FRUSTRATION IS THE MOOD OF THE ELECTRIC WHEN YOU LOOK AT THE LEVEL -- THE MOOD OF THE ELECTORATE WHEN YOU LOOK AT THE LEVEL OF INFLATION, AND ALSO AT THE WHITE HOUSE WHAT IS STICKING IN TERMS OF GETTING INFLATION DOWN. THEY ARE THROWING SPAGHETTI AT THE WALL IN TERMS OF TRYING TO TALK ABOUT WHY INFLATION IS HAPPENING AND WHAT THEY CAN DO TO BRING IT DOWN AND NOTHING IS STICKING. THE PRESIDENT HAS CALLED IS THE BANE OF OUR EXISTENCE. HE IS SPEAKING TO THE AFL-CIO. THE INFLATION NUMBERS ARE
HURTING THE WHITE HOUSE. THEY ARE HURTING THE DEMOCRATIC PARTY WHEN YOU LOOK AT WHAT THEY CAN PICK UP IN TERMS OF SEATS OR HOLD ONTO SEEDS, AND YOU'RE ARE SEEING THAT FRUSTRATION PLAY OUT. THEY ARE LOOKING TO TAX HIGHER ON OIL COMPANIES. WILL THAT CHANGE THE PRICE OF GASOLINE TOMORROW? NO. COULD IT BECOME LAW BY THE TIME PEOPLE VOTE IN NOVEMBER? PROBABLY NOT. THIS IS MAYBE A NEW TOOL THEY CAN USE TO MESSAGE.
THEY ARE TRYING TO DO EVERYTHING THEY TEND TO GO AFTER OIL COMPANIES WHICH THEY SAY ARE UNFAIRLY TARGETING CONSUMERS. LISA: WHAT ARE THE DETAILS OF THIS PROPOSAL? ANY PROFITS OVER 10% THEY WOULD TAX. IS THIS A NONEXISTENT PROPOSAL OR IS IT SOMETHING SUBSTANTIAL UP INTO THE WINDFALL TAX IN BRITAIN? ANNMARIE: IT DEPENDS IF THEY CAN GET 50 DEMOCRATIC SENATORS TO SIGN ON TO THIS. WE HAVE NOT SEEN THE
LEGISLATION YET, BUT THE SENATOR FROM OREGON WHO IS LEADING THE CHARGE ON THIS SAYS IT WOULD BE FOR THE COMPANIES THAT ARE MAKING THESE EXCESSIVE PROFITS. THOSE THAT ARE POTENTIALLY GOING TO EASE THE PRESSURE ON CONSUMERS WILL NOT FACE IT. MAYBE THIS IS LITTLE BIT OF A CARROT AND A STICK. AT THE SAME TIME WE HAVE THE PRESIDENT WRITING LETTERS TO THE LIKES OF VALERIO, CHEVRON, TALKING ABOUT REFINING CAPACITY. THE PRESIDENT SAYING HE WANTS TO CHANGE THIS AND WANTS IMMEDIATE ACTION AND THINGS WHAT IS HAPPENING RIGHT NOW WITH REFINING CAPACITY ISSUE, HE SAYS OIL COMPANIES ARE THE ONES TO BLAME. HE SAID LAST WEEK EXXON IS MAKING MORE MONEY THAN GOD AND THEY NEED TO ACTUALLY CHANGE THIS. JONATHAN: LET'S TALK ABOUT THAT.
WE HAVE A MINUTE. THE OIL COMPANIES HAVE ENOUGH MONEY TO LOBBY FOR THEMSELVES. YOU HAVE HAD SOMEBODY BILL CAMPAIGN TRAIL, YOU'VE HAD DEMOCRATS FOR YEARS AND YEARS PUSH PSG, THEY DID NOT WANT ANY NEW REFINERIES BUILT, NOW THEY WANT THE OIL COMPANIES TO BUILD REFINERS? WHO IS GOING TO DO THAT? WHO IN THEIR RIGHT MIND RUNNING THE COMPANY WOULD DO THAT KNOWING WHAT THE PUSH IS OVER THE NEXT 10 YEARS AND BEYOND? ANNMARIE: SOME OF THESE REFINERS ARE MOVING TO MORE SUSTAINABLE FUEL BECAUSE THAT IS THE MOMENTUM, NOT JUST POLITICS BUT ALSO PSG INVESTMENT IN THE BANKING COMMUNITY.
IT IS A DIFFICULT TIME FOR THE ADMINISTRATION. THEY CAME INTO THIS YEAR TALKING ABOUT RENEWABLES AND NOW THEY NEED TO REVERSE. JONATHAN: AMH DOWN IN D.C.. MARIA TADEO, THANK YOU AS WELL. TK, TALK ABOUT CONTRADICTING
YOURSELF ON A BIG ISSUE. TOM: I WILL LOOK AT THE AMERICAN JONATHAN: ARE YOU WATCHING F UTBOL YESTERDAY? TOM: GOT THAT RIGHT. JONATHAN: DO YOU WANT TO BE FRIENDS WITH THE CITY OF LONDON THIS MORNING? TOM: A BEVERAGE IN MY HAND AND MR. SOUTH GATE, WHAT DO YOU THINK? JONATHAN: CLEARLY, IT HAS TAKEN ME A LITTLE WHILE TO GET UP TO SPEED.
FUTURES, POSITIVE .4 THIS MORNING. FUTURES POSITIVE ON THE NASDAQ 100 AS WELL AT .6%. OVER THE PREVIOUS FIVE DAYS, WHAT A MOVE WE HAVE SEEN. THAT IS MATCHED BACKED UP. SOMEHOW INSTIGATED BY WHAT IS HAPPENING TO BOND MARKETS. TWO-YEAR YIELDS OVER THE SAME
PERIOD OF 70 BASIS POINTS. 12 BASIS POINTS AHEAD OF THE FED, AHEAD OF THE ECB. 10 YEAR, THREE 38. GETTING CLOSE TO 350 IN THE LAST COUPLE OF HOURS. LET'S TALK ABOUT EUROPE AHEAD OF THIS MEETING WITH THE ECB.
EXPECT A CONCLUSION TO THAT IN ABOUT 29 MINUTES TIME. 50 BASIS POINTS 12 MONTHS AGO. LOOKING AT 4% IN THE LAST 12 HOURS.
THE ECB NEEDS TO DO SOMETHING ABOUT RECONCILIATION. HOW TO DO THIS NOW TO STOP BOND YIELDS RISING IN CERTAIN VICES? THE PRESIDENT OF THE ECB LAST WEEK TALKED ABOUT FRAGMENTATION IMPAIRING LARGER POLICY. WHAT HAPPENED TO ITALIAN YIELDS BREAKS DOWN AND THE EURO BREAKS DOWN. I WOULD ARGUE THAT IS A BIG
PROBLEM IF YOU WANT TO TIGHTEN FINANCIAL CONDITIONS AND DO SOMETHING ABOUT A EURO THAT IS TOO WEAK AS OPPOSED TO TWO STRONG. WHICH BRINGS ABOUT MORE IMPORTANT POINT. CENTRAL BANKS WANT TO TALK ABOUT BUT WE CAN TALK ABOUT IT, THE FX CHANNEL IS GOING TO BE AN IMPORTANT CHANNEL TO DO SOMETHING ABOUT INFLATION BUT WHEN IT COMES TO FX, NOT EVERYONE CAN WIN THAT GAME. WHAT WE HAVE GOT TO TALK ABOUT IS WHO IS THE LOSER GOING TO BE. THE ECB WITH EURO-DOLLAR IN AND AROUND 104 OR FEDERAL RESERVE WHICH IS SO FAR AS WINNING WITH A VERY BEARISH STRONG DOLLAR. TOM: YOU TRIANGULATE GOT OFF THE BLOOMBERG AND THERE ARE LOTS OF SECONDARY TRIANGULATION'S AS WELL.
I SAY THIS IN HONOR OF LIZ. SHE AND I WOULD LECTURE ON PRICE. THERE IS A POINT WHERE YIELD DOES NOT MATTER. THE SWEAT OF THE ECB MEETING AS
PRICE DECLINES. JONATHAN: I DON'T THINK THE ECB IS GOING TO BE TOO CONCERNED ABOUT INVESTORS LOSING MONEY. WHAT THEY WILL BE CONCERNED ABOUT IS THE INTEREST PAYMENTS THEY WILL HAVE TO PAY WHEN THEY GO BACK TO MARKET. THE SPANISH GOVERNMENT, GREAT GOVERNMENT. TOM: WE HAVE A NICE MIX OF GUEST TODAY AND ALSO IN OUR SET -- OUR SPECIAL COVERAGE THIS AFTERNOON. I'M NOT GOING TO CALL IT UP AFTER 40, BUT MAYBE IN THE ANGST, ATTRACT TO 40. HOW DO YOU ASSUME WE MIGRATE
OUT TO THE FEAR AND ANGST, THE CATHARSIS OF VIX TO 40? >> I WOULD LIKE TO SAY THAT NOTHING GOOD HAPPENS IN EQUITY MARKETS AND THE VIX IS AROUND 30. BUT BAD THINGS START TO HAPPEN WHEN IT IS AT 40 SO WE SHOULD BE ASKING OURSELVES THIS QUESTION, HOW IS IT THAT WE GET TO 40? WE CAN LET -- LOOK AT HISTORY, WE CAN LOOK AT THE BACKEND OF THE TELCO BUST WITH ADELPHIA AND WORLDCOM IN 2002. THOSE WERE BOTH LOW VIX EVENTS. TWO THINGS WERE DIFFERENT THAN
FROM NOW. ONE IS REAL-LIFE VOLATILITY GOT INTO THE 40'S. THESE MARKETS ARE PUNISHING. WE ARE GETTING 2% MOVES. TO GET THE 40 PLUS REAL-LIFE VOLATILITY, YOU HAVE TO BE HAVING A REPROCESSED MOVE A DAY. WE HAVE TO SPRINKLE IN A 5% MOVE HERE AND THERE. WE ARE ALMOST THERE.
YOU CAN SEE THE PATHWAY BECAUSE MARKET STUFF ALL THIS QUICKLY TEND TO STICK -- TEND TO DESTABILIZE THEMSELVES. THAT IS THE FIRST ONE IS REALIZED VOLATILITY. IT IS THE DAILY SIZE OF THE MOVES IN THE S&P. THIS IS WHERE WE DIFFERENTIATE NOW. THERE IS NOT REALLY THE PRICING OF THE LEFT TAIL IN THE MARKET.
THE OUTCOME THAT WOULD TRULY SPILLOVER INTO THE MARKETS AND CREATE KIND OF A TOPPLING EFFECT. IN 1998, IT WAS THE PORTFOLIO THAT REALLY WAS THE RISK IN THE MARKET. IN 2002, THE RISK OF BANKRUPTCY FOR MANY COMPANIES WAS VERY HIGH. MY CONCERN IS AS PRICES DETERIORATE, THESE MACRO SPILLOVER EVENTS BECOME ISSUES AND WITH FURTHER PRICE DETERIORATION, WE CAN EASILY GET THERE. JONATHAN:
IT SEEMS TO ME THE FX CHANNEL IS IN PLAY. CAN YOU GIVE ME YOUR PERSPECTIVE ON IT? >> I THINK THE EQUITY MARKET IS GOING TO LOSE THE GAME. IT IS QUITE INTERESTING. THERE USED TO BE A TERM DURING THE DISINFLATION PERIOD CALLED THE UGLY FX CONTEST. HOW WE COULD YOU MAKE YOUR CURRENCY TO EFFECTIVELY TRY TO BRING IN INFLATION? LOWER THE PRICE OF YOUR CURRENCY SO YOU CAN DO SOME THE RISK ASSETS AND IMPORT INFLATION. NOW, WE ARE TRYING TO DO THESE EXACT OTHER THING ON THE MINDS OF CENTRAL BANKERS.
FOR EQUITY MARKETS. I LIKE TO SAY EQUITY HAS ASSURED THE STRUGGLE. THE MOVE INDEX JUST GOT 135 PLUS. IT IS A VERY DICEY TIME FOR EQUITY MARKETS AND WHAT I WOULD SAY IS BECAUSE VOLATILITY HAS RISEN SO MUCH AND NOT JUST VOLATILITY, BUT CORRELATION BETWEEN STOCK AND BOND PRICES IS JUST IN A DIFFERENT REGIME, IT IS TOTALLY DIFFERENT.
WITHOUT LIFTING A FINGER, YOUR PORTFOLIO JUST GOT A LOT BIGGER ON A REALIZED VOLATILITY BASIS. YOU JUST HAVE TO RUN A LOT TIGHTER AND LEANER THAN YOU DID A YEAR AGO. LISA: YOU'VE SAID MARKETS DO CRAZY THINGS WHEN THEY ARE STRESSED.
WHEN WE SEE THINGS BREAK DOWN NOT ONLY WITH STOCKS, WHICH WE HAVE SEEN TO SOME EXTENT ON THE PERIPHERY BUT ALSO WITH BONDS. >> I THINK WE ACTUALLY HAD SOME SEMBLANCE OF GETTING THERE A COUPLE OF WEEKS AGO. WHAT YOU HAD SEEN WAS A BIG RISE IN THE IMPLIED NUMBER OF TIGHTENING'S LET'S SAY AFTER DECEMBER.
YOU SAW THAT THE IMPLIED TECHNIQUES GOT TO 10. WENT DOWN TO EIGHT AND THEN KIND OF HUNG OUT BETWEEN 7.5 AND EIGHT TIGHTENING'S OF 25 BASIS POINTS.
THAT WAS THE MARKET SAYING I THINK THAT GET THE 2.5% OF THE FUNDS RAISED AND THEN PPI UNDID ALL OF THAT. WHAT I WOULD SAY IS WE NEED TO SEE A LOWERING OF INTEREST RATE VOLATILITY. THAT IS GOING TO BE SOME SIGNAL THE MARKET AND THE FED ARE SPEAKING THE SAME LANGUAGE AND THAT THE FED HAS GOT SOME CONFIDENCE THAT WHAT IT HAS DONE IS ENOUGH. I THINK WHAT IS SO TRICKY IS THE REALITY THAT THEY MAY HAVE ALREADY DONE TOO MUCH. WE OPERATE THROUGH THE WEALTH EFFECT, FINANCIAL CONDITIONS AND THEY HAVE TIGHTENED IN A HURRY. IT IS OBVIOUSLY BASE INTEREST
RATES. WE MAY HAVE ALREADY DONE ENOUGH AND WE JUST DON'T REALIZE IT YET. THIS IS WHAT MAKES CENTRAL BANKING SO DIFFICULT AT THIS POINT. JONATHAN: THANK YOU. WE HAVE INFLATION WORRY AFTER INFLATION WORRY AFTER THE LAST WEEK. YOU SPEAK TO ECONOMISTS RIGHT NOW, THE FED CAN KEEP RAISING UNTIL THEY ARE AFFECTED -- CONFRONTED BY WEAKER DATA. WE NEED A DEEPER UNDERSTANDING OF HOW THEY'RE GOING TO RESPOND BECAUSE THAT IS THE BIG CONUNDRUM DILEMMA THEY FACE POTENTIALLY LATER THIS YEAR. LISA:
ALL CENTRAL BANKS WERE HOPING TO BE HELPED BY SOFTWARE INFLATION AND HOPING THE DATA WOULD COOPERATE AND WE WOULD GET SOME SORT OF DISINFLATIONARY FORCE FROM THE SHOCKS EASING UP A BIT. THEY HAVE NOT GOTTEN THAT AND SO NOW, THEY ARE FACED WITH WHAT WE DO IN THE FACE OF STAGFLATION. WE ARE LOOKING AT WHAT THEY'RE GOING TO DO AHEAD OF THAT. HOW DO THEY GET AHEAD OF THAT AT A TIME WHEN THE MARKET IS ALREADY THERE AND THEY ARE NOT CLEAR WHAT THE MARKET WILL DO WHEN THEY SIGNAL THEY ARE RIGHT THERE WITH THEM. JONATHAN: WE TURNED AROUND STRAIGHT OUT OF THE GATE AND SAID I THINK THAT IS THE LAST GOOD ONE.
THAT IS THE LAST SOLID ONE. IN THE NOT-TOO-DISTANT FUTURE, WE WILL HAVE A NEGATIVE PAYROLLS PRINTS. TODAY, THEY MIGHT BE ABLE TO SAY THAT IS IN THE FUTURE BUT ULTIMATELY, THEY'VE GOT TO RESPOND TO THE INFLATION DATA TODAY AND I THINK THAT IS ABOUT POLITICS. TOM: THE PRESIDENT IS GOING TO FOLD IT INTO THE HOUSING MARKET.
I AM SORRY, THIS IS GOING TO FOLD INTO THE 6% LEVEL. I WANT TO GIVE YOU SOME PRICE PAIN. I MENTIONED LIZ GOLDENBERG EARLIER. I DO ADMIT MONTH CHECK ON MY PORTFOLIO AND THAT AUSTRIA 100 IS JUST WORKING OUT. I LOADED THE BOAT ON THAT PUPPY. JONATHAN:
YOU HAVE MADE THAT POINT REPEATEDLY IN THE BOND MARKET. TOM: I'M SORRY, IT IS A BOND BEAR MARKET WE HAVE NEVER SEEN. OTHER RESEARCH WE ARE DOING PARTICULARLY WITH THE ECB COMING, WE LOOK AT THE RATIO OF POPULATION OF ENGLAND TO HUNGARY AND WE ARE TRYING TO GET SCOPE AND SCALE FOR HUNGARY FOR THIS EMERGENCY ECB MEETING. JONATHAN: WHAT CURRENCY DOES HUNGARY USE? WHAT HAS THE ECB GOT TO DO WITH THAT TODAY? TOM: ARE THE GERMANS DRIVING THE BUS? THAT IS WHAT I WANT TO KNOW. JONATHAN: FROM NEW YORK CITY, THIS IS BLOOMBERG. ♪ >> SUPPLY FROM RUSSIA AND THE U.S..
A LONGER THAN EXPECTED PITCH ALSO ADDED TO PRICE PRESSURES. RAIN AND SNOW MELT AT YELLOWSTONE NATIONAL PARK TRIGGERS FLOODING. THE RAGING WATERS DROVE MORE THAN 10,000 VISITORS OUT OF THE NATIONS OLDEST PART WHICH COULD STAY CLOSED FOR A WEEK. A BIG TWEET BY AN INFLUENTIAL HAD FUN -- HEDGE FUND IS CREATING NEW APPREHENSION IN THE INDUSTRY. HE TWEETED HIS GROUP WAS FULLY COMMITTED TO WORKING THIS OUT WITHOUT PROVIDING FURTHER DETAILS AND THERE HAVE BEEN NO FURTHER COMMENTS.
BILL GATES IS THE LATEST A CALL CRYPTOCURRENCIES SCAMS. HE ALSO MENTION THE ENVIRONMENTAL HARM OF MINING COIN. THIS IS BLOOMBERG. ♪ >> THREE OPTIONS FOR RATE HIKES. 50, 75 OR 100 AND WHAT THAT IS GOING TO DEPEND ON AS IF WE SEE SIGNS OF MODERATED INFLATION OR DEMAND. THERE IS NO SIGN OF INFLATION
ALLEVIATING. THE KEY QUESTION IS HAS THE MARKET PRICED IN. WE DON'T THINK IT HAS. JONATHAN: I HAVE NO IDEA WHAT MAX HAWKISH MS. ACTUALLY IS. THINK ABOUT WHERE WE HAVE BEEN. WE HAVE GONE FROM BANK OF AMERICA SAYING WE GET A HIGH MEETING THIS YEAR AND PEOPLE LAUGHING.
THEN ANDREW COME OUT AND SEE 50, 50, 50. THEN WE HAD A 75 BASIS POINT IDEA. I LAUGHED. IT IS CONSENSUS FOR TODAY. THINGS HAVE MOVED SO QUICKLY. LISA: IT HAS MOVED FASTEST IF YOU LOOK AT SHORT-TERM YIELDS GOING BACK TO 1987. AT WHAT POINT DO WE HAVE TO LOOK AT A FED WHOSE HAND IS BEING FORCED AND IS GOING TO HAVE TO GO MUCH MORE THAN THEY HAVE FORESEEN IN THE FORECAST? JONATHAN: NOW MORE THAN 10%.
TOM: IT IS BRUTAL. EVEN THE MARKET WHERE IT IS, WE'RE LOOKING AT THE PRICE DYNAMICS. WE HAVE TO DO A SURVEILLANCE CORRECTION.
LARRY INSISTS WE GO OUT TO FOUR DIGITS ON THE ENGLAND TO THE HUNGARY POPULATION. HE WANTS TO STAY ON TOP OF THAT WITH FOUR GOALS SCORED. JONATHAN: THANKS. I'VE COURTS HAVE MORE AFFECTION FOR THE ITALIAN NATIONAL TEAM BUT THEY DID NOT DO SO WELL YESTERDAY. WE CAN AVOID THAT.
LET'S TALK ABOUT ECB. I AM TOLD THEY MAKE A DECISION IN 11 MINUTES TIME. TOM: RIGHT NOW, WE ARE GOING TO BRIEF ON THIS MEETING TODAY. I GUESS IT IS ABOUT THE
CONSUMER AFTER THE HOUSING TRANSACTION. YOU ARE TRULY EXPERT AT HOUSING. WHAT ARE THE NEW 6% MORTGAGE RATE IN HOUSING AND RENTAL AND HOW IT FOLDS OVER INTO WHAT MASTERCARD SEES? >> ABSOLUTELY. WE ARE SEEING A REAL MODERATION IN THE HOUSING MARKET. HOME SALES ARE NOW FOLLOWING FOR SEVERAL MONTHS IN A ROW. IF YOU LOOK AT THE MORE GRANULAR DATA, YOU ARE SEEING THAT HOME SITTING ON THE MARKET A BIT LONGER. THE PERCENT OF HOMES SELLING
ABOVE ASK HAS GONE DOWN. THE MARKET HAS STARTED TO TURN AND THAT MAKES SENSE BECAUSE MORTGAGE RATES HAVE JUMPED HIGHER IN AN ENVIRONMENT WHERE AFFORDABILITY WAS ALREADY STRETCHED BECAUSE OF EXTREMELY BIG PRICING. ON TOP OF THAT, THERE WAS A CHANGE IN TIMING AROUND WHAT PEOPLE WERE BUYING BECAUSE SO MANY PEOPLE CONCENTRATED THESE HOME PURCHASES RIGHT AFTER THE PANDEMIC WHEN THEY WERE MOVING INTO THIS MAJOR GOODS CONSUMPTION.
FROM THE FED'S POINT OF VIEW, THEY ARE SAYING WHAT ARE THE PARTS OF THE ECONOMY THAT HAVE BEEN ACCESSED? HOW DID THEY TRY TO TAMPER DOWN THOSE EXCESSES INCREASING INTEREST RATES AND YOU SEE THE IMPACT. TO ME, THE FED IS LOOKING OUT THE HOUSING MARKET IS SAYING. JONATHAN: I'M TRYING TO WORK OUT WHEN IT STARTS TO BECOME A BAD THING. WHEN WE START TO SEE THAT REALLY WEAK ECONOMIC DATA PEOPLE ARE STARTING TO FORECAST AND WHERE IS THE FED ONCE WE GET TO THAT POINT? >> I THINK FOR THE BROAD ECONOMY, WE HAVE A WHILE TO GO BEFORE YOU SEE REAL TURNAROUNDS. AND THERE IS A NUMBER OF REASONS WHY. THE FIRST, THE CONSUMER IS THE HEART OF THE ECONOMY. THE CONSUMER IS STILL STRONG.
THE CONSUMER IS STILL SPENDING. BALANCE SHEETS ARE STRONG. WE JUST THE LATEST FROM THE FEDERAL RESERVE. HOUSEHOLDS DIPPED A BIT BUT VERY MODESTLY.
THERE IS STILL PURCHASING POWER OUT THERE. THE LABOR MARKET -- LOOK AT THE LAST JOBS REPORT. STILL STRONG. IT IS GOING TO TAKE MUCH MORE TIME AND EFFORT FROM THE FED TO REALLY EFFECTIVELY MODERATE ROADS AND COOL INFLATION. LISA: A LISTENER RIGHTS IN THAT ORGANIC DEFLATION IS ALREADY HAPPENING. YOU ARE SEEING PRICES MODERATE OR EVEN TAKE DOWN A BIT IN AREAS.
HOW MUCH DO YOU THINK THIS IS ACTUALLY WHAT WE SHOULD BE WATCHING AND MIGHT RAISE SOME RED FLAGS FOR MOVING MUCH MORE AGGRESSIVELY FOR THE FED? >> THERE ARE LOTS OF DIFFERENT CATEGORIES. I THINK THE EASIEST WAY TO SEPARATE IT IS THE GOODS CATEGORY AND NONDURABLE VERSUS DURABLE. AND THEN THE LEISURE CATEGORIES. IN THE LAST REPORT, THERE WERE GLIMMERS OF PRICE SLOWING OR INFLATION SLOWING IN CERTAIN GOODS AND THAT IS CATEGORIES WHERE YOU SEE THIS BIG CONCENTRATION OF DEMAND, UNWANTED INVENTORY AND MODEST DISCOUNTING BUT THAT IS NOT THE MAJORITY BY ANY MEANS. IF YOU LOOK AT THE SERVICES SIDE OF THE ECONOMY, THERE IS AN ACCELERATION OF INFLATION PARTICULARLY FOR THINGS LIKE TRAVEL AND SHELTER. TOM:
THE ANSWER IS THE BOSTON UNIVERSITY TEXTBOOKS SAY DEMAND DESTRUCTION CLICKS IN. WHERE IS THE DEMAND DESTRUCTION? >> IT STARTED TO CLICK IN THE BEGINNING OF HOUSING. YOU ARE GOING TO START TO SEE THAT SPILLOVER INTO THE ECONOMY AND SEE OTHER AREAS AND TO THAT WEAKENING BUT IT IS NOT GOING TO BE OVERNIGHT AND I THINK THAT IS BECAUSE OF THE EXTRAORDINARY AMOUNT PUMPED IN OVER THE LAST TWO YEARS. AS YOU ALL WERE TALKING ABOUT BEFORE, THE FED WAS INTENTIONALLY BEHIND THE CURVE, INTENTIONALLY TRYING TO OVER STIMULATE THE ECONOMY AND THAT WAS COUPLED WITH A LARGE AMOUNT OF'S BENDING. TOM: GIVE US A DAY. DO WE GO TO JACKSON HOLE AMID NINE -- AMID 9% INFLATION? >> I THINK WE ARE GOING TO GO THROUGH SUMMER WITH HEIGHTENED INFLATION AS PEOPLE ARE STILL OUTSPENDING AND YOU STILL HAVE SOME OF THESE CHALLENGES. I THINK AS WE GET INTO THE FALL
AND END OF THE YEAR AFTER THE HOLIDAY SHOPPING SEASON, THEN YOU CAN REALLY START TO SEE THINGS TURN IN THE ECONOMY MORE BROADLY. JONATHAN: YOU'VE GOT A PERFECT WINDOW INTO IT, ARE YOU SEEING SIGNS OF IT AT THE MOMENT? >> LOOK AT WHAT THE STUDY IS REPORTING. THE QUARTERLY SURVEY, YES. CONSUMER CREDIT IS INCREASING FROM VERY LOW LEVELS. CONSUMERS SPENT THE LAST SUMMER REDUCING THEIR DEBT. JONATHAN: THANK YOU. BRILLIANT AS ALWAYS.
THE CONSUMER TURNS TO CREDIT CARDS. WE HAVE TALKED ABOUT IT. SOME PEOPLE HAVE COME ON HERE AND SAID IT IS A SIGN OF STRENGTH. NOT MANY BUYING THAT STRONG CONSUMER NARRATIVE. LISA: THEY WANT TO KEEP BUYING GOODS AT THE SAME PACE. THEY BORROW MONEY TO DO SO. AT WHAT POINT DOES THIS EXACERBATE THE DOWNSIDE OF THIS CYCLE. JONATHAN: THE ECB HAS A BIG CALL TO MAKE. HOW DO YOU RAISE INTEREST RATES THROUGH THE SUMMER AND KEEP A LID ON ITALIAN YIELD? THE ECB WILL TRY TO PROVIDE AN ANSWER TO THAT QUESTION.
YIELDS COME IN 10 OR 11 BASIS POINTS ON A U.S. 10 YEAR. AND ON A WHOLE LOT MORE ON AN ITALIAN 10 YEAR. DOWN 32 BASIS POINTS 23 84. FROM NEW YORK, THIS IS BLOOMBERG.
>> EVERY TIME BANKS HAVE GONE OUT SHOOTING FOR INFLATION, THERE'S BEEN RECESSION. >> MAYBE A COUPLE OF MORE HUNDRED POINTS DOWNSIDE ON THE S&P. >> IT HAS CREATED AN EQUITY RECESSION.
>> THE FED HAS DONE A REALLY GOOD JOB OF TRADING MARKETS TO LOOK FOR UPSIDE INFLATION SURPRISES. >> KEY QUESTION IS, HAS THE MARKET PRICED IN MAXIMUM FAT HAWKISH MESS? WE DON'T THINK IT HAS. >> THIS IS "BLOOMBERG SURVEILLANCE." JONATHAN: IT IS CENTRAL BANK DECISION DAY. FROM NEW YORK CITY FOR OUR AUDIENCE WORLDWIDE, GOOD MORNING.
ALONGSIDE TOM KEENE AND LISA ABRAMOWICZ. I'M JONATHAN FERRO. FEDERAL RESERVE A LITTLE BIT LATER THIS AFTERNOON. WAITING FOR SOMETHING FROM THE ECB.
TOM: SCHEDULED THE FED MEETING, BUT THIS ECB MEETING RIGHT NOW, CAN YOU IMAGINE CHAIRMAN POWELL YESTERDAY AFTERNOON LAGARDE DIALS AND GOES WE ARE GOING TO FRONT RUN YOU. JONATHAN: AND THEY HAVE A TOUGH CALL TO MAKE. HOW DO YOU THREAD THIS NEEDLE? TOM: WE WILL SEE WHAT WE SEE, BUT I AM SORRY, THIS GOES BACK TO JOHN MONET. THE SYSTEM DID NOT WORK THEN AND IT DOES NOT WORK NOW. WHERE IS THE FISCAL POLICY TO BE A COMBINED CUSHION. JONATHAN: THAT IS A FANCY WAY OF SAYING YOU ARE WORRIED ABOUT WHAT HAPPENS WITH THE ITALIAN BOND MARKET. LISA:
THE HAVE TO ACTUALLY BORROW MONEY AND INEVITABLY IT IS GOING TO SLOW BECAUSE OF THE TIGHTENING YOU ARE GOING TO SEE FROM THE ECB. BETWEEN A ROCK AND A HARD PLACE BECOMES EVEN MORE DIFFICULT FOR THE ECB AND THEY ARE DEALING WITH A FED THAT IS CALLING THEIR HAND ESPECIALLY GIVEN THE EURO AND THE WEAKENING AHEAD OF A MORE HAWKISH FED. JONATHAN: YOU MENTIONED ECB GETTING OUT IN FRONT OF THE FEDERAL RESERVE. A SERIES OF MEDIA STORIES THIS WEEK TEEING UP 75 BASIS POINTS. >> I'M GOING TO GO TO ONE MOMENT YESTERDAY AFTERNOON WHERE I IT WAS THE WALL STREET JOURNAL WHERE WILL DUDLEY JUST SAID LOOK, THEY ARE GOING TO GO 75 BEATS AND THAT, TO ME AS A FORMER FED PRESIDENT WITH A SHIFT IN THE MOOD. JONATHAN:
A LONG LIST OF BANKS LOOKING FOR 75 BASIS POINTS. FUTURES LOOKED LIKE THIS. A BOUNCE BACK BY .4%. MASTEC 100 UP .6%. -- NASDAQ 100 UP .6%. WE TAKE SOME OF THAT BACK THIS MORNING ACROSS THE CURVE. 33792. LISA: VERY FLUID AND VERY FLUID YESTERDAY ESPECIALLY HEADING INTO THE CLOSE. FLUID AS WE AWAIT THE HEADLINES FROM THE ECB MEETING. IT WAS AN EMERGENCY MEETING
HAVING TO DO WITH ITALIAN BOND YIELDS, SPANISH, GREEK. HOW DO WE GET THOSE INTO A CONTROLLED MANNER AT A TIME WHEN WE ARE TIGHTENING ECHO THAT IS THE DILEMMA FOR THE ECB. AS JONATHAN SAID, WE WANT DETAILS. U.S. RETAIL SALES COME OUT. GOING BACK TO WHAT MICHELLE WAS
SAYING ABOUT HOW THERE STILL IS A LOT OF DEMAND AND FRANKLY, YOU DO SEE PEOPLE BORROWING TO SUPPORT THAT DEMAND. SHE TALKED ABOUT THAT INFLATION MAY BE OUTSIDE OF FOOD AND ENERGY AND IS NOT AS QUICK BUT NOT COMING DOWN THE QUICKLY. WE GET PERHAPS 75 BASIS POINTS WOULD BE THE BIGGEST MOVE GOING BACK TO 1994 FOLLOWED BY A PRESS CONFERENCE WITH THE FED CHAIR VERY MUCH A FOCUS ON HOW MUCH WILL HE SIGNAL A TERMINAL RACE AKIN TO WHAT THE MARKET IS LOOKING FOR NOW WHICH COULD BE AS HIGH AS 4% NEXT YEAR? JONATHAN: WE ARE ON THE SAME PAGE. A LOT OF BANKS HAVE MADE A MOVE. I'VE RUN THROUGH SO MUCH RESEARCH IN THE LAST COUPLE OF DAYS.
TOM: THE TIMELINE IS REALLY IMPORTANT. I THINK THIS IS A BANK OF OFFICIAL -- BANK OF ENGLAND OFFICIAL. SAYING WE HAVE TO KEEP OUR HEADS UP.
TO ME, THAT WAS VERY IMPORTANT. JONATHAN: FIRST TIME HARRY? I'M NOT FOR THAT IS THE BANK OF ENGLAND. PUT FUTBOL TEAM AT THE END THAT IS PROBABLY WHAT WE ARE TALKING ABOUT. I LIKE MY FRIENDS IN THE CITY OF LONDON. ON THE ECB, JUST A COUPLE OF
THINGS. WE HEARD THEY WILL HAVE AN UNSCHEDULED MONETARY POLICY MEETING. IT WAS GOING TO LAST ABOUT TWO HOURS. THAT IS UP.
IT CAN GO LONGER. WE HAVE NO IDEA WHEN WE GET A STATEMENT OR IF WE GET A STATEMENT AFTER THAT CONCLUSION. WE ARE WAITING FOR THAT AND WHEN WE GET IT, WE WILL BRING IT TO YOU. I HEAR ALL OF THIS TALK ABOUT RECESSION RISK. I HAVE NOT SEEN MANY PEOPLE DOWNGRADE THEIR EARNINGS ESTIMATE. FIRST OUT OF THE GATE IS A RECESSION AT THE END OF NEXT YEAR.
TELL ME WHY YOU HAVE NOT CUT YOUR OUTLOOK FOR THE S&P JUST YET. >> A COUPLE OF THINGS. WHAT I WOULD SAY FIRST IS THAT I THINK IT IS IMPORTANT TO KEEP IN MIND THERE REMAINS A RECESSION FOR THE END OF NEXT YEAR BUT NOT NEAR TERM. I THINK THE WORD EVERYBODY IS TALKING ABOUT IS FLUID. THINGS REMAIN PRETTY FLUID. MOST OF OUR DOWNGRADED EARNINGS AS IT IS ABOUT NEXT YEAR BUILDING IN THE SLOWING GROWTH AND RECESSION LATER THIS YEAR I THINK THE BIGGER ISSUE ON EARNINGS IS WHAT THE BOTTOM UP CONSENSUS IS DOING AND WHAT BASICALLY IT IS BUILDING IN AND WHAT I WOULD ARGUE IS THAT BASICALLY THE BOTTOM OUT CONSENSUS HAS 10% EARNINGS GROWTH.
ON THE FACE OF IT, THERE IS NOTHING WRONG WITH THAT. TOM: WAS THAT HE WITH US THIS AFTERNOON. YOU GUYS HAVE BEEN ABSOLUTELY LIGHTS OUT ON ENGAGING THE CONVERSATION. ENGAGE THIS. WHEN YOU LOOK AT EARNINGS
SHORTFALLS, CAN YOU PARTITION COMPANIES FROM THOSE THAT ARE REALLY CHALLENGE? >> YES, BUT WITH THE MARKET REALLY REACTING, IF YOU OVERLAY DOWNGRADES OR THE CHANGE IN FORWARD ESTIMATE -- ESTIMATES, YOU SEE THIS PRETTY TIGHT FIT NOT OVER THE LAST COUPLE OF MONTHS WHERE THE MARKET WAY LOWERS HER EARNINGS ESTIMATES DO MATTER. KEEP IN MIND THAT EVERY EARNINGS SEASON, THE S&P 500 BEATS ON EARNINGS BY ABOUT 5%. PERSISTENT PERIOD SORT OF DOWNGRADES IS GOING TO BE AN OVERHANG FOR THE MARKET AND I WOULD SAY THE BOTTOM OUT CONSENSUS IS WHILE THE HEADLINE NUMBERS LOOK OK FOR MIDCYCLE OR EARLY CYCLE, THEY DO NOT LOOK RIGHT FOR LATE CYCLE WHERE THE CONSENSUS OF ECONOMISTS FOR GROWTH IS SLOW AND HAS GROWTH SLOWS NEXT YEAR, EARNINGS WILL COME DOWN. IN ADDITION, WE HAVE THE PANDEMIC HANGOVER AS I WOULD CALL IT BUILT INTO A CONSENSUS ESTIMATE WHICH GOT BOOSTED BY THE -- BY THE PANDEMIC. LISA: I AM STRUGGLING HERE WITH THIS IDEA WE ARE GOING TO GET EARNINGS DOWNGRADE.
WE ARE SEEING THE END OF FREE MONEY, REAL YIELDS ON THE 10 GO UP 2.8% AFTER BEING DEEPLY NEGATIVE JUST THREE MONTHS AGO AND ALL OF THIS IS SOMEHOW GOING TO AND THE S&P AT A 4750 BY THE END OF THE YEAR. >> I THINK THE KEY QUESTION IS, ARE WE GOING TO GO INTO A RECESSION. WE HAVE BEEN ARGUING FOR SOME TIME THAT THE OUTLOOK PRETTY BINARY. WE GET DOWN TO ABOUT 3650 AND ARE ALMOST THERE ALREADY.
THEN IT LOOKS PRETTY BINARY WHETHER WE GO INTO A RECESSION OR WE DON'T. RECESSIONS ARE NOT ABOUT TEMPORARILY NEGATIVE REALLY ABOUT CORPORATE'S BECOMING RISK-AVERSE NOT GREAT SIGNS YET, BUT TAKE A LOOK AT CEO CONFIDENCE. I THINK THE CONSUMER CONFIDENCE NUMBERS GET MORE ATTENTION. LISA: WHAT IS YOUR BEAR CASE? >> IF WE GOING TO RECESSION AND HAVE A TARGET OF HOUSING. RECESSION DECLINES IN HINDSIGHT WERE EXTREMELY WELL EXPLAINED BY INITIAL VALUATIONS. AND THE SEVERITY OF THE
RECESSION IF YOU USE A TYPICAL RECESSION, YOU'RE ON YOUR QUARTERLY DECLINE IN EARNINGS OF 20 PERCENT, 21% AND WHERE WE WERE VALUED BEFORE THE PULLBACK BEGAN. YOU ARE TICKING 35% TO 45% WHICH WOULD TAKE US TO BASICALLY 3000. JONATHAN: IF HE IS RIGHT, IT IS ON THE S&P ECHO >> IT IS RIGHT THERE IS NO RECESSION RIGHT NOW AND THE ISSUE GETS RESOLVED IN THE MARKET AND THE MARKET STARTS TO PRICE THAT OUT. THEN, WE GET 4750 BY YEAR-END. IF WE DO SLIDE INTO A RECESSION, WE ARE TALKING ABOUT 3000 ON THE S&P. YOU WOULD GET TO 4750 BY MAY OF NEXT YEAR SINCE THE MARKET TYPICALLY STARTS TO -- THE BOTTOM IS BASICALLY HALFWAY THROUGH. JONATHAN: GOOD TO CLEAR THAT UP.
STILL VERY CONSTRUCTIVE ON THIS EQUITY MARKET. >> I'M IS LOOKING AT WHAT WILL DRIVE THIS. IF IT IS NOT BIG TECH, CAN THE MARKET COMPENSATE FOR IN EVERY OTHER SECTOR CONSIDERING HOW FAR THEY HAVE TO GO AND BIG TECH, WHAT IS THE ARGUMENT THERE IF EARNINGS ARE SOFTENING MUCH. THERE WAS NO ALTERNATIVE. OTHERS IN THE CASH FLOW.
YOU ARE GETTING YIELD ON AN INFLATION-ADJUSTED BUSINESS AND THAT CHANGES THE EQUATION FOR A LOT OF INVESTORS. JONATHAN: STILL BULLISH. AT THE SAME TIME, SAYING THE FED WILL SURPRISE. DEVILISHLY RELATIVE TO WHAT IT IS NOW. MIKE LOOKING FOR 75 BASIS POINTS TODAY FROM THE FEDERAL RESERVE. TOM: IF I SAID WHAT YOU SAID, I WOULD BE UP ON A CHART.
LISA: I WILL CLARIFY LATER. JONATHAN: YIELDS ARE DOWN 10 BASIS POINTS. FIND THAT COLOR FOR LISA ABRAMOWICZ. THIS IS BLOOMBERG. ♪ >> KEEPING UP-TO-DATE WITH NEWS FROM AROUND THE WORLD. U.S. DEMOCRATS APPEARED TO BE CONSIDERING NEW ENERGY LEGISLATION RATE 42% ON COMPANIES WITH A PROFIT MARGIN GREATER THAN 10%. DEMOCRATS IN CONGRESS ARE STRUGGLING TO LOWER ENERGY COSTS.
GERMANY'S ECONOMY HAD A QUICK RECOVERY IN MAY WITH INDUSTRIAL PROJECTS INCREASING. ALMOST 7% CONTRACTION, BETTER THAN -- THE U.K. HAS CANCELED ITS FIGHT. THEY SAID THERE IS A RISK OF IRREVERSIBLE HARM FOR ASYLUM-SEEKERS. EUROPEAN CENTRAL BANK'S GOVERNING COUNSELORS READY TO STEP IN IF IT CONSIDERS MOVES IN ON MARKETS TO BE UNJUSTIFIED. SO THEY ARE OPEN TO -- GLOBAL NEWS 24 HOURS A DAY ON AIR AND ON BLOOMBERG QUICKTAKE. THIS IS BLOOMBERG.
>> I DON'T WANT TO HEAR ANYMORE OF THESE LIES ABOUT RECKLESS SPENDING. WE ARE CHANGING PEOPLE'S LIVES. AND BECAUSE OF THE FACT THIS YEAR, WE ARE DELIVERING THE BIGGEST DROP IN DEFICIT IN THE HISTORY OF THE UNITED STATES OF AMERICA. JONATHAN: PRESIDENT BIDEN SPEAKING WITH FIRM WORDS. TIP FOR YOU, IF YOU SPEND 10
TIMES AS MUCH LAST YEAR AND THEN SPEND JUST FIVE TIMES AS MUCH THE YEAR BEFORE THIS YEAR, A DROP IN THE DEFICIT, AND THEN YOU CAN SAY YOUR SAVING MONEY. LISA: ARE YOU TRYING TO GIVE SOME ADVICE TO THE WHITEH HOUSE? I'M GOING TO PRESENT A FINANCIAL STATEMENT OF THE FAMILY TONIGHT. JONATHAN: JUST A SLIGHTLY NARROWER, SMALLER WHEN THE NEXT YEAR. YOU CAN SEE BIGGEST DROP IN THE DEFICIT EVER.
PRETTY ANGRY PRESIDENT BIDEN THE LAST COUPLE OF DAYS. UP .6% ON THE NASDAQ 100. FOR THOSE OF YOU JUST TUNING IN, WE UNDERSTAND THE ECB HAVE AN UNSCHEDULED MEETING. WE ALSO UNDERSTOOD THAT WOULD TAKE ABOUT TWO HOURS.
WE HAVE NOT HAD ANY SIGNAL OF WHAT WAS ACTUALLY SPOKEN. WAITING FOR THE OUTCOME OF THAT AS THEY TRY TO DO SOMETHING ABOUT THE EUROPEAN BOND MARKET. TOM: WE DO FOLLOW THE BLOOMBERG. I'VE STERLING WORKING OUT A LITTLE BIT STRONGER BUT THE OTHERS ARE ALL STUCK AND WHAT THE TECHNICAL PEOPLE CALLED PENANCE. WE HAVE NOT SEEN INDICATORS
THAT WE MAKE IT OUT OF THIS ECB MEETING. LET'S GO BACK TO MARIA TADEO AND ANNMARIE HORDERN. WE ARE WAITING FOR THE ECB TO SAY SOMETHING. WHAT ARE WE WAITING FOR? MARIA: WE ARE AND THIS MEETING IS DIFFERENT TO THE NORMAL POLICY MEETINGS. THAT IS WHY WE DON'T HAVE
CAREER GUIDANCE IN TERMS OF ONE IS IT GOING TO FINISH. WE DON'T KNOW WHAT KIND OF STATEMENT WE GET AFTER IT OR IF WE GET ANYTHING ON PAPER. THE IDEA IS THAT THEY WOULD BE SOMETHING ON IT. IF YOU LOOK AT THE CORE OF THE ISSUE RIGHT NOW FOR THE EUROPEAN BOND MARKET, IT REALLY IS ABOUT THE FRAGMENTATION AND HOW DO YOU FIGHT THIS. CHRISTINE LAGARDE SAID IN FOUR TIMES, WE ARE COMMITTED TO FIGHTING BACK. THIS IS SOMETHING IN EUROPE, WHEN SHE SPEAKS, TWEETS, PEOPLE DO PAY A LOT OF ATTENTION. SHE SAID OUR COMMITMENT HAS NO
LIMITS. I THINK THIS MEETING IS ABOUT THE SPECIFICS. NO LIMITS, BUT WHAT DOES THAT MEAN AND THAT IS WHAT THE MARKET IS HOPING TO GET FROM THIS VERY UNSCHEDULED, LAST SECOND MEETING. TOM: THERE IS GOING TO BE AN UNSCHEDULED MEETING THAT DROPS LIKE A BOMB AT 1600 PENNSYLVANIA AVENUE. IT IS SUCH A CACOPHONY RIGHT NOW. WHAT IS THE NEXT MEETING --
WHAT DOES THE MARGINAL MEETING LOOK LIKE AT THE WHITE HOUSE? ANNMARIE: YOU MEAN THE MEETING BETWEEN HIS AIDES? TODAY, HE IS DOING AN EVENT TO MARK PRIDE MONTH. I THINK THE FRUSTRATION YOU HAVE ANY SAW A LITTLE BIT OF THAT ON DISPLAY YESTERDAY IS WHAT THE PRESIDENT CALLED THE BANE OF HIS EXISTENCE WHICH IS INFLATION. I WOULD NOTE TWO THINGS. ONE IS THAT HE HAS PENNED A LETTER TO A NUMBER OF TOP OIL COMPANIES TALKING ABOUT REFINING CAPACITY. YOU CAN SEE THE PRESIDENT'S FRUSTRATION IN THIS LETTER. TALKING ABOUT THE CRIME FAMILIES ARE FACING AND DESERVE IMMEDIATE ACTION. HE IS SAYING YOUR COMPANIES NEED TO WORK WITH MY ADMINISTRATION TO BRING FORWARD CONCRETE, NEAR-TERM SOLUTIONS. I WOULD ALSO SAY HE IS PUNCHING
THIS TO SECRETARY GRANHOLM OF ENERGY WHO IS GOING TO BE HAVING AN EMERGENCY MEETING. THERE IS REALLY NOT MUCH THE ADMINISTRATION CAN DO TO ALLEVIATE THE PAIN AT THE PUMP IN THE NEAR TERM AND IF YOU LOOK AT THE REPORT TODAY, IT IS GOING TO BE HIGHER FOR LONGER INTO 2023. LISA: THERE ARE EMERGENCY MEETINGS. A LOT OF PEOPLE HAVE TIPTOED AROUND THE IDEA THAT THE STIMULUS WAS TO PAY LAST YEAR, THAT THIS WAS ONE OF THE DRIVERS OF INFLATION AND THIS HAS BEEN SOMETHING HANGING OVER THE ADMINISTRATION. HAVE WE GOTTEN A SENSE OF
WHETHER THIS WOULD HAVE BEEN BETTER FOR THEM POLITICALLY TO TALK TO THAT POINT? ANNMARIE: I THINK IT DEPENDS WHO YOU ASK. YOU'VE SECRETARY ELLEN SAYING WE GOT THE PATH OF INFLATION WRONG. THAT SURPRISED A LOT OF INDIVIDUALS AT THE WHITE HOUSE. YESTERDAY, YOU DAVID WESTIN AND WHAT HE SAID WAS THAT MIDDLE-CLASS AMERICAN FAMILIES WOULD HAVE BEEN WORSE OFF IF IT WAS NOT FOR THAT PACKAGE THAT MANY ECONOMISTS INCLUDING THE LIKES OF LARRY SUMMERS HAVE TAKEN AIM AT THE MINISTRATIONS SAYING THAT WAS GOING TO INFLATE THE ECONOMY AND IT WAS TOO MUCH. THERE IS A LOT OF QUESTIONS AROUND THIS REGARDING SECRETARY ELLEN BECAUSE THERE IS A BIOGRAPHY THAT REALLY SIGNALS THAT SHE WAS THE ONE RAISING HER HAND SAYING THIS MIGHT BE TOO HIGH AND THIS MIGHT INCREASE INFLATIONARY PRESSURES. ALSO A FANTASTIC PIECE TALKING ABOUT THE FACT ADMINISTRATION HAD BEGGED JANET YELLEN TO TAKE THAT JOB AND WHAT HAS EMERGED AS A PATTERN OF HER BEING SIDELINED.
IN THE FIRST NINE MONTHS, SHE WAS KEPT OUT OF SOME OF THESE MEETINGS WHERE TREASURY HAD A STAKE. MANY REGARD JANET YELLEN AS ONE OF THE MOST BRYANT -- BRILLIANT MINDS IN THE ECONOMIC WORLD SO THERE ARE A LOT OF QUESTIONS FACING THE POLICIES OF THE ADMINISTRATION AND THE PATHS THEY HAVE TAKEN. JONATHAN: POLICY VERSUS POLITICS. FANTASTIC ECONOMIST. WHEN IT COMES TO POLITICS, SECRETARY ELLEN WILL SIT IN THE HEARING AND SAY IS NOT PRICE GOUGING. THE OTHER PEOPLE IN THE MINISTRATION WILL RUN AWAY SAYING IT IS PRICE GOUGING. WHAT IS THE FUTURE FOR
SECRETARY ELLEN? NOT GETTING INVITED TO THE MEETING TO THE WHITE HOUSE TO TALK ABOUT ECONOMICS SEEMS UTTERLY BIZARRE? ANNMARIE: IT DOES SEEM BIZARRE AND YOU QUESTION THIS. SHE IS AN ECONOMIST, SHE WAS THE HEAD OF THE U.S. CENTRAL BANK, THE HEAD OF THE FED. THIS IS SOMEONE WHO DOES NOT LIKE THE POLITICAL ASPECT OF THE JOB. YOU DO TO LISTENING TO HER IN THE HEARINGS. MAY BE IN THE PAST HAVE JUST
WRESTLED THEIR WAY INTO THE WEST WING. THE QUESTION IS WHY IS SHE NOT INVITED. JONATHAN: THANK YOU. WAITING FOR A CONCLUSION TO THIS ECB MEETING. JUST SAW THIS FROM STEWART HAMPTON. THE ITALIAN CENTRAL BANK GOVERNOR MUST HAVE LOCKED THE DOORS. THAT IS A JOKE. NO CONFIRMATION ABOUT
WHATSOEVER JUST IN TAKE -- JUST IN CASE SOMEONE TOOK THAT SERIOUSLY. THE NASDAQ 100 UP ABOUT 6%. JONATHAN: MIXING THINGS UP FOR YOU. A DAY OF GAINS POTENTIALLY. A MORNING OF THEM SO FAR,
ANYWAY , AND AFTER FIVE DAYS OF LOSSES ON THE S&P. THE NASDAQ 100 UP AROUND 1%. PREVIOUS FIVE DAYS, THIS EQUITY MARKET ON THE S&P DOWN MORE THAN 10%. THE BOND MARKET, BIG MOVES, TOO. THE TWO-YEAR YIELD UP 70 BASIS POINTS IN FIVE DAYS. RETREATING THIS MORNING, DOWN ABOUT 13 BASIS POINTS.
THE 10 DOWN 11 BASIS POINTS TO 3.3620%. TWO-YEAR YIELD AROUND 20 BASIS POINTS. BIG CHANGE TO WHERE WE ARE NOW. IF YOU LOOK AT THE MOVE WE HAVE SEEN IN ITALY, SIMILAR KIND OF STORY. WE HAVE GONE FROM 50 BASIS POINTS LAST SUMMER TO 3.80% RIGHT NOW. EVEN WITH A 36 BASIS POINT
DECLINE ON THE SESSION SO FAR. WHY THE BAY MOVING EUROPE? WE HAD AN UNSCHEDULED ECB MEETING. HAVE NOT HAD A STATEMENT OR ANY INDICATION THAT THAT MEETING IS CONCLUDED JUST YET, BUT THE OBJECTIVE, TO SET OUT HOW THEY ARE GOING TO STOP ITALIAN YIELDS FROM BREAKING OUT EVEN HIGHER. IF YOU LOOK AT THE SPREAD, THE DIFFERENCE BETWEEN THE GERMAN 10 YEAR, BROKE OUT TO ABOUT 240 BASIS POINTS IN THE LAST 24 HOURS, AND JUST INSIDE TO 20 AT THE MOMENT. BIG CHANGES GOING ON AT THE MOMENT. TOM:
FOR OUR AMERICAN LISTENERS AND VIEWERS, THIS IS REALLY CRITICAL. YOU LIVED THIS EARLY IN YOUR BLOOMBERG CAREER. I LOVE DAN EVANS' NOTE THIS MORNING, HOW THE EU BANKS ARE LINKED TO MUCH MORE INTO THE PRICE OF EU PAPER. THE ANSWER IS THE YOU AGGREGATE BLOOMBERG INDEX IS DOWN 17%.
THAT IS A PRICE DECLINE OF 17% THAT THAT EMERGENCY MEETING IS DEALING WITH. JONATHAN: POLICY TRANSMITS MUCH MORE THROUGH THE BANKING CHANNEL THAN THROUGH MARKETS BECAUSE THAT IS WHERE A LOT OF THE FUNDING IS DONE. IT IS DIFFERENT TO THE UNITED STATES OF AMERICA. RIGHT NOW, WHAT IS HAPPENING IN ITALY, IN THEIR WORDS, THREATENS TO IMPAIR MONETARY POLICY.
THEY HAVE WHAT IS CALLED AN EXISTENTIAL THREAT. WE ALWAYS TALK ABOUT THE MANDATE OF CENTRAL BANKS. THE ECB IS NOT THE INFLATION TARGETING STORY.
IT IS THE EXISTENTIAL THREAT TO THE EURO ZONE. THAT IS MUCH EASIER TO ADDRESS WHEN INFLATION IS LOW AND YOU CAN GO MAX DOVISH. MUCH HARDER TO ADDRESS WHEN YOU ARE SET TO RAISE INTEREST RATES BECAUSE INFLATION IS TOO HIGH. THAT IS THE DILEMMA THIS ECB PRESIDENT FACES TODAY AND WILL CONTINUE TO FACE THE REST OF THIS YEAR. EURO-DOLLAR SOUTH OF 1.05, POSITIVE 0.6%. THAT IS ACROSS A SET PRICE ACTION.
LET'S GET YOU SOME SINGLE NAMES WITH BRAMO. LISA: THE SINGLE STOCK MOVES REALLY ARE A MACRO STORY AS WELL. WE ARE SEEING PEOPLE TRYING TO FIND A BOTTOM, TRYING TO RETRACE SOME OF THE LOSSES WE HAVE SEEN.
THE BIGGEST LOSSES NOW MEAN THE BIGGEST GAINERS I HAD THE MARKET. APPLE SHARES UP ALMOST 1%. YOU CAN SEE AMAZON UP MORE THAN THAT. AT A POP IS THE BIGGEST -- META IS THE BIGGEST GAINER HERE, AND I THINK THAT IS INTERESTING. IT IS UP 1.5%. PEOPLE TRYING TO FIND A BOTTOM, TRYING TO SEE VALUE IN THE SELLOFF. WE WILL SEE IF IT HOLDS. YESTERDAY IT DID NOT. TODAY A VERY VOLATILE SESSION
NO DOUBT. IF WE TAKE A LOOK AT THE AREA NOT DOING WELL, IT IS HAVING TO DO WITH CRYPTO AMID THIS CRYPTO WINTER. COINBASE IN PARTICULAR DOWN ANOTHER 2% AHEAD OF THE OPEN. IT WAS DOWN MUCH MORE THAN THAT. WE TALKED YESTERDAY ABOUT HOW COINBASE CAME OUT OF SAID THEY WERE GOING TO CUT KEEPING PERCENT OF THEIR STAFF BECAUSE THE ADOPTION JUST WAS NOT THERE FROM THE INSTITUTIONS.
I'M STRUCK BY THE PEOPLE WHO LEFT BIG WALL STREET FIRMS TO WORK FOR A PLACE LIKE COINBASE AND WERE TOLD THEY DON'T HAVE A JOB ANYMORE BECAUSE THIS MARKET IS CHANGING THAT QUICKLY. THE OTHER BITCOIN PROXIES ALSO DOWN ACROSS THE BOARD, ALTHOUGH THEY ARE COMING BACK A LITTLE BIT. HOW MUCH ARE PEOPLE TRYING TO BOTTOM FEED OR FIGURE OUT WHAT THE LOSSES ARE DONE? TOM: I URGE EVERYBODY TO GO TO ALL THESE NAMES WE DON'T KNOW ANYTHING ABOUT AND READ THEIR WEBSITES. RIOT CHAIN -- RIOT BLOCKCHAIN IS ENDEAVORING TO BE THE DRIVER OF THE FUTURE OF AMERICAN MINING IN BITCOIN. LISA: I KNOW YOU'RE SKEPTICAL. PEOPLE WERE THINKING THIS COULD POTENTIALLY BE A MARKET. I'M EXCITED TO SPEAK WITH PETER
TCHIR LATER IN THE SHOW BECAUSE HE HAS SAID THERE IS SYSTEMIC RISK TO THIS GIVEN ALL OF THE ENERGY THAT GOES INTO PRODUCING CRYPTO ASSETS, TO CREATING THE ECOSYSTEM, AND THAT IS ALL EVAPORATING AT THE SAME TIME RETAIL INVESTORS ARE LOSING THEIR SHIRTS. THERE IS SOME SYSTEMIC IMPORTANCE OF THAT. TOM: THE FINANCE MINISTER IN FRANCE OUT WITH A HEADLINE, AVOIDING FRAGMENTATION IS EURO AREA PRIORITY. WE LEARNED A LOT FROM THAT, DIDN'T WE? JONATHAN: NOT REALLY. TOM: LET'S GET TO IT WITHIN AN EMERGENCY EASY BEATING -- EMERGENCY ECB MEETING AND A FED MEETING IN JUNE.
AMANDA LYMAN IS SENIOR CREDIT STRATEGIST AT GOLDMAN SACHS. HOW DO YOU THINK ABOUT THE LAST FIVE HOURS, GIVEN THE EMERGENCY MEETING OF A MAJOR CENTRAL BANK? AMANDA: THANKS FOR HAVING ME. WE ARE RESPONDING TO THE VERY DYNAMIC ENVIRONMENT USE OUR EARLIER THIS WEEK. WE MARKED OUR SPREAD FORECAST
WIDER AGAIN TO REFLECT AN ADDITIONAL REBUILD OF RISK PREMIUM THROUGH THE SECOND HALF OF THIS YEAR. YOU ALLUDED TO EARLIER IN THE SHOW THE SIGNIFICANT DECLINE IN BOND PRICES ACROSS THE HIGH-YIELD MARKETS. THAT IS ALMOST ENTIRELY DRIVEN BY THE MOVE IN RATES.
THE POINT THAT WE EMPHASIZED EARLIER THIS WEEK IS IF YOU WERE TO TAKE SPREADS AND LOOK AT THEM RELATIVE TO THE POST FINANCIAL CRISIS PERIOD, THEY ARE STILL HOVERING AROUND THE MEDIAN. TOM: I TOTALLY AGREE WITH THE SPREAD ANALYSIS, BUT HELP MERE MORTALS THAT ARE NOT IN THE SOPHISTICATED SPREAD MARKET OF AMANDA LYNAM. YOU ARE TELLING ME PRICE DECLINE DOESN'T MATTER? AMANDA: WE ARE SEEING THEY BOTH MATTER, SO THE LACK OF WIDENING ON THE SPREAD BASIS INTRODUCES A VULNERABILITY INTO THE CORPORATE BOND MARKET THAT HAS NOT YET REPRICED TO REFLECT THE VERY NARROWNESS OF THE SOFT LANDING THAT OUR ECONOMISTS ULTIMATELY EXPECT. SO WHILE IT IS TRUE THAT BOND VALUATIONS HAVE REPRICED SIGNIFICANTLY LOWER BECAUSE OF THE RATE VOLATILITY, WE STILL HAVE YET TO SEE SPREADS TRULY REFLECT THE VERY CHALLENGING GROWTH INFLATION AND POLICY RISKS IN THE CORPORATE BOND MARKET, IN BOTH THE U.S. AND EUROPE, SO WHAT WE DID
EARLIER THIS WEEK IS WE MARKED OUR SPREAD FORECAST FURTHER WIDE TO REFLECT THAT ADDITIONAL REBUILD OF RISK PREMIUM, AND THAT IS REFLECTIVE OF A VERY CHALLENGING MACRO BACKDROP NOW. OUR ECONOMISTS ARE STILL NOT VIEWING A RECESSION AS THEIR BASE CASE, BUT CLEARLY FINANCIAL CONDITIONS CONTINUE TO TIGHTEN, INVESTORS ARE NEEDING TO DIGEST AND EVEN MORE HAWKISH MONETARY POLICY STANCE, AND WE ALSO SEE SOME ROOM FOR CREDIT TO CATCH DOWN TO EQUITIES. IF YOU LOOK AT CREDIT SPREADS IN ISOLATION, THEY HAVE NOT SOLD OFF THAT MUCH, EVEN RELATIVE TO CROSS ASSET. TOM: IS THIS YEAR'S WORD CATCH DOWN? CAN WE MAKE A DECISION ON THAT IN JUNE, OR DO WE HAVE TO WAIT UNTIL LATE AUTUMN? LISA: THAT WILL BE THE SUBJECT OF OUR MEETING LATER TODAY AFTER OUR SECOND ROUND OF SHOWS. JONATHAN: NO ONE BELIEVES THERE'S A MEETING FOR THE SHOW BETWEEN THE THREE OF US. LISA:
I AM FULLY AWARE OF THAT. HOW DO YOU FACTOR IN LIQUIDITY RISK AT THE SAME TIME AS TRYING TO UNDERSTAND RECESSION RISK, AT A TIME WHEN A LOT OF PEOPLE ARE SAYING THERE JUST IS NO TRADING? IF YOU WANT TO SELL, YOU WILL CATCH NO BIDS. AMANDA: WE WERE HAVING A CONVERSATION WHERE WE WERE SEEING FLASHING YELLOW SIGNS OF LIQUIDITY IN THE CORPORATE BOND MARKET. THOSE HAVE FURTHER INTENSIFIED. THERE ARE A RANGE OF METRICS WE TRACK, CERTAIN LIQUIDITY MEASURES, INTRADAY VOLATILITY. THEY ARE ALL STARTING TO PICK UP, WHETHER YOU LOOK ON A KIND OF FIVE DAY MOVING AVERAGE BASIS OR SOMEWHAT LONGER, AND DEFINITELY OVER THE LAST FEW TRADING SESSIONS. VERY INDICATIVE OF WHAT WE ARE SEEING REAL TIME. I THINK FOR SOME INVESTORS,
THEY ARE USING IT AS AN OPPORTUNITY TO STEP IN AND PROVIDE LIQUIDITY TO THE MARKET, BUT ABSOLUTELY IT IS A VERY CHALLENGING MACRO BACKDROP, IN ADDITION TO THE FUNDAMENTAL PICTURES THAT THE LIQUIDITY BACKDROP HAS FURTHER EXACERBATED. LISA: JUST 30 SECONDS HERE, BUT WOULD YOU STEP INTO THIS LIQUIDITY ABSENCE? WOULD YOU SAY THIS IS A GOOD TIME OR NOT BECAUSE OF THAT EXPECTATION FOR SPREADS TO WIDEN FURTHER? AMANDA: SELECTIVELY TO BE UP IN QUALITY. I THINK WE HAVE REALLY EMPHASIZED WE ARE PREFERRING IG OVER HIGH-YIELD. I THINK OF NEAR-TERM, HIGH YIELD VERSUS LEVERAGE LOANS IS A BIT MORE OF A BALANCE, RISK-REWARD.
WE TWEAKED THAT EARLIER THIS WEEK TO BECOME NEUTRAL BETWEEN THE TWO. STILL PREFER U.S. OVER EUROPE. SO I THINK SELECTIVELY YOU COULD PLAY SOME CAPITAL, BUT TO BE VERY CLEAR, WE EXPECT A CONTINUED REBUILD OF RISK PREMIA THROUGH YEAR END, SO WE THINK IT IS IMPORTANT TO STAY UP IN QUALITY. STRONG PRICING POWER, COMPANIES THAT DON'T HAVE THE VULNERABILITIES ON THE SUPPLY CHAIN, LABOR SHORTAGES. JONATHAN: AMANDA, THANK YOU, ON THIS FED DECISION DAY. HAVEN'T TALKED ABOUT IT MUCH THIS MORNING. RETAIL SALES, 8:30 EASTERN TIME. WE'VE BARELY EVEN DISCUSSED.
NOT EVEN ON THE RADAR FOR SOME PEOPLE. JUST TO GET EVERYONE UP TO SPEED ON THE SURVEY, WE PUT TOGETHER ALL THESE FORECASTS COME OF THE ESTIMATES FROM ALL THESE ECONOMISTS ON WALL STREET, THE MEDIAN IS STILL 50 BASIS POINTS TODAY, BUT AS MIKE MCKEE POINTED OUT TO ME THIS MORNING, MOST OF THE NEW FORECASTS IF YOU GO INSIDE THE BLOOMBERG AND LOOK AT HOW THEY ARE DATED, MOST OF THE NEW ONES HAVE LED TOWARDS THIS IDEA GET 75. LISA: I AM STRUCK BY WHAT DOMINIC COST HIM SAID EARLIER ON THE SHOW, THAT IT WOULD BE A BIGGER NEGATIVE IF THEY DO NOT GO 75 BASIS POINTS. THIS IS A FED CREDIBILITY ISSUE.
HOW MUCH IS THAT GOING TO BE THE MAIN DISCUSSION POINTS THROUGH THE REMAND ARE OF THE DAY? JONATHAN: THE ECB MEETING, STILL HAVEN'T GOT AN OUTCOME FROM THAT MEETING. JUST WAITING FOR THIS STATEMENT TO DROP. TOM: CHAIRMAN POWELL IS HAVING HIS POP TARTS AND TANG DOWN AT THE ECCLES BUILDING. JONATHAN: IS THAT WHEN HE HAS ON DECISION DAY? TOM: WE TALKED ABOUT IT ONCE. I WANT TO KNOW, WHAT OUTCOME ARE WE EXPECTING FROM THE ECB? JONATHAN: I WILL TELL YOU WHAT PEOPLE WANT TO SEE. I HAVE NO IDEA WHAT WE WILL SEE. WHAT THEY WANT TO SEE IS A
DETAILED PLAN, A MECHANISM, AN OUTLINE OF HOW THEY INTEND TO CAP ITALIAN BOND YIELDS. IT IS CLEAR TO ME IS THIS IDEA OF REINVESTING PEPP SELECTIVELY. I DON'T KNOW IF THAT GETS DONE. THE MARKET WILL DECIDE. TOM: YIELD UP, PRICE DOWN. I THINK THAT'S THE WAY IT WORKS. JONATHAN:
THAT'S BEEN THE STORY IN THIS BOND MARKET. YIELDS ARE LOWER BY 11 OR 12 BASIS POINTS ON THE 10 YEAR. FROM NEW YORK, THIS IS BLOOMBERG. RITIKA: KEEPING YOU UP TO DATE WITH NEWS FROM AROUND THE WORLD, WITH THE FIRST WORD, I'M RITIKA GUPTA. GLOBAL OIL SUPPLY WILL STRUGGLE TO MEET RISING DEMAND NEXT YEAR, WHICH MEANS CONSUMERS WILL CONTINUE TO FACE TIGHT FUEL MARKETS, ACCORDING TO THE INTERNATIONAL ENERGY AGENCY IN ITS FIRST ASSESSMENT OF 20 DON'T THREE. THEY SAY A RESURGENCE CHINESE, HE WILL BOLSTER CONSUMPTION, WHILE SANCTIONS ON RUSSIA WILL CUT WILL OUTPUT. EUROPEAN ENERGY CONSUMERS ARE
BRACING FOR EVEN HIGHER PRICES DUE TO POSSIBLE DISRUPTIONS TO SUPPLY FROM RUSSIA AND THE U.S. GAS FLOWS HAVE REDUCED FROM NORD STREAM BY 20%. A FIRE AT A U.S. LNG TERMINAL ALSO THREATENED PRICES. A TWEET BY AN INFLUENTIAL HEDGE FUND THAT HAS BEEN LIQUIDATING CRYPTO HOLDINGS AS PRICES HAVE PLUMMETED IS CREATING NEW APPREHENSION IN THE INDUSTRY. THE FORMER CREDIT SUISSE GROUP TRADER TWEETED, "FULLY COMMITTED TO WORKING THIS OUT WITHOUT FIGHTING."
THERE HAS BEEN NO FURTHER COMMENT. HEAVY RAIN AND RAPID SNOW MELT AT YELLOWSTONE NATIONAL PARK TRIGGERED FLOODING THAT TORE UP BRIDGES AND DAMAGED NEARBY HOMES. THE RAGING WATERS MAY FORCE ROADWAYS TO BE REBUILT ELSEWHERE. THE UNPRECEDENTED FLOODING DROVE MORE THAN 10,000 VISITORS OUT OF THE NATION'S OLDEST NATIONAL PARK, WHICH COULD STAY CLOSED FOR A WEEK. NOBODY REPORTEDLY WAS HURT. GLOBAL NEWS 24 HOURS A DAY, ON AIR AND ON BLOOMBERG QUICKTAKE, POWERED BY MORE THAN 2700 JOURNALISTS AND ANALYSTS IN MORE THAN 120 COUNTRIES. I'M RITIKA GUPTA.
THIS IS BLOOMBERG. >> I DON'T THINK THE WHOLE CRYPTO ECONOMY IS GOING TO COLLAPSE, NOR DO I THINK BLOCKCHAIN IS GOING TO DISAPPEAR. I DON'T THINK PEOPLE ARE GOING TO ABANDON THE CONCEPT OF GOOD TO CURRENCIES THIS BECAUSE THE MARKET IS DOWN FOR THE LAST COUPLE OF WEEKS. JONATHAN: DAVID RUBENSTEIN THERE, THE COFOUNDER, COCHAIR OF THE CARLYLE GROUP. IT IS FED DECISION DAY AND APPARENTLY ECB DECISION DAY AS WELL.
AN UNSCHEDULED MEETING A LITTLE EARLIER THIS MORNING, SET TO LAST TWO HOURS. IT HAS BEEN TWO HOURS 50 MINUTES, AND NO SIGN OF WHAT THE OUTCOME WAS, IF INDEED THERE IS AN OUTCOME. TEACHERS UP 0.7% ON THE S&P 500. IT IS A TURNAROUND ON THIS MARKET. BARELY A BITE OUT OF WHAT WE HAVE SEEN SO FAR. FOR ANYONE FOLLOWING THE DETAIL OF THIS, WE HAVE NOT SEEN THE OUTCOME OF THIS GOVERNING COUNCIL MEETING, BUT ONE MEMBER OF THE GOVERNING COUNCIL, THE PORTUGUESE CHIEF OF THE CENTRAL BANK, SPEAKING IN LISBON, IS DELIVERING A PRESENTATION NOW. KIND OF BIZARRE, RIGHT? BECAUSE WE STILL DON'T KNOW WHAT THE OUTCOME OF THAT MEETING WAS. TOM:
WE ARE G
2022-06-21 00:58
Show Video
Other news