Bloomberg Surveillance 06/17/2022 Will the Fed Trigger a Recession?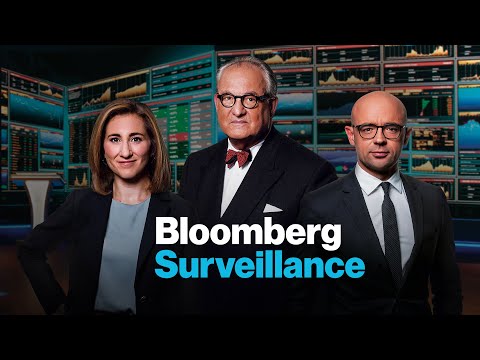 Show Video
>> I THINK THE FED'S FORECASTS ARE SO OPTIMISTIC. >> ALL THESE NUMBERS THEY THROUGHOUT OUR FANTASYLAND. EMPLOYMENT, RATE AT WHICH INFLATION COMES DOWN. >> IT FEELS LIKE PRESSURE HAS THE UPPER HAND. >> IT WILL TAKE A LONG TIME TO IMPACT THE ECONOMY. >> I WONDER WHETHER WE WILL LOOK BACK AND SAY WE WERE IN A RECESSION. WE ARE ALREADY IN A RECESSION.
>> THIS IS "BLOOMBERG SURVEILLANCE" WITH TOM KEENE, JONATHAN FERRO, AND LISA ABRAMOWICZ. JONATHAN: LET'S GET THIS WEEK WRAPPED UP AND GET YOU TO THE WEEKEND. LIVE FROM NEW YORK CITY FOR OUR AUDIENCE GOOD -- WORLDWIDE, GOOD MORNING. THIS IS "BLOOMBERG SURVEILLANCE" ON TV AND RADIO. ALONGSIDE LISA ABRAMOWICZ, I AM JONATHAN FERRO. T.K. TAKING A LONG WEEKEND.
COMING INTO TODAY, WE ARE DOWN 6% ON THE S&P 500 THIS WEEK ALONE. LISA: WE SAW THE LOWEST LEVELS GOING BACK TO 2020. LOOKING AT CERTAIN MODELS THAT SHOW THE S&P IS PRICING IN AN 85% CHANCE OF RECESSION IN THE UNITED STATES IN THE NEAR TERM. SO ARE WE THERE YET? JONATHAN:
AND HOW MUCH DAMAGES THIS FED PREPARING -- WILLING TO DO, INFLICT ON THIS ECONOMY? LISA: A LOT OF PEOPLE SAY THEY ARE WILLING TO CAUSE A RECESSION IN ORDER TO BRING PRICES DOWN, THE PACE OF PRICE INCREASES DOWN. BUT AS WE HAPPEN TALKING ABOUT, LET'S SEE HOW STRONG THAT COMMITMENT IS WHEN WE STARTED SEE NEGATIVE PRINTS ON THE JOBS NUMBERS, THE WEAKENING DATA COME IN, AND QUESTION HOW MUCH THE TIGHTENING IS ACTUALLY BRINGING PRICES DOWN CONSIDERING WHERE THE SHOCKS ARE COMING FROM. JONATHAN: STARTING TO SEE CREDIT BREAK DOWN JUST A LITTLE BIT. ARE YOU SEEING ANY SIGN OF STRESS EMERGING IN THIS MARKET? DAMIAN: ABSOLUTELY.
LACK OF BALANCE SHEET ELASTICITY WILL BE THE QUESTION. WE ARE COMPLETELY FOCUSED ON THAT. MORTGAGE RATES PUSHING UP 6%. SOMETHING WILL CRACK. IT LOOKS LIKE IT IS GOING TO BE TOUGH SWEATING FOR FIXED INCOME INVESTORS. JONATHAN: WE HAVE SPOKEN TO A LOT OF
PEOPLE SO FAR WHO HAVE THIS CASH POSITION. DAMIAN: -- WHAT HAVE WE SEEN IN IG SPREADS? WE ARE NOT THERE YET. WE HAVE NOT SEEN THE REAL GAP WIDENING IN SPREADS YET.
WE NEED TO SEE THAT BEFORE WE SEE MARKET BOTTOM. JONATHAN: WE SAW THAT MOVE YESTERDAY, A SIZABLE ONE. LISA: AND A LOT OF PEOPLE ARE SAYING THEY WANT TO MOVE INTO HIGHER RATED CREDIT, BECAUSE THEY ARE GETTING CONCERNED NOT ABOUT A DEFAULT CYCLE NECESSARILY BUT A DETERIORATION IN CREDIT QUALITY. WHEN YOU SEE THEM TALKING ABOUT THAT, HOW FAR CAN YOU GO WITH RESPECT TO THE SELLOFF WITHOUT SOME SORT OF LIQUIDITY ISSUE? JONATHAN: YOU'RE IN FOR A TREAT TODAY.
WE WILL NOT TALK ABOUT FOOTBALL, OR SOCCER AS TOM MIGHT CALL IT. YOU GET TO DO BASKETBALL OR OTHER BIT OF GOLF. DAMIAN: I AM NOT GOING TO IGNORE GOLF, BUT WE CAN'T NOT TALK ABOUT THE NBA FINALS. STEPH CURRY, M.V.P.
IT IS A REAL DYNASTY IN SAN FRANCISCO. THE BAY AREA HAS TO BE THRILLED. JONATHAN: I IMAGINE THEY ARE JUST GOING TO BED. WE WILL SQUEEZE IN ROY MCELROY INTO THE CONVERSATION AS WELL.
LISA: HONESTLY, YOU COME OUT AND SAY I HAVE A TREAT FOR YOU -- JONATHAN: BEFORE DAMIAN CAME ON AIR, I ASKED WHAT HE ONEED TO TALK ABOUT, AND HE SAID LIQUIDITY, AND I SAID, NO, SPORTS, AND HE SAID BASKETBALL. NASDAQ A LITTLE UP. WILL THIS MOVE STICK AFTER A BRUTAL WEEK OF LOSSES ON THE S&P COMING INTO FRIDAY? YIELDS HIGHER BY ABOUT A BASIS POINT. -- IN THE FX START -- LISA: SO ALL EYES GO TO EUROPE WITH RESPECT TO HOW FAR THEY WILL GO, CONSIDERING THE FACT THAT THE BANK OF JAPAN SEEMED TO DOUBLE DOWN OVERNIGHT SAYING WE WILL KEEP THIS PEG, SO PEOPLE SAID, OK, THEN WE WILL SELL THE YEN. THE MAJOR ECONOMIES FORUM ON
ENERGY AND CLIMATE. HOW DOES HE SHIFT HIS MESSAGE AWAY FROM THE PURE ADOPTION OF SOME OF THESE GREENER TECHNOLOGIES TO RECOGNITION OF THE PRICE OF GAS, WHICH IS THE MAIN MODE OF FOSSIL FUEL USAGE IN THE UNITED STATES, THE MAIDEN MODE PEOPLE USED TO GET AROUND? PRICES STILL HOVERING ABOVE $5 A GALLON. THIS IS A HUGE LIABILITY HEADING INTO THE MIDTERMS, INTO 2024. FED CHAIR JAY POWELL COMES BACK TO THE PODIUM, SAYING HE WILL TALK ABOUT THE DOLLAR AND ITS ROLE IN THE INTERNATIONAL FINANCIAL MARKET. THIS AS THE DOLLAR GENERALLY HAS BEEN STRENGTHENING STEADILY FROM SOME OF THE HIGHS WE LAST SAW DURING THE PEAK OF THE PANDEMIC. HOW MUCH DOES HE TALK ABOUT THE
TRANSMISSION MECHANISM THAT HAS AN THE POTENTIAL DESTRUCTIVE FACTOR THAT COULD PLAY IN THE GLOBAL ECONOMIC RECOVERY? AT 9:15, U.S. INDUSTRIAL PRODUCTION. HOW MUCH DO WE GET FACTORY OUTPUT INCREASING, FACTORY CAPACITY USAGE, INCREASING IN ORDER TO OFFSET THE DEMAND? WHAT HAPPENS IF WE ACTUALLY GET INCREASED SUPPLIES? IS THIS ISSUE WITH INFLATION A SUPPLY DRIVEN ISSUE, DEMAND DRIVEN ISSUE, A BIT OF BOTH? WHAT CAN WE DO TO EQUALIZE THE SUPPLY SIDE ADDITION TO DAMPENING DEMAND? JONATHAN: WHAT I SAW WAS ON REFINERIES AT 94%, WHICH IS HISTORICALLY VERY HIGH, WHICH PUSHES BACK AGAINST THIS IDEA THAT THE OIL PLAYERS ARE HOLDING SOME BACK. LISA: IT ALSO PUSHES BACK AGAINST THE IDEA GAS PRICES COULD COME DOWN ANYTIME SOON. IF THEY ARE USING THEM TO FULL CAPACITY, WHERE IS THE MARGINAL PRODUCTION GOING TO COME FROM WHEN IT COMES TO REFINING THE CRUDE WE GET, FROM WHEREVER THE SURPRISE -- SUPPLIES ARE? JONATHAN: IF IT, AFTER A HECTIC WEEK.
JOINING US NOW IS ERIC ROBERTSEN, MOBILE HEAD OF RESEARCH AT STANDARD CHARTERED. -- GLOBAL HEAD OF RESEARCH AT STANDARD CHARTERED. YOU THOUGHT THE FED WOULD GO STRONGLY IN SUMMER THAN ULTIMATELY HAVE TO STOP BECAUSE THE DATA WOULD WEAKEN. CAN YOU WALK ME THROUGH HOW YOUR VIEWER THAT HAS EVOLVED? ERIC: SURE. THANKS FOR HAVING ME. I THINK THE NARRATIVE IS STILL
ROUGHLY SIMILAR TO WHAT WE HAVE BEEN THINKING ABOUT FOR THE LAST COUPLE OF MONTHS, WHICH IS THAT THE COMBINATION OF FED RATE HIKES COMBINED WITH THE OTHER CENTRAL BANKS AROUND THE WORLD GETTING ON THE SAME BANDWAGON WOULD LEAD TO A REAL HIT ECONOMIC GROWTH IN THE SECOND HALF OF THE YEAR. WHAT HAS PROBABLY BEEN A LITTLE BIT DIFFERENT THAN WE EXPECTED IS HOW ELEVATED INFLATION HAS BEEN AND FOR HOW LONG, SO THE FED IS IN THIS HORRIBLE SITUATION WHERE THERE MONETARY TIGHTENING WILL LEAD TO A FAIRLY NEGATIVE ECONOMIC ACTIVITY ENVIRONMENT SET AGAINST WHAT IS STILL AN ELEVATED INFLATION ENVIRONMENT. AS WE GET TO THE THIRD AND FOURTH QUARTERS, THE HIT TO THE U.S. AND GLOBALLY WILL BE PRETTY PROFOUND, AND I THINK THAT WILL RAISE UNCOMFORTABLE QUESTIONS FOR THE FED AND PROBABLY OTHER CENTRAL BANKS AS WELL. LISA: WHAT IS THE TRIGGER FOR THEM TO PIVOT, PERHAPS DIAL BACK FROM SOME OF THEIR RATE RAISING EXPECTATIONS? ERIC: EVERYBODY LIKES TO TALK ABOUT THE FEDPUT AND HOW FAR EQUITIES OR CREDIT HAVE TO FILE BEFORE THE FED PANICS. IN THE CURRENT ECONOMIC CIRCUMSTANCES, IT IS NOT GOING TO BE MARKET-DRIVEN. I THINK IT IS GOING TO BE
SOMETHING ALONG THE LINES OF THE UNEMPLOYMENT RATE MOVING HIGHER AND A COMBINATION OF OTHER DROP STATISTICS. THE REALITY IS WE NEED TO SEE SOFTENING IN THE LABOR MARKET TO SEE A SOFTENING IN WAGES, AND THAT WILL BE A BIG PART OF EASING INFLATION EXPECTATIONS, SO I DO NOT THINK IT IS THE LABOR MARKET. DAMIAN: EVERYBODY AND THEIR GRANDMOTHER HAS BEEN OPERATING AS IF THE PBOC WILL CUT RATES EVENTUALLY. WE HAVE NOT SEEN THAT LARGELY BECAUSE OF WIDENING U.S.-CHINA YIELD DIFFERENTIALS. CLEARLY, THE DOLLAR-YUAN HAS
TAKEN A HIT. CAN WE EXPECT SOME MONETARY STIMULUS FROM THE PBOC IN THE MONTHS AHEAD? ERIC: I THINK THAT IS A REALLY GOOD QUESTION, BUT THE ANSWER IS IT IS UNLIKELY. THERE ARE TWO IMPORTANT REASONS FOR THAT. CHINA, HISTORICALLY, DOES NOT
LIKE TO BE MOVING RATES IN THE OPPOSITE DIRECTION OF THE REST OF THE WORLD'S CENTRAL BANKS FOR EXACTLY THE YIELD DIFFERENTIALS STORY YOU HIGHLIGHTED. CERTAINLY WITH THE OTHER CENTRAL BANK OF THE WORLD BEING SO AGGRESSIVE, I DO NOT THINK THAT PBOC WANTS TO MOVE IN THE OPPOSITE DIRECTION. THE OTHER ISSUE, AND THIS IS A BIGGER PICTURE, AND PERHAPS MORE PROFOUND ISSUE, IS CHINA HAS SHIFTED ITS STIMULUS FOCUS AWAY FROM MONETARY STIMULUS TO FISCAL. I THINK THAT IS BECAUSE THEY HAVE LEARNED SOME LESSONS ABOUT THE DOWN SIDE AFFECTS OF EXCESSIVE LEVERAGE.
THEY WANT TO SEE ECONOMIC RECOVERY WITH STABLE LIQUIDITY, STABLE LEVERAGE IN THEIR SYSTEM. THEY FEEL MORE COMPARABLE DIRECTING STIMULUS -- FISCAL STIMULUS INTO THEIR ECONOMY RATHER THAN ECONOMIC STIMULUS. JONATHAN: DAMIAN, I DO NOT KNOW IF YOU SAW THE LATEST FORECAST FROM BANK OF AMERICA CHINA GDP. IT IS NOW 3.5.
FROM THE PEOPLE YOU SPEAK TO, ARE WE READY FOR THAT KIND OF GDP PRINT FROM THE CHINESE ECONOMY? DAMIAN: I DO NOT THINK WE ARE, FRANKLY, BUT THAT IS WHERE WE ARE HEADED. IF YOU LOOK AT THE BROADER ASIAN COMPLEX, THAT IS THE REAL RISK. ALL OF IT GOES BACK TO DOLLAR-YEN, BECAUSE AS THAT GOES DOWN, THAT IS PUTTING PRESSURE ON OTHER ASIAN EXPORTERS, LIKE THE SOUTH KOREAN WON, THE CHINESE YUAN. JONATHAN: AND THAT GETS MESSY QUICKLY. LISA: ESPECIALLY BECAUSE HOW FAR DO THEY HAVE TO GO TO DO THAT AND WHAT DOES IT MEAN FOR THEIR GROWTH PERSPECTIVE? WE SAW THAT YESTERDAY WITH THE BANK OF ENGLAND, HOW THEIR DOVISH 25 BASIS POINT RATE HIKE WAS RECEIVED. AT THE SAME TIME, IF YOU GET ECONOMIC DECELERATION, HOW QUICKLY DO YOU GET TO A BRIDGEWATER SCENARIO? LET'S SAY THE FED GOES QUICKLY -- JONATHAN: WHAT DID YOU MAKE OF THE BOJ OVERNIGHT? LISA: PREDICTABLE. ALSO CURIOUS TO ME, BECAUSE IT
RAISES THE THRESHOLD FOR THEM TO PIVOT, AND THEY WILL HAVE TO. DID YOU SEE THE POSITIONING OVERNIGHT? THE HIGHEST LEVEL SINCE 2013. THEY WERE TRYING TO SAY STOP IT, THIS IS NOT GOING TO WORK. JONATHAN:
HOW MANY JJB'S ARE THEY WILLING TO OWN? MOST PEOPLE ASSUME THEY WILL NATIONALIZE THE BOND MARKET. MOST PEOPLE I SPEAK TO SAY IT IS NOT MUCH OF A MARKET ANYWAY AND IT HAS ALREADY BEEN NATIONALIZED. CENTRAL BOND MARKET IN JAPAN AND SEEMINGLY NO WILLINGNESS TO TURN AWAY FROM THAT ANYTIME SOON. ITALY ON THAT FRONT AS WELL. COMING UP, AND THE NEXT HOUR,
VICTORIA FERNANDEZ. WE WILL CATCH UP WITH HER AROUND 7:00 A.M. EASTERN TIME. THIS IS BLOOMBERG. ♪ RITIKA: KEEPING YOU UP-TO-DATE WITH NEWS FROM AROUND THE WORLD, I'M RITIKA GUPTA. UKRAINE IS ONE STEP LOOSER TO BECOMING A MEMBER OF THE EUROPEAN UNION. BLOOMBERG HAS LEARNED THE EUROPEAN COMMISSION RECOMMENDED IT TO CANDIDATE STATUS WITH CONDITIONS THEY WILL HAVE TO MEET ON THE RULE OF LAW, JUSTICE, AND ANTICORRUPTION.
THERE IS NO FAST TRACK PATH TO SPEED UP THE PROCESS. -- SINCE WORLD WAR II AND HELPED PUSH THE NUMBER FLEEING THEIR HOMES GLOBALLY TO THE HIGHEST ANNUAL LEVEL SINCE THE UNITED NATIONS BEGAN KEEPING TRACK. THE U.N. SAYS THE NUMBER OF PEOPLE DISPLACED AROUND THE WORLD REACHED 100 MILLION, AND THE WAR IN UKRAINE DISPLACED 8 MILLION PEOPLE SO FAR. THE WORLD TRADE ORGANIZATION HAS REACHED A DEAL -- MANUFACTURING OF COVID-19 VACCINES. THE HEAD OF THE WTO PREVIOUSLY SAID SHE WANTED TO END THE MORALLY UNACCEPTABLE IN EQUITY TO ACCESS TO COVID-19. THIS DELIVERS A BLOW TO VACCINE
MANUFACTURERS. HONG KONG'S OUTGOING LEADER IS URGING RESIDENTS TO AVOID BANQUETS AND OTHER LARGE GATHERINGS EMERGED -- EMID -- AMID A RESURGENCE OF COVID-19. IT HAS THE HIGHEST LEVEL IN TWO MONTHS.
FEWER THAN TWO DOZEN OF THOSE PEOPLE ARE IN SERIOUS OR CRITICAL CONDITION. GLOBAL NEWS 24 HOURS A DAY ON AIR AND AT BLOOMBERG QUICKTAKE, POWERED BY MORE THAN 2700 JOURNALISTS AND ANALYSTS IN MORE THAN 120 COUNTRIES. I'M RITIKA GUPTA. THIS IS BLOOMBERG. ♪ >> THE PROBLEM WITH A DEEP RECESSION, RIGHT NOW, IS YOU ARE NOT GETTING THE FUNDAMENTAL DROP-OFF THAT THE BIG EARNINGS -- RIGHT NOW, AS WE SIT, IT IS GOING TO BE A SHALLOW RECESSION BECAUSE WE HAVE NOT HAD THE DROP-OFF IN FUNDAMENTAL TO THE MAGNITUDE OF A DEEPER RECESSION. JONATHAN: THE WORD "RECESSION"
-- WE NEED TO TALK ABOUT WHAT KIND OF RECESSION WE GET, IF WE GET ONE. ANDREW SLIMMON THERE FROM MORGAN STANLEY. FUTURES UP 0.9% ON THE S&P 500, THE NASDAQ UP A LITTLE MORE THAN 1/100TH OF ASSENT -- OF A PERCENT. THE PRESIDENT SITTING DOWN WITH HER PINK PRESS FOR THE FIRST TIME SINCE FEBRUARY TO DO A ONE-ON-ONE INTERVIEW. LISA:
TO TALK ABOUT HOW THE U.S. CAN STILL AVOID RECESSION, HOW HE CAN GET DOWN INFLATION. THIS WAS THE BIGGEST TAKE AWAY. -- THAT WAS NOT A MAIN DRIVER. IT WAS SORT OF A NOT TO THAT
WHOLE INTERVIEW. BASICALLY REJECTED THAT AS ONE OF THE SIGNIFICANT REASONS WHY WE HAVE INFLATION SO MUCH HIGHER THAN PEOPLE EXPECTED. JONATHAN: ACKNOWLEDGED THAT PEOPLE ARE REALLY, REALLY DOWN. THIS IS A STORY THEY TRIED TO DEFLECT, TRIED TO IGNORE GOING INTO THE BACK END OF LAST YEAR. IT IS THE KIND OF STORE YOU
CANNOT IGNORE ANYMORE. LISA: ESPECIALLY NOT WITH APPROVAL RATINGS AS LOW AS THEY ARE, WITH GASOLINE PRICES AT $5, AND GROCERY STORE BILLS DRIVING PEOPLE TO BE NEGATIVE. JONATHAN: EMILY WILKINS JOINS US NOW FROM BLOOMBERG GOVERNMENT.
WHAT DID WE LEARN FROM THE PRESIDENT? EMILY: BIDEN IS REALLY TRYING TO PUSH THE MESSAGE THAT HIS ADMINISTRATION IS DOING WHATEVER THEY CAN TO KEEP THE ECONOMY GOOD. HE KNOWS INFLATION IS A PROBLEM. HE KNOWS IT WILL BE A PROBLEM IN NOVEMBER, WHEN DEMOCRATS HOPE TO KEEP THE HOUSE AND MAKE GAINS IN THE SENATE. YOU SEE THE PRESIDENT IS RELYING HEAVILY ON MESSAGING RIGHT NOW. YOU SEE OFFICIALS WITHIN THE
WHITE HOUSE ARE GOING ON TV, TALKING ABOUT THE THINGS THE ADMINISTRATION IS DOING. A NUMBER OF THEM CAME TO CONGRESS AND MET WITH HOUSE DEMOCRATS. REALLY NOTHING NEW IN THAT MEETING, JUST HAMMERING HOME THE VARIOUS TALKING POINTS ON INFLATION, ON THE ECONOMY, ON WHAT THE BIDEN ADMINISTRATION IS CHOOSING TO DO. THIS INTERVIEW YESTERDAY WAS SHOWING MORE IT IS NOT VERY COMMON THAT THIS PRESIDENT SITS DOWN WITH THE PRINT MEDIA AND GIVES AN INTERVIEW. THE FACT THAT HE CHOSE TO DO IT AND CHOSE TO DO IT ON THIS TOPIC SHOWS HOW DESPERATELY THE WHITE HOUSE IS TRYING TO GET THE MESSAGING ASPECT UNDER CONTROL. BUT OF COURSE, AMERICANS, WHEN DRIVING AROUND, SEEING GAS PRICES WHEN GOING TO THE GROCERY STORE, THAT TELLS AN ENTIRELY DIFFERENT MESSAGE, AND IT IS SOMETHING DEMOCRATS ARE TRYING TO GRAPPLE WITH. LISA:
HOW MUCH DISCUSSION IS THERE ABOUT THE STRONG MESSAGE OF CHANGING UP THE CABINET? EMILY: WE HAVE NOT HEARD A TON OF THAT YET. THERE WAS CONCERN AFTER TREASURY SECRETARY JANET YELLEN SAID SHE HAD BEEN WRONG ABOUT INFLATION, THAT IT WAS ONLY GOING TO BE TRANSITORY. THAT IS SOMETHING THAT SENT RIPPLES THROUGH THE ADMINISTRATION AND WASHINGTON, D.C. BUT AT THIS POINT, WE HAVE NOT REALLY HEARD ANYTHING CONCRETE ABOUT CHANGING THINGS UP.
WE HAVE SEEN SOME TURNOVER AT THE WHITE HOUSE, VARIOUS FOLKS WITHIN THE ADMINISTRATION. PART OF THAT COULD BE THEY HAVE BEEN THERE TWO YEARS, IT IS RULING JOB, THEY ARE LOOKING FOR SOMETHING POTENTIALLY NEW. AND PART OF IT MAY BE READING THE TEA LEAVES. THIS IS AN ADMINISTRATION WITH VERY LOW APPROVAL RATINGS. ONLY A QUARTER OF AMERICANS THINK THE COUNTRIES ON THE RIGHT TRACK. IT IS NOT EXACTLY A SUPER POSITIVE TIME TO BE IN GOVERNMENT HERE. LISA: WHICH RAISES QUESTIONS ABOUT
TWO YEARS FROM NOW, WHEN PRESIDENT BIDEN MAY BE RUNNING FOR REELECTION, HOW HE SHOULD GET AHEAD OF THIS AND HOW THE DEMOCRATIC PARTY'S POSITION, IF ITS APPROVAL RATING DOES NOT RECOVER THAT MUCH. WHAT IS THE DISCUSSION WHEN IT COMES TO BRINGING IN ANOTHER FRONT RUNNER FOR THE DEMOCRATIC PARTY TO ESSENTIALLY RUN IN 2024? EMILY: AT THIS POINT, BIDEN HAS SAID THIS WEEK HE WILL BE RUNNING IN 2024. BUT THERE ARE A NUMBER OF CONTENDERS WITHIN THE PARTY WHO WOULD POTENTIALLY LOOK TO MAKE A RUN.
SHOULD THAT CHANGE OR SHOULD THEY FEEL THEY ARE THE ONES WHO NEED TO STEP UP. THERE IS ALSO A BIG QUESTION WHO WINDS UP BEING THE REPUBLICAN NOMINEE. IS IT DONALD TRUMP AGAIN, IS IT SOMEONE ELSE? WHAT SORT OF MATCHUP ARE YOU LOOKING AT? IN TERMS OF WHAT BIDEN IS LOOKING TO DO, THEY ARE LOOKING AT WHAT MINOR LEVERS THEY ARE ABLE TO PULL ON THE ECONOMY.
YOU SEE CONGRESS IS WORKING ON A BILL TO BOLSTER U.S. MANUFACTURING, DEVELOPMENT, RESEARCH. THAT IS SOMETHING THAT, AS IT CONTINUES, WE WILL HEAR MORE AND MORE DISCUSSION THAT THIS BILL WILL ADDRESS, TRY TO ADDRESS SUPPLY CHAINS, INFLATION. BUT THIS GOES BACK TO THE FACT THAT THE WHITE HOUSE CAN ONLY DO SO MUCH FROM INSIDE D.C., THAT THIS IS A PROBLEM THAT HAS
GLOBAL IMPLICATIONS AND IS STILL TIED UP IN THE COVID-19 PANDEMIC. DAMIAN: I BELIEVE YOU ARE TALKING ABOUT THE BILL WITH INCREASING COMPETITIVENESS WITH CHINA. I THINK PRESIDENT BIDEN AND PRESIDENT SHE ARE EXPECTED TO HAVE A CALL IN OUR EXPECT TO HAVE A TRIP IN THE FUTURE. WHAT IS THE TONE BETWEEN THE U.S. AND CHINA? EMILY:
THIS POTENTIAL CALL IS IN THE WORKS RIGHT NOW. IT COULD OCCUR AS SOON AS JULY. WE ARE KEEPING AN EYE ON THIS SIMPLY BECAUSE WE HAVE SEEN TOP U.S. AND TOP CHINESE OFFICIALS MEETING TOGETHER.
WE SAW A NATIONAL SECURITY -- WE SOUGHT NATIONAL SECURITY, JAKE SULLIVAN, TALK WITH HIS CHINESE COUNTERPART FOR FOUR AND HALF HOURS AND LUXEMBOURG THIS WEEK. THERE IS A POTENTIAL PHONE CALL BETWEEN BIDEN AND XI. YOU HEARING TOP ADMINISTRATION OFFICIALS SAYING IT IS IMPORTANT TO SET GUARDRAILS IN THE RELATIONSHIP BETWEEN WASHINGTON AND BEIJING, MAKE SURE ANY DISAGREEMENTS BETWEEN THE COUNTRIES DO NOT ESCALATE TO A LARGER CONFLICT.
MANY AREAS WHERE THAT COULD HAPPEN, NOTABLY IN TAIWAN. THERE HAS BEEN REPORTING THAT CHINESE OFFICIALS ARE TRYING TO CLAIM THE TAIWAN STRAIT WHILE THE U.S. IS SAYING IT IS INTERNATIONAL WATERS.
A LOT OF QUESTION MARKS IN THAT AREA OF THE WORLD. JONATHAN: EMILY WILKINS IN D.C. THANK YOU. AMBASSADOR BURNS ON THE RELATIONSHIP -- THAT TAKES CONNECTING. YOUR THOUGHTS ON THE POLICY, NOT THE DICTATOR TALK -- WHAT DOES IT MEAN FOR POLICY? DAMIAN: I AM HAPPY YOU BROUGHT UP SAUDI ARABIA. THERE ARE WINNERS AND LOSERS IN EVERY MARKET, AND SAUDI ARABIA IS A WINNER. THERE GDP, IN NOMINAL TERMS, WILL RISE TO $1 TRILLION NEXT YEAR, A 50 PERCENT INCREASE OVER THE LAST THREE YEARS.
BIDEN JUST ANNOUNCED, FINALLY, AN AMBASSADOR TO SAUDI ARABIA AND HE IS PLANNING A TRIP THERE NEXT WEEK. JONATHAN: AND THE PROBLEMS ON THE SCREEN, BRENT CRUDE, 1.21. LISA: THE WINNERS ARE NOT WORTHY. IT IS NOT JUST SAUDI ARABIA, IT IS ALSO QATAR AND HOW THEY HAVE A HUGE NATURAL GAS RESOURCE, SO EUROPE IS TAPPING THEM. ALL THE PLAYERS IN THE MIDDLE EAST ARE GETTING EMBOLDENED AND ENRICHED IN THIS CURRENT ERA. JONATHAN: FUTURES UP 0.9% ON THE S&P 500.
WE WILL CATCH UP WITH HOWARD WARD, THE CIO OF GROWTH EQUITIES FOR GABELLI FUNDS. FROM NEW YORK CITY, GOOD MORNING. JONATHAN: LOOKING TO RAMP UP A REALLY -- WRAP UP A BRUTAL WEEK ON THE S&P 500, DOWN ABOUT SIX PERCENTAGE POINTS THROUGH THE CLOSE THURSDAY INTO FRIDAY. KIND OF BOUNCED BACK SOME OF THAT, 0.9% UP ON S&P.
STILL HEADING FOR THE BIGGEST WEEKLY LOSS SINCE THE PANDEMIC, SO FAR AT LEAST. WE WILL SEE WHAT HAPPENS FRIDAY PAY LET'S GET TO THE BOND MARKET. TWO YEAR YIELD UP NINE BASIS POINTS, BUT UP ABOUT 51 OVER THE LAST FEW WEEKS. YIELD HIGHER BY SIX BASIS POINTS WITH THE FRONT END YIELD -- WRITE ABOUT 3.22. CAME CLOSE TO 3.50 THEN BACKED AWAY. ITALY AND GERMANY, ABOUT 1.90
NOW. ITALY VERSUS GERMANY, THAT SPREAD GETTING TIGHTER. THE DIFFERENCE BETWEEN THE TWO GETTING NARROWER. THE STORY THE ECB, PUSHING BACK AND SAYING THEY WILL COME UP WITH A MECHANISM TO DEAL WITH THIS. THE BANK OF ITALY TURNING
AROUND AND SAYING MAYBE 1.50 IS JUSTIFIED. THIS IS CENTRAL BANKING IN THE MODERN ERA, I GUESS, BUT A LITTLE BIT RIDICULOUS. LISA: SAYING IT SHOULD NOT EXCEED 200 BASIS POINTS. THAT IT SHOULD BE UNDER 150 BASED ON FUNDAMENTALS.
THIS HAS GOT TO REALLY BOTHER PEOPLE IN THE ECB. THEY ARE TRYING TO HELP OUT AND SAYS -- AND ITALY SAYS YOU'RE NOT DOING ENOUGH AND EVERYBODY HAS IT WRONG, SO PRICE IT BETTER. -- JONATHAN: THIS IS JUSTIFIED, 150? IS THIS A FLOOR CEILING? LISA: IS ANYONE EVEN LISTENING TO HIM? JONATHAN: TO SOME EXTENT, THE MARKETS RESPONDED TO THE WORDS ARE WORKING. WE GO FROM 240 TO 190. SOMETHING IS HAPPENING HERE. LISA: BUT COHESION IN THE ECB AS FAR AS HOW FAR TO GO WITH BOND PURCHASING, WILL THEY CONTROL THE ENTIRE MARKET OR WILL THEY BE MORE RECEPTIVE TO WHAT RISKS ARE BEING PRICED? JONATHAN: THAT IS WHAT WE CALL CENTURY PLANNING BOND MARKETS FOR JAPAN. EURO-DOLLAR 1.0517. LISA: I AM WATCHING THE EURO.
HOW MUCH DO WE START TO SEE PARITY, ESPECIALLY AS THE ECB IS IN A REAL ROCK AND A HARD PLACE RIGHT NOW. JONATHAN: SOMETHING TO LOOK FOR IN THE NEXT COUPLE OF WEEKS. LISA: RIGHT NOW, I WANT A SENSE OF HOW MUCH WE ARE LOOKING AT A BUYING OPPORTUNITY. THAT IS SOMETHING A LOT OF PEOPLE HAVE BEEN TALKING ABOUT. HOW MUCH PAIN HAVE WE ALREADY
BAKED IN? HOWARD WARD HAS TYPICALLY FOCUSED ON GROWTH EQUITIES. HE IS CHIEF INVESTMENT OFFICER OF GROWTH EQUITIES AT GABELLI FUNDS. HOW MUCH ARE YOU LOOKING AT A BUYING OPPORTUNITY, OF SOME SORT OF CEILING AND YIELDS, THAT WE HAVE ALREADY SURPASSED WITH CONFIRMATION FROM THE FED THIS WEEK? HOWARD: IT CERTAINLY HAS BEEN VERY PAINFUL. THE PENDULUM HAS SWUNG FROM AGREED TO FULL FEAR. THAT IS GENERALLY TIME TO BE BUYING STOCKS, WHEN THEY ARE DOWN. S&P DOWN OVER 10%, NASDAQ OVER
30%. I HAVE TO BELIEVE THAT, UNLESS YOU THINK INTEREST RATES WILL TREND HIGHER, THIS IS A GOOD ENTRY POINT FOR STOCKS. I WOULD NOTE THAT WE THINK THE RESET TO MULTIPLES FROM HIGHER INTEREST RATES IS PROBABLY MOSTLY BAKED IN AT THIS POINT. IT IS IMPORTANT TO REALIZE THAT, AFTER THE FED RAISED RATES THIS WEEK, WHICH I THINK REINFORCED SOME CREDIBILITY, WHICH THEY HAVE BEEN MISSING IN TERMS OF INFLATION FIGHTING, AFTER THEY DID THAT, THE 10 YEAR BOND YIELD DECLINED.
WE HAVE HAD THE RESET ON MULTIPLES FROM HIGHER RATES, RATES MORE THAN DOUBLING SO FAR THIS YEAR. THE NEXT THING HAS BEEN THE RESET ON THE CONCERN ABOUT EARNINGS. CERTAINLY, SOME COMPANIES' EARNINGS ESTIMATES ARE TOO HIGH. SOME COMPANIES WILL HAVE LOWER EARNINGS. IN AGGREGATE, EARNINGS WILL CONTINUE TO GROW. I THINK THEY WILL GROW, AND I
THINK MOST GROWTH STOCKS WILL HAVE HIGHER EARNINGS. IN THAT CONTEXT, THIS IS AN EXCELLENT TIME FOR INVESTORS TO TAKE ADVANTAGE OF THE CARNAGE, WHICH IS WIDESPREAD, DEEP, AND I DO NOT THINK WE WILL HAVE -- IF WE HAVE A RECESSION, I DO NOT THINK IT WILL BE A DEEP AND LONG ONE, IT WILL BE RELATIVELY SHORT BECAUSE THE JOB MARKET IS TOO STRONG. LISA: THAT IS EXACTLY WHAT I WANTED TO GO.
HOW MUCH OF THIS IS PREDICATED ON A SHORT RECESSION RATHER THAN A LONG ONE, AND WHAT IS THE DISTINGUISHING FEATURE BETWEEN THE TRAJECTORY OF ONE THAT IS SHALLOW VERSUS ONE MUCH DEEPER? HOWARD: THIS ENTIRE PROBLEM WITH INFLATION AND WHAT MAY OR MAY NOT BE A RECESSION IS A SELF INFLICTING WOUND. THIS WAS OBVIOUSLY A RESULT OF MASSIVE STIMULUS. THE FED ABSOLUTELY DID BLOW IT. $5 TRILLION OF QUANTITATIVE EASING, TWO YEARS OF INTEREST RATE POLICY. THEY EXPANDED THE MONEY SUPPLY BY OVER 40% IN TWO YEARS. THEN $5 TRILLION OF FISCAL
GIVEAWAYS. HOW CAN YOU NOT HAVE INFLATION WHEN YOU ARE MAKING THOSE KINDS OF DECISIONS AND POLICY MOVES NOW WE HAVE GOT IT. BUT WE ARE SHOCKING THE SYSTEM BECAUSE WE ARE REMOVING THAT. THE GROWTH IN THE MONEY SUPPLY
OVER THE LAST SIX MONTHS IS DOWN TO 6% ANNUAL RATE AFTER AN ANNUAL RATE OF OVER 20% OVER A COUPLE OF YEARS. THE FEDERAL BUDGET, THEY HAVE SPENT MORE MONEY THE FIRST SIX MONTHS OF THIS YEAR THAN THE YEAR BEFORE. WE ARE ON THE RIGHT TRACK AND THE FED IS FINALLY RAISING RATES. THE LONGER END OF BOND YIELD STARTED RISING IN AUGUST OF 2020, SO BOND YIELDS HAPPEN GOING UP FOR NEARLY TWO YEARS. THAT IS STARTING TO IMPACT THE ECONOMY NOW. BUT I THINK WE ARE LOOKING AT A
SHORT RECESSION, BECAUSE YOU ARE LOOKING AT A JOB ENVIRONMENT WHERE THERE ARE 11 MILLION JOBS OPEN, AND YOU HAVE 5 MILLION UNEMPLOYED PEOPLE. EVEN IF YOU TAKE THE 2 MILLION TO 3 MILLION PEOPLE WHO LEFT THE LABOR FORCE DURING COVID, IF THEY CAME BACK, YOU WOULD STILL HAVE A GAP OF ABOUT 3 MILLION. THAT IS CALLED A MARGIN OF SAFETY ON-THE-JOB SIDE. YOU WOULD HAVE TO HAVE A REALLY NEGATIVE ENVIRONMENT WHERE THE JOB SITUATION TO DETERIORATE AND FOR THE ECONOMY TO TANK. I WOULD LIKE TO POINT OUT PART OF THE PROBLEM HAS BEEN THE SUPPLY CHAIN SHORTAGES.
THEY ARE STILL BEING RESOLVED, AND THEY ARE GETTING BETTER. EVERY MONTH, THEY WILL BE BETTER. THAT WILL HELP. I AM CERTAINLY HOPING THAT OVER THE COURSE OF THE NEXT YEAR, WE CAN END THIS HORRIBLE WAR IN UKRAINE FOR THAT WILL HELP. THE FED IS DOING ITS PART. I THINK WE ARE LOOKING AT A
SITUATION WHERE THE STOCK MARKET MAY VERY WELL BOTTOM BEFORE THE ECONOMY BOTTOMS. THAT WOULD BE SOMEWHAT TYPICAL. THE DATA MAY CONTINUE TO BE NEGATIVE, BUT THE STOCK MARKET WILL SNIFF OUT AN IMPROVING ECONOMY IN THE MONTHS OR QUARTERS AHEAD, AND IT WILL START TO MOVE STOCKS HIGHER. NOT ALL STOCKS BOTTOM AT THE SAME TIME.
BACK IN 2008 OR 2009, MANY OF OUR STOCKS BOTTOMED IN OCTOBER OR NOVEMBER OF 2008. S&P BOTTOMED IN LATE FEBRUARY OF 2009. MANY OF THE STOCKS GO DOWN 50%, 60%, 70% HAVE PROBABLY PUT IN THEIR BOTTOMS AT THIS POINT.
HARD TO SEE SOME OF THESE NAMES GOING MUCH FURTHER. YOU CAN BUY AMAZON AT 13 TIMES EBIT THE -- EBITDA. THAT IS A SCREAMING BACK OF THE TRUCK. THERE'S SO MUCH CARNAGE IN SO MANY SECTORS OF THE MARKET, YOU CAN BE A HAPPY CAMPER ABOUT A WHOLE RANGE OF COMPANIES -- JONATHAN: CAN I JUST JUMP IN, ARE YOU PACKING UP THE TRUCK, THEN? HAVE YOU LOADED UP ON AMAZON? HOWARD: WE HAVE BEEN LOADING UP ON AMAZON FOR THE LAST COUPLE MONTHS, AND OF COURSE, IT HAS CONTINUED TO GO DOWN. AT SOME POINT -- THIS IS A COMPANY THAT, AS YOU KNOW, IS THE LEADER IN WEB SERVICES, GROWING THAT BUSINESS AT ABOUT A 40% CLIP. STILL.
IT IS THE LEADER IN E-COMMERCE. IT IS A GROWING LEADER IN DIGITAL ADVERTISING. THIS IS A COMPANY THAT WILL BE A FOUNTAIN OF FREE CASH FLOW OVER THE NEXT 10 YEARS. YES, THEY OVER EXPANDED DURING COVID. IN HINDSIGHT, THAT WAS A
MISTAKE. BUT THEY ARE RECTIFYING THAT, AND THEY WILL GROW INTO THEIR CAPACITY. THIS IS A GREAT OPPORTUNITY TO BUY ONE OF AMERICA'S GREAT COMPANIES DURING A FIRE SALE. JONATHAN: AWESOME TO GET YOUR VIEWS. HOWARD WARD OF GABELLI FUNDS.
AMAZON DOWN THIS YEAR BY ABOUT 30% SO FAR. DAMIAN: I PICKED UP A LITTLE AMAZON ABOUT A MONTH AND A HALF AGO. IT IS LIKE THE FIRST STOCK I HAVE BOUGHT IN 10 YEARS. JONATHAN: YOU'RE PROBABLY NOT ALONE. DAMIAN: YOU BUY THE BIG FOUR AND HOLD YOUR BREATH AND DO NOT LOOK AWAY. JONATHAN:
HOLD YOUR BREATH, HOLD YOUR NOSE, CLOSE YOUR EYES LOOKING AT SOME OF THESE MOVES. LISA: RIGHT NOW THE MOVE I AM LOOKING AT IS THE MOVE IN REAL YIELDS. FROM THERE IS NO ALTERNATIVE TO THEIR IS AN ALTERNATIVE, IF YOU'RE SUDDENLY GETTING UPWARDS OF HALF A PERCENTAGE POINT IN ORDER TO JUST OWN BENCHMARK RATES. HOW MUCH DOES THAT SHIFT MULTIPLES IN A WAY THAT REALLY DOES REDUCE THE PROPOSITION VERSUS THAT LONG-TERM ARGUMENT THAT THIS IS A BEHEMOTH, ALMOST A MONOPOLY OF AN ENTIRE INDUSTRY, AND IT WILL KEEP GROWING. JONATHAN:
IT IS A PRETTY STRONG LINE, BACKING UP THE TRUCK DAY AT SOME OF THESE NAMES HAVE BEEN HAMMERED. WHAT WE HEARD FROM HOWARD, ACKNOWLEDGING SOMETHING YOU HAVE BEEN TALKING ABOUT FOR A LONG TIME, LISA -- GETTING THE STORY WRONG COMING OUT OF THE PANDEMIC, HOW MUCH CAPACITY YOU NEEDED, STAFFING YOU NEEDED, INVENTORY YOU NEEDED. RITA HAS HAD TO ADJUST TO THAT BUT ALSO THE FORWARD LOOK. LISA:
ESPECIALLY BECAUSE IT IS MOVING SO QUICKLY. IF THEY ARE SHIFTING WHAT THEY ARE BUYING, BUYING MORE BASIC NECESSITIES, BUYING FEWER DISCRETIONARY ITEMS, BUYING FEWER BULK ITEMS, HOW DO YOU ADJUST IN REAL-TIME TO SENTIMENT AND OFFENSES SHIFTING THAT QUICKLY? JONATHAN: NEWS FROM REUTERS -- PBOC ACCEPTING ANT'S APPLICATION. I BELIEVE WE HAVE A MOVE FROM ALIBABA WE CAN TAKE A LOOK AT AS WELL. STOCK UP 9.4%. ANY THOUGHTS ON THAT? DAMIAN:
I THINK CHINESE EQUITIES ARE BASICALLY TURNING THE PAGE. IF YOU LOOK AT CHINESE EQUITIES RELATIVE TO THE S&P, THE MARGIN OF DIFFERENTIAL HAS GONE THE OTHER WAY, FINALLY. CHINESE EQUITIES HAVE BEEN IN THE DOGHOUSE FOREVER. INTERESTED TO SEE THEM ROWING UP THE NEWS. JONATHAN:
COMING UP NEXT, STEPHEN SCHORK. FUTURES UP HIGHER. THIS IS BLOOMBERG. ♪ RITIKA: KEEPING YOU UP-TO-DATE WITH NEWS FROM AROUND THE WORLD. I'M RITIKA GUPTA. UKRAINE IS ONE STEP CLOSER TO BECOMING A MEMBER OF THE EUROPEAN UNION. BLOOMBERG HAS LEARNED THE EUROPEAN COMMISSION HAS RECOMMENDED UKRAINE TO CANDIDATE STATUS WITH CONDITIONS KYIV WILL HAVE TO MEET ON THE RULE OF LAW, JUSTICE, AND ANTICORRUPTION.
IT IS SIGNIFICANT FOR UKRAINE, BUT THERE IS NO FAST TRACK CAP TO SPEED UP THE ARDUOUS MEMBERSHIP METHOD. UKRAINE IS BLAMING RUSSIA FOR STOKING UP GLOBAL INFLATION. UKRAINIAN PRESIDENT ZELENSKYY SAID RUSSIA IS USING ITS INVASION OF UKRAINE TO STIR INFLATION. ZELENSKYY SAID THERE IS NOT A SINGLE COUNTRY IN EUROPE THAT HAS NOT SUFFERED IN SOME WAY BECAUSE OF THIS WAR.
THE WAR IN UKRAINE IS LOCKING OUT SHIPMENTS OF SUNFLOWER OIL, LEADING TO ALTERNATIVES LIKE PALM OIL. PALM OIL EXPORTERS, LIKE MALAYSIA, ARE USING THE OPPORTUNITY TO WIN BACK FROM A BAD MARKET SHARE. BANK OF JAPAN KURODA IS HOLDING FIRM. THE CENTRAL BANK KEPT ITS POLICY -- IN A RARE MOVE, THE BANK ADDED A REFERENCE TO FOREIGN EXCHANGE RATES TO ITS REFERENCE LIST FOLLOWING THE YEN BEGINNING TO A 20 YEAR LOW EARLIER THIS WEEK. GLOBAL NEWS 24 HOURS A DAY ON
AIR AND AT BLOOMBERG QUICKTAKE, POWERED BY MORE THAN 2700 JOURNALISTS AND ANALYSTS IN MORE THAN 120 COUNTRIES. I'M RITIKA GUPTA. THIS IS BLOOMBERG. ♪ >> I THINK THE FED NEEDS AN EXIT RAMP FROM THIS, BECAUSE IF THEY ARE GOING TO HITCH THEIR WAGON TO ENERGY PRICES, FUNDS WILL GO MEANINGFULLY HIGHER, AND WE WILL PUSH OURSELVES INTO SHARPER SLOWING THEN WE NEED TO HAVE. JONATHAN: THAT IS THE FEAR. I THINK MIKE MCKEE GOT INTO IT. THAT WAS TOM PORCELLI FROM RBC CAPITAL MARKETS. ON THE NASDAQ 100, UP A LITTLE MORE THAN 1%.
YIELD HIGHER BY A COUPLE BASIS POINTS. ENERGY AT THE HEART OF A LOT OF THIS RIGHT NOW, NOT JUST FOR THE CHAIRMAN OF THE FED BUT ALSO THIS ADMINISTRATION, FRONT AND CENTER. LISA: GAS PRICES LEADING TO SOME OF THE LOW APPROVAL RATINGS FOR PRESIDENT BIDEN. WE HEARD ABOUT EXXON MAKING MORE MONEY THAN GOD, WE HEARD ABOUT POSSIBLY TAXING PROFITS. AT WHAT POINT DOES THE START TO WORK, ESPECIALLY GIVEN PUSHBACK FROM A LOT OF THE COMPANIES WHO HAVE BEEN SAYING WE HAVE BEEN INVESTING, DOING EVERYTHING WE CAN. IT IS UP TO YOU TO COME UP WITH COHESIVE PLANS. JONATHAN: STEPHEN SCHORK JOINS US NOW.
IF I COULD BE A FLY ON THE WALL OF A MEETING BETWEEN THE -- WHAT DO YOU EXPECT WILL HAPPEN IN THAT ROOM? STEPHEN: I WOULD EXPECT A LOT OF PUSHBACK. IT APPEARS THE INDUSTRY AND THE WHITE HOUSE ARE TALKING PAST ONE ANOTHER. THE WHITE HOUSE HAS REFUSED -- THIS IS THE FIRST REAL OUTREACH THAT THEY HAVE MADE TO THE INDUSTRY, AND THEY HAVE GONE TO SOME NEFARIOUS CHARACTERS PRIOR TO THIS. AND YET, THEY WILL CONTINUE TO DOUBLE DOWN AND TELL US WE DO NOT NEED TO DRILL, YOU JUST HAVE TO RAISE CAPACITY. TELL YOU WHAT -- CAPACITY IS ALREADY THERE.
AT THIS TIME OF YEAR, REFINERY CAPACITY IS AT 94%. THAT IS EXTREMELY HIGH FOR THIS EARLY IN THE SEASON. THE INDUSTRY HAS RESPONDED. GASOLINE PRODUCTION OVER 2 MILLION BARRELS A DAY FOR TWO CONSECUTIVE WEEKS.
UNFORTUNATELY, AT THE HEART OF THIS IS THE LACK OF REFINERY CAPACITY, AND THERE IS NOTHING ANYONE CAN DO ABOUT THAT. HERE IN PHILADELPHIA, WE HAVE THE SOUTH GERARD FOR REFINERY -- REFINERY. WE NO LONGER HAVE THAT. YOU GO TO SOUTH PHILLY, THAT REFINERY IS NO LONGER THERE. YOU ARE NOT BRINGING THAT BACK. SO WE SLASHED CAPACITY OVER THE LAST FIVE YEARS. WE DO NOT HAVE THE SAME ABILITY. NOW WE ARE MORE RELIANT ON FOREIGN PRODUCTION COMING FROM EUROPE, AND THAT IS THE REAL PROBLEM. THE ONE THING THE
ADMINISTRATION -- AND I DO KNOW, THIS IS PART OF WHAT EXECUTIVES ARE TELLING THE SECRETARY OF ENERGY -- REVOKE THE JONES ACT. FOR THOSE NOT FAMILIAR, THE JONES ACT IS A MARITIME LAW PASSED 1000 YEARS AGO MEANT TO PROTECT THE MERCHANT MARINE INDUSTRY, DOMESTIC MERCHANT MARINE INDUSTRY PAIR THE PROBLEM NOW IS SINCE WE DO NOT HAVE ENOUGH PIPELINE CAPACITY, WE DO NOT HAVE ENOUGH REFINERY CAPACITY ON THE EAST COAST, WE NEED TO SHIP THAT GASOLINE DIESEL FUEL OUT OF HOUSTON TO NEW YORK HARBOR. BUT THE JONES ACT SAID THAT COMMERCE INTERSTATE HAS TO BE TRANSACTED ON AN AMERICAN FLAG VESSEL. WE DO NOT HAVE ENOUGH AMERICAN FLAG VESSELS. LISA:
BARRING SOME SORT OF CHANGE TO THE JONES ACT, AND, FRANKLY, SOME SORT OF WHOLESALE SHIFT THAT WE WILL NOT SEE IN TIME, THE TIGHTNESS OF THE MARKET HAS RAISED CONCERNS -- HOW MUCH ARE WE LOOKING AT GAS PRICES THAT WILL CONTINUE TO CLIMB? THEY HAVE BEEN PLATEAUING RECENTLY BUT WILL CLIMB TO LEVELS THAT WE CANNOT REALLY IMAGINE RIGHT NOW THIS SUMMER? STEPHEN: $120 A BARREL CRUDE OIL, IN BRENT AND WTI, WHICH IS WHERE THE MARKET HAS BEEN HOLDING, BUT AS DEMAND CONTINUES TO PICK UP AS WE APPROACH THE FOURTH OF JULY HOLIDAY, THE AAA NATIONAL AVERAGE IS RIGHT AROUND $5 A GALLON AT THE PUMP. FOURTH OF JULY, WE ARE FORECASTING $5.40 ON A NATIONAL AVERAGE, SO THERE IS STILL MORE PAIN AT THE PUMP TOOK ON. THIS IS CONTINGENT UPON OIL HOLDING AT $120 A BARREL.
EVERY DOLLAR A BARREL GOES HIGHER, YOU WILL LOOK AT ANOTHER TO SENT, 2.5 SENT RISE. DAMIAN: I AM WONDERING, DO YOU THINK THE PRICE RISE IN OIL IS STICKIER THAN THAT OF GAS -- NAT GAS? WATERS THE IMPLICATION OF COMPANIES LIKE -- STEPHEN: NATURAL GAS IS A MORE SEASONAL MARKET. YOU HAVE WINTER AND SUMMER. IN THE SHOULDER MONTHS, YOU
HAVE THE REFILL SEASONS. AT THIS POINT, THAT IS TELLING US THERE'S NOT ENOUGH SUPPLY. RIGHT NOW, THE MONTH OF MAY AND JUNE, IS WHEN WE STORE THE MOST NATURAL GAS, GETTING READY FOR NEXT WINTER. THIS YEAR HAS BEEN HAMPERED BY LNG EXPORTS, BECAUSE THEY, TOO, HAVE TO BUILD NATURAL GAS. THAT HAS BEEN TELLING US THE MARKET IS CLAMORING TO GET GAS FOR NEXT WINTER. LAST WEEK, WE HAD AN EXPLOSION AND A FIRE AT AN LNG EXPORT FACILITY IN TEXAS. THAT EXPORT FACILITY ACCOUNTED
FOR ABOUT 1/5 OF U.S. LNG EXPORTS. THAT LNG PLANT WILL BE CLOSED UNTIL PROBABLY AT LEAST OCTOBER, IF NOT NOVEMBER. THAT IS A LOT MORE GAS THAT IS NOT LEAVING THE UNITED STATES, THAT IS GOING TO BE SET FOR DOMESTIC CONSUMPTION AND STORAGE. THAT ADDED GAS COMING TO THE MARKET AT THIS POINT, YOU'RE LOOKING AT A CORRECTION IN THE YIELD CURVE, THE FRONT MONTH PRICES HAVING AN EXTREMELY HIGH RELATIVE BACK END, BUT THAT IS STARTING TO CORRECT LOWER. AS FAR AS INTEGRATED OIL
COMPANIES GO, NATURAL GAS IS A FOSSIL FUEL AS WELL, SO IT IS IN THE SAME SITES AS OIL WITH -- SAME SIGHTS AS OIL IN REGARDS TO POLICY AND LACK OF POLICY WITH REGARDS TO PROMOTING PRODUCTION, SO THEREFORE IT DOES SET THE TABLE FOR CONTINUED HIGHER PRICES. JONATHAN: 30 SECONDS LEFT -- WE ARE AT $5 GAS RIGHT NOW, GASOLINE PRICES ON AVERAGE. BY THE END OF THE SUMMER, DO YOU SHARE THE JPMORGAN VIEW THIS WILL HAVE $6? STEPHEN: WE HAVE 40% DROP ABILITY WE SEE THAT P OF THE PROBLEM NOW IS IT IS A RACE. WE SEE $6, OR DO WE SEE SUCH A SEVERE ECONOMIC DOWNTURN WE SEE DEMAND DESTRUCTION OF PRICES FALL? BECAUSE THAT IS WHERE WE ARE HEADED.
WE ARE HEADED FOR RECESSION, IF WE ARE NOT ALREADY IN IT. I WILL GIVE 14% OF THE TIME WITH J.P. MORGAN ON THAT. JONATHAN: STEPHEN SCHORK OF THE SCHORK GROUP. VERY CAREFULLY CALIBRATED OVER THERE. LISA:
ESPECIALLY A 14% CHANCE. I HAVE A 15% CHANCE I WILL AGREE WITH THAT. JONATHAN: THIS MOVE IN EQUITY MARKET YESTERDAY, ENERGY DOWN AND DOWN HARD, 5.6%. DAMIAN: IT IS ONE OF THE BIG FOUR. YOU LOOK AT WREPS -- BREADTH OF THE MARKET. IT WAS THE ONLY SECTOR THAT WAS POSITIVE. SO WE NEED TO SEE A BIT OF BLOODLETTING THERE. JONATHAN:
WE ARE STARTING TO SEE GAINS GET CHIPPED AWAY. LISA: THE ONLY TOOL THE FED HAS IS TO REDUCE DEMAND AT THIS POINT, WHEN IT COMES TO THINGS LIKE OIL AND GAS, AND PEOPLE ARE TAKING THAT SERIOUSLY. JONATHAN: THE S&P UP 30. VICTORIA FERNANDEZ OF CROSSMARK JOINS US NEXT ON THIS PROGRAM. THIS IS BLOOMBERG. >> I THINK THE FED'S FORECASTS ARE SO REMARKABLY OPTIMISTIC. >> ALL THESE NUMBERS THEY THREW OUT ARE FANTASYLAND.
THE UNEMPLOYMENT RATE IS FANTASYLAND. THE RATE AT WHICH INFLATION IS GOING TO COME DOWN IS FANTASYLAND. >> IF HE IS LIKE GLOBAL INFLATIONARY PRESSURES HAVE THE UPPER HAND. >> IT WILL TAKE A LONG TIME TO IMPACT THE ECONOMY.
>> I WONDER WHETHER WE WILL LOOK BACK AND SAY WE WERE IN A RECESSION. WE ARE ALREADY IN A RECESSION. >> THIS IS "BLOOMBERG SURVEILLANCE" WITH TOM KEENE, JONATHAN FERRO, AND LISA ABRAMOWICZ. JONATHAN: A CHORUS OF NEGATIVELY THERE. FROM NEW YORK CITY, GOOD
MORNING. FOR OUR AUDIENCE WORLDWIDE, THIS IS "BLOOMBERG SURVEILLANCE." T.K. OUT OF THE BUILDING. IN THE SEA, DAMIAN SASSOWER -- IN THE S EAT, DAMIAN SASSOWER. THE PUSH BACK AGAINST THESE FORECASTS. BANK OF AMERICA SAYING THE FED
FUNDS FORECAST NOW MAKES SENSE. THERE GROWTH AND INFLATION FORECAST DO NOT. LISA: FOR THEM TO ACHIEVE LOWER INFLATION KEVIN -- GIVEN WHAT THEY WANT TO DO ON THE RIGHT SIDE, THEY HAVE TO REDUCE SLOWDOWN IN DEMAND. THAT WILL BE INCREDIBLY PAINFUL. THAT HAS BEEN THE PROJECTION FROM SO MANY INVESTORS BECAUSE THE INPUT ON THE SUPPLIES I HAVE NOT CONTRIBUTED TO A SOFTENING ON INFLATION.
WITHOUT THAT, IT COULD BE A PAINFUL PERIOD. YOU ASKED THE QUESTION HOW LONG AND HOW DEEP? JONATHAN: CHAIRMAN POWELL SPEAKING LATER. DO WE EXPECT ANYTHING FROM THAT? LISA: IF HE TAKES QUESTIONS, I AM SURE PEOPLE WILL BE ASKING HOW DO YOU VIEW THESE PROJECTIONS, THE AMOUNT OF PAIN THE U.S. ECONOMY WILL HAVE TO EXPERIENCE
IN ORDER TO DAMPEN INFLATION. BUT HE SAID WHAT HE WILL SAY, NOW WE HAVE TO WAIT AND SEE. JONATHAN: IT IS TOUGH. IF YOU ARE A CENTRAL BANKER, LEADER OF THE FED, YOU CANNOT FORECAST A RECESSION EVEN IF YOU THINK THERE WILL BE ONE, RIGHT? DAMIAN: I THINK THERE WERE GOOD WORDS, "FANTASYLAND." THE FEDPUT IS IN HIBERNATION, SO AT WHAT SPREAD LEVEL IS IT, WHAT LEVEL IS THE FED WILL COME BACK AND BACKTRACK ASSET PRICES. JONATHAN: I SAY IT IS IN RETIREMENT. WHAT BRINGS OUT OF RETIREMENT? IS IT THE MARKET OR IN THE ECONOMY, THE ECONOMIC DATA? I AM THINKING MORE ABOUT LABOR MARKET DATA. DAMIAN: I THINK IT WILL BE SPREADS.
I THINK IT WILL BE LIQUIDITY DRIVEN. THERE WILL BE PROBLEMS IN THE PLUMBING, AND THE FED WILL HAVE TO ACT. JONATHAN: WE SAW THAT IN THE BACK END OF 2018, THE PRIMARY MARKET FOR HIGH-YIELD.
NO ISSUANCE THROUGH THE WHOLE MONTH OF DECEMBER. WHAT DO YOU SEE RIGHT NOW? LISA: SOME PEOPLE HAVE SPECULATED ABOUT THIS. OTHERS ARE STARTING TO BUY IN BULK OR THEY ARE PROVIDING THAT LIQUIDITY BECAUSE SUDDENLY A .5% YIELDS ON JUNK BONDS -- 8.5% ON YIELDS -- 8.5% YIELDS ON JUNK BONDS LOOK GOOD. JONATHAN: I'VE HEARD ONE COMPLAINT FROM THE AUDIENCE -- JUST SO FAR. I AM SURE THERE IS MORE TO COME. NOT ENOUGH GOLF TALK IN THE PREVIOUS HOUR. DAMIAN:
RORY MCILROY. ONE STROKE OFF THE LEAD. I AM ROOTING FOR HIM THIS WEEK. BUT THERE ARE OTHER PLAYERS -- JOHNSON & JOHNSON -- LISA: WAS THAT TOM COMPLAINING? JONATHAN: TOM AND SOMEONE ELSE AS WELL. THEY JUST WHAT THE GOLF TALK. MAYBE I DO, TOO. PHIL MICKELSON, HE GOT A DECENT RECEPTION. I THOUGHT HE WOULD PERHAPS GET
SOME JEERING, BOOS. DAMIAN: HIS B PUTTING COULD HAVE USED MORE CHEERING. I THINK HE ENDED 8 OVER PAR. I DO NOT THINK HE WILL MAKE THE CUT. JONATHAN: HE IS MAKING HIS MONEY ELSEWHERE AT THE MOMENT, AS WE KNOW.
DAMIAN SASSOWER ON THE SEAT, TOM KEENE AWAY. THE NASDAQ 100 UP A LITTLE MORE THAN 1%. YIELDS HIGHER A COUPLE BASIS POINTS. IF I HAD TO PICK AN ASSET CLASS RIGHT NOW -- FOREIGN EXCHANGE IS FASCINATING. EURO-DOLLAR NATIVE -- NEGATIVE. LISA: DOLLAR STRENGTH COMING THROUGH AFTER THE FED SIGNALED THEY WILL DO WHAT IT WILL TAKE. BUT THE STICKINESS OF 1.05 I FIND INTERESTING AFTER THE FED
-- ECB CAME TO -- SEEMED TO SUPPORT BOND YIELDS. HERE'S WHAT I AM WATCHING. 8:30, PRESIDENT BIDEN HOSTING THE MAJOR ECONOMIES FORM ON ENERGY AND CLIMATE. HE RAN ON THE GREENIFICATION OF THE ENERGY SYSTEM, AND HERE WE ARE WITH GAS PRICES EXCEEDING $5 A GALLON, AND THIS IS BECOMING A MAJOR PROBLEM FOR HIM, GIVING A HOW -- GIVEN HOW MUCH IT EATS INTO THE DISPOSABLE INCOME PARTICULARLY OF THOSE ON THE LOWER INCOME BRACKETS. WE HEAR FROM FED CHAIR JAY POWELL. YOU ASKED IF I WOULD -- WE WOULD HEAR ANYTHING OF SUBSTANCE ABOUT WHAT WOULD CAUSE THEM TO RETRACE RATE HIKING -- HE WILL TALK ABOUT THE DOLLAR AND THE STRENGTH OF IT. HOW MUCH THEY START TO LOOK AT
THE INTERNATIONAL RULE AND THE DISRUPTIONS THEY COULD SEE OUTSIDE THE U.S. AS THE DOLLAR DOES CONTINUE TO STRENGTHEN. THAT IS ONE THING HE COULD TALK ABOUT. 9:15 A.M., U.S. INDUSTRIAL PRODUCTION. HOW MUCH DO WE -- POSSIBLE EASING OF INFLATION THAT COMES FROM NOT SIMPLY DAMPENING DEMAND CARE THIS IS WHAT PEOPLE SECRETLY HOPE. THEY SAY WE SEE INFLATION SURPRISE TO THE UPSIDE, BUT THERE IS A SUBTLE TRANSITORY FEEL THAT IS STILL ALIVE AND SOME OF THE DISCUSSIONS YOU HEAR. JONATHAN: FOLLOWING UP ON THAT DATA,
RESPONDING TO IT, WE WILL CATCH UP WITH MOHAMED EL-ERIAN ABOUT 9:00 EASTERN TIME. THE SCORES RIGHT NOW LOOKING LIKE THIS -- THE DOW DOWN 17%. WON'T BE DOING THAT AGAIN. THE NASDAQ DOWN 32% YEAR-TO-DATE. JOINING US NOW VICTORIA FERNANDEZ, CROSSMARK MOBILE INVESTMENTS. -- GLOBAL INVESTMENTS.
ARE YOU BUYING TECH STOCKS YET? VICTORIA: LOOK AT HOW FAR THE NASDAQ IS DOWN AND LOOK AT INDIVIDUAL STOCKS IN THE NASDAQ AND HOW SOME OF THESE INDIVIDUAL STOCKS HAVE COME DOWN. IN -- NVIDIA DOWN 40% YEAR TO DATE. BUT LOOKING AT A COMPANY GROWING WITH THEIR DATA CENTER, THERE GAMING. THERE IS A LOT OF COMPANIES WITH STRONG BALANCE SHEETS OUT THERE WHO HAVE TAKEN A SIGNIFICANT HIT AS YIELDS HAVE MOVED HIGHER. I THINK YOU CAN GO IN AND BE OPPORTUNISTIC AND ADD NAMES. IT IS NOT JUST IN THE TECH
SPACE. YOU CAN DO IT ACROSS THE BOARD. BUT YOU HAVE TO CHOOSE QUALITY COMPANIES. DON'T JUST GO ALL-IN ON ONE SECTOR. LISA: YOU DO NOT BELIEVE THE RECESSION TALK, BELIEVE THE U.S. CAN AVOID ONE. WHY? VICTORIA: PROBABILITY OF A RECESSION WENT UP OVER THE LAST 48 HOURS OR SO, BUT I DO NOT THINK WE WILL HAVE A RECESSION THIS YEAR.
I STILL THINK THE UNDERLYING FUNDAMENTALS IN THE ECONOMY, IF WE LOOK AT HOUSEHOLD BALANCE SHEETS -- I KNOW WE HAVE GAS PRICES GOING HIGHER, AND THAT HAS TAKEN A BIG HIT, BUT WHEN YOU LOOK AND SPLIT UP BALANCE SHEETS, HIGHER WAGE EARNERS ARE DOING PRETTY WELL. THEY RESPOND MORE WELL TO HOUSEHOLD WEALTH AND FOOD OR COMMODITY PRICES. THEY ARE STILL STRONG. CORPORATE BALANCE SHEETS ARE STILL GOOD. WE HAVE NOT SEEN EARNINGS EXPECTATIONS COME IN YET. THAT IS SOMETHING WE WERE LOOKING FOR TO MAYBE THINK RECESSION IS CLOSER TO NEXT YEAR, SO WE ARE STICKING WITH NEXT YEAR ON THAT. THE LABOR MARKET, YOU HAVE
TALKED ABOUT IT ALL MORNING. IT IS STILL STRONG, EVEN THOUGH THE FED IS TRYING TO BRING THAT DOWN A BIT TO HELP INFLATION. WE DO NOT SEE A RECESSION THIS YEAR. WE WOULD SEE IT MORE LIKELY THE SECOND HALF OF NEXT YEAR. BUT THINGS CAN CHANGE QUICKLY. DAMIAN:
IF THE FED INDEED ENGINEERS A SOFT LANDING -- "IF," BY THE WAY -- INFLATION IS UNLIKELY TO RETURN TO PRE-COVID LEVELS ANYTIME SOON. WHAT ASSET CLASSES IN THE ENVIRONMENT, SPECIFICALLY IN ASSET CLASSES -- VICTORIA: WE HAVE BEEN SHORT DURATION FOR AN EXTENDED PERIOD OF TIME, WHICH HAS WORKED WELL FOR US LATELY. WHAT WE HAVE STARTED DOING IS EXTENDING DURATION, BUILDING UP SOME OF THAT CREDIT. YOU TALKED ABOUT YIELDS EARLIER, TALKED ABOUT SPREADS WITH HIGH-YIELD AND INVESTMENT-GRADE. JUST LIKE WE LIKE QUALITY AND EQUITY, WE LIKE FIXED INCOME. WE'RE LOOKING AT HIGH QUALITY, INVESTMENT-GRADE CORPORATES.
WE ARE GETTING MORE YET ON THEM NOW, ADDING SOME OF THOSE TO OUR PORTFOLIOS. WE ARE DOING THAT WILL TRYING TO EXTEND DURATION A LITTLE BIT TO GET CLOSER TO NEUTRAL, BECAUSE WE DO THINK WE PERHAPS HAVE SEEN THE PEAK IN YIELDS AT 350 ON THE 10 YEAR TREASURY, AND WE WILL START TO SEE YIELDS AT A LOWER LEVEL. IF WE CAN BUILD IN SOME OF THE YIELD NOW AND LOCK IN THE PORTFOLIOS, I THINK YOU ARE WELL-POSITIONED. JONATHAN: HOW DO YOU EXPECT THAT
RELATIONSHIP, THE CORRELATION BETWEEN RISK ASSETS AND TREASURIES, TO DEVELOP THROUGH THE SUMMER? VICTORIA: ONE OF THE THINGS -- ACTUALLY TWO OF THE THINGS -- WE ARE WATCHING, ENERGY AND 10 YEAR YIELD. THEY USUALLY PEAK HIGHER -- PRIOR TO DATA PEAKING. HAVE WE SEEN THAT? WE DO NOT KNOW YET. IF WE CAN SEE THEIR PEAK IN YIELDS AND START TO SEE YIELDS MODERATE A LITTLE BIT, THAT SHOULD BE SUPPORT FOR THE EQUITY MARKETS OVER. THE SUMMER MONTHS. JONATHAN: AWESOME TO HEAR FROM YOU. VICTORIA FERNANDEZ OF CROSSMARK
GLOBAL INVESTMENTS. WHO SAID IT A COUPLE WEEKS AGO, WHO SAID BONDS ARE BACK? SCOTT MINERD SAYING HE WAS THINKING THE LONG END OF THE BOND MARKET AS WELL. LISA: -- WE SAW THAT YESTERDAY. LOOKING AT THE BANK OF AMERICA MERRILL LYNCH MOVE INDEX, AND THAT IS STILL INCREDIBLY ELEVATED. LOOKING AT LEVELS GOING BACK TO 2020 -- WE HAVE NOT SEEN THESE LEVELS OF IMPLIED VOLATILITY, SO IT MAY BE A LITTLE SOON TO SAY WE HAVE SEEN THAT PEAK, ESPECIALLY AS PEOPLE REJECT OUT. JONATHAN: TO BUILD ON THAT, I THINK I HEARD SOMEONE CALL THE TOP ONE YIELDS 20 DIFFERENT TIMES OVER THE LAST MONTH, THEN WE BREAK OUT AGAIN. DAMIAN:
MARKETS ARE PRICING IN A 9% CPI PUT. IF WE BREAK TO 356, THAT IS WHEN THINGS GET MESSY. JONATHAN: WHAT WOULD YOU LOOK TO AFTER THAT? DAMIAN: 375. JONATHAN: COULD YOU IMAGINE 4%? I HEAR THIS A LOT IN THE EQUITY MARKET -- WE HAVE ADJUSTED TO THE RATE STORY, FULLY ADJUSTED, NOW IT IS ABOUT RAY EARNINGS. DO YOU THINK WE HAVE? LISA: IF WE GET 4% 10 YEAR YIELD, EVERYTHING CHANGES THAT WILL BE A GAME CHANGER.
WHAT I AM STRUGGLING WITH -- BRENT. HOW WILL THEY COME DOWN? WE ARE NOT EVEN SEEING HOUSING PRICES COME DOWN THAT FAST. IF PEOPLE ARE PRICED OUT OF BUYING HOMES, THEY WILL STAY IN THEIR HOMES, RENT MORE. JONATHAN: JONATHAN GOLUB OF CREDIT SUISSE WILL JOIN US AND TRY TO MAKE SENSE OF IT ALL. HE HAS A MORE CONSTRUCTIVE MARKET.
UP 0.9% ON THE S&P 500. THIS IS "BLOOMBERG SURVEILLANCE ." RITIKA: KEEPING YOU UP-TO-DATE WITH NEWS FROM AROUND THE WORLD WITH THE FIRST WORD, I'M RITIKA GUPTA. PRESIDENT BIDEN WILL CONVENE WORLD LEADERS FROM ROUGHLY TWO DOZEN COUNTRIES IN A SUMMIT TODAY IT FOCUSED ON PROPELLING THE FIGHT AGAINST CLIMATE CHANGE. THE VIRTUAL SUMMIT IS ON TRACK TO BE THE LARGEST GATHERING OF WORLD LEADERS ON CLIMATE.
PRESIDENT BIDEN WILL HIGHLIGHT THE WAR ON UKRAINE AS A NEED TO ACCELERATE CLEAN ENERGY. UKRAINE IS ONE STEP CLOSER TO BECOMING A MEMBER OF THE EUROPEAN UNION. THE EUROPEAN COMMISSION HAS RECOMMENDED UKRAINE BE GRANTED CANDIDATE STATUS, WITH CONDITIONS KYIV WILL HAVE TO MEET ON THE RULE OF LAW, JUSTICE, AND ANTICORRUPTION. IT IS SIGNIFICANT FOR UKRAINE, BUT THERE IS NO FAST-TRACK PATH TO SPEED UP THE ARDUOUS MEMBERSHIP PROCESS WHICH CAN LAST MORE THAN A DECADE. RUSSIA'S INVASION OF UKRAINE CAUSED ONE OF THE FASTEST AND LARGEST DISPLACEMENT OF PEOPLE SINCE WORLD WAR II AND HELPED PUSH THE NUMBER FORCED TO FLEE THEIR HOMES GLOBALLY TO THE HIGHEST ANNUAL LEVEL SINCE THE UNITED NATIONS BEGAN KEEPING TRACK. THE U.N. REFUGEE AGENCIES AT THE NUMBER OF PEOPLE DISPLACED AROUND THE WORLD TOP 100 MILLION, AND THE WHARTON UKRAINE HAS DISPLACED 8 MILLION PEOPLE WITHIN THE COUNTRY SO FAR IN 2022.
HONG KONG'S OUTGOING LEADER CARRIE LAM IS URGING RESIDENTS TO AVOID BANQUETS AND OTHER LARGE GATHERINGS I MADE A RESURGENCE OF COVID-19 BUT STOPPED FROM IMPOSING NEW RESTRICTIONS. LAM SAID THE NUMBER OF NEW DAILY INFECTIONS HAVE TOP 100 -- TOPP ED 100. GLOBAL NEWS 24 HOURS A DAY ON AIR AND AT BLOOMBERG QUICKTAKE, POWERED BY MORE THAN 2700 JOURNALISTS AND ANALYSTS IN MORE THAN 120 COUNTRIES. I'M RITIKA GUPTA. >> THE FED HAS SHOWN IT IS GOING TO HAVE TO BE VERY DATA DEPENDENT OVER DATA IT IS NOT NECESSARILY HAVE A GREAT DEAL OF CONTROL OVER. THE FED IS SOMEWHAT CAPTIVE TO
THE INCOMING INFLATION DATA THAT MATTERS A LOT. THAN THE GROWTH OUTLOOK IS. ALSO VERY UNCERTAIN. JONATHAN: THEIR CHIEF CROSS ASSET STRATEGIST AT MORGAN STANLEY, ANDREW SHEETS THERE. GOOD MORNING.
ALONGSIDE LISA ABRAMOWICZ, I AM JONATHAN FERRO WITH DAMIAN SASSOWER. YIELDS HIGHER ABOUT A COUPLE BASIS POINTS, 1.2162 -- 3.2162. IT HAS A 3 HANDLE NOW. THE EURO-DOLLAR NEGATIVE ABOUT ONE THIRD OF 1%. THIS STORY JUST CROSSING FROM THE WASHINGTON POST -- THE SECOND PARAGRAPH, BIDEN OFFICIALS TAKING A SECOND LOOK AT WHETHER THE FEDERAL GOVERNMENT CAN SEND REBATE CARDS OUT TO MILLIONS OF AMERICAN DRIVERS TO HELP THEM PAY AT GAS STATIONS. LISA: BUT THE SECOND OR THIRD LINE IS ALSO FASCINATING, THAT IN THE PAST, THEY HAVE REJECTED THIS IDEA BECAUSE OF A SHORTAGE IN CHIPS NEEDED TO MAKE THAT CARD. JUST HIGHLIGHTING HOW MULTIFACETED SOME OF THE SHORTAGES HAVE BEEN.
YOU COULDN'T MAKE UP THE FACT THAT THEY COULDN'T GET THE REBATE CARDS AND ENOUGH SUPPLY BECAUSE OF THE CHIPS. YOU REALLY WANT TO BASICALLY KEEP DEMAND AT THE SAME LEVEL? THIS IS THE EXISTENTIAL QUESTION. DO YOU WANT TO KEEP DEMAND AT THE SAME LEVEL AND HAVE THIS BE A SUPPLY LEVEL THAT CANNOT BE FIXED AND YOU END UP IN THIS INFLATIONARY SPIRAL, OR DO YOU GO AT THIS DIFFERENTLY? JONATHAN: EVEN IF THE ADMINISTRATION IMPOSED -- EMBRACES THIS PROPOSAL, IT WOULD REQUIRE CONGRESSIONAL APPROVAL. DAMIAN:
I HAVE TO DRAW A COMPARISON -- REALLY TO THE MIDDLE EAST. QUITE HONESTLY, FUEL SUBSIDIES WORKER THERE. THEY HAVE SUPPRESSED INFLATION NICELY IN PLACES LIKE SAUDI ARABIA,, QATAR. THAT IS THE ONLY WAY WE WILL GET THIS ECONOMY RIGHT SIDE. JONATHAN:
IT HELPS IF YOU ARE THE STATE PRODUCER AND MAKE MONEY EXPORTER TO EVERYONE ELSE AND/OR OUT SUBSIDIES DOMESTICALLY. PRETTY SURE HOW THAT'S THAT IS HOW IT WORKS. DAMIAN: THE FACT OF THE MATTER IS IT IS NOT JUST FUEL SUBSIDIES, IT IS FOOD SUBSIDIES.
IF YOU LOOK WHAT IS HAPPENING IN PAKISTAN, SRI LANKA -- IT IS A BIG DEAL. THAT SOCIAL INSTABILITY -- MANY OF YOU GUYS KNOW I AM IN EMERGING MARKETS GUIDE. I HAVE TO TELL YOU, THINGS ARE GETTING FAR WORSE. JONATHAN: LET'S GET TO EMILY WILKINS IN D.C. SOARING GAS PRICES LEAD THE WAY, WHITE HOUSE AIDES BACK TO BRAINSTORMING. WHAT ARE THEY COMING UP WITH? EMILY: AT THIS POINT, YOU HAVE TO KNOW THERE IS THIS IDEA OF POTENTIAL GAS CARDS. THEY HAVE TALKED ABOUT A GAS
TAX HOLIDAY, BUT THAT IS SOMETHING YOU SAW HOUSE SPEAKER NANCY PELOSI SHUT DOWN, SAYING WE ARE NOT SURE IF WE TRY TO GIVE THIS GAS TAX HOLIDAY, COMPANIES MAY NOT PASS IT ALONG TO CONSUMERS. THEY'RE LOOKING AT OTHER POTENTIAL REVENUE AVENUES. -- CERTAINLY SOME EYEBROWS BEING RAISED ABOUT THE PROPOSED TRIP TO SAUDI ARABIA AND WHAT IT COULD MEAN FOR THE U.S. GOING FORWARD. LAWMAKERS ARE FEELING THE PRESSURE TO DO SOMETHING HERE ON GAS PRICES.
I ALMOST WONDER WHETHER WE WILL SEE SOME LEGISLATION THAT WILL HAVE SUBSIDIES OR POTENTIAL GAS CARDS, EVEN IF IT IS SOMETHING THAT IS ABLE TO PASS THE HOUSE OR NOT ABLE TO GO FORWARD IN THE SENATE, JUST SO DEMOCRATS CAN SAY WE ARE TRYING TO DO SOMETHING. LISA: THERE IS A SORT OF UNSPOKEN TRUTH THAT COME AT A CERTAIN POINT, PEOPLE WILL START RATIONING HOW OFTEN THEY TRAVEL. THEY WILL START REDUCING CERTAIN ASPECTS OF THEIR LIFE IN ORDER TO OFFSET HIGHER COSTS.
AT WHAT POINT WILL THE ADMINISTRATION LIEN INTO THAT AND SAY, IF WE CAN ALL BASICALLY TURN OFF THE LIGHTS, AS WE WERE TALKING ABOUT EARLIER, TAKE FEWER TRIPS, THAT WILL ACTUALLY EASE THE PROBLEM ITSELF? EMILY: IT WILL BE INTERESTING TO SEE. INITIALLY, THE BIDEN ADMINISTRATION DID BEGIN TO TALK ABOUT IT IN THOSE TERMS. THEY SAID THEY ARE HIGH SUPPORT IN THE U.S. FOR THE WAR GOING ON IN UKRAINE, HIGH SUPPORT FOR UKRAINE. PEOPLE HAVE TO PAY A LITTLE BIT
EXTRA AT THE PUMP SO THE U.S. CAN MAKE SURE WE ARE NOT GETTING RUSSIAN OIL, THAT THAT MIGHT BE SOMETHING PEOPLE WOULD BE INTERESTED IN. THAT WAS BEFORE YOU SAW GAS PRICES GET QUITE AS HIGH AS THEY ARE NOW AND REALLY TRICKLE INTO INFLATION AND OTHER ITEMS, LIKE FOOD, GROCERIES, ANYTHING THAT NEEDS TO BE TRANSPORTED. I THINK IT IS A MAJOR CONCERN, AND I WOULD NOT RULE OUT ANYTHING AT THIS POINT, BECAUSE THE BIDEN ADMINISTRATION AND DEMOCRATS IN GENERAL KNOW THAT IT IS SUCH A PROBLEM THAT THEY HAVE TO COME UP WITH SOME SORT OF SOLUTION. I THINK THERE WAS INITIALLY A HOPE YOU WOULD SEE BIDEN TAP INTO THE FEDERAL RESERVE, THAT YOU WOULD SEE LAWMAKERS TRY TO TAKE SMALLER MEASURES TO ADDRESS IT, AND YOU MIGHT SEE PRICES GO BACK DOWN, BUT THAT HAS NOT HAPPENED. IT IS SUMMER, YOU HAVE FAMILIES
LOOKING TO TAKE THESE TRIPS, AND YOU HAVE GAS PRICES THAT ARE REALLY PROHIBITIVE FOR A NUMBER OF PEOPLE TO DRIVE AS FAR AS THEY WOULD LIKE TO. DAMIAN: CAN YOU CLARIFY -- I SEE PRESIDENT BIDEN REACHING OUT, TRYING TO MEND FENCES WITH IRAN, VENEZUELA, NOW SAUDI ARABIA. YET, ON THE FLIPSIDE, HE IS ACCUSING EXXON MOBIL AND DOMESTIC PRODUCERS OF PRICE GOUGING. IS THIS PLAIN OLD POLITICS? EMILY: THERE IS CERTAINLY SOME POLITICS COMING INTO HERE. THIS IS WASHINGTON, D.C. DEMOCRATS HAVE MADE A KHAKI ELATION THAT MOST AMERICANS ARE NOT SUPER BIG FANS OF MAJOR CORPORATIONS, THAT IT WILL BE EASY TO PIN THE BLAME ON THEM, PARTICULARLY FROM SOME OF THE REVENUES WE HAVE SEEN FROM THESE COMPANIES.
THAT EXXON NUMBERS LED TO ANOTHER ROUND OF THE WHITE HOUSE SAYING WHY ARE PROPHETS SO BIG, WHY IS IT NOT BEEN PASSED DOWN TO CONSUMERS? THE WHITE HOUSE SORT OF LOOKING EVERYWHERE FOR IF THERE'S ANY REVENUE THEY CAN -- THEY ARE TRYING TO FIGURE OUT WHAT THE SOLUTION WILL BE AND IF THEY CAN GET PRICES DOWN OVER THE NEXT COUPLE MONTHS BEFORE THE NOVEMBER ELECTION. JONATHAN: EMILY WILKINS OF BLOOMBERG GOVERNMENT. WE WANT TO TAKE THE AUDIENCE BACK TO THE END OF LAST YEAR, END OF OCTOBER WHEN THE ENERGY SECRETARY CAME ON THIS PROGRAM AND WE ASKED WHAT YOU COULD DO DRAMATICALLY TO BOOST OUTPUT, AND WHAT DID WE HEAR? LAUGHING. I DO NOT WANT TO UNDERSTAND WHAT HAS GONE FROM BLAMING OPEC TO NOW BLAMING DOMESTIC PRODUCERS WHEN, SIX MONTHS AGO, WE HAD A SIMILAR STORY, AND RUSSIA WAS NOT A FACTOR, OF COURSE -- WE CAN ADDRESS INTO THAT -- BUT WE CAN SEE THE ELECTION OF TRAVEL.
ENERGY PRICES WERE ALREADY ELEVATED AT THE PUMP, OUT OF THE GROUND DRILLING, ALL OF THE ABOVE, YET WE GOT LAUGHED AT WHEN IT CAME TO PRODUCING -- BOOSTING REDUCTION AT HOME, AND NOW IT IS ALL ABOUT DOMESTIC PRODUCTION. DAMIAN: EMILY DID A GOOD JOB OF AVOIDING IT. WE ARE TALKING TAXES AND TARIFFS -- THAT IS WHAT THE MARKET BELIEVES. THE MARKET BELIEVES BIDEN IS PICKING HIS SPOTS, AND HE WOULD RATHER REACH OUT TO UNSAVORY ACTORS AS OPPOSED TO DOMESTIC PRODUCERS. THAT IS A REPUBLICAN STRONGHOLD. DEFINITELY A -- JONATHAN: FUTURES UP 1% ON THE S&P 500.
THE PRESIDENT, SEEMINGLY, WOULD RATHER GO SEE THE CROWN PRINCE JONATHAN: FUTURES POSITIVE BY MORE THAN 1% ON THE S&P. NASDAQ UP BY .4. LOSSES DOWN BY 6%. BIGGEST WEEK IN CLOSE. IT IS BEEN THAT BAD, WHAT IS INTERESTING ABOUT YESTERDAY, WE HAVE ENERGY CRUDE RALLYING, ENERGIES FALLING. LISA: THERE WAS A HOST OF SELLING PEOPLE DIDN'T UNDERSTAND YESTERDAY. YOU DO WONDER WHETHER PEOPLE ARE SELLING WHAT THEY CAN, MAYBE NOT WHAT THEY WANT AT A TIME WHEN IT IS UNCLEAR WHAT THE TRAJECTORY OF THE ECONOMY IS GOING TO LOOK LIKE. JONATHAN:
WHERE THE PROFITS HAVEN'T BEEN IS BIG TECH. BACKING UP THE TRUCK FOR STOCKS LIKE AMAZON, WE WILL THINK ABOUT THAT. THE BOND MARKET STORY, TO YEAR YIELD ON THE WEEK, HIGHER BY 40 BASIS POINTS ON A WEEK LAST WEEK THIS WEEK, UP NINE, INCLUDING THREE OR FOUR BASIS MOVES TODAY.
ARE THEY GETTING SOMETHING DONE ON THE PERIPHERY? 240, ITALY OVER JOURNEY. RIGHT NOW, SUB 200. THEY ARE PLANNING TO MAKE A PLAN, THEY HAVEN'T YET. THERE IS A COUPLE OF STEPS TO GO. WILL WORDS BE ENOUGH TO CAP WHAT IS HAPPENED IN THIS BOND MARKET? LISA: WE HAVE HEARD THEY ARE GOING TO FRONTLOAD REINVESTMENT OF THE FED -- THEY ARE GOING TO POTENTIALLY INCREASE THEIR NEAR-TERM PURCHASES. THAT COULD POTENTIALLY OFFSET THIS.
IT IS HARD FOR ME TO IMAGINE NOT TO FOLLOW-UP, IT WOULD NOT HAVE THE EXACT OPPOSITE EFFECT. JONATHAN: GERMAN 10 YEAR BUND, A HUGE TURNAROUND. ABOUT 167, WE WERE AT -17 BASIS POINTS AT THE END OF LAST YEAR ON A GERMAN 10 YEAR. IN ITALY LAST SUMMER, 50 BASIS POINTS ON AN ITALIAN 10 YEAR. A CHANGE WE HAVE SEEN THE LAST
10 MONTHS -- 12 MONTHS HAS BEEN MASSIVE. LET'S SAY GOOD MORNING TOUGH ROMAIN. ROMAINE: SOME INVESTORS ARE TRYING TO NIBBLE, FUTURES BEING HIGHER, BIG TECH NAMES MOVING HIGHER. APPLE UP A PERCENT, NVIDIA AND SHIP SEMICONDUCTOR NAMES UP TO PERCENT. HOW MUCH CONVICTION IS THERE IN SOME OF THOSE NIBBLES, IS IT GOING TO BE BROAD-BASED IN A MARKET WHERE WE SEE A LOT OF DECLINING LIQUIDITY AND STAKES IN THE ECONOMIC TRAJECTORY? THERE IS OPTIMISM WHEN IT COMES TO CHINESE TECH STOCKS, ALIBABA SHARES UP BY ALMOST 10% ON THE BACK OF THAT REUTERS REPORT THAT THE CHINESE GOVERNMENT WOULD ALLOW -- TO MOVE FORWARD WITH EARLIER PLANS TO CONVERT TO A THIN TECH COMPANY AND HAVE THAT IPO. ALIBABA, J.D..COM, A LOT MOVING HIGHER IN THE PREMARKET. AT THE END OF THE DAY, IT COMES
DOWN TO THE COMMENTARY FROM THE EXECUTIVES. WE DID HEAR FROM THE HEAD OF THE RETAIL DIVISION, THEY ARE SEEING A LOT OF MUTED GROWTH WITH PEOPLE NOT OPENING UP THEIR POCKET BOOKS AND SPENDING. WE HEARD FROM U.S. DEALS, WHICH RAISED ITS PROFIT FORECAST FOR THE YEAR, SEEING SHARES HIGHER BY 7%. THERE ARE SEVERAL ANALYSTS
SAYING THIS IS A TEMPORARY BOOM FOR THAT COMPANY, ENJOY IT WHILE IT LASTS. WE WILL BE INTERESTED TO SEE THAT SHARE ACTION, IF IT LASTS. BLOW OUT QUARTER BY ANY STRETCH OF THE IMAGINATION, THEY DID REVISE GUIDANCE BY A RELATIVELY MODERATE AMOUNT.
17 POINT 7 BILLION IN SALES FROM A PREVIOUS FORECAST OF $17.9 BILLION. A LOT OF CONCERN AS PEOPLE START TO WORRY ABOUT THE BACKLOG WITH A LOT OF THESE COMPANIES THAT PITCHED BEING RECESSION PROOF. THE IDEA I.T. SPENDING WOULD KEEP COMPANIES AFLOAT, AND A LOT OF CONCERN THAT MAY NOT BE THE CASE. KEEP AN EYE ON REVLON SHARES, UP 67% AFTER THAT BANKRUPTCY FILING ON WEDNESDAY. A LIFELINE COULD BE THROWN TO THIS COMPANY.
RELIANCE INDUSTRIES IN INDIA, A STUNNING REPORT, THEY COULD BE INTERESTED IN BUYING REVLON. JONATHAN: LOOKING FORWARD TO THE CLOSE LATER WITH ROMAIN. FROM MICHAEL MCDONAGH HUGH, IN JANUARY, A MONTHLY MORTGAGE PAYMENT BASED ON MEDIAN EXISTING HOME PRICE WAS $1200. IT IS PUSHING $2000. THAT IS THE BIG CHANGE WE FACE.
LISA: PEOPLE BASE COSTS IF THEY WANT TO BUY A HOME WITH A MORTGAGE, HAVE BASICALLY DOUBLED IN THAT PERIOD OF TIME WHAT ARE THE CONSEQUENCES? JONATHAN: HAMMERED. SMASHED. STOCKS ARE BRUTAL. >> THE INDICATOR I LOOK AT IS THE PROPRIETARY INDEX OF WESTCHESTER HOME PRICE SENTIMENT. YOU NO LONGER HAVE CONTINGENCIES, YOU CANNOT WAIVE YOUR RIGHT TO INSPECTION OR WHETHER OR NOT THE BANK IS GOING TO GIVE YOU A LOAN.
THESE ARE NEGATIVE FACTORS THAT ARE WEIGHING ON THE HOUSE MARKET. JONATHAN: THANK YOU. CHIEF GLOBAL ECONOMIST OF MORGAN STANLEY, BANK OF AMERICA SAID THE FED FUNDS FORECAST SINCE, GROWTH IN INFLATION FORECAST DO NOT. THEY THINK FED IS TOO OPTIMISTIC ON THOSE FRONTS. YOU -- DO YOU? >> WHAT THEY LAID OUT IN THEIR PRODUCTIONS -- PROJECTIONS IS PERFECT SOFT LANDING SCENARIO, THEY GET GROWTH TO COME DOWN A LITTLE BIT BELOW POTENTIAL AND GET THE UNEMPLOYMENT RATE TO RISE. OVER A FEW YEARS, AT THEIR ESTIMATE OF THE NATURAL RATE. THAT IS VERY ASPIRATIONAL, THAT IS WHAT WE SHOULD BE TRYING TO HIT. IT MAKES SINCE THEY WOULD WRITE
THAT DOWN AS THAT FORECAST, YOU HAVE GOT TO HAVE LUCK TO GO WITH GOOD POLICYMAKING TO GET THAT. LISA: BASED ON WHERE INFLATION IS, WITH THE ECONOMY HAVE TO GO INTO RECESSION TO GET WHAT THE FED IS TRYING TO ACHIEVE? SETH: YOU'VE GOT THE MOST DIFFICULT QUESTION HERE. OVER THE PAST YEAR, YEAR AND A HALF, HOW MUCH INFLATION IS THE UNDERLYING MACROECONOMIC INFLATION AND HOW MUCH OF IT IS AN ARTIFACT FROM THE RESTRICTIONS FROM COVID? THE FEDS FORECAST, THEY ARE BANKING ON A BUNCH OF DEBT GOING AWAY ON ITS OWN. ENERGY PRICES PRESUMABLY DO THAT , THEY STOP WHEN OIL PRICES STOPPED RISING. IT IS HARD TO SAY FOR SURE HOW
MUCH OF THE REST OF IT GOES AWAY ON ITS OWN. LISA: THE STEALTH TRANSITORY LINE OF THOUGHT. ONE
2022-06-20 17:14
Show Video
Other news