Bangkok to Philippines on Thai Airways Business Class, Airbus A350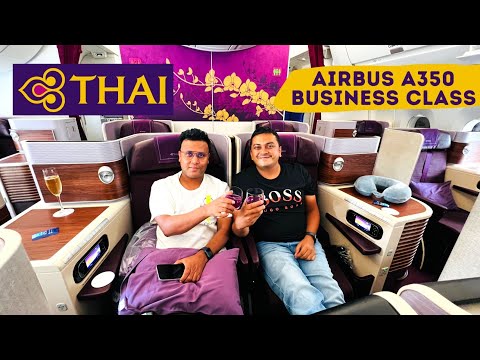 Show Video
Tech Travel Eat is off to its 20th country. We are going to Philippines from Bangkok after our Thailand videos. We are going to our 20th country by Thai Airways. We are going to travel by Thai Airways Airbus A350 business class. We have one more person joining us in our flight. I shall show you later. You might have seen our thumbnail. Its Saheerbhai. He is inside.
He flew from Bangalore by Thai Airways last night and reached here today. He is waiting inside. I shall go in and meet him. Welcoming all of you to a Thai Airways business class video.
I am at Bangkok Suvarnabhoomi airport. Our flight is at 2.30pm. Its only 9.30am. I came early because Saheerbhai is all alone inside. Thai Airways business class and first class passengers have a special check in counter Star Alliance gold members get special check in counters too. You can do your immigration and check in can be done on priority This is the bag drop counter. You just have to sit and relax.
You have to show your vaccination certificate, Philippines QR code registered in their site. Should show your return ticket, covid test result or antigen result. Thats it. When you show all these, they take your bags and give you the boarding pass Another important matter, mandatory. Take a travel insurance when you travel to any county. My bag weighs just 15.8kgs. Yesterday when I checked from Phuket, it was 18.
I didnt take anything out. The difference in each places machine. They have stuck a priority tag on my bag, I was the only one for security check in and immigration. Now I am here. You can see royal first and royal silk lounges here. Royal first lounge is for first class passengers.
Silk lounge is for business class and premium economy etc They say you have to go down for that. Before that lets check out the duty free. Thailand Suvarnabhoomi duty free is awesome. They have a lot of offers here. Its written if you buy that alcohol, you get the box free.
Rate is less. If you are traveling under Star alliance flights, like I have Air India membership. I have flying returns club membership. I have given that same number to Thai Airways Thats because it comes under Star Alliance. If I fly in this, I get my points in Air India membership card.
That increases my mileage. So when you travel under any star alliance flight, remember to give 1 company's number There is a souvenir shop here. I forgot to buy from Thailand. Shall buy one now. I dont see much of collections. But those who want something can buy from here. I got into a pharmacy and bought a pack of mask. There are 7 in it. 110 Bahts for 7 masks which is around 250 Indian rupees.
But they are awesome masks. Japanese masks. Does this remind you of anything? I think its the Buddhist version of our Palazhi Madhanam Looks awesome. How awesome it looks. Its that only. They have done it in their traditional way at the airport.
You can pause and read. This is huge. All will surely look at it and take pics too. You will have to walk a lot in the duty free here. I have already walked nearly 2kms I cannot walk anymore. Lets go to the lounge. I am very hungry.
Look at all this. Black label 800 Bahts, the other black label 900 Bahts. 800 Bahts means around 1700 Indian rupees. The best looking shops amongst duty free ones would surely be alcohol selling shops. How beautifully have they arranged the alcohol bottles here.
Anybody would be tempted or will buy them seeing the way they have displayed it. A small model of Airbus A380 is seen here. Looks so good. We have entered the lounge. Its awesome. Nothing to say. Too good. They have a wide buffet spread here. Let me search for SaheerBhai. He should be somewhere in here. Its not to crowded. I shall find out Saheer bhai and then explore food and the rest.
There wont be any boarding announcements in here. You have to go on time. I loved this lounge. Its awesome. I am sure there would be a shower room in here. Where is Saheerbhai? Is he sitting at another lounge? Where are you? He is sitting in another small lounge. I called and asked him to come here. If transit passengers are traveling in business class, they will provide lounge access. He got the access. He will come here now. There comes our Saheerbhai. Poor guy got stuck somewhere in the morning.
Had a tough time in the morning? I went to the washroom. Which lounge do you go to? Thats some normal one. Isnt this awesome? Here you can even sleep on the floor.
Did you have food.? No, then lets have. I am very hungry. That lounge is so simple. This is so good. Thai Airways lounge is one of the best in the world. This is the lounge toilet area. Due to covid, they have locked the shower area. So I cannot take a bath. Its sad for people on transit, who cannot even take a bath. Toilets are neat and clean.
Lets have breakfast now. Lets see what all do they have for us. Salads, cut fruits, desserts are seen here. Water bottles, tomato juice, they will make soup you want from here. Its shrimp wanton soup. Cutleries, desserts and snacks are here. Sausage rolls, Chicken curry puffs that taste just like what we get in our place.
Cooked rice in bowls A pork dish. A roast beef like steak. I think this is tom yam soup. Shall try one. Nice spread. They have drinks and beer in the refrigerator. Singa beer, water and juice. Cup noodles, hot water for any kind of tea you like Coffee machine to make coffee too. An awesome sofa to take rest. The dining table has plug points and USB charger.
Let me see how is the soup. They wrote spicy tom yam soup. Its not the coconut milk one. Its in plain stock. Awesome. Its typical Thai food. I was tensed on what would happen here. But they only asked me the needed documents. They didnt even ask me about my visa thought I am traveling to Philippines. They just stamped my passport and gave it to me like they are sending me off.
I took the roasted beef and a shrimp fry. Some salad and fruits too. Saheerbhai has taken tom yam soup. I took a chicken puffs. Its good. I liked it. They dont have a wide variety of food. But whats kept is neat and good.
You are all set. You have the ring too. I have to sleep Do you need that in a business class? You dont need it there. But its required at the lounge. Its 1.30pm. We are going to the gate from the lounge.
Boarding begins at 1.45pm. We have to walk 10-15mts since its a small airport Can see a China Airlines, many flights of Thai airlines. How about going to China. We can sit in the luggage box and go. You want be to be behind bars there? I bought one of this from the duty free shop. We will be going to Manila today in this Airbus A350 of Thai Airways The gate is open. Lets go down from here. Since its a big flight, there will be a rush. Most of them traveling to Philippines only.
I am super excited for Airbus A350. I think I am going to travel in a 350 flight for the first time. Anyways first time in Thai Airways flight. Our boarding has begun.
We are the first passengers to get in. This is our way. Since we are business class passengers, we can get in separately from front We are getting in the flight like this. Yes, we have got it. This is our Thai airways business class flight. This is their economy class. 3 colours for each line. Awesome. A long stretched flight
This is our business class. We have taken 18F and 18E seats. You can see 2 kinds of seat in between. If you are traveling alone and dont want a window seat, you can take this. You will have good privacy. The other side sits alternate. If you are traveling as couples or friends, you can select these seats.
You can sit close to each other here. The rest here comes on both sides. Again you have a separate privacy seats in front. Seats are arranged as 1-2-1 configuration. Window seats are single seats. In that you have 2 types. This has less privacy.
The seat is on this side and you have the facilities on the other side. Here you have the seat near the window and the rest on this side. They have arranged it alternately. Less passengers in business class. Awesome. By placing the seats in this manner, they could implement more in number.
The leg space for this seat is there. Same for our seats too. You can stretch your legs in here. But the front seat is on the side. So they have saved space. The seat has a cover with Thai airways. Its all in purple colour.
A fresh sealed blanket is placed on all the seats. A pillow with Thai airways name and logo is also provided. They have given us a welcome drink. Its Thai signature drink they said. Thats also purple in colour.
Yummy. Cheers! A refreshing tissue, head set. They give it after we are seated. Its specifically written that it should be returned before leaving and not to take home Lets have a seat tour. You have an awesome di splay in front of you. 2 USB charging slots here. Lets see what all are there after the flight takes off.
This is my display and thats Saheerbhais display. This is the place to stretch your legs and rest. Sorry, I shall remove my shoes and then stretch my legs. Can rest your legs this way. The bed is a lie back one I guess.
If you press this button, your bed turns to be a full flat bed for you. Awesome. You can lie down this much. Thats nice. You can adjust it to any angle you want. Take off time, it should be this way. You can adjust only the leg rest too if you want. You have the reading lights and controls to others also on this side. You have a remote to control the display.
You can see a small display on the remote control too. Details of our flight is shown on it. We have a flying time of 3 hours from Bangkok to Manila.
Lights out here. Customized reading lamps switch. Lot of movies. Select which you want. More of Chinese, Thai and English. No Malayalam ones
What is this? Oh! Its our dining table. Awesome. Thats awesome. Its our tray table. The business class is empty. The tray table is designed in such a way to save space. Awesome planning. They have provided more of seat space in the area .
Instructions and rest are provided here. Lots of space here. You have space for the luggage and others here. I have kept the head set in here. Place for hand rest. You have a space to keep your shoes here. Nothing else can be kept I guess. Its like in the movie Kuberan. Dileep goes to a palace sometimes and then to his house. Like that we travel in business class sometimes and then economy.
When returning I will be going by Air Asia economy. The best was I had come to Singapore airlines 1st class reaching Mumbai also in 1st class. I stayed at a 1000/- hotel outside. I didnt even show that in the video.
After a first class travel, dont we have to stay at a star hotel? Yesterday after getting into the flight, I was like feeling not to reach soon. But when you get into an economy class, you wait to reach fast. Thats how you feel. They came and took our food order. We have ordered Thai style food. When you travel in Thai Airways, experience Thai food. We are returning from Thai, now its going to be Philippines Now we are going to Philippines. God knows if we can have the food there. Lets see.
I waited for 8 hours in this airport. One thing I didnt like in this flight is the seat belt. Its like the one in a car. This is not comfortable. You have to sit in comfort while traveling. This pokes our neck I dint like this but rest is fine.
This is for the comfort of lying down. Otherwise you may fall. May be true. It should be that way I guess. Boarding is done. Just 7 passengers in business class. Rest are empty. The only drawback I saw was there are thread like where you rest your legs.
I am on the side seat now. Its almost the same. You have more privacy here. You have the tray table and rest here. For those traveling alone, take this type of side seat. This is an awesome side seat.
The best is the seat near the window. You have the hand rest and others on the other side. Its a good screen like. Their safety instruction video was nice to watch. I think I am traveling in a 350 flight for the 1st time. Its a competitor flight to Boeing 787 Dreamliner.
One of the longest flight in time, 17 hours non stop from Singapore - New York is A350 flight They have such aircrafts with them. A350. Non stop flying for long distance. We are all set for take off. We are on the runway now. I dont know if you have noticed. At the time of take off, you feel sleepy or doze off slightly. I slept off from there and Saheerbhai dozed off here. First Thai smell comes, then Thai food comes.
First the smell comes and then food. Oh ok. Lets check out the wash rooms. Its bigger than the normal ones in a flight. You have the commode here. A place to change babies diaper.
A mirror like this. But I dont know whats the concept of having it here. It should have been here. To see your face, you have to bend down. I think its for the body. You can see your face here.
You have glasses, tissue papers, hand wash, moisturizer, cream etc. They have brought us our champagne and roasted almonds. They should be actually giving us a plate but I guess we just open and have it.
Before serving food, they are setting our table. They have placed a white towel of Thai airways on the table. I got my food. No food for him. Will come... A bowl of rice flipped down, Thai beef green curry. Spinach and few vegetables here.
Sea food salad and 2 desserts. Some kaju burfi like of cashewnut and an ice cream like. I dont know its name. Looks nice Garlic bread tastes awesome, some crackers and butter. Cutleries wrapped in white cloth. Nice ones. Dessert cutleries are separate.
A big spoon, fork, knife, tissue paper etc. Though there wasnt much in food menu selection, the presentation is awesome. Let me check out the main beef first. Its superb. Beef green curry tastes awesome. The cutleries, bowls and plates are all branded in the name Thai royal silk.
Even the cloth has the name. After food, a tea is a must right? They walk behind you asking what more do you want. They will pamper and feed us to the core and put us to sleep.
I had to spend 15000 Thai baht from here to Manila. Thats around 35-40000 Indian rupees I had to spend this much to do this video. Just for this video. Actually a space of business class can be converted to 3-4 economy. But the airlines targets on service too. They have business people traveling. They want them to travel again in the same flight. Isnt it true?
As soon as I got in, I went to see the economy. Thai airways economy is superb. They provided pillows and blankets in the economy. Very good service there too I liked it. Its a very good flight.
Are you writing an exam. This was an arrival card given to us at the immigration. You have to fill them to enter some countries.
Now the passports are all machine readable ones. I think this is for a document purpose. Only some countries ask for arrival card Foreigners coming to India return the card to the flight staffs. You may have to fill some on the way and sometimes after reaching the country. To enter Thailand, you have to fill in an application for visa on arrival.
Its always better to have a pen and few passport size photos while traveling. See how lucky my bag is. Its traveling on the other seat. I wont get any bill for that. How are you? Very fine.
We had lunch and now can lie down like this. Let the boss speak. Hi bro. How are you? Hope you are doing well. Let the boss speak. After having food, you can sleep well. You have a blanket also.
Its not so cold as to use a blanket. But still to take a photo, since they have given it to us. Isnt it bad if we dont use it at least once. Can you take this home? No you cannot. From Scoot, you can take it home. Thats because you have paid for it. We pay 1000/- for it. Thats why we can take it.
Wont anybody come to put us to bed? You will have to bring Swetha for that. So let me go to sleep? Goodnight. You can sleep well like this. My height is 5'8. My head is touching the board on top. But my leg doesnt touch there So a person who is 6 feet tall can sleep well in here. You can turn around and sleep comfortably too.
I paid 4 times than this to go by 1st class. I could have come in this only. What were you thinking? I was wondering if we could give the empty seats for rent. I will not cut this from this video.
You can hear music when you simply put the headset on you. I didnt play anything. Its AKG's. Its an awesome one. Saheerbhai was going to take a nap. We are not about to land. Get up. We are about to reach. We slept for around 30mts. Watched tv and video for a while, had food. All done. We experienced everything. The airhostess came and thanked each one of us in here.
We feel very happy when we are treated that way. Saheerbhai, wake up. We are about to reach. Philippines is a group of Island. Many of them like Indonesia, Maldives etc. We are going to a country with many islands. The biggest island there, the capital Manila is where we are going to now. Good that Saheerbhai slept. Too much of traffic at Manila. So we will take 30mts to land.
We are still going round and round in the sky. Can see it on the map. We are going to land. Saheerbhai was sleeping there. I have put my bed this side. 2 airhostess came and tried to wake him. He didnt get up. Then he woke up suddenly from deep sleep not knowing what to do. The cabin crew fellow came and arranged a seat for him. Put the belt for him and made him sit straight there.
Our flight flew at a speed of 250km/hr to land here on the airport runway. Wow! A smooth landing. Ninoy Aquino International airport is the name of this airport If we had landed on time, I could have shot the landing. But its late so its dark.
2.5hrs difference in time zone to India. Its 6.45pm here in Manila. 4.15pm in India This is my 20th country. So many people to welcome us. I am the first to get out at my 20th country trip. Done with immigration. I got my bag. Saheerbhais bag yet to come. Both of us have successfully entered Philippines.
My 20th country and what about yours? Shall count and tell them later. There was a joke at the immigration counter. Shall share that in tomorrow's video. Always the next video after reaching a country is on how to come here. See you with all those details in tomorrow's video. Bye bye.
2022-05-12 06:25
Show Video
Other news