'Bloomberg The Open' Full Show (08/31/2022)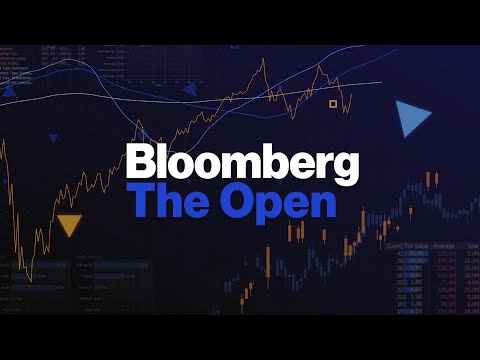 Show Video
JONATHAN: LIVE FROM NEW YORK, GOOD MORNING. THE S&P 500 IS DOWN ABOUT 3%, THE COUNTDOWN TO THE OPEN STARTS NOW. >> EVERYTHING YOU NEED TO GET SET FOR THE START OF U.S. TRADING. THIS IS BLOOMBERG THE OPEN WITH JONATHAN FERRO.
JONATHAN: LIVE FROM NEW YORK, WOULD BEGIN WITH THE FED. >> WE DON'T KNOW FOR THE LIFE OF THIS WHY PEOPLE BELIEVE IN THE FED. >> I THINK YOU ARE FIGHTING THE FED OF YOUR BULLISH. >> I DON'T THINK WE ARE FIGHTING THE FED. >> THIS MARKET IS NOT CLEAN-CUT. >> ANY GOOD NEWS GETS TAKEN
AWAY BY THE FED NEED TO HEIGHTEN. >> THEY ARE VERY AGGRESSIVE. >> WE'VE GOT SO MANY CONFLICTING SCENARIOS. >> THERE IS SOME RESILIENCE. >> SHORT-TERM INDICATORS ARE OVERSOLD.
>> MARKETS ARE LOOKING FORWARD. >> YOU HAVE TO BE PATIENT. JONATHAN: JENNY IS NOW IS EMILY HILL. IT WAS THE HEADLINE OF OUR CONVERSATION YESTERDAY, EIGHT GOT THE WEEK GOING.
THEY SAY YOU ARE FIGHTING THE IF YOU ARE BULLISH. >> I AGREE WITH THAT. I WAS SURPRISED AT THE MARKETS REACTION TO THE FED MEETING IN JULY AND I THINK THE PRIMARY REASON THAT JAY POWELL WAS SO STERN IN JACKSON HOLE WAS BECAUSE HE CLEARLY HAD NOT SENT ENOUGH OF A SIGNAL IN THE PRIOR MONTHS. I THINK FIGHTING THE FED IS A
FOOLISH IDEA AT THE MOMENT. JONATHAN: HOW IS THIS SHAPING YOUR RISK TOLERANCE? >> I THINK WE ARE TAKING A MORE OPPORTUNISTIC TOWN WHEN IT COMES TO MARKETS. YOU DON'T WANT TO CHASE THINGS HERE BUT AT THE SAME TIME, WHEN WE HAVE LIQUIDATION LIKE YOU SAW IN JUNE, YOU WANT TO BE IN A POSITION TO TAKE ADVANTAGE OF THOSE DISLOCATIONS.
I THINK WE WILL GET THOSE BUT THERE WERE -- WILL BE A LOT OF BACK-AND-FORTH WITH THE DATA. JONATHAN: DOES THAT MEAN YOU NEED TO HAVE SOME DRY POWDER? >> I THINK YOU WANT DRY POWDER BUT IT'S A QUESTION OF WHERE YOU PUT THAT CASH. AFTER DECADE OF NOT EARNING ANYTHING IN OUR BANK ACCOUNTS, YOU LOOK AT WHAT'S AVAILABLE IN THE CURVE IN THE MARKET IS PRICING OUT ALMOST 4% AND WE CAN CAPTURE THAT BY MOVING OUT THE CURVE JUST A LITTLE BIT WHETHER IT'S MUNI'S WORD TAXABLE'S. JONATHAN: IS THAT THAT MUNI STORY OR CREDIT? THEY ARE GOING TO GET RAISED TO 4% BUT WE ARE GETTING PRETTY WEAK DATA SO CAN YOU HELP ME UNDERSTAND WHERE YOU WANT TO TAKE THE RISK ON THE CURVE? IS IT CREDIT? >> YOU CAN DO BOTH DEPENDING ON YOUR OWN RISK TOLERANCE. I THINK BETTER QUALITY CREDIT IN THE I.T. SPACE, MORTGAGES LOOKS VERY ATTRACTIVE HERE ALSO IF HE BEEN LOOKING TO PUT TAX-EXEMPT MONEY IN THE TWO-YEAR SPACE COME YOU CAN EARN 2.25% IN THE MUNI SPACE WHICH YOU DOUBLE AT THE HIGHEST
TAX BRACKET. IN CREDIT, YOU WILL HAVE A HEAVY SUPPLY MONTH WHEN IT COMES TO BANK LOANS AND PERHAPS HIGH YIELD. I THINK PEOPLE ARE SITTING IN CASH WAITING FOR THAT WHETHER IT ENDS UP DISAPPOINTING OR NOT OR WHETHER PEOPLE FEEL THEY HAVE TOO MUCH CASH.
NO QUESTION IN JULY THE SHORTAGE OF SUPPLY WAS SQUEEZING THE MARKET. I THINK WE HAVE OUTDONE THAT IN A HANDFUL OF DAYS. JONATHAN: WHERE WOULD YOU PUT THE MONEY TO WORK RIGHT NOW? I WOULD DISAGREE A LITTLE BIT ABOUT CASH. WHEN INFLATION WAS AT 9%, IT WAS A CASH DRAG ON PORTFOLIOS BUT YOU CAN GET A SIX-MONTH T-BILL FOR 3.25% SO I WOULD ARGUE THAT CASH IS AN ASSET
CLASS IS BACK. I DON'T THINK IT'S FOOLISH TO HOLD A TARGET OF THREE OR 4% IN CASH. I'M NOT WILD ABOUT CASH IN TERMS OF ITS LONG-TERM RETURN. WE ARE CAUTIOUS ABOUT EQUITY MARKETS. I WOULD AGREE WE NEED TO BE OPPORTUNISTIC AND IF WE SEE A RETRACEMENT FROM THE JUNE LOW, THAT'S A GOOD TIME TO PUT SOME MONEY TO WORK STOP WITH REGARD TO EQUITIES, SMALL-CAP TENDS TO BE SOMEWHAT INSULATED FROM A STRONG DOLLAR AND FROM INFLATION . I THINK WE ARE LOOKING AT
BETTER VALUATIONS RELATIVE TO LARGE-CAP THEN WE HAVE SEEN SINCE THE EARLY 2000'S. JONATHAN: 25 MINUTES AWAY FROM THE OPENING BELL. LET'S GET YOU UP TO DATE ON'S -- UNFED SPEAK. >> YOU'VE LIKELY SEEN THAT OVER THE LAST FOUR MEETINGS, WE'VE RAISED RATES 225 BASIS POINTS AND REDUCED OUR BALANCE SHEET AND THERE ARE MORE HIKES TO COME. WE WILL DO WHAT IT TAKES TO RAISE THE RATES. MICHAEL: ALL THE FED OFFICIALS ARE COMING UP WITH THE SAME MESSAGE DESPITE THE FACT THAT WE'VE GOT PAYROLLS AHEAD OF US AND CPI TO GO. THAT MAY INFLUENCE SEPTEMBER
BUT NOT BEYOND THAT STEP WE GOT THE ADP NUMBERS THIS MORNING AND THEY SUGGEST THAT THE PACE OF JOB GAINS SLOWED SIGNIFICANTLY IN THE MONTH OF SEPTEMBER AND THE MONTH OF AUGUST. THEY WERE REDOING THEIR SCENARIO. THEY SHOW THAT AFTER THE PRE-PANDEMIC HI, THE ECONOMY LOST 6.8 MILLION JOBS. I'M NOT SURE IF THIS INDICATOR IS TELLING US ANYTHING THAT IS USEFUL. THE NUMBERS YESTERDAY SCARED
THE MARKET, WE HAD TO JOBS OR ANY -- EVERY UNEMPLOYED PERSON. DOES THAT SUGGEST THE UNEMPLOYMENT RATE WILL RISE OR KEEP FALLING IN THE AVERAGE HOURLY EARNINGS WE WILL GET FRIDAY. DOES THE FED REALLY HAVE TO MOVE FRIDAY. THIS IS THE FORECAST FOR WHAT WE WILL SEE. DOES ADP GO INTO THAT FOR ARE
THERE SOME CHANGES? THE UNEMPLOYMENT RATE IS NOT FOR TO CHANGE AT ALL. YOU END UP WITH SORT OF SOMETHING OF WHAT EVERYBODY HAS BEEN SAYING IS THAT IT WILL BE NECESSARY TO MOVE THE FED FUNDS RATE SOMEWHAT ABOVE 4% BY EARLY NEXT YEAR AND HOLD IT THERE. THEY ARE TRYING TO SEND THE MESSAGE THAT THE MARKET SHOULD NOT EXPECT THEM TO CUT BECAUSE THE LABOR MARKET IS STILL STRONG AND THEY GOT TO FOCUS ON THAT TO BRING DOWN INFLATION. WE STILL DON'T KNOW HOW STRONG THE LABOR MARKET IS. JONATHAN: THEY WERE BUILDING ON WHAT CHAIRMAN POWELL HAS TOLD US. WE WANT TO GET INFLATION BACK DOWN.
THERE IS PAIN IN THE SPEECH FRIDAY. HE SAID HIGHER INTEREST RATES WILL ALSO BRING SOME PAIN TO HOUSEHOLDS AND BUSINESSES BUT A FAILURE TO RESTORE PRICE STABILITY WOULD BE FAR GREATER. WHEN WE TALK ABOUT PAIN IN THE LABOR MARKET, WHAT ARE YOU LOOKING TO DEVELOP? MICHAEL: THE EXPECTATION WOULD BE THE UNEMPLOYMENT RATE RISES BECAUSE THE FED HAS ECONOMIC ACTIVITY. THEY SAY 3.5% IS BELOW THE NATURAL RATE OF UNEMPLOYMENT STEP IT'S UNSUSTAINABLE SO IT WOULD PROBABLY RISE ANYWAY. IF THAT'S THE CASE, THEY THINK
THEY WILL GET INTO 4.1%-4.5% AND THEY JUST DON'T KNOW AND THAT COULD LEAD US HIGHER STEP SOME ARE PROJECTING 6-8% AND THAT WOULD MEAN A RECESSION. JONATHAN: JOB OPENINGS ARE STILL ELEVATED WHICH IS A GOOD SIGN FOR THE LABOR MARKET BUT THE FED WANTS TO DO SOMETHING ABOUT IT WILL STEP CONSUMER CONFIDENCE WAS BETTER. BAD NEWS FOR THE EQUITY MARKET WHICH INDICATES THE FED HAS MORE TO DO. WHAT IS BAD NEWS?
>> I THINK IT'S A POSITIVE TO SEE THEIR WEAKENING LABOR MARKET BECAUSE IT'S OVERLY STRONG. ECONOMY IS CONSTRAINED IN TERMS OF HOW QUICKLY IT CAN GROW WITHOUT DRIVING INFLATION. CREATING A LITTLE BIT OF ROOM FROM AN EMPLOYMENT PERSPECTIVE IS GOING TO BE A POSITIVE FOR THE OVERALL MARKET.
I THINK IT WILL TAKE COUPLE OF CYCLES. ONE NUMBER WILL NOT GET THE FED TO CHANGE THEIR MIND. THEY WANT TO SEE SUSTAINED EASING OF TIGHTNESS BUT WE ARE SEEING THAT THE SUPPLY CHAIN TIGHTNESS IS EASING. IT'S NOT ACROSS THE BOARD BUT IN MANY OF THE PLACES WHERE WE HAVE SEEN INFLATION. THE MORE THAT STORY DEVELOPS WITH DATA, THE MORE THE FED WILL FEEL COMFORTABLE STARTING TO BACK OFF OF ITS AGGRESSIVE MOVES. JONATHAN:
IS THIS THE UPSIDE DOWN WORLD WE HAVE TO LIVE IN WHERE GOOD NEWS IS BAD NEWS AND BAD NEWS IS GOOD NEWS? >> YES, I AGREE THAT IT WILL TAKE MORE THAN A FEW DATA POINTS BUT THAT'S WHAT THE FED NEEDS TO ACCOMPLISH. WE MOVED FROM GOODS DRIVEN INFLATION TO SERVICES DRIVEN INFLATION AND THAT NUMBER WILL HAVE TO GO UP. JONATHAN: HOW THIS FED COMMUNICATES TO THE GENERAL PUBLIC WITH A HIGH UNEMPLOYMENT RATE, IS THE PRICE WORTH IT? THAT WILL BE REALLY HARD. IT WILL BE HARDER IF UNEMPLOYMENT IS CLOSE TO 4%. FUTURES ARE TURNING AROUND RIGHT NOW.
IT'S BEEN DOWN ABOUT 5% COMING INTO WEDNESDAY. ABIGAIL: WE HAVE SOME BIG LAGGARDS ON EARNINGS LIKE HP. THEY MISSED ESTIMATES AND THE STOCK IS DOWN SHARPLY AND THEY HAVE CUT THE MARKET FORECAST. THE SOCKET -- THE STOCK IS DOWN 6.2% STOP PET OWNERS ARE PULLING BACK AND LOOKING AT PET SUPPLIES ON QE. THE COMPANY CUT THEIR EXPECTATIONS.
PAYPAL HOLDINGS ARE UP 3.2% AND THEY HAVE RAISED THEIR RATINGS TO A BUY BUYBACKS AND OTHER STOCKS TO TALK ABOUT AND LOTS OF COMPANIES AND STOCKS ARE ON THE MOVE. JONATHAN: BRENT CRUDE IS DOWN 2.6%. WTI IS DOWN 1.3%. COMING UP, CORPORATE AMERICA CONTINUES ITS LAYOFF SPREE. >> I WOULD BE COMFORTABLE WITH LABOR MARKETS IF I COULD SEE THIS BUT WE ARE FAR FROM THAT TODAY. JONATHAN:
CHAIRMAN POWELL TALKED ABOUT THE PAIN BUT IN HIS WORDS, IT WILL BE DIFFICULT FOR THEM TO COMMUNICATE, A FAILURE TO RESTORE PRICE STABILITY WOULD SEE FAR GREATER PAIN. IS HIGHER UNEMPLOYMENT A PRICE WORTH PAYING TO GET UNEMPLOYMENT LOWER? -- TO GET INFLATION LOWER? JONATHAN: BREAKING NEWS ABIGAIL: WE HAVE A SLEW OF HEADLINES CROSSING THE TERMINAL. SNAP SAYS CURRENT REVENUE GAINS AT 8% BELOW GOALS AND SAYING THEY WILL CUT 20% OF THE WORKFORCE TO REFOCUS. THEY HAVE APPOINTED JERRY HUNTER AS THE COO WHILE THEIR FORMER COO LEAVES FOR NETFLIX. THEY WILL ADD A NEW COO AND CUT JOBS IN THE BACKDROP IS A WEEK AND REVENUE BACKDROP. THIS COMPANY/ROUGHLY 1300 JOBS. THE STOCK IS TUMBLING ON TOP OF
A GREATER THAN 70% LOSS INTO TODAY. JONATHAN: CUTTING 20% OF THE WORKFORCE IS BRUTAL. IN THIS DEEP PROBLEM -- INDUSTRY PROBLEM OR COMPANY EXECUTION PROBLEM? ABIGAIL: PROBABLY A LITTLE OF BOTH.
IT SEEMED AS THOUGH ADVERTISERS ONLINE WERE PULLING BACK SO COMPANIES THAT HAD REPORTED DECENT FIRST QUARTERS WERE PULLING THEIR GUIDANCE TO THE SEEMS TO BE A REFLECTION OF THAT AND WE ARE TECHNICALLY IN A RECESSION WITH TWO QUARTERS OF GDP GROWTH DOWN WHICH TENDS TO BRING ON THESE SORTS OF LAYOFFS. I WOULDN'T BE SURPRISED IF WE SEE MORE OF THIS KIND. 20% IS NOT A SMALL NUMBER AND IT SUGGESTS THE COMPANY IS REFOCUSING THEIR EFFORTS. JONATHAN: THE STOCK IS ALL OVER THE PLACE IN THE PREMARKET SO THANK YOU. POSITIVE ABOUT 1/10 OF 1%. BED, BATH & BEYOND STOCK PLUNGING, DOWN 25%.
THEY ARE CLOSING IN ON $375 MILLION OF NEW FINANCING. THE INTERIM CEO SAID WE ARE WORKING SWIFTLY AND DILIGENTLY TO STRENGTHEN OUR LIQUIDITY AND STEER A PATH FOR THE FUTURE. TAYLOR: THE SHARE PRICE IS CONSISTENT. LET'S GO THROUGH THE DETAILS. YOU HIGHLIGHTED THE STRATEGIC UP DATE.
THEY CUT JOBS AND ARE CLOSING DOWN STORES AND -- AND ELIMINATED THE COO AND CONTINUING TO LOOK AT STRATEGIES FOR THE BUY BUY BABY BRAND. IT STILL CONTINUES TO DELIVER GREAT VALUE TO THAT COMPANY. WHEN YOU THINK ABOUT THE FINANCING, ANALYSTS SAID IT MIGHT PROVIDE SOME BREATHING ROOM BUT IT'S UNLIKELY TO MAKES FLYERS FEEL THAT MUCH MORE COMFORTABLE SHIFTING PRODUCTS TO THE COMPANY IF THEY DON'T THINK THEY WILL GET PAID.
YOU CAN TALK ABOUT PROFITABILITY. IT'S A MARKET THAT NEEDS TO SEE PROFITABILITY. ANALYSTS ARE LOOKING AT 10 MORE QUARTERS OF TROUBLE I HAD SO WE WILL KEEP AN ION THIS COMPANY GOING FORWARD. JONATHAN: BAD MARKET WERE BETTER EXECUTION? TAYLOR: CERTAINLY POOR EXECUTION BUT ANALYSTS SAY IT'S HARD TO BE POSITIVE ON THIS COMPANY WITH THOSE MACRO ECONOMIC HEADWINDS, COULD I SAY BOTH? JONATHAN: IT WOULD BE DIFFICULT TO ANYONE WHO MADE IT MISTAKE ABOUT ANYONE AT THE MOMENT. LET ME ASK YOU TO BREAK THAT
DOWN. IS IT AN INDUSTRY PROBLEM, AND ECONOMIC PROBLEM OR AN EXECUTION PROBLEM AT INDIVIDUAL COMPANIES? >> PARTLY INSTITUTIONAL BUT WE WENT THROUGH A MASSIVE TRANSITION IN OUR ECONOMY. WE HAD A GLOBAL PANDEMIC AND WE -- AND EVERYONE WAS STAYING AT HOME AND BUYING ONLINE STOP SUDDENLY, WHO'S TO WE SO RUSSIA GALA TO BUY. IT'S BEEN TOUGHER COMPANIES TO
NAVIGATE AND IT'S ONE OF THE REASONS WE SAW AN INCREASE IN INVENTORY IN JULY. THEY HAVE BEEN WHIPSAWED AND I'M NOT SURPRISED THAT IT WAS DIFFICULT TO EXECUTE IN THIS ENVIRONMENT. JONATHAN: HOW DO YOU PLAY DEFENSE IN THIS EQUITY MARKET AND GIVEN THE FACT THAT I'M HAVING TROUBLE FINDING ANYONE WILL IS ON ANYTHING? >> AS YOU KNOW, WE ARE LONG-TERM INVESTORS SO WE ARE NOT BUYING FOR 3-6 MONTHS, WE ARE BUYING FOR THREE YEARS. I THINK SOME OF THE DEFENSIVE STOCKS LIKE CONSUMER STAPLES ARE PROBABLY OVERVALUED.
FOR CLIENTS THAT ARE TOTALLY INVESTED, WE ARE STAYING FULLY INVESTED AND REBALANCING THEIR PORTFOLIOS. WE ARE PUTTING CASH TO WORK MOST WE ARE BEING QUITE OPPORTUNISTIC I FOCUSING ON SMALL CAPS AND GLOBAL INFRASTRUCTURE AND TRYING TO BE CAREFUL ABOUT HOW AND WHEN WE GET THAT CASH INVESTED. IT'S DIFFICULT TO BE WILDLY OPTIMISTIC ABOUT ASSET IN GENERAL. I AM THE CHAIR OF THE CAPERS INVESTMENT COMMITTEE. WE ARE ALWAYS ASKING OURSELVES, WHERE WILL WE GET OUR RETURNS? WE HAVE TO HAVE A DECENT RETURN IN ORDER TO PROVIDE THE INCOME STREAM THAT THE RETIRED TEACHERS AND FIREFIGHTERS AND POLICEMEN NEED. WHEN YOU LOOK AT THE NEXT 7-10 YEARS, IT'S HARD TO FIND SOMETHING OTHER THAN PRIVATE REAL ESTATE OR PRIVATE EQUITY THAT WILL GET YOU MUCH MORE THAN 7%.
JONATHAN: THERE WAS A BIG RESET IN THE BOND MARKET. CAN YOU RESET THE BALLAST? >> I THINK YOU CAN. I THINK HISTORY IS WHEN YOU GO FROM A LOW LEVEL OF INFLATION TO A HIGHER LEVEL, YOU GET -- GIVE SOMETHING BACK IN THAT 60/40 DOESN'T WORK AS WELL STOP AFTER YOU HAVE THE RESET AND WE SAW THIS IN THE TAPER TANTRUM IN 20 19, AFTER YOU HAVE THAT RESET THAT RETURNS FOR RISK ASSETS AND WELL AS BONDS SET UP NICELY. THE BACKUP AND YIELDS OPENS UP THAT 7% THRESHOLD FOR A LOT OF PEOPLE TO TAKE LESS RISK AND STILL DELIVER 7%.
GIVEN THE ABSOLUTE LEVEL OF RATES THAT ARE AVAILABLE IN THE MARKET. GREAT JONATHAN: TO CATCH UP WITH BOTH OF YOU. THE OPENING BELL IS SEVEN-EIGHT MINUTES AWAY. THE CENTRAL-BANK ACCEPTANCE OF PAIN MAKES A STANDARD ROTATION FROM EQUITIES TO CASH. THE TIDE IS ALREADY TURNING.
COMING UP, EXPECTING WHERE SHORTS AND PRESSURE IN EQUITIES, THAT CONVERSATION AT THE OPENING BELL, FROM NEW YORK, THIS IS LOU WORD. JONATHAN: FIVE MINUTES AWAY FROM THE OPENING BELL AND A SMALL BALANCE IN THE EQUITY MARKET. THE S&P 500 IS UP ABOUT ONE POINT. PAYPAL IS SURVIVING A SLIGHT UPSIDE FULL SHOUT BARCLAYS IS DOWNGRADING ROBINHOOD. THAT STOCK IS ESSENTIALLY UNCHANGED TODAY AND CITIGROUP DOWNGRADING SNAP TO NEUTRAL. THEY HAVE HEADWINDS FOR THEIR
GROWING EXECUTION RISKS AND THAT CALL CAME ACROSS FIVE MINUTES AGO AND THE STOCK IS NOW UP 11%. COMING UP, A NASTY OUT OF VOLATILITY, THAT CONVERSATION COMING RIGHT UP. JONATHAN: ANOTHER COMPANY I'VE NEVER HEARD OF ON THE NEW YORK STOCK EXCHANGE. GOOD MORNING, I'M JOKING.
AFTER THREE DAYS OF LOSSES ON THE S&P 500, BOUNCING BACK SLIGHTLY. LET'S GET TO THE BOND MARKET. YIELDS ARE HIGHER BY TWO OR THREE BASIS POINTS. THE U.S. DOLLAR IS AT PARITY JUST ABOUT. STERLING CAME CLOSE TO A $1.15 HANDLE THIS MORNING. KATIE: SHARES OF AMAZON ARE OFF ABOUT 6/10 OF 1% AFTER THREE DAYS OF LOSSES WAS TO BED, BATH & BEYOND'S PLUNGING AFTER REVEALING ITS TURNAROUND PLAN WHICH INVOLVES SHUTTING 150 STORES AND CUTTING 20% OF ITS WORKFORCE IN THE HOPE THAT WILL REDUCE COST BY $250 MILLION. SHARES ARE DOWN 25%.
SNAP AMOUNT JOB CUTS THIS MORNING, ABOUT 20% OF THE WORK FORCE TO REIN IN COSTS AS AND REVENUES SLOW. THEY ARE ADDING JERRY HUNTER AS THEIR COO. HP IS A DIFFERENT STORY COME UNDER PRESSURE AFTER SAYING THEY MISSED ESTIMATES.
SHARES ARE ABOUT 7% LOWER. JONATHAN: STOCKS ARE ON THE MOVE. THE S&P 500 IS UP 1/3 OF 1%.
BIG TECH IS CLOSING IN ANOTHER MONTHLY DECLINE. IN SEPTEMBER, IT'S HISTORICALLY THE WORST MONTH OF THE YEAR FOR THE NASDAQ. ABIGAIL: WE SEE THE YEAR TO DATE KLEIN OF 23% AND I'M LOOKING AT ONE OF THE FUNCTIONS IN THE TERMINAL. THE NASDAQ 100 IS UP ONLY TWO MONTHS THIS YEAR.
THIS MONTH IS SET FOR ANOTHER DECLINE SO WE HAVE A LITTLE BIT OF A BOUNCE BACK SO LET'S SEE WHAT STICKS. STOCKS ARE UNDER PRESSURE. THE BIG STORY IS YIELDS WHICH ARE NOT DOING THAT MUCH TO DAY STUFF THAT'S NOT THE STORY ON THE YEAR OR THE MONTH. WE ARE UP 50 BASIS POINTS FROM PREVIOUS TIMES LAST YEAR.
THAT MAKES EVERYTHING BECOME MORE EXPENSIVE. THE SUPPOSE IT FED PIVOT OUT OF A JULY MEETING WAS NEVER IN PLAY. ALL INDICES ARE DOWN AND WE ARE GOING INTO A DIFFICULT TIME. THE NASDAQ 100 IS ALL ABOUT SEPTEMBER, THE AVERAGE DECLINE HAS BEEN DOWN 6/10 OF 1% OVER THE LAST FIVE YEARS.
LAST YEAR IT STARTED WITH THE MINOR MONTHLY DECLINE IN THE NASDAQ. WE HAD SO MANY MONTHLY DECLINES, IT SEEMS AS THOUGH SEPTEMBER MAY BE MORE OF THE SAME. JONATHAN: THANK YOU, LOOKING AT THE S&P 500, IS STILL CLOSE TO NINE PERCENTAGE POINTS HIGHER THAN THE BOND LOW AND THE BOND MARKET LOW AND HAS TAKEN A LOT OF THE PROFITS FROM THE TREASURY . IF YOU'VE GOT THE HIGH OF THE YEAR AND A TWO-YEAR, IT WILL BE LOWER ON THE S&P 500.
MORGAN STANLEY'S MIKE WILSON IS CALLING THIS MARKET A VICTIM OF ITS OWN MEMENTO STOPTAYLOR: THIS HIGHLIGHTS THE TIMEFRAME YOU''RE TALKING ABOUT, THE EQUITY MARKET LOW AND THEN THE REBOUND. FROM THE PEAK IN AUGUST DOWN TO NOW, IT WAS RAISED ON TOP OF THOSE GAINS BUT UP 6-12% OFF OF THE LOWS IN JUNE STOP A HUGE QUESTION WHEN WE THINK ABOUT QT, THE FINANCIAL CONDITION. THEY ARE LOOSENING AND NOT TIGHTENING. THE POINT OF THIS WITH THE HUGE EQUITY RALLY WAS THE LOOSENING OF THE CONDITIONS THAT MAYBE THE FED DID NOT WANT TO SEE. THE FUNDAMENTALS STILL LOOK GOOD. I WILL LOOK AT THE EARNINGS INSTEAD OF GOING WITH THE INDIVIDUAL STOCK COMPANIES. BROCCOLI EARNINGS ARE STILL
SEEING AN UPSIDE SURPRISE EARNINGS CAME IN A LITTLE BIT BETTER THAN EXPECTED. JONATHAN: THANK YOU VERY MUCH. WE ARE ABOUT TO RETEST THE LOWS. THREE-DAY LOSING STREAK ON THE S&P 500, ARE WE LOOKING AT A RETEST OF THE JUNE LOWS? >> I DON'T KNOW THAT WE HAD RETEST THE LOWS BUT THERE IS A TAILWIND. I THINK YOU CAN SEE SOME STABILIZATION STARTING IN THE RATES MARKET THEN MOVING INTO THE CREDIT MARKET BEFORE WE WILL SEE THE EQUITY MARKET TOUTING SHORTER INVENTORY. WE SAW A SUBSTANTIAL RALLY.
OVER THE NEXT MONTH OR SO, WE WILL HAVE TO LISTEN TO WHAT WE HEAR AND I'VE HEARD. ACCOUNTANTS ARE LOOKING TO FORTIFY THEIR ENERGY. SHORTER TERM, IT WILL BE MESSY UNTIL THEY CAN ANCHOR ON SOMETHING MORE STABLE. JONATHAN: WHAT DO YOU HAVE TO SEE IN THE SHORTER TERM THAT WILL MAKE THINGS MORE STABLE. WHAT DO YOU NEED TO SEE TO GET PAST THIS HUMP? >> I THINK WE NEED TO SEE MORE TECHNICAL PANIC.
YOU HAVE STARTED TO SEE SOME MOVING -- MOVEMENT HIGHER WITH BUYING. I THINK THE EQUITY MARKET VOLATILITY IS STILL TAKING ITS CUE FROM INCOME VOLATILITY. YOU TALK ABOUT THE BOND MARKET BUT WHEN I LOOK AT THE MOVING INDEX AT THE 130 RANGE, IT'S NOT MAKING ANY PROGRESS. IT SEEMS ECONOMIC DATA THAT'S MORE IN LINE, I THINK EQUITIES WILL BE TAKING THEIR CUES FROM THE INTEREST RATES RALLYING IN THE SHORTER TERM AND MAKING THE FUTURE EARNINGS POWER A PRESSURE AND WHEN THE CONSUMER DOES NOT RESPOND, YOU GET HIGHER VOLATILES. LOOK AT THE DECLINES IN
MORTGAGE APPLICATIONS. THERE IS SOME SENSE THAT THE REAL ECONOMY IS RESPONDING. JONATHAN: WHAT DO YOU THINK WILL HOLD UP? MAYBE THIS ECONOMY IS STRONGER THAN PEOPLE EXPECT. >> THERE IS ALMOST NO ONE OPERATING IN THE ECONOMY THAT HAS THE BENEFIT OF WHAT YOU MIGHT CALL THE INFLATION MIRAGE, THE EXCESSIVE TOPLINE FOR COMPANIES ARE BEING POWERED BY THE FACT THAT YOU'RE LOOKING AT WHETHER IT WAS EIGHT OR 9% INFLATION ON A HEADLINE BASIS TO WHAT IT SAID FOR THAT HIDING SOME OF THE PRESSURES ON COSTS.
WHAT MAY UNFOLD IS THE BULLET CASE, IF INFLATION ROLLS HAVE PRICING POWER AND COMPANIES GET SQUEEZED OVER THE NEXT 6-12 MONTHS, WHETHER COSTS ARE ABLE TO BE MANAGED WHEN STILL RELATIVELY PAT LABOR MARKETS WHILE SIMULTANEOUSLY LOSING PRICING POWER. I ALSO THINK WE HAVE TO DEAL WITH THE ISSUE OF WHAT GOES ON IN EUROPE. EUROPE IS SEEMINGLY UNDER CONSIDERABLE PRESSURE. WE CAN TALK ABOUT U.S. SIDE BUT THE WORLD IS MUCH
BIGGER. THE STOCK MARKET IS CERTAINLY MUCH BIGGER. JONATHAN: WHAT DOES THAT MEAN FOR MARKET CAP GIVEN THE U.S. STORY? >> I THINK SMALLER CAPS PROBABLY HAVE MORE PRESSURE IN THE SHORT-TERM ARE LESS STABLE TO PASS ON SOME OF THE INFLATION BUT THEY ARE EXPERIENCING SOME OF THE COST MEASURES. OLD ULTIMATELY WE HAVE A GREATER ISOLATION FOR SO THAT'S A FUNCTION OF WANTING TO COMPOUND RATHER THAN BE TACTICAL. THERE IS MUCH WORK GO ORIENTED BECAUSE ACADEMY -- BECAUSE OF THE MARKET CONDITION.
JONATHAN: WE WOULD NORMALLY BE OVERCOMING THESE CYCLICAL ISSUES. WHEN YOU LOOK AT EUROPE, IT MIGHT NOT BE A ONE TIME THING. THEY SAID THEY NEED TO FACE REALITY. HOW ARE YOU FACTORING IN ABOUT TAKING ABOUT A LONGER TIME HORIZON WITH THE SAME ISSUES? >> IT'S AN OVER USED SAW BUT ONE THAT I THINK THERE'S PAYING ATTENTION TO HEAR AND THAT IS HIGH PRICES ARE THE CURE FOR HIGH PRICES. HOW DOES YOUR FIND TO -- DEFINE WHAT IT'S UNRELIABLE'S FOR SUPPLIES.
WITH THAT MEANS SHREWS -- THAT'S WHAT IT MEANS FOR SOME OF YOUR EQUITIES. I THINK IT ENCOURAGES EUROPE TOWARD A GREATER DIVERSIFICATION. TRYING TO SECURE LONGER-TERM EXPOSURES IN THE FORM OF LIQUEFIED NATURAL GAS, ULTIMATELY, WILL THE LOCALLY MORTGAGE SOLUTIONS COME BACK AND ASSURE BUT THEY GET US WHERE WE NEED TO BE OVER THE IMMEDIATE AND LONGER-TERM. YOUR NOT REALLY YOUR YOU KNOW YOU YOU -- EUROPE IS MUCH CHEAPER THAN THE U.S. STOCK MARKET. YOU CAN IDENTIFY THE CONTROVERSY.
IT'S MUCH CLEANER THE SOME OF -- THAN SOME OF THE CONTROVERSIES IN THE U.S. MARKET STOP JONATHAN: GREAT TO CATCH UP WITH YOU AS ALWAYS. EQUITIES HAVE BOUNCED DOWN ABOUT A QUARTER OF 1%. A LONG CONVERSATION ABOUT EUROPE AND THAT'S SUCH A BIG ISSUE. COMING UP, EUROPE HAS A BIG PROBLEM. >> WE HAVE AGREED THAT ALL MEMBER STATES TO A JOINT EFFORT OF 15% ON NATURAL GAS BETWEEN NOW AND POLICYMAKERS.
INVESTMENT STRATEGIST. THIS IS BLOOMBERG. ♪ >> WE HAVE AGREED THAT ALL MEMBER STATES WILL JOINTLY SAVE 50% OF ENERGY BETWEEN NOW AND MARCH 23. THE SECOND PILLAR IS WE NEED TO DIVERSIFY AWAY FROM RUSSIAN FOSSIL FUELS TO RELIABLE LIKE-MINDED SOURCES. THE GOOD NEWS IS WE HAVE REACHED NOW AN AVERAGE OF THE EUROPEAN UNION OF 80%. JONATHAN: EU COMMISSION PRESIDENT HAS SOME GOOD NEWS.
THE 80% NUMBER IS A COUPLE OF MONTHS AHEAD OF TIME WITH THE EU WRAPPING UP EFFORTS ON ENERGY PRICES AS RUSSIA TIGHTENS ITS REP ON ENERGY FLOW. THEY SAY RUSSIA IS USING THIS AS A WEAPON OF WAR. THE GAS STORAGE WILL REACH ITS MAXIMUM IN ABOUT TWO WEEKS TIME.
THIS COMES AS A RECORD INFLATION PUT A CLOUD OVER THE ECB RATE INCREASE DECISION. THEY WILL GO 75 BASIS POINTS NEXT WEEK. I GET ASKED THIS QUESTION A LOT. WHAT IS THE PLAN FOR THE EUROPEANS TO DISCONNECT FROM GAS AND WHAT HAPPENS WITH ELECTRICITY? >> THERE IS SOME GOOD NEWS.
THE PRICE IS DOWN 50% TODAY COMPARED TO A COUPLE OF DAYS AGO BUT THE BAD NEWS IS, THAT STILL 11 POINTS HIGHER THAN THE STOCK WAS LAST YEAR. THE MARKET IS ANONYMOUSLY VOLATILE BUT THE MARKET IS TELLING YOU EUROPE HAS -- WILL HAVE A BIG PROBLEM THIS WINTER. WE DON'T KNOW WHAT THE PLAN WILL BE FOR THEM JONATHAN: WHAT CAN I DO IF ANYTHING AT ALL? >> WE GOT A MEETING OF MINISTERS IN BRUSSELS NEXT WEEK. THEY WANT TO CAP OUR PRIZES AND TRY TO COPY THE SPANISH MODEL WHICH IS A CAP OWN POWER PRICES AND AT LEAST TRY AND KEEP GAS PRODUCTION DOWN -- GAS PRODUCTION UP. THE MARKET IS BOOSTING PRICES SO THAT YOU WILL STOP BUYING IT. WE HAVE VERY LITTLE DETAIL AND WE MAY HAVE BLACKOUTS THIS WINTER IN PARTS OF EUROPE.
JONATHAN: CAN YOU FRAME INFLATION THIS MORNING AND WHAT IT MEANS NEXT WEEK? >> THERE IS A PREDICTION OF 75 BASIS WINS NEXT WEEK BUT NOT JUST BECAUSE OF INFLATION OIL PRICES FELL IN AUGUST AND IS MORE LIKELY TO LAST BUDDY, SOURCE WEIGHT BECAUSE OF ALL THE COMMENTARY OUT OF THE ECB WITH MEMBERS OF THE GOVERNOR'S COUNSEL SAY IT NEEDS TO BE CONSIDERED. MARKETS ARE SEEING A 60% CHANCE OF A 75 PACES WEIGHT HIKE. -- 75 BASIS POINT HIKE.
THEY WANT TO AVOID BEING UNNECESSARILY ROUSSELL. JONATHAN: THANK YOU BOTH. THE HAWKS ARE LINING UP AND WE HEARD FROM ABUNDANCE BANK PRESIDENT YESTERDAY. HE'S LOOKING FOR DECISIVE ACTION.
STRONGER CURRENCY, WEAKER CURRENCY AND WE WILL SEE WHAT HAPPENS NEXT WEEK. A SLIGHTLY WEAKER EURO RIGHT NOW. THE INTRADAY LOW WAS $1.16 THE POUND AGAINST THE U.S. DOLLAR. THE TEAM IN LONDON CAUGHT UP WITH THE FED GOVERNOR.
THEY WERE TALK ABOUT PLANS TO CUT TAXES AND RISK SPENDING. IN EUROPE, YOU CAN HAVE POLICY INTERVENTION IN A WORLD OF LOW RATES, QE AND LOGAN NATION -- AND LOW INFLATION. HIGH RATES AND HIGH INFLATION, THE BOND MARKET IS NOT AS WIDE OPEN. YOU CAN ATTRACT INTERNATIONAL INVESTORS TO GET RATES UP. THAT'S THE RISK THAT STARTS TO FEED ON ITSELF.
CABLE IS DOWN ABOUT A THIRD OF 1%. BREAKING FOR YOU. ABIGAIL: THE FDA HAS OKAYED THEM A DHARNA AND PFIZER BIONTECH COVID-19 BOOSTER SHOT. BOTH OF THEM ARE HIGHER. MODERNITY WAS UP MORE THAN FIVE AND THOSE STOCKS ARE HIGHER. THE CHICAGO PMI CAME OUT BETTER THAN EXPECTED STAFF . THE U.S. PMI SUGGESTS THERE COULD BE
SOME CONTRACTION BUT WE HAVE THE CHICAGO PMI COMING OUT POSITIVE. JONATHAN: 23 MINUTES INTO THE TRADING DAY. THE MARKETS ARE TRYING TO TAKE A BITE OUT OF THE LOSSES. JONATHAN: 26 MINUTES IN AND EQUITIES ARE HIGHER. FED SPEAK FROM THE DALLAS PRESIDENT LORI LONDON. ISM MANUFACTURING AND ANOTHER ROUND OF JOBLESS CLAIMS. THE
2022-09-01 15:21
Show Video
Other news