'Bloomberg The Open' Full Show (07/18/2022)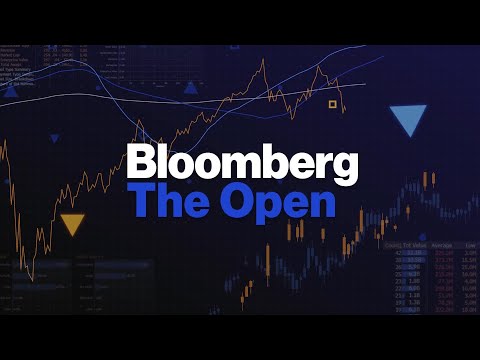 Show Video
JONATHAN: A BIG WEEK OF CENTRAL BANK COMING UP. THE COUNTDOWN TO THE OPEN STARTS RIGHT NOW. ♪ >> EVERYTHING YOU NEED TO GET SET FOR THE START OF U.S. TRADING. THIS IS BLOOMBERG, THE OPEN WITH JONATHAN FERRO.
♪ JONATHAN: LIVE FROM NEW YORK, WE BEGIN WITH THE BIG ISSUE. THE FED GOES QUIET. >> THE FED IS REALLY IN A STICKY SPOT RIGHT NOW. >> THIS IS A TUG-OF-WAR EVERY TIME THERE IS DATA OUT.
>> RELENTLESS UNCERTAINTY ABOUT HOW AGGRESSIVE THE FED IS GOING TO BE. >> CHIMING IN HERE AND THERE ABOUT WHETHER OR NOT THEY REALLY NEED TO DO 100 BASIS POINTS. >> WE HAVE NOW GONE DOWN TO ABOUT A 70% CHANCE. >> THE FED IS IN A DIFFICULT SPOT BECAUSE A LOT OF THIS IS MESSAGING.
>> THE FED IS GOING TO IN RHETORIC AND IN REALITY STAY RIGHT ON TOP OF THIS. >> STRONGER FED REACTION. >> VERY KEENLY AWARE THAT. JONATHAN: GOOD NEWS FOR THOSE OF YOU TO HATE THE FED SPEAK. IT IS OVER. WE ARE IN THE QUIET PERIOD. WE HAVE HEARD THE FED SPEAK, YOU HAVE SEEN THE DATA.
IS IT 75 AT THE END OF THIS MONTH? >> I THINK WE STILL HAVE A LITTLE BIT OF DATA IN FRONT OF US AND THAT GIVES THE FED SOMETHING TO DECIDE. THE CONSUMER CONFIDENCE NUMBER WAS INTERESTING. BECAUSE TWO THIRDS OF THE ECONOMY IS THE U.S. CONSUMER, IF THEY BELIEVE INFLATION CAN SETTLE DOWN, IT HAS IMPORTANT APPLICATIONS FOR ANY SPIRAL WE SEE.
IF WE CONTINUE TO SEE SLIGHTLY SOFTER DATA, YOU HAVE THE OPTION TO GO TO 75 BASIS POINTS BUT IF IT IS WORSE, 100 BASIS POINTS IS ON THE TABLE AND I THINK WE SHOULD ALL BE AWARE OF THAT. >> OUR VIEW IS STILL 75 IN JULY BUT EVENTUALLY, MORE RATE HIKES FOR LONGER. I THINK PUSHING THE NEEDLE WITH RESPECT TO 100 BASIS POINTS IN JULY ITSELF, PROBABLY A BIT TOO AGGRESSIVE. JONATHAN: YOU MADE A COUPLE OF POINTS. I TRY TO DEEMPHASIZE THE BASIS POINTS AND HIGHLIGHT THE IMPORTANCE THIS YEAR AND THE UPSIDE RISKS TO RATE HIKES. >> OUR ECONOMIST TEAM IS STILL TALKING ABOUT AS BEING THE LOWER AND UPPER BOUND INTO YEAR-END. I THINK THE BIGGER TENSION IS GOING TO BE AROUND WHAT THE MARKET IS PRICING AND WITH RESPECT TO 2023.
IF THE RATE HIKES SEEM A LITTLE CONTINGENT ON INFLATION SHOWING CLEAR SIGNS OF PEAKING, IT FEELS LIKE YOU COULD END UP SEEING MORE OF AN OVERSHOOT WITH RESPECT TO EARLY 2023. JONATHAN: ARE YOU ON BOARD WITH THIS RATE CUT STORY? >> WILL BE CRITICIZED THE FEDS FOR LAST YEAR WAS NOT PAYING ATTENTION TO THE DATA. NOW, THEY HAVE HEARD US AND THEY'RE LIKE WE ARE GOING TO PAY ATTENTION TO THE DATA. WITHOUT ACTUALLY KNOWING WHAT THE CONSUMER IS GOING TO DO GOING TO THE SECOND HALF OF THE YEAR, I THINK IT IS HARD LONG TERM. I THINK IT MAKES SENSE THAT IF
THEY OVER HIKE AN OVERSHOOT, THEY ARE TRYING TO BE MORE RESPONSIVE. DO YOU CRASH THE ECONOMY OR GET INFLATION UNDER CONTROL? IT MAY BE MORE REACTIVE THAN WE WOULD LIKE, BUT CONSIDERING LAST YEAR SLEEPING AT THE WHEEL, I THINK IT IS PREFERABLE. JONATHAN: THE CONVERSATION SHIFTED VERY THE OTHERS WHEN IT COMES TO ADVISORY. $1.2 BILLION IN ADVISORY FEES IS PRETTY INCREDIBLE IN THIS TYPE OF MARKET. THAT IS ABOUT DOUBLE WHAT YOU
SAW IN MORGAN STANLEY. THEY DO TALK ABOUT UNDERWRITING PIPELINES THAT IS STILL VERY WEAK GOING INTO THE SECOND HALF OF THE YEAR. THE COST OF BAD LOANS, THE SPREAD WIDENING WE HAVE SEEN, THIS IS THE COST OF DOING BUSINESS IN THIS KIND OF ENVIRONMENT. THE SPREAD WIDENING WITH BANK OF AMERICA TAKING $320 MILLION WORTH. THE REST OF THE BANK HAS ALSO
TAKEN SOME HUNDREDS OF MILLIONS OF DOLLARS IN LOSSES, BUT YOU HAVE TO WONDER IF YOU START TO SEE THESE KINDS OF BREAKDOWNS, HOW MUCH RISK WILL THE BANKS KEEP TAKING ON? EVEN THOUGH YOU ARE SEEING IMPRESSIVE NUMBERS, THE VALUE OF RISK IS RISING. YOU SEE EXACTLY WHERE THEY ARE TAKING ON THAT RISK. THIS IS WHAT HELPED THEM WITH THE BEAT. INTEREST RATES. $104 MILLION WORTH OF DAILY AVERAGE TRADING VALUE AT RISK. REMEMBER, THESE ARE NOT PRE-2008 LEVELS. YOU ARE SEEING THE BANKS RISING -- WORKING HARDER.
JONATHAN: WHERE ARE WE? >> THERE IS STRENGTH AND A LOT OF CONFIDENCE. I HAVE TO SAY SOMETHING ABOUT BANK OF AMERICA. THE NUMBERS TELL THE STORY MORE THAN THE WORDS DO. THE AVERAGE PICO SCORE IS ONLY 9% OF THEIR BOOK RATHER THAN 12% A COUPLE OF YEARS AGO. YOU HAVE TO WONDER WHETHER THE ECONOMY IS GETTING BRIGHTER OR THE BANKS ARE JUST TAKING ON LESS RISK FROM OTHER CUSTOMERS. JONATHAN: BACK WITH US IN 20 MINUTES TIME. FUTURES RIGHT NOW ABOUT .75%.
COMING UP, PRESIDENT BIDEN RETURNING FROM THE MIDDLE EAST. >> I'M DOING ALL I CAN TO INCREASE SUPPLY FOR THE MEN IN STATES OF AMERICA. THE SAUDI'S SHARE THAT URGENCY. I EXPECT WE WILL SEE FURTHER STEPS IN THE COMING WEEKS. JONATHAN: THAT CONVERSATION UP NEXT.
>> WE HAD A GOOD DISCUSSION ON ENSURING ARTICLE OIL SUPPLIES TO SUPPORT GLOBAL ECONOMIC GROWTH. THAT BEGINS EARLY. I'M DOING ALL I CAN TO INCREASE SUPPLY FOR THE UNITED STATES OF AMERICA WHICH I EXPECT TO HAPPEN. JONATHAN: PRESIDENT BIDEN RETURNING FROM THE MIDDLE EAST. THE KINGDOM WILL PLAY A ROLE IN EUROPE AS IT INCREASES.
BEYOND THAT, THE KINGDOM WILL NOT HAVE ANY FURTHER PRODUCTION CAPACITY. THE BIDEN ADMINISTRATION STAYING OPTIMISTIC. BASED ON WHAT WE HEARD AM CONFIDENT WE WILL SEE MORE STEPS IN THE COMING WEEKS. THERE IS ADDITIONAL CAPACITY AND INCREASE FOR PRODUCTION.
JONATHAN: GREAT WORK OVER THE LAST WEEK, WALK US THROUGH IT. WHAT CAN WE EXPECT IN AUGUST FROM OPEC? >> WE JUST DON'T KNOW BECAUSE WHILE YOU HEAR THE ADMINISTRATION, THE PRESIDENT HIMSELF HAS MADE THE ENERGY ADVISOR COME OUT AND TALK AND SEE IN THE NEXT FEW WEEKS, WE ARE EXPECTING THE GROUP TO INCREASE MORE. WHAT YOU HEARD FROM THE SAUDI SIDE ALMOST IMMEDIATELY WAS THAT IT REALLY DID NOT DECIDE ABOUT OPEC-PLUS WHERE THE MARKET IS RIGHT NOW IN TERMS OF SUPPLY AND DEMAND. IN THE PAST TWO WEEKS, YOU DID HAVE THE MARKET CLAWBACK A BIT DUE TO RECESSIONARY CONCERNS. THE SAUDI'S ARE SAYING IT IS A
DECISION THAT LED UP TO OPEC-PLUS. WE SHOULD NOTE IT IS REALLY ONLY TWO COUNTRIES THAT COULD HELP THE ADMINISTRATION WHEN IT COMES TO OPEC-PLUS. POTENTIALLY, SAUDI ARABIA AND THE UAE CAN HELP A LILIBET BUT TOGETHER, THEY HAVE JUST UNDER 300 MILLION BARRELS A DAY. AS A PROSPECT OF A DECISION IS MADE, POTENTIALLY MORE PRODUCTION IN AUGUST, AND NEEDS TO CREEP INTO THE MARKET. JONATHAN: JUST BRIEFLY, WHERE DOES EUROPE SIT IN AND WIRE THAN OUT A BIGGER PART OF THIS CONVERSATION OVER THE LAST WEEK? >> I THINK THEY ARE IN THE FACT THAT MOHAMED IS GOING TO BE VISITING WITH EMMANUEL MACRON.
REMEMBER, THOSE THINGS ARE GOING TO START TO HIT DEEPLY THAT RUSSIA IS NOT REALLY GOING TO BE A DESTINATION FOR CRUDE INTO EUROPE. MOST OF THE GULF PRODUCTION GOES TO ASIA. I BET A BIG ASK IS GOING TO BE WHAT KIND OF SHIPMENT CAN BE REROUTED TO EUROPE. JONATHAN: ARE WE STARTING TO SEE THE SAVAGES BOOST? IS THERE DATA THAT BACKS UP THE IDEA? >> THERE IS DATA THAT SHOWS MORE RUSSIAN CRUDE IS ENTERING THE MIDDLE EAST AND EVER BEFORE AND REPORTS THAT A LOT OF THAT IS GOING TO BE GOING TO SAUDI ARABIA. WHAT THEY WILL DO IN THE MIDDLE EAST IS USED FOR THEIR OWN DOMESTIC CONSUMPTION AND THEN BE ABLE TO HAVE A LITTLE BIT MORE TO PUSH OUT. POTENTIALLY, YOU CAN SEE THE SAUDI'S BE ABLE TO COME TO THE AMERICANS HELP BUT ONLY BECAUSE THEY ARE IMPORTING MORE RUSSIAN CRUDE. JONATHAN:
THANK YOU AND BRILLIANT WORK OVER THE LAST COUPLE OF DAYS TO TRY TO MAKE SENSE OF WHAT IS GOING ON. GOOD NEWS FOR THE PRESIDENT AND AMERICANS, THE AVERAGE PRICE FOR GASOLINE SINCE THE MIDDLE OF JUNE, EVERY SINGLE DAY HAS BEEN COMING DOWN. ENERGY NAMES ARE DOWN 29%. I'VE BEEN TOLD REPEATEDLY THAT WHAT IS HAPPENING RIGHT NOW, SUPPLY AND DEMAND IS GOOD FOR ENERGY PROFIT THROUGH THE REST OF THIS YEAR.
WHAT IS IMPORTANT TO YOU? >> LONG-TERM, WE LOOK AT THESE PRICING DECLINES AS BEING IN ALIGNMENT. IF YOU LOOK AT CREW, IT JUST SEEMS TO BE ON A BIT OF A DELAY. ENERGY COMPANIES, THE LARGER ONES DEFINITELY HAVE A LITTLE BIT IMPACT ON THEIR OWN DESTINY. SMALLER ONES ARE BEHOLDEN TO THE COMMODITY PRICE OR AT LARGE. WHAT I WOULD SAY I THINK IS
THAT IF YOU LOOK LONGER TERM, THE FUNDAMENTALS ARE STILL REALLY MURKY BECAUSE WE JUST DON'T ACTUALLY KNOW HOW THE DECK CHAIRS ARE GOING TO BE SHIFTED. THINKING ABOUT WHY THERE WOULD BE A BENEFIT TO THE U.S. ECONOMY WITH RUSSIA ACTUALLY IMPORTING GAS TO SAUDI ARABIA, IT HAS AN IMPACT YOU POLITICALLY IN TERMS OF WHAT BIDEN CAN REALLY DO AND CAN REALLY NEGOTIATE IN TERMS OF USING THIS CRISIS IN UKRAINE. JONATHAN: I LOVE YOUR THOUGHTS ON WHAT THE CONTINENT FACES.
YOU ARE NOT THAT PESSIMISTIC ABOUT U.S. CORPORATE CREDIT. WHERE YOU STAND ON THE U.S. -- EUROPEAN SITUATION? >> I THINK THE WAY TO THINK ABOUT THIS WOULD BE THAT THE DOWNSIDE OF EUROPE OBVIOUSLY LOOKS MUCH MORE SIGNIFICANTLY WEAKER THAN IT IS IN THE U.S. AT THE SAME TIME, IF YOU LOOK
AT THE PRICE ACTION THROUGH JUNE, THE DISTRESS TALES IN EUROPE HAVE BEEN MUCH MORE SHARPER. IT FEELS LIKE THE BARRICADE SCENARIO BEFORE EUROPE COULD LOOK WORSE AND TO SOME EXTENT, THE MARKET IS ALREADY REFLECTING RELEASE BEGINNING TO PRICE IN THAT SCENARIO BECOMING ARE PRICING IN AT A HIGHER PROBABILITY OF THE BARRICADE SCENARIO PLAYING OUT. IT IS A RATIONAL REACTION WE ARE SEEING FROM MARKETS BUT IT DOES FEEL LIKE GROWTH IS GOING TO BE MORE FRONT AND CENTER IN EUROPE.
IT BECOMES ANOTHER FUNCTION THE ECB HAS TO OPTIMIZE FOR AND THAT IS WHERE THE DIFFICULTY IS. JONATHAN: JUST A BIT DIFFICULT. LOOKING AHEAD TO THURSDAY FOR THE ECB AND I KEEP BRINGING THIS ONE UP, WHAT IS MORE IMPORTANT? I HAVE SAID ABOUT 50 TIMES ALREADY THIS MORNING. EUROPE AND A VERY STICKY SPOT GOING INTO THE BACK END OF THIS YEAR. WE WILL CATCH UP. AND WE CATCH UP WITH BLACKROCK'S TONY DOES BEAR TO IN THE SECOND HALF. THOSE CONVERSATIONS COMING UP AROUND THE EQUITY -- OPENING BELL. WE ARE UP .8% ON THE S&P. THIS IS BLOOMBERG.
JONATHAN: I AM TEMPTED TO CALL IT RISK ON BUT WE HAVE NO IDEA HOW LONG THIS WILL LAST. EQUITIES UP BY .8%. YIELDS A LITTLE BIT HIGHER THROUGH MUCH OF THIS MORNING. LOWER THROUGH MOST OF LAST WEEK. DOWN 15 OR 16. FIRST TIME IN A LONG TIME ANCHORED.
MORGAN STANLEY. 38 PRICE TARGET. NEXT UP, GOLDMAN UPGRADING ON BRANDS. FINALLY, 120 PRICE TARGET. UP NEXT, BIG BANKS EARNINGS. YOUR OPENING BELL IS UP NEXT.
JONATHAN: LET'S GET THE TRADING WEEK STARTED. GOOD MORNING TO YOU ALL. PRICE ACTION UP .9% ON THE S&P 500. UP A LITTLE MORE THAN 1%. OPENING THOUGH. SOME REALLY BIG NEWS THIS YEAR. UP FIVE BASIS POINTS THIS MORNING. WE HAVE HAD A LONG LIFE BELOW 3%.
DEBATE ON THIS HAS BEEN SPLIT RIGHT DOWN THE MIDDLE. EURO SHOWING STRENGTH AGAINST THE WEAKER DOLLAR THIS MORNING. WHO WANTS TO BE PRESIDENT LAGARDE ON THURSDAY AKO THAT IS A TOUGH SPOT. CRUDE POSITIVE, A ROUGH COUPLE OF WEEKS FOR CRUDE. GAS PRICES KEEP COMING DOWN. ABOUT 40 SECONDS AND, LET'S GET SOME MOVEMENT. TAYLOR:
I KNOW OUR EXPERT WILL DO A DEEP LIVE. IN TIM GETTING A LITTLE BIT MORE OF A BENEFIT. GOLDMAN SACHS SEEING GOOD TRADING REVENUE AND BOND REVENUE. THAT IS REALLY HELPING THOSE COMPANIES A LOT CHANGE UP THE BOARD. BOEING GETTING A REALLY GOOD ORDER. COULD BE WORTH ABOUT $18 BILLION. THERE IS NEWS AND ANALYSTS ARE
SAYING THAT SHIPS ACT TO HELP ON ENSURING ABOUT CHIP MANUFACTURING MORE LIKELY THAN NOT TO BE PASSED THIS YEAR. SYNCHRONY FINANCIAL, MORAVA CREDIT CARD LENDER. ACTUALLY SAW THAT BOTTOM LINE RISE AS WELL. I WILL END AGAIN ON ANOTHER POSITIVE NOTE. A BITCOIN IS THE HIGHEST IN FIVE WEEKS. JONATHAN: A LOT OF GREEN OUT THERE THIS MORNING.
SOME TECH EARNINGS COMING UP IN THE NEXT 24 HOURS AS WELL. LOOKING AT THE NUMBERS RIGHT NOW, UP .8%. FINANCIALS UP BY 1.35%. THE NUMBERS FROM GOLDMAN PRETTY
DECENT. DESPITE INCREASED VOLATILITY AND UNCERTAINTY , -- >> DAVID SOLOMON IS SOUNDING MORE SOOTHING BY THE DAY EVEN AS SOME PIPELINES ARE DECLINING WHEN YOU LOOK AT UNDERWRITING. DECKED SIGNIFICANT BEAT THEY HAD TRADING. HELP THAT STOCK RISE HIGHER BY 4%. GOLDMAN WAS TRADING AT LESS THAN BOOK VALUE HEADING INTO THE EARNINGS SEASON.
GIVING EXPENSES IN CONTROL. WHILE ALSO SHOWING THEY CAN PERFORM. YOU LOOK AT BANK OF AMERICA ALSO RISING. BRIAN MONAHAN SAYING BANK OF AMERICA HAS ADDED ONE MILLION CHECKING ACCOUNTS IN THE LAST QUARTER ALONE. BANK OF AMERICA DOING ALSO WHAT IT DOES BEST EVEN IN THE FACE OF SLIGHTLY MISSING WALL STREET EXPECTATIONS IN SOME AREAS AND NOT KEEPING EXPENSES IN CONTROL.
BANK OF AMERICA DID BOOK SOME COST TO REGULARITIES CONCERNS AND IS ALSO LOOKING TO GROW HEADCOUNT AND SOME AREAS WHILE CUTTING IN OTHERS. THIS IS GOING TO BE FINDING A SWEET SPOT ALL YEAR LONG AS THE ENVIRONMENT GETS TOUGHER. JONATHAN: ARE THEY GOING TO GIVE US ANY INTEREST IN OUR SAVINGS ANYTIME SOON? >> YOU ARE NOT SEEING IT HAPPEN AT BANK OF AMERICA VERY SIGNIFICANTLY. JUST A COUPLE OF BASIS POINTS.
OVER AT MARKETS, YOU ARE GETTING 1.2%. THE QUESTION IS WHAT THE COST OF BRINGING THAT EXTRA CONSUMER ON. JONATHAN: 1.2% AND APPARENTLY STILL DOES NOT GET IT DONE. EQUITIES LOOKING DECENT. GOLDMAN UP BY 4.7%.
>> YOU GO TO REALITY TODAY AND ABOUT THINK -- THE BANKING INDUSTRY IS GOING TO HAVE LONG ACTIVITY. THEN WE HAVE TO PLAY THE RECESSION SCENARIO FOR 2023. BUT IF WE START BUILDING RESERVES IN THE SECOND HALF OF THIS YEAR, THAT COULD BE GOOD FODDER FOR EARNINGS PUSH-UPS IN 2023. JONATHAN: THIS MORNING, LIKELY TO CATCH
UP WITH JEFF HART WHO JOINED US TO DISCUSS THESE NUMBERS. I KNOW YOU LIKE GOLDMAN. YOU LIKE WHAT YOU HEAR THIS MORNING AKO >> FOR GOLDMAN, THE REPORTED NUMBERS ARE GREAT. THEY REALLY STOOD OUT AND THAT IS SOMETHING THEY'VE ALWAYS BEEN THE BEST AT. THE HEADLINE NUMBER WAS A LITTLE LIGHT BUT IF YOU ADJUST FOR SOME RATHER LARGE REGULATORY CHARGES, THE ACTUALLY CAME IN LIGHTER THAN EXPECTED. THE BIG NEWS CAME ON A CONFERENCE CALL.
THE HIGHER RATES REALLY KICKING IN. JONATHAN: LET'S TALK ABOUT THE RATE SENSITIVITY. IT HAS BEEN A TOUGH YEAR FOR SOME OF THESE NAMES. I THINK A LOT OF PEOPLE SAW THE BANKS COMING IN. >> THERE CERTAINLY HAS BEEN. HIGHER RATES HAVE BEEN EXPECTED FOR A WHILE NOW.
THE CONCEPT HAS BEEN EXPECTED FOR A WHILE. THE BIG CONCERN NOW FROM WHAT I HEAR BACK FROM INVESTORS IS WE ARE HEADING INTO A RECESSION. MOST OF THE CREDIT METRICS ARE STILL AS GOOD AS WE HAVE EVER SEEN THEM. HOW BAD TODAY HAVE TO GET AND THAT IS KIND OF WHAT THE MARKET IS LOOKING AHEAD TO. YOU HAVE TO FIGURE CREDIT IS
NOT GOING TO STAY WHERE IT IS AT. CERTAINLY NOT AS BAD AS WE HAVE SEEN IN PRIOR RECESSIONS BECAUSE THERE ARE NOT A LOT OF BUBBLES TO POP. THEY REALLY SEEM TO BE A THING INVESTORS ARE FOCUS. IF WE CAN GET MORE STABILITY IN THE MARKETS AND ECONOMY AND KINDA GET AN ARM AROUND WHAT CREDIT LOSSES ULTIMATELY COULD BE, THAT IS PROBABLY THE FIRST REAL KEY FOR GENERAL BANK STOCK.
JONATHAN: THE GOVERNMENT HAD A BIT -- A MASSIVE LAYOFF. THE STRENGTH, THE CREDIT SITUATION IN THIS COUNTRY, DOES THAT PUT A CAP ON THE DOWNSIDE FOR SOME OF THESE BANKS OR DOES IT ACTUALLY UNLEASH SOME UPSIDE FOR SOME OF THESE BANKS INTO YEAR-END? >> I LIKE TO SAY PUTS A CAP ON THE DOWNSIDE. IF WE START TALKING ABOUT A DEEP RECESSION AND BAD ECONOMIC NUMBERS, THE ECONOMY GOES A LONG WAY, THAT IS GOING TO BE BAD NEWS. IT SHOULD GIVE US SOME SUPPORT ON THE DOWNSIDE. THE KIND OF UPSIDE COMES WHEN WE ACTUALLY START SEEING CREDIT COSTS GO UP IN THE DOW GO UP AS MUCH AS PEOPLE FEAR.
IT IS KIND OF THE UNKNOWN ON THE CREDIT SIDE. THEY COULD GET A LOT WORSE ON THE CREDIT FRONT. JONATHAN: GREAT TO CATCH UP WITH YOU.
GOLDMAN WITH A REALLY NICE RALLY. UP ALMOST SIX PERCENTAGE POINTS. MORGAN STANLEY AND GOLDMAN STILL WARNING THE STOCKS HAVE YET TO FIND A BOTTOM.
MIKE WILSON HAD THIS TO SAY. MAKE NO MISTAKE, WE DON'T BELIEVE THIS BEAR MARKET IS OVER EVEN IF WE AVOID A RECESSION. WITH MARK, HERE'S KAYLEE. KAILEY: MIKE WILSON SAYS THE ODDS OF A RECESSION OVER THE NEXT 12 MONTHS ARE ABOUT 36%. HE IS REALLY LOOKING AT PROFIT MARGINS HERE AND SAYS HE DOES NOT REALLY BY THE EXPECTATIONS THAT MARGIN PRESSURES ARE GOING TO EASE BE ON THE SECOND QUARTER DUE TO THE ACCOMMODATION OF HIGHER COST OF THINGS LIKE LABOR AND RAW MATERIALS COUPLED WITH DECELERATING DEMAND. HE ADDS EVEN IF ESTIMATES FOR REVENUE GROWTH WERE TO REMAIN STATIC, A RETURN TO PRE-COVID LEVELS -- DAVID COSTON ALSO TALKS ABOUT THAT IDEA. PETER OPPENHEIMER WAS ON BLOOMBERG TELEVISION SAYING IT IS PREMATURE TO ASSUME INFLATION WILL GO DOWN.
CONSUMER PRICES ARE NOT NECESSARILY GOING TO FOLLOW SUIT IN QUICK ORDER. WE HAVE SEEN A NUMBER OF STRATEGIST TEMPERING THEIR VIEWS ON THE TRAJECTORY OF EQUITIES. PIPER, SANDLER, OPPENHEIMER JUST IN THE LAST 10 DAYS OR SO, WE NOW HAVE THE AVERAGE TARGET FOR S&P SITTING AT 4442 DOWN ABOUT 175 POINTS. JONATHAN: ALWAYS ENJOY READING THE WORK OF MIKE WILSON AT MORGAN STANLEY. THERE IS A STAT ON THE BOJ. THE BOJ NOW OWNS ABOUT 50% OF THE OUTSTANDING JGB MARKET. WE ARE GOING TO TOUCH ON THAT A
LITTLE BIT LATER. I'M NOT EVEN SURE WE SHOULD CALL IT A MARKET ANYMORE. MACY SOME OPPORTUNITIES DESPITE THE ROCKY START TO THE YEAR.
STUNNED VALUATIONS HAVE COME DOWN. LOOKING FORWARD TO THE SPIRIT HE TALKED ABOUT THE OPTIMUM PORTFOLIO. HOW DIFFERENT ARE THEY? >> THE TRUTH IS, THEY ARE VERY DIFFERENT. TO COMBAT INFLATION, YOU WANT A VERY CYCLICAL PORTFOLIO, STOCKS LIKE ENERGY STOCKS, FAANG STOCKS, ETC.. IT'S A COMBAT RECESSION, YOU WANT MORE STABLE COMPOUNDER'S. GIVEN THE AMOUNT OF UNCERTAINTY OUT THERE, WHAT WE HAVE BEEN SAYING IS REALLY BALANCE OUT THOSE RISKS.
LET'S TILT UP BARBELL PORTFOLIO A BIT MORE TOWARDS THE RESILIENT , THE RECESSION RESILIENT SIDE. PARTICULARLY EMPHASIZING HEALTH CARE. THAT IS OUR SINGLE HIGHEST SECTOR RATE SO FAR. JONATHAN: WHY DO YOU THINK IT IS SO UNDERAPPRECIATED. >> FIRST OF ALL, WHEN I LOOK AT THE LONG-TERM, I THINK HEALTH CARE HAS A REALLY HARD OUTLOOK. HEALTH CARE GROWS FASTER THAN GDP BECAUSE WE ARE AGING AS A SOCIETY.
THAT REALLY THE STING WISHES IT FROM OTHER RECESSION RESILIENCY SECTORS LIKE UTILITIES AND STAPLES. IF YOU LOOK OVER LONG PERIODS OF TIME, ACTUALLY FALL AS A PERCENTAGE OF GDP. HEALTH CARE IS VERY RECESSION RESILIENT.
MORE OF THE PAYMENTS ARE COMING FROM OTHER LARGER ROLES. THE EXCHANGES AND SUBSIDIES -- AND UTILITIES HAVE BEEN UP ABOVE MARKET MULTIPLES. ALL OF THOSE REASONS LEAD ME TO MORE INVESTMENTS IN HEALTH CARE THAN EITHER OF THOSE OTHER TWO SECTORS. JONATHAN:
THE PIECE AT THE OTHER SIDE I WANTED TO DISCUSS, THE FINANCIALS. ENERGY WILL RESUME WITH A LOT OF PEOPLE BECAUSE IT IS A SOURCE OF INFLATION RIGHT NOW AND IT HAS PERFORMED REALLY WELL UP UNTIL RECENTLY ON THE S&P. THE FINANCIALS HAVE NOT DELIVERED. THE PROPHETS MIGHT HAVE IN CERTAIN POCKETS BUT THE STOCKS HAVE NOT. WHAT YOU MAKE OF THAT? >> THAT MEANS EVALUATIONS ARE EVEN BETTER AT THE MOMENT. WE ARE SEEING A SLEW OF BANK
EARNINGS RIGHT NOW AND VERY CONSISTENT THEMES. NET INTEREST INCOME REALLY STRONG. WE ARE SEEING RISING NET INTEREST MARKETS HIGHER THAN PEOPLE MIGHT HAVE EXPECTED.
THAT IS SIMPLY BECAUSE BANKS ARE WATCHING DEPOSITS. RATES ON ASSETS ARE GOING UP MUCH MORE QUICKLY. PLUS, WE'RE SEEING LONG GROWTH FOR THE FIRST TIME POST-PANDEMIC. WE ARE SEEING GREAT NUMBERS OUT OF THEIR TRADING BOOKS. MARKETS HAVE BEEN SO VOLATILE SO THAT IS A NICE CUSHION THAT THEY HAVE.
I LIKE THE FACT THE EARNINGS ARE STRONG. AS DISCUSSED IN THE PREVIOUS SEGMENT, WE HAVE TO WATCH CREDIT EXPENSES. IF YOU LOOK AT MET -- NET CHARGE-OFFS WHAT THEY ARE ACCRUING, THEY ARE TAKING MORE EXPENSES ON THE INCOME STATEMENT THAN IS WARRANTED BY WHAT THEY ARE CHARGING.
THAT MADE THEIR PREPARING TO CUSHION ON THE DOWNSIDE SHOULD THE ECONOMY SLIP FURTHER. JONATHAN: THAT RAISES THE BIG QUESTION. THE RELATIONSHIP BETWEEN RATES AND STOCK PERFORMANCE OF THE CYCLE, THAT IS THE IMPORTANT PIECE BETWEEN INTEREST RATES CLIMBING AND STOCK PERFORMANCE AT THE STATE OF THE CYCLE AND A LOT OF PEOPLE LOOKING FOR EVERY ATTENTIONAL SECOND HALF OF THIS YEAR. >> AS YOU POINT OUT, THERE IS A LOT OF FEAR ABOUT THE ECONOMY BECAUSE OF RISING RATES. I THINK THAT IS THE OPPORTUNITY. IS THAT THE STOCKS ARE JUST TOO DISCOUNTED FOR WHAT THE FUNDAMENTAL OUTLOOK IS. JONATHAN: DO WE NEED RECESSION RISK TO FADE FOR THAT TO START TO DELIVER? >> ONCE WE SEE THE CREDIT LOSSES COME THROUGH AND SEE THAT THEY ARE NOT THAT BAD, I THINK THAT IS WHEN THE STOCKS WILL PROBABLY DELIVER. WHEN YOU LOOK AT THE LAST
COUPLE OF RECESSIONS, THE GLOBAL FINANCIAL CRISIS, CREDIT WAS HORRIBLE. I DON'T THINK IT WILL BE EITHER. THAT MEANS THESE ARE LONG-TERM GOOD DEBTS. JONATHAN: AWESOME TO GET YOUR REVIEWS PARTICULARLY ON THE HEALTH CARE STORY. TONIO BLACKROCK. GOLDMAN UP BY 5% THIS MORNING IN THE EARLY PART OF THE SESSION ABOUT 15 MINUTES AND.
COMING UP, GREAT DECISIONS FROM THE BOJ AND ECB. >> EITHER WE SEE RUSSIAN GAS TAX FLOWING AGAIN. JONATHAN: THE CONVERSATION UP NEXT. THIS IS BLOOMBERG. ♪ >> WE ALL THINK -- WE DON'T THINK THE ECB NEEDS TO DO ANY FRONT MOANING. WE EXPECT 25 BASIS POINTS NOW. ANOTHER 25 BASIS POINTS IN
OCTOBER AND WE THINK THE ECB WILL ACTUALLY PAUSE BECAUSE OUR BASE CASE IS THE MINOR SECTION, EITHER WE SEE RUSSIAN GAS TAX FLOWING AGAIN BUT OBVIOUSLY AS FONTAN MUCH DEEPER RECESSION. JONATHAN: WHAT A TOUGH SPOT FOR THE ECB. FRED RATE HIKES UNCERTAIN EUROPEAN ENERGY SUPPLY. UPSIDE INFLATION RISK. ROCKY ECB AND A HARD PLACE. THEY ARE IN A TOUGH SPOT. THE ECB AND THE OJ ON DECK THIS WEEK.
REACH OUT TO THE TEAMS TO HAVE A LOOK AT IT. THE BOJ NOW OWNS APPROXIMATELY HALF OF THE MARKET. A FORECAST ON CHANGES MADE UNTIL NEXT YEAR ON YIELD CONTROL. IT COULD GET BIGGER. >> THE ECB IS EXPECTED TO RAISE RATES FOR THE FIRST TIME IN A DECADE. EXPECTED TO HOLD STEADY WHETHER OR NOT SOME CARPENTER THINK THAT IS A PROBLEM. THE ECB IS SUPPOSED TO KEEP INFLATION DOWN. THE BANK OF JAPAN HAS BEEN
TRYING TO GET TO 2% FOR A DECADE OR MORE. THEY HAD JUST GOTTEN ON INFLATION. IT IS EASY BE THAT WILL GET THE HEADLINES THIS WEEK BECAUSE IT IS A TOUGH DECISION FOR CHRISTINE LAGARDE AND COMPANY. I THOUGHT YOU WERE GOING TO SAY LIONEL MESSI WHEN YOU'RE TALKING ABOUT ALL OF THE MESSY THINGS.
RECESSION ODDS ARE RISING AS IS ENERGY PRICES SOAR. WE WILL FIND OUT ON THURSDAY, SAME DAY AS THE ECB MEETING WHETHER THE GASKETS TURN BACK ON FROM RUSSIA AFTER BEING DOWN FOR MAINTENANCE. IF THERE IS A RECESSION OR A DOWNTURN, DOES ITALY JUST BLOWOUT. WE DON'T HOW THEY REACT BECAUSE THE ITALIAN GOVERNMENT IS NEAR COLLAPSE. AN AWFUL LOT OF CROSSCURRENTS FOR THE ECB TO WORRY ABOUT.
BANK OF JAPAN NOT GOING TO DO ANYTHING NOW. THEY'LL KEEP THEIR RATE BELOW ZERO. THEY HAVE KEPT IT THAT WAY FOR ABOUT SEVEN OR EIGHT YEARS NOW.
THE BANK OF JAPAN IF THEY CAN KEEP INFLATION WHERE IT IS, LIKELY TO START DISCUSSING HOW THEY GET OUT OF IT BECAUSE EVERYBODY WORRIES ABOUT HOW YOU GET OUT OF YIELD CURVE CONTROL WITHOUT THE MARKET FRONT RUNNING YOU AND BLOWING UP EVERYTHING YOU ARE DOING. JONATHAN: IT HAS BEEN A LONG TIME. WE'VE BEEN TALKING ABOUT NEGATIVE INTEREST RATES. HEAVENS AND A RATE HIKE IN THE ECB SINCE 2011.
DRAGHI DID NOT HAVE TO DO ONE. DO THINK YOU COULD BE NORD STREAM 2 COMING BACK ONLINE. >> THAT COULD BE CERTAINLY THE ISSUE WITH IT. IN A DAY OR SO, WE WILL KNOW. NO GAS COMES THROUGH THAN THE
ECB IS GOING TO WHICH IT CUT RATES PERHAPS. >> IF IT DOES FLOW, THEY'RE GOING TO BE HAPPY THEY RAISED RATES. EXTRAORDINARILY BAD TIMING FOR THEM. JONATHAN: I WONDER IF THIS ECB WOULD ACTUALLY BE TALKING ABOUT MUSIC NOT TIGHTENING.
GIVEN SOME COMMUNICATION FROM THE C-SUITE, THEY GO TO SLOW HIRING VELOCITY. WHAT DO YOU MAKE OF THAT PHRASE AND HOW MUCH HAVE YOU BEEN HEARING. THEY STILL HAVE OPENINGS, BUT IF THE ECONOMY IS GONNA TURN DOWN, THAT I WANT TO GO TOO FAR IN HIRING PEOPLE. RESENDING JOB OFFERS THEY HAVE MADE BECAUSE THEY ARE AFRAID THEY MIGHT HAVE TO LAY PEOPLE OFF. JONATHAN: PLAYBACK AMOUNT OFFER YOU'VE ALREADY MADE AND BEEN AGREED ON. I DON'T LIKE THE AND I KNOW YOU
DON'T EITHER. COMING UP, THE MARKET MOVES YOU NEED TO BE WATCHING. NETFLIX THIS WEEK REPORTING EARNINGS AFTER THE CLOSE TOMORROW AFTER WE LEAVE THE BIG BANKS ON WALL STREET BEHIND US. THAT IS NEXT. ♪ JONATHAN:JONATHAN: SO FAR, SO GOOD. WILL IT STICK?
I HAVE GOT NO IDEA. STOCKS OF, YIELDS OF, DOLLAR WEAKER. HERE IS YOUR TRADING DIARY. THE WHITE HOUSE PRESS SECRETARY HOLDING A NEWS CONFERENCE AT 3:00 EASTERN. NETFLIX EARNINGS COMING
TOMORROW. TESLA REPORTING EARNINGS ON WEDNESDAY. GREAT DECISIONS FROM THE DOJ AND ECB COMING OUT OF THURSDAY AN UP -- ALONGSIDE ANOTHER ROUND OF JOBLESS CLAIMS IN THE U.S. PMI'S RAMPING UP THE WEEK ON FRIDAY. LOOKING FORWARD TO COVERING THOSE STORIES WITH YOU HERE ON BLOOMBERG TV. FROM NEW YORK CITY, THIS WAS
THE COUNTDOWN TO THE OPEN. THIS IS BLOOMBERG. ♪
2022-07-20 12:08
Show Video
Other news