'Bloomberg The Open' Full Show (07/11/2022)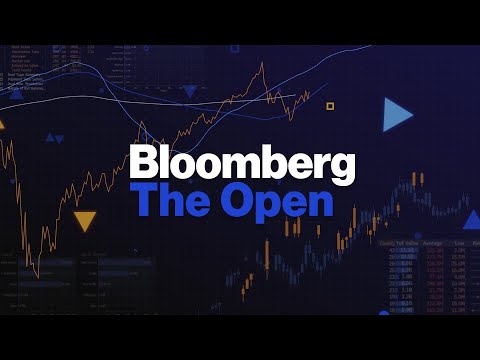 Show Video
JONATHAN: WHAT A WEEK WE'VE GOT COMING UP FOR YOU. GOOD MORNING. EQUITIES HEADING SOUTH. THE COUNTDOWN TO THE OPEN STARTS NOW. >> EVERYTHING YOU NEED TO GET SET FOR THE START OF U.S. TRADING.
THIS IS "BLOOMBERG THE OPEN," WITH JONATHAN FERRO. ♪ JONATHAN: LIVE FROM NEW YORK CITY, WE BEGIN WITH A BIG ISSUE, GEARING UP FOR EARNINGS SEASON. >> WE'VE GOT EARNINGS SEASON.
>> HUGE EARNINGS SEASON COMING UP. >> POSITIONING IN VALUATION IS VERY BEARISH. >> BETWEEN INFLATION AND RECESSION. >> WE ARE HEADING INTO A MORE EARNINGS CONSTRAINED ENVIRONMENT.
>> THE EARNINGS EXPECTATION WILL COME DOWN. >> THERE'S A LOT OF DISCUSSION ABOUT ANALYSTS CUTTING THEIR ESTIMATES. >> ANALYSTS ARE SITTING THERE LIKE DEER IN THE HEADLIGHTS, NOT KNOWING WHAT TO DO WITH NUMBERS. >> WE ARE NOT SEEING THAT KIND OF ANALYST DISPERSION CONSISTENT WITH AN EARNINGS RECESSION. >> I THINK THE EARNINGS ESTIMATES OUT THERE ARE TWO HIGH. >> INVESTOR SENTIMENT IS DOWN.
>> THERE'S A LOT MORE PAIN TO COME FOR THE CONSUMER. >> THE REAL EARNINGS HIT WILL COME IN THE SECOND HALF. JONATHAN: JOINING US TO DISCUSS IS JP MORGAN'S JACK CAFFREY, WINNIE CISAR OF CREDITSIGHTS, MOHAMED EL-ERIAN SET AN AVALANCHE OF EARNINGS REVISIONS ARE COMING. WIND IS THE BAD NEWS HIT? >> I THINK THE BAD NEWS IS PROBABLY GOING TO HIT IN THE NEXT COUPLE OF WEEKS, ALTHOUGH I WOULD NOTE THERE ARE A NUMBER OF COMPANIES WHO HAVE TRIED TO GET AHEAD OF BAD NEWS. IF YOU RECALL EARLIER IN THE YEAR, WE HAD A COUPLE OF BIG RETAILERS, SOME OF THE TECH COMPANIES COME OUT AND SAY THAT TO Q AND BEYOND LOOKS A LITTLE WORSE THAN WHAT WE WERE EXPECTING, SO WE HAVE SEEN A PRETTY SIGNIFICANT REVISION LOWER, AND AT THE OVERALL EPS LEVEL FOR S&P 500, THE REVISION LOWER HAS BEEN QUITE MATERIAL SINCE THE END OF Q1. SO THE BIG QUESTION IS IS THAT COMBINATION OF TOPLINE DECELERATION PLUS PRICE AND PRESSURE REALLY GOING TO EIGH ON MARGINS? JONATHAN: GIVEN WHAT YOU KNOW NOW VERSUS THE START OF THE YEAR IN JANUARY, CAN YOU TELL US HOW MUCH YOUR EXPECTATIONS FOR EARNINGS HAVE COME DOWN? JACK: WHEN WE THINK ABOUT THE EARNINGS STORY, WE HAVE TO TAKE IT TO THREE DIFFERENT PIECES. WE HAVE TO THINK ABOUT HOW MUCH
IS PRICED, AND THAT CONTINUES TO BE STRONG, HOW MUCH IS VOLUME, AS WE HAVE SEEN SOME RETAILERS TAKING THOSE NUMBERS LOWER, AND THEN WE HAVE TO THICK ABOUT TRANSLATION BECAUSE THE S&P IS NOT THE U.S. ECONOMY. IT IS A GLOBAL ECONOMY. PARTICULARLY EUROPE IS GOING TO BE WEAK ON PRICE COME ON VOLUME, AND ON THE TRANSLATION OF THAT ACT. I THINK WE ARE STILL PERHAPS TOO HIGH, BUT WE WILL HAVE TO WAIT FOR MANAGEMENT TO HELP GUIDE THE STREET TO GUIDE CONSENSUS TO GIVE US A BETTER SENSE OF WHERE THAT WINDS UP, WHETHER IT IS 1%, 3%, HIGH PERCENT. HOPEFULLY MUCH BETTER DETAIL ON THAT OVER THE NEXT TWO TO FOUR WEEKS. JONATHAN: I LOVED YOUR POINT ON THE DOLLAR POINT. LET'S GET SOME MORE DEPTH THERE. MIKE WILSON A MORGAN STANLEY OVER THE WEEKEND SAID THIS.
"THE SIMPLE MATH ON S&P 500 EARNINGS FROM CURRENCY IS THAT FOR EVERY PERCENTAGE POINT INCREASE ON A YEAR ON YEAR BASIS , IT IS APPROXIMATELY A ZERO POINT FIVE TIMES HIT TO EPS GROWTH. IT TRANSLATES TO AN 8% HEADWIND FOR S&P EPS GROWTH." HOW DO YOU MAKE A SIMILAR CALCULATION? THE MOVES IN THE FX MARKET WITH EURO-DOLLAR, A CLEAN BREAK THIS MORNING. THE DOLLAR INDEX HEADING TOWARD 108.
HOW DO YOU MAKE THE TRANSLATION TO WHAT YOU THINK WILL HAPPEN WITH EARNINGS? >> THE CHALLENGE WITH TRANSLATION IS IT IS NOISE NOT WITHOUT A LOT OF SIGNAL. IT DOES NOT REALLY TELL YOU WHAT IS GOING ON WITH THE PRICING IN LOCAL MARKETS. IT DOES NOT TELL YOU WHAT IS HAPPENING TO VOLUMES AND LOCAL MARKETS. THAT IS WHY SO MANY TRIED TO BREAK DOWN THE TOPLINE AS VOLUME AND THEN TRANSLATION.
IT IS GOING TO BE A BIG HEADWIND. I THINK IT IS GOING TO BE CHALLENGING FOR U.S. COMPANIES WITH SUBSTANTIAL EUROPEAN EXPOSURES. THAT IS TRUE PROBABLY MORE IN THE OLDER COMPANIES WHERE THEY HAVE MORE LOCAL EXPOSURE. PROBABLY A BIGGER HEADWIND WHEN I THINK MORE THROUGH THE MATH ON THE FLY.
FOR SOME OF THOSE COMPANIES, YOU WILL GET SOME FLIPSIDE FOR SOME INFLATION RELIEF BECAUSE SO MANY GLOBAL COMMODITIES ARE PRICED IN DOLLAR TERMS. IT WEEK AGO OR TWO WEEKS AGO WE WERE TALKING ABOUT WEAKER OIL, WEAKER COPPER AS REFLECTIVE OF A SLOWING ECONOMY. I THINK THERE'S A FOREIGN-EXCHANGE ISSUE THERE, AND THERE IS SOME CONCERN THAT MAYBE WE'VE GOT SLOWING DEMAND AS WELL. JONATHAN: THE FOREIGN-EXCHANGE ISSUE IS ON THE SCREEN RIGHT NOW. VERY BRIEFLY, 108 ON DXY. THE DOLLAR STRONGER AGAINST
PRETTY MUCH EVERYTHING IN G10. ON THE SAME TOPIC, HOW ARE YOU SINGING ABOUT THAT SHOE GOING INTO EARNINGS SEASON? WINNIE: IN THE CREDIT MARKETS, THE STRENGTH OF THE DOLLAR HAS TWO BIG FACTORS. FIRST IS JUST THE EARNINGS AND INTERNATIONAL EXPOSURE, WHICH JACK TOUCHED ON A GOOD BIT. WHAT WE FOUND IS THAT THE U.S. INVESTMENT-GRADE MARKET HAS MUCH MORE OF THAT GLOBAL MULTINATIONAL EXPOSURE AND IS MORE EXPOSED TO THE CURRENCY RISK ASSOCIATED WITH A STRONGER DOLLAR, ESPECIALLY WHEN COMPARED TO THE U.S. HIGH-YIELD MARKET, WHICH TENDS TO BE MORE DOMESTIC IN NATURE. ANOTHER BIG FACTOR FOR FIXED INCOME AND CORPORATE CREDIT IS THE EXCHANGE RATE.
THE YIELD PICKUP ON A CURRENCY ATTESTED BASIS THAT NON-US INVESTORS CAN GET FOR PUTTING THEIR MONEY TO WORK IN THE U.S. MARKETS IS MUCH LESS ATTRACTIVE WHEN THAT DOLLAR IS STRONGER. WE HAVE BEEN WAITING FOR OTHER BUYERS TO COME INTO THE U.S. CREDIT MARKETS BECAUSE CLEARLY THE RETAIL INVESTOR IS SEEING HEFTY PORTFOLIO LOSSES AND SAYING I DON'T KNOW THAT I NECESSARILY WANT TO BE INVOLVED HERE AS THOSE NONINSTITUTIONAL U.S. INVESTORS HAVE COME INTO HELP MITIGATE SOME OF THAT VOLATILITY AND ADD TO THE MENTAL DEMAND COME UP WITH A STRONGER DOLLARS REIKI HEADWIND TO THAT TYPE OF ENDEAVOR. JONATHAN:
EQUITY FUTURES DOWN ABOUT 0.6%. THE UNOFFICIAL START WITH JP MORGAN ON WEDNESDAY. WE GOT RETAIL SALES THIS WEEK AS WELL.
MIKE MCKEE, A BIG FOCUS, A RENEWED FOCUS ON U MICH CONSUMER EXPECTATIONS. I ASKED CITI WHERE THAT RIGHT FOR THEM. THEY SAID IT IS THE NUMBER TWO DATA POINT. MICHAEL: GO FIGURE. IT IS BACK TO THE DAYS WHEN ALAN GREENSPAN WOULD SIT IN HIS BATHTUB AND THINK OF A NEW ECONOMIC INDICATOR. NOW EVERYONE HAS TO PAY ATTENTION TO THIS UNIVERSITY OF MICHIGAN NUMBER. AHEAD OF THAT, A BUSY WEEK. YOU CAN PROBABLY SQUEEZE ANOTHER DAY OUT IN THE HAMPTONS TODAY. NOT MUCH GOING ON UNLESS YOU
TRADE IN THE MONEY MARKETS. WEDNESDAY WE REALLY PICK IT UP WITH THE CPI AND EVERYBODY'S GOING TO BE WATCHING TO SEE IF WE HIT ANOTHER 40 YEAR HIGH. AS YOU MENTIONED, RETAIL SALES AND A COUPLE OF OTHER INDICATORS ON FRIDAY WILL LET US KNOW WHERE THE ECONOMY IS GOING. THE THING WE WANT TO DO IN LOOKING AT THIS IS NOT LOOK AT THOSE HEADLINE NUMBERS. EVERYBODY WILL SAY FOR YOUR
HIGH-END CPI, BUT WHAT THE FED IS GOING TO BE LOOKING AT IS THE MONTH OVER MONTH CHANGES IN THESE THINGS, AND THE HEADLINE AND IN THE CORE. WE SLOWING DOWN? THAT IS THE DIRECTION THE FED WANTS TO SEE THINGS GOING. RETAIL SALES THEY WOULD LIKE TO SEE RISE. THEY WERE FLAT, WHICH LEAVES THE ENERGY KIND OF FLAT LAST MONTH. IF AMERICANS ARE STILL SPENDING, THAT IS GOOD NEWS. AND OF COURSE, THE ALL-IMPORTANT NUMBER OF THE WEEK, IF THAT IS THE CASE, FED OFFICIALS WILL BE QUITE HAPPY.
WE WILL SEE WHAT WE ARE TRADING AT THE END OF THE WEEK, BUT OVER THE LAST COUPLE OF DAYS, SOMETHING INTERESTING HAS HAPPENED. THEY HAVE SAID WE AGREE WITH THE FED IN JULY, BUT NOW WE ARE COMING DOWN TO 50. YOU CAN SEE HOW EXPECTATIONS CHANGE AFTER THE JUNE MEETING WHEN THEY WENT 70 52 DAYS BEFORE AND WENT WAY UP, THE FED FUNDS FUTURES.
NOW WE ARE AT A MUCH LOWER LEVEL , SO CHECK WITH US FRIDAY AFTER THAT MICHIGAN NUMBER IS OUT. JONATHAN: LOOKING FORWARD TO IT. IT HAS GOTTEN RIDICULOUS, AND I KNOW YOU SHARE A VIEW. WE HAVE TO PAY ATTENTION TO WHAT THEY ARE PAYING ATTENTION TO. APPARENTLY THAT IS WHAT THEY ARE PAYING ATTENTION TO. IT WAS THE DIFFERENCE LAST TIME
AROUND BETWEEN A 50 BASIS POINT HIKE AND A 75 BASIS POINT HIKE. THIS HAS QUICKLY BECOME A CONSENSUS. THIS VIEW THAT WE GET 75 THE END OF THIS MONTH AND THEN WE START TO TAPER OFF, GOLDMAN ON BOARD AS WELL, THEY LOOK FOR 75 IN JULY, 50 IN SEPTEMBER, 25 IN NOVEMBER AND DECEMBER. YOU ARE ON BOARD WITH THIS VIEW THAT IF WE GET 75 THIS MONTH, THAT IS THE LAST 75 OF THIS CYCLE. WHY? WINNIE: FOR ONE, FED OFFICIALS HAVE STATED 75 IS AN OUTSIZED RATE HIKE, AND REALLY ONLY MERITED WHEN YOU'RE SEEING VERY HEFTY INFLATION NUMBERS. ESPECIALLY WHEN IT COMES TO SERVICES, THE FED HAS LESS COVER TO CONTINUE TO HIKE RATES AT REALLY AGGRESSIVE LEVELS.
ALSO WE HAVE A VERY CONSTRUCTIVE JUNE PAYROLLS REPORT, BUT WHETHER WE CONSIDER TO CONTINUE TO ADD JOBS AT THE SAME KIND OF CLIP IS DEFINITELY A QUESTION HEADING INTO THE BACK HALF OF THE YEAR, WHICH TENDS TO BE A LITTLE SLOWER ON THE EMPLOYMENT FRONT ANYWAY. COMBINATION OF PLATEAUING INFLATION PLUS THE POTENTIAL FOR SOME DECELERATION IN EMPLOYMENT AND OTHER ECONOMIC DATA SHOULD KEEP THE FED ON A LITTLE BIT SLOWER PACE FOR RATE HIKES IN THE BACK HALF OF THE YEAR. JONATHAN: HOMEBUILDERS DOWN 30% THIS YEAR. IF I AM THINKING ABOUT HOUSE PRICES, THAT PARTICULAR INDUSTRY GROUP, HOW ARE YOU PLAYING THAT STORY NOW? JACK: I THINK WE HAVE SEEN A SHIFT AWAY FROM THE CONSTRUCTION TRADE TO THE RENOVATION TRADE. WHEN WE THING ABOUT MORTGAGE RATES HAVING BASICALLY DOUBLED OVER THE COURSE OF THIS YEAR, WHEN YOU THING ABOUT THE IMPACT OF AFFORDABILITY OF HIGHER PRICES FOR YOU GOT TO THAT, THE CONSUMER IS GOING TO BE MORE LIKELY STAYING IN THEIR HOME. THAT COMES BACK TO A LACK OF
SUPPLY THAT WE REALLY EXPERIENCED GOING BACK TO THE GLOBAL FINANCIAL CRISIS AND THE PEAK OF HOUSING ACTIVITY IN 2006. EMBEDDING THAT IS SOME GOOD NEWS AND BAD NEWS. THE CONSUMER WILL CONTINUE TO'S END ON THEIR OWN AND WILL MORE LIKELY BEAST SMALLER PROJECTS WHERE THEY CURRENTLY ARE. THE SPENDING CONTINUES. YOU WANT TO CONTINUE TO PUT PRESSURE ON RENTS. THAT LARGEST COMPONENT WITHIN THE INFLATION NUMBER. THAT ENDS UP IMPACTING CORE CPI FOR A LONGER TIME, AND THE FED WAS PROBABLY LEFT BETWEEN A ROCK AND A HARD PLACE WANTING TO SLOW DOWN HOME PRICE APPRECIATION, BUT RECOGNIZING THE READTHROUGH. THEY DON'T REALLY HAVE A GOOD
WAY TO SOLVE THAT. JONATHAN: JUST TO BUILD UP ON THE EQUITY STORY, THE KIND OF SCENE YOU ARE TRYING TO GET BEHIND, THE HOME DEPOT HAS NOT HAD A GOOD YEAR, LET'S BE CLEAR ABOUT THAT. CAN YOU BE MORE DETAILED ABOUT WHERE YOU PUT THE MONEY? JACK: IT WOULD BE FAIR TO SAY THAT NOTHING IN HOUSING AND HAD A GOOD YEAR . THE HOMEBUILDERS HAVE BECOME A KEY PRESSURE POINT. YOUR TRADING AT 70% OF BOOK VALUE.
YOU ARE BUYING THESE THINGS FOR THE POTENTIAL OF LITERALLY DIRT. THE CHALLENGE IS THEIR ORDERS ARE GOING TO FALL OVER THE NEXT YEAR OR TWO, AND MOST PORTFOLIO MANAGERS DON'T HAVE THE FLEXIBILITY TO LOOK OUT FOR MORE THAN A YEAR. THEY WILL SAY THREE YEARS FROM NOW, HOUSING IS GOING TO BE BOOMING. IN THE SHORT TERM, I THINK THE BUILDERS THEMSELVES OR MORE LIKELY CHANGING MONEY, AND AT THE SAME TIME, THOSE SCENES TIED TO HOME-IMPROVEMENT RETAILERS, SOME OF THE PAINT SUPPLIERS AND UP HAVING A MORE INTERESTING OPPORTUNITY IF THEY HAVE BEEN PUSHING THROUGH PRICE.
IT IS MORE LIKELY TO MAKE FOR DOMESTIC YOU ARE LIVING IN. JONATHAN: EXCELLENT POINT. YOUR EQUITY MARKET DOWN 0.7% ON THE S&P. A TON OF SINGLE NAMES WE NEED TO TALK ABOUT. ABIGAIL: WE HAVE A BIT OF A MORE CAUTIOUS TONE AFTER LAST WEEK'S RALLY, AND A BIG IS IT THAT, THE TECHNOLOGY SECTOR. WE DO HAVE APPLE DOWN ABOUT
0.7%, BREAKING A FIVE DAY WHEN STREAK. TODAY WE HAVE CHINA INFLUENCING THE TECHNOLOGY SECTOR WITH THE NEW COVID FLAREUPS, LOCKDOWNS, PLUS NEW FINES FOR CHINA TECH. NVIDIA DOWN 1.5%. SHIPS OVERALL DOWN SHARPLY.
THIS COMPANY IN PARTICULAR RECEIVES NEARLY 30% OF ITS REVENUE FROM CHINA, SO THIS NEW COVID NEWS NOT HELPING OUT. LET'S GET TO THE DAYS COME OF WEEKS, THE YEAR'S BIG STORY, TWITTER STUCK DOWN FIVE POINT 5%. ELON MUSK OVER THE WEEKEND WALKING AWAY FROM HIS $44 BILLION BID. LEGAL FIGHT SEEMS TO BE COMING UP, OR YOU HAVE TO WONDER, IS THIS A PRELUDE TO GETTING THE PRICE LOWER? LET'S SEE WHAT HAPPENED. JONATHAN:
TRUIST WEIGHED IN ON THIS. JUST A NUMBER TO THINK ABOUT FROM THEM. COMING UP, PRESIDENT BIDEN HEADING TO THE MIDDLE EAST. PRES. BIDEN: GAS PRICES STILL WAY TOO HIGH
HAVE FALLEN OUT 25 DAYS IN A ROW. I AM SUGGESTING WE ARE MAKING SIGNIFICANT PROGRESS. THE PROGRAM IS WORKING. JONATHAN: THAT CONVERSATION UP NEXT. PRES. BIDEN: I KNOW TIMES ARE TOUGH. PRICES ARE TOO HIGH. FAMILIES ARE FACING A
COST-OF-LIVING CRUNCH. BUT TODAY'S ECONOMIC NEWS CONFIRMS THE FACT THAT MY ECONOMIC LAN IS MOVING THIS COUNTRY IN A BETTER DIRECTION. GAS PRICES STILL WAY TOO HIGH HAVE FALLEN OUT 25 DAYS ARROW. NOT SUGGESTING THERE'S NOT A LOT MORE WORK TO DO, BUT I AM'S ADJUSTING WE ARE MAKING SIGNIFICANT PROGRESS. THE PROGRAM IS WORKING. JONATHAN: PRESIDENT BIDEN TOUTING THE LATEST ECONOMIC DATA AND OF HIS TRIP TO THE MIDDLE EAST. THE
PRESIDENT DEFENDING HIS UPCOMING VISIT IN "THE WASHINGTON POST." "THIS TRIP COMES AT A VITAL TIME FOR THE REGION AND IT WILL ADVANCE IMPORTANT AMERICAN INTERESTS. THE VISIT COMING AT A CRUCIAL TIME WITH A RECENT POLL SHOWING 64% OF DEMOCRATIC VOTERS PREFERRING A NEW CANDIDATE FOR THE 2024 PRESIDENTIAL CAMPAIGN. EMILY WILKINS OF BLOOMBERG GOVERNMENT JOINS US NOW. EMILY: ONE OF THE REALLY INTERESTING THINGS ABOUT THIS OP-ED, SO MANY PEOPLE EQUATE BIDEN'S TRIP TO THE MIDDLE EAST WITH OIL PRICES AND GAS PRICES, BUT THAT WAS NOT SOMETHING THE PRESIDENT FOCUSED ON. HE MADE THE CASE THAT HE NEEDS TO TAKE THE TRIP FOR DIPLOMATIC REASONS ONLY BETWEEN THE U.S. AND MIDDLE EASTERN NATIONS, BUT
EVEN AMONG THOSE NATIONS, PARTICULARLY ISRAEL AND ITS TIES WITH OTHER ARAB COUNTRIES. THAT IS THE REASON BIDEN IS TRYING TO FRAME THIS, LIKELY BECAUSE HE'S NOT GOING TO BE ABLE TO WALK AWAY FROM THIS AND SEE GAS PRICES COME DOWN BY A SIGNIFICANT AMOUNT FROM WHAT AMERICANS NORMALLY EXPECT. HE IS REFRAMING THE TRIP AS FAR AS WHAT HIS GOALS ARE, AND THIS IS COMING AT A TIME WHERE THE PRESIDENT DOES NOT HAVE SUPPORT FOR HIS OWN PARTY WHEN TAKING THIS TRIP, AND NUMBER TWO, HAS REALLY LOST A LOT OF THE SUPPORT FROM THE DEMOCRATIC PARTY IN FULL. REALLY NOTABLE THAT 64% OF DEMOCRATIC VOTERS POLLED SAY BIDEN SHOULD NOT BE THEIR STANDARDBEARER IN 2024. IT WILL BE INTERESTING TO SEE HOW THAT REALLY IMPACTS WHAT HE IS ABLE TO DO WITH OTHER NATIONS ABROAD. JONATHAN: GREAT WORK, AS ALWAYS. THIS PRESIDENT IN A TOUGH SPOT,
AND THESE ARE VERY COMPLEX ISSUES. THIS IS A MUST WATCH. GUY JOHNSON, DAVID WESTIN SITTING DOWN WITH COMMERCE SECRETARY GINA RAIMONDO. THEY WILL DO THAT AT ABOUT 11:00 EASTERN TIME. A CONVERSATION ON BLOOMBERG TV AND BLOOMBERG RADIO. JUST ON THE ENERGY STORY, BIG COMPONENT OF WHAT IS HAPPENING AT THE MOMENT. MY MEDULLARY AND FRIDAY SAYING THE MOST IMPORTANT ISSUE FOR HIM AS TO WHETHER HE'S GOING TO BE CONSTRUCTIVE OR LESS SO ON RISK ASSETS WAS HOW STICKY DISINFLATION WOULD HE. HOW DO YOU THINK ABOUT THAT
VERY IMPORTANT POINT? JACK: I THINK THAT IS ULTIMATELY THE CRUX OF IT. IF WE MOVED FROM A PERIOD OF SUSTAINED LOW INFLATION TO A PERIOD OF SUSTAINED MADE INFLATION, ULTIMATELY WE HAVE TO REPRICE RISK ASSETS IN TERMS OF THEIR VALUATIONS. FUTURE DOLLARS ARE WORTH MUCH LESS. YOU HAVE TO RE-UNDERWRITE HERE ECONOMIC OUTLOOK AND THE STABILITY OF YOUR ECONOMIC OUTLOOK THAT IMPLIES A HIGHER RISK RHENIUM. COMING THROUGH THIS IDEA OF HOW
STICKY IS STICKY, HOW TRANSITORY IS TRANSITORY, AND HOW QUICKLY YOU CAN NORMALIZE BECOMES A VITAL QUESTION WE HAVE TO WORK THROUGH. IT IS HARD TO TEASE OUT SOME OF THAT BECAUSE SO MUCH OF THAT WHAT WE CALL HIGH-FREQUENCY DATA, CONSUMER SPENDING WINDS UP BEING REPORTED IN NOMINAL TERMS. WE HAVE SPENT YEARS THINKING ABOUT UNDER APPRECIATION -- UNDER DEPRECIATION AND CAPITAL SPENDING. DO YOU SEE CASH FLOWS REDIRECTED INTO THE BUSINESS IN
TERMS OF ACCOUNTS RECEIVABLE OR JUST OLD CAPITAL SPENDING RETURNING? JONATHAN: HE'S GOT TO HAVE A DECENT UNDERSTANDING OF THE RUN RATE FOR INFLATION, AND IF WE ARE GOING TO COME DOWN TO THAT LEVEL. RICK RIEDER OF BLACKROCK, HE WAS LESS BEARISH COMPARED TO WHERE HE WAS. IF WE ARE GOING TO SEEING A RUN RATE OF INFLATION A BIT HIGHER, THEN RIGHT NOW YOU CAN BUY HIGH-YIELD AT 9% TO NINE POINT 5%. YOU CAN BUY INVESTMENT GRADE
QUALITY AT 5%-ISH. HE IS SLOWLY STARTING TO MAKE THAT MOVE. I JUST WONDER HOW YOU ARE THINKING ABOUT THAT. WINNIE: I AGREE WITH RICK ON THAT POINT.
WE HAVE BECOME MUCH MORE CONSTRUCTIVE ON THE CORPORATE CREDIT OVER THE COURSE OF THE YEAR, ESPECIALLY LONGER DURATION ASSET CLASSES LIKE U.S. INVESTMENT GRADE. YIELDS THERE ARE AT LEVELS WE HAVE NOT SEEN ON A SUSTAINED BASIS SINCE BEFORE THE GREAT FINANCIAL CRISIS. WE ARE ANYMORE MODERATE INFLATION REGIME, LONG-TERM ALLOCATION TO FIXED INCOME FEELS MUCH MORE CONSTRUCTIVE NOW THAN IT DID AT THE START OF THE YEAR WHEN YIELDS WERE VERY LOW. SIMILARLY IN U.S. HIGH YIELD, WE ARE NOW TRADING AT A LEVEL THAT IMPLIES A LOT OF CREDIT RISK AND THAT ASSET CLASS, AND THE REALITY IS CORPORATE FUNDAMENTALS ARE IN MUCH BETTER SHAPE TO CONTEND WITH SOME SORT OF DECELERATION, SLOWER TOP LINE, CONTINUED PRICING PRESSURES THEN IN ANY OTHER CREDIT CYCLE. YOU HAVE A MUCH MORE FUNDAMENTALLY SOUND INVESTMENT OPPORTUNITY COMBINED WITH VERY ATTRACTIVE VALUATIONS ON A LONGER-TERM BASIS. JONATHAN: THAT IS ABOUT AS CONSTRUCTIVE AS IT GETS AT THE MOMENT.
LOOKING AHEAD TO EARNINGS SEASON AND THE DATA THIS WEEK. TO THE BOTH OF YOU, THANK YOU. UBS -- UBS'S STUART KAISER JOINING US. WHY STUART DOESN'T THINK IT IS GOING TO BE THAT DAD. THAT CONVERSATION COMING UP SHORTLY. JONATHAN: FIVE MINUTES AWAY FROM THE OPENING BELL. EQUITIES -0.6% ON THE S&P.
NEEDHAM DOWNGRADING BEEN -- DOWNGRADING META PLATFORMS. JEFFRIES WITH A STREET LOW $10 PRICE TARGET ON UNDER ARMOUR. SOCGEN UPGRADING BANK OF AMERICA TO A BUY, GIVEN THE BANK'S DEFENSIVE LOAN PORTFOLIO. COMING UP, UBS'S STUART KAISER SAYING MARKET EXPECTATIONS LOOK TOO BEARISH. YOUR OPENING BELL JUST AROUND THE CORNER.
JONATHAN: 25 SECONDS AFTER THE OPENING BELL. HERE IS THE EQUITY, DOWN 7/10 OF 1%. NASDAQ DOWN 8/10 OF 1%. THREE QUARTERS OF 1% ON THE RUSSELL OFF THE BACK OF A DECENT WEEK OF GAINS. AROUND 4.5%.
LET'S GET TO THE FX MARKET. WHAT A MOOD WE ARE SEEING ON THE EURO-DOLLAR. DOWN MORE THAN 1%. STRONGER DOLLAR, EVERYTHING COUNTS. THE DOLLAR INDEX IS SO MUCH STRONGER THIS MORNING. WE ARE THROUGH $1.08 AND WE HAVE NOT SEEN THIS SINCE OCTOBER 2002.
WITH THE STRONGER DOLLAR YOU ARE SEEING WE HAVE NOT SEEN MUCH OF, CRUDE TRADING LOWER 1.5%. LET'S GET YOU THE MOVERS. ABIGAIL: ONE OF THE WORST SECTORS ON THE DAY, AT LEAST AT THE OPEN, TECHNOLOGY DOWN AFTER A BIG WEEK LAST WEEK. UNDERPERFORMING, THE CHIP SECTOR DOWN 1.6%. THE TONE OUT OF CHINA WITH THE RESURGENCE IN COVID, DOWNS, FINES FOR THE BIG TECH. WE CAN SEE AMD DOWN 2%.
COINBASE DOWN 4.9% AS BITCOIN STRUGGLES TO FIND ANY SUPPORT. THIS ONE OF THE LARGE CRYPTO EXCHANGES. SHARES LOWER. LAS VEGAS DOWN ON THE CHINA LOCKDOWNS, THAT RESURGENCE OF COVID. DOWN 4.1%. 68% OF LAS VEGAS SANDS COMES FROM A COW. TESLA -- MACAU. TESLA DOWN AS THE TWITTER BID IS OFF. SOME INVESTORS THINK THAT COULD
BE GOOD FOR TESLA. WE WILL KEEP AN EYE ON TESLA. JONATHAN: WE ARE LOWER 610 7% ON THE S&P. STAPLES OF 1/10 OF 1%. WE KICK OFF THE TRADING WEEKEND
EVERYONE I HAVE SPOKEN TO, 90% OF THEM, THEY ARE BEARISH. WITH RATE CUTS NEXT YEAR IT IS TOO EARLY TO BUY RISK AT ASS. MARKET FIELD SAID WE COULD FACE A MARKET ACCIDENT AND IF YOU WANT TO LOOK FOR ONE, LOOK TO EUROPE. CLEAN BREAK AT THE DOLLAR INDEX. THE DOLLAR INDEX SEEING RATES WE HAVE NOT SEEN SINCE 2002. SINGLE NAMES IT IS ALL ABOUT TWITTER. DOWN 6%.
ELON MUSK AND HIS REVERSAL SENDING HIM TO FACE THE COURTS IN DELAWARE. ED LUDLOW JOINS US FOR MORE. ED: A COURT FILING COULD COME FROM TWITTER AS EARLY AS THIS WEEK. THE CHAIRMAN TWEETED FRIDAY FOLLOWING THE ANNOUNCEMENT THAT THEY WOULD TAKE LEGAL ACTION AGAINST ELON MUSK. ELON MUSK TERMINATING THE AGREEMENT BECAUSE HE SAID TWITTER WAS NOT FORTHCOMING WITH INFORMATION ABOUT THE LEVEL OF BOTS ON THE PLATFORM. ELON MUSK POINTS OUT MULTIPLE OCCASIONS WHERE HE ASKED FOR INFORMATION THAT TWITTER DID NOT GIVE TO HIM. HE SAYS THE FUNDAMENTALS OF THE BUSINESS HAVE CHANGED IN THAT TIME. OVER THE WEEKEND, SOURCES AT
SUN VALLEY SAID ELON MUSK RESISTED THE URGE TO COMMENT ON THE DEAL. HE MADE A GENERAL, THAT TWITTER NEEDS TO BE MORE TRANSPARENT -- COMMENT THAT TWITTER NEEDS TO BE MORE TRANSPARENT. HE THEN TWEETS OVER THE WEEKEND -- I WILL NOT READ ALL OF IT -- BUT A MEME MAKING THE POINT THAT HE ASKED ON INFORMATION. TWITTER WILL LIKELY TAKE INTO COURT AND ACCORDING TO THIS MEME, THEY WILL HAVE TO HAND OVER THE DATA ANYWAY. TWITTER HIRED A MAJOR
HEAVYWEIGHT LAWYER. IF YOU LOOK AT PAST PRECEDENT AND WHAT THE MARKET IS SAYING, TWITTER HAS A 50% CHANCE THEY COULD BE SUCCESSFUL IN HOLDING ELON MUSK TO THE ORIGINAL DEAL THAT THEY AGREED IN APRIL. I WILL LET THE LAWYERS DEAL WITH THE LEGAL STUFF. YOU TELL ME HOW TWITTER IS GOING TO BE RUN AS A COMPANY THAT I FEEL MONTHS AS THEY WORK THROUGH THIS MESS. ED: FRIDAY NIGHT AN INTERNAL MEMO WENT OUT TELLING TWITTER STAFF, DO NOT TWEET ABOUT THIS. PENDING LEGAL ACTION.
DO NOT TALK TO THE PRESS. SOURCES AT ALL LEVELS OF THE COMPANY SAY THEY LOST FAITH IN LEADERSHIP. THEY FEEL THAT THEY HAVE BEEN ON THE DEFENSE THIS WHOLE TIME.
THERE IS NOTHING HAPPENING. THE COMPANY IS IN STALEMATE. A LOT OF PEOPLE AT TWITTER DECIDED TO LEAVE ANYWAY AFTER THE MUSK OVERHAND. THEY FELT WHATEVER THE OUTCOME WITH THE DEAL THE COMPANY'S DIRECTIONLESS AT THIS POINT. JONATHAN: IF YOU WANT TO TALK TO SOMEONE, YOU CAN TALK TO ED LUDLOW. THANK YOU. I TOLD YOU ABOUT TRUIST EARLIER. LET'S GO BACK TO THEM.
THEY ARE DOWN 5% OR 6%. THEY SAID IF TWITTER FAILS TO BRING THIS TO COMPLETION, AND IT IS HEADED THAT DIRECTION, WE WOULD SEE THE SHARES TRADING IN THE HIGH 20'S. DO YOU REMEMBER 54.20? WE LOOK AHEAD TO THE BANKS. JP MORGAN KICKING THINGS OFF THIS THURSDAY. IT IS THE UNOFFICIAL START OF
EARNINGS SEASON AND KAILEY LEINZ, IT IS COMING UP PRETTY SOON. KAILEY: COLLECTIVELY, THE FINANCIALS WILL SEE PROFITS FALL 23%, THE BIGGEST DROP IN THE S&P 500. THE HEADLINE FIGURES SAY THEY WILL BE SIGNALS WE ARE LOOKING FOR. TRADING REVENUE BUT ALSO INVESTMENT BANKING REVENUE. GIVEN HOW WE HAVE SEEN THE SLOW DOWN IN M&A AND IPO ACTIVITY. YOU HAVE THE NET INTEREST INCOME STORY.
THAT SHOULD GET A BOOST FROM HIGHER INTEREST RATES. WITH THOSE MOVING UP, WHAT IS HAPPENING WITH LOAN GROWTH? WE WILL LOOK FOR THOSE ANSWERS. A LOT OF COLOR INVESTORS WILL LOOK AT THE EXECUTIVES. THE LIKES OF JAMIE DIMON.
WHAT IS HIS TAKE ON THE ECONOMY? WHAT ODDS ARE THEY PUTTING ON A RECESSION? THIS RECESSION CONCERNS WEIGH HEAVILY ON THE BANKS. JP MORGAN AND CITIGROUP ALL DOWN COLLECTIVELY. UNDERPERFORMING THE BROADER MARKET WITH THE S&P DOWN 18%.
THE REASON THE S&P IS DOWN AND STOCKS HAVE BEEN HIT IS A LAUNDRY LIST OF CONCERNS, RECESSION AMONG THEM, WHICH IS WHY INVESTORS HOPE SOME CORPORATE RESULTS MAY GIVE US CLUES AS TO HOW COMPANIES ARE HANGING IN THERE. WILL THEY BE ABLE TO PASS ON HIGHER COSTS? OR WILL THEY TAKE A CAUTIONARY STANCE? WHAT WE WERE JUST SHOWING IS EVEN AS CLEARLY SENTIMENT HAS TURNED SOUR WITH STOCKS SELLING OFF, ANALYST ESTIMATES ARE HANGING IN. SOMEONE WILL BE RIGHT. JONATHAN: AND SOMEONE WILL BE WRONG. THANK YOU. CAN WE LOOK AT THE FX MARKET? WE ARE SEEING THINGS WE HAVE NOT SEEN SINCE 2002. THE EURO-DOLLAR IS BREAKING
DOWN AGAIN. YOU CAN SEE IT ON THE SCREEN, NEGATIVE MORE THAN 1%. SESSION LOWS DOWN 1.3%. THIS AHEAD OF THE MEETING JULY 21. ON JULY 21, WE WILL SEE SOMETHING WE POTENTIALLY HAVE NOT SEEN FOR A LONG TIME, GOING BACK 10 YEARS. THE ECB IS STUCK BETWEEN A ROCK
AND A HARD PLACE. WE CAUGHT UP WITH DEUTSCHE BANK EARLIER AND ASKED, WITH RATE HIKES FROM THE ECB, ARE THEY CURRENCY POSITIVE OR NEGATIVE? THEY CANNOT ANSWER THE QUESTION AND THAT IS THE PROBLEM. THE PROBLEM IS THE MORE WEAKNESS YOU GET IN THE CURRENCY, THE MORE PROBLEMATIC THE ENERGY STORY. IF YOU CANNOT FORECAST THE PRESENT GAS IN EUROPE, HOW DO YOU DO A SINGLE CURRENCY? WHAT SHOULD YOU DO AS A MONETARY POLICY? TREMENDOUSLY DIFFICULT STUFF.
REPEATEDLY SET OVER THE LAST MONTH THE CURRENCY MIGHT BE UNVIABLE. GETTING CLOSER AND CLOSER TO PARITY. GUY JOHNSON WILL PICK IT UP AND 20 MINUTES. LOOKING AHEAD TO EARNINGS SEASON. STUART KAISER SAYS THE FOLLOWING, EXPECT THE HIGH SINGLE DIGIT SPEED MOSTLY DRIVEN BY REVENUE.
WE EXPECT TO PRESENT OR 3% -- 2% OR 3% GROWTH. I CAN FIND MANY BEARS ON EARNINGS. THOSE EARNING ESTIMATES NEED TO COME DOWN. YOU ARE NOT ONE OF THEM.
STUART: THERE IS CLEARLY A DOWNSIDE BUT WE THINK ADDING THAT NUMBER DOWN TO 200, WHICH FEELS LIKE THE BASE CASE, IS A HEAVY LIFT IN A NOMINAL GROWTH ENVIRONMENT. WHAT YOU REALLY NEED TO HAVE IS ALMOST A HARD LANDING TYPE OUTCOME EARLY NEXT YEAR. THAT IS A QUARTER EARNINGS STORY. WE THINK YOU NEED A SIGNIFICANT NEGATIVE NOMINAL GROWTH SHOCK IN YOUR OUTLOOK, WHICH IS NOT THE BASE CASE RIGHT NOW.
JONATHAN: GIVEN THE ARC OF EARNINGS AND HOW THEY COME IN, THE BANKS COME FIRST AND THEN YOU GET TECH AND THEN RETAIL. HOW WOULD YOU BE PLAYING THIS STORY THROUGH EARNINGS SEASON? STUART: GOOD QUESTION. EXPECTATIONS ARE FAIRLY LOW FOR THE START OF EARNINGS SEASON. A LOT OF HEADWIND ON CAPITAL MARKET ACTIVITY FOR BANKS.
THE OUTLOOK FOR COMPANIES LIKE APPLE AND AMAZON AND TESLA HAS BEEN SIGNIFICANTLY DERATED. OUR ANALYSTS HAVE A PRETTY POSITIVE YOU ALL LARGE-CAP STOCKS. WE THINK THERE IS AN OPPORTUNITY FOR A RELIEF RALLY. LATER IN THE SEASON WHEN YOU GET INTO CONSUMER SECTORS, THAT COULD BE WHEN THE SEASON GETS INTERESTING. THAT IS WHAT HAPPENED LAST
SEASON. YOU HAD A COUPLE OF THESE, WALMART, TARGET, AND THE CONSUMER STAPLES SECTOR SHOWED THE NEGATIVE INVENTORY. IT COULD BE THAT WE NEED TO WAIT A FEW WEEKS IN EARNINGS TO GET TO THE MEAT OF THE INFORMATION. JONATHAN: THINGS ARE PRETTY NEGATIVE RIGHT NOW. WE ARE DOWN 1% ON THE S&P, ON THE NASDAQ WE ARE DOWN 2%. LAST WEEK WAS A BIG RALLY FOR
THE S&P 500. LIFT THE LID ON THE THINGS YOU TRACK. HOW DO INVESTORS USE THE RALLY? WAS THAT PEOPLE USING DOWNSIDE PROTECTION? WHAT ARE THEY DOING? STUART: WE HAVE NOT SEEN A WHOLE LOT OF CONVICTION EITHER WAY. IF YOU THINK FROM AN S&P
PERSPECTIVE, A LOT OF MACRO GUYS WERE TRADING IN THE 3800 TO 4200 RANGE. WHEN WE BROKE THE LOW END IT TOOK THE STRATEGY WITH IT. I HEAD THE PAYROLLS REPORT THERE WAS NOT A LOT OF FOLKS TAKING RISK.
AHEAD OF EARNINGS IT WILL BE A WAIT AND SEE AND DIP YOUR TOES IN. WE SAW A FAIR AMOUNT OF SHORT COVERING LAST WEEK, MORE SO THAN WE SAW NEW CAPITAL BEING PUT TO WORK. UNTIL WE GET EARNINGS RESULTS I THINK THE APPETITE TO PUT YOUR RISK ON IS PRETTY LOW.
YOU WILL HAVE LOW-VOLUME TRADING MARKETS WITH A LETTER SHORT COVERING AND REINITIATING HEDGES AFTER A SMALL RALLY. YOU GET TRAPPED UNFORTUNATELY. JONATHAN: I WONDER WHAT THAT MEANS ON THE EQUITY SIDE. I HAVE BEEN TRACKING FIXED INCOME, YOU HAVE BEEN FOLLOWING IT TOO. TREASURY YIELDS HIGHER 20 BASIS POINTS, THE WEEK BEFORE LOWER 20 BASIS POINTS.
TEMPLETON WAS ON THIS MORNING SAYING VOLATILITY IS NOT GOING ANYWHERE. FOR SOMEONE LOOKING FOR THE NASDAQ SIDE TO WORK, DO YOU NEED THAT VOLATILITY IN THE BOND MARKET TO DIE DOWN? STUART: I THINK YOU DO. BOND VOLATILITY HAS BEEN A KEY INDICATOR FOR EQUITY RISK SENTIMENT THROUGHOUT THE FIRST HALF OF THE YEAR. I THINK THE QUESTION IS, CAN YOU GET IT LOWER AND FOR HOW LONG? YOU MIGHT ARGUE BOTH FX AND BOND VOLATILITY WERE HELD ARTIFICIALLY LOWER BY POLICY THE LAST COUPLE OF YEARS. MAY BE WHAT WE ARE SEEING NOW
IS BOTH A REMOVAL OF THAT POLICY BUT ALSO A MOVE BACK TO WHAT WOULD HAVE BEEN HISTORICALLY NORMAL, GIVEN THE MACRO DATA VOLATILITY. SOME OF THIS IS CLEARLY POLICY DRIVEN. PART OF IT IS YOU ARE NOT SUPPRESSING THAT VOLATILITY AS AGGRESSIVELY AS YOU USED TO. BOND VOLATILITY IS GOING TO COME IN BUT IF YOU EXPECT TO GET BACK TO WHERE IT WAS THE LAST COUPLE OF YEARS, YOU'RE GOING TO BE DISAPPOINTED. JONATHAN: WE TOUCHED ON THE RELATIONSHIP, OR POTENTIAL RELATIONSHIP, BETWEEN FIXED INCOME AND THE NASDAQ. CAN YOU TELL ME ABOUT THE
RELATIONSHIP BETWEEN FIXED INCOME RATES AND THE BANKS AS THEY REPORT EARNINGS THIS WEEK? THEY STRUGGLE AT ZERO RATES, WE KNOW THAT, BUT THEY HAVE NOT BENEFITED FROM HIGHER INTEREST RATES EITHER. HOW DO YOU THINK THAT STORY WILL DEVELOP IN THE COMING QUARTERS? STUART: GREAT POINT AND I WOULD PUT UTILITIES AND BANKS IN THAT CATEGORY. UTILITIES MANAGED TO OUTPERFORM IN A WAY THEY WOULD NOT IN A RATE RISING ENVIRONMENT. BANKS HAVE UNDERPERFORMED IN A RATE RISING ENVIRONMENT WHICH WOULD TYPICALLY BE GOOD FOR INTEREST INCOME PROFITABILITY. THE THING THAT TIES THOSE TOGETHER IS RECESSION RISK. TO THE EXTENT THAT THESE BANKS ARE TALKING ABOUT MATERIAL GROWTH SLOWDOWNS, SLOW IN CONSUMER SPENDING, INCREASING CREDIT RESERVES, BANK EQUITIES ARE NOT GOING TO BE ABLE TO KEEP UP. I THINK IF WE START TO GET
THOSE RECESSION ODDS LOWER AND WE SEE SOME RESILIENCE IN CONSUMER SPENDING, I THINK THAT OPENS A WINDOW FOR BANKS TO PERFORM PRETTY WELL AS THEY CATCH UP TO THE MOVE WE HAVE SEEN IN RIGHTS. RIGHT NOW, IT IS THAT RECESSION RISK HOLDING BANKS BACK AND IT WILL BE INTERESTING TO SEE HOW THE LARGE MANY BANKS DISCUSS THE RATE OF CONSUMER SPENDING AND ECONOMIC GROWTH. JONATHAN: THEY CANNOT GET A BREAK. BANKS DOWN THIS MORNING WHEN YIELDS IS UP. YOUR FAVORITE TRADE RIGHT NOW. WHAT IS IT? STUART: DEPENDS ON THE DIRECTION. FOR HEDGING, WE LIKE SMALL-CAP. THAT IS A HIGH CONVICTION VIEW. IF YOU LOOK AT HOW SMALL CAPS
IS PRICED, IT IS LESS THAN TWO TIMES THE HIGH-YIELD CREDIT. IT WAS MORE THAN FIVE TIMES THAT VOLATILITY LATE LAST YEAR. I THINK WHAT YOU HAVE SEEN IS THE GROWTH RISK PRICED INTO THE CREDIT MARKET HAS NOT BEEN ADEQUATELY PRICED INTO SMALL-CAP EQUITIES. IF YOU ARE WORRIED ABOUT RECESSION, WE ARE HEDGING SMALL-CAP.
ON THE UPSIDE OUR VIEW HAS NOT CHANGED. WE LIKE RELIEF ON THE TECH STORY. IF YOU LOOK AT WHERE INFLATION BREAKEVENS ARE, THEY ARE DOWN YEAR TO DATE. IF WE DO GET SOME REDUCTION IN BOND VOLATILITY, YOU CAN GET LARGE-CAP TECH TO RESPOND POSITIVELY, ESPECIALLY GIVEN LOW EXPECTATIONS. BANKS ARE ANOTHER AREA. IF WE CAN GET BOND VOLATILITY DOWN AND WORRY LESS ABOUT RECESSION, I THINK THERE IS A TRADE. I THINK YOU ARE HEDGING SMALL-CAP AND LOOKING AT TECH
OR POTENTIALLY BANKS ON THE UPSIDE. JONATHAN: STUART KAISER OF UBS, GREAT TO CATCH UP. EQUITIES DOWN MORE THAN 1% ON THE S&P 500.
THE NASDAQ DOWN FOUR PERCENTAGE POINTS. THE ADMINISTRATION MAKING A DECISION ON CHINA TARIFFS. >> THE PRESIDENT IS BEING THOUGHTFUL, UNLIKE PRESIDENT TRUMP. THOSE TARIFFS HE IMPOSED MADE NO SENSE. WE ARE BRIEFING HIM AND I EXPECT HE WILL MAKE A DECISION SHORTLY. JONATHAN:
THAT CONVERSATION, STILL AHEAD. ♪ THE HEAD OF INVESTMENT STRATEGY WILL BE ON LATER TODAY. THIS IS BLOOMBERG.
GINA: THE PRESIDENT IS BEING THOUGHTFUL ABOUT THIS ON MY PRESIDENT TRUMP. THOSE TARIFFS HE IMPOSED MADE NO SENSE. WE ARE BRIEFING HIM AND I EXPECT HE WILL MAKE A DECISION SHORTLY. AND IF HE DECIDES TO LIFT CERTAIN TARIFFS, IT WILL BE BECAUSE HE KNOWS HE HAS TO THINK ABOUT DOING EVERYTHING HE CAN TO PROVIDE ANY RELIEF TO CONSUMERS. JONATHAN: THAT WAS GINA RAIMONDO CATCHING UP WITH NBC OVER THE WEEKEND. DO NOT MISS THIS. GUY JOHNSON DAVID WESTIN
SPEAKING WITH HER AT 11:00 EASTERN. EXCLUSIVE CONVERSATION ON BLOOMBERG TV AND BLOOMBERG RADIO. BREAKING NEWS, LET'S GO TO ABBY FOR MORE. ABIGAIL: BREAKING NEWS INDEED.
MORGAN STANLEY CHANGING THINGS AT THE TOP OF THE BANK. THEY HAVE TAPPED TWO VETERAN BANK MAKERS TO RUN THE BANKING OPERATION. A 24 YEAR VETERAN OF THE COMPANY. HE HAS HELPED LEAD THE
TRANSFORMATION IN THE PAST AND SIMON SMITH, ALSO A 24 YEAR VETERAN. THEY ARE NOW RUNNING THE GLOBAL INVESTMENT BANKING DIVISION, ACCORDING TO A MEMO TO STAFF ON MONDAY. REPLACING SUSIE WONG. THIS YEAR HAS BEEN VERY DIFFICULT FOR BANKING. MERGERS AND ACQUISITIONS IN PARTICULAR.
GLOBAL MERGER VOLUME DROPPED 17%. YOU HAVE TO WONDER IF THIS CHANGES TO HELP THE BANK GAIN GROUND IN THIS CHALLENGING ENVIRONMENT. THE STOCK DOWN ABOUT 1.8% AHEAD OF THE HEADLINE. LET'S SEE HOW IT SHAKES OUT.
MORGAN STANLEY HAS TAPPED TWO VETERAN DEALMAKERS TO RUN THEIR BANKING OPERATION. JONATHAN: A LOT OF THE BANKS HAVE BEEN SOFTER THIS MORNING. THANK YOU. MORGAN STANLEY REPORTING EARNINGS ON THURSDAY ALONGSIDE J.P. MORGAN. A LOT TO TALK ABOUT ON THAT FRONT. WE WILL BE CATCHING UP, OF COURSE, WITH THE LADY HERSELF, WASHINGTON CORRESPONDENT SONALI BASAK LATER THIS WEEK.
ON THE NASDAQ WE ARE DOWN MORE THAN 2%. THE STORY IN ASIA WAS A STRUGGLE TODAY AND THE FOCUS ON THE NEW COVID INFECTIONS IN CHINA. INFECTIONS IN SHANGHAI CLIMBING AND BRINGING BACK THE POTENTIAL OF FURTHER RESTRICTIONS.
TAYLOR RIGGS HAS MORE. TAYLOR: PRETTY CONCERNING IN THE WORLD OF ZERO COVID POLICY. YOU ARE GETTING SOME NEW CASES, THIS NEW VARIANT, NORMALLY NOT A HUGE THING BUT WE ARE LEARNING DELIVER THE VIRUS. IN SHANGHAI, IT IS A DIFFERENT STORY. 69 NEW INFECTIONS, MASS TESTING
THIS WEEK, AND WE JUST CAME OUT OF A TWO MONTH LOCKDOWN. THAT IS THE CONCERN AS WE START TO OPEN UP. HOW DO ALL THE NEW VARIANTS COME INTO PLAY? WHEN YOU THINK ABOUT THE CONTRIBUTION TO GDP YOU AND I KNOW SHANGHAI IS A BIG FINANCIAL CENTER OF CHINA. STILL ONLY THE 10TH IN TERMS OF THE LARGEST CONTRIBUTOR TO GDP.
IT IS A LITTLE CONCERNING BUT MORE CONCERNING IF IT STARTS TO SPREAD TO THE MORE ECONOMIC REGIONS, NOT JUST FINANCIAL HUBS. IF YOU CAN SEE ON THE TERMINAL CHART, OVERALL COVID INFECTIONS HUGELY DOWN FROM WHERE WE WERE MONTHS AGO. BUT STARTING TO RISE AGAIN. NOT A BIG DEAL EXCEPT FOR WHEN WE ARE LIVING IN THE COVID ZERO WORLD. THAT IS THE ISSUE. JONATHAN: THANK YOU FOR BEING WITH US. LOOKING FORWARD TO THE CLOSE LATER WITH ROMAINE BOSTICK AND CAROLINE HYDE.
PICKING UP ON THIS STORY WITH BIG MOVES ON THE LIKES OF ALIBABA. THEY ARE GETTING HAMMERED. ABIGAIL: THE GOLDEN DRAGON INDEX DOWN 7%, THE WORST DAY IN MORE THAN TWO MONTHS ON THE COVID STORY TAYLOR WAS TALKING ABOUT. ALIBABA AND TENCENT HAVING FRESH FINES FROM THE GOVERNMENT. THAT STORY COMING BACK INTO PLAY FOR CHINA TECH. IT IS UP IN A BIG WAY THIS YEAR, UP OVER 50%. A ONE-YEAR CHART YOU CAN BARELY SEE BECAUSE THE DECLINE INTO THIS YEAR'S GAINS ARE VERY SMALL. ONLY INFLOWS THIS YEAR BUT
TODAY A BIG BREATHER. JONATHAN: THANK YOU. COMING UP, YOUR TRADING DIARY. THERE IS A TOUGH LOOKAHEAD FROM NEW YORK CITY. GOOD MORNING.
JONATHAN: 25 MINUTES IN. RISK AVERSION ACROSS THE BOARD, DOWN 1% ON THE S&P. DOWN MORE THAN 2% ON THE NASDAQ. YIELDS DOWN NINE OR 10 BASIS POINTS IN THE DOLLAR RALLYING REALLY HARD. PRESIDENT BIDEN SPEAKS AT 11:00 A.M. EASTERN.
CPI WEDNESDAY AND THEN THE PRESIDENT HEADING TO THE MIDDLE EAST. THE BIG BANKS KICKING OFF EARNINGS THURSDAY, TAKING MORGAN STANLEY ON DECK. PTI ANOTHER ROUND OF JOBLESS CLAIMS, RETAIL SALES. FROM NEW YORK CITY THIS
MORNING, GOOD MORNING. THIS IS THE COUNTDOWN TO THE OPEN. THIS IS BLOOMBERG.
2022-07-14 10:22
Show Video
Other news