'Bloomberg Surveillance Simulcast' Full Show 7/19/2022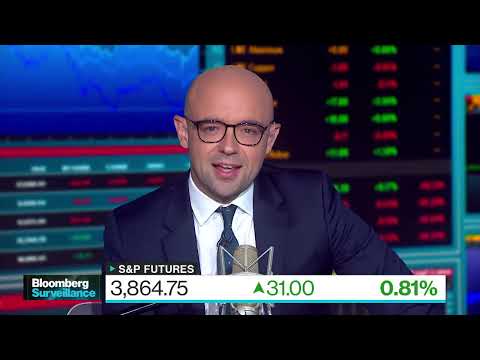 Show Video
>> THE KIND OF ECONOMIC ACTIVITY WE ARE SEEING IS SOMEWHAT UNPRECEDENTED. >> THE INFLATION STORY, MAY BE AT PEAK IN JUNE. >> IT IS IMPOSSIBLE TO CRAFT A STORY WHERE INFLATION COMES NEATLY BACK DOWN TO 2%. >> INFLATION GOES UP, THE DOLLAR STRENGTHENS. >> IN EUROPE I THINK THE WORST CASE SCENARIO IS PRICED IN. >> THIS IS BLOOMBERG SURVEILLANCE WITH TOM KEENE, JONATHAN FERRO, AND LISA ABRAMOWICZ. JONATHAN:
THIS IS BLOOMBERG SURVEILLANCE ON TV AND RADIO ALONGSIDE TOM KEENE, I AM JONATHAN FERRO, TOGETHER WITH KAILEY LEINZ. BRAMO BACK WE HOPE NEXT WEEK. TOM: WE HEARD FROM A LISTENER IN NEPAL WHO HAS SEEN HER, SHE IS AT EVEREST PAST CAMP TWO. SHE IS NOT NEAR THE DEATH ZONE NEXT. FROM THE GENTLEMAN FROM NEPAL, HE THOUGHT YOU AND I WERE ON SPEAKING TERMS. JONATHAN: WILL GET AN UPDATE FROM BRAMO
HOPEFULLY LATER THIS WEEK. THE DOLLAR IS WEAKER, THE EURO STRONGER. TOM: HELP ME WITH THE PARLOR GAME ON ECB. ARE WE HAVING A PARLOR GAME ON HOW MUCH CHRISTINE LAGARDE WILL LIFT? JONATHAN: ACCORDING TO SOURCES MAY BE 50 BASIS POINTS. HOW SMALL IS THIS WINDOW FOR THIS ECB TO HIKE INTEREST RATES GIVEN WHAT PEOPLE THINK WILL HAPPEN WITH GROWTH LATER THIS YEAR AND GIVEN WHAT MAY OR MAY NOT HAPPEN NEXT WEEK ON THURSDAY WHEN NORD STREAM ONE WAS MEANT TO COME BACK ONLINE.
THE EUROPEAN COMMISSION SAID "WE DON'T EXPECT IT COMES BACK." TOM: IN ADDITION, THE WINDOW OF THE HEATWAVE. YOU ASSUME THAT WHAT WE ARE SEEING ONCE IN A CENTURY, ONCE-IN-A-LIFETIME IN ENGLAND DIMINISHES ECONOMIC GROWTH? KAILEY: I AM -- JONATHAN: I AM NOT A METEOROLOGIST SO I WILL NOT ASSUME ANYTHING ABOUT THE WEATHER. IN LONDON IF YOU DO NOT HAVE AIR CONDITIONING I IMAGINE YOUR ACTIVITY WOULD BE LOWER THAN IT OTHERWISE WOULD BE. TOM: I WAS THUNDERSTRUCK AT 25 DEGREES CELSIUS AT NIGHT. DOCTORS SAY THAT IS THE MOST IMPORTANT THING, THAT IS AN UNIMAGINABLE 77 DEGREES IN LONDON AT NIGHT. JONATHAN:
BRUTAL. ONE MORE DAY OF IT IN THAT IT WILL GET COOLER. IT GETS HOTTER HERE IN NEW YORK CITY. TOM: WE WILL GO NEXT WEEK. JONATHAN: PUT THAT IN THE DIARY AFTER FRANKFURT. AND WHERE DID YOU WANT TO GO? ROME? TOM: I THINK WE SHOULD GO TO ROME AND MAKE SURE MARIO DRAGHI IS OK. JONATHAN: NEXT WILL GO TO THE WEST CASE. WE WANT TO SEE NETFLIX IS OK AFTER THE BELL. KAILEY:
THE STOCKS ARE DOWN MORE THAN TWO THIRDS ON A YEAR-TO-DATE BASIS AND WE EXPECT THEY LOST 2 MILLION CUSTOMERS IN THE SECOND QUARTER. THE REAL QUESTION WILL BE DOES THAT GET BETTER IN THE THIRD QUARTER AND HOW THEY GO ABOUT MONETIZING PASSWORD SHARING. THERE WAS NEWS IN LATIN AMERICA IF YOU WANT TO ADD AN ADDITIONAL HOUSEHOLD, THEY WILL CHARGE YOU. NETFLIX TRYING TO FIGURE OUT HOW THEY CAN BRING THOSE DOLLARS IN. JONATHAN: LET'S KEEP IT ON TECH AND GO TO APPLE.
IT IS SLOWING HIRING IN SOME PLACES NEXT YEAR. KAILEY: IT IS INTERESTING HOW IT WAS ABLE TO TURN AROUND SENTIMENT IN THE ENTIRE MARKET GIVEN IT IS ONLY SOME TEAMS. IT IS SLOWING HIRING, IT IS NOT OUTRIGHT JOB CUTS.
WE HAVE TO TAKE INTO CONJUNCTION WHAT WE HAVE HEARD FROM OTHER BIG TECH COMPANIES THAT IS SLOWING HIRING OR AT LEAST IN THE CASE OF MICROSOFT CUTTING JOBS OUTRIGHT. IT ADDS TO THE SIGNAL THAT EVEN THESE TECH GIANTS THAT ARE INSULATED FROM MACRO ECONOMIC PAIN ARE STILL PREPARING FOR IT. JONATHAN: TOM, YOU WILL LOVE THIS QUOTE FROM GOLDMAN, WE HAVE MADE THE DECISION TO SLOW HIRING VELOCITY. HAVE YOU EVER HEARD THAT ONE? TOM: ONE OF THE BIGGEST ARGUMENTS I'VE HAD IN THE HISTORY OF BLOOMBERG, AND YOU KNOW I HAVE DAILY ARGUMENTS, WAS OVER THE LANGUAGE OF FIRE RINGS, LAYOFFS, JOB CUTS, AND EVERYONE IS STRUGGLING FOR NEW PHRASES. JONATHAN: WHY DO BANK EXECUTIVES HAVE TO SAY THINGS LIKE THAT? WHAT DOES THAT MEAN? WE ARE SLOWING HIRING VELOCITY? KAILEY: I THOUGHT TOM WAS GOING ON A RATE OF CHANGE, SECOND DERIVATIVE. JONATHAN: THAT IS WHAT THEY ARE TRYING TO
SAY. [LAUGHTER] TOM: WE WOULD NEVER GET THAT FROM BRAMO. SHE IS CALCULUS FREE. KAILEY: TOM MADE ME DO A CALCULUS PRIMER. REAL STORY. TOM:
JAVIER BLAS, I AM WRITING IT UP IN REAL TIME. JAVIER BLAS, THE GIANT. FRANCE ELECTRICITY HAS SOMETHING CALLED BASELOAD, UP 891% SINCE THE END OF 2020. JONATHAN: WE HAVE THINGS TO DO. FUTURES UP .7% ON THE S&P, ON THE NASDAQ UP .6%. I WANT TO HEAR MORE ABOUT THIS CALCULUS COURSE. YIELDS HIGHER A LITTLE BIT.
EURO STRONGER, THE DOLLAR WEAKER. CRUDE, LET'S CALL IT UNCHANGED, $102.41. KAILEY: STILL IN TRIPLE DIGITS. CALCULUS IS NOT IN MY AGENDA
BUT THERE'S PLENTY ELSE GOING ON. AT 8:30 WE WILL GET HOUSING STARTS AND BUILDING PERMITS DATA. I AM MORE INTERESTED IN THIS AND THE LIGHT OF THE FACT WE SAW HOMEBUILDER SENTIMENT FOLLOWING TO THE LOWEST LEVEL SINCE MAY 2020. THE CHAIRMAN OF THAT NAHB
SURVEY SAYING WE SAW HIGHER COSTS AND HIGHER RATES MEETING WE ARE SEEING A SLOWDOWN IN CONSTRUCTION. THEN AFTER THE BOW, NETFLIX WILL BE REPORTING SECOND-QUARTER EARNINGS. 2 MILLION LOSSES ON SUBSCRIBER IS WHAT WE ARE EXPECTING. IT DOES NOT GET ANY BETTER IN THE THIRD QUARTER. HOW THEY MONETIZE MORE GIVEN ALL THE PASSWORD SHARING? THAT STOCK IS DOWN 60% ON A YEAR-TO-DATE BASIS. THE ULTIMATE CRYPTO PLUG.
ALL DAY LONG THE BLOOMBERG CRYPTO SUMMIT WILL BE TAKING PLACE IN NEW YORK AND WE WILL HAVE BLOOMBERG CRYPTO AT 1:00 EASTERN. I WILL BE MODERATING A PANEL AT 2:30 EASTERN TIME. I KNOW YOU WILL BE TUNING IN. TOM:
I WILL BREAK THE SURVEILLANCE SNAP. I'M LOOKING AT JACK MAILER. HE HAS THE HOODIE ON. DO I NEED A HOODIE? JONATHAN: I HAVE NO TIME FOR THAT.
I WILL NOT COMMENT. TOM: THIS IS THE PRICE OF HAVING KAILEY LEINZ ON. WE HAVE TO FLOG CRYPTO MORNING. JONATHAN: I AM HAPPY TO DO THAT. THE PORT FOLIO MANAGER FOR THE BLACKLOCK GLOBAL ALLOCATION FUND JOINS US. YOU BEEN CONSERVATIVE. YOU HAVE NOT BEEN CONSTRUCTIVE.
HAS ANY OF THAT CHANGED? RUSS: I THINK THE SHORT ANSWER IS NOT REALLY. WE ARE STILL IN AN ENVIRONMENT WHERE WE HAVE HAD. WE HAVE HAD TIGHTENING LIQUIDITY WHICH HAS BEEN A HUGE HEADWIND. YOU HAVE A SLOWING ECONOMY. THESE HAVE NOT GONE AWAY. I WOULD SAY VALUATIONS ARE MUCH
MORE REASONABLE PLAYS THAN THEY WERE 12 MONTHS AGO. GLOBALLY EC MULTIPLES COMPRESSED AROUND 30%. I THINK WE ARE CLOSE TO A BOTTOM.
THE MARKET IS IN THE PROCESS OF MAKING A BOTTOM. ALL OF THE CONDITIONS THAT LED TO THE VOLATILITY, THEY HAVE NOT GONE AWAY YET. TOM: JULIAN EMANUEL GIVES ME THE FIRST LOOK AT 11% OF SPX EARNINGS. HE HAS A NICE INFLATION REVENUE LIFT, BUT CRITICALLY HE IS MODELING OUT EARNINGS AT 4.8% GROWTH. THAT IS NOT BAD. I KNOW THINGS ARE DOWN.
IS THE PENDULUM OVERESTIMATING THE GLOOM? RUSS: YOU HIT ON WHAT IS THE BIG ISSUE GOING FORWARD. I SPOKE ABOUT VALUATIONS. THAT HAS BEEN ALL OF THE LOSSES YEAR TO DATE, ALL OF THE LOSS ON THE S&P. WHAT IS THE ISSUE GOING FORWARD NOW IS HOW MUCH IS THE ECONOMY GOING TO SLOW? HOW MUCH IS NOMINAL GDP GOING TO SLOW AND WHAT DOES THAT MEAN FOR EARNINGS. EARNINGS FOR THE SECOND QUARTER DO NOT LOOK THAT. THE REAL QUESTION IS IF WE CONTINUE TO SEE THE RESULT OF FED TIGHTENING AS THE ECONOMY SLOWS, ALL THAT -- ARE THOSE EARNINGS ESTIMATES REALISTIC AND THIS IS WHY THINK THE MARKET IS STRUGGLING TO BREAK OUT OF THIS RANGE. KAILEY:
IF EQUITIES ARE STRUGGLING TO BREAK OUT OF A RANGE IF YOU ARE NOT YET SEEN THE SIGNAL WE HAVE REACHED A BOTTOM, HOW MUCH DO YOU LIKE TREASURIES? RUSS: THE SHORT ANSWER IS WE REALLY DON'T. WE ARE STILL UNDERWEIGHT. WE DISLIKE THEM LESS THAN WE DID A YEAR AGO. WE HAVE SEEN THE REAL RATES HAVE GONE BACK TO WHERE THEY WERE IN THE POST-GF SEE ENVIRONMENT. I STILL THINK YOU MIGHT HAVE
MORE PRESSURE AS THE FED CONTINUES TO TIGHTEN. IN U.S. HIGH YIELD FOR THE SPREADS ARE WIDENING CONSIDERABLY. IF WE ARE IN AN ENVIRONMENT
WHERE EQUITIES WILL BE CHOPPY OVER THE NEXT SEVERAL MONTHS, ONE OF THE THINGS YOU CAN DO IN YOUR PORTFOLIO IS AT INCOME. WE ARE STARTING TO SEE BETTER VALUE. JONATHAN: ARE YOU MAKING AN ASSUMPTION ABOUT HOW STICKY INFLATION MIGHT BE THROUGH THE NEXT SEVERAL YEARS, NOT JUST THIS YEAR? RUSS: WE ARE CERTAINLY ASSUMING IT WILL BE DIFFICULT FOR INFLATION TO GET BACK TO THE 2% POST GF SEE NORM ANYTIME SOON. AT SOME POINT WHILE THE FED MAY HAVE TO SLOW DOWN, WE ARE NOT ENVISIONING A WORLD WHERE YOU WILL GO BACK TO THIS VERY EASY ENVIRONMENT OF LOW INTEREST RATES QE, WHICH OBVIOUSLY WAS A HUGE TAILWIND FOR FINANCIAL ASSETS AND THE BETTER PART OF A DECADE. JONATHAN: GOOD TO CATCH UP. WORKS CLOSELY WITH RICK RIEDER AT BLACKROCK. GETTING A LITTLE BIT MORE
CONSTRUCTIVE ON CREDIT. TAKE A LISTEN TO THIS. IT IS THE BANK OF AMERICA FUND MANAGER SURVEY. THE QUOTE WAS I'M AM SO BEARISH I AM BULLISH.
RECORD LOW GROWTH EXPECTATIONS, RECORD LOW PROFIT EXPECTATIONS. EQUITY ALLOCATION THE LOWEST SINCE 2008. CASH LEVELS THE HIGHEST SINCE 2001. IT IS PACKED WITH DOOM AND GLOOM. TOM:
ABSOLUTELY MEDIOCRE WORLD-FAMOUS MUTUAL FUND WITH GARBAGE PERFORMANCE IN THEIR ALMOST 9% IN PUBLISHED CASH. THAT IS A RARE OCCURRENCE. JONATHAN: WHAT YOU MAKE OF THE LINE THINGS ARE SO BEARISH IT IS TIME TO BE BULLISH? TOM: THAT IS PART OF IT. WE HAVE NOT SEEN THE CATHARSIS. NEVERTHELESS, MANY OF THE TEA
LEAVES YOU LOOK AT ON MOOD ARE PRETTY GRIM. JONATHAN: WE WILL PUT THAT QUESTION TO SEBASTIAN PAGE, THE CIO OF T. ROWE PRICE COMING UP VERY SHORTLY.
FUTURES POSITIVE .8% ON THE S&P, A LIFT AGAIN ON THE NASDAQ. THE LIFT YESTERDAY MORNING DID NOT STICK. IT FADED PRETTY QUICKLY. THANKS TO MARK GURMAN FOR HIS
WRITE UP ON APPLE. WE WILL KEEP TALKING ABOUT THAT. FROM A BEAUTIFUL NEW YORK CITY, GOOD MORNING. THIS IS BLOOMBERG. RITIKA: KEEPING UP-TO-DATE WITH NEWS FROM AROUND THE WORLD. THE FIELD IS NARROWING IN THE
BATTLE TO REPLACE BORIS JOHNSON AS BRITISH PRIME MINISTER. RISHI SUNAK AND PENNY MORE THAT WHERE THE TOP TWO CANDIDATES. ANOTHER VOTE WILL WHITTLE THE FIELD FROM FOUR TO TWO. A DRIVE IN THE SENATE TO PASS $52 BILLION OF GRANTS AND INCENTIVES FOR AMERICAN SEMICONDUCTOR MAKERS HAS PICKED UP STEAM IN CONGRESS. CHUCK SCHUMER SAYS THE DEMOCRATS AND REPUBLICANS ARE HATCHING OUT THE FINAL DETAILS.
LEGISLATION IS A SCALED-DOWN VERSION OF A LARGER BILL INTENDED TO MAKE THE U.S. MORE COMPETITIVE WITH CHINA IN TECHNOLOGY. NANCY PELOSI REPORTEDLY PLANS TO VISIT TAIWAN NEXT MONTH ACCORDING TO THE FINANCIAL TIMES WHICH SAYS THERE ARE DIVISIONS IN THE BIDEN ADMINISTRATION OVER WHETHER NANCY PELOSI SHOULD MAKE THE TRIP. IN APRIL CHINA SAID A PLOSIVE VISITED TAIWAN WOULD BE A MALICIOUS PROVOCATION.
TWITTER HAS DISMISSED ELON MUSK'S COMPLAINTS HE DOES NOT HAVE ENOUGH INFORMATION ABOUT SPAM AND ROBOT ACCOUNTS. THE COMPANY CALLED IT AN IRRELEVANT SIDESHOW AND URGED THE JUDGE TO HOLD A TRIAL AS SOON AS POSSIBLE OVER MOSQUES CANCELLATION OF THE TAKEOVER. IBM LOWERED ITS FORECAST FOR CASH FLOW OVER THE STRONGER DOLLAR AND THE LOSS OF BUSINESS IN RUSSIA. THAT OVERSHADOWED RESULTS THAT BEAT ANALYST ESTIMATES. DEMAND FOR MAINFRAME COMPUTERS AND CLOUD SERVICES REMAIN STRONG. GLOBAL NEWS 24 HOURS A DAY, ON
AIR AND ON QUICKTAKE BY BLOOMBERG, POWERED BY MORE THAN 2700 JOURNALISTS AND ANALYSTS IN MORE THAN 120 COUNTRIES. I AM RITIKA GUPTA. THIS IS BLOOMBERG. ♪ >> THIS PRESIDENT HAS PLEDGED TO DO ALL HE CAN, YOU HEARD HIM SAY THAT YOURSELF, TO ENSURE WE HAVE AN AMPLE SUPPLY OF OIL TO EASE INFLATIONARY PRESSURES, PARTICULARLY AT THE PUMP.
JONATHAN: THAT IS JARED BERNSTEIN, WHITE HOUSE COUNCIL OF ECONOMIC ADVISORS. WE ARE SOUTH OF $4.50 A GALLON, THE AVERAGE GASOLINE PRICE IN AMERICA. THEY HAVE BEEN FALLING SINCE THE MIDDLE OF JUNE. TOM: OTHER COMMODITIES. I AM LOOKING AT CHICAGO COPPER. A STUNNING STATISTIC. EVEN WITH THE WORRY OF THE FOOD CRISIS AND DAVID MALPASS COMING UP, EVEN THE BRAINS ARE SOMEWHAT QUIESCENT AS WELL.
JONATHAN: ARE THEY GETTING LESS GREEDY, THOSE COMPANIES? THEY DECIDED TO BE GENEROUS AND JUST BRING PRICES DOWN. TOM: I HAVE NO IDEA WHAT THIS HEADLINE MEANS. HEATHROW REFUELERS TO GO ON STRIKE.
THAT IS ANOTHER INFLATION STRIKE? HOW MUCH WORSE WILL HEATHROW GET? KAILEY: IT IS HARD TO SEE HOW IT CANS. YOU ALREADY HAVE THEM RESTRICTING CAPACITY. THEY HAVE BEEN DEALING WITH LABOR ISSUES AND ALICE STRIKE OF THE PEOPLE WHO WANT TO PUT THE FUEL BACK IN THE PLANES, I CANNOT IMAGINE THAT HELPS WITH THE DELAYED CANCELLATION SITUATION THAT ONE OF THE BUSIEST AIRPORTS IN EUROPE WAS ALREADY DEALING WITH. JONATHAN: A TEST RUN LATER THIS SUMMER, TOM. TOM:
STILL CONSTRUCTIVE EVEN OFF THE APPLE GLOOM YESTERDAY. EMILY WILKINS OF BLOOMBERG GOVERNMENT WITH US RIGHT NOW ON A WASHINGTON BRIEF. WE HAVE THE TEXAS GRID STRUGGLING. WE HAVE HEAT ACROSS THE NATION.
WASHINGTON IS USED TO THE HEAT. HOW IS THE HEAT AFFECT THE POLITICS OF THE WHITE HOUSE? EMILY: THEY DON'T CALL WASHINGTON THE SWAMP FOR NOTHING. AT THIS TIME OF YEAR IT FEELS LIKE IT OUTSIDE. BIDEN, WHEN IT COMES TO ENERGY IT IS INTERESTING TO SEE THE TWO SIDES HE IS DEALING WITH. YES GAS PRICES ARE COMING DOWN
BUT THEY ARE STILL HIGHER THAN MOST AMERICANS ARE USED TO AND IT IS STILL AN ISSUE FOR THE DEMOCRATS TRYING TO GET THE PRICES DOWN AS WELL AS GOING INTO NOVEMBER WITH THE ELECTIONS WHEN I TALK TO VOTERS OUTSIDE THE D.C. BUBBLE THAT IS ONE OF THE MOST COMMON THINGS THEY BRING UP. THE OTHER SIDE HE IS NOW PRAISE -- NOW FACING PRESSURE FROM THE LEFT FROM DEMOCRATIC SENATORS WHO MET WITH THE PRESIDENT AND SAID IF THIS PLAN WE HAD WITH JOE MANCHIN TO GET A NUMBER OF TAX CREDITS FOR CLEAN ENERGY IS OFF THE TABLE, YOU NEED TO GO AHEAD AND DECLARE A CLIMATE EMERGENCY AND THIS WOULD OPEN THE FUNDING GATES FOR BIDEN TO BE ABLE TO USE FUNDS ON CLEAN ENERGY, POTENTIALLY RESTRICT THE MOVEMENT OF FOSSIL FUELS, BAN OFFSHORE DRILLING, THERE WILL BE A NUMBER OF REVENUES OPEN TO HIM IF HE DECIDES TO GO THAT ROUTE. WE KNOW THE WASHINGTON POST HAS REPORTED THIS IS SOMETHING THE WHITE HOUSE IS CONSIDERING. WE DO NOT KNOW WHEN AN
ANNOUNCEMENT WILL BE MADE. AT THIS POINT CONGRESS IS THROWING UP ITS HANDS SAYING WE CANNOT DO ANYMORE LEGISLATION ON CLIMATE. JONATHAN: THAT TRANSITION, HAS SUPPORT FOR IT GOTTEN STRONGER OR WEAKER CROSS WASHINGTON AND THE COUNTRY GIVEN WHAT HAS TAKEN PLACE OVER THE LAST MONTHS? EMILY: IT HAS GOTTEN WEAKER BECAUSE FOLKS REALIZED GAS PRICES ARE THE NUMBER ONE SHORT-TERM CONCERN AND THERE IS A BIG PUSH TO ADDRESS THAT IN THE SHORT TERM. AT THE SAME TIME YOU HAVE A LOT OF OTHER FOLKS SAYING LOOK AT THE RECENT REPORTS WE HAVE SEEN, LOOK AT THE WARNINGS FROM CLIMATE SCIENTISTS, WE NEED TO ADDRESS CLIMATE. THAT IS ONE OF THE MAIN THINGS PRESIDENT BIDEN RAN ON, ONE OF THE MAIN THINGS HE WON ON, NOW HE IS FACING PRESSURE FROM VOTERS INSIDE HIS OWN PARTY, IF YOU WANT OUR SUPPORT AND DECIDE TO RUN FOR PRESIDENT, THIS IS AN AREA WE NEED TO SEE REAL ACTION ON. KAILEY: OBVIOUSLY THERE IS THE SUPPLY-SIDE CHALLENGE WHEN IT COMES TO OIL, THE ADMINISTRATION TRYING TO ADDRESS THAT, THERE IS ALSO BEEN A CONSISTENT SUPPLY-SIDE CHALLENGE WHEN IT COMES TO A SHORTAGE OF SEMICONDUCTORS, IT SEEMS WHO ARE MAKING SOME PROGRESS ON THAT ON CAPITOL HILL? EMILY: WE ARE EXPECTING A PROCEDURAL VOTE LATER TODAY ON A PACKAGE THAT HAS MORE THAN $50 BILLION FOR SEMICONDUCTOR MANUFACTURING, ENCOURAGING COMPANIES TO COME TO THE U.S.
AND PRODUCED THESE CHIPS IN THE U.S.. WE ARE STARTING TO SEE BLOWBACK. THE WASHINGTON JOURNAL OP-ED BOARD NOTED WITH SEMICONDUCTOR INDUSTRY IS NOT WHERE IT WAS A YEAR AGO WHEN THIS LEGISLATION WAS FIRST NEGOTIATED. YOU ARE STARTING TO SEE THE INDUSTRY HAVE SUPPLIED MEET DEMAND BETTER THAN YOU GET. THE EDITORIAL BOARD SUGGESTED THIS COULD BE A CASE OF CORPORATE WELFARE, GIVING MONEY TO AN INDUSTRY THAT MIGHT NOT NEED IT.
IT WILL BE INTERESTING TO SEE IF THAT BECOMES A FACTOR FOR SOME OF THE SENATORS WHO WILL BE PLACING THESE PROCEDURAL VOTES. RIGHT NOW THE ONE MESSAGE WE HAVE HEARD FROM A LOT OF LAWMAKERS AS THEY THINK THIS FUNDING IS IMPORTANT. A LOT OF THEM CAN TYPE BACK TO INDUSTRIES WITHIN THEIR STATES. IT IS A BIT OF A QUESTION ON
HOW THIS WILL PLAY OUT BUT RIGHT NOW SUPPORT WITHIN THE HALLS OF CONGRESS REMAINS HIGH. JONATHAN: EMILY WILKINS, THANK YOU. RARE NEWS FOR THIS PRESIDENT. AT 35 DAY SLIDE IN GASOLINE PRICES. GOOD NEWS FOR THE PRESIDENT. TOM: I DO NOT KNOW HOW IT WILL TURN OVER AT THE POLLING. FRONT AND CENTER FOR THE ZEITGEIST IS JOE MANCHIN AND THE STASIS WE HAVE SLIPPED INTO. GIVEN THE HEAT, AND I BELIEVE
FOR THE NEXT FIVE DAYS IN NEW YORK CITY IT IS WHAT I WILL CALL SEASONALLY HOT, NOT LIKE THE CRISIS IN LONDON. I WONDER HOW THEY WILL BE OVERWHELMED BY EVENTS, INCLUDING MARKET EVENTS? THIS IS INCREDIBLE. THIS IS A BRIDGE, JOHN WENT TO SEE FULL OF MANCHESTER UNITED ABOUT 12 YEARS AGO AND JUMPED OFF THE HAMMERS WITH BRIDGE -- THE HAMMERSMITH BRIDGE INTO THE THAMES. JONATHAN: THAT IS NOT WHAT HAPPENED. TOM: YOU ARE PUSHED OFF.
IT IS AN IMPAIRED BRIDGE AND THEY ARE WRAPPING IT IN FOIL. JONATHAN: I TRY TO GO SOUTH OF THE RIVER. DO NOT USE THE HAMMERSMITH BRIDGE. AN AMAZING PICTURE OF WHAT IS HAPPENING. ANY TO SAY? YOU'RE VERY EXCITED. TOM: I AM NOT EXCITED, THAT IS THE
WRONG WORD. THE TAIL RISK OF THAT HE IS IN FRANCE, IT IS SUPPOSED TO BE 100 DEGREES IN PARIS, BUT IT IS SHOCKING WHAT WE ARE SEEING IN LONDON. JONATHAN: IT IS RARE TO GET DAYS LIKE THIS IN THE U.K.. I UNDERSTAND IT WILL FADE AFTER TODAY IT WILL GET BACK TO SOMETHING MORE SEASONAL. AT LEAST FOR NOW. ARE WE DONE?
TOM: I WILL LOOK AT J&J. KAILEY, THANK YOU FOR THAT. KAILEY: YOU HAD SECOND-QUARTER COVID REVENUE UP MORE THAN EXPECTED. THE ESTIMATE WAS FOR JUST SOUTH OF 223 MILLION. THE REAL HEADLINE IS THEY HAVE CUT THEIR FULL-YEAR EARNINGS VIEW TO $10 AND $.10 A SHARE DOWN FROM THE PREVIOUS VIEW OF $10.15. I AM LOOKING TO FIND THE
RELEASE AS TO THE WHY. WE WILL TAKE INTO THOSE NUMBERS MORE THROUGHOUT THE MORNING. JONATHAN: WILL COME BACK TO THAT IN JUST A MOMENT. FUTURES UP .8% ON THE S&P. WE WILL TALK A LITTLE MORE ABOUT WHAT WILL HAPPEN WITH THE ECB LATER THIS WEEK. 25 OR 50? FROM NEW YORK, THIS IS BLOOMBERG.
JONATHAN: IT IS YESTERDAY ON REPEAT. YESTERDAY EQUITY FUTURES ELEVATED, THAN THE GAINS FADED QUICKLY. FUTURES UP EIGHT OR 9/10 OF 1%. ON THE RUSSELL SMALL CAPS UP 1%. MUTED PRICE ACTION IN THE BOND
MARKET. AT ABOUT 8:30 WE SHOULD GET HOUSING DATA AND BUILDING DATA. THE BOND MARKET LOOKS LIKE THIS. YOUR 10 YEAR YIELD UNCHANGED. YOUR TWO YEAR 3.17.
WHAT IS NOT UNCHANGED IS THE SITUATION IN EUROPE. LET'S TAKE A LOOK AT THE EURO. A CONVERSATION ABOUT POTENTIALLY A 50 BASIS POINT HIKE FROM THIS ECB, 25 OR 50. REPORTING A BLOOMBERG AND ELSEWHERE ACCORDING TO SOURCES SUGGESTING THEY ARE CONSIDERING A 50 BASIS POINT HIKE. GIVEN WHERE INFLATION IS, IT MAKES A TON OF SENSE. GIVEN WHERE THE SITUATION MIGHT BE GOING, THAT IS WHERE THINGS GET MORE COMPLICATED. YOU HAVE TO COMPARE AND
CONTRAST THE EXPECTATION FOR ECB RATE HIKES WITH THE EXPECTATION THAT NORD STREAM ONE MIGHT NOT COME BACK ONLINE AND THAT WAS THE COMMUNICATION FROM THE EUROPEAN COMMISSION A LITTLE BIT EARLIER THIS MORNING. TOM: AS YOU ARE READING IT IS ON OR OFF OR CAN IT BE IN BETWEEN? JONATHAN: IT COULD BE IN BETWEEN IN THE SENSE IT WOULD COME BACK ONLINE BUT YOU WOULD NOT SEE THE FULL AMOUNT OF GAS COME THROUGH. WE SAW LITTLE BIT OF THAT BEFORE IT WENT DOWN TO MAINTENANCE. THE WORRY IS DOES IT COME BACK AT ALL? THEN YOU DO NOT GET TO RESTOCK GOING INTO THE WINTER.
STORAGE IS A BIG ISSUE. TOM: I LOOK AT THAT BUT I WOULD JUST SAY EUROPE IS A SET OF ISSUES CHRISTINE LAGARDE HAS TO ADDRESS AT THE HISTORIC PRESS CONFERENCE. JONATHAN: I DID NOT EVEN MENTION ITALY. I AM NOT SEEING A MASSIVE MOVE ON THE ITALIAN 10 YEAR BUT EVERY LAST COUPLE OF DAYS WE HAVE. THE SPREADS ARE ABOUT 20 BASIS POINTS. THAT WAS AS WIDE AS 240 IN JUNE. THE CONCERN ABOUT THE ITALIAN GOVERNMENT, FACTOR THAT IN WITH CONCERN ABOUT THE ENERGY SUPPLY.
FACTOR THAT INTO THE DOWNSIDE RISK TO GROWTH. TOM: I COULD TALK ABOUT THIS ALL DAY, BUT WE ARE NOT ON SPEAKING TERMS. JOINING US IS THE HEAD OF EUROPEAN FX STRATEGY. I LOVE WHAT YOU SAY ABOUT THIS IMPORTANT ECB MEETING. I WILL CALL THE SURVEILLANCE ACRONYM FOR JULY, TPM, WHICH I BELIEVE IS FRAGMENTATION. ARE WE GOING TO SEE TPM?
>> I THINK WE ARE GOING TO GET AN ANNOUNCEMENT ON ANTI-FRAGMENTATION. IF WE DO NOT GET AN ANNOUNCEMENT AT ALL OR VERY VAGUE THERE IS NO QUESTION. THE QUESTION IS WILL IT BE WHERE THE MARKET HAS BEEN AFFECTED AND ABLE TO OCCUR TAIL FURTHER WIDENING IN SPREADS AND A LARGE NUMBER COMPARED TO BDP BUND SPREADS. I THINK IT IS LIKELY THERE WILL BE A TRIGGER. I THINK THERE IS A MUCH BIGGER PICTURE. THE BIGGER PICTURE IS IN TERMS OF INFLATION THE ECB IS WAY BEHIND THE CURVE.
IT HAS A CURRENCY THAT HAS DEPRECIATED SIGNIFICANTLY AND IT IS FACING A MASSIVE RECESSION RISK, TO A LARGE EXTENT DRIVEN BY THE INCREASING ENERGY PRICES. THE QUESTION IS HOW DO YOU ADDRESS THAT FROM A CENTRAL-BANK PERSPECTIVE. MY CONCERN IS THE ECB HAS BEEN VERY LATE IN ACTUALLY GOING INTO A HEIGHTENED CYCLE -- INTO A HIKING CYCLE. TOM: I HAVE EIGHT QUESTIONS. LET ME CUT TO THE CHASE. IS THE ECB VERY LATE BECAUSE THE BUDDHIST BANK WANTS TO BE VERY LATE? VASILIEIOS I DON'T THINK SO. I THINK THE ECB HAS BEEN VERY
LATE BECAUSE IT HAS NOT HAD A GOOD ASSESSMENT OF DEVELOPMENTS ON INFLATION AND I DO NOT THINK IT PAYS PARTICULAR ATTENTION TO THE GEOPOLITICAL CRISIS. I'M VERY CRITICAL OF THE ECB AT THIS STAGE. YOU ASKED ME THE QUESTION CAN YOU PROSECUTE A CENTRAL-BANK? I THINK THAT IS A VERY FAIR POINT. YOU CAN CERTAINLY BE CRITICAL ABOUT THE ASSESSMENT OF RISKS. IT SHOULD HAVE BEEN, I WOULD
NOT SAY OBVIOUS THAT INFLATION WAS SETTING IN IT WAS SOMETHING THE FED RECOGNIZED MUCH EARLIER. A CASE OF FRONTLOADING HIKES IN ORDER TO BE ABLE TO CUSHION THE SLOW DOWN -- THAT SHOULD BECOME INCREASINGLY OBVIOUS TO THE ECB AND I THINK THE ECB IS MANAGEMENT US MISTAKE. JONATHAN: IT IS TOO LATE NOW AND THIS IS WHAT WE HAVE GOT.
WALK ME THROUGH IT. 25 OR 50 ON THURSDAY AND FROM THERE WHERE CAN THEY GO? VASILEIOS: ONE THING I THINK BECOMES A BIG DANGER IN THE MARKET, ARE WE GOING INTO THE ERO OF LEAKING CENTRAL-BANK DECISIONS BEFORE THEY GO INTO THE ROOM AND MAKE? I DO NOT HAVE ANY INFORMATION BUT I AM FLAGGING THAT QUESTION. THERE IS A RISK OF 50 BASIS POINTS. MY QUESTION IS IS THAT FRONTLOADING OR IS IT SIGNALING A MORE EXTENSIVE AND AGGRESSIVE HIKING CYCLE? MY CASE IS IT IS MORE FRONTLOADING, STARTING TOO LATE, AND WILL BE PERCEIVED BY THE MARKET AS AN AGGRESSIVE HIKING CYCLE, BECAUSE THE WINDOW WHEN THE ECB CAN HIKE IS GETTING SHORTER BY THE DAY. JONATHAN: WOULD YOU FADE THIS EURO STRENGTH? VASILEIOS: ABSOLUTELY. I THINK IT IS A DEAD CAT BOUNCE.
THE EURO HAS FAR MORE ISSUES TO CONTEND WITH AND THAT IS THE RECESSION RISK. THE RECESSION RISK, AND ON TOP OF THAT YOU HAVE AN ECB WHICH IS NOT ACTING TO PROP UP ITS CREDIBILITY. YOU HAVE ITALIAN POLITICS. YOU HAVE THE BIG QUESTION WITH THE NORD STREAM PIPELINE.
UNLESS YOU CAN GET THE RE-RATING IN THE GROWTH OUTLOOK WHICH CURRENTLY IS EXTREMELY CHALLENGING, I DOUBT -- JONATHAN: THIS IS A MORE IMPORTANT QUESTION AND A DIFFICULT ONE TO ANSWER. YOU HAVE A DECENT UNDERSTANDING OF THE REACTION FUNCTION OF THE EUROPEAN CENTRAL BANK? THEY HAVE HAD A LIBERAL INTERPRETATION OF THEIR PRICE STABILITY MANDATE. IF ITALIAN YIELD START BLOWING UP AND WE SEE GROWTH RISKS START TO PILE UP AND INFLATION IS ELEVATED, DID THEY START TO FOCUS ON THE OTHER TWO AND NOT THE ONE THAT IS THE STORY FOR THEM? VASILEIOS: I WOULD BE LYING IF I SAID I HAD A CLEAR UNDERSTANDING OF THE ECB REACTION FUNCTION. TO A CERTAIN EXTENT THE ECB SEEMS TO BE MOVING THE GOALPOST. LOOK AT THE JUNE SPEECH BY CHRISTINE LAGARDE.
THEY HAVE BEEN EMPHASIZING AND HIGHLIGHTING GRADUALISM AND OPTIONALITY. ON JUNE 28 SHE SAID THERE COMES A POINT WHERE GRADUALISM MAY NOT BE APPROPRIATE. THIS ERROR OF FORWARD GUIDANCE -- THIS ERA OF FORWARD GUIDANCE I THINK IS LONG PAST US. THE ECB NOW HAS TO DO THE BEST THAT IT CAN, WHICH MEANS HIKE RATES, BUT AT THE SAME TIME WITH DETAILS ON THE FRAGMENTATION, THIS IS GOING TO BE ABOUT DAMAGE CONTROL. KAILEY: HOW DO YOU MODEL DIFFERENT SCENARIOS OF 20 -- OF 25 OR 50. IF YOU ARE SAYING THIS IS A DEAD CAT BOUNCE, DOES THAT MEAN WE GOING BELOW PARITY, DOES THAT MEAN $.90? 95? WHAT ARE THE DIFFERENT
SCENARIOS? VASILEIOS: OBVIOUSLY THERE ARE A LOT OF MOVING PARTS THAT CAN BLEND TOGETHER. I THINK IF YOU GET THE COMBINATION OF THE ECB HIKING 25 OR EVEN 50 BASIS POINTS, WHICH I DO NOT THINK IS GOING TO HAVE A LASTING IMPACT. IF YOU GET A HAWKISH ECB -- AT THE SAME TIME YOU GET AROUND 40% CAPACITY IN THE NORD STREAM ONE PIPELINE, YOU ARE STILL TALKING ABOUT DOWNSIDE RISKS AND HEADWINDS TO GROWTH, WHICH MEANS THE PROBABILITY ADJUSTED THAT WE COME UP WITH LEVELS FOR EURO-DOLLAR ARE BETWEEN 95 AND 99. JONATHAN: AWESOME TO CATCH UP. TOM: PHENOMENAL. JONATHAN: IN THAT WORLD I'M NOT SURE WHAT INTEREST RATE HIKES WOULD ACCOMPLISH. TOM: I LOVE HOW YOU TOOK IT TO THE REACTION FUNCTION. WHEN WE INVENTED THIS THIS IS
WHAT WE WANTED, A SERIOUS, NERDY DISCUSSION OF THIS HUGE ECB MEETING. I THOUGHT YOUR IDEA OF REACTION FUNCTION AND THE MATHEMATICS OF THAT WAS TANGIBLE. THE ANSWER IS POLITICS PART OF THE ECB REACTION FUNCTION.
POLITICS IS NOT PART OF THE MATH, THERE IS TOO MUCH VARIANCE AROUND EACH COEFFICIENT, I CALL IT SOUP. JONATHAN: IT IS NOT A STRETCH TO BRING IT UP. MORE BROADLY THE RELATIONSHIP BETWEEN THE ECB AND THE FEDERAL RESERVE, THE POST-FINANCIAL CRISIS FRAMEWORK FOR COMMUNICATION HAS TOTALLY BROKEN DOWN. WE HAVE GOT INTO A FEDERAL RESERVE MEETING TWO DAYS BEFORE THAT. WE HAD A WALL STREET JOURNAL ARTICLE THAT TEED UP A BIGGER INTEREST RATE HIKE. WE HAVE GOT INTO THIS ONE WITH
MONTHS OF COMMUNICATION ABOUT GRADUALISM. ONLY RECENTLY DID PRESIDENT LAGARDE HAVE THE OPPORTUNITY TO TEE UP 50. WE STILL HAVE TALK OF 25. BLOOMBERG AND REUTERS GOING WITH THE SAME STORY THAT IT COULD BE BIGGER. THAT FRAMEWORK HAS COLLAPSED. TOM: IT HAS. YOU CAN TAKE IT RIGHT BACK TO
MONET. IT IS EUROPE. IT IS NOT A UNION. JONATHAN: FUTURES UP .9% ON THE S&P. THE EURO UP MORE THAN 1%. TOM: DID I MOVE THE EURO?
I WAS TRYING. JONATHAN: A BIT. FROM NEW YORK, THIS IS BLOOMBERG. RITIKA: THE EUROPEAN MAKO BIG WHEN IT RAISES INTEREST RATES THIS WEEK FOR THE FIRST TIME IN MORE THAN A DECADE.
BLOOMBERG HAS LEARNED POLICY MAKERS MAY BOOST RATES BY DOUBLE THE QUARTER-POINT THEY OUTLINED LAST MONTH. THE LATEST EUROZONE INFLATION REPORT SHOWED PRICES SEARCHING TO AN ALL-TIME HIGH WHEN 6%. THE PRICE OF OIL IS HOLDING STEADY AFTER POSTING ITS BIGGEST ONE-DAY ADVANCED SINCE MAY.
SAUDI ARABIA DECLINED TO COMMENT -- DECLINED TO COMMIT TO OUTPUT INCREASES FOLLOWING A VISIT BY PRESIDENT BIDEN. IN THE U.K. TEMPERATURES ARE SET TO HIT A RECORD. THE MET OFFICE SAYS THE TOP OR TURTLE RISE OVER 40 DEGREES CELSIUS. THE HEATWAVE IS DISRUPTING LIFE ALL ACROSS THE COUNTRY. TRAINS HAVE BEEN DELAYED OR CANCELED AND WORKERS HAVE BEEN STRANDED AT HOME. IN CHINA THE NUMBER OF NEW
CASES OF CORONAVIRUS INCREASED TO NEARLY 700 INFECTIONS, THE HIGHEST NUMBER IN ALMOST TWO MONTHS. OR INFECTIOUS STRAINS OF THE VIRUS ARE TESTING CHINA'S HARD-LINE APPROACH AS OUTBREAK SPREAD BEYOND THE MAJOR CITIES. BLOOMBERG HAS LEARNED ANTHONY SCARAMUCCI SKYBRIDGE CAPITAL SUSPENDED REDEMPTIONS IN ONE OF ITS FUNDS FOLLOWING SHARP DECLINES IN CRYPTOCURRENCIES. THE FUND SUSPENDED REDEMPTION BECAUSE PRIVATE COMPANIES NOW MAKE UP 20% OF THE PORTFOLIO.
GLOBAL NEWS 24 HOURS A DAY, ON AIR AND ON QUICKTAKE BY BLOOMBERG, POWERED BY MORE THAN 2700 JOURNALISTS AND ANALYSTS IN MORE THAN 120 COUNTRIES. I AM RITIKA GUPTA. THIS IS BLOOMBERG. ♪ >> WHAT IS IMPORTANT IS WHETHER OIL PRICES HAVE MORE UPSIDE OR DOWNSIDE. IN MY VIEW THERE IS MORE DOWNSIDE AND THERE'LL BE A FLIP OF CORRELATION BETWEEN EQUITIES AND OIL. JONATHAN: THE CHIEF STRATEGIST AT CLOCKTOWER GROUP. GREAT TO HEAR FROM HIM.
INTERESTING THINGS ON CHINA. FUTURES AT .9% ON THE S&P. ON THE NASDAQ UP .9%. ALSO IN THE BOND MARKET YIELDS UNCHANGED ON THE U.S. 10 YEAR AT 2.99. EUROPE THE EPICENTER OF THE ACTION ON THURSDAY. EURO-DOLLAR POSITIVE MORE THAN 1%. STRONGER EURO AND WEAKER
DOLLAR. WE COULD TALK ABOUT THE PROSPECT OF A 50 BASIS POINT RATE HIKE. IF YOU SPEAK TO PEOPLE IN FOREIGN-EXCHANGE STRATEGIST LOOKING AT EUROPE WILL TELL YOU THEY WANT TO KNOW WHAT HAPPENS WITH GAS. THE EUROPEAN COMMISSION DOES NOT EXPECT RUSSIA TO RESTART THE PIPELINE THIS WEEK. HERE IS THE QUOTE. "WE ARE WORKING ON THE ASSUMPTION IT DOES NOT RETURN TO OPERATION." THEY GO ON TO SAY "IN THAT CASE CERTAIN ADDITIONAL MEASURES NEED TO BE TAKEN." TOM:
THAT IS THE STORY AND THE ANSWER IS YOU CUT DOWN GAS OR VLADIMIR PUTIN SENDS A LESSON IN THE HEAT OF THE SUMMER VERSUS AUTUMN OR WINTER. WE PROTECT THE COPYRIGHT OF ALL OF OUR GUESTS. IT IS SOMETHING SACRED AT BLOOMBERG SURVEILLANCE. IT IS THEIR MEAL TICKET. IT IS HOW AMRITA SEN PAYS FOR AIR CONDITIONING. HER RESEARCH IS EXQUISITE. SHE WALKS THROUGH IN HER LATEST
NOTE WHY SHE IS STRUCTURALLY AND OIL BULL. MY HEAD IS SPINNING. UP WE GO, DOWN WE GO. WHY DO YOU SUGGEST OIL GETS A BID IN MOVES HIGHER? AMRITA: THAT IS WHY I SAY THERE IS A DIFFERENT BETWEEN TACTICAL AND STRUCTURAL. RIGHT NOW PEOPLE ARE AWAY ON HOLIDAY, THERE ARE MORE MACHINES THAN HUMANS AND WE CONTINUE TO TRADE IN THIS VERY TECHNICAL BAND GOING UP FIVE DOLLARS IN A DAY, GOING DOWN $10. THIS IS A MARKET DEFINED BY UNDERINVESTMENT. WE HAVE NOT BEEN INVESTING ENOUGH. IT HAS BEEN GOING ON FOR A LONG
TIME. THAT DOES NOT CHANGE OVERNIGHT. EVEN ABOVE $100 THERE IS NOT AN INCENTIVE TO INCREASE INVESTMENT AND THAT IS WHY WE WE REMAIN STRUCTURALLY BULLISH. JONATHAN: WHAT DOES THAT MEAN FOR GASOLINE PRICES WITH THE AVERAGE PRICE BELOW $4.50, WHAT YOU MAKE OF THAT? AMRITA: RIGHT NOW THESE HAVE BEEN DRIVEN BY RECESSIONARY FEARS AND I STILL THINK IN THE SHORT TERM PRICES CAN CORRECT LOWER ONCE AGAIN. THAT DOES NOT CHANGE THE FACT THAT OVERALL REFINING CAPACITY IS EXTREMELY TIGHT. REMEMBER GASOLINE DOES HAVE
SEASONALITY IN ITS FAVOR. WE ARE GOING TO COME OUT THE DRIVING SEASON AND WE DO FORESEE A MUCH WEAKER WINTER GASOLINE PRICING. NEXT SUMMER WE WILL HAVE SIMILAR HIGH PRICES. DIESEL IS THE ONE TO WATCH OUT FOR. THAT HAS BEEN THE TIGHTNESS IN THE MARKET. WITH THE EUROPEAN EMBARGO KICKING IN EARLY NEXT YEAR FOR PRODUCTS, RUSSIA EXPORTS A LOT OF DIESEL, ABOUT 600,000 BARRELS A DAY TO EUROPE, THAT IS WHERE THE REAL TIGHTNESS WILL BE. KAILEY:
WE KNOW THE PRICES AT THE PUMP HAVE DOGGED PRESIDENT BIDEN FOR SOME TIME. IS TRYING TO TAKE WHATEVER MEASURE HE CAN TO GET THOSE DOWN IN SOME WAY, AND HENCE THE VISIT TO THE MIDDLE EAST. THE BUY-IN ADMINISTRATION SEEMED OPTIMISTIC WE WOULD SEE THE UAE START TO PUMP MORE. WHAT YOU ACTUALLY EXPECT OPEC-PLUS TO DO ON AUGUST 3? AMRITA: WE ARE EXPECTING THEM TO INCREASE PRODUCTION GRADUALLY.
IN THEORY THE DEAL ENDS AFTER THEY HAVE UNWOUND ALL OF THE CUTS. THAT DOES NOT MEAN OPEC-PLUS WILL SIT ON THEIR HANDS BECAUSE NOT INCREASING PRODUCTION FOR FOUR MONTHS WHEN MASSIVELY OVER TIGHTNESS ALREADY TIGHT MARKET. WE ARE EXPECTING THEM TO CONTINUE ADDING OVER THE LAST FOUR MONTHS OF THE YEAR. I RECOMMEND THE BIDEN
ADMINISTRATION WILL TAKE THAT AS A WIN AND SAY THAT IS BECAUSE OF A TRIP TO THE MIDDLE EAST, WHERE IS THE REALITY IS THAT WILL HAPPEN. JONATHAN: I WANT YOU TO DESCRIBE WHAT WOULD HAPPEN IN EUROPE IF NORD STREAM ONE DOES NOT COME BACK ONLINE THIS THURSDAY? WHAT DOES THE SITUATION LOOK LIKE, WHERE DOES GERMANY GET ITS ENERGY, WALK US THROUGH IT? AMRITA: ON OUR BALANCES WE ARE NOT EXPECTING THEM TO COME BACK NEXT WEEK. I KNOW THAT IS THE FOCUS IN THE MARKET. WE HAVE BEEN BUILDING A SCENARIO WHERE IT TAKES A LOT LONGER TO COME BACK. WE DO THINK IF RUSSIA IS ACTUALLY PLAYING LOGICALLY AND ECONOMICALLY THEY WILL HAVE TO BRING NORD STREAM ONE BACK BY THE END OF OCTOBER, OTHERWISE THEY WILL HAVE TO SHUT DOWN FIELDS DOMESTICALLY. THAT MIGHT LEAD TO MORE LONG-TERM DAMAGE FOR THEIR GAS FIELDS. THAT IS YET TO BE SEEN.
IF THEY CHOOSE TO GO DOWN A POLITICAL ROUTE THAT IS VERY DIFFERENT BUT THEY STILL HAVE UNTIL OCTOBER TO MAKE THE MIND UP. TOM: THIS IS CRITICAL BECAUSE NON-SOPHISTICATES LIKE ME SAY IF RUSSIA DOES NOT SELL TO EUROPE THEY CAN SELL TO OTHER PEOPLE LIKE INDIA AND CHINA. IF THEY HAVE TO PLAY WITH NORD STREAM 2, CAN THEY MOVE THE HYDROCARBONS OVER TO OTHER COUNTRIES OR NOT? AMRITA: YOU COULD DO THAT FOR OIL. YOU CANNOT DO THAT FOR GAS. GAS IS VERY DISTINCT. THE GAS THAT COMES TO EUROPE
CANNOT BE REDIRECTED TO THE EAST. IT WILL TAKE YEARS TO BUILD NEW PIPELINES, TO REDIRECT THE FLOWS AND THAT IS WHERE THIS COMES A STRUGGLE FOR BOTH SIDES. EUROPE, YOU'VE ALREADY SEEN GERMANY COME OUT, PUTTING MEASURES TO CUT DOWN CONSUMPTION , NATIONALIZE SOME OF THE UTILITY COMPANIES. THINGS WILL GET MATERIALLY WORSE FOR EUROPE. JONATHAN: IN YOUR ASSUMPTION YOU ASSUME VLADIMIR PUTIN IS STILL A RATIONAL ECONOMIC FACTOR? AMRITA: FOR NOW, YES. LET'S PUT IT THIS WAY. WE ARE SAYING THAT SHOULD NORD
STREAM 2 ONE NOT COME BACK BY OCTOBER THAT WE WILL CLEARLY KNOW HE IS NOT. OUR BASE CASE IS STILL THAT IT DOES COME BACK BUT WITH A VERY HIGH PROBABILITY AND RISK IT COULD GET DELAYED FURTHER AND PROBABLY NOT COME BACK BECAUSE THAT IS WHERE THE SWING FACTOR COMES IN. WHAT IS THE SIGNAL HE IS TRYING TO SEND? EVEN IF IT IS THE END OF OCTOBER, FOR EUROPE, GIVEN THE HEATWAVE GOING ON RIGHT NOW, THE CALL ON GASES VERY HIGH. WE WILL NOT BE BUILDING INTO THE WINTER. I CANNOT STRESS HOW IMPORTANT THAT IS AND HOW MUCH UPSIDE THERE IS TO GAS PRICES. ONE OF THE THINGS WE'RE SEEING RIGHT NOW WITH GAS SO HIGH, WE ARE GETTING OIL BACK INTO THE POWER MIX AS A RESULT OF THIS. JONATHAN:
WHAT A TOUGH SITUATION . AMRITA SEN OF ENERGY ASPECTS. HERE IS A HEADLINE. A TEMPERATURE OF 31.9 DEGREES CELSIUS HAS BEEN RECORDED AT SURREY. IF CONFIRMED THIS WOULD BE THE HIGHEST TEMPERATURE EVER RECORDED IN THE U.K.. TEMPERATURES ARE LIKELY TO RISE
FURTHER THROUGHOUT TODAY. TOM: THROUGH TODAY AND TONIGHT. I WOULD GO TO WHAT I'VE HEARD FROM DOCTORS, PARTICULATE IF YOU ARE ELDERLY, NIGHTTIME IS MORE IMPORTANT, THE TEMPERATURES HAVE TO COME DOWN. DOES IT COME DOWN TODAY OR DO WE WAIT TWO DAYS? JONATHAN: WE WILL KEEP YOU UP TO SPEED AND THE LATEST ON THE ECB DECISION. THE EURO-DOLLAR IS 100 255. THIS IS BLOOMBERG.
>> THE KIND OF ECONOMIC ACTIVITY WE ARE SEEING NOW IS SOMEWHAT UNPRECEDENTED. >> THE INFLATION STORY, MAY BE AT PETER DID IN JUNE. >> ISN'T POSSIBLE -- IT IS IMPOSSIBLE TO CRAFT A STORY WHERE INFLATION COMES NEATLY BACK DOWN. >> WHEN YOU THINK ABOUT WHAT IS GOING ON IN EUROPE, I THINK THE WORST CASE SCENARIO IS PRICED IN.
>> THIS IS BLOOMBERG SURVEILLANCE WITH TOM KEENE, JONATHAN FERRO, AND LISA ABRAMOWICZ. JONATHAN: GOOD MORNING. THIS IS BLOOMBERG SURVEILLANCE ON TV AND RADIO. I AM JONATHAN FERRO ALONGSIDE
TOM KEENE TOGETHER WITH KAILEY LEINZ. EQUITY FUTURES UP .8% OR .9% ON THE S&P. THE ECB WRITING ITS OWN PROMO. TOM: WE ARE IN FRONT TWO DAYS EARLY BECAUSE IT IS IMPORTANT, AND THE RESEARCH NOTES ON IT ARE OUTSTANDING. I WILL GO TO OUR GUEST IN THE LAST HOUR, GREAT SET OF GUESTS. HE SAYS THIS IS CHRISTINE LAGARDE AND SHE HAS LOST OPTIONALITY. JONATHAN: OUR LATEST REPORTING SUGGESTS
SHE IS DOUBLING DOWN ON THE EFFORT TO COME UP WITH THAT AT ALL, THE TRANSMISSION DETECTION MECHANISM ON TOP OF THE FACT THEY ARE CONSIDERING A 50 BASIS POINT HIKE. PUT THAT TOGETHER WITH THIS ONE. THIS FROM THE EUROPEAN COMMISSION ON NORD STREAM ONE. GAS SUPPLIES INTO EUROPE, WE DO NOT EXPECT IT COMES BACK. WE WERE LOOKING FOR TO COME BACK THIS THURSDAY. TOM: THAT IS A WILDCARD FOR HER. THE ISSUE HERE IS THE ELEPHANT IN THE ROOM.
FROM DAY ONE IT HAS BEEN A DIFFERENT STRUCTURE THAN THE UNITED STATES. THEY DO NOT HAVE A COMBINED FISCAL POLICY AND YET ON FEBRUARY 24 DEUTSCHE BANK TOLD US THEY WILL NEED A MASSIVE COMBINED FISCAL POLICY. JONATHAN: THAT IS BEEN THE HEART OF THE MATTER FOR 10 YEARS. NOW YOU HAVE THE NEW INGREDIENTS TO THIS MESS THAT THEY FACE THE DILEMMA. UPSIDE RISK TO INFLATION, DOWNSIDE RISK TO GROWTH.
THE REST OF THE YEAR FOR THIS COMMENT, SETTING POLICY IS ALMOST IMPOSSIBLE. YOU HAVE TO TRY TO COME UP WITH THE LEAST WORST OPTION. TOM: IT IS WRAPPED AROUND DOMESTIC POLITICS. EMMANUEL MACRON HAS HAD AN EVENTFUL 48 HOURS INCLUDING THE BAILOUT OF EDF.
I STILL DO NOT UNDERSTAND THAT. JONATHAN: WE WILL LET KAILEY EXPLAIN THAT ONE. THE CORPORATE NEWS LATER, WE TURN TO ATTACK AND NETFLIX.
KAILEY: HOW BAD ARE THE SUBSCRIBER LOSSES? 2 MILLION IS WHAT THE COMPANY HAS GIVEN IN ITS OWN FORECAST. HOW BAD IS THAT FOR THE OUTLOOK GOING FORWARD. TOM: YOU CHANNEL SCARLET FU. CAN RYAN GOSLING SAVE THE FRANCHISE WITH THE GRAY MAN? KAILEY: IT COMES OUT ON FRIDAY. I THINK THE NARRATIVE IS THAT
STRANGER THINGS AND 11 AND ALL OF THAT GOOD STUFF WILL HELP ON THE SUBSCRIBER FRONT. THIS IS JUST THE KICKOFF OF BIG TECH AND AS WE HAVE A NARRATIVE THESE GIANT COMPANIES SLOWING DOWN HIRING IF NOT OUTRIGHT LAYING PEOPLE OFF IN THE CASE OF MICROSOFT, THAT SPEAKS TO THE BROADER ECONOMIC ENVIRONMENT. WE SAW THE EFFECT THAT HAD ON EQUITIES MORE BROUGHT THE YESTERDAY. JONATHAN: YOU NAIL THE PRICE ACTION AROUND NETFLIX. TOM: STRANGER THINGS. JONATHAN: YOU WERE KICKING IT OFF THE
RAILS. KAILEY GOT IT BACK ON. DOWN 22% OF THE REPORT BEFORE THAT. WHAT IS IN STORE LATER? KAILEY: BUCKLE UP IS WHAT I WOULD SAY. JONATHAN: APPLE ON THURSDAY NEXT WEEK. KAILEY: THEY LAUNCHED A DESKTOP
APPLICATION. TOM: SHE IS A FONT OF DIGITAL KNOWLEDGE. KAILEY: THAT IS WHAT I'M HERE FOR. JONATHAN: IS IT STILL ON YOUR PHONE? SNAPCHAT? KAILEY: I HAVE A 1700 DAYS SNAP STREAK WITH MY HUSBAND. TOM: WHAT? I HAVE A 700 DATE STREAK WITH -- I 1700 DATE STREAK WITH MRS.
KE ENE AND SHOTS OF TEQUILA. JONATHAN: AND SHE IS NOT TALKING TO YOU. A SIMILAR STORY ON THE NASDAQ. YIELDS IN. CRUDE A BREAK OF 101, $100.90. YOU NOTICE A LOT OF DOLLAR WEAKNESS, INCLUDING AGAINST THE EURO. EURO-DOLLAR 102.55. -- 1.0 255. KAILEY: BEFORE WE CAN GET THE THURSDAY LET'S RUN THROUGH THE EVENTS ON THIS TUESDAY.
THERE IS ECONOMIC DATA PAY ATTENTION TO. 8:30, HOUSING STARTS AND BUILDING PERMITS. THIS DATA INTERESTING -- TO WHAT EXTENT ARE WE SEEING THE PULLING AND HOUSING DUE TO THE IMPACT OF HIGHER PRICING AND HIGHER RATES.
AFTER THE BELL NETFLIX WILL BE REPORTING ITS RESULTS. HOW BAD IS THE SUBSCRIBER LOSS? WHAT KIND OF REACTION ARE WE SEEING AND THAT WE SAW 35% PLUNGE IN THE STOCK IS DOWN 60% ON A YEAR-TO-DATE BASIS. WHILE TOM IS TAKING A SURVEILLANCE NAP I'LL BE TAKING AN EXTRA LONG DAY WORKING ON BLOOMBERG CRYPTO AT 1:00 P.M. AND THE BLOOMBERG CRYPTO SUMMIT. THAT IS A DAYLONG EVENT. I BELIEVE IT WILL KICKOFF AT 8:40 EASTERN TIME. JONATHAN: HAS HE STILL GOT THAT TATTOO?
KAILEY: THAT I DO NOT KNOW. JONATHAN: YOU HAVE TO ASK THAT. TOM: WHAT? JONATHAN: I WILL NOT EXPLAIN THAT. THE BANK OF AMERICA FUND MANAGER SURVEY READS RECORD LOW PROFIT EXPECTATIONS, EQUITY ALLOCATION THE LOWEST SINCE 2008, CASH LEVELS THE HIGHEST SINCE 2001. DOES IT GET ANY WORSE THAN THAT? SEBASTIAN PAGE, HEAD OF GLOBAL MULTI-ASSETS AT T. ROWE PRICE JOINS US. YOU HAVE CALLED IT THE STOP
GETTING WORSE MOMENT. HOW CLOSE ARE WE TO THAT MOMENT? SEBASTIAN: I THINK WE ARE GETTING THERE. WE STILL REMAIN A SMALL UNDERWEIGHT IN STOCKS RELATIVE TO CASH. WE ARE NEUTRAL ON BONDS. WE LIKE TO LEAD INTO BEARISHNESS. WE LIKE TO LEAN AGAINST THE WIND AND WE HAVE STARTED THE DEBATE ABOUT WHEN WILL BE THE TIME, WE ARE NOT TRYING TO TIME THE BOTTOM BUT WHEN WILL BE A GOOD TIME TO START BUYING.
THE BIG ISSUE IS THAT WHILE INFLATION IS ON THE WAY DOWN, RECESSION RISK IS ON THE WAY UP. TO ADD TO THE GLOOM AND DOOM, AND I TEND TO BE AN OPTIMIST, TO ADD TO THAT GLOOM AND DOOM YOU HAVE TO THINK OF THE HISTORY OF FED HIKING CYCLES, 10 OUT OF 13 OF THE FED HIKING CYCLES HAVE ENDED IN RECESSION. THE FED IS NEVER BROUGHT INFLATION DOWN 4% OR MORE WITHOUT TRIGGERING A RECESSION RISK. JONATHAN: WHAT IS IMPORTANT -- TOM: T. ROWE PRICE INVENTED THE BUY
SIDE DEBATE DOWN IN BALTIMORE. IT IS A STOP GETTING WORSE MOMENT AS YOU DEBATE THIS. IT FOLDS IN ON THE EQUITY SIDE. JULIAN EMANUEL AT EVERCORE ISI SAYING HIS TREND NUMBER IS A POSITIVE 4.8% EARNING STATISTIC. THAT IS NOT THAT BAD AND THAT IS HOW YOU STOP GETTING WORSE. JONATHAN: IT IS REMARKABLE.
-- SEBASTIEN: IT IS REMARKABLE. JONATHAN GOLUB SAID EARNINGS ESTIMATES ARE DOWN SINCE MARCH BUT DOWN LESS THAN HISTORICAL PATTERNS. THINK WITH ALL OF THE RECESSION TALK EARNINGS ESTIMATES ARE DOWN LESS THAN THEY WOULD BE HISTORICALLY. REVENUES FOR COMPANIES ARE PRETTY GOOD. YOU'RE TALKING ABOUT PLUS 10% ESTIMATES FOR Q2 THAT SPEAKS TO STOCKS AND CORPORATIONS HAVING SOME INFLATION HEDGING PROPERTIES AND GENERATING THOSE REVENUES. MARGINS ARE COMING DOWN. GOING BACK TO THE BANK OF AMERICA SURVEY, I AGREE SENTIMENT IS LOW AND SOONER RATHER THAN LATER IT WILL BE TIME TO START TALKING ABOUT LEANING IN.
IF YOU LOOK AT THE HISTORY OF SELLOFFS, YOU HAVE 17 SELLOFFS OF 50% OR MORE HISTORICALLY AND THE HIT RATIO IN LEANING IN AFTER THOSE SELLOFFS IS QUITE HIGH IF YOU LOOK WHEN YOU'RE FORWARD AND YOU MAKE A LOT OF MONEY BY DOING THIS, JUST GIVEN RISING RECESSION RISKS AND STILL THE STICKINESS IN INFLATION, THAT WE ARE NOT QUITE THERE YET. KAILEY: IF WE BREAK IT DOWN REGIONALLY THE BANK OF AMERICA SURVEY SHOWED AMONG EQUITY INVESTORS THEY ARE THE EUROZONE GIVEN ALL OF THE THINGS JOHN AND TOM WERE OUTLINING AT THE TOP OF THE HOUR, AS WELL AS JAPAN. IS THERE ANY POCKET OF THE WORLD IN WHICH IT IS SAFE TO GET INTO EQUITIES, IN WHICH YOU FEEL COMFORTABLE TAKING MORE RISK? SEBASTIEN: IS A GREAT QUESTION. I LIKE TO DESCRIBE OUR POSITIONING AS PLAYING AGGRESSIVE DEFENSE.
WE ARE PLAYING DEFENSE BECAUSE WE HAVE BEEN UNDERWEIGHT STOCKS ALL YEAR, IT IS NOT A BIG UNDERWEIGHT. THESE ARE LONG-TERM PORTFOLIOS. WITHIN STOCKS WE HAVE STARTED TO BUILD IN OPTIONALITY. WE ARE LONG EMERGING MARKET STOCKS FROM A VALUATION PERSPECTIVE. THE RISKS ARE NOT AS BIG AS THEY ARE IN EUROPE.
IN EUROPE THE CONSUMER IS GETTING CRUSHED. I AM A BIG FAN OF THE SHOW. THERE IS A NARROW PATH FOR THE ECB. THE CONSUMER IS GETTING CRUSHED IN EUROPE WITH LOWER NOMINAL WAGE GROWTH THAN IN THE U.S.
AND A STILL RISING ENERGY PRICES AND YOU TALK ABOUT THE HEATWAVE TODAY. IT IS NOT A GOOD MIX AND IT IS PRICED IN. WE LEAN INTERNATIONAL ON THE MARGIN BUT MAINLY TOWARDS EMERGING MARKETS TO BUILD OPTIONALITY TO BUILD THIS REBOUND FROM THE BOTTOM THAT SHOULD HAPPEN AT SOME POINT. JONATHAN: THANK YOU. SEBASTIAN PAGE OF T. ROWE PRICE. I THINK I FINISHED EVERY SEGMENT OVER THE LAST TWO DAYS BY SAYING WHAT A TOUGH SITUATION IN EUROPE. I CANNOT EMPHASIZE THAT ENOUGH
THAT THIS COULD GET HARDER FOR THE CONTINENT AS THE YEAR GROWS OLDER. TOM: I WILL STEAL FROM MICROECONOMICS. THIS STRANGE WORD, AMBIGUITY. CHRISTINE LAGARDE HAS TO SYNTHESIZE THE POLITICS, THE ECONOMICS, THE ESTIMATES, KNOWING IN SUMMARY DISCUSSION POINTS IT CAN CUT EITHER WAY DEPENDING ON OTHER DISCUSSION POINTS, AND THAT IS WHERE YOU GET THIS ECONOMIC WORD AMBIGUITY, THEY ARE DROWNING IN IT RIGHT NOW. JONATHAN: FORWARD GUIDANCE IS DEAD AND WE MENTIONED IT. THE POST 2008 FRAMEWORK OF
PREDICTABLE COMMUNICATION HAS BROKEN DOWN. THE FACT WE ARE WAKING UP TO ANOTHER STORY AFTER MONTHS OF COMMUNICATION ABOUT THE FIRST RATE HIKE IN THE LAST 10 YEARS, THAT TELLS YOU SOMETHING. TOM: ALL CENTRAL BANKS ARE X POSTED EVERY MOMENT. MAYBE NOW THEY ARE MORE. JONATHAN: FROM NEW YORK CITY, THIS IS BLOOMBERG. RITIKA: KEEPING UP-TO-DATE WITH NEWS FROM AROUND THE WORLD WITH THE FIRST WORD, I AM RITIKA GUPTA.
TEMPERATURES IN THE U.K. HIT A RECORD. THE CHAPPATTA REACHED 39.1 DEGREES CELSIUS IN ENGLAND, 102.4 DEGREES FAHRENHEIT. THE HEATWAVE IS DISRUPTING LIFE
ACROSS THE COUNTRY. SCHOOLS HAVE CLOSED EARLY AND WORKERS HAVE BEEN STRANDED AT HOME. THE FIELD IS NARROWING IN THE BATTLE TO REPLACE BORIS JOHNSON AS BRITISH PRIME MINISTER. RISHI SUNAK AND PENNY MORTON WHERE THE TOP TWO CANDIDATES. ANOTHER VOTE WILL WHITTLE THE
FIELD FROM FOUR TO TWO. SENATE DEMOCRATS ARE URGING PRESIDENT BIDEN TO DECLARE A CLIMATE EMERGENCY THAT COULD GIVE THE PRESIDENT BROAD AUTHORITY TO REDIRECT FUNDS FOR CLEAN ENERGY PRODUCTS OR OFFSHORE OIL DRILLING. DEMOCRATS ARE SHOOTING DOWN THE PROSPECT OF SWIFT CONGRESSIONAL ACTION ON CLIMATE CHANGE. CHINA WILL FIND RIDE-HAILING CHINA -- RIDE-HAILING GIANT DIDI GLOBAL BEFORE ALLOWING THEM TO RESTORE THEIR APPS TO STORES. CHINA LAUNCHED AN INVESTIGATION LAST YEAR INTO POTENTIAL VIOLATIONS OF DATA SECURITY. TWITTER HAS DISMISSED ELON MUSK'S COMPLAINT HE DOES NOT HAVE ENOUGH INFORMATION ABOUT SPAM AND ROBOT ACCOUNTS. THE COMPANY CALLED IT IN A
RELEVANT SIDESHOW AND URGED THE JUDGE TO HOLD A TRIAL AS SOON AS POSSIBLE. GLOBAL NEWS 24 HOURS A DAY, ON AIR AND ON QUICKTAKE BY BLOOMBERG, POWERED BY MORE THAN 2700 JOURNALISTS AND ANALYSTS IN MORE THAN 120 COUNTRIES. I AM RITIKA GUPTA. THIS IS BLOOMBERG.
♪ >> RIGHT NOW THERE IS THIS CONCERN THAT NO MATTER HOW MENTAL -- NO MATTER HOW TROUBLED THE U.S. IS OTHER COUNTRIES ARE IN WORSE SHAPE. OTHER COUNTRIES ARE HAVING TO REACT BECAUSE INFLATION GOES UP WHEN THE DOLLAR STRENGTHENED. JONATHAN: CKEN ROGOFF TOUCHING ON THE HEART OF THE ISSUE RIGHT NOW FOR MANY COUNTRIES, MANY ECONOMIES INCLUDING EUROPE.
THE EURO HAS BEEN A LOT WEAKER THROUGH THIS YEAR. TODAY SOME DOLLAR WEAKNESS IN EURO STRENGTH. EURO-DOLLAR 1.0 264, POSITIVE MORE THAN 1%. FRUIT DOWN 2%, JUST ABOUT HOLDING ON TO 100, $100 POINT -- $100.55. IN ABOUT AN HOUR WE WILL HAVE HOUSING STARTS AND BUILDING PERMITS FOR JUNE. IT IS NETFLIX AFTER THE CLOSE
LATER. TOM: CURVE INVERSION PRETTY STATIC. PRE-MUCH WHERE WE WERE YESTERDAY. IT IS TUESDAY, TWO DAYS FROM THE ECB. EMILY WILKINS IS FOCUSED ON ONE OF THE MOST INTERESTING STATES FROM EAST TO WEST. MARYLAND IS DIFFERENT, FROM THE
PENNSYLVANIA BORDER TO THE EVILS OF WASHINGTON, MARYLAND IS DIFFERENT. WHAT IS SO DIFFERENT IS A REPUBLICAN STATE THAT ISN'T. IT IS FASCINATING HOW BIG IT WAS FOR JOE BIDEN AND YET REPUBLICANS ARE INVOLVED IN THE DEBATE. WHAT DOES THAT SAY OF THE UNIQUENESS OF THESE VOTES TODAY? EMILY: PART OF IT, LOOK AT WHAT GOVERNOR LARRY HOGAN, HIS POPULARITY IN THE STATE, HE HAS CONSISTENTLY POINTED TO THE TYPE OF REPUBLICAN A LOT OF DEMOCRATS CAN GET BEHIND. HE IS BACKING ONE OF THE TWO CANDIDATES IN THE REPUBLICAN PRIMARY FOR GOVERNOR.
THE OTHER IS BACKED BY FORMER PRESIDENT DONALD TRUMP AND IT HAS BECOME A PROXY WAR FOR THE FUTURE OF THE REPUBLICAN PARTY. DEMOCRATS HAVE A COMPETITIVE PRIMARY FOR GOVERNOR TODAY. WE THINK THIS WILL BE ONE OF THE CLOSELY WATCHED RACES IN PART BECAUSE WE DO NOT HAVE A LOT OF PRIMARY IS GOING ON IN JULY. THIS IS THE BIG ONE. CERTAINLY A GOVERNORS RACE TO KEEP AN EYE ON THAT WILL TELL US ABOUT THE FUTURE OF BOTH POLITICAL PARTIES. TOM: HOW IS THE TRUMP PIXIE DUST IN
MARYLAND VERSUS ACROSS THE SOUTH? EMILY: ONE TREND WE SEEM TO BE SEEING IS IN DEEP RED AREAS, TRUMP CANDIDATES DO REALLY WELL. LOOK AT THE SOUTH CAROLINA PRIMARY BETWEEN TOM RICE, WHERE HE LOST TO A PRIMARY CHALLENGER, MOSTLY BECAUSE TOM RICE VOTED TO IMPEACH TRUMP. HE HAS OTHERWISE SOLID CONSERVATIVE CREDENTIALS BUT THAT WAS UP TO LOSE HIM IN THIS DEEP RED STATE. YOU SAW SIMILAR THINGS WITH REPUBLICAN ON REPUBLICAN MATCH UPS. THEN GOING BACK TO SOUTH CAROLINA, YOU HAD A DISTRICT THAT LEAD REPUBLICAN. IT STILL HAVE A LOT OF MODERATES AND INDEPENDENTS. THIS IS THE DISTRICT
CONGRESSWOMAN NANCY MAYS CURRENTLY HOLDS DESPITE THE FACT SHE WAS RUNNING AGAINST A CHALLENGER BACKED BY TRUMP. IT SHOWS YOU IN THESE MORE MODERATE AREAS REPUBLICANS CAN PULL OUT A WIN EVEN IF THEY DO NOT HAVE TRUMP'S BACKING. KAILEY: THE QUESTION IS WHETHER OR NOT DEMOCRATS CAN PULL OFF 20 MINS -- MANY WINS AND KEEP OLD IN NOVEMBER. I AM WONDERING HOW REALISTICALLY THESE REPRESENTATIVES AND SENATORS WILL BE ABLE TO GET DONE BETWEEN NOW AND THE MIDTERMS THAT CAN SWAY ANY MINDS? EMILY: IT IS A LOT LESS THAN WHAT THEY WERE LOOKING FOR. YOU WILL SEE THE SENATE MOVE AHEAD WITH THE PROCEDURAL VOTE THAT WOULD ALLOW MORE THAN $50 BILLION TO GO FOR SEMICONDUCTOR MANUFACTURING IN THE U.S..
THAT IS ONE BIG THING BOTH DEMOCRATS AND REPUBLICANS WANT TO GET DONE. DEMOCRATS ARE STILL HOPING TO PASS THE RECONCILIATION PACKAGE THAT ONLY NEEDS DEMOCRATIC VOTES. IT HAS GOTTEN MUCH SLIMMER BUT INCLUDES TWO IMPORTANT HEALTH CARE PIECES OF LEGISLATION. ONE FOR LOWERING HEALTH CARE PRICES, ONE FOR EXPANDING MEDICARE. THAT LEAVES THE BIGGER ISSUES,
WHICH ARE CURRENTLY THE PRICE OF EVERYTHING, THE PRICE OF GAS. THE PRICE OF INFLATION IS HURTING A LOT OF AMERICANS. THAT IS THE NUMBER ONE ISSUE RIGHT NOW.
IT IS NOT CLEAR AT THIS POINT WHAT CONGRESS IS GOING TO BE ABLE TO DO TO BRING THAT BACK DOWN. THERE ARE A LOT OF QUESTIONS NOW , EVEN IF THEY DO WIND UP PASSING THESE BILLS ABOUT HOW MUCH OF AN IMPACT THAT WILL HAVE IN NOVEMBER? KAILEY: ONE BILL THEY ARE NOT LIKELY TO PASS IS ANYTHING RELATING TO FUNDING FOR CLIMATE INITIATIVES AND GREEN PROJECTS. NOW THERE IS SOME PRESSURE FROM DEMOCRATS ON PRESIDENT BIDEN TO DECLARE A CLIMATE EMERGENCY. WHAT KIND OF POWER WITHOUT GIVE
HIM? EMILY: SENATE DEMOCRATS HAVE BEEN PUSHING BIDEN TO DECLARE THIS EMERGENCY. THAT WOULD OPEN THEM UP TO BE ABLE TO USE FUNDING AND BRING THEM TOWARDS CLEAN ENERGY. IT COULD ALSO WIND UP BLOCKING EXPORTS OF CRUDE OIL AND BAN OFFSHORE DRILLING.
IT WOULD GIVE PRESIDENT BIDEN MORE POWER THAN HE MIGHT HAVE THROUGH JUST AN EXECUTIVE ORDER. AT THIS POINT IT IS ALSO A SIGNAL DEMOCRATS ARE SAYING WE CANNOT PASS ANYTHING MORE THROUGH THE LEGISLATIVE PROCESS. WE ARE DONE DEALING WITH JOE MANCHIN, BIDEN, THIS IS COMPLETELY IN YOUR COURT AND YOU SHOULD GO AS FAR AS YOU NEED TO SHOW AMERICANS AS WELL AS DEMOCRATIC PARTY VOTERS THAT DEMOCRATS ARE TRYING TO ADDRESS CLIMATE CHANGE DESPITE THE FACT THEY HAVE THIS 50/50 SENATE THAT HAS PROVED VERY DIFFICULT TO MOVE ANYTHING THROUGH. JONATHAN: EMILY WILKINS IN WASHINGTON, D.C.. TOM KEENE, I'M PRETTY SURE YOU'VE BEEN CALLING IT MARYLAND. TOM: I HAVE BEEN WATCHING PULL DARK RERUNS. JONATHAN: IS THAT WHY YOU HAVE PICKED UP
THE ACCENT? IDENTIFYING THE BIG DOLLAR REVERSAL IN MOMENT. THREE DAYS OF THIS AND A 2% MOVE ON THE DOLLAR INDEX. I KNOW WE'VE HAD A BIG YEAR FOR THE U.S. DOLLAR BUT IT IS QUITE A MOVE. TOM: IT IS. WE HAD A BIG FIGURE MOVE. I LOOK AT THE TRADING ENVELOPE. WE ARE NOT EVEN BACK TO THE CENTER TENDENCY AFTER BEING OUT TWO STANDARD DEVIATION.
I CALL IT AN ELEGANT PULLBACK AND I AM WAIT AND SEE. I WOULD DEFER TO MR. ROCHESTER AND THE OTHERS FOR GETTING MORE FANCY. JONATHAN: I AM IN WAIT AND SEE MODE FOR
THE ECB ON THURSDAY. WE HAVE HAD TWO STORIES ALREADY THIS MORNING. PEOPLE FAMILIAR WITH THE MATTER THE ECB IS CONSIDERING A 50 BASIS POINT HIKE, NOT JUST A 25 BASIS POINT HIKE, THAT PRESIDENT LAGARDE IS DOUBLING DOWN EFFORTS TO COME UP WITH A NEW BOND TOOL. AT THE SAME TIME WE HAVE TO DO WITH THE NEWS. NORD STREAM ONE WAS MEANT TO COME BACK ON IN THE EUROPEAN COMMISSION IS LEADING US TO BELIEVE THAT WILL NOT BE THE CASE. TOM: BACK TO ECONOMIC GROWTH. WITH THE NORD STREAM 2 UNCERTAINTY, WITH THE HEAT AND THE FOREST FIRES IN FRANCE AND OTHERS, ARE THEY GOING TO REALLY RAISE BAKE INTO THIS UNCERTAINTY? IT IS UNIMAGINABLE.
JONATHAN: WHAT WOULD IT ACHIEVE ON THE INFLATION FRONT IF GAS SUPPLIES WERE HELD BACK BY RUSSIA? TOM: CAN YOU GET ME CHEAPER FARES TO EUROPE? JONATHAN: IS THAT ALL YOU CARE ABOUT? KAILEY: ROAD TRIP ON THE BRAIN. JONATHAN: WAKING UP TO THE GLOBAL BANK OF AMERICA FUND SURVEY, AND IT IS PRETTY BEARISH. THEN YOU'VE GOT THE LIKES OF EQUITY ALLOCATION, THE LOWEST SINCE 2008. THE CASH ALLOCATION, THE
HIGHEST SINCE 2001. BANK OF AMERICA SAYING IT IS SO BEARISH, MAYBE I'M BULLISH. TOM: YOU'VE GOT TO STEP IN -- JONATHAN: THE QUESTION I'M ASKING IS WHETHER YOU WANT TO LEAVE ME ALL THE WAY? MAYBE WE ARE GETTING CLOSER TO THAT MOMENT. FUTURES THIS MORNING ELEVATED BY 9/10 OF 1%.
YIELDS, BASICALLY UNCHANGED. I WILL TELL YOU WHERE TO LOOK IF YOU DON'T WANT TO FIND A SNOOZING MARKET. EUROPE. JUST THIS MORNING, WE HAVE REPORTS OF A 50 BASIS POINT RATE HIKE. CHRISTINE MCGARR DOUBLING DOWN ON HER EFFORT. AND THE EUROPEAN COMMISSION, DO NOT EXPECT NORD STREAM ONE TO COME BACK ONLINE. IF IT COMES BACK ONLINE AT ALL.
WE'VE GOT A PROBLEM IN ITALY ON THE POLITICAL SIDE, THE BOND MARKET SIDE. YOU ARE TRYING TO MAKE A CALL ON THE SINGLE COUNT. IT DOESN'T JUST COME DOWN TO RATES. SOME PEOPLE MIGHT ARGUE THE RATES ARE NOWHERE NEAR THE MOST WORKING THING. TOM: THAT IS THE BIGGER PICTURE. SHE IS GOING TO HAVE A PREPARED STATEMENT, SHE IS GOING TO LOOK DOWN AT IT AND SAY SOMETHING ABOUT NORD STREAM OR NATURAL GAS. I THINK SHE IS GOING TO FOCUS
ON ECONOMIC GROWTH THE LACK THEREOF AND SHE IS GOING TO FOCUS ON THIS FRAGMENTATION. TELL ME WERE THAT IS GOING TO LEAD. JONATHAN: YOU TELL ME HOW THIS WORKS. WHAT ARE YOUR WORKING ASSUMPTIONS ON GROWTH AND INFLATION? TOM: THIS IS REALLY IMPORTANT. YOU'VE GOT TO TAKE THE INFLATION DYNAMIC LAST THAN THE UNITED STATES MAY BE. JONATHAN: IT IS GOING TO GET WORSE, NOT BETTER. SOME SINGLE NAMES. KAILEY: WE ACTUALLY HAVE SOME SINGLE
NAMES THAT ARE RELATED TO FOREIGN-EXCHANGE AS WELL. YES, THEY TOPPED EXPECTATIONS ON THE TOP LINE BUT THEY CUT THEIR CASH FLOW OUTLOOK. THE OTHER PART, DUE TO THE STRONGER --, DOWN 6% BEFORE THE BELL. A SIMILAR STORY FOR JOHNSON & JOHNSON. YES, THEY HAD TO CUT THEIR FOUR
YOUR OUTLOOKS AGAIN. CLEARLY, THIS IS A THEME WE ARE GOING TO BE HEARING A LOT ABOUT THIS EARNINGS SEASON. EARNINGS WILL CONTINUE AFTER THE BELL TODAY WHEN NETFLIX REPORTS. REMEMBER, THE DAY AFTER LAST QUARTER'S REPORT, IT FELL 45%.
SUBSCRIBERS ABSOLUTELY CRUCIAL FOR THIS COMPANY. CRYPTO-RELATED EQUITIES, A NICE ONE HAPPENING FOR BITCOIN. THERE IS A LITTLE BIT OF DEAL- RELATED OPTION HERE ON DIGITAL. UP 20%, MARATHON DIGITAL UP ABOUT 7.7%. TOM: WHERE WILL WE DRIVE FORWARD THE CONVERSATION ON THESE FUTURE DOW COMPONENTS? KAILEY: DOW COMPONENTS? TOM: THEY ARE GOING TO ENTER THE DOW YEAR IN FIVE OR SIX YEARS.
KAILEY: WE WILL SEE, IT IS AN EVOLVING STATE, THAT IS FOR SURE. TOM: YES, 1:00, CRYPTO. THIS IS A REALLY IMPORTANT CONVERSATION RIGHT NOW. FINANCIAL MEDIA AND ITS INVENTION BECAME SOMETHING TO WORRY ABOUT, NETFLIX MAY BE. CREDIT SITES KNOW THAT BONDS HAVE A PRICE. I'M NOT GOING TO MENTION A
NAME, BUT A BLENDED TOOTHPASTE COMPANY ENJOYING A 12 YEAR PIECE THAT HAS GONE 117 DOWN TO A LOVELY 90. I THINK THAT IS CALLED A BEAR MARKET IN BONDS. HOW DO YOU STEP INTO IG AFTER IT IS CALLED 117.90? KAILEY:
IF YOU LIKE IT AT 117, YOU SHOULD ABSOLUTELY LOVE IT. TOM: THERE YOU GO. KAILEY: ESPECIALLY WITH WHAT WE HAVE SEEN IN THE BROADER TREASURY MARKETS. THOSE EXPECTATIONS FOR INFLATION.
EVERY STEP CLOSER THAT WE GET TO THE POTENTIAL ENDING IN DURATION, THE BETTER THE INVESTMENT-GRADE LOOKS. TOM: HOW LONG SHOULD VIEWERS CONSIDER TO CLIMB OUT OF THE BOND-BEAR MARKET HOLE? IS THIS A QUESTION OF QUARTERS OR YEARS? KAILEY: I DO THINK THAT IS GOING TO BE RELATIVELY QUICKLY IN THE NEAR TERM, BUT IN ORDER TO CLIMB OUT, IT IS GOING TO TAKE SOME TIME. AS EXPECTED, THE FED IS GOING TO DRAMATICALLY REDUCE RATES.
WE ARE LOOKING FOR SOME PRETTY AGGRESSIVE NEAR-TERM HIKES. AND THEN I THINK THAT THE FED IS GOING TO RELAX A LITTLE BIT, RELATIVELY STEADY TO SEE HOW THE MARKET SHAKES OUT. THAT MEANS THAT IS GOING TO BE A PRETTY GOOD CARRY TRADE, BUT NOT NECESSARILY WHERE YOU SEE THAT MASSIVE RECONSTRUCTION ALPHA- GENERATING TRADE THAT PERHAPS INVESTORS WOULD GO FOR AFTER THE DRAMATIC OVERTURN LOSSES WE HAVE SEEN. KAILEY:
MORGAN STANLEY WAS ON THE SHOW YESTERDAY. WE HAVE SPREAD MORE THAN 500 BASIS POINTS ON HIGH YIELDS. IS THAT ACCURATELY PRESSING THE KIND OF ENVIRONMENT WE ARE CUTTING INTO? HE SAID NO, I AM LOOKING FOR NORTH OF 700. WHAT DO YOU SEEK? -- SEE?
>> THE QUALITY COMPOSITION IS JUST TOTALLY DIFFERENT THAN ANY OTHER SEGMENT. THE GREAT FINANCIAL CRISIS, THE EARLY 2000'S WHEN WE SAW PSYCHO, WE ESTIMATE THAT SPREAD WHICH IS HIGHER-QUALITY NOW WOULD HAVE BEEN 100-300 BASIS POINTS TIGHTER IN THOSE PEAKS. IF YOU ASSUME THAT THAT HIGHER QUALITY COMPOSITION IS THE TAILWIND OR THAT BENEFITS FROM HIGH YIELDS, THE 525 IS ACTUALLY NOT TOO SHABBY, EVEN HEADING INTO THE ECONOMIC DECELERATION. KAILEY: IF DEFAULT RISK BROADLY IS LOWER, ARE THERE STILL SECTORS -- IS THERE GOING TO BE A PROBLEM SECTOR THIS TIME AROUND? WINNIE: THERE'S ALWAYS A PROBLEM SECTOR AND WE ALWAYS LOOK TO WHERE HAS THERE BEEN ACCESS TO --? WHERE HAVE WE SEEN THE MOST AMOUNT OF BOND ISSUANCE? WHERE HAVE WE SEEN LEVERAGE REALLY TICK UP> THERE'S A LOT OF IDIOSYNCRATIC FACTORS THAT DROVE IN CONSUMER.
PALATINE WAS ANOTHER FACTOR THAT HAS BEEN AGGRESSIVELY ISSUING THAT. THAT IS ONE OF THE REASONS WE HAVE BEEN VERY CAUTIOUS ON HIGH YIELD TELECOM IS BECAUSE OF OVERALL BUILDUP IN INVESTMENT. REALLY OVER THE PAST FIVE YEARS. TOM: TO BE CLEAR, YOU ARE SAYING A THREE YEAR MORE MEASURED APPROACH, ARE YOU SUGGESTING BONDS ARE A LEGIT TOTAL RETURN VEHICLE? CLICK THE COUPON, TAKE THE GAIN? WINNIE: AT THIS POINT, IT LOOKS LIKE A MUCH MORE -- TRADE THAN WHERE WE WERE. YOU GETTING VERY GOOD DURATION- ADJUSTED YIELDS AND SPREAD, YOU'RE GETTING COMPENSATED BY CERTAIN CREDIT RISKS HEADING INTO AN ECONOMIC DECELERATION.
THIS IS HAPPENING FROM DAY TO DAY EQUITY VOLATILITY. KAILEY: AND AS WE JUST KIND OF THINK ABOUT THE FED'S REACTION AND WHATNOT, IF IT IS GOING TO GET WORRIED ABOUT ANY ASPECT OF THE FINANCIAL MARKETS THIS TIME AROUND, HOW HIGH IS THE THRESHOLD FOR THE FED TO KICK BACK IN? WINNIE: I THINK THE FED HAS A REALLY HARD TIME AMID EQUITY VOLATILITY SO LONG AS INFLATION -- IF THE OTHER HAS-BEEN. THAT BEING SAID, IF THE DEBT CAPITAL MARKETS WILL BE DRIVES UP. SO FAR, WE HAVE CONTINUED TO SEE INVESTMENT GRADES, BUT THAT IS WHERE I THINK THE FED CONVERSATION WOULD HAVE TO START TO COME INTO PLAY AGAIN. JONATHAN: AWESOME TO HEAR FROM YOU.
SOME OF THE BIG ISSUES IN CREDIT RIGHT NOW. PUSHING AHEAD TO SOME BIG CENTRAL-BANK DECISIONS, THE FEDERAL BANK NEXT WEDNESDAY, THIS THURSDAY, WE WILL HEAR FROM BOTH THE ECB AND THE DOJ. JUST WANT TO GO THROUGH THIS EUROPEAN STORY. WE DON'T EXPECT THAT IT COMES BACK, NORD STREAM ONE, THAT WITH THE MESSAGE THIS MORNING.
THIS MIGHT HAVE BEEN MISSED BY MANY OF YOU. THE COMMISSION IS ON WEDNESDAY PLANNING FOR COORDINATED GAS PRODUCTION TO MITIGATE THE IMPACT OF POTENTIAL CURSE BY MOSCOW. IT IS CONSIDERING A SET OF RECOMMENDATIONS TO MEMBER STATES INCLUDING VOLUNTARY REDUCTIONS TO HEATING AND COOLING QUEUES. THE COMMISSION MAY ALSO SEEK THE RIGHT TO FORCE CONSUMPTION CUTS IF NEEDED LATER ON. NOT SAYING IT IS THE BASE CASE
AT THE MOMENT, BUT THE COMMISSION RIGHT NOW, TOM, IS CERTAINLY PLANNING FOR SOME OF THE WORST OF IT TO TAKE PLACE LATER THIS YEAR. TOM: I WOULD SAY CULTURALLY, IT IS HUGELY DIFFERENT THAN AMERICA AND AS ONE OF OUR GUESTS AN HOUR AGO SAID, LOOK FOR PROTESTS. THERE HAS GOT TO BE A TRADITIONAL EUROPEAN RESPONSE WHICH IS PROTEST. I WOULD SUGGESTED THAT THE SHORTEST PATH. JONATHAN: YOU CAN SEE WHY SOME PEOPLE MIGHT BE NERVOUS ABOUT BUYING A SINGLE CURRENCY WITH THIS AS THE BACKDROP IF YOU DO FACE THE PROSPECT OF SOCIAL UNREST AT A TIME WITH LITTLE INSTABILITY IN THE CARDS IN A PLACE LIKE ITALY AS WELL.
GROWTH IS ALREADY GETTING HAMMERED POTENTIALLY LATER THIS YEAR, THAT IS THE CALL FROM A LOT OF PEOPLE. WE STILL HAVE UPSIDE RISKS TO INFLATION. TOM: I DON'T KNOW WHERE THE CLOCK IS ON THIS, BUT ONE OF THE LIKELIHOOD OF FIVE-STAR RUNNING ITALY? JONATHAN: DON'T KNOW, TOM. THEY ARE NOT DOING WELL IN THE
POLLS, LET'S PUT IT THAT WAY.
2022-07-23 07:41
Show Video
Other news