지리산에 처음 오른 아내가 연속으로 충격받은 이유들… ️ | 국제커플 |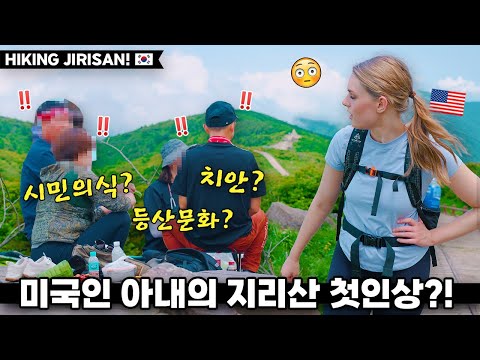 Show Video
Hi, everyone! We're Raye and Jin and if you clicked on today's video then you already know what we're doing today, we are hiking the second tallest mountain in Korea, Jirisan! We did already hike the tallest mountain in Korea, Hallasan, so if you didn't watch that video already, I highly suggest you do because that was also a seriously beautiful hike! We're going to take one of the most beautiful hiking courses in Jirisan called Nogodan. I heard going to the parking entrance is really windy and dangerous. I'm going to have to drive carefully! Yes, please drive carefully.
I'm so nervous! Let's go! We've only been driving in here for 2 minutes, but there's already been a bear warning sign. Are there bears in here? When I was young, I think I went on a school field trip to Jirisan and I'm pretty sure I saw a baby bear. Maybe if we're lucky we'll see a bear today. The road is so steep and windy, I'm not doing well because I get extreme car sickness, especially in Jin's big car. I don't even know if my dinky little crappy car in America could go up this thing. It's just too steep and windy.
Bring a good car if you come here. We just got to our starting point. Already the view is so beautiful! Do we even need to hike? It's so pretty here! I think we're already at about 3,280ft up so we get quite a big head start thanks to our car and then we're hiking about 1,640ft, right? If we have the strength in this heat… It is so hot today. We're above the clouds right now. It's like a baby chair… I almost broke it I think.
Ok, there are a ton of wasps here… They're following you! I really don't like it! Oh, it's on your belly! Please, no! It's just a bee. Get it away! I don't want to touch it. If I touch it, it will sting you. Zen mode.
Why does this happen to me? This happened to me yesterday, too! It's gone! Don't move! I'm so afraid! If you move, they're gonna sting you! I was stung by wasps last year. I don't want to have a repeat of that before we even start hiking! And yesterday, too, wasps landed on me. Bees landed on me. I think the bee is attracted to Raye because she's so sweet! This bathroom is so funny. I took a video inside, but my toilet stall had the toilet facing a giant window with a view of the mountains.
I've never seen anything like it. It was so funny! We're starting there and we're only going to there. It's so short! It says 2-3 hours total. Because we're filming, it will probably take 2x that amount, but it's so small! I feel kind of… Like, can I even say that I hiked this mountain if I only went this tiny amount? Look at how big this whole thing is! Well, at least I came here and that is one of the peaks…one of many. So, I can say I hiked it, right? Yeah! Ok, so you do have to make a reservation online to hike to this specific peak that we're going to. However, according to this, you hike from here for one hour to here and then they check your reservation.
Isn't that weird? It's because we're going to a special protected area. This area is special? Protected? So I guess you don't need a reservation if you only want to hike this part, but if you want to go to this last area then make a reservation online. Let's go! Bear sighting! Our first bear sighting! It's called 'dalgomi'! What does 'dalgomi' mean? I don't know.
You don't know? *Jin confusingly trying to explain the Korean reference to me* That's too advanced for me. I don't know what you're talking about. Is the path going to be like this the whole time? I don't know. I've never been here before. It's so nice and easy. I can do this! Also, the good thing about this mountain so far is even though it's hot as heck outside today, this area is quite cool, isn't it? Yeah. I just feel a nice cool breeze.
That's probably because we're so high up right now. The elevation is really our friend today. As you know, Raye is from Minnesota. Unlike Korea, Minnesota is completely flat. There are zero mountains so we are trying to enjoy as much hiking in Korea as we can! Oh. Someone left their cellphone here. What should I do? I think this lady left her cellphone here.
I should try to find a woman that looks like this so I can reunite this phone with her. Oh, there's so much money. I can't just leave this here! There's also a wallet and it has so much cash in it. What should I do? I have to find the owner! The problem is that I don't know if this lady lost this while going up or down the mountain. Since there is so much money here, someone might steal it if I leave it. *Jin is calling the national park service* We only hiked about 3 minutes from the parking lot and I found someone's lost cellphone… We guarded this for you since it has so much cash inside! Thank you! Wow. You returned it to the owner.
There was at least $500 inside. I was watching the cellphone and then a man suddenly came running down towards me. Thank you! As you know, people don't steal other people's stuff in Korea. She just told me she had $1,000 inside! You saved the day! Good job! I mean something that's pretty cool about Korea is that usually if someone loses something, nobody will steal it. I'm already out of breath! But that lady had a thousand bucks in there, a ton of credit cards, and an expensive phone and nobody took it which is pretty cool.
We often find people leaving their phones, wallets, and wads of cash just at the park and it will just stay there for days. It's pretty awesome. I know in the US, people would just take it. Still, I think somebody would have taken that if they opened it and saw that cash and nobody was around, I'm pretty sure someone would take it. This is kind of good because they have a carpeted section and also a cobblestone walkway. There are no giant rocks like Hallasan had so I think if you're a beginner, it's pretty easy.
It is quite steep, though, and hot so be warned. Otherwise, so far so good! We have a choice between the comfortable 2mi path or the hard 0.6mi path. Everyone is saying that this one is the prettier one, the better one. It's only 0.6mi. We can do it, right? Let's do that! I'm ready. Are you?
Yeah. Let's go. I hate it already. Apparently, there are some ferocious bears along these stairs! We'll see! Raye, you can do this! 0.6mi! Only 0.6mi straight up! Only 0.6mi straight up? Yeah! Everyone's down there debating if they should take this path or the comfortable path.
Oh no! A whole horde of them is coming up now! Those old people are gonna pass me and then I'm gonna feel bad about myself. Oh, here they come! Gotta go! I watched some videos of people doing this exact course on Jirisan and they said it's one of the most difficult hikes they've ever done. So far, compared to Hallasan and Seoraksan, this is just a piece of cake! It's steep and it's freaking hot outside, but this path is easy! Everything is carved out for you.
Hallasan was so long and super rocky and super steep and just so many obstacles… Seoraksan was also very steep, but here it's just a walk in the park! I'm super sweaty, though, so…yeah. Anyway, let's continue. I see… I think we have to take some stairs up there so let's go. What's that? There are a lot of bugs here and I'm not a bug person so I'm sorry… What are those? Are they grasshoppers?! I thought it was a butterfly. Really? I'm pretty sure those are grasshoppers. Ok. Let's go!
Do you see what I see? We're in the clouds! There are clouds sweeping across the path! Look over there! Jirisan weather is crazy! 10 seconds ago it was sunny and hot. Now, suddenly, clouds came sweeping through. We're completely in the clouds now.
We should climb to the peak fast and enjoy the view at the top. It feels so good! This is cool! Actually, the bad thing is that it's supposed to rain today. That's why Jin and I came here really early because we wanted to beat the clouds and the rain and we wanted a good view, but this is happening now so I don't know if we're going to have a view at the top.
It's gonna happen again! Seoraksan had a horrible view (because of the rain). Is it raining? We met a subscriber while we were filming! We have a lot of subscribers that really like hiking so it makes sense that every single time we go hiking we run into so many subscribers. I feel like every 2 minutes someone says "hi", "oh, I'm watching your channel well".
It's so cool to meet you guys. I always think it's interesting to just the faces of the people that watch our channel because, for us, they're just anonymous people watching and commenting but when we meet you in real life it's like 'wow! They are real people!" I'm lame, but that's just how I feel. It's cool! We're faced with another choice. We can do another comfortable trail or a hard trail. The hard trail is only 0.4 miles which means we've already done 0.25mi of the 'difficult' path.
It only took us 5 minutes. Or, we can do 1.5mi of the easy path. I'm gonna do the "difficult" path. "Difficult"! Let's go! How do you like Jirisan so far? It's ok! I want the view! So far— If I'm honest, compared to the other hikes that we've done, this path isn't that beautiful. It's just a lot of trees.
And because it's such a carved-out gravel/cobblestone road, it feels less like we're in actual nature. Hallasan was unique in that it had so many different terrains, so many different landscapes, and so many different seasons all in the same hike so I really liked that one. But, I know that the view here is amazing and that's the whole reason we're coming so this part doesn't matter, just when we get up there, that's the important part! Oh s***! This is looking more like Hallasan now… just endless rocks! It's ok. I did Hallasan so it's fine. If I did Hallasan, I can do this. I don't know what that is up there, but it looks like the peak and we've only been hiking for less than an hour! What is that? Oh. I don't think that's the peak.
It looks like a rest stop! Are you sure? It looks like we're almost there. I don't think we have that much longer to go. They said 0.4mi and we've definitely hiked almost that already.
0.25mi left! Almost done! This is so easy! Jin said there's a stereotype that if you see guys and girls holding hands on a mountain, they're having an affair so Jin never holds my hand. It makes me sad! See? That's definitely the top! That was so fast! Wow. Even though it's supposed to be the "difficult" path, I think it's just difficult because it's steep. The path itself is not hard and it's so quick. I think anyone can do this! Look over there! It's just giant cotton candy clouds as far as the eye can see! It's so beautiful! Scary! Now we have to enter the reservation area.
It's hot up here! I think that's the peak up there! Reservation for 2. Let's go! 20 more minutes! This looks cool! I like this open area except for the fact that it is so sunny, but because it's sunny that means, hopefully, the top will have a good view, right? Please! Please be sunny and nice at the top! Crossing all of my fingers and toes— That scared me! This part is kind of steep. We're almost there.
5 more minutes! Not even! Yes! So this is what they meant by the "scenic path". This part is so beautiful. We're above the clouds, you can see mountain peaks as far as your eye can see. Wow! Amazing! I love this part. I almost tripped… This Jirisan Nogodan course is one of the easiest routes that we've ever hiked.
You don't need to wear hiking shoes. You can just wear any clothes. This view is amazing! Look at this! It's so amazing! This is 'the spot'! It's so pretty! This is the best view ever. Oh my god! It's so worth coming up here! This is seriously one of the most beautiful views ever! I think the weather today, thank you, is so perfect! The clouds are gorgeous, the sun is amazing, the gentle cool breeze up here… And you can see so far… And you can see so far… Oh my god! This hike is really worth it because it's not hard and the reward at the top is amazing.
Chef's kiss! What is that?! That's my nipple! What is this! If we hike less than a minute in that direction we'll be at the peak. First, we're going to enjoy the view a little bit here. The actual peak is right there.
I can taste it! There's a little line here to take a photo with the rock so let's wait and take a photo! We did it! Nogodan, 4945ft! Except remove this. We only hiked 1,663ft! We did it! We did it! This is the best. I love this! Good job! Can we hike to that peak? I think that's the peak of the peak. The peak of the peak? How much taller is it than this one? About 1,310ft. 1,310ft? Yeah, but the sign said you have to go 12.5mi.
12.5mi there and back? 25mi? Yeah. I'm ok. I like this short hike! This one only took us about an hour to get up here.
This breeze up here, the view, everything…it's perfect! Wow! I think we came up here at the perfect time because there are storm clouds now. Just in the nick of time! Yes! This is one of the prettiest places I've ever been in Korea. I thought Hallasan was good, but this…the top here is really beautiful! I'm so glad we got to do this before we leave Korea because I think this is such a memorable moment.
We'll remember this hike for the rest of our lives. Don't you agree? Yeah. Smoking and eating is prohibited in this protected area. Before we started our hike today, there was rain in the forecast so we knew we had to come up here quickly otherwise we wouldn't be able to do it and look at that… giant storm clouds suddenly came up here so I think we're gonna have to head down and you're not allowed to eat up here because this is a protected area, but people are still eating up here anyway and breaking the rules and littering… and there are many bees so, anyway, I think this is the perfect place to end today's video. I hope you enjoyed coming along with us to Jirisan. I totally recommend you do this course if you have time.
It's super fast, super quick. I think anyone can do it. I highly recommend it! With that being said, we'll see you next time. Bye!
2022-07-24 10:35
Show Video
Other news