2022 Foster Undergraduate Graduation Celebration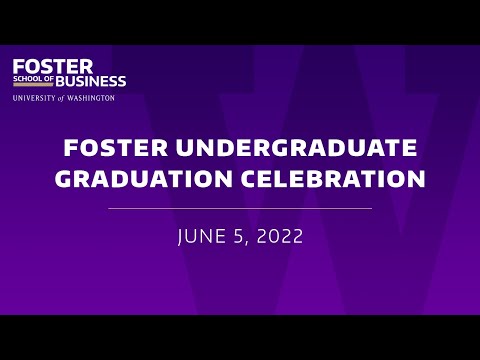 Show Video
>> Ladies and gentlemen, thank you for joining us for the 2022 Foster School of Business graduation celebration. Please take a moment to silence all electronic devices. To begin, the University of Washington and Foster School of Business acknowledges the peoples of this land. The land which touches the shared waters of all tribes and bands within the -- nations.
Now, please rise to recognize the Foster School of Business faculty and the graduating Class of 2022 , 2021, and 2020. >> [ Music ] >> Wow. So that is what the next generation of business leaders looks like. Graduates, parents, family and friends, fellow faculty and staff colleagues, Scott Svenson , Dean Hodge, good afternoon and welcome. Please be seated.
I am Steve, professor of accounting and associate for undergraduate programs here at the Foster school, and it is my genuine pleasure to be here with all of you, this afternoon, at this extremely special gathering that we are holding in person! I echo that. I hear you. In person for the first time in three years. Thank you all for coming to this great event. I know all of you, in attendance today, are extremely proud of the graduate that you are here to support. What a road it has been to get here.
Today, we are celebrating the incredible accomplishments of not only the class of 2022, but also, we welcome back the graduates from the classes of 2020 and 2021 who wanted to participate in today's ceremony. As I look out across this impressive group, I think about the investment we have made in you. This investment has many stakeholders. Your family and friends.
Your mentors. Your advisers. Your classmates and colleagues.
Of course, your professors. And perhaps, most importantly, you. Yes, you. Yes. You have invested in you. You have invested in your education.
You have spent countless hours going to class, studying in the library, working on group projects, taking exams, writing term papers, you have participated in case competition stash some of you just last week in management 430. You have attended numerous Foster events both in person and virtually. You have worked on student consulting teams and you have participated in career services activities.
You have helped to build and serve as leaders in Foster student clubs and organizations. You have studied abroad. You have navigated a global pandemic , attending classes on zoom and then transitioning back to in person learning. Yes. You have made a substantial investment in you. You have
made a significant and long- term investment in your education and your future career. And like all investments, it is time for us to think about return! After all, this is a business school. Come on now.
What sort of return on investment will we earn on you? More importantly, what will your ultimate ROI be, and how will you generate it? What sort of dividends can we expect? I go off point. To be clear, here, this is not about debt service or payback. Follow me here. That is the wrong direction. This is about you paying it forward.
Yes, forward. Forgive me for all of those mixed metaphors. It is part of the trade, right? But I am not talking about writing a check. Let's be clear about that.
I am talking about you helping build our brand. I'm talking about helping make Foster the very best public business school in the United States. I'm talking about you building your own investment. I'm talking about finding a way to help the students who come after you. So how? How then? Come back and share your experiences with a class. Serve as a mentor for one of our clubs.
Judge a case competition. Help us place a student in an internship at your firm. Serve as a business expert and a social cause for a charitable organization that you believe in. Bottom line, share your expertise. That is what we want from you.
These are the type of activities that compound your investment. These are the returns, in fact, that we expect. This is how you pay it forward. So, what are your future goals? What can we expect from you? The Foster School of Business creates futures and transforms lives.
We are committed to educating and guiding talented minds toward successful outcomes. Success is evidenced by our employment statistics, by our long-standing partnership with iconic Northwest companies, and by advancement of business as a force of good. Yes, the so-called nobility of business. Again, I asked, what are your goals? Where will you take this incredible education you have received? How will each of you pay it forward? This, then, is your real challenge. Will you accept it? I believe so. I truly believe so.
I sincerely believe that each of the 782 undergraduates that make up the class of 2022 will be up for that challenge. These graduates are strategic thinkers who know how to roll up their sleeves and take on real-world business challenges. These graduates are passionate about making a difference. Yes, I am absolutely certain they will leverage their phenomenal college experience to ensure extraordinary future success and impact. Yes, I am confident that each of these undergraduates has the dedication, the skills, the commitment, and the honor, to pay it forward. And with that, it is time to move on with our program.
It is now my pleasure to welcome a friend, colleague, and fellow accountant to the podium. The Dean of the Michael G. Foster school of business, Frank Hodge . Frank has been the Dean of Foster school since 2019. What a first-year. In his first year, he masterfully handled transitioning our school to an entirely virtual learning environment.
Since becoming Dean, he has maintained his vision of better together, better tomorrow, regardless of the circumstances or challenges he has faced. He sincerely lives out that model and continues to build an incredible community here at the Foster school , so that we cannot only look forward to, but ensure a better tomorrow. Please join me in a warm welcome for Dean Frank Hodge . >> Thank you, Steve. Good afternoon, everyone.
It is a pleasure to be here. On behalf of the faculty and guest behind me and the Fosters staff that are amongst us, welcome to our 2022 graduation celebration. I want to share with you two observations from recent travels as we begin this celebration. The first comes from my travels where I review other top business schools around the United States. From those travels, I can assure you that the fundamental business skills that you have obtained while here at the Foster School of Business are second to none. They are as good as any other business school in the world, bar none.
I can also assure you, they are not enough. What you need to be the truly exceptional leaders that you are poised to become are some additional attributes. Attributes that are hard to measure. Attributes that are hard to teach. I am talking about things like leading with kindness, empathy, inclusivity, humility, and courage. These are things that I call leadership amplifiers.
To be the truly exceptional leaders that you are poised to become, you will need to practice them on a daily basis. They are like a sports guild. You cannot expect to use them unless you practice them. Please, practice them. And become the exceptional leaders that you are poised to become. The second observation comes from the donors that I get to visit with when I travel.
I visit with donors and alumni that graduated from the Foster school from two years to 70 years ago. And I can assure you that, as time goes by, more and more of my conversations with those alums focus on the community that they built while they were here, and the community that they maintained after they left. You will soon join 60,000 Foster alumni that are living around the world. 500,000 University of Washington graduates that are living around the world. Those communities are open and inviting you to be a part. Those are the communities that will stay connected through. It
is through those connections that we will be able to be better together, better tomorrow. Congratulations, graduates. I'm looking forward to celebrating with you, today.
>> Thank you very much, Dean Hodge. It is now my pleasure to introduce our students speaker for today's ceremony. Andrew Lee. Andrew, please come forward.
Let me give you a few highlights on Andrew. Andrew is a double major in finance and information systems. He has been a member and co- chair of the diversity, equity and inclusion committee of the UW finance Association. He and his team were finalists for the capstone case competition that many of you are familiar with.
Management 430. In addition, I want to take a moment to share how Andrews student colleagues describe him. One student wrote us, Andrew is such a great representation and role model for many business students at Foster.
He is always eager to make a positive impact, network and get to know people, and has a strong desire to be successful. Another said, Andrew is highly involved in the Foster community, through his classes and clubs, and he cares strongly about diversity and inclusion. He balances -- with respect and support for everyone he meets.
Another classmate wrote, Andrew is a dedicated, hard-working and effective communicator at whatever he does. He has demonstrated professionalism and public speaking skills from the case competition presentations, along with being able to clearly tell a story that people can understand and relate to. Lastly, perhaps in my opinion, most importantly, multiple students described Andrew as a good friend.
High praise, indeed. Andrew is in the process of looking for a job, like many of you. Good.
I am a dad. I get to say that. He hopes to get an offer soon. Please join me in welcoming Fosters graduating class of 2022, class speaker. >> Good afternoon, everybody. How is everybody doing? Good.
You know, just five years ago, we would celebrate the end of the school year by writing hags or have a great summer in everybody's yearbooks. To be standing here, speaking before everybody, is such an honor and privilege. I truly thank every single one of you here, for the opportunity. Before I begin, I want to acknowledge the -- people. The indigenous people of the land on which this university sits and where we are, right now.
To the students who are graduating today or who have graduated, look at how far we have come. Today is a celebration of our accomplishments during our time in college, and as we think back on our college education, I'm sure that we all have some Foster memories to cherish, right? For me, it is the feeling of peace when I study on -- on a spring day. Or the feeling of exhilaration when I ace a group presentation with a group. Or the feeling of panic, as I watch -- reach into his backpack and pull out a stack of pop quizzes and I haven't read the textbook in two weeks. While it is good to reminisce about her time at Foster, it's also important to remember that the college experience is a privilege that few in the world get to enjoy. Many things had to go right, and many people had to invest in our successes.
My parents grew up in Taiwan, under martial law, and relatively poor economic conditions. My father had three older siblings and his father passed away at age 49 due to a heart attack. After that, my grandmother had to raise her four children alone, at a time when there was a social stigma against single- parent families and especially single mother families. To my parents, a fried egg in their school lunch was considered an expensive and rare luxury. And to me, I had a fried egg omelette for Rick fist this morning. That breakfast and where I am now would not be possible without the years of sacrifices, and I am deeply appreciative for that.
In face of other hardship, my parents were able to apply for green cards and we moved to the U.S. in 2008. I did not speak English so I had no idea what was going on in school every day, that I eventually learned to adapt to the culture and language and maintain relatively healthy grades throughout primary school. That is my story while growing up. You might think it's a unique story or inspirational story, but the truth is that everybody here today probably has a story like that. Stories about growth. About overcoming challenges and about adapting to new environments.
I can't represent the voice of every single individual in the student body, here today. I did what people my age would do, and I went online. I surveyed some of my Foster peers and friends about how they felt about graduation. I feel blank.
You hear some of the most common responses. I feel happy! I feel excited! I feel grateful. I feel bittersweet.
I feel scared. I feel lost. I feel anxious.
I share these particular responses because I feel them, too. All of them. There is a lot of mixed feelings that come at times of big transitions. I say that from personal experience. My mental health started to decline towards the end of high school. The uncertainty of a foreign language was replaced and the uncertainty of growing up.
The idea of college, moving out, career exploration and more made the world seem so overwhelming and big. I started to feel anxiety and experience frequent panic attacks, especially with all the uncertainties I was facing about moving onto the next phase of my life. Perhaps as an avenue of coping, I tried to discover new music, and my buddy, grant, injured deuced me introduced me to an artist called Kendrick Lamar, and I would listen to his music on my morning, school bus rides.
One of his lyrics popped out to me. America is a reflection of me. That's what a mirror does. To me, it meant my community is defined by who I am today.
Wait, does that mean, I, the 18- year-old kid who goes straight from school to couch to taking a nap or playing on my PlayStation represents my own community? If that's the case, things are not looking good. It's an interesting line and a thought-provoking line, but it is not a line that alleviated any of my anxieties. And as you graduate, the role gets even bigger. And with that comes bigger uncertainties. Uncertainties about moving far from home again.
About imposter syndrome. About personal finances. But there is also some positive uncertainties, right? Like, how many new people are we going to meet in this new big world? Or how much are you going to learn in graduate school? Or how much you are going to crush the new job of yours? It is pretty exciting. My therapist told me that anxiety is not meant to be an affliction, but an evolutionary tool designed to help us react to uncertainties. Like a saber tooth tiger, sneaking up on us.
A close, immediate, and personal threat. But it is the year 2022, and sabertooth tigers no longer exist. At least, not to my knowledge. The things we face today seem to be much more existential. How can we react to things that we can't control, like the past? How could I worded that joke better? What if I had paid more attention in class? What if I got to know the one cool professor more by attending their office hours? What if I talked to that one person I thought was cool and smart and made friends with them and worked on group projects with them? All the thoughts just avalanche in your head.
There are also issues that are too big for the individual, right? Climate change, the Ukraine invasion, gun violence, major court decisions and legislations, and on top of all of that, and ongoing pandemic with over 1 million deaths in the United States alone. The world is big. May be too big. Recently, I went back to the lyrics I heard in high school.
America is a reflection of me. That's what a mirror does. What if the lyric actually means that I am what my community is today? The world seems so chaotic and I've internalized all of these negativities into my head. During the past year, my anxiety got worse.
I was facing the same issues I was facing as a high school senior, all over again, except this time, my feelings were amplified by the world. As my world got bigger, my anxieties got worse. Last winter quarter, I had to miss many days of school due to a depressive episode. I barely had the energy to get out of bed, and when I tried to talk, my eyes just filled with water. Fortunately, I was able to get her after many of my friends and teammates checked in on me and the kindness of my peers reminded me of an act of kindness that I experienced many years ago.
It was the summer of 2016 in tropical Taiwan. It is hot and humid and everybody, including me, wore shorts and sandals. One day, I exited the subway while enjoying my sweet summer vacation, and I found myself in the middle of a thunderstorm. So naturally, I was not looking forward to walking home in the rain. But suddenly, I felt someone walk up behind me and reach their arm out.
It turns out, the man wanted to share his umbrella with me. We shared the umbrella until we had to part ways in the intersection. Throughout this entire exchange, we barely shared a single word. I never saw that man again and I have no idea who he was. But a simple umbrella made my day.
And that simple umbrella lingered on in my head for six years. Like that lyric, I wondered why that story stayed in my head for so long, however, as I write this speech and I thought back on the story and the lyrics in conjunction, I might have made sense of both. America is a reflection of me. That is what a mirror does. I realized the lyric isn't referring to the present moment, but about what we can do, in the future, to make our communities better. It's not about who you are today , or what our world is like now, but who you will be, in the future.
When we look into the mirrors of our community, we see many flaws. Many that seem overwhelming and inescapable. But we can also find many beauties that can teach us how to be better people in the future. I have no idea what that man's mood was before he shared the umbrella with me, I have no doubt that his simple act of altruism made both of our days so much better afterwards. The world is very chaotic right now.
We need to do all we can to make tomorrow the best it can be. While big changes can be overwhelming, the crucial moment in life is when we open our eyes and look into that mirror. The instantaneous moment as we see ourselves in the mirror. That is when change happens.
That is when we decide to act. As graduates of the business school, we have the power to positively influence one of the most powerful, institutional pillars in this country. Business. But, in order to do that, we can't just maximize shareholder value. We have to support the communities that we care about. Stand true to the values we hold.
And most importantly, we have to be responsible, future leaders. It may seem like a tall order, but I know every single one of you here can do it, because you have been doing it for me, for the past four years. By providing me with an ear to vent with. By correcting me on my mistakes. And by supporting me in my times of need.
You have done it for me, and I believe you have the potential to do it for many, many others, in the years to come. Something as small as sharing an umbrella or texting your friend, how are you doing? It can feel like a drop in the ocean, but a drop makes ripples and with all of our ripples we can make waves. Since the end of high school with a Kendrick quote, let's also and college with a Kendrick quote. There is beauty in completion and always faith in the unknown.
Be okay with where you are today and celebrate how you got here, but most importantly, trust that tomorrow can be a better day, because you will do your best to make it better. And if you are okay with where you are, you should also be content with how you got here. But after all this talk, I still haven't talked about the what if's.
What if I read the textbook more and aced those pop quizzes? What if I never joined the Foster School of Business? What if I never came to the University of Washington? What if I never even came to the United States? Man, I guess we will never know. Before I end this speech, I just wanted to say, if my personal story resonated with you in any way, you are not broken and you are not alone. Lastly, I want the graduating classes to thank everybody, our peers, staff, faculty, family, and friends, who came to supper support and celebrate with us today. As well as those who were unable to come today.
Congratulations to the Class of 2022, 2021, and 2020 , and I wish everybody here the very, very best. And lastly, everybody, please, have a great summer! Thank you. >> Thank you, Andrew. I now have the honor of introducing our keynote speaker, Scott Svenson, who are we lucky to have serving on the school advisory board.
Scott and his wife Allie are the cofounders of MOD Pizza and Scott currently serves as the company's CEO. While I am here to introduce Scott, I can't truly introduce him without including Allie in my comments, because they are a team. A team that I find inspirational , and I think you will, too, after you hear their story. The quick come a personal, and business story is this.
Scott and Allie are graduates of Bellevue high school where they first met. They both went to college in Boston, with Scott graduating from Harvard and Allie from -- college. From there, they moved to London, where they were married. While starting their family, they also started their careers as entrepreneurs by opening cafes in London called Seattle coffee company.
It grow to 68 locations by 1998, and they sold it to who else, but Starbucks? Soon after, they moved back to Bellevue to raise their family and eventually founded MOD pizza in 2008. It is the pioneer of the fast casual pizza category and is one of the fastest-growing restaurant brands in North America with over 500 stores across 29 states and Canada. While this is a remarkable success story and I could just stop here, this is not at the core of why I asked Scott to share his experiences and wisdom with us today. Scott is here today because the story of MOD Pizza is an excellent example of what it means to be a purpose driven company led by purpose driven leaders.
Allie told Scott when they were thinking of starting MOD, the last thing the world needs is another pizza chain. If we are going to do this, it has to have more meaning. While Scott serves as CEO, Allie serves as mods protector of the purpose. They set out to create a successful business to be sure, but they also set out to impact the people's lives -- the people who work at MOD and the people who live in the community that they serve. Employees at MOD are known as the MOD Squad and MOD actively recruits people in their communities who are often overlooked or face barriers to employment.
Individuals with intellectual or develop mental disabilities. Youth who are not in school and not employed or those who have struggled with homelessness, addiction, or even our criminal system. They believe in second chances and giving everyone an equal opportunity to succeed.
In addition, they consistently look for ways to impact the communities in which MOD serves. A recent example is called the MOD value meal, where they donate $.50 of every value meal purchase to best buddies -- a nonprofit dedicated to creating opportunities for people with intellectual and develop mental disabilities. In short, Scott, Allie, and the rest of the MOD Squad are a wonderful example of bettering humanity through business , which is at the core of the Foster schools purpose. Please join me in a warm welcome for Scott Svenson .
>> Dean Hodge, thank you so much for the very kind introduction. Thanks to you and the amazing faculty and staff of the Foster school, for inviting me and my family to be a part of this incredible celebration, and to the stars of the show, the Foster school graduates, congratulations. Getting into the Foster school is hard, and graduating from a top business school is never easy. You throw in the grit and resilience required to manage through a pandemic? What a journey.
You all should be incredibly proud. How cool is it that we are all here today after the last few years? It is such an honor to be able to be here to speak to you, today. When Dean Hodge invited me to speak, I thought, what in the world do I have to offer this incredible group of graduates? I did what I normally do when I'm lost, and I turned to my wife, Allie, for advice. Allie and I are incredibly lucky to have four boys. Actually, four young men, between the ages of 18 and 25. Tristan, Dylan, Caspian, and Jasper.
Three of whom are sitting right over here, today. One of them, Caspian, actually turned 21 yesterday. And yes, he made it here, today, on time. Just barely. Allie's advice to me was to share with you what I would want them to hear. That's what I'm going to do.
Allie regularly quotes from the poet, Mary Oliver. In her instructions for living a life, she advises to pay attention, be astonished, and tell about it. As we have gotten older, we have gotten better at paying attention, and so much has astonished us. Today, I plan to tell about it. To share some of the highlights from our journey, and the lessons we have learned along the way.
I graduated from college in 1988, 34 years ago. It was two years after the first top gun movie was released. The Internet wouldn't be widely available for another three to four years, and smart phones another 10 years. Can you imagine a world without the Internet and smart phones? Total game changers.
It's interesting to think about what innovations -- what game changers -- will emerge that will change your life. When I graduated, I had two thoughts. One, like a lot of young people, I thought I would live forever. And two, how the am I going to repay my student loans. I chose to move to New York City and take a job on New York city. After a few years, I was asked to move to London, which turned into an 11 year life-changing adventure.
The first thing I did after landing in London, was go to work convincing Allie, my best friend and high school sweetheart, to join me. Sitting here today, that easily rates as the best decision I have made since I graduated. Once Allie arrived, she immediately went to work identifying all of the things that London was missing.
At the top of the list was a Starbucks style coffee experience. Allie and I were raised on Starbucks. When we arrived in London, the overall standard of coffee was dire. We both had great jobs and weren't looking to start a company, but there was something about it, like it just had to be done. So we quit our jobs and set about creating an authentic, Seattle style coffee experience.
And we called it, Seattle coffee company. It was a magical three-year period during which we built 80 stores and became the largest coffee brand outside of North America. As young entrepreneurs, Allie and I literally put everything we had into the business. We had a simple mantra. Failure wasn't an option.
We didn't have a safety net. No Plan B. It had to work. That simple declaration became key to our success, as it fundamentally changed how we thought. Regardless of the challenges we faced -- and we faced many -- we never questioned if we would succeed. To be clear, we failed all the time. We were young and inexperienced and made all types of mistakes.
We learned though, that failing and learning from our mistakes was critical to growing and improving. But failure or giving up simply wasn't an option. We ultimately sold the business to Starbucks and became their entrèe into Europe and the Middle East.
At about this time, I decided to go back to school. For nine years, I spent one week, each January, at a business, executive Ed program. One evening, a well-known professor named Clayton Christiansen challenged us.
He shared his experience watching brilliant students leave business school and become captains of industry. They had it all. Wealth, fame, and power.
Yet, time and again, as they returned to campus for their reunions, he found far too many of them were deeply unhappy. Divorced. Estranged from their families. And lonely.
How did this happen? They were all smart, capable people. Just like you. Not one of them left school with the plan of ending up that way. Yet, a shocking number of them had implemented a strategy for their life that led them there. He observed that, instead of investing time to clarify what was truly important to them, they jumped into the game, anxious to get ahead.
Like most type A personalities, they had a strong need for achievement. To accomplish things. To get things done.
He shared that people who are driven to win the race, often have an unconscious bias to overinvest in their work and careers, which provides plenty of opportunity for short-term, achievement gratification, that often results in an underinvestment in family and relationships. Tomorrow, you will all wake up -- hopefully not too bleary-eyed -- as graduates of one of the best business schools in the country. You've spent hundreds of hours learning about business. You understand the importance of mission, vision, and strategy.
For a company to succeed, it needs to have a plan. So, graduates, my question to you, today, is the same one that Professor Christiansen challenged me with. As the CEO of your life, what is your plan? Too few people put the same time, thought, and discipline into planning their life as they do into planning their business.
Without a plan, most likely adopt what I will call the default plan. Our culture worships status, power, fame and fortune. All showcased by the accumulation of stuff.
The default assumption is that the acquisition of things and lots of stuff will make you happy. Unfortunately, for most people, the default plan is a mirage. So, if the default plan is not right for you, what is your plan? How will you measure your life? After 11 years living in London, Allie and I moved back to Seattle.
At that point, we had put little thought into that question. We were fortunate though. As we transitioned back to Seattle, life provided us with a pause from the race.
We used this time to think deeply about how we would spend the rest of our lives. We asked ourselves, when we had felt most content, joyful, and happy. The answer to that question surprised us.
Those feelings were not tied to money or recognition. As a matter of fact, when we reflected on the financial rewards that we had enjoyed, the feeling was surprisingly hollow. Don't get me wrong, financial security is super important. But 20 of research has confirmed that beyond a basic level of financial security, there is absolutely no correlation between money and happiness. Instead, for Allie and me, the moments that stood out most revolved around people and the experiences we shared.
Personally, the most gratifying memories -- professional e- were all connected to when we had made a positive impact in somebody's life. Being of service to others, without expecting anything in return, had made us happy. And we decided that was a feeling worth pursuing. At that time, we were also growing increasingly concerned about the health of the world around us. A world of more senseless violence, polarized political debate, and any quality. I wasn't planning on addressing this, but just the news of the last few weeks, with what has happened in Buffalo, ufology, and last night, Philadelphia, really underlines the fact that the world isn't working for everybody right now.
These two worlds -- our search for meaning in our journey -- and the challenges we face in society, collided during the great recession of 2008 and 2009. It was a crazy time. People literally feared our economic system could collapse.
Allie and I decided that was a perfect time to start a new restaurant company. A new way of enjoying pizza that we called, MOD. Two months after Lehman Brothers failed, we opened our first store in downtown Seattle.
People seriously questioned our judgment. From the beginning, two beliefs have guided MOD. The first is that everyone deserves an equal opportunity to pursue their hopes and dreams. Unfortunately, the playing field for too many is far from level. The second is that companies can and should play a role in leveling the playing field.
Our product was pizza, but our purpose was to serve people. In the early years, we didn't know exactly how our purpose of serving people would come to life. And then, Allie and I met Corey.
We were in the early days of building our business when he applied for a job. He had multiple felonies and had just been released from his third trip to prison. Corey looked the part. Stout, muscular, and plenty of tattoos.
In the brief periods between his time between bars, he had found it impossible to get a job. He had made mistakes, paid his dues, and upon release from prison, was hit with a big bill that he couldn't repay because nobody would give him a job. The system was broken, and people like Corey were falling through the cracks. What we learned about Corey, and so many others in his position, is he just needed someone to believe in him. To give him a chance.
That is what our team did. At MOD, he found a place that accepted him. A place where he felt he belonged. Corey got to gratitude, and he channeled it into incredible performance. We paid attention to Corey, and he truly astonished us.
Within a year, he was promoted to general manager of one of our stores. I will never forget sitting with him and our head of operations as he offered him the new job. This big, tough dude, just broke down and started bawling. The first thing he wanted to do was call his grandmother. When she picked up, he blurted out, grandma, they believe in me.
They trust me. After he finished the call, we told Corey, we need to talk to you about your compensation. With your new role, you will be getting a raise. Corey raised his hand to stop us and said, it doesn't matter. You have given me something that money can't buy. You trust me, and I won't let you down.
As we grew, Corey brought in others who had spent time in prison. They flourished as well. This experience helped us clarify how our purpose of serving people would come to life. We embraced a commitment to provide opportunities to those like Corey, who faced barriers to employment. Today, over 40% of our 10,000+ squad members are enjoying a fresh start at MOD .
Thank you. We have learned so much from them. We have learned that your past may describe you, but it doesn't need to define you, and judging people based on their past was far less effective than being curious about their potential for the future. Corey is still with MOD and still doing the work of helping us figure out how to successfully balance profit and purpose. It is not easy and we have had our struggles, especially over the last few years.
Frankly, building a restaurant company has never been more challenging than it is right now. But we are more committed than ever to using MOD as a platform to serve people. Other than raising our four boys, and building a family, MOD has become our life's work. It is the byproduct of the work we did years ago to clarify what is most important to us. How we will measure our life.
People often credit Allie and I was doing something selfless with MOD. I want to let you in on a little secret. Our motivations have been totally selfish. We wanted to be happy, and reflecting on the story of Corey and hundreds of others just like him, fill us with the happiness that money simply can't buy. What is the take away? What have I learned over the past 34 years that I wish I understood when I was graduating? A couple of things. First, the most important decision that you will ever make is who you choose to share the journey with.
Choose wisely. Find a friend -- someone you look up to and respect, who inspires you to beer best. Someone you don't want to let down and for whom you will happily compromise. Then, before you make a commitment to spend your life together, pause and commit that you will do the hard work to make that relationship the most important thing in your life.
Second, practice gratitude. People often assume that if they are successful, then they will be happy, which will lead to gratitude. Plenty of research confirms that is totally back roads words. People who start by practicing gratitude are happier and happier people are found to be more successful. For us, Corey and so many others at MOD are living proof of this.
If you want to be happy and successful, start by practicing gratitude. Third, channeled the profound wisdom of the modern-day philosopher Ted Lasso, and always strive to be curious, not judgmental. As humans, we are hardwired to judge.
Your subconscious brain is constantly scanning for threats, ready to make snap judgments. Fight or flight. It's natural, when somebody says or does something, especially if it renders as threatening, we immediately judge. But if we are going to counteract the polarization and division that seems to be growing in our society -- if we really want to build a more tolerant and inclusive world -- we are going to be need to be more curious. To seek to understand others and the journey there traveling, as opposed to judging them. Fourth, the quality of your life and how you experience it is not a matter of luck.
How you feel about your life is a choice. It is a decision you make, that you control. You can't control what happens to you.
Bad stuff will happen. But one thing no one can take away from you is your ability to control how you respond, and in that decision, lies your fate. As Shakespeare famously said, there is nothing either good or bad, but thinking makes it so. Finally, when I graduated, I thought I would live forever.
I now know I won't. While that realization originally made me sad, reflecting on the reality of death now provides me with incredible motivation. Life is precious. And the time we have together is relatively short. So don't waste it.
My challenge to the graduates is to take time to think deeply about the question, how will you measure your life? Answering this question is not an event. It's not about sitting down for an hour or two and coming up with a specific plan for your life. It's about starting a conversation with yourself that will last a lifetime.
A conversation about what is most important to you, so that you build your life around those things, instead of blindly living the default plan. As you consider the question, imagine yourself at the end of your journey, reflecting back on your life. What comes to mind as the most important to you. Listen to that inner voice.
There is real truth there. Living an authentic life is largely about aligning your journey with that voice and not defaulting to the crazy voices on the outside that too often influence how we define success. For Allie and me, our plan is still a work in process. We talk about it all the time, and we are still trying to figure it out.
We still get distracted. But because we have spent so much time discussing it, we are better today than ever at holding ourselves accountable and getting back on track with what matters most to us. So, again, borrowing from the poet Mary Oliver, graduates, tell me. What is it you plan to do with your one, wild and precious life ? As you answer this question, remember you are part of a broader community. A community that needs you now, more than ever. As part of your journey, please include a commitment to serving others.
If you do, am confident it will make you happy. Congratulations to the graduates. Thanks for having me. >> As I emphasized earlier, to truly be the exceptional leaders you are poised to become coming up to practice what I call leadership amplifiers. Having someone call their grandmother and say, they believe in me, is what happens when you do.
Thank you, Scott, for sharing that experience and for those words of wisdom. >> Thank you, Scott, for being a part of today's ceremony, and thank you for your inspiring, motivational, and purpose driven philosophy. It's already had an impact on me. I might be an old dog, but I'm not too old to learn.
Thank you, Scott. Now it is time to start the formal recognition part of our program. Faculty, please take your positions along the ramp if you would like. I would like to invite each of the graduates to take to the stage, so that we may recognize all of you individually. Students, our ushers will welcome you, one row at a time, to come to the left and right hand sides of the stage.
When your name is called, please process across to the center of the stage. There is a marker where your picture will be taken, and then down the ramp so that our faculty can congratulate you. At this time, I would like to welcome to the stage assistant Dean of undergraduate programs, Vicki, and executive director of career services for the undergraduate and specialty Masters programs, anti-rabbit toy. They will read the names of the graduates. [ Reading of graduates' names ] [ Reading of graduates' names ] [ Reading of graduates' names ] [ Reading of graduates' names ] [ Reading of graduates' names ] [ Reading of graduates' names ] [ Reading of graduates' names ] [ Reading of graduates' names ] [ Reading of graduates' names ] [ Reading of graduates' names ] [ Reading of graduates' names ] [ Reading of graduates' names ] [ Reading of graduates' names ] [ Reading of graduates' names ] [ Reading of graduates' names ] [ Reading of graduates' names ] [ Reading of graduates' names ] [ Reading of graduates' names ] [ Reading of graduates' names ] [ Reading of graduates' names ] [ Reading of graduates' names ] [ Reading of graduates' names ] [ Reading of graduates' names ] [ Reading of graduates' names ] [ Reading of graduates' names ] [ Reading of graduates' names ] [ Reading of graduates' names ] [ Reading of graduates' names ] [ Reading of graduates' names ] [ Reading of graduates' names ] >> That was fun. Congratulations to all of you.
Grads, let's take a moment to thank family, friends, and supporters for making today possible. Okay. I've got a captive audience here.
How about, for old times sake, just a little managerial accounting. Yeah. Hey, do you remember your manufacturing inventory flow of cost? Please indulge this old professor for a second. When most of you arrived here, I use to, teasingly, referred to you as raw material. What I meant by that was, you were raw material in the sense that you are ready to learn new ideas, and ready to experience new challenges. And for a while, you are transferred into work in process , where our esteemed faculty added doses of labor. With some
of you requiring just a little bit more labor than others. Now, I am proud to say that I look at you all as finished goods. That is a metaphor.
As individuals poised to become the next generation of business leaders, no matter where you choose to journey. All kidding aside, you are what we do. You are what we make. You are our product.
We are so proud of you for that. As our product, each of you bears what I call a special patina. A patina of purple and gold that comes from immersing yourself in the education and opportunities that are a part of the Foster school experience. With that, I ask all of our graduates to participate in the ceremonial tradition of the turning of the tassel. Graduating seniors, please rise. Please move your tassel from the right side of your cap, to the left side of your cap.
Congratulations. To say that I am proud of you is putting it mildly. My colleagues and I are honored to call you graduates and alumni. Now go out there and continue to do great things and make us proud. This brings us to the end of the celebration.
I ask that all our guests remain seated until the recessional concludes. Thank you for coming. Have a wonderful day.
And go Huskies! >> [ Music ]
2022-06-08 16:02
Show Video
Other news