Atlas of Transitions - Monuments of Conflict & Convergence - Motus Terrae (GR)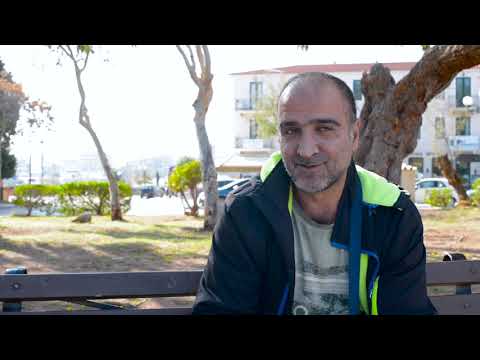 Show Video
(well, you have to step out of the frame and re-enter) (just step out of the frame, step back... nice...) (take one step back, it's like you step in to watch the statue) (so, step in, a bit to your left) (Our journey within the Atlas of Transitions project) started back in 2017 and, originally, the plan was to implement a series of actions in the city of Elefsina. Quite early, this plan changed, for various reasons and we were obliged to come up with rapid solutions in very short period of time with a very good and actually interesting result to relocate our activities in the city of Lavrio. With the contribution of our local partners and notably this of the National Technical University of Athens - School of Architecture and the participating professors, we reached out to the Technological Cultural Park of Lavrio where the first activities of our project were hosted.
Phase One included the preparative workshops during which we invited a group of the Technical University students more specifically, from the School of Architecture and then we asked from a first group of locals who were first, second or even third generation migrants, to guide the students and Motus Terrae's team, through their neighbourhoods. We invited these people to tell us about their stories and the story of their hometown as for the students, we asked them to do something they are very familiar with, to do a mapping, but the twist was, we wanted them to do a mapping of the locals' narrations and not one of the space. Afterwards, a group of inhabitants was formed, so this is Phase Two, a group of locals, with whom we started exploring the city's identity and what could potentially be these contemporary monuments that would reflect the accords and conflicts in Lavrio, in our days. So then, we would have Phase Three, which concerns the creation of a performance in the city's public space, in the format of a promenade that would involve a series of stops, where we would meet the monuments we would have designed along with the local team, and the participating students. If what we have started had a conclusion, or everything we already did, it would also be be very useful, I reckon.
It's not only about the symbolic part, it would be very useful for the people to learn about the city, about its history, what is one thing or another, which is this neighbourhood, where did it get its name from, what's the story behind the Refugee Centre here, for instance, how did the inhabitants of Lavrio used to live in harmony. I found the project very interesting, from an angle, ok, it's not just a random installation or an artistic piece, but there's a meaning underneath. Unfortunately, this third phase, never made it to see the light of day, due to the conditions we all undergo, during the last year because of the pandemic. Therefore, we decided at least, to attempt sharing a bit, with all of you and everyone following somehow the progress of the Atlas of Transitions project, a glimpse of what we could have done. The simulation we've chosen to create, so to convey even slightly the quality and the feeling of this mobile performance, is following our friend Michael, who is an actor, on a walk, a promenade in the city, as the performance's audience would do. (The camp, how many years it has been here for?) - Almost fifty, or even more than fifty.
It is difficult to say anything, who knows what tomorrow might bring, if things were simpler, I would say that, the people here couldn't have found a nicer place to be and that they should think of their children's' future. I couldn't say anything else. I believe all is well, I guess you must have seen it yourselves if you've walked around the city, you 've seen you can find anything here, there's even a camp of the Kurdish community and they are very fine people, they are workers and have never caused any trouble here, in the city and I see no reason for being against such a situation. (A typical example of) the elements and stories that emerged through the talks and the meetings of our group, is the story of Serpieri's statue, which expresses adequately, those accords and conflicts on a social level, as they manifest themselves in monuments' creation. Anyway, they had built this statue, a monument of Serpieri and they had placed it at the central square, on your left when entering the city, At Professor Dermatis's inititative, from the Lavreotiki Reseach Institute, who, I guess, possibly in an effort to appease the people's reactions, and the support of the Worker's Centre, they built, on the other side of the square, you have Serpieri on one end here, to the square's opposite end, right in front of the municipal Cultural Centre, they built accordingly, a monument for the Miners.
so, there was a polarisation, on a symbolic level, between Serpieri and the Miners. and in that way, balance was somehow restored, regarding these statues. (original recordings: here is where the Romanians used to live, when we arrived) (and as the Romanians were departing gradually, we were given the houses) So came the idea of the music box, which might have a physical substance as an object, but the actual monument consists of the immaterial part, it is the sounds, where these sounds could be the ones of the city, narrations, texts, songs, regarding the city's history and migration, or even texts written specifically for this occasion. Well, here in Lavrio there's a thing with statues, there's really a lot of statues and I don't know why, and some of them don't even need to be here.
The story is that this guy Serpieri, owner of the French Mining Company, evidently, he did have capitalised on Lavrio's wealthy land, but, on the same time, he was clearly a tyrant, a workers' oppressor is what he was. Under miserable conditions they worked and miserable was their pay. So, when one arrives, unaware of this history and sees Serpieri, in his tunic and all, he risks to be amazed, unable to fathom the whole story, as beneath him you merely see his name and that he was the Mining Company's founder.
(Convergence is what unites us) what we think it should be done by everyone, for the common good. So, it's the point where we should all meet, to lend a helping hand or whatever. Divergence is when everyone keeps their 'otherness', for their own reasons, and they do not get to - and that applies to every sector of our lives, even within a family - to convince the other a hundred per cent, so there is obviously a divergence.
(My grandfather had arrived form Santorini) as an economic migrant to work in the mines of Lavrio. Back then, there was the Greek Mining Company in Lavrio, in the employ of Jean Baptiste Serpieri. At the time, the furnaces, or, to better put it, the factory's facilities for mineral processing, were situated right beneath our neighbourhood. In an effort to shed some light on another aspect, on what is now called, a functional monument, an idea emerged, this of creating a telescope at one of the city's higher locations, at Santorineika neighbourhood.
A telescope that would invite the passer-by, to focus on various quarters in the city, and learn about their history, with the aid of some written material attached to the monument, in the form of a plaque of shorts. So, the processing plant was placed right next to the area, where our ancestors chose to built their settlement. Because, originally, when they first arrived here, they used to live, either in the mine galleries, or, for those who worked in the factory units, they would put up tents, they would build huts to shelter their families. (It would be much better) if we could manage to have all the cultures together, meeting one another, but it is not that obvious. This is very important, for Lavrio and for Greece in general, as well. And there's not only us Kurds, there are Albanians, Russians or others and as long as people manage to do some things together, there comes diversity, this is the most important thing.
(Well, it is true and an accepted fact that) as a people, us Pontics, are very friendly, so, just to give you an example, even when a marriage was taking place, whoever happened to pass by, any random passer-by, would be sat at the makeshift table, made out of wooden planks and beams and they would participate and rejoice in joining the dance, this is something we grew up with, it was taught to us by our forefathers, so, in our turn, we communicate it, through our activities, and it's something we carry in our genes, to put it otherwise. (Finally, through our talks) in an attempt to discover and even define the way this specific group viewed the city of Lavrio, and keeping in mind some of its distinct traits, as, for instance, the fact that is a city of migrants, a city of workers, with a long history, a city that is enchanting, with beautiful landscapes of a great variety, a city that has suffered a lot but, remains yet very extrovert and welcoming. We concluded, once again based on an idea that came up during the group's meetings, to close with the creation of a monument, which resembles the conventional ones, with a complex of statues, to put it simply, which, however involve somehow the functional aspect as well. And I had made this proposition, to build the Dancer, or the Dancers, of diverse identities that would portray the hospitality and the, how to say, the fraternity that we shared and we still do.
In any case, this is really nice, indeed. to have this gap, where a citizen could fit because, this monument was supposed to be in human-size dimensions, right? they wouldn't be like massive things, so one could be part, be incorporated and think "here, I can fit as well" "I have the same height, so I could equally be one of those in the circle" And the circle is ever-changing, isn't it so? Humanity is also changing... and the people, hence the gaps, so they could feel free to join or leave the circle at will. Inviting the passer-by to become part of the monument themselves, to take their place in the circle, and dance together, expressing thus the notion of camaraderie and solidarity, which we have witnessed they are very present and intense, here in Lavrio.
The only thing I can say is: We are all humans. We are all foreigners. We all shall come and we will all go.
2021-01-17 14:37
Show Video
Other news