AOPA Live This Week - February 10, 2022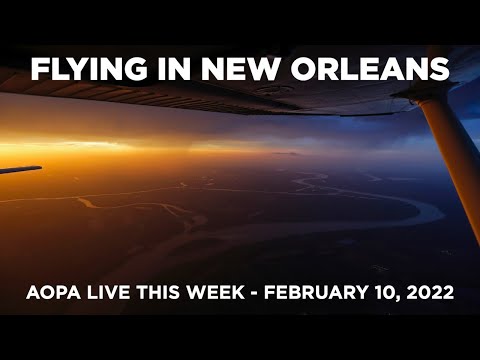 Show Video
Coming up all the info you need to know about flying near the Super Bowl this weekend and flying in the Big Easy, we take you to the skies of New Orleans. Plus, honoring the best of the best of flight training we're on site at Redbird Migration. Find out who takes top honors. All that and more in just a moment. This is AOPA Live This Week with Tom Haines and Alyssa Cobb. It's been a long two years. But finally the flight training industry is getting together in person once again, that's right Alyssa.
I'm here in Lakeland Florida at the Aerospace Center for Excellence at the Sun'n Fun grounds. This is Redbird Migration, perhaps the largest gathering of flight training professionals in the nation. After two years of the COVID lockdown, more than 700 folks signed up to attend the free event hosted by Redbird Flight Simulations. But hey, we're still dealing with COVID. So Redbird could only bring in about 200
people in person, but more than 600 tuned in online. It sounds like there's a lot of interest in the flight training industry right now. There is absolutely indeed. And the folks from Redbird are pretty pumped up about getting everyone together again. For us, this is more about bringing the industry
together than it is to about highlighting, you know, our own products. So what's your sense of the industry right now? It's strong, Super strong. I mean, the, the schools that we're talking to the training operators that we're talking to having are busier than they've been in a long, long time. Um, the key is just keeping up with the training at this point and keeping the instructors in. In fact that's the big challenge for the industry right now. Keeping flight instructors,
airlines are hiring once again and Alyssa, one of the highlights of the Redbird Migration every year is the announcement of the AOPA You Can Fly Flight Training Experience Awards. We survey flight students to see how they rate their instructors and flight schools. The regional winners have already been announced and you can find the list on our website but we hold the names of the top ranked folks until now. It's a moment of great anticipation and surprise.
The winner recipient of the national best flight school is In the Pattern out of Denton Texas. So please come on up. We caught up with Sherman Gardner, the owner of the winning school in Denton Texas. He shares what makes In the Pattern the best of the best. I started the business with my brother Darren Darren Gardner and I are the owners and operators of In the Pattern. I'm the main operator. Denton is a great place to train. On the northwest side of the Metroplex. And so we're right under the edge of the Bravo. And so we're out in our practice area inside
of sometimes 10 minutes of starting the airplane. What we excel at is we come alongside of the students in their life. We take in consideration what they're dealing with in life and as a part 61 school, uh, we can excel at that. And so we tend to be more able to read people and how they are doing through the day. And so if I see a student come in and, and I can tell that the day's not going so great. You might say, you know what, let's, let's grab a coke, Let's grab a coffee. Let's sit on the patio and make fun of
everybody else's landings instead because I want their experience here and even in that one lesson spot, I wanted to be a fruitful, a very productive experience for them. Yeah. We have a great staff. We have a great camaraderie amongst all of us. All I'm trying to do is just be who we are, you know, and just trying to be genuine to people and, and so for them to think so much of us. It's very humbling and it's very honoring.
We're, I'm very thankful, very proud of that And, and I want to just keep on doing it better and better every day. Congratulations to the In the Pattern team. And the top flight instructor in the nation drumroll please. We're proud to announce the recipient of the 21- 22 National Best Flight Instructor Award and in this envelope sealed probably by Pablo himself. We have the answer.
All right. Let's find out who we got. And our winner is Ambyr Peterson, come on back up. Um Yeah definitely surprised. Kind of speechless actually. But yeah this is what I love to do. So just the fact that my students appreciate it and I'm doing the right things is just a huge award.
How'd you get an aviation? Actually it was my high school graduation present so I did get my private when I was 17 but then I took 20 years off. I just couldn't afford it. And I long story short I talked to a NetJets pilot in a friend of a friend's kitchen got back in a Cessna got all my ratings never got out. So I've been a CFI for about 3.5 years and love it. Absolutely love it. That's what I'm meant to do yep. So what do you tell other flight instructors a lot of people out there striving for this level of quality.
What do you tell people on how to satisfy their students and be really successful as a flight instructor? So think about how you would want to be treated and unfortunately there are a lot of CFIs out there that are just working on getting their hours. I respect that we get that but be all that you can be in that time. So what did you need as a student that text the day before this is what we're gonna do. Hey reminder of this is what we need to have
you prepped. Being there at 10:00 the night before their checkride talking them off the bridge. You got this, that's what they need and that's what you want. So just think about that, that's what you do. You know, Alyssa, we have more than 8,000 submissions to our survey. So our regional and national winners are truly best of the best and we use the data from the survey to provide report cards if you will, to flight schools and CFIs.
That helps them identify their strengths as well as opportunities for improvement. You know, Tom I had a chance to read over some of the submissions that came in and a lot of the schools, some of the feedback in in those submissions and people that who had nominated them and then in stories that we've published afterwards. So those report cards are tremendously helpful that they take that feedback and apply it um to, you know, how they can better themselves. And that's helped some people, you know, make it up and get in the regional, top winner slots and and then what we've heard from folks afterwards, they're really busy with increased demand after they've, you know, been named the best of the best nationally or regionally. Yeah, definitely. The the exposure they get from these awards
definitely helps their business. But what's really rewarding is is how open they are to sharing their success and and how it is that they succeed and keep and attract students with others. And that helps buoy the whole industry, which is really the idea behind the survey back when we started it what 10 years ago. Yeah, exactly. It's a well a win win for everyone. Well speaking of wins, here's a win for local pilots and businesses in west Texas.
The city abandoned its plans to close Midland airpark. The centrally located airport is a key target for land development. And city officials explored moving the airport to the east side of the local international airport, AOPA Staff and Airport support network volunteer Vicki Hurt rallied more than 200 pilots, tenants and local business leaders to oppose the closure. Now, the city ultimately recognized the airport's economic value and decided it would cost too much to relocate it. Now, this is just one of many GA airports that have recently been under threat.
Nearly 2000 AOPA airport support network volunteers worked diligently with AOPA staff to protect our nation's airports. Now you can find out how you can be in ASN volunteer on our website and well, this just makes sense. AOPA is speaking out in favor of a notice of proposed rule making.
It would allow people flying under BasicMed to serve as safety pilots among other things. Right now, the problem is that you can fly VFR or IFR While acting as pilot in command under BasicMed. But you cannot act as a required crew member And that's an illogical catch 22 that keeps the 70,000 plus pilots using BasicMed from serving as an IFR safety pilot. The FAA is looking to remove that and also allow BasicMed to be used while taking a medical flight test. Now the FAA is reviewing all public comments, including AOPAs and it's expected to publish a final rule by the end of the year. And a sad time for fellow aviators in Iceland. Haraldur Diego president of AOPA Iceland died in a plane crash last week.
He flew his Cessna 172 out of Reykjavik airport on a sight seeing trip with three passengers. ATC lost contact with the airplane and a massive search led to discovery of the wreckage and there were no survivors onboard. Haraldur was a key leader in Iceland's vibrant general aviation community. He was 50 years old. It is definitely sad news. Our hearts and prayers go out to all those who have been impacted by that that crash.
Well, Cessna is celebrating a major milestone. The company just rolled out the first production SkyCourier from the factory in Wichita, Kansas. The SkyCourier is a high wing twin turboprop. It can be configured for freight passenger and
special mission operations. It has a 6,000 pound payload and will cruise at more than 200 knots and has a 900 nautical mile range. Now Fedex is the launch customer and they have agreed to buy up to 100 airplanes. SkyCourier first flew in May of 2020 and certification is expected the first half of this year. Well, how do you know if there's a pilot in the
room? If they don't tell you, just look at their watch. And Garmin has a new version of their pilot watch out. The D2 Air X10 is loaded with features in addition to working as a smart watch with your phone, it has aviation weather, direct to navigation capabilities, airport info, automatic flight logging, in flight pulse ox and more. And it's out in black and ivory and sells for $550. Well, that's a load of features there on your wrist. And as they say, any landing you can walk away from is a good one, but some landings are better than others.
AOPA Editor at Large Dave Hirschman has a quick tip for adding consistency to your landings. Ralph Waldo. Emerson famously criticized consistency as the hobgoblin of little minds. But Emerson wasn't a pilot, when pilots find techniques that work, we break them down, standardize them and try our best to reproduce them.
The challenge when it comes to landings anyway, is that weather, aircraft loading and runway conditions are dynamic. An airline pilot who lands in blowing snow on one flight might find tropical conditions on the next. What works for a long runway at sea level might not be right for a short runway in the mountains. Here's a series of Cessna Citation landings
that took place around the country in all sorts of weather, and the best ones had these aspects in common. A five degree nose up pitch attitude, a 0.6 degree angle of attack and a 200 ft per minute rate of descent at touchdown. Try recording some of your landings. Then closely review the results. Look for measures that form a template for future flights, consistency. It turns out is just fine with pilots. No matter what Emerson might have thought. Dave Hirschman AOPA Live.
And if you ever watch any of Dave's landings on Facebook, you'll notice that he never misses the center line. It's, it's really bothersome to those of us who aren't quite that perfect about it. But hey, we've got a bunch more tips and techniques on our YouTube channel and hey, in just a second, we'll head to Triple Tree for a bowl of chili and talk about flying near the Super Bowl. Plus, flying New Orleans. We'll be right back. Are you thinking about selling your airplane? I'm Kevin Tracy and I owned one of the largest advertising agencies north of Boston and am the former VP of Marketing at Piper. I know airplanes and I know advertising. Go to
Twin Air Aviation dot com to learn more about how I can help you sell your airplane. Welcome back and welcome back to events for the year. Triple Tree Aerodrome in South Carolina hosted its annual Chili Chili fly-in this weekend, hundreds gathered for the event and it lived up to its name with frigid temperatures, luckily the hangar was heated and the chili was spicy to warm up folks inside and out. Triple Tree Aerodrome features a beautiful 7,000 ft grass strip that is smooth enough to land a jet. You can read more about the event on our website. And if we're going to be anywhere near Los Angeles this weekend, heads up, Super Bowl 56 being held at SoFi Stadium on Sunday the 13th.
And because of that, FBOs are seeing big dollar signs, we're getting word that some FBOs in the region are charging outrageous amounts for ramp parking. For example, of Phenom 300 $3,000 to park there this week. It's not illegal. It's not against FAA rules or grand assurances, but beware. Check with the FBO at your destination. Many of them have these special event fees in place for the Super Bowl. And there's a 30 mile
security TFR are in place for game day. It's very similar in scope and scale to a presidential TFR. A lot of flying activities are prohibited in that area. We won't get into all the weeds here, but by all means understand it if you're going to be flying anywhere near southern California this weekend. That's right. And drone operators, well that TFR
extends to you as well. 30 miles around the stadium is a no drone zone for much of the day. On Sunday, there are additional restrictions in place around the stadium ahead of that time as well. Now drone operators who bust the TFR Criminal prosecution is also possible. So take this seriously. Now detailed information for general aviation and drone pilots is available at the FAA's Super Bowl web page.
And speaking of drones, a milestone, the FAA has reached one million airspace authorizations for drone operators. The low altitude authorization and notification capability called LAANC automates the process for drone pilots to quickly gain authorization and provides air traffic professionals with awareness of where their drones may be operating. Drone operators need approval from the FAA to operate in any airspace controlled by an air traffic facility.
Now, prior to LAANC airspace authorizations were done manually and could take weeks. Now the system handles it and safely integrating drones into the national airspace system, There's one thing that everybody at this hearing could agree on, the whole 5G thing could have been handled better. The process did not serve anyone well. Well that's an understatement. Over more than four hours. Last Thursday, the House Transportation and Infrastructure Committee probed into how the rollout of the new cell phone technology had skated right up to the edge of threatening aviation safety. 5G C band transmitters near airports can make radar altimeters unstable and the threat was diminished only at the last minute when the wireless carriers agreed to temporarily halt 5G deployment near some airports. So I'm encouraged by the progress.
Um you know, we're certainly in a much better place today than we were 2-3 weeks ago and we certainly don't want to be uh you know, repeating these deadlines that we've had to to overcome. We're finally getting the specific detailed information that we need to make accurate safety assessments and that's what we're, what we are, what we are focused on. Um and the wireless companies. Again, I think they've learned a lot about aviation safety and we've certainly learned about their business.
We're actually getting, we're asking them for data that they've never had to provide to the government before. Administrator Dickson praised the new spirit of cooperation between the aviation and telecommunications industries and he assured the committee that aviation safety will remain paramount. So we've got to make sure that if a hazard is identified that we prove that whatever that hazard is has been completely mitigated from a safety perspective and that the system remains safe. And aircraft laser strikes are posing a major safety risk. The FAA reports a dangerous increase.
41% more reported laser strikes. In 2021 compared to the previous year. Nearly 10,000 reports from fellow pilots, high powered lasers can incapacitate pilots and there's a hefty fine Up to $11,000 per violation. If you experience a laser strike while flying. Make sure to report it to the FAA
and local law enforcement. Well, there are so many beautiful places to fly in the United States. The freedom and access to the sky we enjoy here is unlike anywhere else in the world. AOPA A senior features editor, Julie Walker caught up with a pilot in New Orleans and he shares why southern Louisiana is his favorite place to fly. My name is Gerald Herbert.
I'm a photographer based here at the Port of South Louisiana. I fly a Cessna 172M a 1976. So I work as a photographer for the Associated Press and I used to cover the White House in Washington. And I used to fly on Air Force one and I became so enamored with the plane and what it represented and what a privilege it was to be on it. I was chatting with the flight crew.
One of them told me to get Microsoft flight simulator and download an Air Force one model which I did. And so I learned how to fly planes on a flight simulator just as a hobby. The whole reason I got my pilot's license and bought my plane. It was because I fell in love with a girl in Shreveport. And after a lot of speeding tickets driving back and forth on that five hour drive. I decided I had a better way to do it.
And I went and got my pilot's license and bought a plane. Now I got to see my honey pretty much anytime I wanted and I scored big boyfriend points with her. We're now married. Can we call it the love connection? It's a love connection. In fact, we named the plane,
the love bug. Southern Louisiana has some of the most gorgeous vistas and sunsets you've ever seen. And I lived in the northeast for 28 years and I've been all over the country, all over the world for my job and every place has its own beauty. But the one thing about this place is the skies have a quality that's magic. The pastel colors of the sunsets. The cloud formations are pretty incredible
because of the wet ground environment we have here. There's a tremendous amount of cypress swamp and swamp land around here. You can be flying over the gulf coast and you can see schools of dolphins.
It just good plantations, pretty much everything you see is eye candy. This airport really is a beautiful airport. It's one of kind of in the country, cheap gas. Everybody's your friend. It's, there's no drama here. But before that I was based at Lakefront Lakefront airport in New Orleans and Lakefront has a charm all its own. Very old airport.
The terminal itself is beautiful art deco. It looks like you're in the lobby of the Empire State building. It's been restored with recovery money from Katrina. Lakefront is just a unique and special place and you're a stone's throw from some of the best food and the best music you could ask for and even if you're transient, even if you're just staying for a couple hours as as a rest over to get food. There's places within a few miles of the airport where you can have fantastic new Orleans, creole and Cajun food and be right back at the airport. I think if you're coming down here as a
destination for a weekend, first thing I would say would be fast for a whole week. So you come here very hungry because you're gonna be very full when you go home and you're gonna be 5 to 10 pounds heavier, I guarantee you with that...weight and balance. Well look at that. He got the love of his life,
the love of nature right there and love of food. So if you go you'll hit could hit them all. If you're looking for more beautiful places to fly. Check out the upcoming March destinations issue of AOPA Pilot Magazine. Tom I'm ready to get out of the cold here in Ohio and head to New Orleans now I can't wait to see all the other destinations that that's going to be featured in the magazine. Yeah and boy new Orleans is a great place and he's right.
The food is fantastic. Um, so I don't know if you want, you know, fast for a week or not, but at least a couple of days. Well, that's it for this week. We thank you for watching. And especially for all of our AOPA Members who tuned in, yep. Absolutely. We'd love to have you be an AOPA pilot if
you're not already. Find out more at the link on your screen, we'll see you next week. There are many important things to consider before purchasing an aircraft. Let the experts at Aerospace reports help guide you through the process. We combine expert knowledge with our longstanding commitment to personalized customer service to perfect your transaction, learn more at Aerospace Reports dot com.
2022-02-12 08:11
Show Video
Other news