Самый тяжелый турэндуро. Честный обзор Honda VFR1200X Crosstourer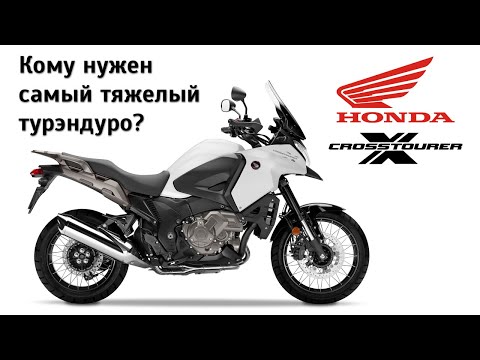 Show Video
I travel a lot on different adventure motorcycles and this is a review of Honda Crosstourer. The heaviest adventure bike in the world with the shortest suspensions of all adventure bikes and crossovers from 1000cc. Seriously, VFR has shorter suspensions than S1000XR or Versys 1000.
What kind of fool can buy this misunderstanding? I think this was the sort of thought that people had when they read the specs, and Honda didn't even try to explain, "You don't understand, this is different." By the way, this is one of my motorcycles. I hate reviews from motorcycle owners, so keep in mind when I start over-praising. What's more, of all the bikes I've owned and had, Crosstourer isn't exactly my favorite or the funniest, but it has a perfectly balanced personality for my taste. And even more, if VFR had not been taken out of production and at least slightly pulled up to modern standards, I would have bought myself a second one for Spain.
Background, why the motorcycle is now in Spain. I traveled on it 2 years ago in Europe and the plan was to leave for Moscow on it in the spring. 2 weeks before the planned departure to Moscow, Spain was covered with a lockdown, then the whole of Europe. Not the Moscow lockdown, where you have to hang a mask on your chin at the entrance to the store, but when it is forbidden to go out, except for going to the nearest grocery store and the city was patrolled by police and military. There really were 0 people on the street, like in movies about apocalypse, and this lasted 2 months. Then at least
during the day it was possible to be on the street. Then insurance ended, planes did not fly and more, and more. VFR unplannedly stood idle on seashore for a year and a half, so the motorcycle in video has a powder - free spout. Almost all scenes from video are a trip in Europe.
Basically, French cozy roads, so as not to tire you with landscapes from Westerns. VFR is a rare bike in 1200 class that didn't try to copy GS formula. In my opinion, journalists and marketers who tried to put Crosstourer into a GS group, failing to convey what this motorcycle was about. Let's get on fingers.
VFR1200X emerged as a direct replacement for Varadero. Varadero itself is also sometimes called adventure motorcycle. A motorcycle based on a sports bike engine - VTR 1000, with alloy wheels, 250 kg of weight and unimpressive suspensions of 175 mm at front and 155 mm at rear. At the same time, the very name Varadero is not in honor of some harsh African tribe, through whose lands a rally took place, as is classic in adventure bikes, but a beach resort in Cuba with luxury hotels and good asphalt, where there is no off-road. In Honda, they read what they wrote about model and thought, "Okay, you don't want a good one, you will have adventure bikes", in the second generation, having drastically slaughtered suspension, front travel became 155 mm, rear 145 mm. And, just in case, we increased the
mass so that no one tried to go off-road - at first 265 kg, in the latest version having picked up fat up to 277 kg. In 2012, Varadero was replaced by our today's hero, built on the basis of VFR1200F, an unusual heavy touring sports tourist, whose ears stand out from Crosssturer. And so that no one had any doubts, Crosstourer was made even heavier and with lowered suspension compared to Varadero - 145 mm fork travel, 146 mm shock travel. It is also worth recalling that Crosstourer appeared as part of global X line - a specific concept VFR800X based on a sports tourist came out a year earlier - it is obviously impossible to call it a crossover with a ground clearance of 140 mm and a fork of 108 mm - this is exactly a sports tourist, but with a straight fit, although in the media they call it only a crossover, forgetting to explain why fork travel of a pure sports tourist VFR800F, which was released in the same years, is greater than that of a supposedly crossover.
The next year after Crosssturer, junior CB500X came out, also not classical crossover with 140 and 120 mm travels. I see in this story not an attempt to make another competitor to GS, but Honda's unshakable desire from the 90s to convey its own concept of a comfortable tourist with a sports bias - something that was then licked up in the more popular XR and Tracer. The concept of specifically Crosstourer, as I understand it, is to make a crossover-tourer with a share of sportiness, which is what the model name implies. In general, for what I love Honda - they are not afraid to experiment and embody some fanciful ideas, some of which fail, the other part turns into icons. You will see further in the video that what part of VFR you stick to is an innovation, but they could sit on butt using standard technologies.
You also need to understand spirit of the times - at the beginning of 2010s, there was virtually no established class of large crossovers with a hint of sports, only rare timid steps in this direction. The closest in concept is Ducati Multistrada, and not the first weird versions, but Multistrada 1200, just released in 2010. There were also huge sports tourists like Pan European, FJR, K1300, etc., but without hints of crossover. Versys 1000 appeared in
2012, S1000XR in 2014, Tracer in 2015. Crosstourer is somewhere in this direction, but more about touring than sports, so as not to compete with the F version, which is itself a sports tourer. Let's start with the weight. I will always talk only about version with automatic gear, because I didn't use manual one. As everyone knows, good mid-
sized adventurers spin around 200-210 kg. Good 1200s are around 240 kg. Despite the fact that first impression is "Oh my God, what a big hippo", this bike is very easy to steer. And, I think that perhaps it would even be interesting to some girl as a tourist or everyday option, but for long trips. Thanks. Nikita, I have bad news for you. Crosstourer with automatic gear in base weighs from 285 to 290 kg, depending on version, with 1200s it has same difference as 1200s with mid-size bikes. Moreover, there are no tricks with the weight
- a scanty tank within the class, there is no protection, panniers, foglights, etc. Naked motorcycle. And because of the insane mass and a very high center of gravity, the motorcycle has such a specific problem - usual protective bars break out during a usual fall in parking lot, so owners try to put thick heavy bars with a bunch of attachment points. Plus, there is no crankcase protection or center stand in base, but they are needed here. You have not yet left showroom,
and the weight of motorcycle is already over 300 kg, while on KTM now bars are generally optional and most competitors have at least some kind of crankcase protection. Cherry on the cake - motorcycle falls flat and on liquid mud it is not always possible to lift it even together without ingenuity - there is simply not enough grip in the mud. Crosstourer is the longest, with the longest wheelbase and the longest swingarm. There are, for example, more or less long models with long-travel suspensions and wheels of 21 and 18 inches, but Crosstourer manages to be the most longbased with very short suspensions and wheels of 17 and 19 inches. And, in fact, the shortest suspension for crossovers from 1000cc is much shorter than usual adventure bikes.
Diagonal aluminum rigid frame, which is customary to put on hyperbikes, and not a adventure bikes, plus design of swingarm-shaftdrive, according to Honda, was designed to increase the rigidity of chassis. In Super Tenere review, I said that Super Tenere design itself was designed to act out irregularities, with Crosssturer it is exactly the opposite - it works like a monolithic piece of iron. The whole complex of details on the Crossstourer gives a specific feeling that you are driving a tank with complete confidence that if a concrete wall comes across on your way, it will break it and will continue way. There is nothing like this on other crossovers. Even with very heavy adventure bikes like Super Tenere, there is no such feeling due to swinging suspension and elastic frame.
Crosstourer does not sway and has directional stability at the level of tourers, but, unlike tourers, VFR has a pretty decent ground clearance and suspensions work out bumps in a certain range, so you don't have to bother much about where you are riding. For example, Crosstourer jumps on medium curbs and moderate stairs - geometric ability is enough for this. There is also a nuance - the greater weight of the motorcycle, the better its grip.
Plus, Crossstourer features a heavy front axle load for better wheel grip. To put it on the finger, VFR makes from stiff tire a soft one with an excellent grip by feeling. When mid-size bikes starts to slide on icy asphalt or bounces on gravel road, Crosstourer pushes tire into road and has enough grip - it is much more comfortable to ride on slippery surfaces than on light bikes. But there are two concomitant minuses here. Firstly, if Crosstourer has already begun to slide or break angle, all that remains is to relax and have fun, it's hard to catch. Secondly, Crosstourer eats up tires one and a half to two times faster than any motorcycle weighing around 200 kg.
Greater grip wears out faster, under weight of motorcycle tire itself squares faster and excess torque at the start licks off tire. The engine / gearbox connection is the second reason why I'm a Crosstourer fanatic. V4 engine here is an original solution for a class where twos are totally dominant. Originally a MotoGP-based engine designed for F version of sports tourist, this engine was also used on the exclusive English naked Ariel Ace. For Crossstourer, engine was redesigned
for fat low revs, having lost as many as 43 horses. The model is outdated, now torque is not as impressive as, in fact, and the feel from engine is rather dull against background of KTM 1290 or Ducati V4, but at the time of release it was breaking the competition. Moreover, VFR engine is quite versatile. You can notice that lows are fat, almost like Super Tenere, and middle is juicy, which makes you feel drive. The only thing I don't like about dynamics is that there is a pit closer to 4000 rpm before the second explosion of power, when you know that it will be, but you have to wait a little. If automatic gear gets used to not being a hooligan and riding smoothly, it usually grumbles somewhere at low revs, normally switches at 2000 rpm in Drive mode, and when you want to shoot even in sport mode, you often have to wait a couple of moments.
Some people like motorcycles with a second wind, I, for example, like a flat shelf, like Tiger 1200 - they feel pretty similar to engines, only VFR has a little more fun in the middle. If you ride in manual mode, or when automatic gear gets used to riding actively and keeps revs higher by itself - pure delight. But the dynamics itself is okay, for 2021 it's pretty mediocre.
It seems that Honda has achieved such perfection in engine design that it began to scoff at the competition. Probably, engineers were sitting in the smoking room, thinking what else they could do, and someone asked: "Tekehiro, Is it too much for you to make the softest engine in the class, but to have no balance shaft? And we will tell journalists that it eats up the efficiency of engine and weight, we are fighting for every gram here." - "Easy, I'll draw it by morning." And they did it. A whole range of solutions is working again.
First of all, before introduction of Multistrada V4, it was the only 1200 four-cylinder crossover, where vibration control is easier due to the shallow stroke and size of pistons. Plus, offset of crankshaft. They could have just made a typical 90-degree V4, just a larger displacement - no one would have said a word, but they showed off and made a V4 with a 76-degree angle, which made it more compact in size than VFR800, and were able to shift engine's center of gravity forward for better front wheel traction - again, this is more of a sporting theme than an enduro. Cylinder firing intervals are tuned for smooth rotation and, to quote Japanese, "suppresses unpleasant primary vibration to theoretical zero, in addition, use of symmetrically located cylinders eliminates vibration caused by cylinder movement in left-right direction ." This all adds up to balancing bike - it doesn't really need a balancer shaft. And, according to classics of 1200 class, VFR is also not deprived of frequent hum of fan in traffic jams.
Even if engine were ordinary, another factor comes into play - the same vibration of engine is felt on a light motorcycle and a heavy one in different ways. Conventionally, vibration is evenly distributed over entire mass of motorcycle, so many have noticed that if motorcycle is loaded with full boxes and mother-in-law on back, it vibrates less than riding alone with an empty tank. And as we remember, Crosstourer is incredibly heavy. Moreover, there are no vibrations even at 200 km/h, not limited to standard 130. But! Some large vibrations are still present in some ranges, and I have met people to whom Crosstourer seems to vibrate. This is an extremely unpopular point of view, but it is encountered - to be honest, I don't know what to ride on, where there are fewer vibrations. In my subjective opinion,
there are no softer engines in the class of large adventure bikes. Super Tenere is the only one that is at the same level, if it is not twisted, and somewhere close Multistrada V4, if it is also not twisted too much. The downside of all this splendor is gluttony.
Official consumption of 6.2 liters per 100 km according to WMTC. I, of course, managed to achieve a consumption of 5 liters with a penny on some slow routes and literally 2 times rode with an average consumption of less than 5 liters on flat roads with a strict speed limit and good fuel, but with ordinary leisurely riding you need to focus on range from 6 to 7 liters. Above eight liters is, however, quite difficult to force, even if you ride like the last time. For such a consumption, the tank is not enough.
According to specifications, mileage reserve in the class is less only on Multistrada V4, but in reality, Ducati in similar conditions ate about half a liter less for me, so VFR still has the smallest mileage reserve. And just like with Multistrada, it additionally pisses me off that the bike is very comfortable and does not want to refuel as often as VFR want. A one-sized swingarm with an internal lengthening shaft - essence is the same as that of Paralever, only it is a closed, problem-free system. By the way, VFR has a specific sound of gear backlash without load, which does not affect reliability in any way, but infuriates everyone. I will now say that shaftdrive on VFR is eternal, but for sure in comments there will be two people who had problems with shaft. We have a crosstourers owners whatsapp-group, sometimes some scary pictures from Internet appear there, but no one knows living people who have at least something happened, except for an incredibly rare case of a leaking oil seal.
The first generation VFR had a recall campaign with shafts due to the unsuccessful shape of cross, which squeezed out lubricant at speed. Moreover, before the mass campaign, when Honda began to change shaftdrive assembly for everyone for free, including on non-warranty motorcycles, Russian enthusiasts themselves changed crosspiece for another for 5 euros with a detailed guide in pictures. The chip of models is a robot. VFR1200 line is the first to feature Honda's signature dual-clutch automatic transmission, and it fits perfectly with VFR. The robot is, in my opinion, the most underestimated technology in the motorcycle industry. Unlike other automatic gear
experiments that were almost always geared towards beginners and run on small scooters, DCT first appeared on a 170-horsepower sports bike, which buyers clearly didn't want to lose control of. You can also fold two and two, which was the purpose of the box. Few people think that, in fact, DCT is also suitable for people who do not want automatic switching - on DCT, you can switch manually with petals, or buy a pedal and switch with your foot in usual mode. This is not some kind of special belt gearbox, but a familiar mechanical gearbox with an additional function. In fact, it is no different from a quickshifter, only with additional chips - DCT will not let the engine stall by dropping gear down if speed drops too low, and it is also not necessary to squeeze clutch at a stop or at start.
What is the sacred meaning of squeezing the clutch when stopping - I don't really understand. And if DCT does not allow motorcycle to stall, it does not steal your soul from this. When I was thinking about review, I specifically rode for several days only in manual mode, although usually two modes of DCT are enough for me - and you know that, if you look at gearbox from this angle, this is a cool soft quickshifter without jerks, with which it is interesting to ride in active mode. It seems to me that Honda's mistake is that they jumped two steps forward with DCT. It was necessary to first release a
generation of motorcycles with a gearbox, where only manual mode - people would slowly get used to the fact that this is a gorgeous quickshifter. Well, it should have been advertised not as a machine for the lazy, but as Formula 1 technology - this is how the racers switch, no one squeezes out clutch. By the way, exactly this concept of a semiautomatic gearbox was implemented on Yamaha FJR1300 in 2006, only there, as the old-timers say, there were jerks and uncomfortable behavior at low speed, so the clutch turned out to be softer. Then they would add an optional automatic mode, where DCT would have a reputation for being the best mechanical box. And so, automatic gearbox appeared right away, people realized that it was so stupidly more convenient and no one wanted to play with petals like in Formula 1, what does Honda have to do with it? Most people try DCT on week engines like NC - that's not it.
For example, on NC, a DCT is a purely utilitarian thing that makes moving around the city more convenient, there is no fun and revolutions quickly end, there is no great pleasure in clicking yourself. By the way, in some markets, due to the popularity of NC with an automatic gearbox, manual gearbox are not even offered - for example, in France, now only DCT. On Africa Twin - I am skeptical about operation of automatic gearbox on off-road - sometimes there are situations when you want to undercut clutch, still a compromise solution.
True, I did not use Africa Twin specifically with DCT - there algorithms work a little differently and, perhaps, I am wrong, but in any case, Africa Twin has a more phlegmatic engine. By the way, Africa Twin is the only model in many Western markets where, according to statistics, more manual versions are sold than automatic ones. But on VFR, DCT is a source of additional pleasure.
Crossturer has a crazy moment at low revs and DCT allows it to take advantage of this moment. On an ordinary motorcycle with manual gearbox, how we start from a long traffic light - squeeze out clutch, turn on gear, then smoothly release clutch with a smooth addition of throttle. On DCT, you don't click or poke anything, you just lightly touch handle and get a shot. Not a single motorcycle with a clutch gives this feeling, only if, like a fool, you do not stand at a traffic light with twisted revs, which in reality never happens. I like the analogy of a DCT with autofocus on modern cameras - autofocus does it faster than a person and frees up thoughts, for example, for better composition. Likewise, on a motorcycle, DCT
simply removes the routine, allowing more enjoyment of riding process. As in the case of autofocus, no one bothers to switch to manual mode or adjust automation with petals. Unfortunately, I repeat, DCT is a technology that you can't get used to in a couple of days, you need to open your mind a little. I personally have not met people who, after buying DCT, no longer want to deal with it on other motorcycles, and one can hardly suspect in VFR buyers that they do not know how to ride. I'm not talking about those who ride in Drive mode in any situation. So, due to the fact that DCT always starts faster than a person, VFR at start is faster than any motorcycle with a clutch, like the vast majority of very fast cars, except for fully charged exclusive monsters.
The secret here is not in some phenomenal acceleration, but in the fact that cars also have a delay associated with shifting their feet from brake to gas - this gives a sufficient head start. Yes, when Crosstourer has already reached a speed of 100 kmph, obscenely fast motorcycles begin to bypass it, but here you just need to pretend in time that you cannot ride quickly around the city. In addition to prancing, it is quite convenient at traffic lights, when, for example, from left lane you need to quickly change to an exit after a couple of lanes - there is always the confidence that there is no vehicles nearby that can go faster from traffic light and interfere with maneuver.
In any case, when there is no Tesla nearby. Another plus of DCT is traveling together. It is extremely difficult to achieve such a soft upshift with clutch, your other half will love DCT, believe me. And when on VFR, at least with automatic gearbox, you turn off throttle, there is no jerk, as in many, passenger will also like it. With the brakes, Honda does strange thing. All versions have trendy combination brakes, which, for example, better distribute braking force. Excellent. Behind 1 disc 276 mm and two-piston
caliper. Excellent. At the front, sports F version has divine brakes - 2 discs of 320 mm each and six-piston radial calipers. There, six-piston system is used in an interesting way - when the front brake is applied, only 10 pistons are involved, and 2 remaining pistons are triggered when braking with rear brake. On X version, 310 mm discs - now it looks ordinary, in 2012 - a cool decision, 320 mm were only on Ducati.
The X version also has three-piston axle calipers. On the one hand, caliper is floating and you can expect poor information content, especially with an axial mount. On the other hand, power is already comparable to the four-piston models, and pad area is the same as that of six-piston calipers, i.e. engineers still counted on a high braking torque.
In a nutshell about Crosstourer - in fact, it slows down not worse than its competitors, but there is a feeling of emptiness and insufficient feedback, as with cheap two-piston calipers. It's slowing down, but there is a feeling that they have saved 50 cents on you. On a flagship touring bike that was by no means cheap, it was already a weird and outdated solution back then. If we talk not about the moment, but about sensations, then Crosstourer, due to its tense suspension, huge weight and wheelbase, slows down more stable than most competitors - grip is perfect, rear wheel does not move. Any owner of a cruiser
or tourer with good brakes will confirm this to you. Actually, emergency braking on such giants is not perceived as emergency, because nothing special happens. But with the suspension, Crossturer is not doing well. It is tailored for comfort on moderately good asphalt - you can ride along serpentines with pleasure, and it is comfortable on highways, but suspension can handle a bad road to some extent.
When mud, gravel, removed asphalt, asphalt in cracks and patches - there are no questions, it rides well, better than tourers. But when killed asphalt with hard pits, square irregularities, sometimes a washboard - hard blows to handlebar. The matter is aggravated by the fact that motorcycle has a heavy load on front axle. Strong spoked rims in stock save situation a little - they dampen shocks a little and there is confidence that rims themselves will withstand. The suspension has manual adjustments, it's good at least there is a shock absorber preload knob. But, unfortunately, Honda forget model with advent of Africa Twin and stopped updating.
This requires a semi-active suspension with an increased range of possibilities. Moreover, I have no complaints at all about shock, only about operation of the fork. There is, of course, opportunity to supply Ohlins, but, let's be honest, now we are talking only about used motorcycles and no one will give 15% of the cost of a motorcycle for a slight improvement in suspension.
Unless you have broken fork, then it makes sense to think about upgrade. Due to stiff suspension, Crosstourer rides well without any stressful swing, but specifically - not as something sporty. Such a monumental iron thing that you tell course like a captain. He himself does not fit into the turn and requires self- turning. Moreover, when you have outlined corner in the turn, you can then let go of your hands - motorcycle will not move anything off the course. Due to the weight of motorcycle, hanging
on it plays the last role, and passenger can do whatever he wants from behind, this does not affect balance in any way. Presence of a passenger is generally worth checking periodically, because he is sitting in the back or has already fallen out, I personally cannot notice. The point is that when a passenger sits on a moderately light motorcycle, need to warn me to stop picking at my nose and control the balance. On Crossstourer, there is no point in warning - it will not move anywhere and suspension does not chatter while passenger crawls. In short, feeling that you are riding something huge never leaves - in this he looks like a tourer.
It is appropriate to move on to ergonomics. The saddle is long and the distance between rider and passenger is indecently large even in comparison with some 1200s - motorcycle could safely be declared as a three-seater. It is convenient for both rider and passenger, because you can change poses in a wide range, no one rests against anyone. The saddle itself is middling.
At first I thought about changing it, because it seems a bit harsh, and many owners change. I have a gel pad from Louis.de - just in case I took it on the first longships, but I realized that standard saddle is enough, I don't get tired and don't need to increase comfort. Although on all other motorcycles
for traveling, the first thing I did was change the saddle. The saddle height is average in the class, but saddle profile itself is not very wide in front with streamlined edges, in fact, VFR may be more suitable in height than some motorcycles with slightly smaller numbers, but with a wide saddle. You can also buy a saddle lowered by 2 cm. Also for Japanese market, a lowered, strangled Crosstourer was produced, where saddle height is 4 cm lower than that of European model - keep in mind if you order at auction. Seating is specific - handlebar is high, but very far - you need to reach for it even with a height of 188 cm.
It is not meant an absolutely straight pose, but with an inclination of a couple of degrees, just the same concept as Multistradas 1200 and 1260 - very conveniently on twisty roads, on highway want a slightly more relaxed pose. Many people use handlebar spacers to bring handlebar closer to them. I, again, on all motorcycles put either a high handlebar or spacers, on Crossstourer - no, because I am not bothered by such pose when traveling, but when sit down from some Super Tenere, there is a difference. The footpegs are slightly forward for comfort, there is no fault here, on the top five. In staying pose great - handlebar at ideal height and distance.
The motorcycle itself is not very wide, in the sense that knees physically come out in width due to tank, but neither knees nor legs blow at all. At speed, if you gently stroke yourself with your hands everywhere, there is no blowing anywhere and you feel that there is a zone of air discharge in front of your feet. And nothing gets to your feet from motorcycle in the rain. I was even too lazy to take my raincoat pants with me. Even now I was traveling
in summer simple pants, I didn't take anything with me on top and didn't take a Goretex lining, although every day after Spain it rained of different intensity. There is simply no point in average rain, individual drops fall and that's it, you always come dry. They achieved such wind protection for legs with a very primitive solution - on sides there are barely noticeable cutoffs that redirect entire stream from legs. Simple and ingenious. But the wind protection of windscreen is rather mediocre within the class. Here is a proprietary Honda sore with the fact that handlebar rests against windscreen and it is physically impossible to put a wide screen. If you can take Wunderlich glass on GS, which covers needs of 99% of riders, then on Crossstourer you need to select windscreen for yourself, because each screen has a narrow range for which height and speed it is suitable. Finding the perfect screen so
that it doesn't hit helmet and shoulders is highly likely to fail on the first try, especially if your height is closer to 190 cm. By the way, for same reason, I have custom windscreen - this is Givi Air Flow, only with an additional metal rail to increase tuning range. Adjuster for windscreen would help so that you can adjust the purchase for yourself, but on older versions, there is practically no adjustment - there is some kind of ridiculous range of holes about a centimeter. At the very end of the release, on models of the last couple of years, there was a convenient one-handed screen adjustment, like on new Pan America with a normal range, but there are only a few such motorcycles on the market.
Hand protection is excessively removed from hands and handlebar feels gigantic, although in fact it is compact within the class. Generally, a motorcycle is suitable for a city. I had three motorcycles in Moscow at the same time: DRZ400SM, Tenere XT660Z and Crosstourer. In the city, I liked to ride Crossstourer more - there is enough size in traffic jams. If I had to travel a lot inside Moscow center, then I already preferred DRZ, but these are fundamentally different dimensions. If head has got through, it means that DRZ will get through.
Actually, only mirrors stick out beyond handlebar. Someone changes them for the city in order to increase jams-ability of motorcycle, I left it. Thanks to high handlebar, protruding mirrors and classic oval shape, everything is visible. In the mirrors, elbows are either not visible at all, or a tiny corner is occupied. Previously, people thought about good view, now even Honda, for sake of a chopped design, puts dull polygons on everything, only Suzuki with old-fashioned mirrors is holding on. Moreover, there are no technical reasons to change mirrors - they do not roll up at high speed, no jitter, etc.
I'm not saying that on Crossstourer, with its technical data and loaded front wheel, there are no problems with wobbling - it is very stable at high speeds. Even with all my rattles and pieces of iron in a circle without panniers around 200, nothing jerks or moves from the course - you feel that you are riding on a heavy iron, biting into asphalt. If you fill rear trunk with bricks and disturb weight distribution, when accelerating closer to 200, you will feel that the front wheel is not loaded and handlebar is empty, it can dangle a little, but real wobbling is far away.
With panniers are more complicated because bike is narrow. If trunks are narrow, almost folded, as in my video, it's not bad, with aluminum it starts to jerk in gusts already at 130. Everything is bad with filling and accessories of the motorcycle.
Even for the level of 2012, the lag behind flagships increased every year. Especially if you look at Multistrada 1200, which, in mind, is the main competitor. Multistrada had four-piston Brembo radial brakes, engine modes, eight-level traction control, electronic suspension, and from 2013 the legendary semi-active Sky Hook was installed, from 2015 a TFT screen with Bluetooth, corner ABS and traction control, cruise control in stock. And Crosstourer. Despite the fact that there is an electronic throttle, and even an automatic gearbox, it is obvious that there should be cruise control here. And it never appeared. There are third-party solutions from several companies, as I have, for example, but these are troubles in which no one gets involved.
Of course, the motorcycle did not have any corner ABS until very recent years. The first generation had a single-level traction control that hacked everything down - the kind that get in the way of off-road. It always turns on after starting motorcycle and to turn it off, you need to reach behind the button on side-panel with your hand and hold it - it's inconvenient to do this on the road, so hardly anyone used it all the time. In later version, traction control became multi-level. Also, gearbox changed with age. The logic in details of switching has changed, Drive mode has become less dull, additional sub-modes have appeared, but not such a fundamental difference. All the same, Drive is convenient only
on highway and in other conditions it is dull to use it, and in city S mode works perfectly. For convenience, it was possible to put an optional heated grips, but who did, complained about weak heating. Fog lights were also offered. In general, the light on motorcycle is quite good - it was praised in its years.
Now, of course, halogen is outdated, but high beam is still good. Display is the simplest. Especially in recent years, has no idea how they were sold Crosstourers, when there was an Africa Twin with a huge color TV and touch controls, and a Crosstourer with a vintage calculator. Nevertheless, display is good at the basic level - fuel level, air temperature, consumption, tripometer, excellent readability. For the beginning of 2010s will go, now it is an anachronism.
The ergonomics on controls are typically Honda comfortable. The only caveat of Honda is due to the fact that priority was the convenience of using manual shift paddles on DCT - it is really very convenient, but downshift paddle is in traditional place of horn button. When a motorcycle is the only one - it doesn't matter, when you own two, one of which is not a Honda, it is impossible to get used to it. If you ride up to your girlfriend to use the horn as call sign "Hey, come out" - not a problem, but generally buzzing, as a rule, in emergency situations. When you get on a Honda from another motorcycle, you want to hum gearbox. Then you remember that horn is somewhere else, and while you are looking, you already think, "Come on, he didn't cut it that much", and you forget it. About reliability. Honda's service approach is
slightly different from most manufacturers. Oil change every 12,000 km is standard. The need for checking in time does not differ, valve clearances on the same Super Tenere are looked at less often, but nuance is that almost nothing in shedule table needs to be changed unnecessarily, which is why warranty service, for example, in Europe is much cheaper. If plugs are in excellent condition
- why change them, in general? On the main competitors, like it or not, every 20,000 km all plugs change, if you are under warranty. I changed plugs on Crosssturer for about 65,000 km, and since hood is still open on valve check, they would continue to go. Changing oil in shaftdrive on a Honda every 3 years - again, try to find such a loyal warranty regulation. In terms of reliability - I don't know a single owner who had any tangible problems with the motorcycle.
There are also devices that have wound more than half a million kilometers without major repairs. Frightening pictures on Internet, if desired, can be found, but completely random - no pattern is built. Of the typical sore, only all of them crack side fairings under motorcycle when they fall. I also have cracked ones - they don't affect or care about anything at all. Personally, from time to time from dirt parking brake indicator came on. After washing, it disappears and also does not affect anything.
And parking brake itself on VFR is rather weak for such a mass. I have had cases when get up on rise with three clogged trunks, but a correctly adjusted handbrake with sufficient pads does not hold this mass. If without additional load, it always holds. Not to say that the problem was encountered 2 times for the entire time and simply with an additional buff the brake lever tied up, or rested somewhere with a wheel.
What happened in 6 or 7 years with my bike. In the first couple of months of ownership, when I rode a lot off-road, a couple of spokes fell off. All very heavy motorcycles have such a problem, if you jump on potholes, and spokes themselves cost 3 euro, but until you screw it down, you can safely ride.
I just, after some similar rides, check the tension of spokes from time to time, well, 3 times I tightened some spokes, without losing any more. Only alloy wheels in such situations, I would have shattered a long time ago, so I am in favor of tightening spokes. And in the first month, both rear turn indicators stopped working for me. Not wiring, but turn signals themselves - they are here immediately in stock LED, by the way. This is probably the only case in our galaxy. However, before that I had sunk
motorcycle several times in the mud. And one more time my fork started leaking. Because the motorcycle flew a little into bump stop. And once a terrible thing happened - the motorcycle would not start.
Because on my way the alarm tag fell out of keychain, Honda had nothing to do with it. There are no more cases of Crosstourer at least somehow starting up badly, stalling, some electronics glitches, oil seals leaking, etc. In addition to replacement of oil-filters, I did nothing at all, and I am one of those people who does not shake over every oil seal with grease. Let me remind you that the motorcycle is from the very first year of production.
And from the point of view of reliability, in used market Crosstourer is a smarter purchase than Multistrada 1200. I love Crosstourer, and it was a deliberate choice, I understood its strengths or weaknesses. I perfectly understand that he is specific in his concept and does not suit everyone. The fork handles bad roads so-so, somewhere on the level of entry-level crossovers like Versys. To say that it's great to ride with such a weight
on some kind of off-road - of course not. You can play with serious skills, but only for the sake of being forced to ride somewhere. Rather, here is the pleasure from the realization that you manage to somehow ride on such a monster. As a motorcycle for every day with trips on asphalt and ability to safely move onto a dry path or climb a rocky path, it is great at this, especially with a passenger. Suitable for those who are looking more towards European travel and concept of multiple motorcycles - for some more off-road travel, a light mid-size bike, and for a long, more asphalt trip, Crosstourer. Because cool dynamics, good handling on serpentines, comfort, reliability and ability to move a little somewhere on dry or ride normally on gravel - about the same concept as Ducati.
Only Ducati has developed this concept year after year and has now released the masterpiece V4, which is lightweight, passable, comfortable and sporty, and Honda, as usual, simply buried the model. Further there will be other reviews of large crossovers and adventure motorcycles. Subscribe not to miss, and don't switch.
2021-08-29 01:35
Show Video
Other news