[CES 2022] The Better Life You Deserve : Main | LG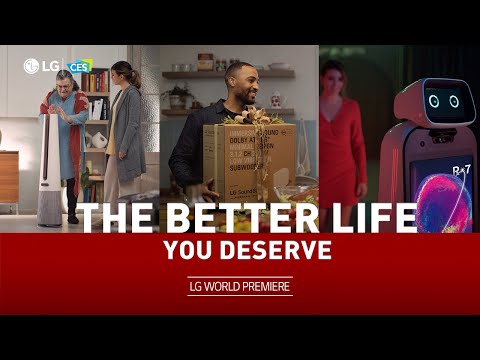 Show Video
Hey there! I hope you are going to join LG at CES. We've been working together to help you live the better life you deserve. This past holiday season, we brought you a song and video called 'You Deserve It All'.
But I'm even more excited about what's to come. Stay tuned to see what else we're working on together. I hope you enjoy what LG has in store today, at LG CES 2022. I've heard lots of great things. I really can't wait. Hello, and welcome to the LG World Premiere at CES 2022.
As the world slowly but surely regains a sense of normalcy, we're all facing an important question- are we to return to the normal, the old way of doing things, or move forward to something better? not just improving how we pursue a better life, but transforming, at a very fundamental level, the very meaning of what a better life is. So - as we continue to pursue "Innovation for a Better Life", as we say at LG, this year, we wanted to share with you, along with the latest in our innovative products and solutions, stories about the better life you deserve. Because, wherever you are watching us from, we know that you're doing your part to make changes that matter, to make life truly better, for all those around you. And our job is to support you, and empower you with our innovations, in all your journeys, to attain the better life you deserve. Yes, we are still all about better convenience, better safety, and better entertainment, but all better in a different, broader and fuller sense.
Much more personal, much more inclusive, sustainable and ahead into the future. So today, what we have for you are stories about innovation and progress, but at the same time, they are also stories about values that never change; about family, about love, and about inspiration to do better not just for ourselves now, but for all that share our time on this planet, and for the many generations still to come. Let's start.
It's open! Come on in. Brrr… Hey Neighbor… It's freezing outside!… Ah, come over here. Isn't this an air purifier? I need a heater. Give it a second. Thanks for coming to help me with this cake, Carol. I can use all the help I can get, since George decided to disappear this morning.
Oh yeah, sure… You got a new TV!? It's huge!! Look at that detail! It's a brand new LG OLED TV. I didn't even know they made OLEDs in that size. Hi LG, continue watching on the kitchen TV. What… How did the recipe get from over there to over here? I didn't even see you touch your TV! I just transferred it over using the Room-to-Room Share feature. Perks of having all these smart TV screens at home.
This will work perfectly as my bedside entertainment! I won't even have to fight my husband for the remote control anymore. Carol, would you turn the TV so I can see the recipe? Oh, and hand me my phone. I'm gonna make us this lasagna lunch kit. What do you need your phone for that? Well, I just need to scan the barcode on the package. It'll show you the recommended cooking temperature.
Oh, and check this out, the cooking time even appears on the LG ThinQ app! All I do, I just press 'Send', the oven turns on, and… Carol? George! George, you back? We need you man! Who is this?! Huh? You're not George! Ellie, is that you? Hello? This is Carol. Can you hear me? I can hear you crystal clear! Hey Carol, would you help me move the wet laundry to the dryer? In a minute! Alright boys, I'll be right back. I gotta go. How do you have so many settings… Is mine outdated? I thought we got the same model... Oh, just upgrade them! Yours can have all these features, too. All you have to do is download them to your device.
That's how I got more settings and customized washes. No way… Yeah, so if you could just move the laundry to the dryer. Is that the lasagna? I'm starving! How many of these do you want on here? Uh, I don't know, I'd say… Why do you have plants growing in your fridge? Oh, George bought me that.
It was his way of telling me to stop killing all the plants in the house. Fresh herbs all year round? Oh, actually while you're over there, would you grab some fresh mint? Hey babe. Oh, and Carol! George! Where have you been? We had to shop for… An LG Soundbar Eclair…! My parents are gonna love it! Thank you! Of course, they deserve the best. Hey, what about me? I helped a lot, too. That's true. Carol's been such a doll. Carol, what would we do without you.
Right? Sorry I left you here alone with Carol. That's fine. From thoughtfully designed appliances to the coolest entertainment devices. At LG, we tailor fit everything to serve your unique tastes and needs. You'll see how LG does this, but before that, let's meet Gail Conroy, Senior Director of Home Appliance Consumer Marketing, and Jinnie Kim, Director of Home Entertainment Marketing Did you see the look on Carol's face? That is the kind of "wow" we want to bring each and every one of our customers, with products designed to elevate everything we do at home - work, play, or just plain relax.
Our 2022 lineup of LG OLED TVs consists of the most expansive range of screen sizes and the brightest and finest picture quality ever. At LG, we want to take your television experience beyond TV. Enjoy your favorite shows and concerts with the LIVE Now app, Share the experience with the Watch Together feature watching and chatting live with your family and friends. Why not get up and move to the beat with 1 Million Dance Studio's online live dance classes? More a gamer? LG TVs, with GeForce NOW, will give you a powerful cloud gaming platform with no additional hardware required, besides your go-to controller.
But the LG TV experience goes beyond entertainment. With LG's first fitness platform, LG Fitness, you can access a range of fitness videos, AI coaching and personal training data management. Better yet, mix it up with the popular interactive fitness platform, Peloton, for all your fitness needs. In collaboration with Independa, your LG TV can now provide tele-healthcare services from medication alerts to virtual consultations with medical professionals, for a truly immersive and worry-free experience.
Our effort to reinvent the role of TV in our lives continue even when the screen's off. With the new optional Always Ready feature, your LG TV can remain ready for your voice commands through ThinQ AI. Even better, when your appliances know just what you need done, when, and how.
Whether it's convenience, hygiene, health, or more, here at LG, we have something for everyone. We work hard to make sure our products can meet your every personal, customized need. Because our mission is to deliver to you the most effortless and convenient lifestyle possible.
This next device features thoughtful innovation and seasonal modes to suit the requirements of any living space, anytime. A multi-functional air purifier, fan and heater, the PuriCare Aero Tower captures 99.97% of fine dust down to 0.3 microns with 360° HEPA filter. Working alongside that, LG's own UVnano technology captures airborne bacteria, providing an added layer of protection for you and your loved ones. Enjoy clean, fresh air, guaranteed! It even cools you when you're hot, and purifies your home's air all year round.
It's just the better life companion that you and your family deserve. Keeping things dirt-free and hygienic is a priority in every home. Your favorite AI Direct Drive, or AI DD levels up your style by leveling up the life of your clothes. Just upgrade your device via the ThinQ app, and enjoy a lifestyle that is customized to your needs. Let's hear more about this from Gail. And now, let's meet a new concept from appliances from LG.
It's a familiar story- appliances faithfully perform their tasks until they need replacing, or our lifestyle necessities change. Wouldn't it be great if they could evolve with your changing needs? Thanks to LG's artificial intelligence technology, now they can! LG is delivering home appliances that learn and receive regular updates just like a smartphone, to deliver new features that perfectly fit the way you live. Our appliances learn from users' behavior, analyzing daily usage patterns, to gain an understanding of how and where it can add value.
Ultimately, upgrading its features to make your life even better. With LG's brand-new concept, you can experience the LG WashTower's time-saving premium preheating function on your existing LG washing machine or dryer. It can also let you select your favorite alarm for your washer, dryer, even Styler when the cycle is complete. If you have any pet friends in your family, you can also download the pet mode for the washer to keep your clothes smelling fresh and fur-free. If you're a regular late-night snacker, but can't stand your refrigerator's bright light, simply adjust your fridge's lighting for nighttime with the LG ThinQ app. LG's Aero Tower can also be upgraded with various airflow modes to ensure your comfort.
In 2022, LG will offer these innovative features starting with our washing machines, and expanding to our refrigerators and Aero Tower. We will provide frequent updates with innovative features that will help you upgrade your LG appliances, tailored to your lifestyle and needs. We'll make life better for you. Ahh, music to my ears! You can personalize your alert sounds as well. All of this is customizable in your app.
Speaking of personalization, LG ThinQ is ever-evolving! Designed to understand you better, to ensure maximized efficiency and productivity for your home. In addition to the Upgrade Center, to deliver new features for your home appliances, LG ThinQ provides an improved in-app experience so that your out-of-app experience is smoother and more convenient. With functions like Smart Tips Trending on TV, My Page, Find your filter, and Routines; you get more free time to focus on the more important things in life. It's really about the experiences that make our lives more full and meaningful - and at LG we continue to offer innovations that make that happen. Now, let's head over to Ellie's parents' to see what other innovations LG has in store. I'd like to thank LG for having me part of the advisory group.
The Life's Good Award is a great initiative. Let's continue playing our part in making this world a greener place! I'm proud of you, honey! Just focus on saving the planet and I'll take care of the house today. Because, you deserve it all! I do deserve it all. You should clean like this everyday. Honey, don't forget to turn the lights off when you're done in there! I know dear, you've been telling me that for the past 30 years! The vacuum cleaner begins cleaning with the dry mop Hey Mom! We're here! We're in the kitchen! Hey, the whole gang's here. I hope you didn't drive here… Happy anniversary! Oh, an LG Soundbar Eclair.
Now we can hear everything! Eco-friendly materials and packaging? I'm impressed. Hey, mom. I'm parched. Do we have any fresh juice? Knock twice to see what's in the fridge, Ellie! Knock twice? Huh. Hey, no juice! Yeah, you don't see the juice...
but you know what else you don't see?... How much energy is wasted every time you open the fridge door unnecessarily! Okay okay, you're right. Guess I'll just help myself to some water.
Did you know that OLED TVs are made with fewer plastic components than conventional TVs? We know!! The tech industry moves at such a fast and competitive pace, but it's so important to keep ourselves grounded and remember it's all about making the home a more caring place, both inside and out. Since 2006, we have been developing LG's Sustainability Management, aimed at improving lives through management that benefits both the environment and society, and it's founded on three core values. First, our continued commitment to making technology more inclusive and accessible to all. Second, our promise to deliver responsible products with eco-friendly materials, and optimize the production process for future generations.
And third, continuing to be leaders in home energy saving for a cleaner and healthier life. Innovative, eco-friendly products and their features don't just suddenly happen. At LG, everything is planned out down to the smallest detail. Let's dive deeper. Now one of my favorite scenes here is with Ellie's elderly father controlling all of those LG smart appliances. With LG's development of voice instruction and braille overlay, it makes it easier for our visually challenged consumers to operate once complicated appliances.
And this is more than just a cool feature! With the help of some very important advisors, LG is constantly pushing the boundaries in this area of accessibility, by developing products that are universally inclusive, and easy to use for all. Over the last decade, NCAM has worked with LG in the United States on accessibility issues, including co-hosting the annual LG Accessibility Advisory Board workshops. These workshops provide a forum for LG, NCAM and a group of advisors to compare notes, share ideas and learn from one another about technology, policy and regulatory trends in accessibility. At our most recent workshop, the advisors applauded LG's commitment to accessibility, highlighted by new efforts in human factors testing, an in-person testing lab, and many significant accessibility improvements across LG's products. It is great to see LG focus not only on regulatory compliance, but go well beyond – working to make LG products and services smarter and easier for everyone to use, including people with disabilities.
With everyone racing to deliver devices to meet the need of the hour, it's easy to forget our responsibility to also plan for a sustainable future. That's why at LG, we asked ourselves, "How can we elevate the viewing experience, without escalating its environmental impact?" This led to sustainability becoming fundamental in how we design our TVs. To reduce the production of hazardous compounds our latest TVs, unlike others, don't need a backlight to function so they require fewer components to build. Thanks to its fewer components and lighter weight, they're also more power efficient and made using eco-friendly materials to further reduce the TV's environmental impact.
Afterall, even when we're pushing new boundaries in innovation for a better today, we should also expand our vision to include a better, more sustainable tomorrow. Let's head back to Ellie at her parents' house. Did you notice that all of their LG products were energy efficient and eco-conscious? LG has been putting great efforts into making products that are more sustainable and easier on the environment.
The goal? With a multi-faceted strategy that has been reviewed and validated by climate experts and a Science Based Targets Initiative; by 2030, we plan to reduce the total amount of carbon emissions generated in the product production stage by 50% compared to 2017. LG products are also becoming more eco-friendly throughout the entire product life cycle - from development, production, usage and even disposal! In fact, we've pledged to introduce up to 600,000 tons of recycled plastic into our manufacturing process, and increase the recovery of electronic waste to up to 8 million tons by 2030. This goes to show how LG is making big moves to ensure a more sustainable future. Our dedication to create a better place led us to initiate the Life's Good Award. With this initiative, LG will curate innovative tech ideas that contribute to sustainable development, and award the winner up to 1 million US dollars, starting in 2023. The Life's Good Award will focus on 2 topics - First, Innovation for Earth: Innovation to minimize environmental impact by pursuing zero waste, closed-loop systems, and reducing greenhouse gas emissions and addressing climate change.
And second, Innovation for All: Innovation to ensure that products are easily-accessible and user-friendly for everyone. We want to encourage people to strive to make our world a better place, and ultimately inspire the feeling of "Life's Good" across the globe. We pledge to always stay innovative with the intent of saving our planet, and doing our best to ensure a better life for all. Lights Ellie, this way.
The crew's busy setting up for Reah's music video. I'm so nervous... Don't be. You're gonna be perfect. Let me show you around before the shoot starts. This will be your first scene in the music video with Reah. What...! Awesome ride!!
I told you, right? Look at the screen! Oh, hey Reah. You'll get ready in here, and do a few warm up exercises with Reah in the music video. Next, you'll press this button and the Styler will slide up with your fabulous dress. And then, the next shot, you'll be strutting into the bar with your new outfit looking stunning. Alright, from here, CLOi GuideBot will bring you to your seat on set. Hey CLOi, please guide me to my seat.
I will escort you, please follow me. ServeBot will then bring you a drink... Then you will take a sip of your drink and start grooving to the music. Reah will make her appearance on this huge LG Micro LED screen.
By then, our LG Door-to-Door Delivery Robot will already be on its way to you with its special package. Alright, cut! And that's a wrap! You deserve it all, baby. These guys really came together to make Reah's debut music video a success! Reah attended last year's CES as our virtual influencer but this year, she's collaborating with MYSTIC STORY as an artist She's composing her own songs now, so keep an eye out for her first debut album, which will release later this year. When we talk about screens, we're delivering something transformative — for the best viewing experience, no matter what your needs may be. LG Micro LED is designed to integrate seamlessly into any space.
And because we know that a sense of occasion should go hand in hand with the best sound and picture quality available, we also equipped it with our latest future tech. LG Micro LED will be available in homes later this year. Oh, hey guys! I'm glad you're here.
Hi. Glad to meet you. My pleasure. Now, can we talk about one of my favorite little guys? The LG Door-to-Door Delivery Robot, everybody! I mean - look at him go! This is one of LG's latest innovations! A Door-to-Door Delivery Robot that can run both indoor and outdoor journeys! This thing is a powerhouse of technology. It combines the latest in AI-powered autonomous driving technology with LG's world-renowned engineering prowess. Looking ahead to when fully autonomous driving soon becomes reality, the LG OMNIPOD will provide the means for all the things you can do while you're not driving! This exciting future mobility concept turns into a mobile office when you need to work, an immersive cinema with drinks and snacks onboard, a personal shopping mall for virtual retail, or even a personal exercise studio.
And when you're at your destination, OMNIPOD docks in and becomes an extension of your space, wherever you are! All incredible stuff and lots of new ideas for mobility, very interesting. Now, I'd like to show you something special when some really smart technology can prevent a day from taking a very different turn... Imagine a smartphone app that can warn pedestrians, cyclists, and drivers of imminent collisions with each other.
Through a cloud system powered by 5G, the app collects and analyzes data such as user locations, direction and speed, all in real-time- an impressive example of connected mobility. Users are alerted with sound, vibration and warning messages whenever there's a collision risk, making the road a safer place for pedestrians and drivers alike. When it comes to driving technology, LG's Digital Cockpit is a cutting-edge, fully digitized set-up, so, let's experience it with the future mobility we have in mind here at LG. Beyond the obvious changes to our living environment, the way we think about life has been affected as well.
In order to address the diverse needs and lifestyle of our users, safer and more convenient vehicle component technologies will have to become a reality. By applying our decades of Information and Communication Technology experience to the automotive sector, we hope that our vision will revolutionize the future of mobility. William, can you tell us a bit more about LG's vision on this, the future of mobility? Sure! In mobility, from telematics based on ultra-fast mobile communications, to digitally integrated cockpits, and multi modal human machine interfaces; we're transforming both hardware and software to reinvent your in-vehicle experiences. It's all about transcending boundaries - so you can enjoy the comfort and convenience of your home, wherever you are, even when you're on the move. So vehicles become these mobile spaces – versatile, connected and intelligent – an extension of your home experience with mobility.
And that really is the essence of our LG ThinQ ecosystem, so we can make our spaces limitless and our experiences seamless. So - whether it's appliances and entertainment experiences designed for you and your lifestyle, all-around efforts to make our offerings more inclusive and more sustainable, or ceaseless innovations that will bring about a future that we can all look forward to. Ours is a story of an enduring but evolving vision – of innovation for a better life. And that story, of course, continues on with every intelligent connection we make with you through our products and solutions.
And with that little portal into our latest on the better life you deserve, I wish you a great CES and an even greater 2022!
2022-01-07 23:34
Show Video
Other news