'Bloomberg Technology' Full Show (02/17/2022)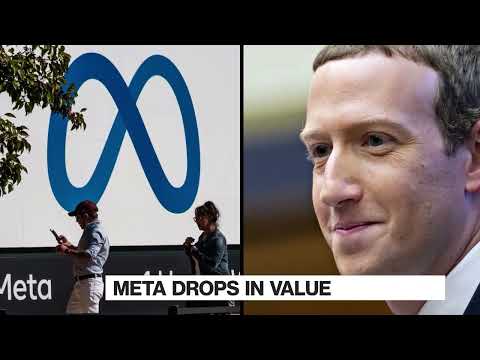 Show Video
>> FROM THE HEART OF WHERE INNOVATION, POWER, AND MONEY COLLIDE, SILICON VALLEY AND BILOTTA -- BEYOND, THIS IS "BLOOMBERG TECHNOLOGY, WITH EMILY CHANG." EMILY: I'M EMILY CHANG IN SAN FRANCISCO AND THIS IS "BLOOMBERG TECHNOLOGY." GOOGLE, LAUNCHING A MULTI-YEAR EFFORT TO OVERHAUL ADS MORE GRADUALLY AND LESS ABRUPTLY THAN APPLE.
PLUS, THE FACEBOOK PARENT, META, DROPPING OUT OF THE TOP COMPANIES OF THE WORLD -- IN THE WORLD AFTER ITS WORSE STOCK DROP EVER AND WHAT MARK ZUCKERBERG IS DOING TO CHANGE COURSE. AND THE U.S. JUSTICE DEPARTMENT HAS TAPPED A VETERAN PROSECUTOR TO LEAD A TEAM TO CRACKDOWN ON CRYPTO CYBERCRIMES. STOCKS TUMBLING AS THE U.S. RAMPED UP WARNINGS ABOUT A POSSIBLE RUSSIAN ATTACK ON UKRAINE. 85% OF S&P COMPANIES FALLING. BITCOIN, GOING WITH THEM.
CREEPY GROUP TO --KRITI GUPTA JOINS US WITH MORE. KRITI: THE S&P 500 DROPPING OVER 2%, A LOT MORE PAIN CONCENTRATED IN THE NASDAQ WITH A TECH HEAVY WAITING. EVEN THE 10 YEAR YIELD, LOWER. THAT'S NOT NORMAL.
WHEN YOU SEE THIS KIND OF SELLOFF IN THE STOCK MARKET, YOU TEND TO THINK IT'S INFLATION DRIVEN. RIGHT NOW THINGS ARE CLEARLY AS YOU SAID GEOPOLITICAL RISK AND PULLING THEIR MONEY OUT OF THE STOCK MARKET, STICKING IT INTO BONDS. GLOBAL SAFE HAVEN. BITCOIN, MARGINALLY POSITIVE ON THE DAY. A MUTED MOVE, WE WILL HAVE TO SEE HOW THAT FUNCTIONS AS WE RISK BROADER VOLATILITY.
SPEAKING OF, LET'S TAKE A LOOK AT WHAT THE SELLING IS DOING TO THE VIX. YOU CAN SEE IT'S A SEVEN WEEK AVERAGE OF THAT FEAR GAUGE. GOING ALL THE WAY BACK TO 2020, TELLING YOU THAT IS HOW HIGH THE CONVICTION FOR SELLING IS AND HOW HIGH THE UNCERTAINTY IS, COMPARING IT TO THE CRASH THAT WAS BROUGHT ON BY THE ONSLAUGHT OF THE PANDEMIC AND A LOT OF THAT SELLING CONCENTRATED ON SOCIAL MEDIA NAMES AND BIG TECH NAMES THAT HAD A DOUBLE WHAMMY COMING. THE INFLATION IDEA SPOOKED THE NAMES BUT YOU ALSO HAD THE IDEA OF PRIVACY AND ADD TRACKING AND HOW GOOGLE AND APPLE MIGHT CURTAIL SOME OF THE REVENUE THESE SOCIAL MEDIA NAMES MAKE. META PLATFORMS IS WHERE I WILL END HERE.
DOWN 4% AS YOU SAID IN YOUR INTRO, DROPPING. EMILY: GOOGLE SAYING THAT THEY WILL BRING A PRIVACY SANDBOX INITIATIVE TO THEIR GOOGLE PHONES -- ANDROID PHONES, IN AN ATTEMPT TO CHART A MORE GENTLE PATH THAN APPLE, WHOSE PUSH HAS THROWN THE DIGITAL AD MARKET INTO A TAILSPIN. I WANT TO BRING IN ADAM, THE CEO OF APPLOVIN, AND NICO. THERE SEEMS TO BE A MASSIVE SHIFT IN HOW THESE PLATFORMS ARE HANDLING PRIVACY AROUND DIGITAL ADS. WHAT IS GOOGLE DOING HERE? >> HOPING TO FIND SOME SORT OF MIDDLE GROUND OR COMPROMISE BETWEEN APP MAKERS WHO ARE DEPENDENT ON A MASSIVE DIGITAL AD INDUSTRY AND CONSUMERS WHO ARE INCREASINGLY INTERESTED IN HAVING MORE PRIVACY FOR THEIR DATA. A CALL BEING BACKED UP BY
REGULATORS. UNDER THE NEW PROPOSAL, GOOGLE IS GOING TO PREVENT APP MAKERS FROM SHARING CONSUMER DATA WITH ONE ANOTHER TRACKING ACROSS MULTIPLE APPS, SOMETHING THAT HAPPENS NOW, AND IT WILL PREVENT THEM FROM SHARING THIS INFORMATION WITH THIRD PARTIES. EMILY: ADAM, HOW DOES WHAT GOOGLE IS DOING HERE IMPACT YOUR CUSTOMERS AND HOW DOES IT COMPARE TO WHAT APPLE HAS DONE? ADAM: THANKS ARE HAVING ME, FIRST OF ALL. THE GOOGLE CHANGE, WE DON'T
KNOW HOW IT WILL MATERIALIZE BUT WHEN IT COMES TO THE BUSINESS, OUR MODEL IS A BIT DIFFERENTIATED, A GAMING BUSINESS THAT WE HAVE SCALED OVER 200 MILLION ACTIVE USERS OF CONSUMERS PLAYING CONTENT, GIVING US DATA, WITH THE BIGGER AND MORE PROFITABLE PART OF OUR BUSINESS, WHY WE EXIST, UTILIZING OUR OWN DATA TO REALLY DELIVER THE VALUE TO ADVERTISERS. IT DOES CERTAINLY LOOK LIKE AS REGULATORS IN THE EU, NOW APPLE AND THEN GOOGLE, THE PRIVACY WORLD IS CHANGING AND IT IS GOING TO PRIORITIZE COMPANIES THAT HAVE THE FIRST PARTY CONTENT LIVERY TO CONSUMERS TO BE ABLE TO USE THE DATA FOR ADVERTISING AND MORE RELEVANT ADD, THAT WILL BE THE WAY THE WORLD GOES AS OPPOSED TO COMPANIES SUPPORTING THIRD-PARTY DATA TO SUPPORT THE SAME EFFICIENCY. EMILY: NICO, DOES THIS MEAN THAT USER DATA WILL BE MORE PROTECTED AS A RESULT OF WHAT APPLE IS DOING AND WHAT GOOGLE IS DOING? NICO: IN TERMS OF HOW THE SYSTEM WORKED FOR ANDROID USERS, RIGHT NOW IT IS TRUE THAT LESS OF THEIR INFORMATION WILL BE AVAILABLE TO APP MAKERS AND GOOGLE WILL ONLY HOLD TOPICS THEY MAY BE INTERESTED IN THREE WEEKS AND DURING THAT TIME THEY WILL SEE ADS THAT ARE RELEVANT TO THEM.
IT'S NOT THAT THE USERS WILL BE TRACKED AT ALL. IT'S JUST THAT THERE WILL BE GUARD RAILS OVER WHO IS TRACKING THEM, HOW, AND WHAT PERMISSION THEY GIVE. EMILY: ADAM, WHAT HAS BEEN THE IMPACT OF THE APPLE ADD TRACKING POLICY ON YOU, THE COMPANIES YOU WORK WITH. WE JUST SAW A META FALL OUT OF THE TOP 10 COMPANIES IN THE WORLD BECAUSE OF THE DENTED THAT APPLE CHANGES PUT INTO FACEBOOK AD REVENUE. ADAM: APPLE CHANGED THINGS IN THE MIDDLE OF LAST YEAR AND IT WAS QUITE DISRUPTIVE, MORE ABRUPT THAN THE IN THE MAKING KIND OF CHANGE AND THE MARKETING PLATFORMS ALL HAVE TO ADAPT WHEN THE CHANGES COME. WE HAVE BEEN ABLE TO EXECUTE THE WELL IN THE PAST YEAR. 2020, 2 HUNDRED MILLION DOLLARS
IN REVENUE. LAST YEAR, $670 MILLION. IT'S A VERY FAST-GROWING SOFTWARE BUSINESS AND WE HAVE BEEN ABLE TO PERSEVERE THROUGH THE CHANGES BECAUSE AGAIN, WE FOCUS ON GETTING OUR OWN FIRST ALREADY DATA AND MONETIZING CONSUMERS WITH A MORE RELEVANT ADVERTISEMENT. ONE THAT IS A MIXTURE OF THE BEHAVIORAL OFF THE DATA FROM OUR OWN APPS AND THEN THE CONTEXT, THE GAMES THAT THEY ARE PLAYING ENABLING US TO KNOW THE TYPES OF THINGS THEY WILL BE INTERESTED IN TO DOWNLOAD NEXT. EMILY: OBVIOUSLY WE KNOW THOSE CHANGES WILL HAPPEN OVER TIME. CERTAINLY DIFFERENT FROM WHAT
APPLE HAS DONE. NICO: PART OF THE REASON THE GOOGLE PROCESS WILL BE SO GRADUAL IS THE COMPANY HAS A VESTED INTEREST IN MAKING SURE THAT THE DIGITAL AD ECOSYSTEM REMAINS ROBUST. ESSENTIALLY THEY WILL BE DEVELOPING AN ALTERNATIVE TO SOMETHING CALLED THE AD ID, THE NUMBER THAT ALLOWS APPS TO TRACK YOU.
ONE USER HAS ONE AD ID. DEVELOPERS WILL HAVE TO FIND A WORKAROUND ONCE GOOGLE SPEAKS WITH THEM AND HERE'S THEIR INPUT AND FINDS OUT WHAT THE SOLUTION SHOULD LOOK LIKE. RIGHT NOW THEY ARE SAYING A BETA LAUNCH OF PRIVACY SANDBOX ON ANDROID COULD COME AS SOON AS THE END OF THIS YEAR AND WHAT THEY CALL SCALED TESTING WOULD BE IN 2023, MEANING THEY WILL TEST AMONG USERS. THEY HAVE NOT ACTUALLY SAID WHEN IT WILL BE FULLY IMPLEMENTED AND IT SHOULD BE NOTED THEY HAVE PREVIOUSLY DECIDED TO SCUTTLE INITIATIVES RELATING TO GREATER PRIVACY ON THEIR FLAT. EMILY:
ADAM, APPLOVIN SHARES ENDED THE DAY DOWN MORE THAN 6%. WHAT IS YOUR OUTLOOK FOR THE YEAR? ESPECIALLY GIVEN SOME OF THESE UNCERTAINTIES AND, CLEARLY, THE POWER THESE PLATFORMS HAVE. ADAM: ONE SIDE OF OUR BUSINESS IS GAMING, GIVING CONSUMERS CONTENT AND GETTING DATA BACK TO POWER THE PLATFORM. WHEN WE GOT IT IN FOR THE THREE -- THE FULL YEAR IT WAS 3.7 BILLION AGAINST 3.8 ALIEN BUT THE TWO PARTS OF THE BUSINESS ARE PERFORMING AT DIFFERENT LEVELS WITH SOFTWARE GOING UP 300 MILLION OVER CONSENSUS WITH GAMING BUSINESS DOWN BENEATH CONSENSUS. REALLY, OUR BUSINESS IS A BIT WEEKEND NUANCED.
WE HAVE GONE TO THE POINT OF SO MUCH SCALE ON THE GAMING SIDE THAT WE ARE GENERATING ENOUGH DATA TO POWER OUR OWN SOFTWARE IN THE WAYS THAT WE WANT TO AND WE HAVE SEEN IT FLOW OUT OF THE NUMBERS. 2019 WE DID 200 MILLION IN REVENUE. NEXT YEAR WE WERE TALKING ABOUT 2 BILLION. THAT'S 10 ACTS OVER THE NEXT FOUR TO FIVE YEARS AND WE HAVE BEEN ABLE TO DO THAT BECAUSE OF THE POWER OF OUR OWN FIRST PARTY DATA, SO WE ARE CONFIDENT WITH WHERE WE ARE IN THE MARKETPLACE. EMILY:
ALL RIGHT, ADAM, NICO, THANK YOU BOTH. NVIDIA SHARES, DOWN ON THE BACK OF A DISAPPOINTING FORECAST. THEY PRINCE -- HAD PROJECTED STRONG RESULTS. STILL, EXPECTATIONS ARE HIGH FOR THE WORLD'S MOST VALUABLE CHIP MAKER WHERE THEY WALKED AWAY EARLIER THIS MONTH FROM A PROPOSED $40 BILLION ACQUISITION . NISSAN, COMING UP, REVVING UP EV EFFORTS IN THE U.S..
OUR CONVERSATION WITH THE NISSAN CLO, UP NEXT. THIS IS BLOOMBERG. ♪ EMILY: ANOTHER DOWN DAY FOR META, CLOSING DOWN TO ITS LOWEST LEVEL SINCE MAY OF 2020, KNOCKING THEM OUT OF THE TOP 10 COMPANIES BY MARKET CAP. OUR KURT WAGNER JOINS US NOW. WHY DO WE KEEP SEEING SHARES SINKING? KURT: THERE HASN'T BEEN ANY GOOD NEWS SINCE EARNINGS, REALLY.
USER GROWTH BEING ONE OF THE BIGGEST PROBLEMS, AND THEN OBVIOUSLY THE APPLE ADVERTISING HEADWINDS THEY SAID THEY HAD TO FACE, YOU KNOW, THOSE ARE NOT NECESSARILY THINGS THAT GO AWAY OVERNIGHT. THERE HAS BEEN A LOT OF TALK THAT THEY MIGHT BE UNDERVALUED AT THIS POINT. YOU KNOW, THEY HAVEN'T REALLY HAD ANYTHING SINCE THE EARNINGS REPORT THAT I WOULD SAY HAS TURNED THE CONVERSATION IN A MORE POSITIVE DIRECTION. EMILY: MARK ZUCKERBERG TRY TO HAVE A MORE POSITIVE CONVERSATION WITH STAFF, TALKING ABOUT IT THE MEETING.
FAST AND BREAK THINGS, A VALUE THAT HAS COME BACK TO HAUNT THINGS. NOW IT'S A VALUE THAT IS JUST MOVE FAST. AND YOU CALL YOUR COLLEAGUES META MATES? KURT: EXACTLY. WE HAVE DONE THESE BEFORE WHERE ZUCKERBERG GOES UP AND ANSWERS QUESTIONS. THIS IS MORE OF A PRODUCTION,
RIGHT? A PRESENTATION. GIVING A SENSE OF WHERE THE COMPANY IS HEADED AND WHAT THE MISSION IS. WE HAVE SEEN THOSE PRINCIPLES KIND OF EVOLVE OVER TIME AND THIS IS JUST A REFLECTION OF A COMPANY THAT IS, YOU KNOW, MATURING SOME BUT TO YOUR POINT LEARNING THAT SOME THINGS CAN COME BACK TO BITE YOU AND AS THEY SET OFF ON THIS NEW VISION, THEY DON'T WANT TO HAVE ANY OF THOSE SIMILAR ISSUES THEY FELT WITH FACEBOOK COME BACK TO BITE THEM AND THEY ARE JUST TRYING TO GET AHEAD OF THAT I THINK WITH THE FORMAL JARGON LANGUAGE FOR THE COMPANY. EMILY: DO YOU SEE A SEA CHANGE IN THE HIERARCHY OF ONE OF THE BIGGEST COMPANIES IN THE WORLD? FACEBOOK HAS BEEN UP THERE FOR SO LONG AND I REALIZE THAT THIS IS SORT OF SYMBOLIC, 10 OR 11, BUT WHAT DOES IT DO FOR EMPLOYEE RECRUITING? OR MORALE? KURT: I DON'T THINK IT HELPS, RIGHT? THESE ARE EMPLOYEES WHO HAVE BEEN TREATED TO A PRETTY GOOD RUN OF SUCCESS AT DATA. DESPITE ALL THE ISSUES THEY HAVE DEALT WITH OVER THE YEARS, THEY HAVE NEVER REALLY HAD A MAJOR CRISIS LIKE THIS FROM A BUSINESS STANDPOINT.
SO, I WOULD SAY IT GOES ALL THE WAY BACK TO PROBABLY THE SHIFT TO MOBILE THAT THEY LIKE TO TALK ABOUT ALMOST A DECADE AGO, WHEN WE WERE REALLY ASKING THESE TYPES OF QUESTIONS AND THOSE EMPLOYEES THERE TODAY WERE NOT THERE IN 2012 WHEN IT WAS HAPPENING. I THINK IT IS AN ISSUE AND I THINK IT IS THE KIND OF THING WHERE IF YOU ARE DEBATING BETWEEN MULTIPLE JOBS, ONE THAT HAS A STOCK PRICE THAT SEEMS TO BE DOING WELL AND ANOTHER THAT DOESN'T AND THAT IS A BIG PORTION OF YOUR PAY, THAT MIGHT BE A FACTOR HERE. I DON'T THINK IT CAN BE OVERLOOKED. EMILY: ALL RIGHT, KURT WAGNER, THANK YOU AS ALWAYS FOR YOUR COVERAGE. WELL, NISSAN WILL BE BUILDING
TWO BATTERY-OPERATED VEHICLES IN MISSISSIPPI, MARKING THEIR BIGGEST PUSH YET INTO THE GROWING FIELD OF EV. THERE SEE -- THERE CLO SPOKE WITH BLOOMBERG TELEVISION AFTER THE ANNOUNCEMENT. ASHWANI: THESE ARE ONE OF THE SEVERAL INVESTMENTS WE WILL BE DOING IN THE UNITED DATES. A NATURAL SHIFT TOWARDS ELECTRIFICATION.
>> MISSISSIPPI, THE OTHER BIG ANNOUNCEMENT IS THAT BATTERY PACKS HERE. WHAT ARE THE SUPPLIERS? WHAT'S THE HEALTH OF THE SUPPLY CHAIN? >> THE LAST 10 YEARS HAVE ALL BEEN ABOUT THE EMPOWERED AND WE WANT TO INTEGRATE THIS TECHNOLOGY AND IT IS WHY WE DECIDED TO LOCALIZE THE BATTERY IN THE UNITED STATES. HOWEVER, TODAY IT IS TOO EARLY TO TALK ABOUT THE LOCATION AND THE TIMING OF THE LOCALIZATION. BUT WE ARE DEFINITELY GOING TO
DO THE BATTERY SYSTEM. ROMAIN: I'M CURIOUS ABOUT THE TIMETABLE FOR THE PRODUCTION OF THESE VEHICLES. ACCORDING TO THE RELEASE, 2025 IS MAYBE WE -- WHEN WE CAN START TO SEE THESE THINGS ROLL OFF THE ASSEMBLY LINE. WHY DO YOU NEED SO MUCH TIME FOR PRODUCTION? ASHWANI: AS YOU CAN SEE, I'M SITTING IN A GREAT PLANT HERE IN MISSISSIPPI. OVER 40% MARKET SHARE. DEFINITELY, WHEN THIS PLANT NEEDS TO BE TRANSFORMED INTO THE ELECTRIFICATION PLANT, THIS IS NOT ONLY GOING TO BE IN ELECTRIFICATION PLANT BUT A PLANT WHICH IS HAVING ALL ADVANCED TECHNOLOGIES RIGHT FROM BATTERY ELECTRIFICATION TO AUTONOMOUS DRIVING FEATURES TO CONNECTED. IN ADDITION WE HAVE TO PREPARE THE WORKFORCE AND THAT IS WHERE WE ARE GOING TO UPSCALE THE WORK FORCE IN THE COMING YEARS.
>> WHY MISSISSIPPI AND WHAT ECONOMIC INCENTIVES WERE YOU GIVEN TO BUILD THERE? ASHWANI: WE HAVE BUILT ALL OVER THE WORLD AND WE BELIEVE THE STRONG COLLABORATION WITH THE GOVERNMENT IS A KEY SUCCESS FACTOR AND UNDER THE PROGRAM TO EXHILARATE MISSISSIPPI WE HAVE ENGAGED OURSELVES TO DO THE TRANSFORMATION AND UPSCALING OF OUR WORKFORCE THERE. WHEN IT COMES TO QUALITY, COSTS, OUR CONFIDENCE IN THE WORKFORCE, THAT IS WHY WE SELECTED THIS PLANT TO START WITH. ONCE AGAIN THIS IS ONE OF THE SEVERAL INVESTMENTS WE WILL DO IN THE UNITED STATES. >> LET'S TALK ABOUT THE BIGGER PICTURE. $500 MILLION HERE IN MISSISSIPPI. HOW ARE YOU GOING TO PAY FOR
THAT? ASHWANI: FIRST OF ALL, THE $80 MILLION IS ONLY FOR THE NEXT FIVE YEARS. OUT OF WHICH IT'S AN INVESTMENT OF $500 MILLION. AS WE ALREADY ANNOUNCED, WE ARE GENERATING OUR OWN RESOURCES AS WE ANNOUNCE OUR ANNOUNCEMENTS WHERE WE HAVE ENOUGH NET CASH TO MOVE FORWARD WITH THE INVESTMENTS. ONCE AGAIN, THIS IS NOT THE INITIAL INVESTMENT, IT'S A COMBINATION OF INITIAL INVESTMENT BUT MOST IMPORTANT, RELOCATION OF RESOURCES TO ELECTRIC. EMILY: ASHWANI GUPTA, THEIR WITH OUR OWN TAYLOR RIGGS.
NEW REPORTS ABOUT TESLA'S SUDDENLY -- TESLAS SUDDENLY BREAKING AT -- BRAKING AT HIGH SPEED. NO CRASHES HAVE BEEN REPORTED, NO COMMENTS YET FROM TESLA. COMING UP, SURPRISING REPORT FROM WALMART. WE WILL TELL YOU WHY, COMING UP NEXT. THIS IS BLOOMBERG. EMILY: A STORY THAT WE CONTINUE TO WATCH, AMAZON SELLING DISPUTE ON PAYMENT WITH VISA, THEY HAD BEEN CONSIDERING A BAN ON U.K. ISSUED VISA CARDS BUT WILL NOW
ACCEPT THEM ACROSS THE GLOBAL NETWORK AND NO LONGER CHARGE AN EXTRA FEE TO CUSTOMERS IN SINGAPORE AND AUSTRALIA WHO USE VISA CARDS. SURPRISES TODAY FROM WALMART, POSTING BETTER THAN EXPECTED QUARTERLY PROFITS AND UP SALES FORECAST FOR THE CURRENT FISCAL YEAR. BRENDAN CASE JOINS US NOW WITH MORE. WHAT DOES THIS TELL US ABOUT INFLATION AND CONSUMER SENTIMENT? >> THE BIG MESSAGE COMING OUT OF WALMART TODAY IS THAT U.S. CONSUMERS ARE HANGING IN THERE. NO? COPING WITH HIGHER COSTS. NO DOUBT THAT COMPARABLE SALES
THIS YEAR ARE GOING TO SLOW DOWN TO WHERE THEY WERE IN THE PANDEMIC. THAT SAID, WALMART SEES A PRETTY HEALTHY CONSUMER AND THEY ARE CERTAINLY NOT NOTICING ANY SIGNS OF TUMORS ACTUALLY SLASHING THEIR BUDGETS -- OF CONSUMERS SLASHING THEIR BUDGETS. THEY HAVE CUT DOWN ON SOME GOODS WITH STRONG SALES ON APPAREL, MEANING THAT PEOPLE ARE PROBABLY PICKING UP CLOTHES ALONG WITH GROCERIES, BUT ALL IN ALL THEY HAVE GOT A PRETTY UP VIEW THIS YEAR. HIS WALMART WORRIED -- EMILY: HIS WALMART WORRIED ABOUT INFLATION COSTS GOING UP? BRENDAN: THEY ARE CLEARLY VERY WORRIED. THEY MUST BE HAVING A LOT OF DISCUSSIONS ABOUT KEEPING PRICES DOWN, HOW MUCH THEY ARE GOING TO PAY. THEY ALSO STILL HAVE A SUPPLY CHAIN ISSUE THAT WILL PRESSURE THEIR COSTS AND IN TERMS OF PRICING, THEY HAVE ASKED THROUGH SOME PRICE INCREASES TO CUSTOMERS. IT'S NOT AS THOUGH THEY ARE
BEHOLDING PRICES STEADY. WHAT THEY NEED TO DO IS STRIKE A BALANCE THAT DRAWS PEOPLE INTO THE STORES AND KEEPS THE WHOLE IDEA OF LOW PRICES IN THE MINDS OF CONSUMERS. WITHOUT DAMAGING MARGINS TO BADLY. EMILY: HOW IS WALMART DOING VERSUS AMAZON? BRENDAN: THE WORD AMAZON DIDN'T COME UP ON THE CALL, WHICH IS FUNNY, BECAUSE EVERYTHING THEY DO, THEY WORRY ABOUT WHAT AMAZON IS DOING. ONE, THEY TALK ABOUT THEIR ADVERTISING BUSINESS. A FRACTION OF WHAT AMAZON IS MAKING DIGITAL ADVERTISING, BUT THE FACT THAT THEY WERE TALKING ABOUT IT AT ALL KIND OF SUGGEST THEY ARE PRETTY CONFIDENT THAT BUSINESS GROWING.
YOU KNOW, THE OTHER, THE OTHER ITEM THEY TALKED ABOUT WAS WALMART PLUS, THERE'S SUBSCRIPTION OFFERING. SORT OF A RESPONSE, HOWEVER INCOMPLETE, TO AMAZON PRIME. THE CEO OF WALMART SAID THAT HE WASN'T READY TO TALK ABOUT HOW MANY SUBSCRIBERS THEY HAVE GOT SO FAR BUT HE HINTED THAT HE MIGHT THAT EVENTUALLY AND I THINK THAT THEY ARE PROBABLY LOOKING TO BOOST THE NUMBERS A BIT. SURE UP THAT PART OF THE BUSINESS AND GET THEM SPENDING A LITTLE MORE AND WE MIGHT LEARN MORE ABOUT IT EIGHT OR THIS YEAR. EMILY: BRENDAN, THANK YOU FOR THAT UPDATE.
COMING UP, GOING FURTHER, EVEN FURTHER INTO SPACE. THE PROMISE FOR THE NEW SPACEX MISSION THAT PROMISES TO SEND MORE HUMANS INTO SPACE AND ANY OTHER MISSION IN 50 YEARS. WE WILL TALK MORE ABOUT THAT, NEXT, WITH JERRICA ISAACSON, EMILY: WELCOME BACK.
I WANT TO GET A QUICK UPDATE ON THE MARKETS. >> THE STOCKS DROPPED TO .2% OF THE S&P 500. THE SEMICONDUCTOR SPACE DROPPED ALMOST CLOSE TO 4%.
SOMEWHERE ELSE WE ARE GETTING A LOT OF THIS FROM IS THE CHIP SPACE. THE INDEX RELATIVE TO OTHER PARTS OF THE TECH UNIVERSE. IT HAS BEEN OUTPERFORMING FOR A SOLID YEAR. THE IDEA THAT AS INVESTORS SEE THAT SUPPLY CHAIN ISSUES, THE WAY TO HEDGE IT IS TO INVEST IN THE SPOTS THAT ARE IN DEMAND. CHIPS ARE ONE OF THOSE PLACES. I WANT TO SHOW YOU, THIS IS THE DYNAMIC YOU ARE SEEING IN THE ETF SPACE. A LOT MORE GREEN ON THE SCREEN
THAN RED. THE STOCKS INDEX OR ETF THAT TRACKS THE STOCKS THE PHILADELPHIA SEMICONDUCTOR INDEX. YOU CAN SEE HOW INVESTORS ARE JOINED TO GET THAT EXPOSURE EVEN THOUGH YOU HAVE DAYS LIKE TODAY WHERE A LOT OF THE SELLING PRESSURE IS CONCENTRATED IN TECHNOLOGY. SEMICONDUCTORS REMAIN A SAFE
HAVEN IN THE TECH UNIVERSE SIMPLY BECAUSE OF A DEMAND THAT REMAINS ON QUENCHED. THAT IS UNTIL TODAY. WE TALK ABOUT WHEN FUNDAMENTALS ARE GOING TO START A MATTER. AFTER THE BELL NVIDIA REPORTED EARNINGS AS WELL AS APPLIED MATERIALS. THE QUESTION IS IF YOU START TO
SEE THESE CAN -- COMPANIES GROW AND DO BETTER, DOES THE STOCK PRICE REFLECT THAT? THAT'S WHAT WE WE WATCHING IN THE MONTH AHEAD. EMILY: JARED ISAACMAN HAS PURCHASED THREE MORE FLIGHTS FROM ELON MUSK SPACEX. ONE OF THEM WILL GO FURTHER THAN ANY SPACEFLIGHT HAS IN 50 YEARS.
THE FIRST ONE IS SCHEDULED FOR THIS YEAR FEATURING THE FIRST PRIVATE CITIZEN SPACE WALK WITH A CREW OF FOUR PEOPLE. JARED ISAACMAN HIMSELF IS JOINING ME NOW. DO YOU PERSONALLY PLAN TO FLY ON ALL THREE OF THESE FLIGHTS? >> I HOPE SO. WE HAVE TO START WITH THE FIRST ONE. WE HAVE IMPORTANT OBJECTIVES WE ARE LOOKING TO ACCOMPLISH. THEN MOVE ONTO THE NEXT ONE.
>> WENDED THE DISCUSSIONS ABOUT POLARIS AGAIN AND -- WHEN DID THE DISCUSSIONS ABOUT POLARIS BEGIN AND HOW DID IT EVOLVE TO THREE TOTAL QUESTION >> WHAT YOU ARE TALKING ABOUT IS A PARTNERSHIP WITH SPACEX FOR THE FIRST PRIVATE SPACE PROGRAM WHICH IS WHAT NASA WAS HOPING FOR WHEN THEY COMMISSIONED THE WHOLE COMMERCIAL SPACE INDUSTRY 10 OR 15 YEARS AGO. THE CONVERSATIONS BEGAN ABOUT SIX OR NINE MONTH AGO JUST PRIOR TO THE LAUNCH OF INSPIRATION FOR WHICH WAS THE FIRST ALL CIVILIAN MISSION TO SPACE. HOW DO WE GET FROM WHERE WE ARE TODAY TO A VEHICLE LIKE SPACE -- STARSHIP THAT WILL TAKE PEOPLE TO THE MOON. THESE MISSIONS WILL TAKE US A PRINT TO SPACE THAN WE HAVE GONE BEFORE, TEST OUT NEW TECHNOLOGY THAT WILL ULTIMATELY DE-RISK STARSHIP WHICH IS LIKE OUR GENERATION'S VERSION OF THE SATURN FIVE ROCKET TO TAKE US TO THE MOON AND IDEALLY TO MARS.
EMILY: YOU ARE TALKING ABOUT GOING FURTHER INTO SPACE THAN EVER BEFORE. MOST OF US, TO US THAT SOUNDS TERRIFYING. HOW MUCH ADDITIONAL RISK IS INVOLVED WHEN YOU GO OUT FARTHER INTO SPACE AND HOW DO YOU MANAGE THAT? >> CERTAINLY, THERE ARE ELEVATED LEVELS OF RISK WHEN YOU DO THINGS THAT HAVEN'T BEEN DONE BEFORE OR HAVEN'T BEEN DONE IN 50 OR 60 YEARS ON A NEW VEHICLE. YOU'RE ALSO TALKING ABOUT SOME OF THE MOST TALENTED ENGINEERS OF OUR TIME. WHEN YOU THINK ABOUT THE TEAM
AT SPACEX WHO WAS ALSO DRAWING ON 50 OR 60 YEARS OF NASA EXPERIENCE, THEY ARE THE ONES LANDING ROCKETS ON SHIPS IN THE OCEAN. THEY HAVE DONE IT A HUNDRED TIMES AND NO ONE ELSE HAS DONE IT ONCE. THEY ARE BRINGING SCIENCE FICTION TO REALITY.
THIS PARTNERSHIP IS BRINGING ALL OF THE TALENTED MINDS TO BEAR. THAT'S HOW WE WILL GET COMFORTABLE AND ABLE TO EXECUTE ON THESE AMBITIOUS OBJECTIVES IN A SAFE WAY. >> WHAT'S THE TIMELINE? WHEN WILL YOU BE FLYING ON STARSHIP? TWO YEARS? FIVE YEARS? >> IT IS HARD TO SAY. ELONG GAVE HIS UPDATE LAST WEEK. THE BOOSTER IS HUGE. IT WILL LAUNCH ITS FIRST ORBITAL TEST FLIGHT WITHOUT A CREW THIS YEAR. MY GUESS IS WE'RE GOING TO MAKE
A LOT OF PROGRESS WHICH WILL INFORM OUR NEXT MISSION IN 2023 AND IDEALLY BY THE TIME YOU GET TO 2024, WE ARE IN A GOOD PLACE WITH STARSHIP. WE WILL LEARN A LOT WITH THE POLARIS PROGRAM >> HOW MUCH ARE YOU TALKING TO ELON MUSK ABOUT PLANS AND BUILDING THE FUTURE OUT THERE? >> ELON MUSK WAS DEFINITELY INVOLVED IN THE POLARIS PROJECT. WE DISCUSSED OBJECTIVES WE THOUGHT WOULD BE IMPORTANT TO ULTIMATELY ARRIVE AT THE POINT WHERE STARSHIP IS READY FOR A MAN FLIGHT. WE SHOULD GO FURTHER AND DEEPER THAN WE HAVE EVER GONE BEFORE.
HE USE THAT TO INFORM COUNTERMEASURES LIKE WE WILL BE WEARING RADIATION BEST. WILL HAVE A NUMBER OF CENTERS AND EXPERIENCE. THERE'S A LOT TO LEARN IN THAT PROTOCOL AND SUE DEVELOPMENT. WE HAVE TO COMMUNICATE OVER THE SPEED OF LIGHT WITH STARLING. EVEN WITH THE FASTEST
CAPABILITIES TODAY, A 15 TO 20 MINUTE TRANSMISSION EACH WAY TO AN FROM MARS. IMAGINE WHAT WE WILL LEARN FROM THE FIRST MISSION TO INFORM THE SECOND MISSION THEN FLYING STARSHIP AT THE CONCLUSION OF THE PROGRAM. >> YOU ARE A TRUE BUSINESSMAN. GIVE US AN IDEA OF HOW MUCH THE TOTAL PROGRAM WILL COST AND WHAT IS THE COST OF THE TICKET? >> THESE ARE ALL DEVELOP METAL TECHNICIANS. THESE AREN'T OPEN FOR COMMERCIAL SALE.
THIS IS WHAT THE PLAYERS PROGRAM AND SPACEX ARE DOING TO ULTIMATELY ARRIVE AT STARSHIP WHICH AT SOME POINT COULD BEAT THE 737 THAT OPENS UP COMMERCIAL SPACEFLIGHT FOR EVERYONE. YOU COULD HAVE UP TO 100 PEOPLE SITTING ON STARSHIP. THE IDEA IS IF WE GET THIS RIGHT, IT OPENS UP SPACE FOR EVERYONE WHICH IS A BIG PART OF THE SPACEX VISION. IN TERMS OF COST, WE NEVER
DISCLOSE THAT. IT IS A PRIVATELY FUNDED SPACE PROGRAM. WHAT I THINK PRIVATE INDUSTRY CAN ACCOMPLISH, HOW WE CAN USE CAPITAL TO MAKE PROGRESS IS BETTER THAN HOW THE GOVERNMENT CAN DO IT WHERE WE CAN SHEAVE GREAT THINGS QUICKER. YOU AREN'T JUST SEEING IT IN THE SPACE INDUSTRY, BUT OBVIOUSLY FOR OTHER ENDEAVORS. >> WE WILL BE FOLLOWING YOU EVERY STEP OF THE WAY.
THANK YOU AS ALWAYS FOR JOINING US. COMING UP, CRYPTO SCAMS. AS CRYPTO AND DIGITAL ASSETS GAIN IN POPULARITY, SO DO ILLICIT TRANSACTIONS. THIS IS BLOOMBERG. ♪ EMILY: TIME FOR OUR CRYPTO REPORT. THE JUSTICE DEPARTMENT JUST NAMED A VETERAN PROSECUTOR TO LEAD A NEW TEAM IN CRACK ON CRYPTO CYBERCRIMES. THE DOJ NATIONAL CRYPTOCURRENCY ENFORCEMENT TEAM WILL WORK CLOSELY WITH A BRAND-NEW CRYPTO TEAM.
JOINING ME NOW IS SONALI BASAK. WHAT DO WE KNOW ABOUT THIS NEW CRYPTO CYBER CZAR? >> SHE HAS BEEN WITH THE DEPARTMENT OF JUSTICE FOR ALMOST 10 YEARS. SPENDING THE VAST MAJORITY OF TIME LOOKING INTO CYBERCRIMES, MONEY LAUNDERING, DARK WEB ISSUES. NO SURPRISE THAT SHE GOT THIS LEADERSHIP ROLE WHICH IS A POINT PERSON AMONG ALL THE DIFFERENT AGENCIES. CRYPTO TOUCHES SO MANY DIFFERENT ASPECTS, NEW LAWS THAT WE NORMALLY HAVE. YOU HAVE AN SEC POINT PERSON FOR CRYPTO.
THE IRS HAS A POINT PERSON. IT'S GETTING EVERYONE ON THE SAME PAGE IN POLICING AND LOOKING AT ALL OF THE KINDS OF ILLICIT ACTIVITY. EMILY: DOES THIS MEAN WE ARE GETTING CLOSER TO TANGIBLE CRYPTO REGULATION? >> THIS IS MORE ON THE ENFORCEMENT SIDE AND GETTING PEOPLE ON SAME PAGE AS FAR AS POLICING THE ISSUES.
AS THEY GO THROUGH THE ENFORCEMENT CASES, THEY LOOK AT THE KINDS OF REGULATIONS THAT CAN HELP THEM BETTER COMPLY WITH ANTI-MONEY-LAUNDERING RULES. KNOWING YOUR CUSTOMER, BANK SECRECY STUFF. AS THAT CONTINUES TO GROW, YOU GET A BIT MORE CASE LAW ON THE KINDS OF THINGS THE GOVERNMENT IS INTERESTED IN.
>> HOW BIG AND GROWING IS THE THREAT OF CRYPTO CYBER CRIME? >> IT'S INTERESTING BECAUSE AS YOU SAW, CRYPTOCURRENCY OPTION INCREASED SO MUCH LAST YEAR. ANALYSIS IS SHOWING THAT ILLICIT ADDRESSES TOOK IN ABOUT $14 BILLION OVER THE COURSE OF LAST YEAR WITH THAT NUMBER LIKELY TO GROW AS THEY GET MORE INFORMATION. THE OVERWHELMING AMOUNT OF THIS IS IN D5. A LOT OF RUG PULLS OVER HERE WERE INVESTORS, DEVELOPERS SET UP A PROJECT, TAKE THE MONEY AND RUN. WHAT THEY ARE SAYING IS INVESTORS HAVE TO BE REALLY CAREFUL ABOUT VERIFICATION GETTING INTO DEFI PROJECT.
THIS IS STILL VERY MUCH A PRODUCT OF THE MARKET GROWTH OF THE LAST YEAR. EMILY: HOW DOES THE RISE IN ILLICIT TRANSACTION COMPARED TO LEGITIMATE TRANSACTION? >> ITS PROPORTIONS. IF YOU LOOK AT HOW MUCH WAS ILLICIT ACTIVITY, IT WAS MORE THAN -- LESS THAN 1%.
THERE'S A CHART THAT SHOWS YOU IT WAS .15% CREDIT IT'S THE PERCENTAGE OF TOTAL VOLUME YOU SAW. THAT WAS LESS THAN WHAT YOU SAW A YEAR BEFORE THAT AND LESS THAN 2019 BY A LARGE MARGIN. 14 BILLION IN TOTAL VOLUME IS
ALMOST DOUBLING FROM A YEAR BEFORE THAT AND THAT THIS MASSIVE INCREASE IN TOTAL VOLUMES IS SOMETHING TO BE WORRIED ABOUT AS REGULATORS ARE LOOKING AT THAT AND A STARTING TO CRACK DOWN. >> LOOKING AT THIS REPORT, CERTAIN TIME ZONES INCLUDING RUSSIAN CITIES ARE THE PLACES WHERE THEY SUSPECT THE BIGGEST CRIMINAL WILL. HOW WILL CRYPTO GLITTERS CRACKDOWN ON FOLKS ABROAD? >> THAT IS THE BIG PROBLEM AND IT HAS BEEN FOR CRYPTO. IT'S NOT LIKE A BANK ACCOUNT THE YOU CAN GET A COURT TO GET AN ASSET FREEZE. IT IS THIS BORDERLESS DIGITAL
CURRENCY THIS LAUSCH IS AROUND TO THESE UNREGISTERED EXCHANGES. THE U.S. IS GOING TO LOOK AT WHERE TO THOSE EXCHANGES TOUCH THE U.S. FINANCIAL SYSTEM. WHATEVER BANK IS BEING USED, THEY ARE GOING TO BE UNDER THE UMBRELLA OF U.S. REGULATIONS. AGAIN, THAT IS PART OF THE
REASON WHY THEY HAVE THIS NEW POINT PERSON TO COORDINATE WITH ALL OF THE DIFFERENT FEDERAL AGENCIES LOOKING INTO THIS. EMILY: FASCINATING. THANK YOU BOTH FOR CONTINUING TO FOLLOW THIS. COMING UP, WE WILL TALK ABOUT THE RED-HOT HOUSING MARKET. THIS IS BLOOMBERG. ♪
EMILY: A SHAREHOLDER ADVISORY FIRM IS URGING APPLE INVESTORS TO VOTE AGAINST TIM COOK'S PAY PACKAGE. HALF OF HIS AWARD IS TIME-BASED AND DOESN'T DEPEND ON CRITERIA LIKE APPLE SHARE PRICE. APPLE'S TOTAL SHAREHOLDER RETURN SINCE 2011 IS MORE THAN 1000%. MORTGAGE RATES IN THE U.S. ARE GETTING CLOSER TO 4%.
THE AVERAGE FOR 30 YEAR LOAN, 3.92%. THE HIGHEST SINCE MAY 2019. THIS HAS UNLEASHED MASSIVE BIDDING WARS AND BUYERS STRUGGLING TO FIND HOMES FOR SALE. DO YOU THINK RISING RATES ARE GOING TO IMPACT DEMAND? >> THEY WILL. BUT NOT ENOUGH. WE ARE SO INVENTORY CONSTRAINED RIGHT NOW, 53% OF HOMES IN JANUARY SOLD IN TWO WEEKS. THOUGHT IT WAS CRAZY LAST
JANUARY AND IT WAS CLOSER TO 50%. USUALLY, IT IS IN THE 40'S. IT HAS JUST GONE TO A NEW LEVEL. ALMOST NO ONE IS PUTTING A HOME ON THE MARKET. ALMOST ONE THIRD OF INVENTORIES
COMING FROM BUILDERS BECAUSE HOMING -- HOMEOWNERS STANDING PAT. EMILY: 4%? IS THERE SOMETHING ABOUT THAT PSYCHOLOGICAL BARRIER THAT MAKES IT FEEL TO HIGH? >> I WORRY ABOUT IT. AFFORDABILITY HAS COME UNDER PRESSURE BECAUSE YOU HAVE THE HOME PRICE INCREASE COUPLED WITH THE MORTGAGE INCREASED. EFFECTIVELY CONSUMERS ARE PAYING 30% MORE FOR A HOME THAN ONE YEAR AGO. SO MANY OF US ARE MOVING FROM CALIFORNIA TO OHIO. THE OHIO HOME IS GOING TO LOOK CHEAP NO MATTER HOW MUCH INTEREST RATES GO UP. SECOND AND THIRD HOME PRICES
ARE OFF THE HOOK. THE OVERALL ECONOMY, PEOPLE AREN'T JUST USING THEIR SALARY TO BUY A PLACE. THEY'RE USING THE STOCK MARKET, EQUITY AND TECH COMPANIES OR INVESTMENTS TO FIND THE DOWN PAYMENT. AS THE STOCK MARKET GET SHAKY, YOU MAY SEE SOME CONSUMERS STEP BACK. EMILY: ARE FIRST-TIME BUYERS GOING TO BE PERSONALLY FROZEN OUT OF THIS MARKET? >> PERMANENTLY IS A STRONG WORK. PEOPLE WILL FIND A HOME EVENTUALLY. RIGHT NOW, THEY HAVE BEEN
LOOKING FOR SO LONG THAT IT SEEMS LIKE THERE UNDETERRED BY THE RATE INCREASE. THEY ARE DETERMINED TO GET A HOUSE AND THEY ARE TIRED OF BEING OUTBID. I KNOW MANY FIRST-TIME HOMEBUYERS ARE FRUSTRATED. THEY'RE HAVING TO WAIT LONGER, LOOK FURTHER OUT.
BECAUSE THIS IS SUCH A BIG, BEAUTIFUL COUNTRY AND YOU CAN ZOOM INTO YOUR JOB, PEOPLE FIND A HOME NOT FIVE MINUTES OUTSIDE OF DOWNTOWN OR EVEN 30 MINUTES, BUT 90 MINUTES. THERE IS ROOM ENOUGH FOR ALL OF US, SO EVENTUALLY WE WILL ALL GET A HOME. BUILDERS ARE COMING TO THE RESCUE. THERE IS SO MUCH COMING SOON
AND THAT'S WHAT THE MARKET NEEDS. EMILY: I HAVE TO ASK YOU ABOUT STOCK PRICE DOWN 15%. WHY AREN'T THESE BIDDING WARS TRANSLATING TO -- >> WE WERE TRADING MUCH HIGHER A FEW YEARS AGO OR A YEAR AGO BECAUSE THE HOUSING MARKET WAS EVEN CRAZIER THAN IT IS NOW. PEOPLE ARE WORRIED THAT RISING RATES ARE GOING TO AFFECT ALL REAL ESTATE STOCKS. SOMETIMES, I FEEL LIKE I AM THIS LOAF OF BREAD AND IT'S JUST AS TASTY AS IT WAS BEFORE EVEN IF THE LOAF IS LESS EXPENSIVE. IT STILL THE SAME BREAD. THAT FEELS LIKE CRAZY ANALOGY.
I'M NOT A LOAF OF BREAD. THE COMPANY IS DELIVERING A GREAT SERVICE, IT IS TAKING MARKET SHARE, IT IS IMPROVING GROSS MARGINS ACROSS ALL OF THE PRODUCT LINES. ALL WE CAN DO IS MAKE OUR CUSTOMERS INSANELY HAPPY. STOCK PRICE EVENTUALLY FOLLOW THAT EVEN THOUGH THE WHOLE SECTOR IS DOWN RIGHT NOW. >> TALK TO US ABOUT THE RECIPE. HOW WILL YOU CONVINCE INVESTORS THAT ARGUMENT? SAME BREAD.
>> I'M NOT EVEN TRYING TO CONVINCE INVESTORS ABOUT THAT. OF COURSE, I CARE. I WANT EVERYONE WHO BUYS OUR STOCK TO MAKE MONEY AND I APPRECIATE YOUR SUPPORT. THE PEOPLE I AM REALLY FOCUSED ON OUR OUR CUSTOMERS. WE WANT TO GROW REVENUES AND DRIVE PROFITS AND THE STOCK MARKET WILL TAKE CARE OF ITSELF. IF YOU SPEND ALL OF YOUR TIME
AND INVESTOR CONFERENCES TRY TO MARKET TO THOSE FOLKS, WHAT YOU SHOULD BE DOING IS SELLING HOUSES AND MAKING CUSTOMERS HAPPY AND MAKING MONEY. OUR PLAN IS TO TAKE SHARE, TO GET OPERATING LEVERAGE, TO DRIVE MORE PROFIT TO THE BOTTOM LINE AND TO BUILD A FANTASTIC COMPANY. MAYBE THE DEEPEST THING I HAVE TO SAY ABOUT THIS, I KNOW YOU SHOULD NEVER THINK ON TV, BUT THAT IS WHAT IS HAPPENING NOW. THERE IS THIS IDEA OF A SEXY COMPANY THAT MOST PEOPLE HAVE AND WHAT REDFIN IS SOMETHING DIFFERENT. WE ARE JUST GOOD COMPANY. WE ARE GOOD TO OUR CUSTOMERS. WE ARE GOOD TO OUR EMPLOYEES. WE RUN THE COMPANY WITH GREAT
FINANCIAL DISCIPLINE. I THINK THAT IS EVENTUALLY SOMETHING THE MARKET WILL REWARD. EMILY: I HAVE TO ASK YOU A METAVERSE QUESTION BECAUSE WE ARE SEEING PEOPLE BUYING VIRTUAL REAL ESTATE. SPENDING MONEY ON VIRTUAL REAL ESTATE. WHAT YOU MAKE OF THE TREND? >> IT'S A TOTAL CROCK. WHEN MY KIDS ARE ONLINE, I TELL
THEM IT DOESN'T ACTUALLY MAKE YOU HAPPY. PUT THE MAC DOWN AND GO OUTSIDE AND THROW A BALL WITH YOUR FRIENDS. I WOULD TELL EVERY ADULT THAT. IF YOU ARE BUYING VIRTUAL PROPERTY, OH MY GOD. GO FOR A WALK WITH YOUR DOG.
>> WHAT DO YOU HAVE TO SAY TO MARK ZUCKERBERG WHO JUST PIVOTED HIS WHOLE BUSINESS ON THIS VISION OF THE FUTURE CUSTOMER? >> I DON'T HAVE TO COMPETE AGAINST TIKTOK SO I DON'T HAVE TO CONTEND THAT THE METAVERSE IS THE NEXT COMING OF JESUS CHRIST. MARK ZUCKERBERG IS THIS LEGENDARY ENTREPRENEUR. MAYBE YOU SHOULD LISTEN TO HIM INSTEAD OF ME, BUT IT DOESN'T ADD UP TO ME. EMILY: WHERE DO YOU THINK THE DEMAND IS GOING TO GO? WHAT IS GOING TO STAY HOT? WHAT IS GOING TO COOL DOWN WHEN YOU LOOK AT CITIES VERSUS SUBURBS ESPECIALLY AS COMPANIES ARE CALLING PEOPLE BACK TO THE OFFICE? >> I DON'T THINK THAT TREND IS REVERSING. I DO BELIEVE THAT SUBURBS ARE THE FUTURE. AMERICA IS DIVERSIFYING IN THE SUBURBS.
PEOPLE WANT THAT SPACE AND THEY DON'T SEEM WILLING TO GO BACK. ONCE YOU GET A YARD AND A THREE CAR GARAGE, YOU ARE NEVER GOING TO MOVE INTO A CONDO AGAIN. EMILY: MICROSOFT JUST GAVE EMPLOYEES A DATE, THEY ARE IN YOUR BACKYARD.
FEBRUARY 28. MICAH SOFT CALLING FOLKS BACK TO THE OFFICE. -- MICROSOFT IS CALLING PEOPLE BACK TO THE OFFICE. >> WE NEED TO DO SOMETHING TO GET PEOPLE GATHERED AROUND THE WATER COOLER, BUT WE WILL HAVE TO FIGURE IT OUT TOGETHER WITH OUR EMPLOYEES. I'M NOT GOING TO ISSUE A
MANDATE. WE ARE ALL GOING CRAZY FROM DOING ZOOM, BUT IT'S HARD TO PUT THE GENIE BACK IN THE BOTTLE AND TELL PEOPLE YOU HAVE TO CLOCK IN FROM 95 AND WERE GOING TO BE TAKING ATTENDANCE. MAYBE WE WILL GET A TACO TRUCK AND A COFFEE CART AND TRY TO GET PEOPLE TO PARTY AT OUR OFFICES ONE OR TWO DAYS A WEEK. WE MAINLY JUST NEED TO PUT OUR NOSE TO THE GRINDSTONE, WORK OUR TAIL OFF AND TAKE SHARE.
THAT CAN HAPPEN ANYWHERE. EMILY: WE ALWAYS LOVE HAVING YOU GESTICULATING AND ALL. THANK YOU FOR JOINING US. THAT WAS REDFIN CEO ON ZOOM. THAT DOES IT FOR THIS EDITION
OF "BLOOMBERG TECHNOLOGY." TOMORROW OUR GUEST TALK ABOUT HER NEW BOOK THE GENESIS MACHINE.
2022-02-19 19:58
Show Video
Other news