2019 Toyota RAV4: FULL REVIEW + DRIVE | Toyota Has a Winner on Their Hands!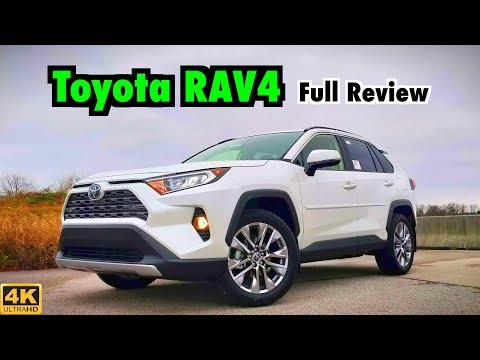 Show Video
Good. Morning YouTube. It's. Hard to overstate the, significance of. The rav4 to Toyota since. It has not only passed up the Camry sales-wise but. It has become the best-selling, vehicle in the US outside, of the three American, pickup trucks but. Toyota thinks, they can do even better now that they are introducing, the all-new and, very, competitive, 2019. Rav4, of. Course, we do want to give a special thanks, and shout out to our friends at Toyota, on nicholasville, for providing us with this fully loaded rav4. Limited, and if. You're in the market for any new Toyota be sure to stop by their dealership, or visit, them on their website which we provided a link to in the video description, so with, all that said let's go ahead and see if the all new rav4 will, gain even more ground over its rivals. So. Starting out with the exterior, design this. Is such a big shift from the outgoing, rav4, where. That model is kind of soft and rounded, this, 2019, introduces. A muscular, and aggressive, stains the. Grill itself is basically, three different layers and while. The center parts texture, stays the same across the trims the limited does use a special, metallic gray finish instead, of the plain black on the other trims. Additionally. Limited, adds the silver accent, on the bumper. Now. Turning our attention to the headlights, the rav4 joins, several other Toyotas and giving you standard, full LED headlights. Both. The low and high beams, are LED and the only thing that changes between the trims is a black bezel on the le and. Then. Finally there are fog lights on all but the base model. Moving. To the side it continues, its rugged look with, squared off wheel arches trimmed, in black and it. Looks more imposing because, it actually rides significantly, higher with, eight point six inches of ground clearance, instead of the old six point one. Around. Back there is more black trim on the bumper but our limited, adds in some luxury, touches like, the grey piece above the dual exhaust and the, chrome that connects the taillights as. Far. As the taillights themselves, they remind me strongly of Lexus since they have a 3d, look with black accents, and. While we're back here the tow rating remains, at 1500. Pounds that, is until the adventure trim comes out with a rating of 3500, pounds. But, overall Toyota, has done an excellent, job with this exterior, it's. Got more of a macho look than most of the rivals, but, at the same time they didn't overdo, it and ruin the classiness. Now. The wheels also play an important, role in the design. These. Are the biggest ones available 19-inch. Alloys. With the super chrome finish standard, on limited, and excel, a premium. Dropping. Down a rung to xle, will get you 17-inch alloys, and then, the base le will have 17-inch steel wheels with hubcaps. Coming. Up to the mirrors they are finished in black on the le only, and all, the other terms also nicely include, heating and blind, spot monitoring.
Now. As far as all the rest of the safety systems, Toyota, continues, to be a leader here by giving you safety since 2.0, as standard. Equipment on all grades. So. Just like the last gen adaptive, cruise control Lane, Keeping Assist, Ford emergency braking with pedestrian detection, and, auto, high beam headlights are all standard. And. Since, this is version 2.0. For, 2019, you now have better pedestrian detection Lane. Tracing, Assist and road sign assist none, of the rivals give you this much stuff as standard, equipment for. The, last thing we'll take a look at the fuel tank it. Is 14, and a half gallons, so, without getting into every possible, combination the. Most efficient, front wheel drive models, can achieve 435. Miles of range and, of. Course it does use regular, unleaded fuel. What, anyways that's everything, for the brand-new exterior, so now let's see if the cabin has taken just as big of a leap forward. So. For the new rav4 you're, actually going to find the Toyota smart entry system, on all that the very base elite rim and. As you can see it does have a nice key fob with special rav4, branding. Now. You get inside the vehicle itself. All you have to do is grab behind the door handle since there is a sensor. All. Righty so looking inside, the all new rav4 limited, as you, can tell it's a really big change from the old generation. So. As far as the different color schemes and materials, you can get it's pretty simple to follow, you've. Got three colors across all the trims that's gonna be black gray. Or nutmeg, and then. On your le and xle, the, seating is going to be cloth and then. On the limited, and xle premium, you're gonna get this soft tex faux leather ette. And, then turning over here to your drawer trim it is very nice we've. Got a leather trim over every, part of it you could touch as well some stitching across the top. Surprisingly. You will find all four of your windows are one touch automatic up and down and then. Here on the limited you'll find two person memory seating. Turning. Over here to the seat these. Are 8 way power adjusting. With 2-way lumbar, and that's standard on your xle premium. And limited. Otherwise. You're going to get a six-way manual. Now. Like I was mentioning here just, a second ago this is a synthetic, leather however, it does feel very soft, and have a very attractive stitching. Design. So. The cabin of the OL new rav4 makes, a really good first impression and like. I said it is very different from the outgoing model including. In the material, quality. So. On this new rav4 all of your materials, even on the upper dash are soft touch and then. Down here you, do have a leatherette texture, with some more stitching. Dropping. Down lower the, materials, are hard touch but everything really feels solid, and well put together and. Then. To start the vehicle on all but the Le just press the button to start. When. We power up the electronics, here on the limited you're going to find this eight inch display however. The standard screen on all the other trims is a smaller, seven inch display. Now. In addition to the bigger central, display here, on the limited you're also going to find the 7-inch digital, gauges. Now. In the other models you're going to have a smaller 4.2 inch display but, on here as you can see the speedo is digitally, rendered and then, in the middle you can, customize. And reconfigure, the way this is set up and. It's got all of your different systems that you expect, including four, different. Power, settings, for all the various. Standard safety systems, that this vehicle has. Now. Moving back to the steering wheel itself is, electric power assistant, and you will find leather wrapping, on all the models with leather seating. Now. As far as your buttons this is your standard affair of Toyota buttons so, these buttons are concerning, your multifunction, display as well as your phone and audio and. Then. Over here you've got controls for your adaptive cruise control safety, systems, and more audio controls. Now. In this particular tester, we do not have rain sensing wipers, however, they are available. Via the weather package on XLE and up. The. Steering wheel itself is manually tilt and telescoping. And again. It is heated, if you choose that weather package. All. Right so moving on to what may be one of the most important, parts of a compact crossover, let's. Talk about the storage. Now. Rav4, may actually be, the best in the class, so starting out with your center console, this. Is, significantly. Larger, than last year as you can see very wide very deep and you do have a nice felt lining at the bottom.
Additionally. This is also where you'll find two of your dedicated, charging USB ports. I've. Confirmed that you've got to generously, sized cupholders, and then. Another massive. Place. To store things right here and you can also option, for a Qi wireless charging pad, to go right here and. Then. In the back you've got another, USB and aux jack and a 12-volt outlet. But. One of the things that really sets the rav4 apart, is. The fact that you've got storage here this, is your storage shelf just like last year, and it really just gives you the extra place to stick different, small items, and things, that normally you don't have a place to put. No. Toy was able to give you all of this storage while, still sticking with a traditional. Shifter, instead of an electronic, one so. Use of this is super simple all you have to do is pull back for drive then you can bump over to the left is shift manually, like, this now. On the current crop of trims there are no powell shifters, however, i would expect, that there will be once. The xse trim comes out later on in the year. When, we go into reverse you, will see a standard, backup camera up here and then, here on the limited, you will have dynamic guidelines. Additionally. Limited, has an option, to get the Advanced Technology Package, which, includes, these 360-degree. Bird's-eye, camera, and that, includes the same perimeter scan feature as it did last year. And then off to the side of the shifter you will find your electronic, parking brake which as you can see automatically. Engages when you put the vehicle into park as well as, your auto brake hold feature. Now. Backing up a little bit more you'll find a console, of buttons here that will look pretty, unfamiliar, if you have a previous generation rav4. Now. Here. On the limited I'll, talk about this a little bit later but we have the torque vectoring, all-wheel drive system so that gives us a bunch. Of different drive, modes so we got three drive modes as well as different modes for the all-wheel-drive system you've. Got mud and sand. Dirt. And rock and. Different things like that as. Well as a hill descent control and, a dedicated snow mode. I'm moving up here to the climate, controls these, are dual zone automatic and, this, comes standard on every term except the Le where they're manual, I. Really. Like this setup it's so organized, sound, you've. Got just, two big, giant, controls for your temperature and then. Everything, else is represented, by physical, controls down here so you don't have to bounce in between like. Physical. Buttons and then digital buttons up in the display or anything like that. Additionally. You will find two stage heated seats standard, are only limited though they are optional on the xle, trims and then. Additionally, on the limited, you, can get that after mentioned, a weather package and that will also throw in ventilation. Alrighty. So now that brings us up to our. Models, optional, 11, speaker JBL. Premium, audio system, so. Let's go ahead and take a sample. The. Cell system has excellent, sound quality and it really feels the cabin, up. Now. Let's go ahead and take a look at the new into 3.0, system, which is new to the rav4, so. I could just said this is the in tune 3.0, system, where the previous generation, had the older version and this. Does give you all the new graphics, and new features. On. This particular model this is paired with the 8 inch display, and we do have shortcut buttons as well as physical, tune and power buttons. Now. Looking at your home screen this is reconfigurable, and you can just click on any of these sections, to expand, them so. Clicking into the audio I can play and pause straight from here and. Then I can also click the source button to change between all my available sources including. Applications, like slacker and Pandora. Now, only the limited comes standard with dynamic, navigation. So. This is Toyota's newest, system. It does update. Automatically. For several years and. As you can see the graphics are very nice and everything is very responsive. Now. If you don't have the. Integrated navigation system. Twitter has now made apple carplay, a standard. Across all of the trims. And. Roy Otto is still not available however, it will probably, become available, as an, update in a year or two and, then.
Real Quick the last thing I want to look at is your. Wi-Fi. Hotspot, this. Is newly standard, across all the trips even the le and. You get two gigabytes, in six months to try it out it is powered by Verizon, and then after that you could add it to your bill and pay extra for it but. Anyways that's, a real quick summary of the Intune 3.0, system however, we do have a really, detailed tech help video available for those of you want to learn more link. To that video is provided in the description. Now. Another really cool tech feature that the rav4 is got is this, rear-view mirror now. It looks like your normal mirror but, as we've seen in us some other brands, recently, if you flipped that switch. Then. All of a sudden we now have a rear camera mirror. So. As you can see basically all this does is cut, out all the obstructions in the back and give you a really clear view of what's behind you, man. This is the first Toyota product, to have a feature like this and. Additionally, it does also come with your home link universal, remotes. Now, moving on up here to the moonroof Toyota, nicely includes this standard, on all, but the very base le model. As. You see this particular one is the standard, size unit, however, on the limited we could get an optional, panoramic, one if we wanted. But. Overall it's hard to say enough nice things about the cabin of the new rav4. This. Is not just, a nice-looking, cabin, but, also one that is extremely, economically. Sound and very, high-tech, I'd. Honestly say this has got to be one of the best cabins, in the class. But. Anyways now go ahead and hand it off to Mason, who will show off all the important, stuff in the back areas. All. Right so looking in the back of the all-new, 2019. Toyota rav4 you're, going to find a class competitive, amount of space you'll. Find 37.8. Inches of rear legroom and thirty, nine and a half inches of rear headroom, that. Does place it below the Honda CRV but, it's right on par with the Nissan Rogue. And. Turning over here to the door trim it is really nicely appointed, because, you do have leather trim, all the way through here and it, does even have a stitching, material, on the top, just. So you do have a silver door handle, and your, rear windows are Auto bend, down. Down. Below that you do have a bottle holder. Now. The seat itself is a very soft design it's very comfortable, and, it does also have a nice stitching detail. Now, in the middle of the all new rav4 you're going to find a lot of nice features so. You will find vents on all but the very base le and in, addition to that you will also find these two charging, USB ports on all but the very base model also we do have an option of heated rear seats on the limited trim although, we do not have that option. In. Addition, to that we do have an armrest, it. Is nicely sized and it does have two cupholders in the end. Now. Top we do have some lighting. The. Headliner is an upgrade over last year and you. Do also have an assist grip and cut hook. Now. Like I said this car is class competitive, when it comes to space and that, shows behind your seating position, I have. Probably six to eight inches of rear legroom and, my feet can't easily slide up under the seat. And. Scooting, over, even. With the seat scooted all the way back I still, have several inches of rear legroom and, my feet are once again very happy up under the seat. Overall. I really liked the whole new rav4 through seat it serves.
This Purpose really, well for hauling around family members since, it's very spacious and comfortable and you can't even have a lot of luxury amenities. Now. The seats themselves do fold 6040, split so, just grab this handle and walk fold right now. Now, the tailgate, on the rav4 is power on the xle premium, and limited and, it's optionally, hands-free, on the limited travel so. To open it just grab this button under the lid or use your flight a few of the hands-free on. Now. Inside the cargo department of the rf4 you are going to find a slight reduction from, the outgoing model it's. Rated at a 37, and a half cubic feet behind the second row seats expanding. To 70 cubic feet with them folded, that. Does also make it less than the Honda CRV a Nissan Road. However. It is really nicely appointed back here you do have a cargo cover and its end up and you do, also have some lighting. Now. Down below the floor, you. Will find a spare tire and, overall. It's very nicely pointed. Rear truck. We. Will talk about the pricing here in a minute. The. Passenger, seat is that same beautiful design and, it is also manually adjusting, even on this limited trip. Now. In front of the passenger we do have really nice materials, so you have a padded dashboard, with stitching, to tail as was, a little storage area in front the passenger, and down, below that you do have a good sized glovebox. Now. A cup, we do have a Sun Visor with. A mirror and light and, it, can also detach, and. It does have an extension. Well. Guys that pretty much wraps up all I have to talk about up here so now let's go ahead and look at the powertrain, and do a quick test drive. All. Right so let's go ahead and talk a little bit about the powertrain. Now. It's very simple you continue to just have one option for now because the hybrid will not be available until March but. For now you're gonna get a two and a half liter four-cylinder, engine that, now makes, 203, horsepower and 184, pound-feet, of torque which. Of course is more than last year. Additionally. The 6-speed automatic, has now been replaced with an 8-speed automatic, transmission and, a front. Wheel drive is standard across all of the trims, however. There are two optional.
All-wheel Drive systems. So. On the LE through. The xle premium, you're. Gonna have an optional, traditional. All-wheel drive system. However. On be, limited, and eventually, the adventure trim once that it makes it out you're. Gonna have the segment, first torque, vectoring, all-wheel drive system now. What's special about that is that it can send 50%, of the power to the rear wheels and then, further distribute. Which, rear wheel gets the power left to right that. Of course is something usually, reserved for more expensive vehicles, and. Finally we have the fuel economy which is also very competitive, so. For your front wheel drive models it's gonna be twenty six city thirty, five highway, thirty combined, and then. When if you choose all-wheel drive you're gonna lose two mpg combined so. It's gonna be 25 City 33. Highway 28. But. Anyways that. Pretty much sums up the powertrain, so let's go ahead and go for a quick test drive. All right so getting up to speed and the all-new rav4. Power, feels pretty good, you, know this is the base engine this, is what the vast majority of people will get and power, feels pretty good it. Gets up to speed nicely, 203. Horsepower is definitely, above. Actually most in the class and the 8-speed automatic is, very, responsive, feeling right off the line. Yeah. It definitely has a lot. More of a traditional, feel than the CRV, where the, CRV, and a lot of the rivals do have CVT, s so, that kind of sets the rav4 part, that has the traditional, transmission. And it's definitely the option that I prefer. Coming. From more, traditional type. Of standpoint, because it makes it feel a lot more powerful. Now, I want to go ahead and talk about the steering because I'm. Really impressed when. I get on a compact crossover I'm, pretty much expecting. I don't. Know if I want to say just to be disappointed, but I'm. Not expecting much let's just say it's usually extremely disconnected. You, know, white. This. Steering feels really, good. First. Of all it's fix extremely, fast but it. Also it's. Really corresponds. With where the wheel is like I can actually tell the placement, of the vehicle, it.
Is A, heavier. Than I expect as well. Now. We've got some Drive modes here, I'm. Gonna put it in a sport mode and see if that makes any difference I, imagine. Not but, we'll. Go ahead and give it a try the gauge is did turn red so that is a good indication of what mode Rev. I. Couldn't. Really tell much of a difference. The, steering actually, might be a little, bit tighter. A little, bit heavier and the, throttle I've got my Asian gears, a little bit more as well yeah. Let's, see as far as your other important, stuff. Definitely. Your riot quality is very important, and this. Feels. Extremely, comfortable. You. Know in a car like this this is a family. Hauling, vehicle. You know these compact, crossovers, have really replaced the midsize sedan in terms of hauling your family around so this is a family. Oriented vehicle, and it's supposed to be comfortable and the rav4 definitely, is just. Going through a couple bumps here in the road and in the parking lot you can just tell it's, dampened, very smoothly. And. It's. Just a very comfortable car the seats are comfortable and, it's, very quiet inside, the cabin as well. Now, we have no place to really sample, out this view torque vectoring all-wheel drive system but. Of course like I just mentioned talking, about the powertrain this is class exclusive and it's something you really don't expect to see in a. Vehicle, in this class. Definitely. Usually reserved for more expensive, vehicles, so, it's nice for Toyota to include that I don't, know if people are gonna go, off-road per se but it also, helps, union with stability and, bad weather and stuff like that so just, always an extra feature to have is good. It's nice and tight turning, diameter. It was surprisingly, agile. It's, definitely that Toyota's. New chassis, all, their new models, to have that sporty, feel that they previously did it so. As. A splash I came right in it yeah. But. Overall we're, really impressed with the all-new rav4. It, really kind of injected, like a sporty. Feel into, the car that a lot of the rivals don't have so. If you're coming from a previous, gen rav4, maybe even a Camry. I think, you're going to be really impressed with the new rav4 because, it drives nice it's, nice and comfortable and it really is a great, hauling, family car. Well. Guys we've enjoyed watching one of the first in-depth, looks at, the 2019. Toyota, rav4 limited, stay. Watching for a quick look at the pricing, and don't, forget to those like and subscribe buttons below, we'll. Catch you next time as we sample more of the latest automotive delicacies.
2018-12-29 10:19
Show Video
Comments:
Other news