Valley of Hype, The Culture that built Elizabeth Holmes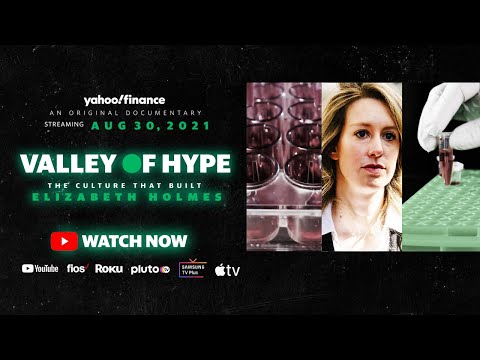 Show Video
>>> GOOD AFTERNOON. WE'RE 30 MINUTES AWAY FROM THE PREMIER OF YAHOO FINANCE'S FIRST DOCUMENTARY FILM "VALLEY OF HYPE," THE STORY E YOUNGEST SELF-MADE FEMALE BILLIONAIRE AND HOW SILICON VALLEY'S START UP CULTURE PLAYED A ROLE IN THE DOING OF HER AND HER COMPANY. PROSECUTORS SAY SHE COMMITTED FRAUD AGAINST INVESTORS AND PATIENTS.
ALL TOLD, SHE RAISED NEARLY $1 BILLION. SHE'S PLED NOT GUILTY TO CHARGES OF WIRE FRAUD AND CONSPIRACY. THE QUESTION IS SHOULD SHE SHOULDER THE BLAME FOR THARONOS' DOWNFALL. HE REPRESENTED LATE-STAGE INVESTORS WHO REACHED A SETTLEMENT WITH HOLMES AT THARANOS, ONE THE FEW PEOPLE WHO HAS DEPOSED ELIZABETH HOLMES. WELCOME.
>> THANK YOU FOR HAVING ME. I APOLOGIZE THAT ARE IF THERE IS ANY SOUND QUALITY OR SOMETHING LIKE THAT. >> THANK YOU FOR BEING HERE FROM SO FAR AWAY. SO SOME PEOPLE KNOW HOLMES' STORY, OTHERS DO NOT. YOUR CLIENTS, THERE ARE CIVIL CLAIMS AGAINST THARANOS NOT SO DIFFERENT FROM THE FEDERAL GOVERNMENT'S CHARGES. SO IN A NUTSHELL, WHY IS IT THAT HOLMES IS CHARGED WITH FINANCIAL FRAUD AND SO CONSPIRACY? >> THERE'S REALLY TWO SETS OF CHARGES AGAINST HER, THE FINANCIAL FRAUD IS DEFRAUDING INVESTORS, LIKE OUR INVESTORS, AND THEN THERE'S THE FRAUD AGAINST PATIENTS.
I GUESS THAT'S ALSO FINANCIAL FRAUD, AND THAT THE PATIENTS ID FOR THE BLOOD TESTS. AND BOTH CASES CENTER AROUND -- THERE ARE CLAIMS THEY DEVELOPED THESE BLOOD TESTS OFF OF THIS MACHINE ABOUT THE SIZE OF AN OLD MACINTOSH COMPUTER, WHERE YOU CAN PLUG IN A SINGLE DROP O UP TO 120 DIFFERENT BLOOD TESTS. IN FACT, THEY WERE USING THIRD- PARTY EQUIPMENT. EVEN THEN, THEY WERE DILUTING IT SO THEY COULD SQUEEZE AS MUCH BLOOD OUT OF THAT LITTLE DROP OF BLOOD, AND THE TESTS WERE INACCURATE, AND THEY WERE NEVER WORKING. >> NOW, MOST OF THARANOS'S INVESTORS INCLUDED WEALTHY INDIVIDUALS. THERE WAS TIM DRAPER, THE WALTON FAMILY, JUST TO NAME A FEW, PLUS D.C. FIRMS, HEDGE
FUNDS, INVESTMENT FIRMS. MOST OFTHESE INVESTORS DIDN'T GO AFTER HOLMES. WHY IS THAT EXACTLY? >> MOST OF THE INVESTORS CAME ON EARLY ON, AND THEY ALL KNEW EACH OTHER. YOU CAN SEE FROM WHAT YOU JUST READ OFF, THAT THEY WERE ALL HIGH POLITICAL FIGURES OR TIED INTO POLITICAL FIGURES WITHIN A CERTAIN PARTY, INVOLVEMENT WITH THE HOOVER INSTITUTION.
THEY ALL KIND OF KNEW EACH OTHER. I THINK, WHEN THEY REALIZED THERE MIGHT BE PROBLEMS WITH THARANOS, THEY DECIDED TO PUT ASIDE THEIR DIFFERENCES AND TRY TO CIRCLE THE WAGONS AROUND THERE,. STILL BELIEVING IN ELIZABETH HOLMES, MAKING SURE ONE DIDN'T GO AFTER WHAT ASSETS THARANOS HAD WHILE THE OTHERS SAT ON THE SIDELINE.
THAT WAY, THEY RT OF PROTECTED EACH OTHER. ON THE OTHER HAND, THEY LET THE COMPANY USE UP THE RESOURCES IT HAD AND GO DOWN THE TUBES. I THINK THEY WERE TRUE BELIEVERS, BECAUSE THEY ALL KNEW EACH OTHER, THEY TRUSTED EACH OTHER.
THEY TRUSTED THE OTHER PERSON DID THE DUE LIGEE, WHEN, IN FACT, THEY DID NOT. >> SO SOME OF WHAT YOU JUST MENTIONED GOES TO THE CULTURAL ASPECTS OF SILICON VALLEY AND THAT TIGHT NETWORK THAT EXISTS NOT ONLY AT STANFORD, AT THE HOOVER INSTITUTION, BUT JUST AMONG THE TECH COMMUNITY THERE AND THE GENERATIONS THAT HAVE EXISTED IN THE TECH COMMUNITY. SO THE JUDGE HERE ALLOWED HOPES TO RAISE SILICON VALLEY START- UP CULTURE IN HER DEFENSE. DOES THAT HELP HER AT ALL IN YOUR OPINION? >> I THINK IT MIGHT HELP HE AGAI REMEMBER, THEY HAVE POSSIBLY SIX INVESTOR CLAIMS, ONE INVESTOR WITH 99 MILLION, AND I THINK ANOTHER INVESTOR WITH, LIKE, 9,000. SO THERE'S A BIG SPREAD ON THE INVESTORS, AND THEY COULD USE THAT DEFENSE TO SAY, "WELL, INVESTORS KNOW WHEN EY INVEST IN A START UP IN SILICON VALLEY, THAT IT'S FAKE IT UNTIL YOU MAKE IT, AND THEREFORE, THESE INVESTORS KNEW THAT WHAT I WAS SAYING WAS PUFFERY.
IT WAS HYPE, AND THAT'S THE WAY SILICON VALLEY OPERATES." THAT DOESN'T WORK WITH DOCTORS AND PATIENTS, BECAUSE ONCE THEY STARTED DOING BLOOD TESTS, YOU'RE PUTTING SOMEONE'S LIFE ON THE LINE. SO I THINK IT COULD WORK AGAINST SOME OF THE INVESTORS, ALTHOUGH I HAVE SEEN SO MANY DOCUMENTS AND GOTTEN SO MUCH TESTIMONY, THAT I THINK IT'S CLEAR THEY WENT AROUND THE HYPE. SO I DON'T THINK IT'S GOING TO WORK. BUT YOU HAVE THROW AT THE WALL WHAT YOU CAN.
>> THERE'S SO MUCH TO LEARN AS THE TRIAL BEGINS. THANK YOU SO MUCH FOR JOINING US. YOU CAN HEAR MORE OF REED'S PERSPECTIVE WHEN "VALLEY OF HYPE" PREMIERS 5 P.M.
EASTERN TIME ON YAHOO FINANCE. BEFORE WE GO TO EAK,RE'S A PREVIEW. >> OF COURSE I HAVE THE BLAME, SONNY BUHAMI AND ELIZABETH HOLMES. I MEAN, THEY'RE THE PRIMARY TWO.
THEY ARE THE COCONSPIRATORS WHO CREATED THIS MESS. >> YOU CAT DO IT ALONE. SHE DOES BEAR RESPONSIBILITY. I MEAN, EVEN AS YOUNG AS SHE WAS, SHE BEARS RESPONSIBILITY FOR WHAT HAPPENED UNDER HER WATCH. THERE ARE SOME OTHER PEOPLE WHO WENT ALONG WITH HER. SO MANY OTHER PEOPLE WANTED IT HAPPEN HAPPEN.
SHE WILL SAY IN HER DEFENSE, "IT WASN'T ME ALONE." THAT IS TRUE. IT IS TRUE OF EVERY ENTREPRENEUR >> WHERE DO YOU PUT SONNY BUHAMI IN IN THISth. >> . >> THERE ARE MANY INSTANCES OF THE MAN BEND THE CURTAIN, THE SILENT PARTNER.
YOU SAW THAT WITH APPLE. YOU SEE THIS WITH MICROSOFT WITH PAUL ALLEN WRITING BASIC, AND BILL GATES. >>> HER DOWNFALL AND THE ATTENTION GIVEN TO IT IS AS A REFLECTION OF THE WIDER CULTURE. >>> THAT WAS MARGARET OMARA, A UNIVERSITY OF WASHINGTON HISTORY PROFESSOR AND AUTHOR OF "THE CODE." SHE'S INTERVIEWED IN THE FILM FOR HER EXPERTISE ON SILICON VALLEY'S EVOLUTION.
WE CAUGHT UP WITH MARGARET EARLIER AND ASKED HER ABOUT THE ENVIRONMENT THAT HOLMES WALKED INTO WHEN SHE DROPPED OUT OF SANFORD UNIVERSITY TO TRY HER HAND AT THE REGION'S START-UP FUND-RAISING COMMUNITY. HERE'S WHAT SHE HAD TO SAY. >> THIS IS A MOMENT WHEN SILICON VALLEY AND THE WORLD SEEM TO BE IN LOVE WITH SANFORD AND HARVARD DROP OUTS, AND THE POTENTIAL FOR THESE YOUN PEOPLE TO START COMPANIES THAT COULD POTENTIALLY CHANGE THE WORLD. MARK ZUCKERBERG IS THE ULTIMATE POSTER CHILD FOR THIS. . THIS IS BEFORE WHEN FACEBOOK COULD -- YOU KNOW, WAS POSTING HOWELL MEETINGS FOR PRESIDENT OBAMA WHEN THE NEWS AROUND TECH AND EXUBERANCE ABOUT ITS POSSIBILITIES WAS RUNNING AT AN ALL-TIME HIGH. >> SO HOW DOES HOLMES' LINEAGE FIT INTO THE VALLEY START-UP CULTURE? IS SHE SIMILAR TO SOME OF THOSE PEOPLE YOU JU NTIOD, HER PEERS, OR IS SHE DISTINCTLY DIFFERENT? >> SHE IS BOTH THE PRODUCT OF SILICON VALLEY AND A REFLECTION OF SILICON VALLEY'S CULTURE.
IT IS A PLACE OF A LONG HISTORY OF UNTESTED FOUNDERS WHARE SHEPHERDED ALONG BY INVESTORS AND MENTORS FROM AN OLDER TECH GENERATION. AT THE SAME TIME, SHE'S DIFFERENT. ONE BIG DIFFERENCE THAT I THINK IS REALLY IMPORTANT TO RECKONING WITH THE FAIR COAST PHENOMENON AND ELIZABETH HOMES IN PARTICULAR IS SHE'S A WOMAN, AND ALMOST EVERY SINGLE ONE OF THESE STORIES OF SILICON VALLEY ENTREPRENEURS ARE, THEY'RE MEN, MOST OF THEM WHITE MEN. SHE'S NOT ONLY COMING -- MONT WHEN YOUTH, THE STANFORD PEDIGREE, ALL THOSE THINGS ARE BEING CELEBRATED AND VALUED, BUT ALSO RIGHT AT THE MOMENT THAT SILICON VALLEY IS BEGINNING TO RECKON WITH THE INTENSE GENDER DISPARITY THAT HAS CHARACTERIZED IT FROM THE BEGINNING.
HERE COMES THISYOUNG WOMAN, BLOND, IN A BLACK TURTLENECK ALA STEVE JOBS, WHO SEEMS TO BE EXHIBITING THESE CHARACTERISTICS, BUT IT'S A WOMAN. SO THERE'S THIS -- SHE BECOMES THE SYMBOL, CARRYING ALL OF THESE HOPES AND ASPIRATIONS AND THIS HISTORY ALONG WITH HER. >> ARE THERE ANY OTHER PARTS THAT BEAR ANY LEVEL OF RESPONSIBILITY FOR THE DOWNFALL OF THARANOS? AND IF SO, WHICH SHOULD E JURY >> NO COMPANY IS ONE PERSON. ONE OF THE SILICON VALLEY'S MYTHS -- IT OVERINDEXES THE IMPORTANCE OF PEOPLE LIKE STEVE JOBS OR BILL GATES OR THESE INDIVIDUALS, WHO OVERWORK THEIR BRILLIANCE AND LEADERSHIP IS RESPONSIBLE FOR A GOOD DEAL OF THE SUCCESS OF EIR COMPANIES, BUT THEY DON'T DO IT ALONE. YOU HAVE OTHER SENIOR LEADERSHIP. THEY ARE SHARING RESPONSIBILITY.
THEY ARE ALSO STEERING THE COMPANY'S GENERATION. YOU HAVE A BOARD. THAT'S WHY THESE COMPANIES HAVE BOARDS OF ADVISERS. YOU HAVE INVESTORS. PARTICULARLY IN THE CASE OF TECH COMPANIES AND SILICON VALL YOUNG UNTESTED FOUNDERS, THE ROLE OF THESE MENTORS, INVESTORS, GUIDES IN SHOWING THAT PERSON, THE ENTREPRENEUR THE ROPES, SHOWING THEM HOW IT'S DONE, ENCOURAGING THEM, ENCOURAGING THEM ON A CERTAIN PATH, IT'S REALLY IMPORTANT.
SO I'M GOING TO BE LOOKING TO HEAR MORE ABOUT WHO DID WHAT WHEN, WHO KNEW WHAT WHEN. AND, YOU KNOW, ELIZABETH HOLMES CERTAINLY WAS THE FACE OF THIS COMPANY. SHE EMBRACED THAT ROLE. SHE PUSHED THAT DIRECTION.
BUT SHE WAS NOT -- THERE WERE A LOT OF OTHER PEOPLE INVOLVED IN THIS SCANDAL. >> SO WHAT QUESTIONS DO YOU STILL HAVE TODAY ABOUT THARANOS AND HOLMES THAT YOU HOPE THE TRIAL WILL ANSW? >> WE'VE HAD INTERESTING REPORTING. MOST OF THE ANSWERS HAVE BEEN COVERED. BUT I WOULD LIKE TO SEE SOME BROADER ACCOUNTABILITY AND RESPONSIBILITY AND HOW THIS RUNAWAY TRAIN LEFT THE STATION, HOW WE GET FROM A STANFORD UNDERGRADUATE WHO'S BEING ENCOURAGED BY A COUPLE OF PROFESSORS TO ONLY A FEW YEARS LATER THIS, YOU KNOW, ENORMOUS COMPANY THAT IS JUST SUPPOSED TO BE -- THAT HAS ALL OF THIS INCREDIBLY HIGH VALUATION THAT IS HIRING OUT ALL THESE PEOPLE, THAT OCCUPYING THIS PALATIAL CAMPUS AT THE CENTER OF THE ACTION IN PALO ATO IN THE STANFORD RESEARCH PARK.
THE ADULTS AROUND HER, THE OLDER, THE WISER PEOPLE MORE EXPERIENCED IN BUSINESS AND FINANCE AND OTHER REALMS OF LEADERSHIP, YOU KNOW, HOW DID THE IRRAONAL EXUBERANCE OF SILICON VALLEY IN THE 20 TEENS HELP CREATE THARANOS, AND HOW MUCH DID PEOPLE KNOW THIS WAS NOT WHAT IT SEEMED, AND WHEN DID THEY KNOW IT. >> SPECIAL THANKS TO MARGARET OMARA. YOU CAN CATCH MORE OF WHAT SHE HAS TO SAY IN YAHOO FINANCE'S DOCUMENTARY, "VALLEY OF HYPE," PREMIERING IN THE NEXT FEW MOUSE MINUTES. I WANT TO BRING IN JEFF HAWKINS. HE IS THE CEO OF TRUVIAN SCIENCE, A BLOOD TESTING DIAGNOSENO TICKS COMPANY THAT HAS ACHIEVED MUCH OF WHAT THARANOS SET OUT TO DO. JEFF TALKED WITH US A BIT EARLIER AS WELL.
>> YEAH. I THINK -- LET'S START WITH ONE DROP OF BLOOD AND HUNDREDS OF A THERE HAS BEEN A LOT OF INNOVATION IN THIS FIELD. AS AN EXAMPLE, A DESKTOP ANALYZER, SOMETHING THAT COULD FIT ON A COUNTERTOP OR DESKTOP, AND IT CAN DO A BROAD RANGE OF TESTING. THAT EXISTS.
TRUVIAN HAS ONE OF THOSE MACHINES. IT CAN DO ABOUT 85OF ROUTINE TESTING, AND I KNOW OTHERS ARE WORKING ON SIMILAR TYPES OF ANALYZERS. WHEN IT COMES TO THE ONE DROP OF BLOOD, ONE IS NOT FEASIBLE. BUT WHAT A LOT OF US ARE DEMONSTRATING IS THAT TWO TRAFFIC STOPS, THREE DROPS, MAYBE FIVE, STILL A RY SMALL QUANTITY OF BLOOD, AND YOU CAN DO A LOT OF TESTING, 20, 30, 40ANOLYTES. SO A LOT OF IMPROVEMENT OVER WHAT WE SEE TODAY IN DIAGNOSES NO TICKS. >> SO YOU ARE BASED INTHSAN DIEGO AREA,, AND I'M GUESSING YOU'RE NOT NECESSARILY IMMUNE FROM SILICON VALLEY'S START-UP CULTURE AND FUND-RAISING CULTURE THERE.
SO WHY ARE WE SEEING SO MANY COMPANIES WITH UNPROVEN TRACK RECORDS THAT ARE ACEVIN THESE SOARING VALUATIONS? >> YOU'RE CORRECT, ALEK SILLS. WE HAVE SILICON VALLEY INVESTORS IN OUR COMPANY AS WELL. I THINK THERE'S A FEW FACTORS IN PLAY. IN GENERAL, VALUATIONS IN THE MARKETS ARE UP SIGNIFICANTLY OVER THE LAST, YOU KNOW, FIVE YEARS WITH PUBLIC AND PRATE MARKETS.
WITH ALL THE SUCCESS OF VENTURE COMPANIES, SO MANY IPOS, YOU ALSO SEE MORE MONEY IN VENTURE. AND WHEN THERE'S MORE MONEY IN VENTURE, YOU TEND TO SEE MORE MONEY AVAILABLE EARLY. IN A LATE-STAGE COMPANY, WE LOOK AT THINGS LIKE REVENUE, GROWTH RATES, PROFITABILITITIES, MORE TANGIBLE METRICS TO DEFINE VALUATION. WHEN YOU GET EARLY, IT'S MORE ABOUT THE OPPORTUNITY SIDES, THE TECHNOLOGY YOU HAVE, HOW MUCH RISK IS LEFT TO DELIVER. SO IT BECOMES A LITTLE MORE SUBJECTIVE. AND IF YOU ADD LARGE AMOUS OF CA CHANCE OF HAVING VALUATIONS, BECAUSE IT IS FINDING A WAY TO PUT ALL THIS CAPITAL IN THE COMPANY AND HAVE THE OWNERSHIP DISTRIBUTED APPROPRIATELY.
I THINK IT CAN SORT OF INFLATE THE VALUATIONS IN THE EARLY STAGE. THERE IS SORT OF THAT BUSINESS FUNDAMENTAL TO PEG IT TO. >> WHY DO YOU THINK THAT, IN THARANOS'S CASE, THAT THE GROUP OF PEOPLE THAT WERE SURROUNDING ELIZABETH HOLMES -- WE'RE TALKING ABOUT BOARD MEMBERS, WE'RE TALKING ABOUT INVESTORS, TALKING ABOUT THE ADVISERS WHO WERE REALLY TOP OF THEIR FIELD THAT WERE SURROUNDING HER AT THE TIME SHE WAS BUILDING THARANOS, WHY DO YOU THINK THERE WASN'T MORE OF A DEMAND PUT ON ELIZABETH HOLMES AND EXECUTIVES TO COME UP WITH PROVEN RESUL BEFE TANG A PRODUCT ALL THE WAY TO MARKET? . >> I THINK, AS AN INVESTOR, WITH THE EXCEPTION OF THOSE WHO INVESTOR AND JOIN THE BOARD, MANY INVESTORS, THE LEVEL OF DATA AND DILIGENCE THEY DO IS AT THE TIME OF INVESTING, AND THEN THEY'RE NOT REALLY INVOLVED FREQUENTLY DAY TO DAY WITH THE BUSINESS. AND SO MANY INVESTORS, THEY COULDN'T GET THE DATA THEY NEEDED, AND THEY DIDN'T INVEST.
SO I THINK THERE IS --THAT NEEDS TO BE SORT OF SAID. ON THE OTHER SIDE, YOUR QUESTION REALLY HITS HOME WITH ME ABOUT THE BOARD AND OTHER PEOPLE SURROUNDING HER, WHETHER ADVISERS OR EXECUTIVES. IT IS AND AREA THAT HAS BEEN WELL PUBLISHED AND RECORDED. WHAT DID THEY KNOW? WERE THEY PRESENTED DATA, AND IT WASN'T PRESENTED FACTUALLY OR ACCURATELY? THAT IS THE UNKNOWN.
BUT WITH THE BOARD CERTAINLY, THEY ASK FOR DATA. THEY WANT TO SEE PROGRESS. BOARDS CERTAINLY HAVE THAT TYPE THE QUESTION IS, DID THEY ASK, AND WERE THEY GIVEN ACCURATE INFORMATION? THE NUMBER ONE FOR ME IS WHAT DID THE BOARD KNOW, AND WHAT LEVEL OF ENGAGEMENT DID THEY HAVE, ESPECIALLY AS SOME OF THE FALSE RESULTS CAME OUT. WERE THEY ASKING FOR DATA? WERE INDEPENDENT SORT OF EXPERTS IN THE FIELD TO AS IS THE QUALITY OF RESULTS, AND GIVE THEM A PERSPECTIVE.
SORT OF WHAT DID THEY KNOW, AND IF THEY KNEW, WHAT PREVENTED THEM FROM ACTING, OR ON THE OTHER DE, WERETHEY ASKING, JUST NOT GIVEN ACCURATE INFORMATION. THAT SORT OF DYNAMIC OF SONNY AND ELIZABETH WITH THE BOARD AND WHAT MAY HAVE BEEN SHARED IS INTERESTING TO ME AS I TRY TO LEARN MORE ABOUT THIS TRIAL, AND I HOPE WE DO LEARN MORE ABOUT IT. . >> A LOT OF PEOPLE ARE WAITING FOR ANSWERS TO THOSE QUESTIONS.
WE'RE ABOUT 10 MINUTES AWAY FROM THE PREMIER OF "VALLEY OF HYPE," BUT STICK AROUND. WE'LL BE RIGHT BACK. >>> AND WELCOME BACK.
WE'RE JUST MINUTES AWAY FROM THE PREMIER OF YAHOO FINANCE'S FIRST EVER DOCUMENTARY FILM "VALLEY OF HYPE." BEFORE THAT, I WANT TO WELCOME LORI THURELL. HER FORMER COWORKER, JOHN KERRY, WHO REVEALED THE PROBLEMS AT THARANOS. SHE IS A CO AUTHOR OF "THE CULT OF WE," ABOUT THE ALSO EMBATTLED OFFICE RENTAL STARTER WE WORK AND ITS FOUNDER ADAM NEWMAN. WELCOME. >> THANK YOU SO MUCH FOR HAVING ME.
>> SO I CANNOT THINK ABOUT THARANOS WITHOUT ALSO THINKING ABOUT WE WORK. IT'S REALLY AN EXAMPLE OF HISTORY ALREADY REPEATING ITSELF, AND WITH MUCH BIGGER DOLLARS ATTACHED. SO YOU DESCRIBED THE MELTDOWN AS A VITAL PARABLE IN THE 21st CENTURY ECONOMY IN YOUR BOOK. WHICH SIMILARITIES DO YOU FIND OR SEE BETWEEN THOSE TWO COMPANIES? >> SURE. THERE ARE SO MANY SIMILARITIES. PRIMARILY, IT IS ABOUT THE FOUNDER, AND WHY A ROST OF INVESTORS -- IN THE CASE OF WE WORK, DIFFERENT FROM THARANOS.
THEY WERE SOME OF THE TOP INVESTORS IN SILICON VALLEY, FIDELITY, T. ROW PRICE, ALL BUYING INTO THE HYPE OF THE FOUNDER. WE COMPARE IT TO GIVING TEENAGERS KEYS TO A CAR, FULL TANK OF GAS, NO LIMITS ON WHAT THE FOUNDER CAN DO. AND QUESTIONS, BUT NO WAY OF REALLY CHECKING THE FOUNDERS. THAT WAS THE KEY WITH ELIZABETH HOLMES AND ADAM NEWMAN, THE COFOUNDER OF WE WORK. >> NOW, THERE WAS A RECENT "NEW YORK TIMES" PIECE WRITTEN BY SHARA OBADAY, AND SHE QUESTIONS IF THESE BODARYUSHI EXECUTIVES ARE AN INESCAPABLE PART OF INNOVATION.
DO YOU THINK THAT IS THE CASE? >> IT'S HARD TO TELL. I MEAN, I DON'T THINK IT HAS TO BE THE CASE. I THINK WE'RE IN THIS ERA WHERE IT IS THE CASE RIGHT NOW. IT SEEMS LIKE INVESTORS ARE TOO SCARED TO PUT BOUNDARIES ON THESE FOUNDERS FOR FEAR -- IT'S THIS WHOLE FOMO CULTURE, FEAR OF MISSING OUT ON THIS INVESTMENT THAT'S GOING TO BE THE NEXT AMAZON, THE NEXT GOOGLE. BUT YOU LOOK AT AMAZON, RIGHT? ONE OF THE BIGGEST COMPANIES IN THE ENTIRE WORLD, ONE OF THE MOST INNOVATIVE COMPANIES, AND SOMETHING THAT SORT OF BUILT OUT OF NEWMAN, THIS FOUNDER CONTROL, WHERE THE FOUNDERS HAVE SO MUCH MORE POWER, AND ESSENTIALLY ALL OF OF THE CONTROL IN THE COMPANY, THE FOUNDER OF AMAZON JEFF BEZOS DID NOT HAVE THAT.
EVERYONE TALKS ABOUT JOBS, JEFF BEZOS. THEY ACTUALLY DID NOT HAVE THAT. JOBS WAS FAMOUSLY PUSHED OUT, LEARNED A LOT OF LESSONS, AND CAME BACK AND REVIVED APPLE. SO I DON'T THINK IT HAS TO BE PART OF INNOVATION.
I THINK, RIGHT NOW, THAT IS THE MINDSET OF SILICON VALLEY. BUT I DON'T THINK IT HAS TO BE. >> I WANT TO SWITCH GEARS AND LOOK AT IT FROM ANOTHER PERSPECTIVE. I WANT TO SHOW A CLIP FROM THE FILM.
IT IS AN INTERVIEW WITH DAN WORMENHOGEN, AND THEN WOULD LIKE TO GET YOUR PERSPECTIVE. >> TO A CERTAIN POINT, SHE'S A VICTIM, BECAUSE SHE DIDN'T KNOW WHAT SHE DIDN'T KNOW. SHE RELIED ON PEOPLE WHO GAVE HER BAD ADVICE OR MISMANAGED IT, I THINK. >> SO HERE, I WA YOUR THOUGHTS ON WHETHER YOU THINK IT'S POSSIBLE THAT FOUNDERS LIKE HOLMES OR NEWMAN OR OTHERS ARE REALLY SET UP IN ANY WAY TO FAIL.
>> I THINK, TOO -- FIRST OF ALL, I THINK THAT'S WAY TOO STRONG TO CALL HER A VICTIM. I ME, SHE KNEW, FROM EVERYTHING I'VE EVER READ, SHE KNEW IT DIDN'T WORK, WAS PUTTING LIVES IN TAKEN. YET, I DO THINK THERE'S SOMETHING TO THAT THAT I DO THINK MAKES SENSE. I THINK FOUNDERS ARE SET UP TO IL.
IT'S UNHEALTHY NOT TO HAVE BOUNDARIES ON FOUNDERS, AND TO REALLY JUST GIVE THEM SO MUCH ROOM TO RUN THEMSELVES INTO THE GROUND. I MEAN, I THINK ABOUT THAT A LOT. THARANOS, IT JUST DIDN'T WORK. BUT THERE WAS SOMETHING THERE, AND I THINK, YOU KNOW, WHAT IF THE BOARD MEMBERS STOOD UPTO HIM AND TOLD ADAM NEWMAN HE COULDN'T BUY $65 MILLION PRIVATE JET.
HE COULDN'T LOAN -- TAKE OUT LOANS AND DO STOCKSDALES WORTH A BILLION DOLLARS. WHAT IF THEY ACTUALLY MADE RULES AND FORCED HIM TO STICK BY THEM, TOOK A HARDER LOOK AT THE COMPANY, AND THESE VERY OBVIOUS RED FLAGS. COULD IT HAVE BEEN AVOIDED. COULD IT HAVE BEEN A SLOWER GROWING, BUT MORE SOLID COMPANY. SO THERE'S SOMETHING TO IT. I THINK DAN WORDMENOTH WAS A BIT EXTREME IN THE CASE OF ELIZABETH HOLMES AND THARANOS, BECAUSE IT IS JUST TOO FAR- FETCHED FOR HER TO BE THE VICTIM OF IT.
>> WE KNOW ELIZABETH PES LL MAKE A GO OF IT IN HER DEFENSE AS HER TRIAL BEGINS, THAT VICTIM IDEA. MAUREEN, THANK YOU SO MUCH FOR BEING WITH US. YOUR INSIGHT IS INVALUABLE. WE HOPE YOU STAY TUNED FOR THE PREMIER OF YAHOO FINANCE'S BRD-NECUMENTARY, "THE VALLEY OF HYPE." YOU CAN WATCH THAT HERE IN TWO MINUTES.
THAT'S NEXT. >>> ASKING YOURSELF WHETHER YOU ARE WRONG IS A REALLY GOOD THING. IF YOU REALLY FEEL A STRONG CONVICTION THAT YOU ARE DOING THE RIGHT THING, THEN KEEP GOING. >> THAT IDEOLOGY IS SHARED BY SOME OF THE WORLD'S MOST AMBITIOUS CREATORS WHO FLOCK TO DREAM. N CALIFORNIA WITH A THEY SEEK LIKE-MINDED ENCOURAGEMENT TO MOVE FAST AND BREAK THINGS AND EVEN FAKE IT UNTIL THEY MAKE IT. THOSE PRINCIPLES CAN COME AT A COST.
ALWAYS FOR INVESTORS, OFTEN FOR ENTREPRENEURS AND THEIR EMPLEES AND SOMETIMES FOR THE PUBLIC AT LARGE. AND FOR ONE ENTREPRENEUR ONCE THE WORLD'S YOUNGEST SELF-MADE FEMALE BILLIONAIRE, THE COST COULD ADD UP TO YEARS IN DERAL PRISON. THIS IS SILICON VALLEY, A HUB OF INVASION THAT IS OFTEN COUPLED WITH SLIGHT OF HAND. I AM ALEXUS KEENAN AND THIS IS YAHOO FINANCE PRESENTS. >>> NEARLY A BILLION COLLARS GONE BUST, SWALLOWED BY THE OPAQUE SILICON VALLEY BIO START- UP WHOSE FOUNDER ELIZABETH HOLMES FACES YEARS IN PRISON FOR A PITCH PUSHED TO EXTREME. >> I KNEW THAT I COULD DO SOMETHING THAT WOULD BE DIFFERENT THAN WHAT EVERYONE ELSE IS DOING.
>> SHE SAID HER I HEALTHCARE, MINIATURIZING A SUITE OF COON BLOOD TESTS DOWN TO A FEW DROPS. THE TECHNIQUE WOULD KNOCK TUESDAY DIAGNOSTICS DRIVING DOWN COSTS TO MAKE TESTS SO AFFORDABLE THAT CONSUMERS COULD ACCESS A COUPLE OF SNAPSHOTS OF THEIR PERSONAL HEALTH OVER TIME. IT WAS A STORY THAT HOLMES TOLD WITH UNWAIVERRING CONVICTION. >> IF YOU WATCHED A MOVIE AND TOOK ONE FRAME OUT OF THAT MOVIE AND SAID OKAY, ELIZABETH, TELL ME THE STORY, I WOULD NEVER BE ABLE TO TELL YOU THAT STORY, BUT IF YOU GAVE ME A SERIES OF FRAMES I COULTHEN PIECE TOGETHER A STORY.
HAVE. >> THE CONCEPT CAPTIVATED INVESTORS AND MEDIA AND TURNED HOMES INTO A START-UP SENSATION. THOUGH HER START-UP BEGAN TO SETTLE WHEN THE WALL STREET JOURNAL EXPOSED FRAMES OF HER STORY AS TECHNOLOGY OVER HEIGHT THE RECONNING GHOULED A BARAGE OF SCATHING NEWS REPORTS. A NEW YORK TIMES BEST SELLER, AND A FEATURE DOCUMENTARY LEAVING HOLMES ACCUSED OF FRAUD, OF PEDALING IMPOSSIBLE SCIENCE, AND PORTRAYED A SIX SEN. HER CONFIDENT CHARM AND EVEN PHYSICAL AEXPERIENCE WERE CITED TO EXPLAIN WHY DISTINGUISHED ADVISERS AND HOPEFUL INVESTORS IN A MALE-DOMINATED FIELD BROUGHT WHAT SHE WAS SELLING.
YET NOT EVERYONE IS CONVINCED THAT HOLMES WAS JUST A PERSUASIVE PRET FACE. OR THAT HER METHODS TO MATERIALIZE HER VISION SHOULD BE VIEWED IN BLACK AND WHITE. >> IN IS GOING TO SOUND A LITTLE STRONG, BUT SHE WAS A VICTIM. SHE DIDN'T KNOW WHAT SHE DIDN'T KNOW, AND SHE RELIED ON PEOPLE WHO GAVE HER BAD ADVICE OR MISMANAGED IT, ITY. >> EVEN I AM NOT 100% CONVINCED THAT IT IS FRAUD. ALTHOUGH WE HAVE LOTS OF LEADS THAT MANY, MANY THINGS WERE WRONG.
>> THE FIRST CRAZY CONCEPT THAT WE HAD THAT PEOPLE SAID ABSOLUTELY COULD NOT BE DONE ESPECIALLY WHEN I TRIED TO RAISE MONEY FOR THE FIRST TIME TO START THE COMPANY WAS I WANTED TO CHANGE THE THE WAY LAB TESTING WAS DONE. IF YOU ARE GOING TO START A COMPANY, THE FIRST QUESTION IS WHY; RIGHT? FOR ME, IT WAS THIS IS A CHANGE IN THE WORLD THAT I WANT TO SEE. >> THE CHANGE WANEVER REALIZED. AT LEAST NOT. AND INSTEAD, THE COMPANY I PLODDED UNDER A WRATH OF LAWSUITS, REGULATORY ACTIONS, AND SEC FINES ALL TARGETING HOLMES FOR PROMISING MORE THAN SHE ULD PROVE. YET HOLDING HOLMES TO CRIMINAL CHARGES COULD ULTIMATELY BE WHAT MAKES HER UNIQUE AS A SILICON VALLEY ENTER PREPRENEUROAND MAY OVERSHADOW HER ROLE IN AN EMERGING BIOTECH FIELD.
>>> THE CONCERN I HAD WITH THE MEDIA WAS THERE WAS A RUMBLE OF PEOPLE SAYING WELL, THIS WAS SUCH A BAD IDEA. THIS COULD NEVER HAPPEN. OR ACTUALLY REALLY, I THINK, ELIZABETH'S VISION WAS PHENOMENAL; RIGHT? AND I SHARE THE SAME VISION, SO I REALLY REIGNITE WITH THAT. I THINK IT IS A GOOD IDEA, AND IT NEEDS TO BE -- IT NEEDS TO HAPPEN.
IT WAS ALL DOABLE. THAT IS THE OTHER THING. THERE WASN'T ANY ENGINEERING PROBLEM THAT COULDN'T BE RESOLVED BY THE TIME I CAME IN THE COMPANY. THERE WERE REFINEMENTS. I THINK WITH A DIFFERENT BOARD, MAYBE WITHA DIFFERENT COO WAS SOMETHING TO HELP DEVELOP. A CEO AND A SPOKESMAN PERSON.
I THINK A LOT OF THIS COULD HAVE BEEN AVOIDED. >> Reporter: IN A CULTURE THAT HANDSOMELY REWARDS INVITERS WHILE EMBRACING THIS FAKE IT UNTIL YOU MAKE IT, WHO DESERVES TO SHOULDER THE BLAME. PROSECUTORS SAY IT IS HOLMES AND HER FORMER BOYFRIEND FOR ALLEGEDLY OPERATING THE ONCE HIGH BLOOD TESTING COMPANY AS A CRIMINAL SCHEME THAT DEFRAUDED INVESTORS, CTOR AND PATIENTS. OTHERS, INCLUDING ONE OF THE EARLIEST CRITICS SAY THE ANSWER IS NOT AS CLEAR AND TAKE INTO ACCOUNT A SYSTEM KNOWN TO BRING OPT CON PLATE OPTIMISM WITH REALITY.
>> I SUSPECT THAT THERE E MANY AOTHER COMPANIES WHO DON'T REALLY HAVE THE IDEAS THEY IMPOSE THEY DO HAVE. THEY ARE STILL WORKING ON THEM. THEY HAVEN'T TESTED THEM OUT. THEY ARE PROBABLY OVEROPTIMISTIC AND MAYBE MOST OF THESE IDEAS WOULD FAIL. I DON'T THINK THERE IS AN EXCEPTION IN THAT REGARD. >> Reporter: IF HE IS NO EXCEPTION, HOW STRONGLY WILL CRIMINAL ACCUSATIONS HOLD UP? AND WHERE? WHERE WILL JURORS DRAW THE LINE BETWEEN AN ENTREPRENEUR'S PUSH AND FRAUDULENT DECEPTION.
>> I AM SURE THE COURTS ARE GOING ACE A DIFFERENT STANDARD ON IT THAN I DO. BUT MY STANDARD IS IF THERE IS A CLAIM MADE AND YOU WANT TO INVEST, IT IS YOUR OBLIGATION TO GO VALIDATE ALL THE CLAIMS SHE HAS MADE. SHE MAY HAVE MADE THESE STATEMENTS, BUT THOSE COULD ALL HAVE BEEN CORROBORATED BEFORE THE MONEY WAS INVESTED. AND IN FACT, IF SOMEBODY HAD DONE THE WORK TO TRY TO CORROBORATE THEM, THEY WOULD HAVE FOUND OUT THEY ARE REALLY EXORBITANT. THEY ARE WISHFUL.
AND THEY ARE FUTURISTIC. AND THEY DON'T REPRESENT THE PRESENT. IF YOU INVEST IT BASED ON THOS CLAIMS, YOU WOULD HAVE SAID OKAY, THAT IS FRAUD. >> Reporter: IF HOLMES'S VOIR DIRE JOY WAS TO TEMPORARILY FAKE IT, HOW DIFFERENT WERE HER TACTICS FROM HER SILICON VALLEY PEERS.
WHEN DID THE ALLEGED SHE RAID BEGIN? WHY DID FINANCIAL BACKERS KEEP HER COMPANY AFLOAT FOR MORE THAN A DECADE AND WHAT LESSONS SHOULD FUTURE INVESTORS LEARN? THE ANSWERS LIE IN AWE TANGLE OF SYSTEMS THAT COULD GIVE CONFIDENCE AS WELL AS CAUTION THTRADITIONS OF SEED CAPITOL RICH SILICON VALLEY. >>> DISRUPTION OFTEN BEGINS LIKE THIS. AN ASPIRING CREATOR CLAIMS THEIR VISION FOR A NEW REALITY AND THEN SETS OUT TO PIECE TOGETHER THE MISSING PARTS TO THEIR PUZZLE. >> WHAT WE WANTED TO CHANGE WAS THE FACT THAT WHEN YOU FIND OUT YOU ARE SICK, YOU ARE ALREADY TOO SICK TO REALLY CHANGE THE COURSE OF THE DISEASE.
THE WAY YOU CHANGE THAT IS YOU HAVE TO REINVENT EVERY ELEMENT OF THE SYSTEM. YOU HAVE TO REINVENT THE TEST, THE SOFTWARE, THE LOCATIONS THROUGH WHICH THE TESTING WAS PROVIDED. THE PRICING. SO THIS WAS NOT A SHORT-TERM BUSINESS PLAN. >> AND THERE IS ONE PLACE, PERHAPS, MORE THAN ANYWHERE ELSE IN THE WORLD THAT FOSTERS THE RAPID INCARNATION OF THESE BOLD IDEAS.
>> THIS WAS THE VALLEY OF DREAMS. IT IS A UNIQUE SITUATION. THERE IS NO OTHER PLACE IN THE WORLD WHERE SOMEBODY WITH A BIG IDEA CAN COME AND HAVE ACCESS TO CAPITOL AND HAVE ACCESS TO ALL OF THE CORPORATE SERVICES YOU NEED TO GET THEM OFF THE GROUND.
PEOPLE COME HERE WITH BIG DREAMS. I THINK ELIZABETH HAD A GREAT BIG EAM. >>> THIS REGION OF RESO WAS FORMED BYGENERATIONS OF TECH PIONEERS WHOSE IDEAS WERE BROUGHT TO LIFE WITH THE HELP OF DEEP POCKETS. >> THE SILICON VALLEY WAS ANOTHER AGRICULTURAL THROUGH THE PART OF THE 20th CENTURY.
TH WAS WORLD WAR II AND THE COLD WAR. THE GOVERNMENT DID SOMETHING IT HADN'T DONE BEFORE IN THE BIG WAY IT GOT INTO THE RESEARCH AND DEVELOPMENT. AND PUT HAS BEEN IMMENSE AMOUNT OF MONEY E. >>> IT WAS DECADES BEFORE THE BLKBUSR SUESSES OF VALLEY TECH ICON STEVE JOBS, BILL HUE WET AND DAVID PACKARD, WHEN THE VALLEY'S FOUNDING FATHERS PUT THE FEDERAL GOVERNMENT'S MONEY TO USE. >> THE START-UP THAT BROUGHT SILICON TO SILICON VALLEY WAS A SHORT-LIVED OPERATION. AND THE PERS WHO FOUNDED IT WAS WILLIAM SHOCKLEY, A COINVENTOR.
>>> A VETERAN OF BELL LABS, HE REALIZED THE POWER OF SILICON TO MINIATURIZE THAT BY THE MITT 1950s HELPED MOWER THE WORLD'S FIRST MICROCHIP. >>> THE VALLEY GETS MORE AND MORE SIGNIFICANT. >> THE TEAM FOUNDED ITS OWN START-UP. FAIRCHILD'S SEMI-CONDUCTOR. >>> INSTEAD OF TURNING TO THE FEDERAL GOVERNMENT, THE GROUP MADE A RADIL MOVE AND LOOKED TO THE PRIVATE MARKET SECURING FUNDING COURTESY OF EAST COAST INVESTMENT BANKER ARTHUR ROCK.
>>> ARTHUR ROCK LAYED OUT THE COMPANY. ONE OF THE MOST LEGENDARY VENTURE CAPITALISTS IN SILICO VA. >>> THAT SAME YEAR T MICROCHIP EARNED A REPUTATION AS INDISPENSABLE. >>> THE FIRST ARTIFICIAL EARTH SATELLITE. >> LEADING THE U.S. INTO ORBIT.
>>> THIS BASICALLY LIGHTS HIS HAIR ON FIRE, AND ALL OF THIS MONEY STARTS GETTING INVESTED IN ROCKETS AND MISSILES AND TECHNOLOGIES TO GET THINGS AND PEOPLE OUT INTO SPACE AND ULTIMATELY TO THE MOON. >> Reporter: IN SHOOTING FOR THE MOON, THE INFLUENCE OF SANTA CLARA VALLEY TECHNOLOGY AND THE INVESTMENT DOLLARS IT ATTRACTED WERE FOREVER ALTERED. THE REGION HAD OFFICIALLY LEFT BEHIND ITS AGRICULTURAL ROOTS TO BECOME A TECH AND INVESTMENT HUB.
A NEXT GENERATION WOULD OVE AT SILICON COULD DO NOT JUST FOR BIG BUSINESS AND GOVERNMENT, BUT FOR THE INDIVIDUAL. >> WHO HAS ALL THE COMPUTERS, THE ESTABLISHMENT, THE GOVERNMENT. BIG CORPORATIONS.
>> KEY PLAYERS FOR THAT INDEPENDENT MOVEMENT RE TWO FAIRCHILD ALUMBAR WHO IN THE LATE 1960s FOUNDED SPELL TO BUILD MEMORY CHIPPED. THEY, TOO, CAPPED VENTURE CAPITALIST WHOSE $2.5 MILLION STAKE ADVANCED THE CONCEPT OF PARTNERING WEALTHY INVESTORS WITH TECH ENTREPRENEURS. THE CONCEPT WOULD CARRY INTO THE NEXT MILLENIA TO PROP UP COUNTLESS ENTERPRISING FOUNDERS INCLUDING ELIZABETH HOLMES. >> IF YOU WANT TO PUT THE COMPUTER ON A CHIP, YOU CAN BUILD A WOODEN BOX. IT IS UNDER YOUR CONTROL.
SIT VIETNAM. THIS IS AN ANTIESTABLISHMENT MOMENT IN AMERICAN CULTURE. >> THAT MOVEMENT GAVE RISE TO COMPUTER ENTHUSE JUSTS STEVE WHOSE KNEE YAK AND STEVE JOBS. WITH THE HELP, JOBS AND WHOSE KNEE YAK SECURED FUNDING FOR A FIRST PERSONAL COMPUTER, THE APPLE.
TO INVESTOR AND LATER THROUGH SEA COY I CAN'T CAPITOL THAT WOULD EVOLVE INTO ONE OF THE REGION'S MOST PROFITABLE VCs. >>> THE VENTURE CAPITOL BECOMES IMPORTANT GLUE BETWEEN GENERATIONS; RIGHT? WHO ARE THE LEADING VENTURE CAPITALISTS OF TODAY. THERE ARE PEOPLE THAT HAD THESE MASSIVE EXITS IN THE '90s WHO IN TURN WERE FUNDED AND MENTORED BY PEOPLE WHO HAD MASSIVE EXITS IN THE '80s AND '70s. >> THESE GENERATION EQUAL NETWORKS WITH THE TIGHTLY-KNIT CIRCLES AND BACKLASH AGAINST CORPORATE BUSINESS AS USUAL. >> YOU CAN'T HAVE TOTAL CORPORATE MISBEHAVIOR IN ORDER TO BE SUCCESSFUL. THERE IS THIS ENCOURAGEMENT AND CULTIVATION AND TOLENCE OF THE BEHAVIOR THAT MIGHT GET YOU KICKED OUT.
SILICON VALLEY HAS A STRONG SENSE FROM THE BEGINNING. WE THINK DIFFERENT. WE DO THINGS DIFFERENTLY AND HAVE AMAZING RESULTS AS A RESULT. >>> EVEN INVESTORS HAVE BEEN KNOWN TO PLAY BY THEIR OWN RULES. >> THE AVENTURE CAPITALISTS THEMSELVES DO NOT WANT TO SUE. AND THERE IS A REASON FOR THAT.
IT IS BECAUSE THEY ALL LIVE IN SILICON VALLEY. INSTED IN. A COMPANY THEY HA THEY ARE NOT GOING TO GET THE NEXT DEAL. >>> PLAINTIFF'S ATTORNEY REPRESENTED INDIVIDUAL INVESTORS WHO DID SUE CLAIMING FRAUD. TWO LATE-STAGE MINORITY BACKERS WHO BOUGHT CLAIMS INDIRECTLY. THE SOLE VENTURE CAPITOL FIRM TO SUE WAS ONE OF THE ITS LARGEST INVESTORS, PARTNER FUND MANAGEMENT.
IT BROUGHT TWO LAWSUITS THAT ENDED IN SETTLEMENT. >> IT IS VERY IMPORTANT FOR THE VENTURE CAPITALIST TO BE ABLE TO GET THE NEXT DEAL. TO BE ABLE BE ONE OF THE FIRST TO INVEST. >> THAT WAS A WELL-ESTABLISHED PART OF VALLEY CULTURE BY THE TIME STEVE JOBS COMES ALONG.
>> IF SOMEONE WAS PRODING AMAZING TECHNOLOGY, YOU ARE KIND OF GOING TO LET THEM GET AWAY WITH MURDER. >>> IN HINDSIGHT, A PREDICTABLE SETTING FOR THE WHIRLWIND DECENT OF YOU HIS BETH HOLMES AND FOR HELL. >> WHEN WE GREENE, WHAT WE FOCUSED ON WAS CREATING A CUSTOMIZED MEDICINE TOOL THAT BE USED IN THE HOME. THE ABILITY TO BRING MONITORING INTO THE HOME, WE BELIEVE, COULD FUNDAMENTALLY CHANGE THE WAY THAT BOTH PATIENTS ARE TREATED AS WELL AS DRUGS ARE DEVELOPED.
>> THAT WAS ELIZABETH HOLMES IN 2005, ONE OF THE FEW TIMES EARLY ON THAT SHE SPOKE PUBLICLY ABOUT HER AMBITIONS. >> IT ALL STARTS WITH A VERY UNIQUE KIND OF FOUNDER WHO TRULY HAS A PASSIONATE BURNING CONVICTION THAT THEY HAVE COME UP WITH AN IDEA THAT WILL CHANGE THE WORLD. AND THEY HAD THE SOARING AMBITION TO JUST BE DRIVEN TO WANT TO MAKE IT HAPPEN AS FAST AS POSSIBLE. >> CONVICTIONS SPURRED HOLMES TO DROP OUT SOONRD UNIVERSITY.
IN 2003, THE 19-YEAR-OLD TRADED IN LIFE AS A FULL-TIME UNDERGRAD FOR LIFE AS A FULL- TIME CEO. >> I WOULD ALWAYS BELIEVE THAT THE PUSH OF BUILDING SOMETHING, BUILDING A COMPANY IS TO MAKE A DIFFERENCE IN THE WORLDEN. AND I GOT TO THE POINT WHICH I FOUND WHAT I FELT LIKE I WAS BORN TO DO. >> AS IF RIPPED FROM A PLAYBOOK, HIGH SCHOOLMENT'S EARLY COLLEGE DEPARTURE FOLLOWED IN THE FOOTSTEPS OF LARRY ELLISON AND APPLE'S STEVE JOBS.
ANOTHER INCLUDED FACEBOOK'S MARK ZUCKERBURG WHO IN THE ZERO ZERO FOUR CUT HIS TIME SHORT AT HARVARD. >> YOU HAVE PAYPAL BEING ACQUIRED BY EBAY TURNING THE FOUNDERS OF PAYPAL INTO MULTIMILLIONAIRES. THAT INCLUDES PEOPLE LIKE PETER TEAL, ELON MUSK. ALL THESE PEOPLE GO ON TO FOUND OTHER COMPANIES IN THE VALLEY.
>> WHO DIDN'T GRADUATE COLLEG AN OLD. WE HAVE BILL GATES, STEVE JOBS, MARK ZUCKERBURG. >> HOLMES FILED HER FIRST PATENT IN THE SAME STEP SHE FINANCED HER CAREER. -- MICRONEEDLES TO DETECT BIO LOGICAL RED FLAGS AND DELIVER MICROSCOPIC DRUGS. IN THE NEXT YEAR, INVESTMENT CAPITOL WAS ROLLING IN.
>> HOW MUCH MONEY HAVE YOU RAISED SO FAR IN VENTURE CAPITOL FUNDS? >> WE RAED JUST OVER # MANIABLE AND WE HAVE ALSO RAISED MONEY FROM PRIVATE INVESTORS. >> FACTOR IN FOREIGN INFLATION, THE FIGURE DWARFED THE FIRST MONEY RAISED. A $250,000 INVESTMENT, MUCH OF WHICH WAS STRUCTURED AS A LOAN.
WITH MANY FEWER SPRING STRINGS ATTACHED, INVESTORS BET BIG ON HOLMES. >> FROM THE BEGINNING, IT WAS VERY SEASONED IN VENTURE CAPITOL. I DON'T KNOW THE DETAILS, BUT I KNOW CON'S REPUTATION -- HE PROBABLY DID EXCELLENT DUE DILIGENCE.
>> THE FIRST GUY REALLY WAS DONAHUE CASKS SENIOR, WHO HAD ORIGINALLY BEEN AN INVESTOR. AT THIS POINT IN TIME, I DON'T THINK HE WAS FULLY PAYING ATTENTION TO WHAT IS GOING ON. >> Reporter: HOWEVER WELL- VETTED, THE APPARENT CONFIDENCE WAS CONTAGIOUS. TIM DRAPER BADGE HOME AS LARRY ELLISON.
>> WHAT WAS FUND-RAISING LIKE FINDING THE RIGHT PEOPLE TO DISCUSS IN YOAS EVERYTHING. >>> HOLMES DIDN'T NEED TO LOOK FAR. DRAPER HAD BEEN A FAMILY FRIEND AND OTHER FRIEND TRACED DIRECTLY TO HIGH SCHOOLMENT'S ALMA MATER.
>>> AND STANFORD'S BIGGEST MOST IMPORTANT PRODUCT. INCREDIBLE RESOURCES. BUSINESS PEOPLES COMING TO CAMPUS. AND MODERN STANFORD HAS BECOME THIS TOWN SQUARE FOR BILLIONAIRES; RIGHT? IT IS THIS PLACE WHERE YOU RUB SHOULDERS WITH INCREDIBLY CCESSFUL PEOPLE AND THEY ARE TELLING YOU THIS IS HOW YOU CAN BE LIKE ME. >> Reporter: THE EXCLUSIVE ACCESS HELD ANOTHER SECRET TO HIGH SCHOOLMENT'S INITIAL SUCCESS.
PROMINENT BACKERS GAVE RISE TO WERE AN IMPRESSIVE BOARD. INCLUDING FORM U. SECRETARY OF STATE HENRY KISSEINGER, THE LATE GEORGE SCHOLTZ, WILLIAM PERRY AND GENERAL JAMES MADDIS. >> THE ONLY PERSON WAS THE POPE.
HOW DID IT HAPPEN? I AM JUST GOING TO WRITE TO HENRY KISSINGER. >> IN THESE CASES I -- IN MANY CASES WORKING WITH IN SOME CASES A COUPLE OF YEARS BEFORE WE ASK THEM TO JOIN THE BOARD. >> ONCE ONE GOT ON BOARD. >> POWERFUL PEOPLE. PEOPLE WHO HAVE HAD INCREDIBLE MILITARY CAREERS AND MILITARY CAREERS WHO ALSO HAVE, IN TURN, CONNECTIONS TO THE BUSINESS COMMUNITY AND INSTILL CREDIBILITY ON A VE YOUNG PERSON. >> FOR PRIVILEGE, THE EARLY BOARD WAS MOSTLY DEVOID OF EXPERTISE AND DIAGNOSTIC TESTING, BIOCHEMISTRY AND MOLECULARROLOGY.
>>> PRACTICALLY, THEY HAD NO SCIENTISTS WHO WERE RELEVANT TO THE TOPIC OF WHAT THAT START-UP WAS ABOUT. THEY HAD POWERFUL PEOPLE WHO COULD REALLY SWAY SOMEHOW POWER ACROSS MANY CONSTITUENTS AND PROBABLY FACILITATE INVESTORS TO SEND THEIR MONEY AND OPEN LOTS OF DOORS AND GAIN PUBLICITY. THEY HAD NO SCIENCE. THEY HAD NO SCIENCE AND THEY HAD NO BOARTO TELL THEM THAT THEY HAVE NO SCIENCE. >> ONE EXCEPTION WAS HIGH SCHOOLMENT'S COLLEGE MENTOR AND FIRST DIRECTOR, THEN SAMFORD CHEMICAL ENGINEERING DEAN AND PROFESSOR, CHANING ROBERT SON. >> I THINK HE GAVE THE CREDIBILITY THAT THESE INVESTORS NEEDED.
>> IHIRETHE PERSON THAT I WAS WORKING FOR AT STANFORD, AND THAT IS A WONDERFUL STORY; ISN'T IT? >> YEAH. >> IT WAS GREAT. >>> LIKE ENTREPRENEURS BEFORE HER,HOLTNTS TWEAKED HER. HER PATENT APPLICATIONS INCLUDED A PORTABLE SANITIZER THAT WOULD QUICKLY AND INEXPENSIVELY TEST BIOLOGICAL FLUIDS INCLUDING BLOOD.
>> I GOT INTERESTED IN BLOOD AND LAB TESTING. SET A TOOL. DRAMATICALLY REDUCE THE COST. HOLMES' PORTABLE ANALYZER FIRST BECAME KNOWN AS THE EDISON AND LATER AS THE MI LAB. WOULD CATER TO PHARMACEUTICAL COMPANIES TO TEST ADVERSE DRUG REACTIONS IN CLINICAL TRIALS.
LATER VERSIONS WOULD SERVE DOCTORS AND PATIENTS REPLACING THE BULK OF TRADITIONAL LAB TESTING ALTOGETHER. >> INSTEAD OF HAVING TO TO A LAB IN ORDER TO GIVE BLOOD. WE'RE ACTUALLY GOING TO BEGIN TO MAKE IT POSSIBLE FOR PEOPLE TO DO LAB TESTING IN THE PLACES THEY NEED HERE. VIALS OF BLOO AND DAYS-LONG PROCESSING TIMES.
DOCTORS AND PATIENTS COULD DRAW A FINGSTICK. OPS OF BLOOD USING TO CONDUCT A BLOOD TEST. ULTIMATELY AT HOME, AND THE BOX IS ABOUT THE SIZE OF A DESK WHYEN TOP PRAYER. SO IT IS PROBABLY MAYBE 18 INCHES LONG AND 15 INCHES WIDE. >> HIGH SCHOOLMENT'S PIVOT TO ENGINEER A DESK-TOP ANALYZER CAME WITH A MOUNTAIN OF ELECTRICAL, CHEMICAL, AND BIO ENGINEERING CHALLENGES.
THE VISION WAS SO AMBITIOUS THAT CRITICS INCLUDING EMPLOYEES SAID IT COULDN'T BE DONE. ADDED HURDLES CAME FROM RICHARD HUGHS, A HOLMES FAMI FRIEND 30-PLUS YEARS HER SENIOR WHO FILED A PATENT TO SEIZE UPON AN OVERLOOKED ELEMENT IN THE WOULD- BE ANALYZER'S SUPPLY CHAIN. HOLMES LATER SUED HUGHS WITH THE EP.
BY 2010, VE YES INTO HER PURSUIT, THERE WAS LIGHT AT THE END OF THE TUNNEL. AFTER STRUGGLING TO STAY AFLOAT HOLMES REPORTED TO THE SEC THAT HE HAD SOLD $45 MILLION IN PRIVATE COMPANY SHARES. AND A $12 MILLION LINE OF CREDIT CAME FROM HI SCHOOLMENT'S THEN SIGNIFICANT OTHER, A DOT COM ERA MILLIONAIRE WHO HOLMES HAD RECENTLY HIRED.
THIS IS GOING TO BE WAY UP THERE. THESE HAVE HAD THE SAME IMPACT O ON HUMAN HEALTH. >> AND THE HOLMES FIRST BECAME FRIENDS IN 2002. AND HE WAS 37 AND HOLMES 19.
THE TWO BECAME A COUPLE AFTER HOLMES LEFT STANFORD. >> SHDIDN'T CHOSE REALLY. THE BOARD MADE HER GO HIRE SOMEBODY. >> THE COUPLE WAS CRITICIZED FOR GOING TO GREAT LENGTHS TO KEEP THE ROMANTIC RELATIONSHIP A SECRET. >> THAT WAS RICULOUS.
AND SHE DIDN'T SIGN AWAY HAVING RELATIONSHIP. >> AND NEXT WE BEGIN TO SEE THE DOCUMENTS AND THE COMMUNICATIONS BETWEEN THEM, IT BECAME VERY CLEAR. PRSED LMES TO EXPLAIN. OSITION, >> CAN YOU TELL ME WHETHER OR NOT YOU HAD A ROMANTIC RELATIONSHIP WITH SUNNY? >> I DID.
DUE TO THE PENDING CHARGES BY THE DEPARTMENT OF -- I AM TELLING ELIZABETH TO INVOKE HER 5:00 AMENDMT RITS AND NOT ANSWER. >> DID YOU EVER GET AN ANSWER TO THOSE QUESTIONS? >> NO. SHE PLED THE 5:00. >> THE PARTNERSHIP CONTINUED UNTIL O 2016 WHEN HE LEFT THE COMPANY. THE DYNAMIC IS LIKELY TO COME INTO FOCUS.
NOW SEPARATELY SCHEDULED TRIALS. ACCORDING TO COURT DOCUMENTS, HOLMES TO INTRODUCE EVIDENCE CONCERNING HER HIMMAL STATE DURING HER TIME AS CEO. IN 2013, HOLMES AND STRUCK AN EQUALLY PUZZLING PARTNERSHIP. TO DEPLOY THE DEVICE IN ITS PALO ALTO AND ARIZONA STORES DESPITE THE DEVICE'S DESIGN FOR HOME AND DOCT'S OFFICE USE. OVER 140 COLLARS MILL MILLION DOLLAR CONTACT. SOMEDAY, MANY IN MORE THAN 8,000 U.S. STORES.
>> AND WALGREEN'S HAS A NOTION OF PUTTING ONE IN EVERY STORE SO THAT YOU CAN COME IN AND HAVE YOUR BLOOD TESTS DONE WHILE YOU SHOP. >> THE COMPANY SAID CONSUMERS CAN NOW COMPLETE ANY CLINICIAN- DIRECTED LAB TEST WITH AS LITTLE AS A FEW DROPS OF BLOOD WITH RESULTS AVAILABLE IN A MATTER OF HOURS. IT WENT ON TO SAY THAT BLOOD SAMPLES WOULD BE DRAWN EITHER FROM A TINY FINGER STICK OR A MICROSAMPLE USING TRADITIONAL METHODS.
THE WALGREEN'S PARTNERSHIP MADE HOLMES A DARLING OF BUSINESS AND TECH IMMEDIATE Y. HER STORY CATAPULTED TO THE COVERS OF MAGAZINES AND TO THE FRONT PAGES OF NEWSPAPERS. UNDER HIGH SCHOOLMENT'S AND -- THE MANAGEMENT N. 2014, FUNDING SPIKED TO 400 MILLION. >> SHE WAS ON EVERY COVER LOOKING FOR A STEVE JOB. EVERYONE CALLED HER THE NEXT STEVE JOBS AND IT WAS ST NDERL.
AND I DON'T KNOW OF A CEO WHO WOULDN'T KILL. >> FIRST RESPORTED THE ANALYZER COULD PERFORM HUNDREDS OF BLOOD TESTS AND AS MANY AS 30 FROM A SINGLE DROP. HOLMES SOON BOASTED THAT 70 DIERENTESTWERE POSSIBLE FROM A FINGERSTICK SAMPLE AND THAT MORE THAN 200 COMMON TESTS. THE BOLD CLAIMS ELEVATED HOLMES TO HER FIRST COVER FEATURE. >> OBVIOUSLY, IT WAS THE STORY EDITOR. AND ROGER WAS THE WRITER.
AND WE WERE EXCITED ABOUT IT. IT SOUNDED, YOU KNOW, JUST LIKE EVERYONE ELSE SAID BACK THEN. I MEAN, THIS WAS LIKE THE NEXT BIG THING, YOU KNOW, AND THERE WAS A LOT OF ENTHUSIASM ABOUT IT. AND A LOT OF INTEREST, CERTAINLY. IT IS ALREADY A GOOD SIZE COMPANY WITH 500 EMPLOYEES WHO ARE REPRESENTED BY DAVID AT THAT TIME. ONE OF THE PRE-EMINENT ATTORNEY IN THE CRUNCHY.
BACKING FROM LARRY ELLISON. >> TECH CRUNCH ALSO INTERVIEWED HOLMES IN PEAK OF THE COMPANY'S ASSENT? >> THIS IS THE AMOUNT OF BLOOD THAT IS NEEDED DRAW TO DO A TEST. >> A LOT OF PRIVATE COMPANIES WERE GETTING A SIGNIFICANT AMOUNT OF FUNDING SO I THINK VALUATIONS WERE JUST HIGH ACROSS THE BOARD AND THERE WAS A SENSE OF -- A LACK OF CIRCUMSPECT ABOUT WHAT WAS GOING ON IN THE INDUSTRY.
>>> FORBES FOLLOWED SUIT FEATURING A COVER FEATURE OF ITS OWN. >> THEY WERE SAYING SHE MAY BE THE NEXT BIG THING. VISIONARY GURU, SILICON VALLEY.
BIG DEAL. YOUNG. COROLLING. OS CAN BE VE SHE HAD NONE OF THAT. AT THAT POINT, FORBES WAS TELLING ME THAT SHE WAS APPARENTLY AMERICA'S YOUNGEST SELF-MADE FEMALE BILLIONAIRE.
>> THE COMING OUT PARTY LASTED NEARLY TWO YEARS. AS HOLMES REPORTED TO DISRUPT, THE MULTIBILL DOAR DIAGNOSTICS INDUSTRY DOMINATED BY COMPANIES BY QUEST, LAB CORP., ABBOTT. MEANWHILE, WALGREEN'S CUSTOMERS RELIED ON TESTS AND THE COMPANY'S VALUATION SOARED TO 9 BILLION. THE COMPANY GREW TO MORE THAN 80 INCLUDING FORMER APPLE OSX DEVELOPER, EVENTUALLY ASKED TO RESIGN FROM THE BOARD AND CHIEF SCIENTIST IAN GIBBONS. A 30-YEAR BIOCHEMISTRY EXPERT WHO IN 13 TOOK HIS LIFE AFTER RECEIVING A SUBPOENA TO TESTIFY IN THE PATENT DISPUTE WITH HIGH SCHOOLMENT'S FORMER FAMILY FRIEND. >> THERE IS A LITTLE BIT OF IRONY IN THE PHOTOGRAPH NOW.
IT IS LIKE THE FIREHOUSE CATCHING ON FIRE. WHAT YOU ARE SEEING IN THAT PHOTOGRAPH -- IT IS EXACTLY WHAT IS NOT SUPPOSED TO HAEN. >> BY THAT TIME, U.S. ATTORNEYS SAY HOLMES WAS PEDALING A FRAUD. >>> THE ACCUSATION WAS FIRST WAGED IN AN OCTOBER 2015 WALL STET JRNAL EXPOSE. REPORTER JOHN SKEWERED HIGH SCHOOLMENTS ACCLAIM THAT HER TECHNOLOGY COULD ACCURATELY PROCESS HUNDREDS OF TESTS USING THE FINGERSTICK TECHNIQUE.
>> IT REALLY WASN'T UNTIL THE STORY CAME OUT THAT WE HAD AN UNDERSTANDING THAT THERE WAS LESS HERE THAN MET THE EYE. >> WHISTLE BLOWERS WHO CONFIRMED THE REPORTING COMPOUNDED THE DAMAGE CLIMBING THE ANALYZER RETURNED ENOUGH FALSE POSITIVES AND FALSE NEGATIVE RESULTS THAT THE COMPANY WAS FORCED TO RUN ALL BUT ONE ST TRADITIONAL EQUIPMENT MADE BY THE VERY COMPANY HOLMES AIMED TO DISRUPT. >> THEY WERE DILL LAWSUITING THAT BLOOD AND EQUIPMENT THAT WAS MADE FOR DILL LAWSUITING THAT BLOOD. THEIR DEFENSE WAS WELL WE DID HAVE THE TECHNOLOGY. AND IT WAS ON THIRD PARTY EQUIPMENT IN THEIR TEING AND IN THEIR QUALITY ASSURANCE AND ALL THE THINGS YOU ARE SUPPOSED TO DO AT A LAB. IF THE NUMBERS DIDN'T WORK OUT, THEY WERE PLAYING WITH THE SAMPLES THEY USED AND IT IS QUESTIONABLE.
>> AT THE HEART OF THE JUSTICE DEPARTMENT'S INDICTMENT, OUR ACCUSATIONS THAT HOLMES LIED ABOUT THE TECHNOLOGY TO DO INVESTORS AND BUSINESS PARTNERS. AND TO DO PATIENTS INTO PAYING FOR WALL GROAN'S-BASED TESTS. THE FURTHER EXAMINED THE NONFICTION BOOK BAD BLOOD. AND ALEX'S DOCUMENTARY, THE INVEST VENTER.
>> ON THE QUESTION IS DID SHE KNOW SHE WAS PERPETUATING A FRAUD OR WAS THERE SOMETHING MORE MYSTIOUS GOING ON? >> I THINK SHE IS AFLICKED WITH WHAT THE POLICE CALL NOBLE CAUSE CORRUPTION MEANING SIMPLE JUSTIFIES NEEDS. HOLMES'S KNOWLEDGE WILL BE KEY TO THEIR DEFENSE TO GIVE PROSECUTOR'S BURDEN TO PROVE INTENT, A NONNEGOTIABLE ELEMENT REQUIRED TO OBTAIN CONVICTION. >> AND THAT IS WHAT MAKES THIS A DIFFICULT STORY TO DRAW A CONCLUSION ABOUT IN TERMS OF INVESTMENT FRAUD BECAUSE I DON'T THINK ANYONE DISDISBELIEVED THIS STORY OF THE ONSET.
>>> 2010, SEVEN YEARS AFTER HOLMES STARTED, IS WHEN U.S. ATTORNEYS SAY THAT BY 2015 WOULD INCLUDE LYING TO VESTORS ABOUT THE RANGER. FAKING PRODUCT DEMONSTRATION, MISREPRESENTING REJECTED REVENUES AND FABRICATING STORIES IN MILITARY COMBAT ZONES. BY 20S PROSECUTORS SAY THE GO KNOWINGLY PROMOTED AND DELIVERED TESTS LIKELY TO CONTAIN INACCURACIES AND FALSELY REPRESENTED TO INVESTORS THAT THE TASK DID NOT REQUIRE FDA APPROVAL. TO HELP CONTESTED ALONG WITH PLEADING NOT GUILTY TO CRIMINAL CHARGES.
>>> WHEN I STARTED, EY D STRAPPED THE EDISON DEVICE SO WE WERE WORKING ON THE NEXT GENERATION. >>> IT WAS 2015, A MONTH BEFORE REVEALED WHAT JOCELYN BAILEY AND OTHER EMPLOYEES ALREADY KNEW. MORE THAN ZERO NINE% OF LGREEN'S BASED TESTS USED KNIGHT THE MINI LAB NOR TINY BLOOD BLOOD SAMPLES AND CAME FROM TRADITIONAL.
PROCESSED BY TRADITIONAL ANALYZERS. BAILEY'S JOB WAS TO DEVELOP A COMMON TYPE OF BLOOD TEST INTENDED TO RUN INSIDE THE MINI LAB. >> DID YOU KNOW ABOUT THE MACHINES BEING USED WHILE YOU WERE WORKING THERE? >> I CAN'T YEAH. WE KNEW.
I THINK IT WAS COMMUNICATED TO M OUR TEAM KNEW ABOUT IT. I DON'T KNOW IF EVERYONE KNEW. WE KNEW THAT FINGERSTICKS HAD BEEN CUT RECENTLY FROM THE CLINICS. SOME OF THOSE ORIGINAL CLAIMS WERE KNOWN.
YOU KNOW, IT HURTS. WE KNEW IT. AND WE WERE IN THE LATRYING TO MAKE IT BETTER. >> THE REVELATIONS TURNED FOREIGN'S COVER STORY ON ITS HEAD. >> IT BECAME CLEAR THAT THEY COULDN'T ACCOMPLISH THE TEST THAT THEY WANTED TO. USING IT AS A MACHINE.
IN IRLY SHORT ORDER, IT UNRAVELED. >> ONE WHISTLE BLOWER, AN EMPLOYEE, AND GLANDSON TO BOARD MEMBER GEORGE SCHOLTZ DISCLOSED THE SHORTCOMING TO THE WALL STREET JOURNAL AND FILED A COMPLAINT WITH NEW YORK STATE'S DEPARTMENT OF HEALTH SAYING THE COMPANY HAD MANIPULATED PROFICIENCY TESTING, A PROCESS MEANT TO PROMOTE TEST ACCURACY. AT A MINIMUM, IF THE 2013 PRESS RELEASE AND STATEMENTS TO MEDIA WERE TO BE BELIEVED.
WITH AS LITTLE AS A W DROPS OF BLOOD, ITS DEVICE SHOULD HAVE BEEN ABLE TO ACCURATELY PROCESS MULTIPLE, IF NOT MORE THAN 200 COMMON DIAGNOSTIC TESTS. >> DID IT MAKE YOU QUESTION THE TECHNOLOGY, OR NOT NECESSARILY. >> YOU DEFINITELY ALIZ AT 0 ON A SINGLE DROP OF BLOOD, ON THE SAME MACHINE THAT YOU DEVELOPED.
THAT IS NOT FEASIBLE AND SO YOU REALIZE THEIR GOAL WAS TO HAVE IT IN ALL THESE WELLNESS CENTERS AND HAVE ALL THE PRICE BE COMPANY AND ALL THIS KIND OF STUFF. YOU UNDERSTOOD WHY THEY WERE USING THESE PE COMMERCIAL ANALYZERS. YOU DIDN'T REALIZE, I GUESS, THE EXTENT OF HOW MUCH THEY HAD PITCHED THEIR OWN MACHINE AND HOW THE PUBLIC WAS UNDERSTANDING THAT I HAVE EVERYTHING WAS BEING DONE ON OUR TECHNOLOGY. >> WHEN REPORTERS PRESSED HOLMES ON THE INCONSISTENT CITIES, SHE ADMITTED THAT ONLY ONE FINGERSTICK TEST WAS COMMERCIALLY AVAILABLE USING THE MINI LAB, A SINGLE ESSAY FOR HERMES VIRUS HS-VONE. THE REST, HOLMES SAID, REMAINED IN , OR AWAITED APPRAL.
2016, THE CENTERS FOR MEDICARE AND MED AKID NOTIFIED OF LABORATORY DEFICIENCIES. THE AGENCY SANCTIONED THE COMPANY AND GRAYED TO A SETTLEMENT BANNING HIGH SCHOOLMENTS IN NING OPERATING A CLINICAL LAB FOR TWO YEARS. THE AGREEMENT FORCED THE COMPANY TO SHUTTER ITS WALGREEN'S AND LABORATORY OPERATIONS. HIGH SCHOOLMENT'S DEFENSE WASN'T ENOUGH TO QUIET THE MOST PORTABLE CLINICS. A FLOOD OF LAWSUIT FOLLOWED.
ARIZONA'S ATTORNEY GENERAL, INVESTORS IN THE SEC CLAIMED FRAUD. WALGREEN'S SUED FOR BREACH OF CONTACT AND THE JUSTICE DEPARTMENT FILED CRIMINAL CHARGES FOR CONSPIRACY AND WIRE FRAUD. >> DID HOLMES EVER EXPLAIN TO U WHY SHE MAYBE INBELLISHED WHEN HER PRODUCT COULD DO. >> NO. SHE DIDN'T HAVE TO. YOU KNOW, IT IS NOT UNCOMMON FOR TO TALK IN THE PRESENTENCE ABOUT THE FUTURE.
THAT IS A CONCEPT. NONE, THE TENDENCY IS TO SAY MY PRODUCT CAN DO THIS. AND MY SERVICE CAN UNIFY PEOPLE.
IT IS A WAY OF ESSENTIALLY -- AND ELIZABETH WAS VERY GOOD AT THAT. >> ASIDE FROM THE CRIMINAL ACTION AND A CIVIL SUIT FILED BY CUSTOMERS. HOLMES SETTLED THE LAWSUITS OUT OF COURT.
THE COMPANY PAID BALANCE GREEN'S AROUND 25 MILLION TO SETTLE ITS BREACH OF CONTRACT CLAIM AND SEPARATELY AGREED TO PAY NEARLY $5 MILLION. A $500,000 FINE WAS PAID TO SETTLE THE SEC'S CLAIM OF FRAUD. AND THE CONTROLLING STAKE AND DIVERGED ARE HIS CLIENTS RECOUPED THEIR INVESTMENTS. STILL, MOST OF THE $900 MILLION HOLMES RAISED CAME FROM INVESTORS WHO TOOK NO LEGAL ACTION AGAINST HER.
>> SO THEY ALL CIRCLED THE WAGONS AROUND. AND DIDN'T GO AFTER THEM. IN FACT, THEY DIDN'T REACH AN AGREEMENT NOT TO GO AFTER THEM EARLY ON. >> BY THE OVERWHELMING OF THE VERY INVESTORS O PROSECUTORS SAY WERE VICTIMS OF FRAUD BEGS CLOSER EXAMINATION OF SILICON VALLEY STATUS QUO AND THE CONTRIBUTING ROLES OF THE PARTIES THAT POWER ITS BIG IDEAS.
>>> OF COURSE, I HAVETO BLAME SUNNY AND ELIZABETH HOLMES. I MEAN, THEY ARE THE PRIMARY TWO. I MEAN, THEY ARE THE COCONSPIRATORS WHO CREATED THIS MESS.
>> AND YOU CAN'T DO IT ALONE. SHE WAS AND IS A SINGULAR FIGURE, AND SHE DOES BEAR RESPONSIBILITY. I MEAN, EVEN AS YOUNG AS SHE WAS. SHE BEARS RESPONSIBILITY FOR WHAT HAPPENED UNDER HER WATCH.
>> OH, LOOK, THERE ARE SO MANY OTHER PEOPLE WHO WENT ALONG WITH HER. SO MANY OTHER PEOPLE WANTED IT TO HAPPEN. YOU KNOW, SHE WILL SAY IN HER DEFENSE IT WASN'T ME ALONE.
THAT IS TRUE. IT IS TRUE OF EVERY ENTREPRENEUR. IT IS NEVER THEM ALONE.
>> WHERE DO YOU PUT SUNNY. >> HE IS VERY CRITICAL. IN SOME WAYS THE BAD COP TO THE GOOD COP. THERE ARE MANY INSTANCES OF THE MAN BLIND THE CURTAIN OR THE MO SILT PANER.
YOU SEE THIS AT MICROSOFT AND PAUL ALLEN. BILL GATES. >> I AM NOT SURE THE INVESTORS WERE WRONG, BECAUSE I AM NOT SURE THEY EVER FULFILLED THEIR OWN OBLIGATION AND RESPONSIBILITY.
>> VENTURCAPITOL THE RULE OF THUMB IS THAT OUT OF TEN INVESTMENTS, YOU'LL HAVE THREE THAT FAIL. YOU'LL HAVE THREE THAT KIND OF GO, YOU KNOW, FINE. AND YOU'LL HAVE ONE OR TWO THAT ACTUALLY MAKE YOU MONEY.
AND SOMETIMES MAKE YOU A LOT OF MONEY. AND WHAT MAKES THE RISK WORTH IT IS WHEN YOU HIT, YOU HIT BIG. >> THE INVESTMENT MONEY WAS GOOD.
EVENTUALLY, BECAUSE IT GIVES ONE WAY FOR SCIENTISTS. SO SHE DID A GOOD JOB AT GETTING SOME RUNWAY LATER. THE FIRST ROUND OF THE TECHNOLOGY OBVIOUSLY WAS A MASSIVE FAILURE, AND WAS TERRIBLE FOR PATIENTS. BUT SHE DID A GOOD JOB AT SETTING A VISION FOR SCIENTISTS TO WORK TOWARDS.
TO ALLOW A LOT OF COMPANIES DON'T HAVE THAT MUCH FUNDING. >> IN PRIVATE COMPANY INVESTING, AND THE PROSPECT OF AN INVESTOR HAS TO FILL OUT A VERY DETAIL FORAND IT SAYS I UNDERSTAND THE RISKS. I UNDERSTAND THAT, YOU KNOW, I MAY NOT GET ANY RETURN ON THIS.
I UNDERSTAND FURTHERMOORE, THIS WILL NOT AFFECT MY NETWORTH. >> THEY ARE ACCREDITED. >> THEY ARE ACCREDITED. SOPHISTICATED ACTUALLY I THINK IS THE TERM. AND THEY ALL FILLED OUT THE FORM.
BUT NOBODY DID THE WORK. I DIDN'T SEE THEM STORMING THE GATES AND GOING AFTER THE BOARD SAYING HEY GUYS, YOU KNOW. YOU HAVE AN EFFECTIVE BOARD. I WAS TELLING ELIZABETH YOU DON'T HAVE TO DO THAT WHICH I THINK SHE GOT BAD ADVICE.
>> IN ANNOUNCING ET CETERA SETTLEMENT WITH HOLMES, THE SEC POSTED AS A LESSON FOR ENTREPRENEURS WARNING THAT INVITERS WHO SEEK TO REVOLUTIONIZE AND DISRUPT AN INDUSTRY MUST TELL INVESTORS THE TRUTH ABOUT WHAT THEIR TECHNOLOGY CAN DO TODAY, NOT JUST WHAT THEY HOPE ITGHT DO SOME DAY. >> I BELIEVE THAT THE SEC DID NOT HAVE JURISDICTION. AND I THINK THE SEC HAS A GREAT ROLE TO PLAY IN PUBLIC MARKETS AND ALL. I HATE TO SEE THEM GET DEEP INTO THE VENTURE COMMUNITY. THERE IS A FINE LINE BETWEEN THAT ANTHE MOM AND POP BUSINESS.
>> AND THERE ARE SOME PEOPLE WHO SAY THAT ELIZABETH HOLMES IS BEING HELD TO A PUBLIC COMPANY STANDARD. DO YOU THINK THAT IS A VALID ARGUMENT? >> I THINK THERE IS SOME MERIT THAN THAT. THLAST DECADE OF SILICON ULARLY VALLEY, THE DECADE SINCE THE GREAT RECESSION, THAT HAS BEEN DIFFERENT, HAS BEEN THE PRIVATE MARKETS HAVE DOMINATED MORE THAN THE PUBLIC MARKETS. COMPANIES WOULD GO PUBLIC THAN WOULD HAVE TO GO PUBLIC.
BELL WENT PUBLIC. PUBLIC WHEN IT IS LESS. AND NOW IN THE LAST DECADE.
IT IS HARD TORE GO PUBLIC. THE REGULATIONS. POST-RECEPTION. IT IS A HEAVIER.
THERE HAVE BEEN ALL OF THIS PRIVATE CAPITOL JUST SLUSHING THROUGH THE GLOBAL MARKETS LOOKING FOR A HOME. AND THEN YOU HAVE THIS FLYWHEEL OF STORY-TELLING AND BUZZ ABOUT THIS IS THE NEXT BIG THING. EVERY IS LIKE I WANT TO GET IN ON THAT.
THEN YOU ARE ALLOWED A KIND OF RELATIVE -- YOU ARE PROTECTED FROM THE SCRUTINY OF PUBLIC MARKETS. DOES THAT MEAN THAT YOU CAN GET AWAY WITH FRAUD, NO. INVESTORS ARE RIGHT BE, YOU KNOW, CALLING HER TO ACCOUNT. >>> AND EARLY INVESTORS HAD EVERY OPPORTUNITY TO DO JUST THAT.
>> THEY DID NOTHING IN TERMS OF TRYING TO ACERTAIN THE CURRENT STATUS OF THE PRODUCT OR THE SK TO COMPLETION OR ANYTHING ELSE. >> WHOSE FAULT IS THAT? >> I THINK SIT THE INVESTOR'S FAULT. YEAH, YOU INVEST IN SOMETHING, YOU WANT TO KNOW HOW YOUR INVESTMENT IS DOING, AND I THINK SIT ALSO A SYMPTOM OF THE FOUNDER CULTURE THAT HAS REALLY, YOU KNOW, REALLY TOOK HOLD OF THE VAEY EXACTLY DURING THE TIME THAT HE WAS GROWING. >> FOR THE FIRST MEETING I WAS IN, THIS WAS ALL THE MAJOR INVESTORS. I HADN'T HAD ANY MEETINGS WITH THE COMPANY SINCE.
AND YOU KNOW, MAYBE THE OCCASIONAL PHONE CALL. NOTHING AS A GROUP. AND NOTHING WITH A STATUS REPORT WHICH I FOUND STAGGERING.
THEY DIDN'T SEEM TO PRESS HARD BEFORE THE INVESTMENT AND THEY SURELY DIDN'T SEEM TO PRESS HARD AFTER THE INVESTMENT. MY VIEWPOINT IS REALLY OUT OF CHARACTER FOR A STARK INVESTOR NOT TO BE ALL OVER IT. IF YOU WERE A VENTURE CAP LIST, AND YOU PUT IN HUNDRED MILLION, YOU WOULD BE THERE EVERY WEEK. HOW ARE WE DOING? ARE WE ON TRACK? >> AND THOSE DOCUMENTS DO NOT EXIST. >> AND NOT IN THE HANDS OF THE INVESTORS. THEY WEREAVAILABLE INTERNALLY.
INTERNAL DOCUMENTS MAY HAVE EXPOSED THE OPERATION AND ABILITY. THOSE HOLMES TOLD THE SEC HAD ROOM FOR IMPROVEMENT. >> WE INTENDED THESE DOCUMENTS TO BE STAND ALONE AND SITTING HERE NOW, I KNOW WE COULHAVE BEEN MUCH BETTER THE WAY WE PREPARED MATERIALS. >> AND DID YOU TALK ABOUT SPECIFICALLY THE TECHNOLOGY AND BLOOD DRAW AND WHAT WAS IN PLACE AT THAT TIME VERSES WHAT WAS ASPIRATION. WAS THERE A CLEARED DELINEATION BETWEEN THOSE TWO? >> AND WHEN WE LOOK AT THE INVESTORS, MANY OF THEM, NOT NECESSARILY YOUR CLIENTS, BUT CERTAINLY PERHAPS A VC FUND, WE WOULD EXPECT TO BE SEASONED INVESTORS WHO CAN PROPERLY VET A COMPANY, A START-UP. >> IN THIS CASE, PROBABLY WHAT YOU WOULD CONSIDER A SEASONED INVESTOR LIKE DRAPER, PERHAPS LARRY.
AND THEY INVESTED EARLY WHEN IT WAS JUST A CONCEPT. AND A LOT OF VCs WILL INVEST EVEN WHEN IT IS NOT PROVEN. HE GOT WELL BEYOND THAT AND THEN STARTED RAISING FUNDS. MASSIVE AMOUNTS OF FUNDS FROM OTHER INVESTORS.
>> THE AMOUNTS OF MONEY THAT A CERTAIN CLASS OF WHAT I CALL MEGA VCs WAS UNTOLD, UNPRECEDENTED AMOUNTS OF CAPITOL AVAILABLE TO INVEST STARTING WITH A JAPANESE COMPANY, SOFTBANK, AND SOME OF THE SOVEREIGN WELLTH FUNDS IN THE MIDDLE EAST WHO ARE LOOKING FOR WHAT TO DO AFTER THE OIL BEGINS TO PETER OUT. THEY ARE ABLE TO, AND ARE BRINGING AMOUNTS OF MONEY THAT HAVE NEVER BEEN SEEN BEFORE. THERE IS NO INDEPENDENT LIDAON. THAT IS WHAT CONCERNS ME NOW WHEN WE LOOK AT SOME OF THESE MEGAFUNDED COMPANIES LIKE WE WORK AND UBER THAT IT HASN'T BEEN VETTED AS MUCH AS YOU WOULD NORMALLY HOPE AND EXPECT FOR AT LEAST AN INDEPENDENT VENTURE CAPITOL SET OF PLAYERS. AND THAT ADDS TO THE BOARD AND THE CEO AND HERE WE ARE. >> AND EY GO DIG IN INSIDE THE COMPANY AND GET THE FACTS.
START WITH CHANING ROBERT SON. START WITH THE HEAD OF ENGINEERING. YOU KNOW, AND START ASKING QUESTIONS.
>>> IN ADDITION TO HOLMES, IT WAS CHANING ROBERT SON WHO IN 2016 GRAVE CONFIDENCE TO JOIN THE BOARD. EVEN AFTER MEDIA AND LAWYERS HAD ACCUSED HOLMES OF FRAUD. >> AND HE HAD JUST INCLUDED ORGANIZING TWO BLUE RIBBON PANELS.
ONE THAT LOOKED AT THE SCIENCE OF THE BIOCHEMISTRY INSIDE THE BOX AND ANOTHER ONE LOOKING AT THE MECHANICAL NATURE OF THE BOX TO MAKE SURE IT WAS ALL VIABLE AND DOABLE. THEY BOTH CAME BACK VERY POSITIVE. I DIDN'T GET IN DEEP TO UNDERSTAND HOW FAR TH WERE FROM GOING TO MARKET, BUT I DID HAVE ENOUGH CONFIDENCE THAT THE FUNDAMENTALS WERE FOUND. >> HE CLEARLY THOUGHT SHE WAS SPECIAL.
WHEN SHE FELT LIKE STARTING A COMPANY, HE IS THE ONE SHE WENT TO. HE WAS BEING PAID QUITE HANDSOMELY TO WORK FOR HER AND HAD A DESK IN THEIR OFFICES AND HE CLAIMED THEY DIDN'T KNOW ON THAT TECHNOLOGY. HE CLAIMED HE DIDN'T KNOW ABOUT THE FACT THAT THE THINGS DIDN'T WORK. HE CLAIMED HE DIDN'T KNOW THINGS WERE BEING RUN ON THIRD PARTY EQUIPMENT. I DON'T KNOW WHAT THE HECK WAS GOING ON WITH HIM. WHY HE HASN'T WAED TO ASK THESE QUESTIONS.
WHY HE CLAIMS TO BE COMPLETELY. HE IS THE ONE THAT BROUGHT HER AROUND, GOT HER CREDIBILITY AND WAS PAID HANDSOMELY AND ANNUALLY. >> ONE FORMER BOARD MEMBER REPORTLY THE DID ASK THE HARD QUESTIONS. ACCOING ABC, THE SO ENGINEER, AND FORMER RIGHT-HAND MAN TO STEVE JOBS WAS ASKED TO RESIGN IN 2007. FOLLOWING HIS ULTIMATUM THAT HOLMES BE REPLACED AS CEO.
>> THE WAY THAT START-UP BOARDS ARE USUALLY MADE UP OF VENTURE INVESTORS, AND THEY ARE MADE UP OF OTHER PEOPLE WITH DOMAIN EXPERTISE. CORPORATIONS MAY LOOK FOR -- LOOK EVEN MORE WIDELY FOR PEOPLE WHO HAVE DOMAIN ACTION PER TOSS. THEY HAVE EXPERTISE IN UNDERSTANDING HOW LARGE INTERACT WITH THE WORLD. SOMETHING IS OFF FROM THE VERY EARLY STAGE. >> I WOULD SAY THAT THERE IS A LACK OF SCIENTIFIC MENTORSHIP OVERALL.
IT WAS -- THAT WAS IT. THERE WAS LITTLE OTHER SCIENCE GUIDANCE GIVEN TO THE ACTUAL SCIENTIST. >> AND SO EVEN CHANING ROBERT SON WAS NOINTERACTING WITH YOUR GROUP. >> NO, HE WASN'T PRESENT AS FAR AS I COULD TELL.
>> THAT DID SET APART FROM THE VERY BEGINNING, AND IT WAS A RED FLAG TO OTHER POTENTIAL VENTURE INVESTORS IN THE TECH AND PARTICULARLY THE BIO-TECH SPACE. IT IS A BIO-TECH COMPANY THAT DOESN'T HAVE THE PERSNEL OR THE PROCEDURES IN PLACE THAT A BIOTECH COMPANY WOULD NEED TO HAVE AT THE VERY BEGINNING STAGE TO DEVELOP PRODUCT. >> IN 2016, HE FINALLY IMPANELED A MEDICAL BOARD. AND UNDER NEW LEADERSHIP, LMESRESEED A SCALED-BACK VERSION OF ITS UPDATED DEVICE, THE MINILAB TO THE AMERICAN ASSOCIATION FOR CLINICAL CHEMISTRY. >> THERE HAS BEEN A LOT OF INTEREST IN YO COMPANY. >> THERE WERE CLAIMS.
THE WHOLE PAN MRI OF LAB TESTS FROM A COUPLE OF DROPS OF BLOOD. THE EVIDENCE THAT YOU PRESENTED FELL SHORT OF. THAT HOW SHOULD WE THINK ABOUT THAT? >> I THINK WE FULLY UNDERSTAND IN PICKING THIS PLE TO COME AND INTRODUCE IT THAT WE HAVE A LOT OF WORK TO DO TO ENGAGE IN THIS COMMUNITY.
AND I CAN TELL YOU I WISH THAT I HAD STARTED EARLIER IN THE CONTEXT OF BUILDING THE SCIENTIFIC AND MEDICAL BOARD THAT WE HAVE HAD THE PRIVILEGE >> UNDER LEGAL PRESSURES AND BURNING CASH, THE EFFORT WOULD PROVE TOO LATE. >> SHOULD THE BOARD HAVE LOOKED AT ITS OWN COMPETITION -- COMPOSITION AND SAID PERHAPS WE DON'T HAVE THE LEVEL OF EXPERTISE THAT IS REQUIRED FOR A REVOLUTIONARY HEALTHCARE COMPANY? >> S. BUYOU ARE ASKING PEOPLE TO ADMIT THEIR OWN WEAKNESSES. YOU KNOW, LET'S GIVE CREDIT TO ELIZABETH HOLMES. SHE WAS QUITE THE CHARMER AND PEOPLE JUST FELT GREAT AND IMPORTANT IN THEIR OWN MINDS.
I AM SURE THEY THOUGHT THEY WERE PROVIDING GOOD SAGE COUNSEL. OF COURSE, THAT SHOULD BE A PART OF THE EQUATION AS WELL. >> STANFORD MEDICAL SCHOOL PROFESSOR REPORTEDLY CRITIQUED FINGERSTICK DRAWS AS AN IMPOSSIBLE SOURCE FROM WHICH TO GET ACCURATE RESULTS FOR HUNDREDS OF TESTS. SHE DESCRIBED THE INVESTORS AS CRAZY ANITS BOARD MEMBERS AS OLD MEN WHOSE BRAINS HAD GONE TO THEIR GROIN. YET THE SUGGESTION THAT HIGH SCHOOLMENT'S CONCEPT WAS NOTHING MORE THAN FANTASY FAMES TO ACCOUNT FOR A FLOOD OF DIAGNOSTIC PROCESSING IN HER WAKE. ANALYZER FDA APPROVED AND ON ITS WAY TO RUNNING MORE THAN 100 COMMON TESTS FROM A TINY DROP OF BLOOD.
>> OVER HERE IS OUR PRO PRY TEAR TECHNOLOGY N. IS A MACHINE WE JUST GOT CLEARED FROM THE FDA. WHAT IT REALLY GOOD IS ANALYZING BLOOD PROTEINS. NOBODY ELSE HAS A MACHINE THAT CAN ANALYZE A LARGE NUMBER OF BLOOD PROTEINS IN 15 MINUTES ON THE WHOLE LOAD IN A PHYSICIAN SETTING.
THAT IS OUR AMBITION. >> THE MAVERICK CAN PERFORM. >> A SENSOR THAT DETECTS COLOR CHANGES IN LIGHT WHEN IT IS EXPOSED TO TARGETED BLOOD MOLL DUALS.
FOR NOW, BLOOD COMES FROM A DRAW TAKEN FROM A PATIENT'S ARM. NEXT, IS THE FDA'S DECISION TO PERFORM ABOUT 200 COMMON DIAGNOSTIC TESTS FROM A FINGERSTICK. >> IT IS A POLITICALLY CHARGED TOPIC TO OP LATE ARE RATE OFF OF A FINGERSTICK. WHAT YOU'LL SEE WHEN WE TAKE THE BLOOD OUT OF THE TUBE IS WE ARE GOING TO TAKE A TINY FRACTION OF ONE DROP OF BLOOD. WE HAVE VALIDATED THAT OUR MACHINE WORKS ON LESS THAN A DROP OF BLOOD. WE'RE GOING TO ADD LESS THAN A DROP OF BLOOD TO IT.
>> LESS THAN A DROP? >> YEAH. SO IT IS ABOUT FOUR% OF ONE DROP THAT WE USE. WAALSO GRANTED EMERGENCY USE K AUTHORIZATION TO DIAGNOSE SARS COV-TWO ALSO KNOWN AS COVID-19.
IT IS ONE OF 20 APPROVED CORONAVIRUS AND FLU TESTS THAT CAN ALL BE PERFORMED FROM A FINGER ICK. >> EVENTUALLY HOW MA YOU HOPING THAT WILL BE CAPABLE OF PERFORMING ON ONE DEVICE? >> THAT LIST IS WELL UNDER 200 TESTS. REALLY ABOUT A HUNDRED TESTS COMPRISED THE VAST MAJORITY OF THAT.
AND O THERE ARE ONLY A FEW OF THOSE THAT WE CAN'T DO. WE CAN GET TO 95% OF ALL
2021-09-02 02:19
Show Video
Other news