Worlds Only Bus Route Above 18 Thousand Feet | Leh To Nubra Valley by Bus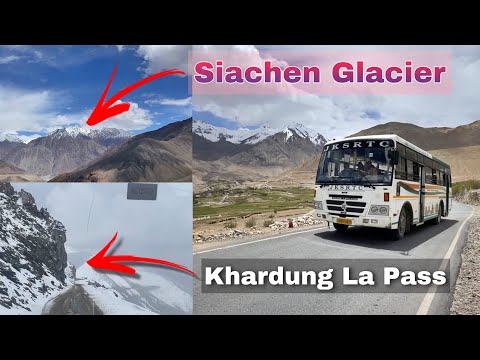 Show Video
Hey guys, what's up? I'm Sourav Rajput Urf Real Adventure. Good morning from Leh. So, we are on a new journey, a new bus journey. And today I am going to take a bus from Leh to Nubra Valley, In JKSRTC Ordinary bus. I am going to visit Panamik village in Noobra Valley.
It is a very beautiful village and especially it is very famous for its hot springs. The special thing about this journey is that this bus journey will take us to the world's highest motorable pass, Khardung La. Sorry, it is the second highest motorable pass. The first one is Umling La, so it is the second highest motorable pass in the world. Our bus is going to leave from where it is. So, we are going to witness the mighty Khardung La during this journey. And let's talk about Leh, what a beautiful city it is.
It feels like someone has prepared a painting in the back. And the cold weather is also very good here. Even if it is not in the day, but you get to see a lot of cold weather in the morning and evening. And we are going to stay at an altitude of 11,500 feet. So, it doesn't take long to change the weather here. Now, look at the weather in June and I am wearing a jacket, so you can imagine how cold it is here in the morning.
So, let's talk about the journey. The journey is going to be about 140 km. The bus will leave from here, that is, from Leh to the government bus stand at 8 am. And Panamik will take us, I guess, will take us around 2-3 pm. I don't have an idea about the schedule of the bus, I will show it to you on the screen now.
And I will tell you about the fare at the end of the journey. So, I will start the journey from here and leave for Nubra Valley. But you know that you don't have to go anywhere. Because I am going to present you one more amazing bus journey from Leh to Nubra Valley.
There was a little time to walk the bus. And here we have the staff of JKSRTC. Sir, you are in JKSRTC, right? Yes, sir. JKSRTC has just changed. Okay, it has been changed.
Okay, okay. Since Leh to UT. Okay, sir. So, we have some staff here. Sir, please tell us your name. My name is Ahmad Kazim.
Sir, your name? My name is T. Tundup. And yours? My name is Rakesh. Sajad Hussain. I am Aishwarya Ali.
Okay, so there are some staff here. And because of Tundup sir, we got a front seat in the bus. Thank you very much, sir, for giving us the front seat. So, we will be able to make a good bus journey.
Thank you. Let's go, sir. See you again in the future. Okay, sir. It's 8 o'clock now and our bus is ready to leave.
This is our driver. What's your name, sir? Lotus. Lotus. What a view, man! Look at the views, man. How magnificent and amazing they are! And because we have to go from Leh to Nubra Valley via Mighty Khardung La Pass, and it is not at all easy to travel via Mighty Khardung La Pass, because from Leh to Khardung La Pass, we can reach only at a distance of 39 km, from 11,500 feet to 18,000 feet.
So, the height suddenly increases and the roads become a little dangerous. The cyclists are also very brave. Can you see how many cyclists have reached to the top? Now, you will understand from above how high we have come. Can you see how the roads are zigzagging? I salute the Border Road Organization, boss.
Because it is a very difficult task to make roads in such tough terrain. The roads are a little narrow, but they are made very well. And all the roads made by BRO is within a project. Different names are given to each project. And the road to Khardung La Pass is made under the project Vijayak. There are hoardings everywhere, where you can see the project Vijayak is mentioned.
And the slogans of the BRO are also very amazing. Like, Fast drive will be last drive, feel my curve but don't hug them. They write such slogans, it's a little funny, but it's okay. People get a good message from them that you should drive a little carefully on such dangerous roads. And look, there is a viewpoint here, this place is in South Pullu.
So you can see what a beautiful view is coming from here. ULTIMATE MAN! If you ever come here, then take a picture. But keep one thing in mind that while taking a picture, be very careful because beware of accidents. You must have heard about that.
So, it's 9.10 am and we have reached, South Pullu! There is an entry here, if anyone goes from here, and let me tell you that you need a permit to roam in Leh. So, there is also a checking of that permit here.
Yesterday we roamed in Leh city, so we got a permit made in the middle. The permit cost us 450 rupees per head. And with that permit, you can roam anywhere in Leh. And that permit is valid for a year. So, I got a permit made yesterday, so I don't have any tension now. I will show you the permit here and the entry will be done from here.
Actually, this permit is for tourists. And because I was in the bus, even if I didn't get the check, I could easily cross the check post and leave. But on the safer side, I got the check done. Although the conductor told me to sit in the bus, there was no problem. But if you are coming in a bike, taxi or your own car, then this permit is a must for you.
Because you cannot roam without this permit in Leh. Yesterday we went to roam in Leh city, and I got this permit made in the middle on an offline barrier. I guess it cost us 450 rupees per head. I don't know about the online site, I will show you on the screen.
But the main thing is that you need this permit to roam in Leh. As we are moving towards Khardung La Pass, we can see a lot of snowfall. There is a minor snowfall too. Although you may not be able to see it on the camera, but it has started.
But it has started. Welcome to one of the highest motorable pass in India, Khardung La Pass You can see the change in the atmosphere. There was snowfall just now, and it has stopped. Although this was India's highest motorable pass a long time ago, but now it is being replaced by Umling La Pass.
It's 10.30 am, and we have just crossed North Pullu. North Pullu is also a check post like South Pullu. Permit is also checked here.
You can also find a food and drink shop here. So on the way you can see a lot of workers constructing the road, So their life is very difficult because, to work in this tough terrain, It's a challenging task. I have reached inside, a beautiful village in Nubra valley. Khardung! What a beautiful view! I feel like stand here and enjoying the view. Khardung La Pass is located in Khardung village. The journey is going on smoothly.
I had a headache in Khardung La Pass. But when we came down from Khardung La everything is Ok! And if i talk about roads, Roads are good somewhere, somewhere not because you know. It's difficult to make roads in such tough terrain.
BRO tries to make good roads but it's difficult to make in this terrain. I have stopped here for half an hour. There is a small dhaba here. Let's go inside and eat something. Some Indian Army trucks are going. Indian Army is also serving at such a height.
Indian Army also deserves a salute. I am standing at an altitude of 15,000 feet. Indian Army is active here.
So, salute is necessary. I have ordered Maggi because, It's fun to eat Maggi in the mountains. I don't know what to say to enjoy Maggi with such a view. It's a little dry but it's okay. I have eaten Maggi. Now I will continue my journey.
I have noticed that the people here are very alert about cleanliness. You must have heard the saying that the destination is as beautiful as the struggle. The struggle is going on. The roads are a little dry as soon as we crossed South Pullu. But it's okay. It's a different experience. See the road is blocked.
It's not as easy as it seems to go Nubra valley. I thought it would be difficult to reach Khardung La. But the road after Khardung La is off-road and dangerous. The BRO is working to widen the road.
The stones are being broken here. We will stay here until the stones are not broken. The view has changed after entering Noobra Valley.
The mountains look beautiful. It looks like a painting & seems someone has made this painting. I am at Khalsar. You can see hoardings here.
It says, the first glimpse of Siachen. Because you can see Siachen Glacier from here. The road ahead goes to Shyok Valley and Pangong Lake. It's 12.55 pm. I have reached Khalsar. Khalsar is famous for its sand dunes.
A famous Bollywood movie was shot here. Song shoot of Bhag Milkha Bhag was shot here. The road on the left goes to Diskih, Hunder and Turtuk. These are beautiful villages in Nubra Valley. I have reached Sumo village. It's 1.30 pm.
And There are many beautiful villages in the middle of the road. It will take another 1.5 hours to reach here. It's 2:30 pm I have reached a beautiful village in Nubra Valley, called Panamik. It's a beautiful view. I am feeling to just stand here & watch it. This is Nubra river.
I had taken a homestay 10 minutes ago. But I came to know that the light comes here for a limited time. But solar pannels are installed on the roof but light comes for limited time. If you are coming here, charge your power bank.
Because you can face issue of electricity here. Also wifi is not available here. So if you can take Leh's sim it would be better. Yesterday, i was in leh so i have taken the sim in which I got sufficient internet & now i don't have any problem.
The homestay is on the screen. The rooms are good in thousand rupees price in which, Breakfast and dinner is include. And in which bus i came, it's not his last dropping point, Bus goes far but i forget the name but i will show you on the screen.
If you are planning to visit Nubra valley in this bus. You can travel in this bus Because it is such a beautiful view You must visit here at least once So let's wrap up this vlog here See you in the next vlog Till then bye bye take care Love you all And don't forget to like, share and subscribe See you in the next vlog Bbye!
2023-07-01 07:01
Show Video
Other news