WHAT TO EAT IN PERTH FREMANTLE MARKETS 2022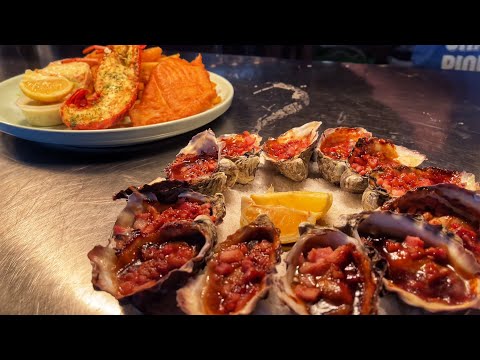 Show Video
Hello everyone.. welcome to piggypuggy travels.. Finally glad to be out on my first flight since Covid Naturally.. I headed to the nearest cold climate country I can find Somewhere I've lived for a couple of years..
Darn cuckaburra.. they were my blardy alarm clock back then.. So.. welcome to Perth Fremantle Markets Perth is just 4.5hr away from Singapore Almost the same time you'd spend on a bus to Kuala Lumpur Piggypuggy was here to relax and.. PLUS.. be a pseudo tour guide for friends and family
Like any responsible tour guide.. I need to bring them so some touristy place Like this get yourself cavity if you haven't got any shop So.. This Famous Fremantle markets only opens on Fri.. Sat.. Sun I lived near Fremantle when I was here.. Somethings.. like this shop doesn't change I'm here for the every imaginable chocolate balls.. And used to get these jawbreakers..
It'd probably be TEETH Breakers for me now.. If 1 liquorice aint bad enough... they have all types. Australian Accent for you.. Hmm.. who likes Dr. Pepper here? I almost choked the first time I had it Is it only an American thing? Dr. Peppers It kinda tastes like mixing all the soda in a 7-11 Fanta Grape and Coke and 7up might give you Dr. Pepper
Whoever started this popcorn shop here is a genius Popping money every minute I was gonna sponge on all the samples.. but I was here for something else $5-S7 for a bag of corn.. Here's what I don't understand.. soaps in every fruit flavour $4 each.. Ethical Value..
Hope ya don't get muddy headed after using them.. I might enjoy unwrapping the soap more than using it Hey fellas.. anyone game for squid game? When in Australia.. ya gotta try Rocky Road.. (it's not very rocky) Continuing my journey with first timers I brought.. Eww.. chocolate tea?? Everything seems fascinating to one who's never been here Some fellas like dirty dishwasher and toothpaste flavoured candies..
I should have asked them to lick my dishes clean instead.. Finally.. a place I've religiously come back to since 1990s One of my must haves when in Perth Michelle's Crepe Suzette.. I don't even know who's Michelle Only remembered a BIG SIZED lady making the crepes in the 90s Just gotta have these crepes when I'm here Ooo.. well hello handsome.. oh.. you're a working dog..
Wanna pat you but I can't Terrible... order everything there is.. Sorry fellow customers.. I might have just Brought a mini van worth of tourists in here Somehow very therapeutic to watch.. They probably run through a truckload of NUTELLA every day.. This place smells INCREDIBLE I tell ya.. Oh look.. korean style buttering
Butter by the block Now I know you guys think this is Singapore Kaya.. No! It's apples.. This should be my number.. GOSH.. I'm salivating again when watching this.. So simple and delicious That looks like some savoury mushrooms crepe Most expensive thing on the menu is salmon crepe at AUD15 A very cramp and tiny place in here.. 10 seatings MAX.. This could be mine too.. Nutella and banana..
I was holding on to a list of numbers in my hand Almost like I'm playing BINGO Too many orders under my name.. sorry folks Please excuse me.. I'm only here once a year ** BANANA SUGAR CINAMON ** MANAGED to get myself a front row seat after sometime Best spot for some serious food voyeuring Think I had 4-6 crepes in all.. some savoury some sweet
Friends kids told me they haven't had crepes before.. I replied.. think of it as a soft ROTI PRATA with bananas.. BANANA PRATA ALSO had plain NUTELLA.. And I think this was LEMON SUGARED CINNAMON BLUR LIAO...
It's funny that I had the sweets first.. savoury is still being prepared Just check out the steam.. Singaporeans might say.. 'STEAM AHHH!!" Circle in the pan.. round and round..
A 90s song? Belinda Carlisle? Sorry.. uncle song LOOK at that amount of cheese.. ham. Yeah.. LOOK AT THAT..
That was so satisfying.. But sadly also super filling Lucky there's a truckload of kids that's like scavengers around me Pardon me.. I just had to jiggle it After another Strawberry crepe.. I almost couldn't get off the stool Thank you Michele's Crepes digest.. digest.. digest.. I'm just floating around.. food gotten to my brain.. Soap smell didn't do me good at this point..
This guy thinks he's playing mahjong? GONG AHH!! After 5 mins.. piggypuggy is off to more food again.. Tip: when here in Perth.. you've gotta get these macadamias Get the biggest Bag you can grab hold of You'll cry if your small packet mysteriously disappeared This reminds me of EGGSLUT in Singapore This is like breakfast in a burger.. all in one.. The BACONATOR... $16.50.. I'LL BE BACK PULLED PORK.. SLAPPING on the HASHBROWN
CUTE.. Burger in a box.. I just realised I haven't had coffee in the morn Music here pumped me up a bit Oh what the shit was I thinking of.. I ordered CHAI LATTE instead of coffee Shiok.. weather's 11 degrees.. PERFECT
Over here I don't sweat like a pig Back to the market.. waiting for my group of tourist Did you notice Perth has no mask restrictions? Not even in the malls or markets I can breathe!! I can breathe!! More importantly.. I can smell all that glorious food Saw too many folks having this.. I just gotta get one I know what ya thinking.. CREPE after CREPE..
NOOO... THIS IS GOZLEME... Turkish street food Spinich.. cheese.. and some preferred meat ya want Salami.. that'd be mine.. Geez.. market's so crowded.. hard to move
Haha.. Singapore kiddo said.. "LEMON??? Noooooo!!!" How many times have I gotta say FETA CHEESE. SPINACH and SALAMI LUCKY I'VE an army of hungry kids with me Reminds me of that Piranha movie.. Look at what dumb nut bought.. Let me give it a go.. Uggghhh..
I was looking for a small little shop somewhere here.. Found it! The first and BEST HONEYCAKE I've had so far.. Gosh.. since when have they expanded into such a BIG SHOP?? WHAT? They have green coloured Pandan ones now.. Think they started a few years back.. now they're BIG Business but honestly.. I've had so many versions.. nothing comes close to this
Every mouth full is like having PURE butter and honey in your mouth Everyone (tourist) who had it just had to get some back Meanwhile.. my tourist entourage couldn't resist contributing to the Australian economy They found endless treasures I have never stayed for 4 hrs at Fremantle market before In my entire hundreds of times here.. Oh goodie... I smell coffee.. I drink flat white.. just plain ol flat white..
What ya mean just plain coffee.. Too much questions for a caffeine deprived mind.. Think she gave up looking at my caffeine deprived face..
What a relief.. like taking exam.. Look at that intense look on her face.. I thought she was painting a Mona Lisa in here.. Oh well.. cheers guys! Thanks for having piggypuggy
Hmm.. since I have time to kill being alone here.. I shall check out what's the fuss about these poppies.. You get to try them all.. just place your hands beneath Wow.. he's using some Starwars R2D2 machine back there Never seen such a popcorn machine before POP CONNERY.. previous owner must be SEAN.. SHUCKS.. my 2 handcarry baggage
Told you this is a POPPING GOOD BUSINESS Just a few seconds later.. That's golden money in there.. That's many many $5 $5 $5 $5 $5 A mountain of $5 $7 for 1. $12 for 2.. suckered..
Rush rush.. This has gotta be my third trip to top up my parking.. Parking fines are gnarly here.. Oh... I LOVE CASH too.. I have a serious caffeine addiction problem in Australia.. My kidneys have to process more coffee than water.. actually.. half coffee and half wine.. there's no water in my blood
Suckered by these cutesy cups.. Parked myself in the food lane.. Unimaginable how the ladies can spend and hour in each clothing shop Finally.. left the markets after 5 hrs The day starts to set around 4pm during JUN/JUL Another touristy place to visit..
There are 2 famous fish and chips here.. Each claiming to be more famous than the other Well.. today we'll be visiting Cicerello's Honestly a nice place to have alfresco dining if not for the.. Pesky seagulls... yeah.. tell me they look cute..
Believe it or not.. they have stolen fish and left me the chips.. Kebabs that I held in my hand.. And ambused my whole ice cream leaving me with the cone in San Fransisco.. Yes.. seagulls are not my friends..
Wow.. $7.30 a cake.. what's with the 30cents? Tax? They look good tho.. then again.. I'm here for fish and chips This way for fish and chips.. says NEMO HMM.. should I have a MIDDY.. Middy's like a half pint.. MIDDY.. what a name..
Hi guys.. what's it like watching customers eat fish everyday? And here's the outside dining we saw earlier.. no one out there.. A little chilly during winter.. Self service ordering.. What's Oysters Kill Patrick? Spongebag's nemesis? Lobsters for $42.. good deal.. Fish and chips costs $11.80
That's a smorgasbord for $98 Kitchen looks fairly quiet today Free aquarium while waiting for food Was gonna say gets you more hungry.. but these guys don't look appetising at all When in Australia.. I drink more SOLO than COKE SOLO's like LIFT (FIZZY lemonade) Oh hello poor lobbies.. see you soon.. This place is usually super packed.. maybe lack of tourists.. Hey non Aussies.. seen this before.. Aussies looovvve Salt.. lots of Salt.. I'll have that if it's available Look.. someone's got his ass bitten by a shark
No lack of outdoors sitting here.. But it's just too cold and windy here.. Hello.. mr. Cuttlefish.. are you on the menu? I swear those blue eyes are looking at me..
Oh goodie.. time to collect food Omg.. what did I just ordered? All these you see here for $270 THIS is that OYSTER KILL PATRICK That aquarium lobster.. More muscles than me ** THERE'S A INFRA RED HEAT LAMP ABOVE.. THAT'S WHY ITS SO RED ** You gotta have seafood chowder when you're here Oh gawd.. THIS IS HEAVY
I wonder if this train track is still functional.. There used to be freight trains running through to the PORT Had wanted to visit Cottlesloe beach for the best sunset.. But we could be just a little bit too late So this is the beginning part of cottleslow.. super windy Immediately missed my sausage back home in Singapore Life's so great for doggies here.. what a life
Sun had just set.. so not much to see here.. Plus it was a little cloudy too this used to be a restaurant called INDIANA.. CHECK THIS OUT. It is freak freezing out here.. and these kids.. They have no fear of the cold at all.. haha.. envy..
Pure madness.. it's gotta be feeling like sub zero in there It's the wind that makes all the damage Said it's FUN!.. Have a go! Nope.. no way these old bones are getting in.. Thank you Annonymous Singer from Fremantle Market.. You guys have a great weekend ahead If you're watching from Australia or Perth.. pls say Hi! Then again.. you wouldn't be watching this would ya.. haha.
2022-07-12 14:32
Show Video
Other news