WHAT'S NEXT? Revealing my next destination, talking about navigation + Q&A !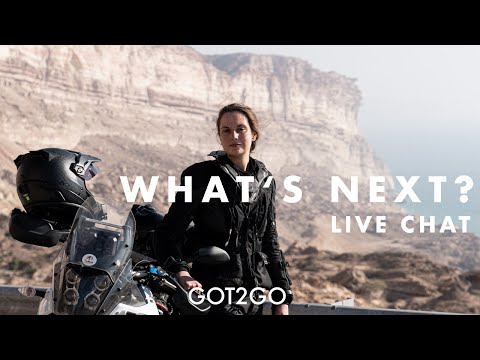 Show Video
(gentle upbeat music) (upbeat music) - Hello everyone, good evening everyone! I hope you hear me. Can you maybe give me a quick thumbs up if you hear me, if you hear my voice and if you see the picture here. Because then I know that you're with me, and that everybody can hear me. that would be great. Perfect! I see it here, sound is working.
You guys are there too. Hello to Indonesia! Hello to Toronto! Hello to everyone who is joining from basically everywhere around the world! I'm super happy that you're here. I got myself a little drink for our little chat today. And actually I had planned a lot because I wanted to connect my camera. I bought a new light, I don't know if you can see that. But I bought a new light so you can see me better.
But unfortunately my camera on my last trip broke. So it's still at the mechanics so they can fix it. So unfortunately the video is not that much better than it was before but like always, we are working with what we are having here.
Today is a special day again, because I gonna tell you more about my next destination or my recent one, my recent destination because I just came back from this trip. And I actually wrote this all down. A lot of your questions that you asked. I'm very interesting in these questions actually this time. Lets start this. I as well will of course will later answer some questions here from the live chat, but maybe you're wait to ask them until I will tell you because otherwise they are too far up and I won't see them because now I first want to reveal the next travel destination of the next series that is about to come up here on the channel.
And the first episode will already start next Thursday. So I'm super excited about this. And maybe I start on the beginning because this journey was really a pretty difficult birth.
I don't know if you can say it like this. Because I was already supposed to go on this journey over Christmas and over New Years. And I actually flew to this destination I think it was the 27th of December. And I arrived there at the airport and at the moment I arrived, I got a text message from my family that said they have an emergency and that I rather should come home immediately.
Because I might not see this person again if I'm not coming home now. So I really basically, I spent one night in this travel destination. I didn't even pick up a motorcycle or like saw a motorcycle. I really just turned around and flew home the next day.
And then actually a lot of shit happened. I got Corona in January. It was not so bad but still I got it so I of course couldn't travel. And then I had a wisdom tooth surgery.
So I got all four of my wisdom teeth out. And actually the year that didn't start really promising for me. But that's how it's. Sometimes that's life. And so I couldn't travel, basically for the first month of this year and then finally, I was kind of back on track and I was able to try again to go again on this journey that I already had planned over Christmas and New Years. And yes, the destination is Oman.
And I was so excited about this because I have never been to Oman and, actually, I wanted to go there because for me it was important to go somewhere where it's of course warm. I wanted to have a nice climate, I wanted to go somewhere where I have never been before. Which is actually not so easy if you have traveled already around the world, so there are not that many destinations left that fulfill this. And the other thing was, I didn't want to fly that long.
So I didn't want to fly like to New Zealand or somewhere like this where you have those 25 hour flights. I wanted to have like a flight of maximum six, seven hours and Oman is actually, here from Switzerland it's I think like six and 1/2 hours. And I flew first to Muscat and then I got another flight and went to Salalah which is the most southern city of Oman and I started the journey there. And I'm actually very excited about showing you this material because I think I have maybe never filmed as nice videos as in Oman. And I will as well surprise you next week because the first episode will be very different.
Because usually, I don't know if you remember the last series, but usually I always posted first the trailer, and then I started with the first episode. And now for the Oman decided to not jump into it right away but to first make kind of a summary episode. So the first episode will be a 20 minute episode about Oman in general and about the whole experience of Oman. And I think, I don't wanna spoil too much, but I think it's the best video that I have posted so far on the channel. I think it turned out very, very nice and it's not because I did such a good job, but it's actually because Oman is such a beautiful country. And I got so many amazing shots and the nature is just amazing.
The locals are so unbelievable friendly and you can really find everything. You find like, off-road that is completely crazy. There is the desert, there is the sea, there is, I mean it's really everything that the adventure heart wants. And I think that's why it turned out quite good. And I will show you now a little clip. It's only 20 seconds.
So it's not even a real trailer. But I thought I gonna show you this 20 second intro so that you guys get a little feeling for what will be waiting for you. (ethereal music) So that was the intro to the Oman series. I really can't wait to show you next week.
And actually I got a question from someone who wrote the question. "Which countries would you recommend for someone "who has to work and gets maximum two to four weeks off?" And that question I can't really answer because it depends as well a lot on which time of the year you want to go. But if you want to go in winter times, I think it's good until April or so.
I think Oman is really a fantastic destination for someone who wants to go for two to four weeks. I think I stayed nearly four weeks and I think in two weeks you can really see a lot. I mean, I did as well a lot of filming and visited places where I spent a little bit more time for the videos. But I really can't recommend Oman as a travel destination enough.
So if you have two-to-four weeks I think it's a fantastic place to go. Someone asked here "Why not the whole Gulf region?" I'm actually... I'm a bit sad about it. I would have as well loved to visit Saudi Arabia and some more of all the places but it was a bit as well a time question and as well a motorcycle question.
Because I actually thought about shipping my motorcycle there but it was not so easy. Because at the moment all shipping and transport is still very complicated because of all the bad things that are happening in the world. And it was first very expensive. And second, it would have taken very long. So I decided against the shipping to Oman or to the Gulf region and then it's very difficult. I rented a motorcycle there and then it's very difficult to cross country boarders and as well to go really far.
So that's basically why I stayed in only one country this time. So I'm very happy about that and I'm very excited. And you all have to tune in next week because it will be great. And we can jump right into the questions.
I already got a lot of questions from you guys. And I thought there's one part that was mentioned so often that I would spend a little bit time on explaining things for this sort of questions that came in. And that were actually questions about navigation. So I got so many different questions about navigating.
How do I plan my routes? Which software do I use? Which GPX do I use? How do I map my things? How do I find the best roads? And I will answer a few of those. I might as well at one point do a video about it because there are lots of things that I could easier show while doing them if I, for example, take screenshots of my computer. For example I often use Google Maps and Satellite to see like spots that maybe are not roads and I think that's easier to explain.
But I will try to explain a little bit. So someone asked, "When you plan a route or a trip, "how do you decide what roads to take, "and what places to see?" And I basically start with looking at my own Google Maps because I will show that to you guys now. I mean, I have been traveling for a very long time. I am following a lot of travelers and it's kind of my job as well to know about the best places and to find the best destinations. So I of course, I'm always very alert about destinations, cool places to visit, and especially beautiful nature. So whenever I see something somewhere, no matter if it's in a newspaper or an Instagram, or from some other fellow travelers, I save it on my Google Maps or as well when I traveled somewhere and I liked the places, I save it too.
And I gonna show you now how my Google Maps looks like on my phone. And I gonna show you here Europe, and especially South Africa. It looks like, I don't know if you can see in there. It looks like this. So you see here South Africa has a lot of these favorite and hearts already and I have never actually been to South Africa.
So this is all places that I basically want to go to and that's basically as well where I start. I look at my map where I've already saved a lot of things. And there're often already regions where I know I have to go there because I already have so many places there I want to visit.
And then, what I know I go to the destination. Like Oman, for example, I actually start like most people start. I sometimes really buy guidebooks.
Because I think they giving a good overview and I'm normally... I mean I'm not taking them with me normally, because they're kind of heavy and they're additional luggage but for me they always are a good overview in the beginning, especially and I mean all these guidebooks are normally... They're organized by regions, and for example, in Oman just by reading the overviews of the regions, I got a feeling of which regions I really want to go to. And that's often my second step, and then I actually and that's as well for navigating. I mostly buy oh! I mostly buy still paper maps actually.
Because in the beginning I find it sometimes easier especially when I read things, I find it easier to mark things on the paper maps, because there you then really see, because I sometimes feel like Google Maps especially because I save so many like favorite things there already, and sometimes you as well don't see roads so good on Google Maps. I then often feel like for organizing the routes, it's pretty difficult. And yes, then I basically know where I roughly want to go and normally, like on this Oman trip I as well know how much time I want to spend in the country in total. In Oman, I actually, I flew there and I didn't have a flight back in the beginning because I wanted to stay a bit open and see how much time I really need.
And I only booked my flight back when I was there I think for.... On the second week or something like that because then I felt like, okay I need two more weeks and that feels good. And so that's basically how I go and then I know how long I want to go, and according to that I decide my route a little bit, but I never pre-plan my route. So I'm not doing any Basecamp, or any GPX or like navigation planning before. Because that I feel limits me way too much. So I only know kind of like, okay I have like so many days to spend in this area.
So many days to spend in this area and then I really just go more or less. And every morning or every evening; more of every evening actually, I look at a map again and I decide where do I want to go tomorrow or what do I want to see on the way and then I just go. And sometimes you as well then realize you need much more time in some places that you didn't expect before. And I take that time then and sometimes then I realize, wow I spent so much time now at these places for example, when my travel partner joined me, by the way for the first eight days in Oman and when we were riding up the coast, it took us much longer than we expected because it was absolutely stunning and I had to stop so often to take videos and we got much slower and at one point, we realized, wow, we have to really hurry up a little bit.
And then really drove more the next day when we realized, okay, we have to get going now, otherwise we gonna be here for the next two month. And that's basically how I plan and how I ride. There's not so much pre-planning that is done. So I am as well not using any software where I pre-plan routes. But someone as well asked, "What apps do you use?" And I use normally, I didn't do that in Oman because the rental bikes didn't have a GPS holder, but normally I have like my GPS on my bike because I just like to put the next destination in there where I go to see the road and to get like an overview of the length of the distance. And then I as well always have, of course, my phone with me.
I have the paper maps. While traveling I don't look though often at them anymore. I have to admit. But at my phone, I use of course, Google Maps a little bit especially in cities or in places that are very well mapped. But I as well use a app that's called My Maps.
And I use another app, that I actually use even more often. I gonna show you this. That's called, oh no I can't show it to you really.
It's called OsmAnd maps and that is actually really good, because you can as well... I just gonna show you that. You can as well import, whoop! Can you see this? You can import routes and GPX files. So if you find files somewhere or routes somewhere online, you can import them and navigate after them. Here is my Oman route, and so that's very convenient. That you can import those things and you can as well, which is very important, you can download the maps before you go to the country.
So even if you don't have any wifi or even if you're on areas with no cellphone connection, you can still open the maps, which I think is very important. So that's the two maps that I actually or two apps that I actually use on my phone. There is a question, "what GPS do you use?" That is a good question.
I have actually different ones. On my Tenere I have a very, very old GPS. It's still the GPS from Garmin. It's only Garmin because it's very important with the GPS to have one where you can put in SD cards with OpenStreetMaps, OSM, because otherwise there are many countries where there are no proper maps that you can buy from the GPS providers. So you really need to have a navigation system or a GPS where you put in these SD cards to be able to use it as well. For example, in West Africa or places where you can't buy any maps from the GPS company.
And I have one that's I think called Zumo. Oh god I don't even know, 595, oh no I think it's even 395! It's from 2016 and in 2016 it was already so old that I got it for a cheap price. So I think it might be from probably was for at least some times in like 2012 or '13 and it's still going strong. And now it's on my Tenere. And on my American Tenere I actually have a different one that I bought last year that is a little bit more modern and a little bit more.... People of you who have BMW's, there's like this BMW navigator and this is kind of like the same thing all from Garmin.
And so much to the navigation. I think at one point I will really make a video out of this because it's just very interesting how different people navigate and I think I got very good actually in spotting good places and I have like several techniques how I do that and it's really a little bit like, you know, because I often as well go to places that are not in any travel guides or I'm in like solo places I don't know where exactly they are. So I really use a lot of satellite and Google Maps with satellite images to see how the roads are and to see where they lead and to see what's going on there. So that's actually very interesting. Here are already a lot of questions. I have actually one question for you all guys.
Because I thought whatever I've already wanted to ask it last time and because I wanted to ask you guys, which channels do you guys like? And you can comment here in the chat or you can also comment later if you're watch the chat because I actually find it very interesting what else you are watching and of course, there are the big channels like Itchy Boots or On Her Bike from Kinga, who everybody probably knows but maybe you guys have as well some tips and some channels that you really love that are not as popular and I think every now and then it would be cool if you if you just talk about those or write those down so maybe more people can as well explore this not-so-famous channels. Or new YouTubers because I think that is very nice to as well support channels that are not that big yet. And I have one channel that I want to recommend to you guys it's actually a German channel. So if you're not speaking German it's maybe not for you, but one channel I really like it's called Adventourist and I will write it down here too in the comments and they're two very nice people from Germany and unfortunately they only make German videos so far. But if you're German I can highly recommend their channel.
And I will later look at what you guys told me here in the comments and check out all the channels that you're talk about. Of course Itchy Boots I see here. I see here Nico from Ride Me Five. I know that channel very well too.
And please know what channel watching GIN travel. Actually whatever you like. I mean, maybe not gaming. That doesn't interest I think this community too much. So in the widest sense travel and great filming and nature and whatever you really think is good produced stuff. I for example, I recently watch a lot channel from a guy that's called, I don't know him personally, Fearless & Far, and he went to so many cool places in Africa.
He did such an unbelievable, interesting trip to Congo and through Congo where he was like... People thought in that village that he's a spy, and then he had to travel with a motorcycle on the back of a guy that he was with through the jungle They ate crocodile that they were kind of bringing completely crazy story. So that I can highly recommend too. Cool, I see already a lot of suggestions coming in here.
That makes me very happy. I will look at those later. So I got so many questions. Now I am as well open for your questions here in the chat. So if you want to ask something just feel free, drop it down here and I see that first question already, "Lea, which is your favorite adventure bike?" And actually that question someone else asked me too, who basically asked me, "Does rate really matter, "Tenere versus GS-1200 versus Tiger, "how would you rate the different bikes you've ridden?" "If you're going for a new adventure, "which bike would be your preferred one?" And, that actually is an easy question to answer for me because I'm still team Tenere.
I really love the Yamaha T7. I think for me it's the perfect motorcycle to travel with in Oman we actually had a Tenere, and an Africa Twin. My travel partner drove the Africa Twin and when he left, I actually thought about changing to his Africa Twin, because the Africa Twin had a better luggage. But I got then so used to the Tenere again, that when he left I didn't want to change bikes anymore and stayed with my Tenere even though the Tenere didn't have any great luggage systems.
And for me, the question is as well not so easy to answer because I think it depends a lot on where you're riding. I would like to have many motorcycles. If I would have the choice, I would get a GS-1200 that I would maybe ride here in Europe and in the Alps. I think it's a fantastic bike to ride for example, like to all these Alpine passes, it's a very good bike to go on, for me to go on like easier gravel road because it's much more heavy than the Tenere of course. And it's not a bad bike so I would have it here for Europe, and then a Tenere for travel.
And actually I would more tempted to drive Tiger. I mean it's kind of in between for weight and actually the longer I ride, the more I tend to even go less weight so I think I would be more tempted to size down from my Tenere than to size up. So if I would go on a road trip again, I would more think about... I mean, I probably would take the Tenere because I think it's a pretty good bike, but I would more think about maybe taking a lighter bike, smaller bike, than taking a GS.
So that's my decision or a Tiger. So everything that is more heavy than my Tenere is basically out for me for traveling. So let's see what else you guys are asking. "Would you do a duo with Itchy Boots?" We actually tried to meet several times but unfortunately our ways were always like this.
I hope at one point there will be the opportunity. "Did you really enjoy riding through India?" I actually did. I love India. I think it's such an amazing country.
It's a very interesting country as well. I have to admit the first time I was in India, I was not with a motorcycle. I was backpacking there when I was still a student and had no money whatsoever and only slept in the shittiest places you can imagine. And I was actually pretty intimidated by India then, because I found it so busy and as well, if you stay like super, super low-budget, you will see places that can sometimes not be that nice. My first impression was kind of like, wow! I didn't expect that.
So I was very curious how it would be when I came back on my road trip. And I was as well a little bit scared because I knew that it's so busy and I was a bit scared of the traffic. But then when I came to India I absolutely loved it. And I hope that I can go back there soon or maybe next year because I think it's such a great country to travel to and I think it's as well so different than everything else in the world. It's completely craziness. Someone is asking, "Do you share your trip tracks "as GPX files?" Actually guys, that's another big thing.
I'm working on this currently. As I said before I'm not pre-planning my trips. So I have no GPX file that are already ready. And but I actually hired someone who is helping me to really set them up. To put the points of interests in them that I want to show you.
And I will as well make some little travel guides that you then can get on my website in the future. But it will take a little bit longer, but I hope that still this year I will publish all of that on my website. So if you, for example, want to go to North Cape or to Oman, you can just get the routes there. And now I'm planning are the GPX files, travel guides as well of North Cape, of the Scandinavian trip, Expedition North, it's of course here on the channel. Oman will be one, and the cross-country United States trip that will be the first GPX files that I'm working on and as well, the first travel guides that I did. "How many languages do you speak?" Unfortunately, I don't speak so many languages, I speak German, I speak English, I speak minimum French, but I understand more than I speak, unfortunately.
I know a lot of languages I speak a few words. So if I go to Spanish-speaking countries, I can order some food and ask about the road conditions but I'm not fluent or could have a conversation. So it's a bit... I could speak more. I think I've once learned Russian in university, but actually I don't speak it.
I only can read the Cyrillic language but I wish I would speak more, but I'm trying to speak with hand and feet and communicate with all ways so that work mostly out very fine. "Would you do paid guided tours?" Actually I was thinking about offering them tours too where people could join. I have not yet figured out if there would be enough people who are really interested in that. And I actually think it's a lot of work and a lot of responsibility.
I maybe would do in the future some tours that you can join, but more here in the Alps region because that's of course, easier for me and it's as well, beautiful place to visit and it's basically that's a nice area. And I think many people as well would like to ride here. So maybe that could be a future thing but it's not planned yet, and it's just talking so we will see if that is happening. Someone by the way as well sent me a message talking about the GPX files. Someone sent me a question, "which are my top three things I would visit "on the North Cape journey?" Because he doesn't have as much time as me, and I think these travel guides that I will offer to you guys will be very good because normally, I mean, if you read guide books you know how that goes.
They are that thick, and you feel like, well everything is important and everything sounds great. And this travel guides that I gonna make is kind of breaking down everything so you don't have as many things in there anyways as this, and then you as well, can kind of decide. Okay, I'm not that interested in visiting a husky farm, or I'm not that interesting in doing that specific ocean road. I rather would like to spend more time here. So I think if you have a more compact version, it's as well much easier for you to narrow down which destinations you want to see if you have not as much time as I did on this journey. "What or who inspired you to start motorcycle traveling?" Actually I always wanted to ride a motorcycle and I think it was actually my dad.
If I would have known that this question comes, I would have gotten a picture for you guys because my dad was riding a motorcycle. Not anymore when I was born because he stopped when my brother and me were born. But he was riding a motorcycle many, many years when he was younger and he actually went to Australia in the 70's and drove around and through Australia two times in the 70's, which I find pretty cool. And of course I saw those pictures and it looked amazing and I think that really inspired me to ride a motorcycle. (speaking German) "So do you have an idea for your next tour?" I actually do, but I will not tell you now and I'm actually a little, I'm not stressed.
But this new tour will start very, very soon. So I hope I will be able to keep up the editing and the publishing of the Oman series with one week. If this will not work out, I will let you know of course, before because I'm a bit worried that as soon as I start traveling again I might get a little bit behind and not be able to edit all the new episodes in time.
But I of course, will try, and I hope that it will work out. SpaceCowboy is asking, "Have you any plans for 100,000K special?" And we are so close to 100,000 followers here, and I was actually thinking, I mean, the whole plan was to make a live chat when I reached 100,000 but now I'm doing a live chat now, and I think the 100,000 probably, hopefully, will maybe in two weeks or three weeks. Tell all your buddies to subscribe to the channel and then it will be even earlier.
So I don't know if we want to do another live chat then. If you guys have any ideas what you would like to do for 100,000, let me know, maybe we can make it reality. (laughs) Just drop a comment here. someone is asking, "What hearing protection are you using?" I actually normally use only... I have this earphone. Headphones? Earphones? In ears, the brand is called Shure, and they are noise isolating.
So if you put them in, they have like this little foam thing in the front. They are basically like earplugs and I always ride with them, even if I don't listen to music because they protect my ears. I actually got one question that I would like to answer because it's another question that I actually wanted to ask you guys, and that question was... Where is it? Oh, yeah, here. I have it all written down here.
"What would be your own favorite question, and what would the answer be?" And I think that's a very interesting question. And actually, there is only one question that I really have, but I have no answer to that. And maybe you guys have the answer to that.
And the question is, why are 95% of people who complain about something on this channel, German? It is so funny. Whenever someone complains, and mostly it's complaints about the language in fact my German accent it is German people. It is so funny and I don't know why that is.
It's literally that whenever someone complains I know like, 1, 2, 3. Is he German, yes. (laughs) And maybe it's just the German mentality to complain more. But then you would think that your own countrymen are kind of supportive, but I guess that's not the case.
So guys, if you know why that's the case. And by the way, it's not all German followers. I have so many nice German followers here that I see here, but if someone complains, it's mostly the German. Someone here says too, "The German mentality it is." I actually don't know. I got so many mean comments about my accent that said like, "You should go to a language school," "Your accent is horrible," "How can you even speak like this?" "Are you not completely ashamed posting videos "with such a quality?" And so on and so on and so on, but that's literally...
There's nothing I can do something about. (chuckles) Another question was, "Do you have any philosophy for life, and have you always been very clear on your goals in life?" I think that's a very interesting question too, because I think goals in life change a lot and I as well think that if you reach one goal in your life, people as well tend always to think like, if I could only reach this one goal, I gonna be happy. But then you reach this goal and eventually you gonna find a new goal.
And so, actually I think my goals in life changed a lot. When I was younger I always thought I gonna make a big career. I gonna earn a lot of money and then, of course, at one point in your life you maybe realize that money is not that important. That you rather would to have the freedom to see a lot of things and to experience a lot of things. Of course money is important in the sense of it will as well gives you the freedom to experience those things and live this life that you want to live. But, it's not everything and that you maybe, or I, in my case prefer to know that I earn less money if I...
I mean, I do earn much less money than as if I would sit in a nine-to-five office job where I would have a decent income that comes every month and now I'm self-employed. I always have the struggle to really get the income coming. It's of course always as well a risk to be self-employed so it's, I mean, it's nice because you can do with your time whatever you like, but it's of course a challenge as well. That's kind of how your goals change.
Now it's more like that I really want to be self-employed because that gives me the freedom to say, okay, I can travel about four month a year, and the other months I'm at home. And I'm trying to earn enough money to go then on trips again. Oh, you guys are so nice. Saying so nice things about my accent and that you don't find it that terrible at all. Here someone writes, your travel partner seems to rush you sometimes, laughing out loud! Actually I mean, he's not. That's very funny that might maybe give you an impression because I just was always saying bad things about him.
But he's actually a very, very patient person. I mean, he literally, he's not... I mean, I know that many other people who travel together that then people are as well helping with filming, and with doing videos, and he sometimes does it. When I say like, can you please hold the camera? But he's not involved whatsoever in the filming for YouTube because he has just no technical understanding for cameras and things like this. And is as well, not interested in it at all.
So everything that you see from the boarding of flights and so on is filmed by myself. But he's never really rushing me. When I say, I wanna film here more, I want to stop here for an hour.
He's like, the easiest person. He's just saying, Lea, you do your stuff, I'm sitting down and smoking a lot of cigarettes. And the only thing that he is rushing is sightseeing because he hates sightseeing.
So, yes, that's sometimes a problem because I as well like the culture. But you will see that in Oman series. In the beginning I didn't do so much sightseeing, and then when I was alone I did a lot of nice cultural things. But first well combined with riding, but I just spent more time at local markets, and looked at some old forts and stuff like that.
I know for some of you that might sound boring too. But I as well really enjoy the cultural part of traveling. So, oh, it's the... Someone is asking, "Would you get a neck pain "after wearing GoPro on the helmet?" Actually, no. But I think that's as well why I put the...
I have the GoPro here on my chin. And by the way, I really like this perspective and you can still see a little bit of the front of the bike, because it gives you more the feeling that you're really on the bike and not just flying over the road. So I do that on purpose, because some people complained about that as well, that they don't like this perspective where you see parts of the motorcycle but I really like that. And I have it on my chin for having this perspective and having a little bit of the bike on it.
And actually having it on the chin makes a difference. Before I had it here on my head, and somehow on the head the weight distribution is much worse, but having it on the chin the weight is much more down here and it doesn't bother me that much at all, I guess. I'm meanwhile as well very, very used to it. (laughing) "Hates sightseeing, that's what it's all about" And I don't know. I think there are very different approaches to traveling.
For some people it's the sightseeing, and for some people it's only the riding. And I think my travel partner is like, nature and riding. I mean, nature he's very happy with to go to nice places and that have an amazing view and that are stunning.
But like, old forts, or churches, or mosques, it's not his thing. "How much experience should you have on riding "before going on those amazing trips?" I mean, when I went on my road trip, I basically didn't have any experience riding. And maybe that as well was a bit naive to say, okay, lets go without that much experience at all. But then that's part of the adventure too though.
I really think you don't necessarily need that much experience,. I would say though, if you want to ride off-road it completely makes sense to take one or the other off-road class just to get a bit more comfortable on your bike and as well get like a few techniques. I really as well think that you can then learn a lot by just doing it. But if you have no clue about that you should...
I met once two travelers, who as well like me basically, went on their own road trip without any preparation. And when I met them, they were like, "What you are standing up and you're riding off-road!" And I was like, "Yeah, of course!" And they were so amazed by that because they had no clue that you could stand up on your motorcycle and that it would help you when you ride off-road. And I found it so funny. And that was in Tajikistan by the way. So that was really far off from everywhere.
And that shows, I mean, you can go to basically all places without any prior experience. But it of course helps and it as well will help you to stay out of trouble. One or two left to go. Stickers, "Who took my Tenere well along the other YouTube stickers" I'm working on it as well. I hope it comes as soon as I have my website done new.
And I hope that comes as soon as I will put like all of these GPX through tracks online, then hopefully you can get a few Got 2 Go stickers too. "When do you wear a neck brace and when not?" I mostly wear it all the time, I think I didn't wear it for... I sometimes don't wear it if I'm traveling here in Europe because I forget it. And sometimes I don't wear it if I have a lot of stuff on. Because then it get... If I have, for example, on this Expedition North journey, I just had so massive jackets on sometimes because it was so cold and so much stuff under it that then if I had a neck brace on in addition, I just felt like I could not move anywhere anymore at all.
And it's crazy. Here someone is asking "Which drone do you use, Lea. "The follow-me drones seem to go over 249 grams." So normally, I am using the Mavic 2 Zoom.
Yeah, DJI Mavic 2 Zoom it's called. And it's a pretty good drone, but I rarely used the follow-me option because I hate that. So if I'm traveling with my travel partner, I will send him riding, and I will film with the drone, and if I'm alone, I sometimes try to find other motorcyclists with a busy road to ride. Or I mean, if I have no other choice, then I use this follow-me mode. And now, actually on the Oman series, I only had a DJI Mini because in Oman it's a very gray zone.
You're not really allowed to have drones. You're not allowed to have big drones. You kind of aren't allowed to have drones that are under 250 grams which the DJI mini is.
But there are as well some other legal things. So it was not, so I mean it was not illegal, but it was as well not 100% legal, but I didn't want to take my big drone, because I was worried that they would just keep it at the airport when entering. And so I decided to get this DJI Mini, and you will see that the drone I think actually, that drone pictures turned out quite nice, but the quality if you zoom in close is not as sharp by far like the one of my other drone.
But I think better the littler drone than no drone at all. Yeah the DJI mini. I don't know, I mean, I found it as well it's kind of flimsy.
So one of the biggest problem I had with it was actually when it was a bit windy, it was very sensitive to wind. So with the big one you can still fly it while it's still kind of a little bit windy and it would still be stable, and the small one is just kind of like, I mean, of course. It's half... It's even less than half the weight of the big drone. So it's of course much less stable. I got another question today in the email, I don't even know if this person is watching here but I just thought I wanna answer it here because I think it's as well an interesting question.
This person was asking me how I transport my money while traveling and where I get my money. And actually in the beginning, when I was on my road trip, I had secret pockets that I kind of had and secret little things that I had in my luggage. I actually don't do that so much anymore. I usually have my normal wallet with my credit cards, and then I normally have one spot somewhere else in my luggage where I put a little bit of cash. And I always bring enough cash, like 1,000 euros or 1,000 dollars cash.
So if something happens you have some cash handy. Otherwise, I actually normally don't... I mean, it depends really where you go, but I normally don't really exchange money before. And if you go to a country like Oman, where you can just use normal credit cards, I would just fly in there and go to the first ATM at the airport, and just withdraw money with my credit card. I looked for credit card institute that has very good rates when withdrawing money in foreign countries.
Actually my credit card that I have, the withdrawal is free in many, many countries that I go to. But there are a couple other countries for example, Iran where you can't I mean, you can't use your credit cards. And then you have to really then come with all the cash that you're going to need for a time being there.
That's I think, always a little bit of a challenge because you need to calculate a little bit how much you really bring. And then it is of course super weird to walk around with so much cash on you. But that's just how it is. Luckily, countries like Iran are normally super, super safe. Which is your dream bike. I'm very lucky because I'm driving my dream bike at the moment.
I really would not travel on anything else than the Yamaha Tenere. Someone is asking, "Will you keep on traveling? "And how long?" I don't know. I hope for a very long time. I think maybe my travels at one point might change.
You never know what happens in life. You've never know how your personal life would change. But I think I will always travel somehow. I mean, if I would not travel on a motorcycle, I would hopefully travel in the car, Whenever I'm in countries like Oman, and they had so many Toyota Land Cruiser there. And I think it's such a good car, and it's everywhere in the world.
And I'm always getting a bit envious when I see people who are at these kind of over landing cars and have rooftop tents and are super equipped. So I really could imagine to at one point as well try that out. Maybe dream would be like to have a over-landing car that has like a motorcycle in the back that you can just put down.
Because I think you're even more independent if you have a car than with motorcycle. Someone's asking me here. Are you going to upgrade to the T7 Rally with a bigger tank range? That actually fits to another question I got. Someone asked me, "How do you manage autonomy with a 60 liters tank of the Tenere? And I have to admit, I find that question very interesting, because I think people are always completely crazy about having this huge tanks and a lot of liters to put into the bike. I eventually, I mean, I'm just not so keen about that or I just don't care so much about it. Because my experience is that there are really not many regions in the world where you need such big tanks.
I mean, I have been in so many places of the world and there were I think I can count them on one hand. There was Mauritania was one of those places where we had to... And carry always, normally on my travel Tenere that I have here, I have the tank. And then I have the canisters that I carry where I can additional add nine liters. And that I only fill up when I need it. So normally, I just carry them around empty and they have no weight.
And if I need additional liters I just put the nine liters there. So in total, I'm not having 16 but I'm having 25 actually. Which of course makes a big difference. And I get along with that very well.
I don't think you need to more than that. So one of these regions was Mauritania. Another region was Pakistan and Kazakhstan and my road trip there was 1000 kilometers without any gas stations. And actually now in Oman, we went to the Rub'al Khali desert which is as well called the Empty Quarters. And there was like a gas station and we knew that would not be that much else after that.
And we bought until canister. There two with 10 liters, because we knew that it could be necessary. So whenever I know that I go to the regions where you might need more I just would carry canisters. And I think it's a very good idea.
I would always prefer that than putting on one the Safari Tanks tanks that are just much more heavy in weight. And really everywhere else in the world, I have never, never used a bigger tank. So I really don't understand this craziness about the tank volumes and people always saying, oh, I don't have enough reach with this kind of tank. And I don't know how you're seeing that. I guess, I mean it's very convenient to have a bigger tank tank. I agree on that.
When I rode with the GS Adventure that has a very, very big tank in the Expedition North series. It's of course very nice that we don't need to head to a petrol stations that often but isn't necessary? I don't think so. Someone is asking, Are you a good skier? That's a bit off topic. Are you a good skier? Do you go every year? Have you ever tried snowboarding. I try to ski every year because I'm living close to the Alps. So it's basically, I mean, I can step out of the door and it only takes me half an hour to go to the next skiing area.
That's the great things about living in Switzerland or especially Munich in Germany where I lived before. Skiing was very close to. So I skied since I was three years old. I suppose snowboarder then but these days I only ski anymore. Someone is asking, "How many kilometers has the Tenere since 2019? Yeah, it is from 2019. Actually, I still love this Tenere the fox.
It was one of the first Tenere that was here on the European market when it came out. And I actually don't know how much it meanwhile has. I think that that much more because the only journeys I did with it it was the West African journey and then last year, I did the Destination Home series with it. And North Cape, I didn't do with it. So I think it doesn't have that many kilometers on it yet.
But I have actually no clue. (chuckles) Have you ever thought about Australia for traveling with a motorcycle. I actually have been in Australia on my road trip. And I loved it. I actually didn't expect that I would like it that much, but I did.
And I went from Sydney to Melbourne, Great Ocean Road. And then I went to Tasmania, Tassie. Which I think it's a fantastic destination. I would like to come back to Australia and do a little bit more like a trip through the country. I as well would like to go to New Zealand at one point. It's still on my destination list.
But it's really very, very far from Europe. So I think you just have to be willing to take these long flights. I don't necessarily enjoy flying, though, whenever I have to sit like long in the airplane I really think about if I should do that. What about touring the US this time Eastern US? I actually think that might be something I might do very soon. So stay tuned for that. But first, the Oman series.
Would you go to Ukraine after the war? Of course. I really like basically all the Eastern European country. I think it's very great places to travel to I hope there will be something left of Ukraine after the war and I really hope so. And I really hope that we can enjoy this lovely country at one point, again too.
How does a Tenere get to Oman? I said it in the beginning. I rented one. It was not my own.
You will see it because it's very funny. It looks exactly like my own. I have one last question. We already zoned on one hour already in.
I could talk to you guys forever. But maybe we have to end this soon. And I have one last question that I want to read out. Which is the importance of your YouTube channel in your life.
How did you get into posting videos? What are your special hopes, expectations and plans with it? I hope that this channel will always be a place for over-learning no matter in which kind because I as well really enjoy making videos, whatever, I as well enjoyed making the videos about skiing, and I post every year. I as well enjoyed making the short video; started from Mexico last year where I traveled a bit with a car. But I hope this channel can always be a place to inspire you to go to new travel destinations. I think what is this well important to me is that to show you guys that destinations that I'm going to they're accessible for everyone. I'm not a crazy person, and I don't do necessarily crazy stuff.
So everything that I do is safe to do for you as well. So that's what I want to do with the channel. I want to inspire you guys and everybody out there to maybe aspire going to one or other trip and to get some inspiration for your travel destinations.
How did I get into posting videos? I don't know who of you guys has been here from the beginning. Maybe you drop a message here in the chat if you have watched from the beginning of my YouTube career. And I actually founded this channel. It's exists since I started my trip around the world but I never posted. So there was nothing on it besides one video and then when Corona came, actually, I told you before I'm self employed.
So I really struggled in the beginning because lots of the things that I wanted to do and a lot of the jobs that I had were canceled. And all of a sudden, I had much more time than I expected. So I thought, what can I do with this time? And can I learn something new? And can I try something new? And then I decided to edit the first videos for YouTube.
And who has been there from the beginning, knows that these first videos that I edited, they were actually, I mean, I still love them. I think they are some of the best videos that I did from this West Africa journey that I did. But I didn't film for YouTube. I only film for Instagram Stories.
Which means that many, many, many of the videos were completely wrong format. They were mobile phone format. So like this is and not like this. Well I had to edit these videos and they were kind of like poor quality and I was really learning. It was a steep learning curve I think with editing and I'm still very proud of them.
And I think there's still some of the best I love them. If you want to see some of them. I think Mauritania has a great video. I also think Sierra Leone, The Tiwai Island is a very great video Those ones of you who've watched it might remember Captain Mustafa absolutely great guy.
I can highly recommend to really scroll back and watch those videos. I think they're so much fun. Then I just stick to it. So I started during the Corona time which is now, basically. I think more or less I think I started in June, actually, 2020.
So in June, it will be two years. And then it just started to be fun. And on the next journey on this destination of North journey I then started to film really for YouTube, which of course made a big change in quality. But I was still, I mean, I'm still learning. You always learn.
So I just continued and posted basically each week, I think there were only a few weeks in the last two years where there was coming no video. And that was it. That was how this channel started. I think this is maybe a good time to end this video as well with the start of this channel. I had a lot of fun with you guys.
If you have any more suggestions what we should do for the 100,000, let me know. And otherwise, I think it will not be too long until I see you again. I think the Oman series. I don't know how many episodes it will be in total. But the best episode I think will be the one that is next week.
And then sort of next week is a more like a summary. And then I will get into the more details, get to more blogging style episodes. But I think there's so many great episodes. I don't wanna spoil too much but we camped in the desert.
There was like scorpion involved. I did some crazy off-road where I really thought I gonna die because it was so steep. And then we met super friendly locals. A lot of donkeys and sheep and goats. And I think it might be like around 10 episodes from Oman. And I guess after that, we will see each other again in the live chat.
And I hope you guys enjoyed this. Cheers to all of you. Thank you for joining the channel.
Thank you for joining the journey always. And thank you all for being such a nice community. I think it's really unbelievable and the nicest like social media community that I have on all my channels.
Because people are really very nice to each other and helpful and kind of involved. I really enjoyed to communicate with you guys. When I was in Oman, I didn't have WiFi for quite some days. And I think you guys realized that too, because I didn't answer usually to the questions. So there was a lot of questions under the videos and comments and the video went online and I couldn't post anything because I was really having no connection whatsoever.
And then after two weeks, I was like, Oh, I missed the YouTube community. I'm happy to be back and to be able to comment. So thank you guys for joining and I hope to see you soon. Goodbye.
Got to go.
2022-04-26 04:33
Show Video
Other news