What impact will COVID have on tourism long term?: Webinar with RIT Croatia alumna Irina Tomić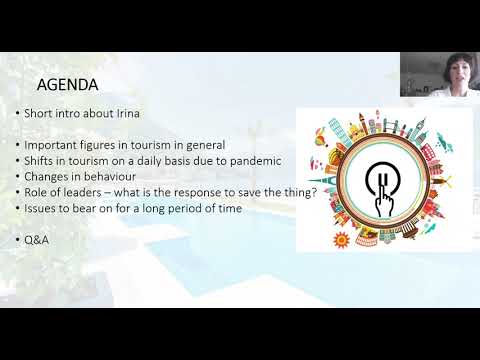 Show Video
Ron Goldberg: Good afternoon, everyone we're going to give it about a minute or so, to let everybody enter the webinar and then we'll get started. Ron Goldberg: We will get started in about one minute. Ron Goldberg: Okay let's get started. Ron Goldberg: Hello, and welcome to today's webinar "What kind of an impact will coronavirus have on tourism long term". I'm Ron Goldberg, Senior Director of volunteer and digital programs on the Henrietta New York campus and your moderator this afternoon. Ron Goldberg: Before I introduce our speaker, there are a few housekeeping points I want to go over.
Ron Goldberg: All attendees have joined ain mute mode, however, your questions can be entered in the Q and A box at any time throughout the discussion will make every effort to address all of your questions and comments throughout the webinar. Ron Goldberg: If you have any technical questions, please feel free to type those in the Q and A box as well, and we will respond to you as quickly as possible. Ron Goldberg: We would like to thank our access services teams for helping us make this webinar accessible for all of our alumni. Ron Goldberg: Real time captioning is available within the webinar and our interpreters will be spotlit during the presentation. Ron Goldberg: The pandemic has had a major impact on everyone, including our students, we thank all of our alumni and friends for the support you've given to our students during these uncertain times. Ron Goldberg: RIT Croatia was founded in 1997 and we are excited to be celebrating our 25th anniversary this year.
Ron Goldberg: Throughout the year will be organizing many different activities and events in order to celebrate this important anniversary, and our alumni will of course be included in some of them. Ron Goldberg: One of the first activities organized in order to celebrate this anniversary, our alumni webinars held by our alumni from the Croatian campuses. Ron Goldberg: And this is the third one, we will continue with more alumni webinars on different interesting topics throughout June. Ron Goldberg: Now, on tour session, we are pleased to welcome Irina Tomic. Irina is one of the most influential individuals and the new Europe hotel industry for 2021.
Ron Goldberg: and has shown that dedication hard work, enthusiasm and love are the perfect combination to keep up in tourism. Ron Goldberg: Irina has served as the head of sales and marketing for Blue Kotor or Bay, which has received many awards under her guidance. Ron Goldberg: These include trip advisor's travelers choice Award for best of the best and best Covid destination for summer 2022. Ron Goldberg: She started her journey in 2002 after graduating from RIT Dubrovnik and start started at starwood hotels and resorts in Croatia.
Ron Goldberg: where she learned what premium travel should look like and is actively involved in creating new destinations and products in both Croatia and Montenegro. Ron Goldberg: Irina attend conferences and events as a presenter speaker panelist focusing on destination management hotel branding and hotel management. Ron Goldberg: She is currently focused on Blue Kotor bays next phase developing their well being as a new service, which has become more popular during the pandemic. Irina, thank you for joining us the audience is all yours.
Irina Tomic: Thank you so much Ron for this introduction. Irina Tomic: I am very happy to be part of the RIT Croatia 25th anniversary, when I hear this 25 years Irina Tomic: Even though I look young with this hair, Irina Tomic: It seems that we are getting older and older. Irina Tomic: So I will be speaking today about what happened actually during the past two and a half years, and what kind of impact, we are currently feeling and what we are about to feel and how to cope with this. Irina Tomic: Ron actually said a few things about me, so I will just continue with the Irina Tomic: presentation but, unfortunately, even though we tried everything I cannot move to next face, to next slide. Irina Tomic: So I will need some help. Ron Goldberg: You able to press the down arrow will that.
Irina Tomic: Was yes, I tried that as well. Ron Goldberg: Okay, why don't we have Xing Yu. Irina Tomic: Oh Okay, he.
goes. Irina Tomic: Okay. Irina Tomic: No.
Irina Tomic: Okay. Irina Tomic: um, so I will start with some numbers, just to actually get a feeling Irina Tomic: of what tourism means in the world. Irina Tomic: When I was having my first presentation about COVID impact, it was two years ago. Irina Tomic: It was the first moment when I got a chance to realize globally, how many people are actually working in tourism, what is the total GDP, Irina Tomic: What are the other industries that are directly influence so, to be honest, I was amazed to see the 330 million jobs worldwide are in tourism.
Irina Tomic: So 4% of the world's GDP is actually from tourism, it means that you have one out of 10 jobs worldwide in tourism and, later, you will learn that half of these jobs actually goes to women. Irina Tomic: So the tourism direct gross domestic product is 3.5 trillion US dollars, and it was in 2019. I just want to mention that, even though we take this 2019 Irina Tomic: As our ground point for all the measurements and statistic data, Irina Tomic: 2019 did not just happen, so it was gradually growing in numbers developing new destinations new markets, new airlines, Irina Tomic: New tours, new routes, so we take this as a measurement because, for the past 20 years before 2019 Tourism was happening and developing and when COVID hit, it was not like gradually coming down what was the situation where we were going up in 2019. Irina Tomic: But it was like a drop that he was very hard.
Irina Tomic: As you can see the out of 4% of total world GDP, we came down to 1.1 point eight. Irina Tomic: And it is also very important, the revenues for the export in tourism so 42% of the total world tradings actually come from tourism and Irina Tomic: As you can see, with this nice data which are actually from the UNWTO information data statistics, you can see that Irina Tomic: The the impact was just terrible. Irina Tomic: As I mentioned, tourism, was one of the largest and fastest growing tourism sectors in the world, why it was so important because, with destination development Irina Tomic: You are developing an specific economy, you are actually directly influencing people who are without jobs, you are directly influences market openness, you are expanding middle class. Irina Tomic: There are many growing opportunities to also influence other industries which are in that part so it, Irina Tomic: The tourism recently became you all to those factors more affordable also to people. Air travel became more affordable, visa facilitation was increased, Irina Tomic: People in certain countries did not even need visa or just forget it, the time was cut, so there were many things in the past 10 years, specifically, which led to the point where your resume became so important.
Irina Tomic: So I can speak about COVID, I think the best thing will be to speak about COVID and what Irina Tomic: It did, how we were coping with the situation and what changes in particular is going to bring to Irina Tomic: To hotel, industry and tourism. You heard so many stories that tourism was the most affected sector by COVID pandemic. Irina Tomic: As tourism represented a major source for the experts revenues for many countries. Irina Tomic: It Directly impacted the GDP and this sector also supported millions of direct and indirect jobs over the over the world, particularly youngsters, and particularly women, women, you know that tectonic Irina Tomic: Change happened in March 2019 which actually lasted and in certain area, it still last. One of the one of the last countries actually to get some numbers back was this part of the Europe where I am and actually among those countries, Croatia show that it can be leader in. Irina Tomic: Putting out or in getting back some jobs and some numbers. Irina Tomic: I am in between Croatia and Montenegro, and I can, I'm evidence that Irina Tomic: governmental issues between two countries when resolved can very much positively influence some numbers. Irina Tomic: So....
Irina Tomic: As, but also those destination, which are basically leaving from tourism ,there of course, most vulnerable destinations. Irina Tomic: You can see that USA, Germany, Italy, Mexico, Spain, United Kingdom those are the countries with the highest GDP among countries which are leaving from tourism. Irina Tomic: I can tell you that just recently, I had a pleasure to go to France, and it was like two weeks ago and the Paris, is it was a business purpose, Paris is acting like nothing happened - there are millions of tourists everywhere. The important thing to notice is that
Irina Tomic: You cannot see tourists from Asia, unfortunately, so we can consclude and we also know that COVID pandemic is still happening over there, and this is, for example, you have the one side. Irina Tomic: You have tourism showing full recovery and on the other side of the world, you have COVID still influencing negatively Irina Tomic: situation. Irina Tomic: It was one very nice thought that I need to pull out I didn't know this information in 1950.
Irina Tomic: It was the dawn of the Jjet age only 25 million people took foreign trips. Irina Tomic: By 2019 that number has reached 1.5 billion Irina Tomic: And it happened that travel and tourism sector was actually too big for certain destinations, and it was too bid, it was considered too big, too-big-to-fail proportions for many economies, what does it mean. Irina Tomic: For example, Croatia and Montenegro our countries which have almost 20% of the GDP coming from travel and tourism sector, so you can in you can imagine what is happening to country, which is giving 20% Irina Tomic: Out of the GDP. What is happening when you're left with nothing, all of a sudden, everything that you were planning all the numbers you're actually counting on. Irina Tomic: The the half of the country in Croatia is basically working only from June to September, they are collecting money and then with that money, they are leaving the rest of the year. Irina Tomic: The global pandemic has influenced 100 million jobs.
Irina Tomic: i'm mentioning women and youngsters and students. Irina Tomic: So they represent 50 almost 50%-54% of the total workforce in tourism, so you can imagine them basically now on the street. Students who are expecting Irina Tomic: after the College to have their whole practice or women who are leaving their children in some village going to the cities to earn some money for these four months. Irina Tomic: But, Irina Tomic: As mentioned Croatia and Montenegro manage to to to. Irina Tomic: To go positive back on track from July-August last year.
Irina Tomic: Of course, the COVID changed everything. Irina Tomic: Just I touched just the base of over tourism. Irina Tomic: When speaking about Dubrovnik, for example, and all of those cruises and huge number of tourists who are coming, to the coming to the old town trying to walk the walls Irina Tomic: Pushing each other, you cannot find a parking space. Irina Tomic: Many of those cruise, cruises are actually negatively impacting the cleanliness of the sea. Irina Tomic: So the first Irina Tomic: nice thing that was actually t0 notice Irina Tomic: was how Irina Tomic: nice, it can actually be to live and work in tourism during the period which is just a little bit slower. You can normally go to work
Irina Tomic: You do not have to worry about huge prices for the parking, you don't have to worry about place on the beach. I know those things seem small but, but those are the things which are actually influencing the quality of life. Irina Tomic: In order not for tourism to be a complete failure for the past three years, something needed to be done, so I know what we did and what many other companies in tourism and hotel industry did. 100 Irina Tomic: Creation of these and new jobs for youth, for women, for vulnerable groups in society, trying to find a way how to incorporate them in the tourism. And I think that the the biggest focus was actually put on training, how to teach some. Irina Tomic: new things, how to implement new programs in the everyday job. So the crisis at this point was being viewed as an opportunity to improve the industry in terms of greater digitalization.
Irina Tomic: And the one thing that is very important, for example, to global survey, because it is situated in the UNESCO World Heritage area is environmental sustainability. Irina Tomic: Companies started to work on trainings, Irina Tomic: They started with data analytics with artificial intelligence, the recovery was aimed to improve the industry efficiency to reduce usage of water, usage of electricity, to control the based management and to sustainable source, the food and other resources as well. Irina Tomic: Every day, small things. Irina Tomic: The first thing that I noticed, and it was a crucial thing actually is that finally, after so many years, hoteliers get a chance, got a chance to speak again with their guests directly. There was no booking.com or no Expedia or no global distribution Irina Tomic: system in between us it was directly guests to hotel why you cannot as a guest going to an unknown destination call booking.com and ask them
Irina Tomic: What are the corporate measurements right now, how can I enter your country, do we need test, where can I where can I get a test before going back to home. So finally hoteliers got a chance to speak with their clients once again. Irina Tomic: Importance of client network never meant so much when you are left completely out of the opportunity, out of the airline's, out of the visibility. I mean you have the visibility online you have as much visibility, as you want, but there is actually no purpose to to show it. Irina Tomic: Because you know, in a real life that are so much more important things than selling your own. Irina Tomic: This is when the relationship Irina Tomic: came on top. Irina Tomic: So, having those clients which you're having for the past 15 or 20 years Irina Tomic: and trying to establish again some kind of need for the vacation was of the utmost importance. So, even though the airlines refreshed, you,
Irina Tomic: People were now focused on the region and the connections you have there, trying to at least get some numbers and secure some wages for the people you have in the hotel employed. Irina Tomic: Things that we are going to feel long term is actually Irina Tomic: how the operational business is going to be done on a daily basis, One of the biggest changes is in cash flows, there was certain way of doing business. We working in a hotel we knew that during the winter period, we will secure certain amount of money in order to survive winter time. Irina Tomic: Due to early bookings, due to early reservations, due to discount from the reservations tour operator and door agencies were doing in November, December January, February itself.
Irina Tomic: The contracts are no longer working this way, so hotels actually need to be much more creative in order to secure their optimal level of operations. Irina Tomic: There are no fixed contracts anymore, there is no money for early bookings, no deposit so hotels needed to switch as mentioned, their way of thinking and they were going into Irina Tomic: Reductions, based management, sustainability, etc, so this one negative thing actually influenced immediately some positive remarks in some other sectors. Irina Tomic: It showed that you cannot only watch numbers, so yeah we have this loss of 100 million jobs, we have loss of 2.8% of GDP globally, but there are many things gained on the other side if you're looking, of course, from the umbrella point of view.
Irina Tomic: There are shifting booking system Irina Tomic: and Irina Tomic: I think that people now working in hotels have better knowledge on what is happening on their market. Irina Tomic: I know that certain hotels and director of hotels, they were very laid back and they were very easy considering their occupancy of hotel and the average rate they're going to have at the end of the season. Irina Tomic: Why, because the day, basically, sold the hotel to one tour operator this tour operator had his airlines in the air, and it was, Irina Tomic: It was a common business, you know you have this product, you have guest, you are shifting the guests to that hotel and it was just going back and forth, back and forth all the time and now all of a sudden, when that stopped. Irina Tomic: Who is going to survive? Irina Tomic: Hotels, which survive, are the ones who have this huge level of network or we're using this time to do data research to be, to have analytical approach and to digitalize themselves. Irina Tomic: Now more than ever, the direct booking system is coming in place, there are huge shifts in how people are looking at Irina Tomic: Online tourism agent travel agencies like booking Expedia, Secret Escapes etc., because you cannot do any more predictions, you cannot blend how many guests you're going to have, how many lines i'm going to have from France, how many lines i'm going to have from United States. Irina Tomic: Planning in general became very, very hard and this impacted staff calendar, for example.
Irina Tomic: The position of director of sales and marketing in the hotel is very demanding, because the information you are giving to other departments in the hotel everybody are taking as granted, Irina Tomic: And if you put on paper that you are going to have 30% of occupancy in April, for example, then we know that we need to have one third of the workers in the hotel, so we need to plan how to gradually employ more and more people. Irina Tomic: As this is not possible and there are no data that you can actually use how to cope with this, again either way of thinking need to Irina Tomic: come in place, so that's why you started to rely purely on your own strengths, Irina Tomic: But this actually gave you opportunity to further your business. Irina Tomic: Not every company had the readiness to go through digitalization and through learning process, Irina Tomic: Because you, everything happened so fast and even though we are in IT era and information technology is on the top of our every days, Irina Tomic: You need to count, there are still people in industry who are middle aged, so to say, who already have 30 years of experience, so how all of a sudden, are we going to teach them.
Irina Tomic: For example, how to use digital invoicing system. Irina Tomic: So as changes are still happening, as I mentioned, Irina Tomic: Now the most common is disruption in market segments. Irina Tomic: Before you had leisure business, you had, you have leisure type of the tourists and you had business type of tourists and you know that, basically, these are two biggest market segments, and then divided Irina Tomic: more. Now business is mixing with leisure, more than ever, I did it just two weeks ago when going to Paris.
Irina Tomic: So you cannot Irina Tomic: predict what will be your occupancy in business segment what will be the average rate. How much can I charge to them how much can I charge to those individuals it's really like no line, everything is the same you're just struggling to get some numbers at the end. Irina Tomic: One of the most common things, of course, is last minute, but even though accommodation costs are rising, transport costs are rising, Irina Tomic: Everybody noticed that there is a huge increase in spending per travel. I hear stories of my colleagues, or friends that people who are usually traveling to Croatia from Poland, for example, they told me just few days ago, oh, we are going to spend 10,000 euros this year in Croatia. Irina Tomic: And we all know that it's huge amount of money, but, Irina Tomic: people are saying yeah we did not travel for past two years, we have the money, and this is the money we usually use for vacation, so we are going to spend it now. Irina Tomic: So you will we will see this phenomena of premium and luxury travel, even though it's not the real sector, you do not have the background in these huge spending. Irina Tomic: It's not real and I'm pretty sure that this same family will not have another 10,000 euros to spend this year and I know that, on the other side, hotels will expect to have Irina Tomic: same occupancy, same numbers restaurants will expect to have spending 150 euros per per capita, but I think that huge drop is actually going to happen in the years to come.
Irina Tomic: And you can already feel that, you can already predict that with happenings around the world, with Irina Tomic: the increase in cost of life, basically. Irina Tomic: Also, Irina Tomic: how are things changing - it's important to mention what is happening with franchises. So we all know about Marriott Hotel group, we all know about Starwood Hotels and Hyatt and Hilton as the most valuable hotel brand in the world. Irina Tomic: Even though they have thousand and thousands hotels in the world, you need to know that 70% of those hotels are franchise. So it means that it's not their own ownership but they're collecting Commission on every single reservation, so you can imagine, for example, Marriott Hilton. Irina Tomic: Even though they are most valuable hotel brands, for the past three years, how did they collect their commissions? Irina Tomic: We know that they did not actually, so now you have this Irina Tomic: huge world known brand.
Irina Tomic: When I will ask you about Hyatt, for example, everybody will say oh, this is Irina Tomic: business brand it's usually located in the city centers and you have all the conferences there, people are using it for their corporate needs. Irina Tomic: And this will probably be your first connection and today we are seeing this shift Irina Tomic: That all of those companies are working on franchise business. They're actually eager to spread their business, their operations in leisure segment so now all of a sudden Irina Tomic: We are going to have Hyatt as a strictly business hotel, we are going to have Hyatt on an island, or on the coast or it will be in the middle of the Mesa in Croatia or in the middle of the Montenegrin coast. Irina Tomic: So, in order to survive, of course, huge companies like these are shifting their focus. Business travel probably will come back
Irina Tomic: Last. Irina Tomic: Individual free FIT segment is Irina Tomic: is now back on track. Irina Tomic: But in order to survive, tourism industry will definitely still be adapting to all of those new realities, for many, of course, this new reality Irina Tomic: means technology. Irina Tomic: 65% there was one survey in United States and 65% travelers said that in order to feel safer, they will expect to have Irina Tomic: check-in done Irina Tomic: online or not in person done by the telephone or or Irina Tomic: how do you call this on tablet, for example, so again, this means that some deep core changes need to be done in information technology systems in the hotel. Irina Tomic: I was also mentioning Irina Tomic: changes in accounting system and Irina Tomic: this is a good change, for example, but as Irina Tomic: it came very quickly, and you know that usually in accounting departments, you have middle aged women working for these companies for past 30 years and they usually do not have the knowledge of other foreign language. So you can imagine, now,
Irina Tomic: worker who has done this job one way for the last 30 years, all of a sudden, when she comes to work she has like 20 different online extra nets on her computer. Irina Tomic: And she needs to put every single invoice for every single guest from this agency online using the computer, using the technology. Irina Tomic: So, it means that for every and every single e-billing system is different so she needs to learn, and she needs to go through training for Irina Tomic: every one of them. So you can imagine what kind of in-depth, training, she needs to go through, and what kind of adaptation actually must be done in order to cope with this systems. Irina Tomic: Yeah, as mentioned today everything seems normal, even though, even in I mean in this part of Europe.
Irina Tomic: Paris was back, there were no hotel rooms, no available seats in the restaurant, Irina Tomic: airplane fares were high, rates are high i'm doing the same thing now in Kotor. Irina Tomic: What I am, for example, now experiencing. Irina Tomic: In this completely are no hidden destination, until recently, is that we are becoming top destination. Irina Tomic: Even though we opened in the peak of the pandemic 15th of July of 2020, only after two years of operation, I can say that I am fully position hotel. Irina Tomic: But it is also, it is a change due to pandemic, but it was a good change. Why? Because the areas which are remote, which are hidden, which are not so used
Irina Tomic: by the over tourism are now becoming more and more popular and the thing is that, by putting the resort in this small area we created additional 200 jobs. We have implemented Irina Tomic: new technological solutions in terms of waste management. We are taking care about the nature, because it is UNESCO world heritage property. Irina Tomic: We are doing trainings for the youngsters students who are finishing their school now have the place to actually showcase what they have learned. Irina Tomic: So all of those things, even though at the beginning of presentation we started with the negative impacts, all of those things you can, at the end of the story put positive impacts.
Irina Tomic: It is believed some people believe that tourism will fully come back to pre pandemic to 2019 levels at the end of '23 some people are saying at the end of '24. Irina Tomic: I think that, Irina Tomic: That, from my point of view, I can say that Irina Tomic: it's back definitely. Irina Tomic: But if Irina Tomic: experiencing again something like pandemic or something like. Irina Tomic: Ukranian war, then it will be just another drop like at the beginning of the story. Irina Tomic: Everyday, work is becoming increasingly challenging. Irina Tomic: For the industry, travelers are now Irina Tomic: researching more and more when going to a trip and they are now taking into considerations many more decisions factors, then before. Importance of organized trip is becoming again.
Irina Tomic: More important and connected strips so again, we are going to have travel agents in tour operator coming to first place as a source of the bookings. Irina Tomic: For the short period of time, it was the hotels and guests who started to have control over the communication, but now again, I think the tour operators who were basically on the edge of disappears will come to first place again. Irina Tomic: How to survive: Irina Tomic: I will say how I survived for the past three years - it's a need for agility, very quick decision making process and deep analysis of the data, transformation, collaboration with travel agencies, collaboration with airlines, collaboration with Irina Tomic: Public and government sector as well in order to identify all of those changes and in order to strategize for future growth.
Irina Tomic: And, of course, always what is in the background of everything that we do is service excellence and experience and safety for the travelers. Irina Tomic: It is very important during this development process to establish the boundaries, considering the goal of each specific country, and it is also very important to identify special niche markets. Irina Tomic: Mr Ron at the beginning of the introduction mentioned that I will be now focused on wellbeing centre development, this is one of the niche markets.
Irina Tomic: Because, after the COVID, people are searching and longing for the rehabilitation. So spa centers are no longer going to be enough, people are going to search for something more Irina Tomic: and it will be extremely important to have quality, to be reliable, for your product to have meaningfulness to show as expertise authority, Irina Tomic: To be unique and even to show our events when Irina Tomic: Making some decisions. Irina Tomic: I'm basically at the end of the presentation and Irina Tomic: I wanted just to finish with I wanted to finish the sentence that everything is possible, so even going through the hardest two years we are pronounced the ultimate forced lockdown luxury holiday for summer 22 by UK times.
Irina Tomic: And we are now developing this amazing well being centre and our signature offers want to be a respiratory radicalization program. And with this, we will be able to put emphasis on the mental and on the importance of mental and physical health. Irina Tomic: So, tourism is not going to be, you know experience from one point to the other, but experience Irina Tomic: on the spot and what you will be able to get for yourself from the locality and from the surroundings. Irina Tomic: And when having this imbalance, I think that anybody can be successful, even during the pandemic. Irina Tomic: So I knoticed one sentence, it was Mr James who ran out of the power. Irina Tomic: I would like to finish my presentation and leave Irina Tomic: some time for the questions.
Irina Tomic: And thank you for spending this afternoon with me. Ron Goldberg: Great, Thank you Irina, really appreciate it some really great information in there, so we do have, anyone who wants to ask questions can post in the Q and A box. Ron Goldberg: And we will get those over to Irina to answer. Ron Goldberg: question, you know as far as what we're seeing in the United States, you know, in the travel industry and actually across most industries Ron Goldberg: Is a lack of staffing, you know ,curious to see if you're seeing the same thing over in Europe when it comes to staff, especially in the tourism industry. Irina Tomic: Yes, for sure this is a problem not only this year, but we are experiencing that, for the past three or four years now in a row, and we used to be one big region, Balkan region, and Irina Tomic: people were going from Serbia to work in Croatia to Montenegro to Slovenia etc., now when i'm going to Kotor, to Montenegro Irina Tomic: I'm awaiting there as the biggest enemy because everybody are yelling at me like Oh, the Croatia took all of our workers, why because Croatia is in European Union and our standard is a bit better and you actually have better paychecks and Irina Tomic: You know, you need to respect the law, and I think that Montenegro is now developing and so on, just a second please.
Irina Tomic: Montenegro will soon come to that point. Irina Tomic: There is no more workers from this region actually because majority of them is also going to Europe, to to to Germany to do United States, some of them. Irina Tomic: I don't know how, in general, this problem is going to be solved, for example, we have kept Irina Tomic: Much more workers than needed during the wintertime, so again, you as a hotelier need to put some money aside, you need to invest in people, to train them, and to show them that you are actually counting on them, but even though you do that Irina Tomic: Now, like two days ago we have those youngsters and we are investing in them, and we are, you know, looking at the future with them and they just come to you Oh, you know in two days i'm leaving on a cruise and I will be back in six months. Irina Tomic: So yeah huge problem. Ron Goldberg: Yeah, we're seeing seeing something very similar here in the United States as well, so.
Ron Goldberg: When it comes to \ segments of tourism, you know, are you seeing any areas that are coming back quicker, obviously in your area Ron Goldberg: You know cruises in the summertime tend to be most popular but are you seeing more traffic at certain times of the year or is that starting to stabilize and go back to kind of pre pandemic. Irina Tomic: Yeah you see these beautiful mountains on the, on this photo. Irina Tomic: So, can you imagine huge cruise passing by through these mountains and they are going through the old town of Kotor Irina Tomic: and when you have this enormous giants cruise sitting there in the Bay you basically do not see the city and they started Irina Tomic: To pass not only one per day, but even three per day, again, so we notice that this year, even though we are, we were completely leisure individual market. Irina Tomic: From this year, we are noticing business groups, incentive groups, team buildings, seminars, presentations so everything is happening so fast. Irina Tomic: And, as mentioned, those business groups are usually staying even a day longer just to be able to go to boat trip or to to have some other leisure activity.
Ron Goldberg: Great. Ron Goldberg: With that I don't see any other questions, so now really appreciate your time, there was a lot of great information in here as well. Ron Goldberg: So I'd be greatly, thank you for taking this afternoon and this evening for those of you over in Croatia and Montenegro. Ron Goldberg: It was great presentation, with a ton of good information, so thank you Irina for.
Ron Goldberg: Thanks for. Ron Goldberg: yeah if you're interested in learning more about upcoming. Ron Goldberg: Events you can use the link that's located in the chat box, as mentioned earlier, will be releasing info on additional webinars in the upcoming weeks. Ron Goldberg: Finally, if you're not already connected to the RIT Alumni Association and RIT Croatia alumni social media channels, we encourage you to do so, and those links can also be found in the chat box, so thank you again everyone for joining us and enjoy the rest of the week thanks.
Irina Tomic: You have a good evening bye. bye.
2022-06-10 15:37
Show Video
Other news