Welcome to Our NEW HOUSE in Marbella, Spain!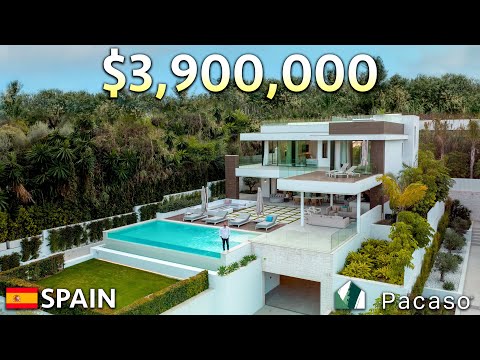 Show Video
- What's up, everybody, and welcome to our home here in Marbella, Spain. We've been staying at this house for the last 10 days, and it's been awesome. These are phenomenal, gorgeous, modern design, and this is actually the very first listing Pacaso's marketing here in Europe, so we're excited to be part of it. House has five bedrooms, four full baths, two half baths, 556 square meters of interior space, and you can take one eighth ownership of this property for 635,000 euros, and you can find more information about this listing in the description of this video.
Not only we're gonna show you guys the interior and the exterior today, you guys are gonna hear some of our memories and experiences of this home. So let's get started. (upbeat chill music) We're gonna start our tour up front on the exterior. Walkway and a staircase takes you to the front door, and on the lower level, you can see the driveway taking you to the subterranean garage that we're gonna check out in a bit, and coming up to this level, right in front of the infinity edge pool, we got this nice grass area. We haven't really utilized this space that much, but it's just nice to have right next to your pool.
I'm not even gonna touch it. like I'm gonna have no reference point. Go, whoo! (water splashes) Jesus. It's way colder than I anticipated. It felt like I went into an ice cube. (laughs)
It didn't feel like water. Oh, my God. Right, so here's the thing. They haven't installed the pool heater here, and it is a little chilly. - Yeah?
- I mean this felt like a cold dip, but it's been refreshing, so I did it for you guys. All right, we have the walkway again taking us to the front door, beautiful modern home, glass railing throughout, and coming here, we can either go to the entry or you can just take your right and go straight to your backyard that we're gonna check out in a bit. And coming here, we got this gorgeous pivot door welcoming you into this space, coat closet off of the entry, and we have this door opening up to a powder room on this level, modern pedestal sink, wallpaper throughout, and we have a powder room here because as soon as you walk in, you go straight into a great room. Now, I love the couch set up here.
It's super comfortable. I haven't really enjoyed it as much as I would like to because we've been working a lot, but one day, we were just chilling, relaxing here. Actually, me and Mikey got IVs because we were a little bit tired and... - [Mikey] I don't think Enes and I are the type to just get IVs when we go places. This is our second time ever doing it, but we were like, you know, we just went to Dubai.
We've been shooting a lot in Spain. We're like, "Maybe this will help us recover quickly." - And it definitely did. So here's the thing. We've been traveling for the last two weeks. We've been working nonstop for the last month, literally on like couple hours of sleep every night, and you know, when we have these shoots, if we don't really have that much time to recover, we do whatever we can to kind of boost our energy and increase the recovery.
So I'm interested. - [Mikey] We're gonna get an IV. - [Recorded Enes] What's up, everybody? - [Mikey] Does that guy look familiar? (laughs) - [Recorded Enes] On this week's episode... - I never like sit down and like watch something nice and like relax. It feels pretty good. This couch is really nice.
And I almost passed out here sleeping for a couple hours. It was very comfortable, but again, this is your living room area. Look at the furniture setup, again, Pacaso dials in all these details with the pillows, accessories.
You have your coffee table in the center, two sliding glass doors opening up to the outdoors, and you have this fixed glass in the center. Your TV set up here with a linear fireplace, and we have one of our favorite creators on the TV right now. We like to support our fellow YouTubers.
- Zoe Claire, Zoe Eats. - That's right. - Yeah. - And yeah, beautiful space, natural stone throughout.
We have these oversized tiles on the floors and, again, opens up the outdoors. Mikey, I wanna take everybody here. I really like this wood clad mirror detailed LED lit wall that really creates a nice ambiance in this space, and right next to the living room, we have the dining area. Table for eight, but I think we're using the remaining two chairs somewhere else throughout the house since we've been just kind of working downstairs, enjoying here, sleeping upstairs. - Yeah. - We've been really putting this house to use.
- [Mikey] How long have we been here? - I think 10 plus days. - 10, 12 days. Something like that, yeah. - Yeah. - [Mikey] So everything's not where it's exactly supposed to be. You'll see that when we go downstairs.
- We altered the house a little bit. - [Mikey] We're using that as kind of our editing dungeon down there, so. - Absolutely. - Yeah.
- But it's just a nice open space chandelier above, and this is where we've been having our meals, breakfast, dinners. Chicken, mushrooms, rice. That's all I got. - Tikka masala?
- Uh-hmm. - What is this, mushrooms? - That's right. - I'm glad every else is so talkative. - And like Armand is like, "Yeah, everybody's like literally waiting for us to shut up so they can eat." So we're gonna shut up so we can eat.
And it's right next to your kitchen. In fact, let's cover the kitchen right now. Island in the center, all stone clad, induction cooktop.
We have the vent above, and, of course, you have your sink, dishwasher here. Every is nicely paneled. We have the fridge and freezer, more built-ins, and let me show you guys our favorite part of this kitchen, coffee bar. Let me tell you something. This espresso machine has been working hard. - Over time. - Over time.
The amount of coffee we consumed in this house is up there. - Yeah. Typically, on these trips, we drink a lot of coffee, but for some reason, on this one, we've drank even more coffee than we usually do. - I agree, I think it's nice to have one really close to you, and we like coffee. - [Mikey] Yeah, and something I want to point out real quick. When we got in, they had everything in this house like perfectly staged, well organized. I've never seen this before.
They have this thing you put the knives in. I don't even know how do you describe this, Enes? I don't know why I really like this thing. - Okay, it's just like that way, you don't have to perfectly position your knife every time. Wherever you put it, it just like these plastic straws that they have. - To hold it in place. - Exactly. - Yeah, yeah. - Very nice. - Yeah.
- Speaking of staging, when we arrived to this house, Sol Villa had this perfect gift basket for us as well with champagne and some candies and nuts and- - [Mikey] It's like chocolate and yeah. - Exactly, it was very nice. Thanks, Sol Villa, for that nice gift. - [Mikey] Yeah. - All right, sliding glass doors open up. Let's go check out the backyard.
They're still finishing this up, but soon, there will be a barbecue area here with a bar seating, countertop, all that good stuff, and coming here, we have the outdoor dining area, marble table, outdoor seating on the other side picking up the living room, and this is your backyard. I like the patterned floors here with the artificial grass in between, sunken seating area, fire pit. So I just sit down, relax, enjoy the good vibes out here. I say that because look at our views. - [Mikey] Yeah, really nice. We have La Concha mountain right in front of us.
- [Mikey] Yeah, and we have this awesome pool. - Also, they're still waiting to install the pool heater. So it is a little, little chilly.
- [Mikey] It's a little, little chilly. - Little chilly, so, but I love the glass edge. Again, light blue color. It's very inviting. We got the Pacaso and Sol Villa flags up.
Amazing, amazing views. Can you hear the birds? (birds twittering) - [Mikey] Very nice. - So nice, it's been so relaxing out here. Can't stress that enough. All right, covered outdoor seating area here. Again, furniture, details, everything is ready for you to use.
Glass railing throughout. You have the extension of your balcony there. I mean, like, I don't know what to say.
It's like, I think because we've been living in this house, we're kind of like comfortable, and it's easy for us to point things out, but it's been really nice being here. - [Mikey] Yeah, it's been great. and I don't know if y'all can see behind Enes, and we have a very similar house from Pacaso and Sol Villa.
- And Marbella is the first location that Pacaso is expanding from US, and this is actually the very first house they have ever acquired. So it's so special for us to basically stay in their first property ever in Europe - [Mikey] Yeah. - They're amazing to work with, and that's a wrap for the first floor or the main floor.
Now, let's go take the stairs and show everyone the lower level where we work. (upbeat chill music) This is the lower level where we get some work done, but first. we gotta go through here. Powder room on this level, another modern pedestal sink, brush nickel finishes, and coming here, we have this pocket door opening up to our lower level seating area, office space. Obviously, Pacaso done a phenomenal job furnishing it with sofas, coffee tables, accessories, but we had to modify it a little bit to get our work done because as you guys know, when we travel, channels are still running. - Uh-hmm.
- We're producing videos, which means we need to keep editing. - Yeah. - We need to keep organizing our footage and we need to keep responding our emails, thus. - Yeah. We have Brian and Armand over there working hard.
- Non-stop editing. - We have Enes over here requesting plastic tables so he can have a little office here. - Interesting way to frame it, but sure. So, obviously, they've stage and designed these homes more for people to hang out and relax and enjoy, but because we had to work... - [Mikey] I like that there's all this nice furniture, and Enes is like, "Can I get a plastic folding table please?" - I asked Pacaso family to provide us some plastic tables so we can get some work done, but this is my office. By the way, behind it, we have a gym with these steel case doors.
Looks great, again, lower level entertainment space. I love this massive carpet. You have the seating and all that. TV on the other side with this wood clad wall.
You have your built-ins on the bottom, and yeah, we have Brian and Armand working, editing, getting things done for you guys. - Y'all, give them a wave. - Exactly. Armand, Brian, you guys wanna say anything? - Editing covered, Armand, anything? - Love you guys. Working hard for you, doing our best.
- If you have any tips on we can improve, leave 'em down below. We'd really appreciate it. - All right. - There you go. - We don't want the audience to get too carried away. - (laughs) Exactly, .dude. They're like, "Do these."
All right, laundry room, everything you need, washer, dryer, nicely paneled. Yeah, and then we have, actually, let's see. Mikey, why don't we go check out the bedrooms first then we go to garage? We have this hallway taking us to two bedrooms.
Let's start with the first one on our left. This is where Brian stays. Bed set up, patted back wall, linear window on that side, built-in desk, nice cozy room. - [Mikey] Yeah, it's really nice, and I gotta say, in each room, they have independent thermostats, which is one of my favorite things because I like to keep my room about 69 degrees at night, but it's about 78 in here. It's very warm. - Yeah.
Brian definitely likes it warm, so. - Yeah, exactly. - Absolutely. And we have this door opening up to a full bathroom, walk in shower, brush nickel finishes, floating vanities, again, very modern and elegant, and right next door, we have another small room that we're really not putting it to use, but could be a bedroom, could be another office, you name it. - So this is staged as an office when we first arrived, but I needed the desk so I took it and put it in the living room. Also, when we have friends in town, I have a few good friends that live in Malaga down the road. The they can crash on this couch if they want to when they come visit us.
- Absolutely, another great room, and let's go back out because we have one more room to see, and it is right here. In fact, we're gonna go take a look. This is where we have the subterranean garage. Now, it's definitely great size. You can easily park, let's say, four to five cars here, but more importantly, since it's a Pacaso listing, and you can buy one eighth or one quarter of the house, they have these individual lockers that comes with your purchase. In this case, we are stowing some of our stuff here.
That way, when you leave the house and you wanna leave some of your personal stuff, you can put it in the locker. When you come back, you put it back out or they put it back out for you, meaning the management of the house. It's just super nice.
- [Mikey] Yeah, I think, since this is one of Pacaso's, wait, do they build it typically? - No, this is not a typical thing, but in Europe they're applying this. - [Mikey] I feel like this is something we haven't really seen Pacaso do in the US, but it makes a lot of sense. - Absolutely, it serves a great purpose, and who knows, maybe soon we see this in US homes, too, and that's it for the lower level. Now, let's go back to staircase so we can check out the second floor.
(upbeat chill music) Second floor, this is where we have the bedrooms. I'm gonna start here. It opens up to the primary bedroom suite, and this is where I stay. Built in closets on the wall, free standing tub, bathroom and the bedroom is connected. We don't really have a separation, but I don't mind it. I like the open flow.
They have this wall detail here, which creates a nice separation. Freestanding tub, brush nickel tub filler. You have a long vanity here floating with two sinks, brush nickel finishes again.
It's gorgeous, very timeless. I like it a lot. - Yeah, and how does it feel to be like so open here, so exposed? - Mikey was asking me that the other day because my bedroom kind of kicks out a little bit I was like. - And it's all glass. There's no bathroom door. I guess you haven't been using the tub. - I've been relatively relaxed.
If somebody's gonna look towards our house, I kind of don't mind. I mean, it's just like.... I've been enjoying this space. I'm just gonna say that. - Okay, okay.
- I mean, it's private once they put the curtains up, but like, I like it open. - Yeah. - You know, a lot of natural light can come in so let's leave it at that. - Enough said. - Enough said, exactly. Water closet, toilet bidet, and right next door, I love the shower here.
I mean, brush nickel finishes, rain head above, good size, no complaints. - [Mikey] How's that rain head treating you? - Amazing, amazing. All right, this is where we have the bedroom area. King size bed, and we have housekeepers coming every two days to clean up the house, and today, because we had to shoot this final walkthrough, we actually cleaned the beds and the sheets, and we made everything ourselves. - [Mikey] It's usually a little bit more perfect.
- A little bit more perfect, but this is how they do it. You put these nice colorful pillows, and it just looks very inviting. Beds are extremely comfortable. Again, this is where I've been staying and no complaints. Everything's been great.
- [Mikey] I gotta say, they love pillows in this country. - They do, I mean, that is way too much pillow. You know, way too many pillows for me. (both talking at the same time indistinctly) - [Mikey] I immediately take six pillows off the bed.
- Yeah, it's like you need to spend a minute to move all the pillows first before you can go in. - Yeah. - But, yeah, beautiful finishes here, recessed mirror, details on the back, and more importantly, you got a massive picture window here. Sliding glass doors open on this side takes you to the balcony, which is kind of shared. So even though it looks like this is for a primary bedroom area, it actually connects to the wrap around balcony that we're gonna check out in a bit, and literally, this is why I love leaving the curtains open.
I love leaving the sliding last door open because you just have natural air coming in. Vibes are great. Views are amazing. Area's peaceful and tranquil. - Birds in the trees. - Absolutely, gorgeous.
It's been amazing. - Yeah, it's great. - All right, now, let's wrap around, balcony continues. We have the two other bedrooms on this level opening up to this section. Let's go through this door to check out the bedroom number two and where Mikey says. So I'm gonna kind of shut up a little bit.
I'm gonna let Mike speak. - [Mikey] So what I like about this bedroom is I really like- I've always really liked when they backlight things with LED lights and this mirror's back lit. I think it looks really cool. I don't wanna walk around and just point out staging or furniture, but this is the smallest bedroom on this level, but since I'm here alone, like it only makes sense, and this is gonna get the primary room, and then we have our friend Hailey Sani actually with us staying.
- Well, we had Armand and his wife stay there, and for the weekend, we have our friend from LA, Hailey, staying with us so she now took over that bedroom. - [Mikey] Yeah, she has a YouTube channel also. We'll leave her links down in the description.
I'm sure you'll see her in our vlog or something. - Yeah. - But yeah, I like the room. It's really comfortable. Once again, independent AC control, so I have the room nice and cold or I can leave my window open or whatever and like no one else in the house complains about how cold it is.
- Have you been using the floor heating? - [Mikey] Honestly, I just found out I had it like two days ago. - That's a bummer. - Yeah. - It is great.
All right, some closet space here. The reason I ask for the floor heating, bathrooms, you know, you have these oversized tiles. It just feels nice to have warm floors on your bathroom. - [Mikey] I can imagine.
- And you're like, "I missed out on that." - Yeah. - All right. This is where Mikey's shower is. Again, rain head, all these showers are nice and open. I like this casement window you have here. Honestly, I would just leave it open all the time.
- That's what I do, yeah. - There you go. Vanity, all that good stuff, and coming out, at the end of the hallway, we have the third bedroom starting here. Built-in closet, linear windows bring in natural light, and I'm gonna go straight to the bathroom. Same finishes, same style, vanities, corner walk-in shower, beautiful tile floors, and going back in, we have the bedroom itself. I like that each one of these bedrooms are positioned a little differently.
They all have different wallpapers. They all have different finishes a little bit, and they have their own identity, at the end of the day. Sliding glass doors open up.
It's a really nice, easy home. One of the things that I really, personally, really like about this home is the fact that it feels super comfortable. It has that hint of luxury hotel feel so it feels like you're somewhere a little bit special rather than just your home, but yet it feels cozy. It feels elegant, and again, Mikey, let's take everybody outside one more time. - [Mikey] I gotta say something about the beds here.
Like I- - Super comfortable. - [Mikey] I just pass out cold. I just go into a comatose state. - I think it has to do with how much we work also because I feel the same way, too, but... - Well, Maggie, the, I guess. - House manager.
- [Mikey] House manager, she asked us about the beds when we got here and she's like, "I did something a little special to make those a little more comfortable," but they're great. - And it works. - Yeah. - Absolutely. That's it for the second floor. Let's go check out the rooftop deck. (upbeat chill music) Whoever came up with this design, this is amazing. Basically, a roof and an exterior door that opens up to your rooftop deck.
- [Mikey] It's really cool. This is a first on the channel. We haven't ever seen a door like that or- - Well, we have seen one, which is right next door. - Well, before this trip. - Before this trip, correct?
- Yeah. - It's super awesome, man. Welcome to the rooftop deck. Nice and open space, glass railing. I'm sure in the future, they will put more outdoor furniture here as well and lounging chairs, hot tub, why not? You got great views. Honestly, elevation makes a big difference.
Now, you can literally see the entire thing all to the way to the sea. La Concha mountain, golf course in front of us, leaf blower right next door, (laughs) which is like every time we shoot something, there's always someone with a leaf blower. - [Mikey] We don't talk about this, but you have no idea how many takes Enes and I have to do sometimes because of a weed whacker or a leaf blower or an airplane. - Airplane.
- [Mikey] Or like a Ferrari racing by. I think we're just gonna enjoy the day to day and just keep going. - Exactly. Look, this place is awesome, of course, there are gonna be some leaf blowers around, but. - Yeah. - Obviously, super peaceful here. I don't know, Mikey, I'm kind of out of words.
I mean, we toured the place. It's been awesome being here. I haven't utilized the hot tub yet, but I know you guys been in it twice so far? - [Mikey] I got in once the first tonight, but... - It's really nice. - [Mikey] I wouldn't be getting in again so. - I know, I know.
- [Mikey] Maybe tonight or tomorrow night. We have two more nights here. - Awesome, I mean, what can I say? Marbella, Pacaso, amazing experience.
(upbeat chill music) All right, everyone, that's it for the tour. I hope you all enjoyed this video. I wanna give a big thanks to Pacaso for allowing us to stay at their amazing listing and share our experience with all of you, and as always, you can find more information about this property and their listings all around the world in the description of this video so make sure to check it out. Lastly, it's been great staying here. So I'm gonna open up this croissant, go to the backyard, and enjoy the vibes here, and before I do that, make sure to give us a like, subscribe to our channel, and we'll see you guys next week.
(upbeat chill music)
2022-05-13 20:57
Show Video
Other news