Welcome BACK to NEPAL / Exploring Kathmandu City / Nepali Food Tour 2023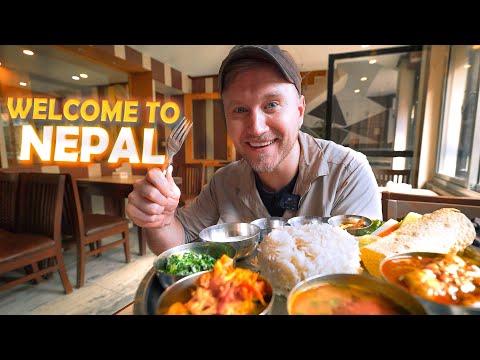 Show Video
Hey hey hey! Welcome back to our hungry adventures! And welcome to Nepal, guys! Today we will be exploring Kathmandu City and I'm very excited about it.. even though this is not my first trip to Nepal.. probably because I already know how delicious Nepali food is.. and because I'm very hungry..
Today we'll be wandering around the city center of Kathmandu.. we'll visit couple local landmarks.. we'll do some shopping because I need a jacket.. Last night it was 10 degrees Celsius which is pretty cold after Thailand.. We'll try to find out what Nepali people eat on regular basis.. we'll try some local dishes..
so it's going to be pretty fun.. and if you got some time and empty space in your stomach and you're ready to waste your precious time together with me.. you can join me in this hungry adventure.. let's go!
And you better be ready because it's gonna be a quite noisy and dusty adventure.. All right, guys.. This one is called Momo.. I've ordered a portion with buff (buffalo meat).. In other words these are steamed dumplings.. There are three major types of steam dumplings (momo) in Nepal - with chicken, with buffalo meat and vegetarian.. and this is probably one of the most popular dishes for Nepali people and for international tourists and visitors..
because they're amazingly tasty and you can find them literally everywhere.. they are easy to cook, they are easy to find.. and they are not expensive.. This portion costs only 140 Nepali rupees, which is a little bit more than 1 USD a little bit spicy.. with this special sauce.. broth and sauce.. amazingly tasty..
um wow... they really remind me of Russian dumplings but these are more delicious and many times more cheap! Absolutely beautiful.. slightly spicy.. yummy! just look at this amazing transportation.. How much? How much? Good price, sir! How much to Chhetrapati? 500 Rupees.. 500 Rupees? For 500 Rupees I can go to the airport.. but it's a good try, it's a good try!
Good price.. 100? 200.. How much? 200? 150? let's go.. okay.. 150? Very beautiful.. It's called "rickshaw", right? rickshaw..
I do the same with my girlfriend! Hello.. Actually the place where we are going right now (Chhetrapati) is not really far.. we can walk and reach it within 5-7 minutes.. but we've met this nice gemtleman..
And he didn't say "Oh mister give me money".. He said "Do you want a taxi?" and 200 Nepali Rupees is actually less than 2 dollars U.S.. literally 50 Thai Baht.. I calculate everything in my head in Thai Baht and it's very easy..
you just need to divide the price you see in Nepali rupee by 4.. For example if you see something cost 1000 Nepali Rupees - then you just divide this price by 4 and it's gonna be 250 Thai Baht.. in my head everything is in Thai Baht.. so 200 Nepali Rupees is just 50 Thai Baht.. not that much.. the same price you pay in Bankok for the motorbike taxi.. but this one is more exciting..
and besides, you support local workers, local people.. Guys, and this is the city center called Thamel.. there are many cheap hotels here, many budget friendly options..
but it might be a little bit difficult to sleep at night because of the active traffic, many motorbikes, many taxis.. all of them are honking constantly.. and as you see on the right side and on the left side - lots of clothes for sale, various jackets, pants, shoes, items of art and etc.. I promised you a walking tour but here we are having a bicycle tour around Thamel..
here on the right side probably there is a school.. because there are many kids wearing the same green uniform.. this is the magic tree.. Can stop here.. can stop here.. okay sir.. yeah yeah..
oh slowly slowly.. yeah oops... I'm heavy.. I'll give you 300, but can I take a photo with it for 300? I'll give you 500.. 200 please.. but you'll help me to take a photo, please.. and the reason why we came here to this tree and to this area called Chhetrapati.. it's because there is a coffee shop and three years ago when I went to Nepal for the very first time..
the owner of this place gave me many cool tips, he sells very delicious coffee.. also here I bought my first SIM card from Ncel network.. Yeah, I came here for coffee.. Cappuccino 140 Baht.. Nope.. 140 Nepali Rupees.. which is around 35 Thai Baht.. about one dollar U.S..
All right, it's time to do some shopping! This is probably the fastest bicycle in Kathmandu city.. 4 tanks with Nitro.. All right, guys.. it's shopping time..
let's find me a jacket, couple socks.. maybe warm underwear to keep my stick clean and warm.. As you see guys, you can come to Kathmandu wearing shorts and flip-flops and then buy everything here.. for trekking, for hiking, for climbing.. looks great.. how much is it?
6500 NPR.. it's around fifty dollars US.. and how much for this one? This one is 2800 NPR..
But of course you can make a discount, right? Yes, I can.. We are in Kathmandu.. You can try this one if you like.. We have different colors..
I'm not sure that I like it.. Guys, check out this one.. camouflage.. looks great.. and also a hood.. I feel very warm and it's not that huge..
Can we bargain a little bit? You said its cost is 5000 NPR, I say - 3000 NPR, and now you tell me how much is it.. 4000 NPR? 4200 NPR? okay okay.. When you walk around Kathmandu - you see these shops selling different jackets, pants, shoes and so on..
And they buy ingredients/materials usually from China, like this fur/feather and other materials and they sew it right here in Kathmandu.. usually in the same shop, just in the back room.. and then they sell it here..
so this is probably not original "The North Face".. I got another logo on my back.. However the quality is great and the price is lower than in the official store.. okay okay..
800 and 200.. 200 and 800.. what's the difference? No difference but this is cotton.. This is cotton and this one is..? That is mix.. Mix of.. dog and mouse?
I think once you wear it - it will become a little loose I think if you give me scissors and I will cut my toes a little bit - then it will be okay.. it will be perfect! But also now I think it is perfect.. I think.. But feels very warm..
okay.. all right, I'll buy two pairs.. How long it's gonna last? One year, two years, three years? It goes 2-3 years.. okay, nice.. If it will torn a little bit, you can fix it, but inside it still will be good..
all right.. You can put it in this small bag? Really? very easy to carry it.. nice.. How much is it? It's 1000 NPR..
250 Thai Baht.. wow looks good.. but I have one already, and I think I'm not gonna play with snow this time.. all right, how much is the total? jacket and two pairs of socks.. 5400 NPR.. with good discount.. best discount!
The best discount? Okay! 5400 Nepali Rupees for everything.. which is 1400 Thai Baht or around 40 U.S very good deal because this is a really good quality jacket.. there are cheaper options which you can buy twice or maybe even three times cheaper.. but I know if I'm going to rent a motorbike in Pokhara and ride to the mountains, somewhere to Dhampus for example.. in the evening, after the sunset it is going to be pretty cold.. which is why I decided to buy a really cool jacket which looks by the way quite nice.. this camouflage style..
I'm not sure is it possible to find some under pants to protect the lower part of my body from cold and freezing wind.. we can try.. anyway we need to walk a little bit, so that we can enjoy the second most legendary Nepali dish.. which local people love to eat for lunch and for dinner.. "Dal Bhat" which is just number one for me.. together with "Momo" of course.. this looks underpants.. no, this are not underpants..
That's a huge shop.. Is it the longest shop in Thamel? Yeah, like I said - you can come to Nepal in shorts and flip-flops, and buy everything you need here.. and it's going to be cheaper than in your country.. no matter where you are.. "Turkey march"...?
made in Nicaragua.. interesting.. and how much is this set? 4500 NPR 4500 ummm.. 4500 Nepali Rupees, which is around 1100 Thai Baht.. for this set.. Probably you cannot buy a similar set for this price in Thailand..
and it really looks like it's from "Under Armor".. all stitches are good, the logo looks real.. but we can negotiate a little bit, right? walk inside to try it.. Where? Come here..
over there.. ah this green door.. all right, thank you.. I'm not sure I really need it..
I might just buy it and then send it to Thailand, so that I can use it later when I come back to Nepal again for the winter season.. because I want to hike in the winter here.. because this is a really good price..
This is L-size, but it feels a little bit tight.. so I asked a lady to give me the XL to try.. because I just can't breathe in it.. Yeah, this one looks a bit better.. probably I look like a sausage with my 95 kilograms of weight..
but it feels pretty comfortable.. of course it's not original "Under Armor".. what a huge ass! feels pretty nice on the skin..
let's try to negotiate.. What do you think, is it good size? This is XL, yeah.. This is good.. Other one was very tight.. Yeah it was very tight.. can't breathe in it.. but this is more comfortable.. okay.. how much?
looks very nice.. looks very good on you.. how much? what is the price? what is the best price? 4000.. 3500 can? No, can't.. 3800 NPR.. 3800.. okay!
3800 NPR which is less than 1000 Thai Baht.. nice deal.. probably you can bargain more and get lower price or walk around find something cheaper.. but the reason number one - I just don't wanna look too cheap and bargain too hard, because they don't make much money of it..
and the reason number two - I don't have much time.. we need to visit some local landmarks, and we need to try delicious Nepali food more.. this is more interesting..
how much you said? 3000... and 700? please.. how to say "bye bye" in Nepalese? Tata? Tata? Okay, ta-ta! bye bye.. bye bye.. "Namaste" is "hello".. "Ta-ta" is "bye-bye".. bye bye..
work in the progress.. I think even three years ago they still were doing something here in exact same location.. the air is pretty dusty.. maybe not that dusty as it was three years ago.. but still I can feel something's happening in my nose.. but at least I'm not coughing..
and in case you think Thailand is the only country with wires above your head.. well, you can feel yourself at home here in Kathmandu city.. This is where we are going next.. Kwality cafe.. and this is the reason why I don't want to drive motorcycle in Kathmandu..
it's a little bit tricky here.. if you are not used to this kind of traffic.. then yeah it might be a little bit tricky.. Hello, sir .. Hello.. okay, okay.. Yeah Bangkok is just a kindergarten.. Here you gotta be really a Pro driver..
but if you book taxi with with an app (like Pathao) - it's actually pretty cheap.. I thought it was a mirror.. wow.. quiet place, amazing! all right guys.. this is a single portion.. and now you probably understand why I love this dish so much.. it is called "Dal Bhat"..
"Dal Bhat" is actually two words: "Dal" means "lentil soup" - here it is in this little cup.. and "Bhat" means "steamed rice" same as "Khaw Suay" in Thailand.. steamed rice.. so this is the steamed rice and this is "Dhal" (lentil soup).. and usually this dish is served together with a few side dishes.. vegetable curry, greens.. if you order non-vegetarian version it might be chicken or mutton curry..
also pickles, fresh vegetables.. this is something like local yogurt.. probably if you feel a little bit spicy you can get some relief by eating this yogurt.. I don't remember what's the name of it... also there is some extra thick sauce which looks like paste (tomato pickles).. I don't know what it is.. and something else..
And every restaurant cook it differently.. sometimes there might be only three side dishes.. sometimes they might be 10 or 20, depending on the style.. in some luxurious restaurants you can find just a huge plate with many many various side dishes..
but this is probably one of the most popular and classic versions.. chicken Dal-Bhat.. and I just can't wait to try it! Many local people prefer to eat it with hands.. but to me - everything is easier with spoon and with fork.. so I eat it like I used to eat rice in Thailand.. I take one spoon of this, I take some rice and then put it in my mouth.. these chicken curry is fantastic.. It is very delicious...
These are pieces of chicken in the curry and the smell is amazing, guys.. You really have to try it one day, if you can.. Let's take a piece of chicken.. add some rice.. bone goes out.. wow it's amazing.. and I always feel amazed even more about local rice.. the rice is not same as in Thailand.. I don't know, it's just amazing..
very tasty, very filling dish.. this dish has so many calories, but you need it when you go trekking for many days .. you need to restore this energy, especially when you get to the areas of high altitude..
you need the energy to not feel sick.. and this is the lentil soup, rich with nutrients, vitamins.. rich with protein too.. it is called "Dal".. this is this is my "Thai style of eating" any dishes with rice.. you take a spoon of rice, you put it in soup, and then you put it in your mouth..
very yummy.. but locals usually mix everything on this plate together with rice.. and I prefer to try everything individually.. Thai style.. wow.. and this is the vegetable curry.. the cup itself is not that big, however there are many cups served with a single Dal-Bhat dish..
which is why you feel yourself very full after completing it.. of course if you can do it.. if you're a talented hungry adventurer, like this one.. Hungry eating machine that never breaks.. and everything on this plate is slightly spicy to be honest..
maybe because because many tourists can't handle spicy food.. however if we will get out of tourist area of Thamel, we will get a chance to try real spicy Nepalese cuisine.. places where the local people eat.. okay I gotta continue.. because it's just too delicious to wait! And guess now how much does it cost.. Come on, just guess..
365 Nepali Rupees which is around 100 THB or a little bit less than 3 USD for this huge meal.. amazing.. one of many reasons why I love Nepali food.. it is amazingly delicious and it is not expensive of course.. all right, time to visit some local landmarks.. very exciting traffic rules..
let's find a taxi.. let's go.. okay Guys, this is gonna be a dusty, noisy trip through the traffic jam.. evening traffic jam.. very excited about it..
Good Nepal? Nepal good? Good! Traffic jam good! Welcome! Nepal food good! I went to Nepal three years ago and and I thought: "oh it's so overwhelming".. and then I went to India and visited 16 cities around India.. and then I realized how quiet and peaceful Nepal and Kathmandu were .. Paharganj Delhi! I will never forget this experience.. it was amazing of course! That's a nice bike.. so many Royal Enfields here.. of course they are much cheaper than in Thailand..
if I would stay in India or in Nepal - I would own Royal Enfield motorcycle 100%.. What an amazing machine! Dusty! Very exciting! this is one of the most magical places in entire Nepal.. it is called Bouddha stupa or "Boudhanath".. three years ago it was possible to walk around on the stupa itself.. however one gentleman said that it's closed.. always closed.. so it's not because we are late.. for some reason it's no longer allowed to walk around.. but at least we can walk around here on this territory..
there are many guest houses around this stupa.. and it feels pretty special to be here.. maybe it's because of this smoke from various incense sticks and etc.. pretty cool to be here.. and this is the monastery if I remember right.. we can check it out.. maybe we can walk inside.. in some places in Nepal it's not allowed to make video..
in some places it's not allowed to enter for non-Hindu people.. So sometimes you just cannot show everything you see around.. can you go up? okay..
can do video? okay thank you sir.. yes, we can make video here and we can go up.. however usually after 6-6.30 pm this place is closed.. we need to get to the last floor.. because the last floor has the most amazing view around the stupa.. the view is absolutely mesmerizing..
and for some reason not that many people know about this rooftop.. so-called rooftop.. the last floor.. which is why right now I'm the only visitor here.. and somebody who is working here of course..
really beautiful, really peaceful.. This place is definitely must visit for everyone who is coming to to Nepal.. Welcome to Nepal, guys! and we are back to the evening chaos of traffic jams around Kathmandu.. the way back is going to be a little bit harder.. I remember it's really possible to stuck here.. so it is better to get back by motorbike too..
because if you are coming by car and if there is a cow standing in the middle of the road - nobody is going to move it.. it will be standing there and there will be traffic jam.. and people will be trying to pass around.. so yeah, let's jump on a bike again.. "Pathao", right? okay, okay..
Durbar Square.. Many people everywhere.. Guys, this place called Kathmandu Durbar Square.. back in the old days Royal family used to live here.. in the palace..
and to be precise - Royal family of Kathmandu Kingdom.. in the daytime if you want to visit this place and if you are a foreigner - you gotta pay for a ticket.. but it's not just to enter the square, it's also for visiting some museums located on premises of the old palace..
however after 6 PM there is no security, no one is checking do you have ticket or not.. so you can come here and wander around freely.. in fact even for visiting Buddha stupa (place we have just left) you need to pay 400 Nepali Rupees for the ticket.. but after 5.30-6 PM no one is checking do you have ticket or not.. so this is the tip: if you want to see both places but don't want to pay for the ticket, even though it's not that expensive..
you can visit them after 5-5.30 pm.. in fact this is just a square, people are walking around, walking through.. there are many guest houses around, there are many restaurants.. But to me one of the most beautiful places here is the statue of Kali.. I gotta show it to you.. Hello my friend! Hello my friend! Guys, I didn't know I've got so many friends in Kathmandu! All right, guys.. This is the end of the episode.. This was the first episode from Nepal and there will be a few more.. so I gotta ask you only one thing: smash the like button, share this video with your friends..
and subscribe to the channel if you aren't already.. it's very important for YouTube algorithms.. so really smash thew like button.. and I'll see you next episode pretty soon.. somewhere else in Nepal..
bye bye! Meanwhile I gotta find some Momo for dinner.. Momo.. Mama? No.. Momo! Probably it was my first words right after I was born..
2023-03-27 18:21
Show Video
Other news