Walking alone in ASIA'S MOST DENSE FOREST, Hasan Valley. SCARY!! (MUST WATCH)(ENGLISH SUBTITLES)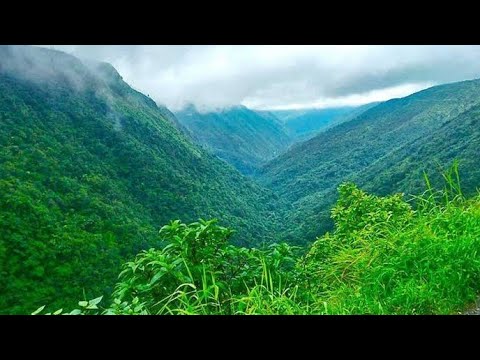 Show Video
This is Hasan valley cycle is also available on rent lets see whether they let us go inside Monday is closed I hope there are no leopards inside and wild animals inside, rest is fine. lets meet inside something like this here This is office,lets go and talk to them Welcome to Hasan Valley Outside i showed u the board Here u can rent a cycle for 350 and if u wanna walk it'll cost 150 and if u a student it'll take 50 if u show id some view here this a 7km stretch and total 14km including return and timings are 10-4 if u wanna come,u can in the morning so that u have plenty of time i've got only 2 hrs now, its 1:45 now, if u wanna come u catch a bus till dhalli, come to shimla and come to dhalli this place is 1km ahead of dhalli either u walk till here, or car i've already showed u the board outside, so come here and enjoy and if u come,bring your own eatables bcz there are no shops inside u can see the view here there will be a lot of views ahead, cover a lot,time is less 14km ,i have to walk in total There r wild animals here too like leopards but they avoid us humans but in case it gets dark or bad weather then they may come out so be cautious whenever u come This can be called as a nature park, u can jog,run or cycle here and enjoy if weather becomes more gloomy, it'll be nicer see the view first from above now here dense forest in front people wondering how to reach here many people dont know but u know now Even i didnt knew before so i went to kufri and from there i returned 5-6 km on foot but u dont make the same mistake, the road is also dangerous so dont repeat what i did 14 km distance in total ,lets see how much we can cover 10-4 timings, u can bring your own eatables as u wont get anything inside lets go and see the view from there lets move now, there was a young couple there,so i didnt speak too much i let them have their privacy we'll keep seeing those views, 1-1.5 km covered till now it'll be more fun in the evening but they wont allow then and if the weather conditions turn gloomy or if there is rain then the experience will be different A group of 2 is better than a crowd A solo traveller like me can also come as long he isnt doing anything wrong? have u ever seen a sight like this, but now u can see as iam showing Now a bit of jungles voice and feel For me its worth coming here but dont make it too crowded as its real beauty is being peaceful try to come in lower like me so that u r comfortable listen to this amazing sound of jungle! right now iam walking alone and iam not afraid as long its not dark and no wild animal arrives.
i've struggled a lot to find this location but u wont as i have told u beforehand either take a bus from old bus stand to dhalli or to lakkar bazar and from there to dhalli and reach here come here ,enjoy just dont make it too crowded or youll lose the fun. Friends, if u like my work then please like and subscribe so that i can keep coming to these places and keep telling u about them. This is the name of place Shimla water catchment wildlife sanctuary iam absolutely alone here right now, feeling good but a bit of company right now would have been good in case of danger,but its absolutely safe.
thats why they say not to come in dark as u can see by yourself at night these wild animals become more active lets go inside that now lets move! i met 4 guys from punjab who were returning as they said its too long and nobodys here and i said let me see further and then i'll decide as i have to return till 4 and its like 3 now as u can see i cant take risk here at night or dark empty, no mans land as iam walking here alone still feels good and now we're in the middle of forest with way forward and backward both empty 3km stretch covered 4km left, with this scenario i have to run while returning we keep moving deep inside the jungle nor somebody ahead of me nor anybody behind, battery also dying but now i understand why they dont allow anybody in night at the end of 7km stretch theres a rest house probably thats weird not a trace of humans anywhere local 2 aunties cutting grass whose bravery is on another level 4 guys from punjab left because they werent enjoying but i felt otherwise and here 2 aunties cutting grass, i dont know the conclusion maybe u can tell maybe those 4 guys were really getting bored, who knows atleast i dont 3km left 4km covered,lets talk to u when i arrive or if i'll see something interesting after last a human spotted,atleast i saw somebody here finally got some courage, after 3-4 km saw existence of human, now what? after 2.5 km we will be on that side and then we have to return. keep up we will make it. still 2km and 20% battery I wont be showing while returning as i have to run then to cover 7km before dark friends i will recommend u to come here its a paradise for nature lovers and maybe this is asias first or second most densly covered forest area battery is about to die maybe this is last or second last video, comment and tell and support if battery left i'll show the rest house, otherwise not, sorry for that now there r 2 path, i dont know which one to take, in the middle of forest they created 2 path and not even mentioned where to go friends there were 2 path u take the way down, thats right maybe this is way for further going into the jungle after 7km i went a bit further on the other path too as i was confused and they didnt mention its already 3:30 and i'll sit a bit and run while returning make 1 way, they've made many ways in the jungle and this is also closed they've not left me anywhere to go inside the jungle and lets take this path if after walking 7-8 kms into the jungle,this happens to u, how would u feel?
2022-05-13 03:36
Show Video
Other news