Vietnam Tour Budget & Vietnam Itinerary | How to Travel Vietnam | Vietnam Complete Travel Guide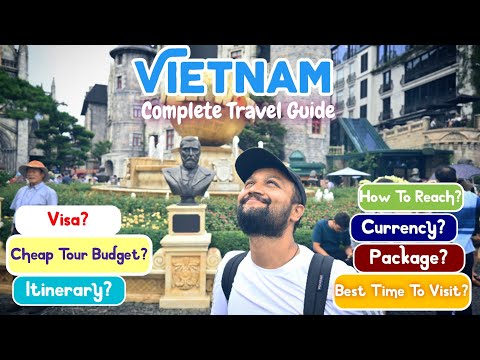 Show Video
Hi Guys Welcome Back to Distance Between I am Shubham and today I will give you such wide and detailed information about Vietnam which will make it very easy for you to visit Vietnam. In this video of Vietnam I will tell you the facts of Vietnam, cost of visiting Vietnam, itinerary, history, tips, visa, nightlife, food options, best time to visit, jobs, demographics and many more so that you will be able to make your trip easily here. So let us know what are the details of visiting Vietnam. In this video of Vietnam, we will know all the details point wise, so first of all let us know what is the location of Vietnam? Vietnam is a country situated in South East Asia, whose neighboring countries are countries like China, Cambodia and Laos. Talking about demographics, the capital of Vietnam is Hanoi and the population here is about 10 crores. There are more than 80% people in Vietnam
who do not believe in any religion, but there are 12% people who are Buddhists, the rest are Christians and there are people of other religions. Vietnamese language is spoken in Vietnam but some people also understand English and if you know a little English then you will not face any problem while traveling here. The currency here is Vietnamese Dong and according to today's rate, for Rs 1, you get around 293 Vietnamese Dong, but this does not mean that you will get food in just Rs 1 here. Accordingly, the currency notes are also big, that is,
from Rs 1000 to Rs 5 lakh, currency notes are valid here and some coins are also valid. Like in India, if you get this bread for Rs 50, then Here also you can get it for the same price but for that you will probably have to pay 30000 Vietnamese dong, which means you will get some things here at the Indian price, some will be more, some will be cheaper, but if you look at the almost average price, you will get things at the same price. In Vietnam, you should never take currency from India by converting it into Vietnamese dong because you do not get good rates in India, so the solution is to take dollars from India which you can exchange in Indian banks and you can get some dollars converted at the airport in Vietnam because here too the conversion rate is very high and convert just enough to get you from the airport to the hotel and also keep a little extra and after all this get some conversions done in the local market here. At which location in the market you have to get the currency converted, for this the video I have made of Vietnam, I have mentioned the place in it. However, here only travel agents get the currency exchanged or exchange is done at jewelry shops but get exchange done at authentic locations only. Even you should not convert rupees into Vietnamese dongs throughout Vietnam, because in such cases, you do not get the right price. The main
places to visit in Vietnam are Hanoi, Ho Chi Minh City, and Da Nang City and to cover all these places You should have 9 to 10 days. Most of the flights from India go to Hanoi or Ho Chi Minh City but I am assuming that your flight will land in Ho Chi Minh City. If your flight lands in Hanoi then the itinerary I will show you will just be done the opposite. Then you will not have any problem with it. Vietnam is a communist country and this is the country whose army and citizens together defeated even a strong country like America in the war. The Ho Chi Minh City was earlier known as Saigon City and Ho Chi Minh was a famous leader here, after whom this city has been named Ho Chi Minh, who brought revolution here. Vietnam was first ruled by the French and the before the World War, for some time the Japanese also came and then America committed many atrocities on Vietnam but between 1973 and 75, Vietnam got rid of all this and there are many job options for foreigners in Vietnam but if you have a good degree or if you have experience then only you will get job etc. easily here but if you have a good degree or experience
then you can go to Singapore or other countries and do job, that can be a better and more earning option for you. Now since here there is a communist government here, so they talk more in favor of their people so there are more jobs for them here and doing job or business here is not very good but it is definitely a good option but for job or business you have do a lot of money formalities etc. and if you are confused about career and want to know which is the top university and what are the scope of courses in future then you can go to reviewadda.com which is such a guidance platform that will help to fulfill your dreams. All information like career counselling, admission guidance, course related top university will be available to you on your phone. This facility is free for Jain children and for other students, you will get this facility for a guidance fee of 1999 i.e. ₹ 1999. So visit review.com today or
contact on the given number. Scooty is available on rent in Vietnam and for this you might have to pay around Rs 500/day and for this they deposit your passport. But I will not recommend you scooty at all because here challans are done very aggressively and for scooty you must have an international driving license which generally people do not have.
Still, those who rent scooters do not tell you these things and they deliver the scooter to you, but after getting the challan, you have to pay the money which is very high, so it is better that you take a cab here for traveling from one place to another. It will be more convenient for you and if you are three to four people, then cab will be a better option for you. If we talk about buses, buses etc. are also available in public transport so you can use it but you will not know the bus timetable and since there are places nearby, you will not need buses much like this. So the best thing is to download the Grab app and go there and book a cap, just like you do Ola here, the work will be done in the same way and for three-four people, this is the best option. You can go Vietnam anytime throughout the year and in the weather here, you will get monsoon between July to Septembe whereas the temperature of the weather remains the same throughout the year, which is around 25 to 35°. In some hilly places, you also get to see a little cold here.
Let us know the itinerary from day one, after that I will also tell you the details of each day. So in Day One you will first reach Ho Chi Minh City and then stay there while in Day Two you will explore Ho Chi Minh City and stay there for the day. In Day Three, after exploring Ho Chi Minh City, you will take a train in the evening and go to Da Nang City, then after that you will have a night journey if you go by train and you will reach Da Nang City early in the morning around 1200 hrs or 1 o'clock. Then after that you will stay there and on day five also you will stay in Da Nang city. On day six also you will stay in Da Nang city. On day seven you will go from Da Nang in the evening or you can also in the afternoon go to Hanoi by bus so that you can have the experience of both train and bus, hence I have given both options and it can be cheaper for you and also you can save the cost of hotel for two nights, hence I have made this kind of itinerary for you. On day 8 you will reach Hanoi
and then after that you can explore the places here. You will cover Hanoi in Day Nine also. Even from Hanoi, you will go to Ha Long Bay in Day Nine and that is a whole day trip. Then in Day 10 If you have a return flight to India, then you can cover whatever places are left in Hanoi and in the evening or whenever you have a flight, you can go back to India. So this will be your itinerary. Let me tell you what will be the itinerary of Ho Chi Ming. On the first day, you will visit the local sightseeing like War Remnants Museum, Independence Palace, Book Street, Ban Thanh Market, where you will get very cheap items, clothes etc., and many other
things, I have shown in the video. You can go there and can also go to Mariamman Temple if you want to go to the temple. Then in the evening for the night life here, you can go to Boi Vien Walking Street. So your itinerary for day one will be like this whereas on day 2, you will complete a day trip to the Cuchi Tunnel and you will spend the whole day in it. There are some other places around the Cuchi Tunnel and you will do that too. So your lunch etc. everything will be included in it, so it becomes your complete package. Whereas if we talk about day three, then from here you will go to Binh Quoi tourist village and if you are missing some places in some destination, then you can cover that also here. Be it Vietnam or any other country or
If you want to know the details about any state or any place in India or you want to make a budget or itinerary, then you can also contact our travel consultancy for which the contact details are given in the description. Now let us know what are the places in Da Nang and its itinerary. On the first day in Da Nang City, when you come, you should cover only the local places because you will reach here a little late from Hanoi if you are coming by train etc. and maybe you have only half a day, then in such a situation you can go to the beach here and see the Dragon Bridge where you can watch the fire show on Saturday and Sunday night. So make your planning in such a way that on Saturday and Sunday you will be in Da Nang. On day two of Da Nang, you will go on a day trip to Ba Na hills which
will take you the whole day, so you can come in the evening and spend your time on the beach or if the budget allows, you can also try your luck in the casino here. Now if you are planning on day three, so you will go on a trip to Marble Mountains here which usually starts in the afternoon and in the evening you will go to Hoi An where you also get to see the decent night life. In day one of the Hanoi itinerary you will cover the local places here, but first of all you will find out at what time the train leaves here on Train Street, so that you can sit in the cafe and enjoy your coffee while watching the train on the street and plan the rest of the places accordingly like Ho Chi Minh Mausoleum, Imperial Citadel, Vietnam Military History Museum, St. Joseph Cathal, you can go there,
Ngoc Son Temple and Water Puppet Theater Show, it is also very interesting and go to Dong Xuan Market like in Ho Chi Minh there is Ban Than market similarly here there is Dong Xuan Market and in the evening you can go to the night life here at Bia Hoi corner where you will get to see some clubs etc. and night life. On day two you will go on a full day trip to Ha Long Bay and in the evening After coming back here to Hanoi, you can go to the night market which is organized on weekends. I have told the details of tourist visa of Vietnam in the previous videos, but since this is a complete video, I will tell you in this one. Vietnam visa is very easy to get and is also not very costly, but there is no facility like visa on arrival here and you have to apply for the visa online.
In the description box, I have mentioned the website through which you have to apply. For visa, by going to this website, you have to upload the scanned copy of your passport, your photographs and fill the basic details like name address, mail ID, hotel address, date of arrival and departure, after which you have to make the payment. And the visa fee has to be paid approximately $25 which can be around Rs 2200 to Rs 2300. After payment, you get a tracking ID whose photo you immediately click from your mobile because sometimes what happens is that a mail doesn't come. And if you do not have tracking ID then how will you track and after this you have to wait for three to four working days after which you will get the visa through tracking information on your mail or you will have to track it and after going there you have to download your visa. The visa you get is
valid for 30 days. There are some things that you have to take care of like you must download and keep the offline map in your mobile. Keep Google translate with you as well so that you can easily scan the Vietnamese language and convert it to Hindi or English. Keep an umbrella with you, it can rain anytime here. Packaged food like Maggi, Thepla, and you know others,
keep them if you want and specially for those who are pure vegetarian, people of Jain religion, It is very helpful for them. Always carry the passport. Whatever documents you have, keep them with you. Keep the passport size photos with you. Keep some currency with you, carry forex card if possible so at many places online transactions will become easier for you and try not to give the numbers of credit cards etc., it
also leads to forgery etc. Keep a SIM ejector with you and here one good thing is that around 5% to 7% VAT refund is also available. In some products, you can avail the benefit of VAT refund in electronics. Keep the power bank with you, it will help you and waterproof packet of mobile etc. Download the Grab app in your mobile and carry the medical kit and prescriptions etc. The historic cities of Vietnam are Hanoi and Ho Chi Minh City
in which you get a glimpse of real Vietnam, but if you want to see advanced cities and big hotels with luxury life, beaches and mountains, then you can go to places like Da Nang City, Hoi An City, Hue City, Nha Trang City, Quy Nhan, and for the hilly areas and If you want to see Chinese culture, then you can go to Sapa and Ha Giang here and my advice would be that you should definitely visit these places because for those who do not like historic places Hanoi and Ho Chi Minh City can become boring places. In the nightlife of Vietnam you will get options like food, massage clubs and if you are expecting night life like Thailand then You will be disappointed and you will not find anything like this here and even if you do find it, it will not be safe, so especially stay away from adult night life here. If you are fond of branded clothes, then whatever I have shown you in the video in every market in Vietnam.
It has been shown that there you can easily get copies of branded clothes and they are also quite cheap. However, even in the normal market, you can get clothes here cheaper than in India, so here you can go with an empty suitcase and you can get cheap clothes and can shop for a lot of clothes and bring them back to India. White gold is in trend in Vietnam and is also available at a good price. You will find many of its shops in Ban Thanh Market of Ho Chi MinhCity, but what is its identity? This is a little difficult to explain, so if possible, you can avoid shopping for them. As soon as you reach Vietnam, you get SIM cards at the airport, but if you do not need immediate SIM, and you are a frequent traveller, and want a cheap SIM card then can buy SIM from normal SIM card shop only. You can get a SIM card with
good data and validity in just ₹ 300 to ₹ 400, whereas if you buy a SIM from a travel agent in Vietnam, they will give it to you costly, but if you are going abroad for the first time, then you should buy the SIM from the airport itself because the due to lack of SIM, you may face problems and rest of the time you also get the facility of WiFi in hotels or hostels. The three cities which I have named, all these places have pure vegetarian restaurants which I have also shown you in the videos of the three cities. It has been shown that if two people sit down to eat once, then up to Rs. 1500 will be spent. However, if you want to try Vietnamese food, then there are many Vietnamese vegetarian dishes which you can get in the Vietnamese restaurants here. These are also pure veg, although the coffee here is quite famous, but when I personally tried it, I did not like it, but you try it and tell in the comment box how it was in Vietnam. You should take only light clothes
and for boys, funky looking shirts or t-shirts, and shorts like jeans etc. will do, while for girls, long shorts can be anything light dress and to look a little more stylish, you must carry sunglasses, belt, purse bag, and a slipper in footwear, and shoe is enough for boys. If you go to any city in Vietnam, here you can get a decent hostel for ₹ 2000 per night for two adults, and if your budget is low then in Rs 500-700 per night also you will get a decent hostel which also has a facility of WiFi etc. Meals whenever you sit, then around Rs 1200-2000 for 2 adults can be expense, whenever you sit for lunch for dinner. Rest everyone has their own eating capacity so it might differ. Transportation expenses can be in two ways for you. One is local transporatin and other one is
travelling from city to another through bus, flight, or train. You can keep Rs 500-1000 per day for local transportation, whereas from one city to another, you travel only twice according to my itinerary, so suppose if you If you go from Ho Chi Minh City to Da Nang City, it will cost you approximately ₹ 3500 by train, through bus it will be Rs 1500, and if you go by flight, you get a flight ticket for Rs 2500. But there is no need to be happy, since baggage is not included in it. And if you include the baggage then you get
the ticket for Rs 5000-6000 with baggage and it will cost you the same If you come to Da Nang City from Hanoi or go to Hanoi from Da Nang City, it means I have given you an average price, this is how much it will cost. In Vietnam, you can book train or bus online but there is no authentic website for this, hence the description box I have given the contact details where you can go and get your bookings done. Talking about the activities, there are some main attractions in Vietnam which you must do and they are Cuchi Tunnel Tour of Ho Chi Minh City and Bana Hill tour of Da Nang City and Night Tour of Hoi An and Tour from Hanoi to Ha Long Bay and for all these you have to take day package only and for this also you can go to the description and book from an authentic travel agent. I have given the contact details.
Let's talk about the most important issue that brother, how much are the expenses going to be here, then I will tell you the cheap budget and will also tell you an ideal budget which can be generally for family or if you are a couple. So the expenses of the flight can be around ₹ 30000 round trip, you can come from Kolkata, you can also come from Delhi, see a little advance etc. You get it in this much. Your visa will cost roughly ₹ 2500. For hotel it will cost Rs 10000 for meals, it will be Rs 10000, I am telling you the cost per person and the cost of transportation will also be around ₹ 10000. You will spend up to ₹ 12000 on activities which I have mentioned in my itinerary and let's talk about other things a little . Keep other expenses with yourself, that too will be Rs 5000.
So the total budget for your trip to Vietnam is around Rs 75500 days per person for 10 days, in which all things are included, except shopping, which is your wish. Means you can keep a budget of around Rs 80000 but wait brother, I will also tell you the cheap budget here because many people travel solo if the budget is less, then for them you can get the flight here for around ₹ 20000 round trip. Where will you get it? You will get it from Kolkata but you will have to do a little advance booking. You will get the visa for ₹ 2500, you will get the hostel for ₹ 4000 only and since you are saving money by spending nights in bus and train, you are saving a lot of money. Keep ₹ 6000 for meals. Cheap food is also available at many places. Transportation will cost you ₹ 7000 and activities are a question
mark because it totally depends on you how much you can spend on this, so the cheap budget for you will cost Rs 39500 and even within this you can still put Vietnam stamp on your passport. So this cheap budget will be for you. Vietnam is a communist country which has fought a very destructive war and even today after almost 50 years of the war, its economy is struggling and that is in its two big cities, Hanoi and Ho Chi Minh City old structures can be seen. Most of Vietnam's imports are from China and South Korea. The economy here mostly depends on agriculture and food industry. The tourism industry is growing slowly here. The coffee here is
exported to many countries. Whereas in Vietnam, you will see only Scooty bikes everywhere because here very heavy taxes are imposed on cars. In Vietnam, the interest on FD is only around 5 to 5.5 per cent whereas here you can get home loan at 7.5 to 8 per cent. I hope this video of Vietnam must have been very helpful for you, through which you would have got information about Vietnam in great detail and at the same time, it will be very easy for you to travel here, so any more detailed information, anything. If you need anything, you can also put it in the comment box and
you can also contact our travel consultancy and all the details are in the description. Do check there once. So make sure to keep nature clean and green. Subscribe to the channel. Don't forget to like and share the video. This was so much information for today, Thank you friends.
2023-10-14 01:06
Show Video
Other news