USA Day 22: Going Back Home... Flying Over Los Angeles, My Last Meal, LAX, Airline Experience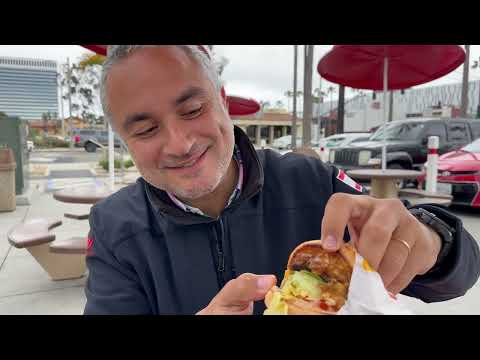 Show Video
Good morning! And this is how the trip ends. The last day. The last day is driving from San Diego where I stayed for 2 hours and a bit, almost, we reached LA. There is a surprise port, you will watch it in the video in a bit.
Then, after that, the airport, the experience, LAX, one of the biggest and most crowded airports, and busiest airports in the world. Then, the flight, the experience, 16 hours back to Doha, 1 hour waiting, 3 hours and a bit to Beirut, and I will reach at 12 at night. We will leave here at 5.20, 4.30 p.m.
I will reach at 7.20, almost 1 a.m. or midnight and a half. And this is how we will have finished an amazing trip. More than 22 videos, 22 days, full time, and after each other, I took the plane more than 6-7 times, I changed hotels also 6-7 times, and we toured many things that I loved, I haven't tasted them for a long time, I haven't come to America for 5 years, including Lebanese, donuts, American breakfast, and more and more and more.
A great trip, really. I say thank you again to everyone who stood by me, helped me, I can't forget Ramzi who did a lot, he made me laugh, he told me a lot about him, but I say thanks to Ramzi. Maroun who drove and drove and drove, he went and came, he didn't affect anyone, he stood by me, he supported me, he left his family for me, and thank you so much. Hratch who gave us the chance to go in a helicopter, I can't thank him enough. Mario, Lena, and many people all across.
So let's go, the last breakfast. And we start, or we say goodbye in the end of the video. The last breakfast, the last breakfast before I leave. Rob's Jalapenos. Their food is very delicious.
I can tell you that the highlight discovery of this trip is Mexican food. You will say, I have never eaten Mexican food in my life. I ate Tex-Mex more, and we know that Mexican food all across the globe is Tex-Mex. It is amazing how the Mexicans are called the children of our uncles. They are the children of our uncles. It is amazing how the Mexicans are called the children of our uncles.
Flatbread, we have it. Vegetables, we have a lot. We use freekeh, they have rice.
Whether it is tacos, vegetables, spices, the children of our uncles, they didn't go and didn't come. And that part I loved. I ate a lot of Mexican food, I enjoyed it a lot. I really liked the corn taco, its smell, the beans, the rice, and I said before I leave, the last breakfast.
I was inspired by a crunchy hard shell taco, and its crunch, there is meat inside, pulled beef, and the corn. Flavors, the smell, the food is delicious. Delicious. Second best. Of New York, Chelsea Market, taco number 1, it wins.
But this is very important. I wanted to show you one of my favorites, the enchilada. Also, meat inside, soft shell taco, it is rolled like a sandwich, like a shawarma, but with sauce. Delicious. Delicious.
Cheese, sour sauce, you can put chili or not, the olives, tomatoes, lettuce, the children of our uncles, and they are doing it right. Second favorite cuisine, but Lebanese, Italian and Mexican. I love it. Without onions, and Mexican, they don't use garlic. Last stop before I leave. Let's put things into perspective as they are.
5 years ago, I tried In-N-Out 4-5 times, I never liked it and I never understood the noise and the crowd around me. When I came back to the US, I decided to have my first stop, from the airport to In-N-Out. The experience was way below expectations, way below standard, maybe the hype and the crowd around it, I didn't understand anything.
It is the burger shop of California, I should say bravo. It is an important thing, a national product. People are standing in line, the reviews on Google are high, it is emotional and delicious.
I am not a fan of it. In the first video, in the tour of America for 22 days, some people didn't like what I wrote, I don't understand, and some people liked what I said, and finally someone said something about it. So I didn't want to be a burden, and be a burden.
Maybe the branch we went to was a touristy branch, and it was crowded, so we decided to have the last stop, also at In-N-Out, in a different branch, a village, less crowd, the same thing. I hope you like it. Before we eat, let me introduce you to Mou.
I am Mou, and this is Anthony. I met him here in California. Where are we going? Do you want to tell them? No, no, no.
Do you want to tell them? We should tell them. We are in Michigan in August. Come to Detroit. We are coming to you in August. August 5th to August 20th.
Right. Wait for us. Anthony will be there. We will go to all successful Lebanese branches, and show them that I am not a burden. You chose them. I chose them. I will choose the best for you. I liked the idea.
We met in California. He read a 4-hour trip in a plane, to come and see me. Half an hour only. I waited 10 hours, I am joking, 5 hours. A person flies for 20 hours. No, really, I am joking.
This man took the plane and came to a hotel to see me. My flight is in an hour. I am serious. How much do you appreciate this? How much will you work for this trip? August, from the beginning to the end, we will go back to America. I am supposed to come to a commercial.
Big Mou Kitchen. If you want something, if you want to ask something, he is the guy. It will be crazy. Insha'Allah. What are you doing? I am thanking Maroun for this amazing surprise. I took it with me to Australia because it is cold and winter there.
Day 1. Look how beautiful. Maroun, thank you so much. We will launch the jacket before we leave. Nice.
Mentally, I am catching. Let's do it. I will taste before I start talking. I will put them in their heads. Honestly, the bread is old. It is very toasted from the bottom.
Look, it is microwaved. It is good. It is hard. It is still being grown. It is dry. Double cheese.
Very thick lettuce. It's thicker than the meat. I will take the lettuce and try it again. The bread is so dry.
Oh, the salt. You have saltiness. French fries. Freshly made.
They are all cold. They are frozen. Frozen. It's not worth it. In the end, what? That I am lying to myself? Now, they have things that are not on the menu.
You can order more things. Their names are, I don't know what they are called, animal fries or whatever, onions, and sauce. This is also with onions and whatever. You can order without bread.
What is this? Animal style. Animal style with onions? Yes, onions and bread. Look how dry it is. Healthy and healthy. For those who enjoy it and those who like in and out, I say high five. I I I I I I I I I I I I I I And 12.
Airship, thank you, but we're going to be good. We're going to be on hold when our station's up and down. We're going to be on hold. We're going to be on hold. We're going to be on hold.
We're going to be on hold. This is Disney Studios here on the right side. And we're going to be on hold. We're going to be on hold.
The famous Hollywood sign. Everyone dreams of seeing it. We're going to be standing in front of it.
We're going to be standing in front of it. You're going to see it for the first time. This is a view from the movies. We're going to be standing in front of it. We're going to be standing in front of it. We're going to be standing in front of it.
We're going to be standing in front of it. We're going to be standing in front of it. We're going to be standing in front of it. We're going to be standing in front of it.
We're going to be standing in front of it. We're going to be standing in front of it. We're going to be standing in front of it. We're going to be standing in front of it. We're going to be standing in front of it. F F F F F F Good morning, good morning, or good afternoon.
We came back to the plane, and this time I won't film. They are the same, Qatar Airways in flight experience, and then I get on the plane, I sit and hold the camera and start filming. It's better than me because the experience is different.
It's better than me because all the details, whether it's the menu, the choices, the wine, all the details are very important. Today we will drink the same wines we drank before, so I won't go into all the details. They didn't change the wine list, which is good because I don't think they will get better than the Grand Paris wine, QV Alexandra Rosé 2007. We are talking about champagne.
And for the food, there is always Mezza, which reminds us of Lebanon, Levant, or our country. There is always Mezza. Then there is poached spinach red prawns, which I ordered.
Lobster or surf and turf, grilled beef or roast chicken, and an Indian choice which I forgot. Then 3 important desserts, Koué pecan chocolate tart, fresh berries, and ice cream. This is the first time I get 3 pieces of bread, not 1 cooked. Maybe because in America they can't do 1 or 2 together. But here, they can't stop the butter and salt and pepper.
I started with my wines, I got used to them, and I liked them a lot. Every time I order them again and again, it's New Zealand, Pinot Noir, recommended wine. I will not go into all the details here, whether it's the computer next to me uploading, the headset, the second phone with a charger, or the internet, which is 10$ for 16 hours, good enough, fast enough for browsing, etc. I am watching YouTube, it's a bit slow, but I can see the premiere which is now available.
The seating is very nice, the room is closed, and the food is starting to come. Et voilà, thank you so much. Look at this, you can see it, salmon, where else in a restaurant can you see this? Until the experience begins, I am downloading a few Netflix movies, I am traveling a lot on this highway, so I watched all the movies, I watched them, I saw the whole menu, and today I received an email when I first opened the internet, which I enjoyed a lot, after traveling a lot, touring a lot, and flying a lot, and paying for the tickets. I am a platinum member, I don't know if I should show it to you or not.
Let's eat. The shrimp in the beginning is amazing, really amazing. I thought that this is the maximum you can reach, I saw meat and so on, and then, lobster, real lobster.
The real deal, on the plane, the atmosphere, on a plate that I didn't bring in the box, it is all organized and organized, as if it is a restaurant. I haven't eaten anything like this in the last 20 days. The piece next to the other.
It warms me up. Heinz mustard on the side. Oh my God, really.
People said that Qatar Airways can't be compared to the internal flights in America. But there is a minimum, a minimum of smile, a minimum of welcoming, a minimum of respect, a minimum of order, a minimum of the burger meat not being covered in blood, there is a minimum. In the end, I am paying for the ticket. After traveling with such a plane, I really didn't get bored, I really liked it.
Cheers again, it is time to watch Camphile. Camphile, we are on it. Ice cream.
Excellent ice cream. Strawberry and vanilla. Look, a dessert. The thing is that it can't be mixed together. Oh, the salt inside.
The thing is that it can't be mixed together. I do this. I do this. I do this. I do this.
I do this. I do this. I told you correctly, a great night.
I slept, woke up, ate, slept, woke up, and now breakfast. I told you that there is a deep dik, which means that I will 373 0:30:12,000 --> 0:30:05,500 I slept for about 15 hours, I slept from 11. have the perfume in the box which I will put in a bit.
Before I sleep, I downloaded a playlist which I recommend to all of you, called Classic Sleep. It is unbelievably beautiful, how calm it is. You put the headphones and you go with it to the end. Coffee. Yogurt. 3 fruits.
A smoothie. 3 fruits, yogurt with cornflakes. Hot bread with croissant. Butter. And jam. There is still an hour, a quick breakfast, and we start going down.
I ran for less than an hour in the airport, and I take a plane to Beirut. Now, internet on board, with all the time, in 10$ for 15 hours, which is great. Now, soon, of course, there will be off charge, like Emirates, Delta, and others, but from now on, 10$ is logical.
Cheers, good morning. I hope you enjoyed this trip, this episode, again, in America, in the tour. This time, I will say goodbye correctly, and we will meet in a few days, in a new trip, in France, Switzerland, and England. Goodbye, and see you soon. If you watched the previous videos, don't forget to watch them all together.
Like, share, comment, please. It would make a big difference. Let's go. We are good to go. Beirut, France I am back in the plane, and today, I will not film. Today, I will be more excited than today.
Let's go to the plane, I am excited, and I will see how beautiful it is. And we will change the scenario. The plane is smaller here, or it is divided differently. Also, there is a lock, but it is lower, and a bit narrower. The screen is also smaller. This time, we are boarding in Boeing 787 with the A350-1000 airbus.
The toilet is also here. Shower, and a sparkling water, as usual. Here, there is a small heart. It is bigger than the other one. Look.
Behind. Here, there is a small heart, and a mirror. The heart is down on the floor. It is a bit wider, if someone can sleep, but it takes a lot of time. Here, it is a bit narrow, but also, the legs are flat.
The legs. Very nice, the people are respectful, welcoming, and very kind. They talk, and when I call them, they are very kind.
I think that the coffee will be served soon. They come to the table, and all the staff come. Really, super super super super. The food in Aleppo is very delicious.
The food in Chouf is also very delicious. I don't know what to eat, so I will take dates and coffee, and we will go to Chouf. I can't stop laughing when I see the menu.
It is a bit hard, and then it follows us, and we travel and travel and travel. Classic Arabic, Mazeeb, and Pita bread. I am thinking again, maybe I am traveling for the first time. It is okay, I will consider this. Seared spiced beef with pomegranate sauce.
It is interesting. Then, everything is here. Traditional mixed grill, grilled asparagus beef tenderloin, homemade buffalo mozzarella, cut in style brown, copped with lettuce. Okay, so maybe the grilled asparagus beef tenderloin. Yes. There is stuffed zucchini.
Traditional mixed grill with stuffed zucchini. Is there a grill? No. Okay.
Cheers. The wines are different today. There are still many of the same, but I will change. Alexander Rosetta 96.
The 2,5 is not bad. The 7 that I am tasting now is great. There is a new one, I am seeing it for the first time, which is Al Pacimento Primitivo, 1912. Codici Masse. So that is going to be the story of the day.
I am putting a lot of wine for Australia. I drink them in Australia. Let's go.
What should I do? Nothing new. Thank you. We start with wine and nuts.
We agreed on the last time that the nuts that are heated on the cut of airways are being chewed. I have been told many times to stop heating them because they are crunchy. The crunchiness is going away. So I got salted almonds from America. I am going to half of the bag. Discovery wine from Italy.
Good start. The great bread is back. It smells so nice. This is the bread that they are used to. It is strange that in America they don't do it well.
It smells nice. Nice setup. Sparkling water as usual. Butter. And enjoying it. I am talking about it every time as if it is the first time.
I so love the experience. Time passes like this. It's good food. Not a mistake.
Not a mistake. Only a small piece is left. The butter is great. I love the mustard. The piece of meat is very soft and red from the inside.
Potato puree. Wine. We are going to order the second wine to get drunk on the first glass.
I will tell you more than that. It's just perfect. The meat is so good. The meat is so good. So tender.
So amazing. And then the wine. We will taste it this time in Jordan.
2023-06-02 07:50
Show Video
Other news