Unexpected First IMPRESSIONS of DUBAI S06 EP.93 | MIDDLE EAST MOTORCYCLE TOUR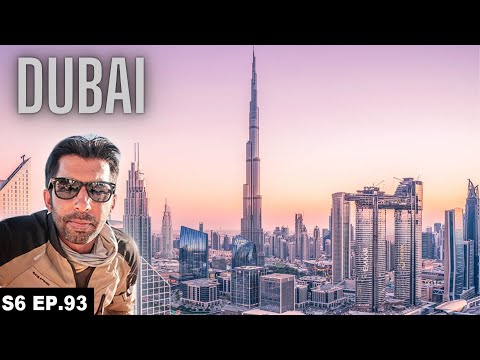 Show Video
We have now reached the skyscrapers area. There are sky kissing buildings on both sides of the road. Burj Khalifa looks pretty amazing in the back.
The first glance at this calligraphy... I always wondered why people consider it to be the most beautiful building in the world. Assalam Alekum Everyone and Welcome Back to the Channel from Abu Dhabi, UAE.
Spent last few days here and made a couple of vlogs. I hope that you must have liked my presentation of Abu Dhabi. I gave it my best shot.
There are still a lot of places to visit but due to time constraints I cannot spend a few more days here. Right now, I'm quite excited about my next destination that is Dubai. People really say a lot of good things about Dubai. After having visited about 90 countries, I'm finally visiting Dubai for the first time.
Hopefully it will be as beautiful as I imagined it to be. Will make some vlogs there for sure. The total distance that I need to cover is 130 km. It may take up to 2 hours. We may stop along the way to see things around. We'll stop if we find something interesting.
So lets go and show you Dubai. Okay then. Thanks very much. Bismillah.. In the name of Allah... *Prayer for the journey* Praying for a safe and memorable ride.
It's 12:15 pm right now. I had a good night's sleep. Since it's not a very long ride, I didn't hurry to start my ride. We have a great weather today. Cool breeze is blowing. Due to these tall buildings in the downtown, the sun does not reach the ground.
When we'll leave the city, some part of our ride will be along the sea. The rest of it will be on the main highway; Sheikh Zayed Highway. It starts from the Saudi border and goes all the way to Dubai and beyond. We are almost on the cornish street. I really liked it because of these beautiful parks by the roadside.
Overall, Abu Dhabi is a very relaxed city. There's not much traffic and the people are really nice. So far, the most strict laws in the Middle East are here. I haven't been to Dubai yet so can't say about that at this point in time. I'm talking about traffic laws. People here are very careful while they are driving.
Let's see how things are in Dubai. Overall, Dubai is in a totally different league. I don't know but I've heard that Dubai is a party city.
We'll find it out once we are there. Some families that I talked to in the meetup yesterday told me that Abu Dhabi is a nice place for families. And Dubai is good for partying.
That's how I felt too... that Abu Dhabi is a rather quiet sort of city. You don't find too many people out at night. I personally liked this city. You can enjoy your time here with your family. If you get stuck in traffic on a daily basis, you get sick of it. I didn't find that situation here.
Comparatively it's a small city. For instance, we have only been riding for 5 minutes or so, from the downtown. And we are already on the highway... without getting stuck in any traffic. That doesn't happen in the morning... not in the evening... not even in the afternoon.
That's the best thing here. We are at a fuel station. It's a small station.
Someone is standing there to attend us. Assalam Alekum How are you? All good? Assalam Alekum Fill the tank please. How do you wanna do it? Cash or card? Card. I hope it's okay. Yes. Great.
Bank card, right? Yes. How are you Abrar? I'm good. Thank you. Assalam Alekum She's my wife.
Thank you so much. That was a Pakistani Palestinian family. Always good to meet people like this. Especially when mixed couples watch my videos. Since we have subtitles, that really helps. Our next stop is going to be Dubai.
If things are okay, then we might .... Because it's really windy. I mean it's always windy in the desert. That is also true when you are riding by the seaside. I didn't experience anything of this sort in Europe.
But here I found out that riding in windy conditions can be quite tiring. In case we get tired, then we'll take a break. You can see mangroves on this side. Looks like a beautiful forest.
Many of you recommended me to visit these. But we didn't have enough time. I can capture it for you with my GoPro, though. The trees are not too big.
But the unique color of water is making the overall scene more beautiful. They are on this other side as well... seems like they span quite a large area. The road is in between.
I only noticed the ones on the right side before. The area on the right side is of Yas Island. That's where the Ferrari World and Yas Mall are located. I can see the Ferrari World building in the distance.
They also have the Formula 1 race here. We had our meetup here yesterday; almost 30 km away. I could hardly manage to get here last night. Many people recommended me to visit Ferrari World. But I'm not a fan of amusement parks and similar places. There's a lot of advertisement about Neom here.
I saw a number of boards for investments in Neom along the highway. Finally we have reached Dubai. So far, our ride has been great. It was a small ride; took about an hour or so to get here.
The bridge that you are seeing right now belongs to the Dubai Metro. I just saw it passing by. I've booked a hotel in the area by the Mall of Emirates. I was told that since the Metro covers that area, it would be easier to move around. We just need to stay on this Sheikh Zayed road.
No need to leave it to go anywhere. I wonder where are the skyscrapers. We are passing by the industrial area right now. The highway from Abu Dhabi to Dubai is awesome. I didn't feel for a minute that I'm riding in a desert. That's because of the trees by the roadside.
It's been a fun ride for sure. I mean there was a lot of traffic but not too much to cause any disturbance. That's a Metro station. You can see the Metro now.
It's good that we captured it too. We have eventually reached the skyscrapers area. There are sky kissing buildings on our left as well as right. They are stacked quite close to each other. Just see how many bridges they have. Since this is my first visit, everything is new for me.
Many of you may be visiting Dubai every week. For now I'm just looking around and observing this environment. Trying to feel this new city.
What sort of city this is... I mean there was nothing a few kilometers back... except for the desert. And before you know it, you see these skyscrapers. You are just baffled by the first glance. Because all of it is densely packed in this area. Need to keep an eye on the map as well. Don't wanna take any wrong turn.
Nevertheless, we need to stay on this road. These are all hotels. I don't know anything about this area. I noticed some signboards about Dubai harbor. This could be the Marina area. The traffic has increased manifold.
This is Al Barsha area. The Mall of Emirates is in this area. There's a toll gate here.
I don't know what they will do about our motorcycle. I can see relevant signboards now so it's time to leave this highway. That's Kempinski Hotel. I think that's Mall of Emirates on the right side. It's a bit crowded here. Could be a bus station here. I feel like racing this Lamborghini.
Our 310 cc motorcycle... Our motorcycle can take us to places where this Lamborghini cannot. The Mall of Emirates is on our right side. It's hardly a 10 minute walk to our hotel from here. The navigation is telling me that I need to take a turn here.
The hotel is in front though. This seems to be a lively area. I think our decision to book a hotel in this area was a good one. Cafes... Restaurants... Everything is here. That's our hotel.
I've checked into the hotel. Dubai offers you unlimited options of hotels. You can easily find a hotel depending on your budget. I wanted to stay near Metro and I liked this area. So I just booked this hotel. It's a small but tidy room.
It's quite comfortable for a single person; even for two. I paid about 72 dollars per night for this room. I mean when you convert dirhams to dollars.
I feel that it's a good deal. There were some even better options in this price range but they were away from Metro. But we need to take into account that we would have needed Uber or Careem in those places. You might have to cover some distance to go for a meal, in those cases. Considering all of these factors, this is a great place.
I think it's quite clean... no issue about that. If you want to stay for a longer duration, then a better choice would be to rent an apartment. For now, let's go out.. I wanna show you around. Let's go for a short ride of 10 to 15 km on our motorcycle.
The rush hours have started here. That means we might have to spend some extra time on the road. I wanted to make some videos around the sunset time because that makes a video even better. And after sunset when the lights are on, we can record this Sheikh Zayed road in a much better manner. Lets see... Right now we are trying to make our way through these cars. I've removed all the luggage from the motorcycle, so it's much easier to traverse now.
On our left side, behind this roundabout... I'm not sure if you can spot it, but that's Burj Khalifa. Not Burj Khalifa.. I meant to say Burj Al Arab. That's what it looks like. Apparently the Metro travels side by side with Sheikh Zayed road.
Ever since I reached Dubai, this Metro is running side by side. We have now reached the point on Sheikh Zayed road.... Where you can see most of the skyline of Dubai. Look how nice Burj Khalifa looks in the background, near the sunset time. Not only that, but other buildings also look really beautiful. I don't know if I should focus on the road or see these awesome buildings.
What we can do is to slow down a bit. So that we can continue watching the buildings around us. This is like a new world. So far, I have visited a number of cities... you can say almost all of the Middle East. Except for Oman.
But I haven't seen a denser network of skyscrapers like this one before. I've a feeling that this view would be even more amazing if seen through the Metro. Man... you have to raise your face all the way up just to see Burj Khalifa.
You can see more skyscrapers currently under construction. We should also be able to see the Museum of Future here. It is located by this same road. You can tell me how you feel about Dubai. Many of you must have already seen it.
Even then, when you visit Dubai, how does it make you feel? What do you like about Dubai? What do you think that you don't like about Dubai? Do share your opinion in the comments section. I'll keep on sharing my view with you, as I spend more time here. It's just our first day here. It's like when you go to see Islamabad or Lahore from your small village. That's how I'm feeling right now. That's the Museum of Future over there.
You'll see it on my right side. Just beside the Metro Station. Slightly behind the Metro Station. There it is. That's one truly amazing building... Ma Sha Allah...
The first glance reveals that the calligraphy on that building is like bringing it to life. You can imagine that this would be just another building without the calligraphy. In my opinion, the calligraphic work is making it look exceptional. Its designer deserves a lot of appreciation. That's genuinely an out-of-the-box idea.
I want to keep going even further. Then we'll turn around. There are some other buildings along this road. The gate of Dubai I mean... That's also in this area.
They are building something here as well. This is the gate of Dubai... What's its real name..? I'm just calling it gate. Because that's how it looks like. So they may have named it so.
But I don't want to disturb my navigation for now. I want to keep my focus on the road. Wherever I go, I'm seeing buildings with unique architecture everywhere. It's already past sunset. Let's focus on our return journey now as I have turned the motorcycle around. I wanna experience how this modern architecture looks like in these artificial lights.
I didn't find the Dubai traffic annoying today. I mean everyone was telling me how horrible the traffic in Dubai is. It's flowing pretty smoothly.
Haven't seen any traffic jams yet. Or it's also possible that this is not the rush hour for traffic on this road. But it is rush hour.
It looked rather small from distance but I have a better idea now from close by. Don't know what else is here. We are definitely coming here again with more time, in coming days.
As you can see, the road lights are gradually coming to life. This is the best time to record a video here. I'm sure GoPro must be recording it. You may not get to see history and culture in Dubai... But you can see that each building here has an amazing architecture. It's really fascinating for me... especially in first look.
Having old buildings is not important. Seems like people in Dubai are aware of the fact that they don't have much culture and history. But evidently, they have focused more on the modern architecture. Wherever you see, you find something impressive.
As you spend more time here exploring all the places, you get a much better picture. I'm actually quite impressed. It's my first time in Dubai. And it has never really fascinated me before. I always used to think that after all these are just buildings. But Dubai has really changed a lot in the last decade or so.
Just see how amazing this view is. And you see the towers of Burj Khalifa in the background. Simply amazing. And truly there is no other city like this one in Middle East. With such unique and modern architecture.
People would say that it's the most beautiful building in the world and I would always wonder.. Why?? But now I'm seeing all these buildings myself, I am stunned. Watching it yourself is better than watching it in 100 different videos. Impressive I hope I'm not disturbing you.
There are people sitting right next to me in this small Italian restaurant. I was passing by when I thought that I won't eat kebabs today. Better to try some Italian food today. This pizza looks really delicious. Check it out. It is actually quite amazing.
I ordered this meal for about 60 dirhams. After my dinner, I happened to pass by this shop called Filli. I met Kashif and Gauher here. I've remembered their names because we sat here for a while and had a conversation. Thanks guys. We sat here and thought about having some tea.
It's because of them that I got to try this tea. Thank you so much for this. Hopefully you must have liked my video. I'm gonna go back to my hotel and get some sleep. Remember me in your prayers. Like... Subscribe... Share... Allah Hafiz
2022-12-26 20:31
Show Video
Other news