Travelling to Unsafe & World's Least Developed Country (NIGER )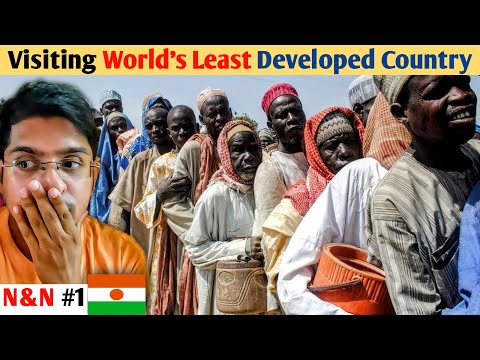 Show Video
What did the Embassy tell us? That they don't give tourist visas. The whole country is unsafe. - The route is not for the local trip! - It is unsafe for locals also. It is unsafe for locals also.
-The situation is very bad. It is going to be a very different experience in Niger. I had not thought, that I would go to Niger. I'm the only foreigner and a tourist alone on the bus! Hey guys, very good afternoon, and welcome to the new vlog. Right now, I am in the largest city of Benin, Cotonou.
And this is Gaurav, as you can see from the video title, This is a country, where I had no plan to go to. Nor had I thought that I would ever go there. That is Niger. Because I had my last trip in Nigeria. But, its Visa process is very complicated. When I went to the Embassy to apply for Nigeria Visa, They asked me to come after an hour.
Now, it is our lunchtime! And then I wondered what to do for an hour here. So, I thought why not try the neighbouring country, Niger. I went to the Niger Embassy, and I told them that I want to apply for the Tourist Visa for Niger.
So, what did the Embassy tell us? That they don't give tourist visas. It is such a country where there is no tourist visa. They said they would only give me a 'business visa', they just asked me to pay the fee, and nor were they sure that I would get it. They said that they would send a request to ministry at Niamey, the capital of Niger. If it gets approved, then you will get it, if not you won't.
So, I thought I would try out my luck. If I get it, it's fine if not then it is fine. When I applied, they said it'll take a week's time, by the time the approval comes. Next working day I got my approval, I actually visited the next day. She asked me to go home, she would call me, and then after a while, I got her call So, I went again to take the Niger Visa.
Everything here is just like Mali. It is said that Niger is one of the most unsafe countries in the world. And also one of the poorest countries. It is the poorest country in West Africa. This comes under one of the poorest countries in the world. Letting alone African countries.
- There is no proper electricity as well. So there is no electricity also? According to what I have studied until now, this is a mixture of Mauritania and Mali. The landscape is going to be like Mauritania.
Because Mauritania is 90% covered in sand, Niger is up to 80%-90%. And according to security and people, it is like Mali. Except for the city, the whole country is unsafe. Yesterday we met travelers from the USA. They were telling us, that outside the capital wherever you want to go, you have to take the help of a military escort.
And you have to take a permit also Because the whole country is unsafe. They were saying that comparatively Niamey is safer. So, I am taking a bus from here to Niamey, which is around 1000 kilometers I've already booked the bus ticket, it is a journey of 10 hours. Now I will leave for the bus stop soon. Currently, it is 12 noon, 1 PM I have my bus. I also got my Visa yesterday. And I booked my bus ticket 2-3 days prior, it cost me about $36 I've got a business Visa, for one entry for a month, around 38$.
The security guard of this place is also from Niger. What did he tell you yesterday? - He was telling me not to step a foot after Niamey. Okay - Other cities are good, like Agadez - It is a little far but, he said you cannot go there by the local route. The local route is not safe! - The condition is worse.
I think they give local flights as well. - He said that usually Indians take flights to Niamey, I don't know how you chose the bus route. I will probably be the alone Indian, or maybe one of the few foreigners. We are going by bus, the local route. - The bus guy was looking at us in a weird way, thinking there are actually very few Indians spotted around here The bus guy was like 'You are an Indian, going in a bus!' Let's do our breakfast, or brunch whatever! This is a Gujarati dish, Dal Vade - Along with Dal Vade, there is Dahi Kade Okay there is Dal Vade and Dahi Kade.
Let's have our brunch first. I was wondering, who made this tasty Indian food. She is Skela, she is from Nigeria. - Yes, I am! How does she make such tasty, authentic Indian food? I didn't feel like I was eating food in Africa.
So, we left the house, to go to the bus station Because this is going to be a 24-hour journey! I've taken a lot of food with me. Now also I am going to an Indian shop. I will pack a little snack from there. Because we will not get proper food on the way. So, now we have come to an Indian fast food restaurant.
I am getting two potato patties packed, I don't eat patties in India, but here, it is the only option. It is completely unhealthy, I have no other option. I've taken two patties for 1400 CFA. 1 patties for 2$. Now, we are going to the bus station, you guys probably wouldn't have heard the name Niger.
Nigeria and Niger are neighboring countries. - People don't like Niger people, they tease them Since they are from a poor country It's like there is nothing there, right? - Niger people feel bad, but it is just the Indians who treat everybody equally. I observed that, many people from Niger they join watchman and driver jobs.
They do all the small work. Labor works! This is going to be a very different experience in Niger, I never thought I would go to Niger. This bus is going to Niger, or the Capital city Niamey. These many items? All this luggage is going to Niger! As soon as they go to the cargo, they sell these things.
I gave them my bag, they will keep them. What is he saying? - I asked him when the bus will reach, and he said he doesn't know. He doesn't know when it will reach.
He is saying around 24 hours. On my baggage, they have written my name - Tourvashu. So guys this bus is Rimbo. It is neither expensive, nor cheap, nor do they know when we will reach. They are just telling that it is 1000 kilometers.
They look like Niger people. So, guys, the bus is at 1 PM, and now it is 1 PM. There is a waiting room here, you can wait here. There are only 5 people on the bus? - It is going to be adventurous. I am going to Niger with absolutely no plans.
What do we even say for a country which has no Visa at all? They are calling us inside, there are only people, we will know once we get in! - Take care, and have a safe journey! This is how the bus looks, looks good to me. The whole bus is air-conditioned Now it's just the two of us on the bus, there are 4-5 people who will get on the bus soon. I just saw that this bus is a Chinese company's bus.
Look it says, 'Yutong' it is a Chinese company bus. Cotonou and Niger's border is about 700 km away. So, we will reach the border tomorrow morning, and the distance from the border to Niamey is 300 km. This is my co-passenger. So, according to me 20% bus is filled and the rest 80% are empty.
What is this? So, guys, it's only been 3 hours since the bus left Cotonou. In 3 hours the bus has only covered 125 km so far. We still have more than 875 km to cover. As we reach Niger's capital. This is some kind of a town or city the bus has stopped here.
This is the bus, We can find meat from every animal, and we also can find bread here. Maximum people are eating this here. These are dried dates. We can find soaked bread here. So, guys currently it is 8 pm, and it's been 7 hours since the bus left from .
In 7 hours, we have only come 300 km. We still have 700 km left. Probably I can't vlog until then, until I'm in Benin I'm safe! Before crossing the border, and after crossing the border In Niamey, I don't think I can vlog Because the route that we are going is very unsafe. I am an alone foreigner, a tourist here. The people of Niger aren't giving me a nice response either They also seem to be very unfriendly! I'm reading the travel advisory of the USA, UK, and Canada, while I'm on the bus It has been written avoid all travel to Niger, risk of terrorism and kidnapping is very high. And can happen at any time.
I'm seeing this after I sat on this bus. After traveling for 24 hours, we reached Africa's second largest land locked country, Niamey! Yesterday, we left Cotonou at around 1 PM. Currently, it is 12 noon. I couldn't record everything, because of security. I'll get off, we just reached Niamey.
All the luggage is getting off, probably mine is also there. So, this is the Rimbo bus, my luggage must be here. It should be somewhere here, I don't know where it is. Hope they haven't left my luggage somewhere. Here is my luggage. So, guys, I have come out of the bus station.
I have to take a taxi to where I am going! It is extremely hot here. I am having a feeling of Mauritanian and Mali, in everything! It is all desert, and the temperature is around 40°C. I am not able to record so much here, people are very suspicious here. There is a lot of security issue here.
So, I can't record so much. I might record getting inside the car. She has also come from Cotonou to Niamey with me. This is a shared taxi there are only two people, the place I want to go I don't know the distance, but I have made him talk on call. He is telling me that it will cost $1.6 I'm giving him $2.5
We reached International border around 4 AM. Our immigration happened around 4 in the morning. The rest of them just showed their local IDs. I was in the middle of the queue when it was my turn, They saw me, and my passport and they separated me. Separated me from everybody else.
They completed the immigration of others and called me at the last. Where are you from, why are you here, I didn't understand? I didn't know what to do with my Visa. Then they called the senior officers from inside. They took picture of my passport, and Visa and sent it to somebody. Probably sent it to the ministry. Then it got confirmed, then again I was questioned.
I can't really say that I came for tourism because I have business visa. Unwillingly, I had to say to them that I was there for business. Where are you going to stay? Do you know somebody here? They questioned me and I managed to answer them all. I convinced them. They got convinced finally! We had reached at 4 AM, it took an hour to complete so it was 5 AM. From the border, 20 times there was a police check post.
And every time we are asked to show our passports and visas. We are just being checked many times, the country is filled with desert. It is extremely hot here. Although the temperature is 40°C, it feels like it is even hotter.
It is completely dry weather! We are inside the capital city now. Except for the main roads, feels like there is no other road. It is all raw roads here, the car is shaking a lot. According to the UN, Human Development Index, Which is also called HDI. Niger is the least developed county in the whole world. It is the least developed country in the whole world.
According to World Bank Niger, this is the world's 5th poorest country! So, guy, I've reached my destination! I had a very interesting clip to show you guys, Actually, I have two buttons on my camera, one button turns on the camera, and the other turns on the video. In hurry, sometimes this happens. In place of the recording button, I pressed the camera on button. The camera turned on, but, it didn't record, it was quite an interesting clip.
I met with a lot of locals, now I'm staying with an Indian. He had called me, whenever you come to Niger, come to my place. But, I couldn't talk so much with him. So, before coming here, I wasn't sure about where I would stay in Niger. So, on the way it got confirmed that I will be staying at this place.
So, guys now I'm with Amith! - Hello! He had invited me to stay here in India. Thank you so much. From when are you staying in Niger? - From 2017. In Western Africa, there are a lot of Indians, but there aren't many here How many are here in Niger? - There might be around 200-250 since this is a landlocked country. - If it is a landlocked country, then the port will fall far. - There is a lot of work in the port.
- So people who want to come, will also not come! Port countries. - In many of the port countries, Indians are there. - Because importing things is easy there. There are many Indians in the Port countries. There will be 4000-5000 Indians there.
This is my brunch! Currently, it is 1 PM, and there is a sandwich and a coffee here. Where in India are you from? -Mumbai! How much does the petrol cost here in CFA/liter? - 540 CFA $0.92, it is quite cheap here Around 70 INR/liter.
- No, no it is expensive. - According to them, this is expensive. You get petrol on road for 0.61$
The weather is so hot here. So, currently, it is 5 in the evening! We had been out for some work. We are not able to roam. Since, it's already late, and also I'm tired. Niger's time zone is similar to Benin's.
4.5 hours prior to India and GMT+1 The currency is also the same, it is Western African CFA. So, I didn't have to exchange the currency. The same Benin currency is being used here.
Except for Burkina, I've gone to all the countries where CFA is used. I wanted to go to Burkina very badly! Niamey and Burkina aren't that far away. It isn't safe there.
2 military coups are formed. People are telling me that the route has terrorists active there. So, we will do the Burkina later. So, in my mainland in Western Africa, except for Nigeria and Burkina, all the countries are covered. Look at this, This whole country is located in the desert.
There is sand everywhere. The point where the Sahara desert ends, that area is called Sahel. Niamey is located in Sahel region. Since the Sahara desert ends here, it isn't that humid here. As we got to the north of Niamey, It is all going to be like Mauritania. I had taken the Niger's sim card in the morning at the border.
For $5, I have got 4G internet and 5GB internet. Sim was for 2$. In total, $6.7
I have to share a lot of interesting things about Niger, I have to share so many interesting facts about Niger. It will come in the next video, where we explore Niamey. So, guys, we came back to the house, and, the weather is so hot.
you can't even imagine! So, let's meet in the next video, we will explore the locals here.
2023-04-26 04:49
Show Video
Other news