Travel Showcase 2023: Wolves of Yellowstone, Southeast Alaska, and a Southwest Train Adventure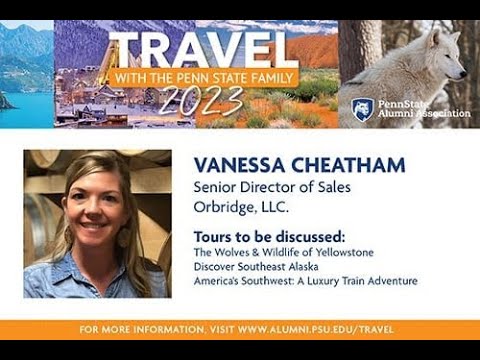 Show Video
>> Kelly Morgante: Good afternoon. Welcome to day two of the Penn State Alumni Association's Travel Showcase. I'm Kelly Morgante, the Assistant Director of the Alumni Travel Program. And today we are back to explore more of our 2023 tour collection of destinations.
Penn State Alumni Association has been offering group travel for over 50 years. And this week I will be showcasing three destinations a day with one of our trusted travel partners. Whether you're looking to visit an international destination, or some place a little closer to home here in North America. We have a variety of options for you. Based on the features made available in our audience council today, you can view slides, hear presenters via the main stage, chat with other attendees in the chat box, find additional resources, links and more. Be sure to let us know where you're viewing from and tell us where you want to go next in the chat box.
To access closed captioning, please click the CC button located within the main stage and following the event you can email questions to alumnitravel@PSU.edu. Today I am joined by Orbridge Representative Vanessa Cheatham, Senior Director of Sales. Hi Vanessa. >> Vanessa Cheatham: Hello there. It's so good to be here.
>> Kelly Morgante: Well we're glad you could join us. Orbridge and Penn state have been working together for over a decade. And we rely on you to offer the majority of our North American destinations. And they are so very popular. >> Vanessa Cheatham: Thank you.
>> Kelly Morgante: So let's go ahead and talk briefly about the history with Penn State and Orbridge itself. >> Vanessa Cheatham: Terrific. Well again, I'm so glad to be here talking about what we both love so much, travel.
Thank you for inviting me. And for putting this great event together. I work for Penn State. We've been partnering for about a decade to take Nittany Lions to destinations all over the globe. But as Kelly mentioned very often within North America.
A little bit about Orbridge, we're based outside of Seattle on Bainbridge Island, Washington. We are a small business of approximately 40 people. All of whom are passionate about travel, as I.
And we work exclusively in the educational travel market, with other colleges and universities like Penn State. Other educational institutions like zoos, museums, some non-profits focused on continuing education. Our programs are crafted specifically for these types of small group experiences, that you cannot access otherwise. One of our most important guiding principles is that our programs are beloved by guests. And to us at Orbridge, that simply means that we focus on destinations that offer life changing experiences that guests are not soon to forget. We do this by utilizing customized accommodations, like private family-owned villas and iconic lodges within the national parks.
I'm going to talk a little about that today. We do that by chartering small ships. And we specifically create excursions exclusive to your Penn State group. We make it our priority to offer a deluxe experience at a value price. Some of the services that we provide include a guest service team that specialize in your program of choice.
So your guest services representative has seen what you're going to see, they've walked the streets that you will walk, they've slept in the bed that you've - that you'll be sleeping in, so they really are intimately involved and aware of what your destination is like. They'll speak specifically to what you will experience. We have an ART that's ready to work with you on any of your flight needs.
We offer a curated expedition library and that includes maps and maybe a field guide, a coffee table book, or perhaps a relevant novel. And that's received about six weeks ahead of time. Again with the intention of enhancing the educational content on the program. Also I wanted to speak to our travel directors and expedition leaders, because they get very high praise. Most of them have been with Orbridge for over a decade.
And they're on staff with Orbridge. They're true partners with us as we create these really special tours. We find that most of them have worked in the industry in which they are touring. So as an example, our national parks programs. We use retired parks rangers, who really offer a special insight into the parks that they can share with you.
They've lived and they've worked in the parks for most of their career, so it's a special way to get to see our national parks through their eyes. The other thing that Orbridge offers are amenities and any type of need like dietary or mobility that you might have. So all you need to do with regard to those needs is communicate them to your guest service team member. >> Kelly Morgante: Yeah your guides are fantastic. I was fortunate enough to travel with you on the National Parks and Lodges trips a few years ago. And our retired specialist that traveled with us had worked in several different areas within the parks service.
But had worked at every single park we visited at one point in time. So she was just a wealth of personal information. So yes, she was - it was really great. >> Vanessa Cheatham: Terrific. I'm so glad to hear that.
And you can find that you know, as you mentioned on our national parks, but on our other programs as well, you know? On some of them we might have resonated biologists or researchers on the ground. That type of expertise. >> Kelly Morgante: Yeah and the picture you had back a little bit ago was actually I think our group from the Galapagos two years ago. And we just had a group that got back you know, a couple weeks ago. They had such a fantastic time.
So those are my favorite. I love seeing the Penn State flag flying in all these destinations. So yeah, so what we're actually going to talk about four different trips today.
Or I'm sorry, three different trips today. And let's just go ahead and get started right away with one of our most popular, which is the wolves and wildlife Yellowstone. >> Vanessa Cheatham: You are right Kelly. This is such a popular trip with Penn Staters. And it is a sure sell out every year.
Sometimes multiple programs are. It's multiple tours are a sellout. This is really our winter exploration of the national parks. So you might imagine that during the summertime the Yellowstone could see up to three million visitors.
In the winter that number is actually about 100,000. So if you compare the two, you know you are in the park in such - such a unique time. And you get to see so much really so much, so much wildlife. So much of the natural beauty of the park that's really undisturbed.
So it's pretty exciting to have much of the park to yourself during this tour. So on this program we will be exploring Yellowstone and the Grand Tetons specifically and we'll be spending two full days in the Lamar Valley looking for the wolves. We begin our journey in Jackson and we end in Boseman, exploring Yellowstone again. All the frozen geyser rain, the surprising winter wildflowers, which I did not anticipate.
The hydrothermal features that you'll get to see throughout the program at Old Faithful and Mammoth Hot Springs. And we encourage guests to keep their binoculars close at hand because we called this program the Serengeti of North America, which is home to the largest concentration of mammals in the lower 48 states. So throughout this trip not only will you be on the lookout for the elusive gray wolf. But you'll also be looking for the bison, elk, prong horn, the big horn sheep, moose and so on. >> Kelly Morgante: Plentiful - >> Vanessa Cheatham: Oh you're right. And the bald eagles.
There it is, right there to remind me. So as we scout for wildlife, we're doing this from the comfort of a really interesting vehicle. It's custom outfitted, heated and it looks - we call it a snow coach. It's small in size.
So it accommodates about 10 people really nicely and we have two coaches that travel alongside each other. The group is approximately 18 people in size. And throughout, as you're on the snow coach traversing a winter in Yellowstone you're going to be guided by two Orbridge expedition leaders and naturalists. And we partner with the non-profit based in Yellowstone. And again just to - Kelly and my point earlier, you know these guides they live and work in Yellowstone year-round.
So they are true wolf experts. And they're going to be able to give you firsthand accounts of the wolf setbacks. Their survival, their re-introduction into the park. So it's really an intimate way to learn about the - the wildlife and the park itself.
Most guests cite some of the highlights. Some the guests cite are the small group size, again about 18 people, and the attention and expertise of our expedition leaders. Another highlight as you'll see there, Old Faithful, we stay right in the snow lodge at Old Faithful.
So you can experience the geyser multiple times a day throughout your stay there. Guests love that. Another beloved moment by guests is a horse drawn sleigh ride, through the national elk refuge. So created in 1912 the sanctuary is home to one of the largest elk herds in North America. And it's simply exquisitely beautiful.
So that's always a highlight for guests as well. Inclusions, I did include these here. But ultimately you're going to hear me say this about the next two programs that I'm speaking of as well. We really don't nickel and dime you. We - we try to include in virtually everything, even gratuities on our programs.
So on this program with the exception of alcohol outside of the dinners, that's really all that the guests are going to be paying out of pocket for. And finally, we have the Jackson - an additional two days in Jackson as well. And you know, it's a charming town. Jackson is really - I can consider an outdoor paradise, all four seasons of the year. But certainly in the winter, it is exquisitely beautiful.
So some guests we find really like to add on some time in Jackson Hole. And explore the town. We also - there's a wonderful museum of wildlife art there that is fantastic. A fantastic excursion. And that's included. There's also some guided snow shoeing as well.
So you know, really you can choose how you shape your days in Jackson. But certainly, lots of time outside and exploring just the great food and the people of Jackson. >> Kelly Morgante: Yeah the Huckleberry pancakes were such a nice surprise for me.
Who knew I loved huckleberries so much? >> Vanessa Cheatham: Yes. >> Kelly Morgante: But yes, huckleberry pancakes high on my list. But one of the other - what we're very fortunate to be able to do with this particular trip is once again, Dr. Peter Newman who is the martin professor of recreation, park and tourism management. And our department head here at Penn State is going to accompany this trip again this year. He's very popular.
His vast knowledge of the parks themselves, we've used him on several of our trips. He's one of our favorite hosts with our travelers. So he's - we're very fortunate that he's going to be able to take this trip out. And he's looking forward to it as much as everybody else I think. Like he said, it's 18 people.
So it's limited in size. And we're already starting to take reservations on this as you know. >> Vanessa Cheatham: That's right.
We've already gotten our first few. And I'm so excited that Dr. Newman is leading this departure again. He is always just such a highlight and such a fun person to travel with.
The guests are in for a real treat. >> Kelly Morgante: They really are. So let's go ahead to one of - another popular wildlife viewing opportunity, which is the discover Southeast Alaska trip. >> Vanessa Cheatham: And Kelly you've chosen the best time of year to visit Alaska with your August date.
It is prime time. I was there this past year and I - obviously this is a little unusual, but I was wearing shorts multiple days. I just have to say it was really - the weather was unbelievable.
And August is always a spectacular time to visit. You'll get some sunshine and some blue skies for sure. So our Alaska trip. I really believe it's an unprecedented view of Alaska.
And it's because we use a small ship. It's an expedition ship and it allows us to navigate into narrow channels that only small ships can access. This allows guests to sail really close to shore and view wildlife from the deck of the ship.
Our captain is so nimble that if you find wildlife, hears over the radio that there's an opportunity, he seeks it out. He'll throw anchor and stop so the guests can enjoy it for as long as they're enjoying it. And then we just continue on our adventure. So it's really a special way to see Alaska.
>> Kelly Morgante: That's great, yeah. The small ship is definitely the way to go. >> Vanessa Cheatham: Agreed. On this trip, we arrive into Sitka and we depart Juno, Alaska.
And you can see, as I had mentioned some of these little - these little straights in here, obviously the big cruise ship there is no way that they're sailing into these tiny inlets. So you can sort of gather what I had mentioned from the map. And again, we'll stop with ports in charming Petersburg. It's a - it's a Norwegian Village and it's very, very charming. You're off the boat for about half a day there. And also every single day on all of these - at all of these stops.
You're off the boat with opportunities really to explore Alaska's wilderness. You're going to have opportunities for hikes, for kayaking. You're going to be on skiff rides throughout the day. You'll sail right up to the glaciers so that you can really experience the glaciers caviting. So really off the - off the boat quite a bit with lots of opportunities for activities. >> Kelly Morgante: And the wildlife.
The wildlife that you get to see on this trip. >> Vanessa Cheatham: The wildlife is - it's second to none. Alaska definitely shows off in August for sure. So our naturalist on board, well three of them.
And they're experts in animal behavior, glacier activity. And other various natural spectacles along these protective waters. Some of the other highlights on this, you'll spend a full day cruising around Glacier Bay National Park.
Alongside a Huna Tlingit Totem interpreter. She comes on board, and she joins us for about half a day. She gives some stories of her life and - and in the area she talks about the totem and that practice. And talks about her Tlingit tribe as well. So it's really - she's really fascinating. A fascinating woman.
She does some storytelling and some singing as well. It's a great way to spend time in Glacier Bay. And we'll also be joined for the full day by a park ranger. We'll provide insight on the park again.
The conservation effort happening within the park and we're - we're likely going to see whale there. So she talks quite a bit about the whale behavior that we see with the gray and the orca in Glacier Bay. Guests also get to visit a salmon hatchery. And on the next slide you're going to get to see a bear.
This is a picture that we - that our guests took. And this is truly what happens. The guests - the bears come to the hatchery, and they do their fishing.
So whenever I was there I saw four. I saw mama and her cubs there. On one of our departures they saw 18 believe it or not. >> Kelly Morgante: Oh my God. >> Vanessa Cheatham: So, so many bear.
And it's a really fun, up close and personal. It's very, very safe. But certainly bear at close proximity and they could care less about us.
They definitely care more about the fish. But they're beautiful. It's really beautiful to watch. Another I think, important thing for me to mention about this trip is our crew on board the ship. We've been working with this ship called the Chichicothe Dream for the last three years.
And we've been working with this company, which is a native Alaskan family of ship builders, actually. For over a decade for about 12 years now. And they are - they are such trusted partners in Alaska to us. So the crew has been on board this ship for years and the captain is a trusted friend of ours. So he actually opens his bridge.
He welcomes the guests to come visit him throughout the day, whenever they'd like and chat, and spend time with them. He'll point out all of his favorite things and he's a really friendly guy. This - but we call it the Chich. This boat is limited to about 76 guests and it's incredibly comfortable. All of the cabins are above the water line, so everyone has a port hole. Most have larger windows.
There's a beautiful dining room and a salt room as well. For - guests who want to have a little spa service. The food is out of this world. And that's one of the things that the crew really takes pride in. The Chef is exceptionally good.
Tobi, so pastries throughout the day, for breakfast. Cookies, fresh cookies every afternoon and unbelievable desserts. It's definitely a big highlight. The food is a big highlight of this program. Again on this program I'm going to repeat myself, but I just want to get the point across.
Tips, the only thing that's not included are tips for the crew. So we let guests choose what they want to - we obviously give recommendations but otherwise every other gratuity is included along with meals. All of the excursions and so on, that is all included in the cost of the trip.
>> Kelly Morgante: Wonderful. >> Vanessa Cheatham: And finally the Denali pre-tour, so this is incredibly popular as you know Kelly. This is a six-day, five-night tour that takes you further into the north, into Alaska's rugged forest. And this is very popular with all of our guests. It sells out quickly.
So certainly I would encourage you to call early if you want that pre-tour. And you'll travel into Denali on the wilderness Express railroad. And you'll have a full day of touring there, which guests always love. So lots of - lots of wildlife there too.
>> Kelly Morgante: Yeah, Denali is always you know, it's funny the number of people that do the trip itself. And then you hear from the ones that did the - the optional Denali portion. And they're - they're so happy. It was almost like that was a whole trip amongst itself.
But I know that one of the very first trips that we had go out once the world started to re-open was we had a few couples that did this Alaska trip back in mid '21 I guess it was. Or like late July of '21. And they said the same thing about the captain.
They had found a pod of whales. So he literally just started following them. And they just - they raved about it. I talked to them for a long time about it. I cannot - the pictures were phenomenal. So - so yeah you don't get that kind of - that freedom.
And the ability to do that on the larger ships. So these small ship excursions are definitely the way to go. >> Vanessa Cheatham: Thanks so much for mentioning that. It was no exaggeration; we will seek out the wildlife and the really unique experience in Alaska for sure.
>> Kelly Morgante: That's wonderful. Yeah. So now let's get to talk about one of your newer programs. This is one that we - Penn state has not done with you in the past.
And we've done this Southwest National Parks with you, but never with - on a luxury train. I know that the train that we use up in Canada is so popular. But this luxury train adventure in America Southwest. Let's go ahead and talk about that for a little bit.
>> Vanessa Cheatham: That sounds great. I'm very excited about Penn State offering this program. Again, this will be another Penn State exclusive, just like the wolves program. So just you and your fellow Nittany Lions will be on this.
And our - as you mentioned our National Parks Programs are Southwest and train travel has been such a huge hit with Penn Staters. And so I'm really excited to see how - how this does. How this comes together. We've welcomed hundreds of Penn Stater's over the last decade on both of these types of programs. And this tour is a perfect combination of the two. >> Kelly Morgante: Good.
>> Vanessa Cheatham: So it blends the unique natural and cultural history of the Southwest with the nostalgia of the train. And on this program you'll travel from Denver to Moab aboard the famed Rocky Mountaineer Train. This passenger train has delivered exceptional experiences to our guests in Canada, where we use it in the Canadian Rockies. And we're thrilled to be offering this in the Southwest as well. Guests will enjoy gold leaf service aboard the mountaineer and that simply means that the gold leaf service provides access to a bi-level domed viewing car. There's also a bi-level coach car with panoramic windows throughout.
There's exclusive access to an outdoor viewing platform. Yes, it's terrific for wildlife sightings and really just to view the beautiful scenery that the guests are going to see. Unlimited beverages, alcohol and otherwise gourmet meals that feature locally sourced ingredients are also part of the gold leaf service. >> Kelly Morgante: Oh nice.
>> Vanessa Cheatham: So it's a lovely way to travel. You will travel through some stunning vistas on the Southwest, and you'll disembark each night to enjoy four- and five-star properties throughout your route. >> Kelly Morgante: Okay. >> Vanessa Cheatham: The stunning landscapes along the journey include the call - alongside, I'm sorry. Alongside the Colorado River through a series of canyons, rugged rock walls and highlights of mountain vistas, desert cliffs and rock formations. So once you embark the Rocky Mountaineer you'll spend again, two full days during the day viewing the landscapes between Denver and Moab.
And the train route is filled with highlights that really are best seen from the train. You know with those panoramic windows. It's going to allow the guests to view Ruby Canyon, Mount Logan. You'll pass by the towering Rockies en route to Glenwood Springs and you'll see a lot of our guests like to toast the - crossing the Continental Divide with some - with some beverages. Your beverage of choice. You also will have on board your exception leaders who will lecture you know; I say that loosely.
Lecture, lead conversations throughout the program on what the guests are seeing, all of the various you know, the Navaho information regarding the Southwest as well as a lot of the geographic information. So as we head to Glenwood Springs, it sits in the Rocky Mountains and it's surrounded by the White River National Forest, which is known all over the world for the hot springs and outdoor adventures. So Glenwood Springs is a huge draw for our guests. It has great dining and entertainment options, and we consistently get guests feedback that's very, very positive on it.
An option in Glenwood Springs at the beautiful property there is to enjoy a dip in the mineral rich waters of the worlds largest hot spring pool. So after you disembark the train, you'll have that option as well. Let's see, as you continue on from Glenwood Springs you'll head - you'll reboard the Rocky Mountaineer and you'll head further into the Southwest again. Look at - looking out from Mt. Garfield. It's the highest point in the book cliffs and very easy to spot.
There's sandstone cliffs and they stretch about 200 miles. >> Kelly Morgante: Wow. >> Vanessa Cheatham: Again, as we continue to follow the Colorado River. We'll cross the strait, and we'll cross the state line. And oftentimes Mt. Peele which is really - it's about 12,000 feet high so you really can't miss it.
Oftentimes it's still snowcapped. Given it's height. And it's quite beautiful. And as the train reaches Moab, you will definitely be greeted by the brilliant red sandstone backdrops of - of Moab and you'll see your first glimpses of Arches National Park. >> Kelly Morgante: Oh okay.
Always popular with our groups. >> Vanessa Cheatham: So, so popular. Arches is a huge draw. So we'll disembark in Moab. And you can spend the afternoon enjoying Moab, adventuring around town.
After lunch in Moab, you'll visit Canyon Lands National Park. It's the largest national park in Utah. And you'll have guided sight seeing throughout Canyon Land. It's a very diverse landscape. In Canyon Land there are towering rock pinnacles and then desert vistas. So really a striking - very striking national park.
And then you'll head back to your lodge, which is called Red Cliffs. And Red Cliffs is aptly named. It is spectacular vistas and views from Red Cliffs. The following morning, because we wanted to give guests enough time in Arches. As you mentioned, it is hugely popular and just stunning. It's so, so beautiful.
So we wanted to give you enough time in Arches. And so we are spending quite a bit of the day, the next morning we'll wake up early and we'll head to the park for some guided sightseeing, as well as some time on your own for - there will be opportunities to hike and have some lectures throughout. And explore all of Arches. One thing that might operations manager told me is that there are 750 species of flora in Arches.
Which surprised me, given that it's you know, so so dry. So it really is - is really spectacular. And then that evening as well, you'll head back to Red Cliffs. So you'll have two nights at the Red Cliffs property, which is a very deluxe property.
Terrific food and a restaurant on site that's very well reviewed. So again, all inclusive. Few things are not included. I think you have a lunch one day and that's about it. But otherwise, all included costs of the - are in the program pricing.
>> Kelly Morgante: And this is really a pretty quick getaway. You know it's just the five nights accommodation. So it makes for a really nice you know, quick getaway. You know without having to take a whole lot of time you know, away from - from job or family. But you can - because it is so short you can also do the net optional host tour that you talk about.
>> Vanessa Cheatham: That's exactly right. So we can, guests can stay a bit in Moab. And also head to Mesa Verde which is a big highlight. And you can check off another park from your list. Mesa Verde and again guests really love this.
You'll have a guide with you the entire time. Again, for a whole variety of activities throughout this post tour, again lots of outdoor. It's really an outdoor playground. So lots of time spent in the park and also exploring the surrounding areas. >> Kelly Morgante: That's great.
Yeah, it's - because you visit so many of the national parks on a variety of your trips, but even within one trip they can get their little national parks passport, which I highly recommend, and you can click off your parks as you go through. >> Vanessa Cheatham: That's always fun. >> Kelly Morgante: It is fun. It's a ton of fun.
So I know that there's a lot you know, we talk about the world reopening and what that sort of looks like, and this is constantly changing, but talk to us just a little bit about some of the safety measures that Orbridge takes? >> Vanessa Cheatham: Absolutely. So right now the world is definitely reopening. And on these programs that we just talked about, all being within the United States. There is quite a bit of flexibility. A lot more flexibility than in some other locations.
So Orbridge does require that all of our guests be fully vaccinated and that means having completed the second does of one of the CDC approved vaccines. We do not have a policy around boosting. So we ask for the second dose being completed, and in order to travel with us or expedition leaders, we just ask that you bring your CDC card.
And recognize that you have it and have observed that. So we're grateful for it. On our national parks programs, whenever the guests are in a confined space on the vehicles, we do require masks and that is simply based on the United States mandate. And - and because we are under the federal - all of our coaches. Sorry, are under federal mandate. The same mandates as airplanes, subways and so on.
So should that be lifted, prior to any of these programs in 2021, they would be lifted on our programs as well. If they're in place, you know nationally, then they would be in place on our programs as well. >> Kelly Morgante: Okay great. >> Vanessa Cheatham: So other than that we just observed local and local and national law.
And - regarding masking. >> Kelly Morgante: Okay. And you guys - you guys - they can - air can be set up through from our travelers - you can set up air through Orbridge and then they will also help them navigate some of the regulations going on with the airlines. Because those are changing still to this point, changing daily. And those who are requiring it, not requiring it.
>> Vanessa Cheatham: Absolutely. We definitely are glad to assist with that. And they will walk guests through. The other place that I'll mention that has a lot of information. And guests can just really go there and explore any destination that they want. If they want to get an idea of what up to the moment requirements are for a particular destination is our wellness site.
So I put the address there, Orbridge.com/wellness and there is quite a bit of information about what is required. We also have sections for each destination FAQ's. So you can really learn more about what each destination, what the protocol is looking like. >> Kelly Morgante: And that link is also down below, so people can just click on that, and it will drive them straight there and they can pick their destination from there. >> Vanessa Cheatham: Perfect.
And these destinations that I just talked about will be there too. And then [inaudible] updated you know, within I would say two hours of any new change being made by the CDC or by a country. That site is updated.
So it's incredibly up to date. And we maintain it you know, daily. Also I wanted to mention right now, we have a really fee free cancellation policy. So 90 days prior to departure to your departure date, you can receive all of your monies paid back from Orbridge, no fee, no questions asked, no reason needed. You'll just receive that money back however you paid us.
>> Kelly Morgante: That's fantastic. >> Vanessa Cheatham: I did want to mention that. We're trying to be flexible you know. People's plans change. Their comfort level might change and so we're going to try to be as flexible as possible.
>> Kelly Morgante: That's fantastic news. Yeah, yeah and that's really important. Because you know we all want to make sure we can get our - get our reservations in because these again, are small departure groups. But we also understand that you know, nobody really knows what's going to happen. So that - that flexibility is really important. >> Vanessa Cheatham: We find the guests are much more comfortable.
And that's really what we're here for. We want guests to feel comfortable traveling on our programs. We want this to be a seamless process for them. From the moment they call us to the moment they arrive in country; we want this to be a seamless process. So this helps that. >> Kelly Morgante: That's great.
>> Vanessa Cheatham: And last, I wanted to mention anyone who watches this for the next month, we'd like to extend a per person savings. All you have to do if you are making a reservation or calling to make a reservation if you'd like to be added to a pre-tour, interest list, we'll extend this to you as well. All you have to do is PSU Travel Webinar on your form or mention it to our guests service team. And we will extend that $125 per person savings to you.
>> Kelly Morgante: Yeah that's great. That's - so yeah, that's good for anybody watching for the next - even if they watch one of our recordings of this. It's good until next week.
We, you know May 20 deadline on that. But just go ahead and put that PSU travel webinar in the box down below. That's great. >> Vanessa Cheatham: Great. >> Kelly Morgante: So I want to thank you. I recognize that group.
>> Vanessa Cheatham: Look at all those friendly faces. >> Kelly Morgante: I do, I know those friendly faces. We all eat huckleberry pancakes on that trip. But I want to thank you so much for joining us today. It's such - it's so great talking to you.
You and I can spend, you know hours just talking about trips and travel in general. But this has been really informative. I think that you know, what we're offering in 2023, people are going to really enjoy. We do still have stuff available in 2022, so check out our website with some of our tours on that. To make a reservation or details on any of the trips, the ones that we've talked about today, any of our upcoming ones, please visit our website at alumni.psu.edu/travel.
I hope everybody who watched enjoyed today's presentation. Take the time to visit that website. We have some other virtual opportunities that they can join in at, and they can all be found just on our alumni.psu.edu and then there's a tab called events that you can take a look at. A recording of this presentation will be sent out to everybody shortly, but you can also find archived events on that same page.
So Vanessa, thank you again for joining me. I hope everybody can join me again tomorrow. We're going to explore some new - upcoming destinations for 2023 outside of the US. So I hope you're available to join me then.
Looking forward to traveling with you all again soon. Have a great night.
2023-04-17 21:31
Show Video
Other news