Travel in Bali- 3 days in AMED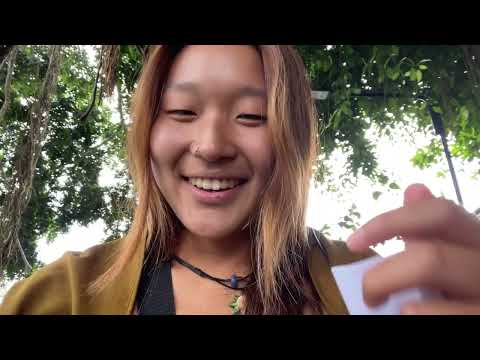 Show Video
Hello, people We just left Canggu, and we rent a car with a personal driver for 6hours to get to Amed, and on the way to Amed, we're gonna stop by some touristic places and we just stopped by somewhere restaurant to have brunch. we didn't have breakfast so it's kinda close to lunch, breakfast-lunch, brunch.... And this is super local place. we ordered some foods. my father, as he always used to do, ordered super local indonesian food This is... just ayam, just grilled chicken with french fries, cuz I love local foods but Since I visited my local friend's house yesterday and I got treated some local snacks and foods, as guest, they treated me really well. I'm like... today.. i don't know, especially craving for something not indonesian, something, maybe western?, I mean, this food is not super western food, but I would say it is half and half Like half american, french fries and the half ayam, indonesian Yeah, that's it. BYE
We're on the way to waterfall That's the waterfall. -which one? that's the waterfall? later we, down there. -alright, will we jump to there together? -you wanna jump? later we can go down there and walk a bit to get to waterfall -Ok, we're going down right now Let's go Since it's rainy everyday in the countryside, there must be always puddles, but in korea, there's no unless it rains -Always rain's dripping off - but the stairs are so steep and too high. it's not good for the knee's health Wow, guys. this is so cool This place is magical On the way to Amed We arrived, finally we arrived! in Amed~ We arrived in Amed! finally! how do you feel dad? how do you feel!! It took 2 hours.. fucking 2hours!!! I got a content that I can make in this boring city I met a subscriber! I mean, he's not a subscriber, but I met a person who watched me on the video! finally Introduce yourself! In bahasa Actually, in Canggu, I met my subscriber, I met my follower, and I hung out with him, when I was in Canggu And he also met me for the first time in person Put my channel, he's now tryna subscribe me, now! Ok, Alice.. Hwang...
Su.. yeah! Subscribe~ Guys, subscribe me! Subscribe alice! I was staying at the bar table and could have talked to this waiter guy some spanish customer came and I said to him I'm gonna get their order some spanish customers came and I asked him if I can go try get their order in spanish It might have reminded him fikinaki cuz he's multilingual, so he asked me if I know him and I said "he's my friend" His face seemed like he recognized me trying to remember one of fikinaki's video with me Do I look different with me in the fikinaki's video? -I think no. But how couldn't you recognize me at first? -a bit different. -a bit different? what's the difference? I'm more tanned? I don't know! It's soooo funnn. It's amazinggg You also just watched it? the fikinaki's ome tv contents with girls? -yes This is the part this man is asking me my channel name Thank you you're welcome~ enjoy please~ guys, I don't know why, I was craving for pasta, even though I don't even usually eat pasta that often. But I got recommended this place by the neighborhood staying next to my hotel room and I got recommended this dish by the head chef here All creams in pastas are made by the head chef, and it tasted so so so good This pasta reminded me of the one i ate in spain ENAK here's the place! Thank you~ Wow~ Amazinngg Terima kasih! -Sama-sama~ Damn, look what I got, guys This is a dessert, really best-seller in this restaurant I found a really cool restaurant which has european, indonesian foods here And it opened 3months around, but the people are so nice, and the food is so amazing Especially I just got a pasta here, that was so amazing it was almost same as the pasta in spain. It is cooked in italian style but it wasn't the same as I had in Italy
It was pretty close to european pasta And this is a dessert here. I normally don't eat dessert cuz I easily get full, but even though I'm so full right now, I needed to eat Cuz this is soo.. I don't know let me show you I moved to outside table in the same restaurant I had pasta Look how cute it is!!! Once, I cut this, I can see the icecream in it. according to what they said Wow amazing. there's chocolate chip ice cream in it, and there's a home made jam on the top, and this is a fried bread
Ufff so excited the taste is melting on my tongue ENAK Just woke up in the morning I will show you what's right in front of my place I have a beach right there from my room I just visited the coffee place, really famous for seeing the sunset on the rooftop but just realized the rooftop is closed for the guests Cuz a lot of tourists make a lot of parties when it was opened, and they peed on the temple. There's a temple on the rooftop as the owner of this place said, all of the guests are just peeing on the rooftop where there's a temple And it's fucking... I feel so sorry about that as one of the tourists And i feel so sorry about how bad and uneducated the tourists are who are not educated in religion I think it is not the problem about religious knowledge, education Just their problem, their personality let's go What do you want, dad? Oh, there's also durian Mango... She's touching durian with hand He's eating durian! what an adventurous guy Enak? -It's goood There's bones in it. we gotta peel it out it will be delicious if we eat it with cool Tell me what they're saying on the comments bahasa native guyss Usually fruit stores have eggs (not in korea though) It also was the same when I was in spain.
Eggs might be considered one of the fruits in those stores -Is it? probably Do you want to give some pieces of bread for fish while snorkeling? it would be fun. -Shall we? let's do it You can buy some There's only big sizes, or we can my smaller ones in another place -Yea, let's do it Terima kasih. -Sama-sama. Apa kabar? -Ya, baik baik.
It's so interesting.. how much is it? the bread. 15k She said it's 1500won. and let's buy smaller one in another store cuz it's also pretty annoying to deal with it Anyway we also gotta buy a knife Or, don't you think it's better to give this smaller one -ah, they would eat this as well Like this, without cream -this one, this one, -yes Two are enough, right? the one before looks like for human, not for fish ahaha How much is it? 10K we gotta pay her 94K including this. 94K in total, so give us just 6K for change Shall we let her keep the change? it's 6K Dad: Wait, I wanna buy a drink. How much is it? She's thinking,,, 6K? -yes. 6K. huh? dad she said it's 6K So you should have given us the change 6K, but we will just bring the drink instead, so no change.
Did you pay 100K? -yes. yeah the happiness with 100K But the funny thing is, when I asked her the price of this drink, she was thinking hahaha I asked her how much it is, but I hoped she would answer the price of our change, 6K, cuz then we didn't need to get the change. so I said 6K but she said 6K is the price for it hahaha the price is just made as customer wants haha Okkk now we're getting in rempyang temple and we're dressed up like this cuz..
the people who are not wearing skirts and long t-shirts are not allowed to get in. even the women who are on the period are not allowed to get in the temple I don't know where they are from, I think it is a rule from Hindu, it's so interesting That's why I'm dressed up like this, and my dad as well. pray for something, dad. pray pray. so looks holy, veryy religious Could you record me doing this process? I have no idea why there's chicken walking in temple hahaha Why is he running? because we're kinda blocking the photo zone behind haha A lot of people are getting in line to take a picture, and this is also the place some people get in line to take photos my dad asks me to stay there to take a photo of me He's feeding cats -are they eating what you give? -they're very suspicious and precautious. try to feed them if you want. Seems like they don't eat bread They ate some pieces at the end Awwww soo ccuteeee Are you going to go snorkeling, right? -yes Make sure to get ready at least at 8:30 take some time to look around the sea I was literally wearing bikini and went asleep to jump into the sea right after getting up it was so blessing to have mountain and sea at the same moment and same spot This is our hotel, and right after going outside, we can see the view of mountain. this is fucking paradise.
is this tuna? -no this is diti (?) What a black sand ??: Have you seen turtle here? No, I've never seen turtle. -I can take you to the turtle -but only with the boat, right? -no, we can swim to get there. if you don't see, you don't need to find, but if you see, you fail (bro what's this guy saying) I think he said I'm guaranteed to see turtle if going with him Guaranteed. because yesterday morning I met three. -wow you met three turtles? Here? just near here? -yes near here. -can I go? -ofc but if you go by yourself, sometimes you can't fine turtles. you don't know the points If you go with me, guaranteed. (I bet he's a seller at the end.) but should I take a boat? -no, just swim. -oh, just by swimming But you have to pay. -ahahaha (I knew it) how much? it's 300,000. -That's too much
I'd rather not to see turtles. cuz I can't pay for the turtles. -then how much do you want? No, I can't pay for the turtle. it is too holy to pay. It would be nice to see turtles and nice views -no I just.. I rather not to pay (Dad's coming up) -He said we can see turtle, but we need to pay.. how much was it? 300k? yes.. we need to pay that much and he would take us to the point by swimming
he said he saw three turtles in this morning, I asked him if we should rent a boat, and he said it's in the short distance to get by swimming -we have no enough time anyway, and costs too much shall we try to bargain ? - we don't have to He said no. -alright, think about it more, and lmk if you want -ok later. (this means never. haha) this beach seems bad. the one on the other side near by our place was better -I'll give you with 150. Are you tryna make a discount on turtle? I just got annoyed by him, keep on trying to negotiate the price on turtle, nature. Do you wanna see how she would react? check if the mom chicken would eat see? she doesn't. she let her kids eat Dad: she just stares at her kids eating, and she's not even tryna go eat -Such a great spirit of sacrifice as a mom Mom's always sacrificing.. by the way, why is this chicken so big Guys, he looks hella free, enjoying every single moment in this trip But this guy was crying for missing his wife last night Ok, now, we're leaving Amed, and where's our next destination? leave the comments below here!
2023-02-08 10:16
Show Video
Other news