Touring Makassar to Bone via Malino| CELEBES| Motor TOURING SULAWESI [S2-E29]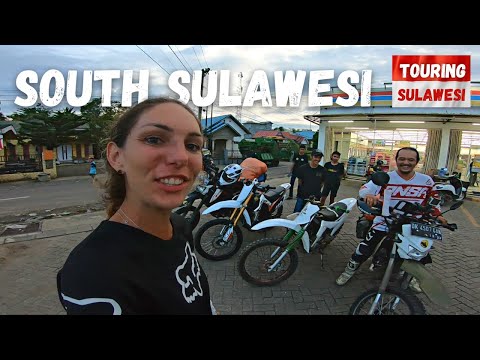 Show Video
This is why off roading in the rainy season could be really tricky. Because look at the main road. Even the main road is like this. A lot of mudd. Could be mega slippery in the forest now. Oh my god! Selamat Pagi Indonesia. Good morning everybody. And welcome to Makassar.
We stayed in Hotel Bali. And we are getting ready, we wanna be OnTheRoadAgain! And I actually still owed you the map from how we get here. I´m going to show you on the map right now. So, this is the island of Sulawesi. And we arrived in Bira, right here. And it was already getting dark, we followed all the way the coastal up to Makassar.
I was looking for Makassar, but I couldn´t find it on the map. But then, here is written Ujung Pandang. That´s really old map I think, because the old name of the city of Makassar. So, that´s the place where we stayed for a few days. To get ready.. And our today´s plan is we wanna go pass Malino to Sinjai. And maybe up to Watampone.
But again, we don´t know where is our final destination today. Ugh.. The hole is getting bigger.. Are you ready for this? Finally! > Oh my God, the other side too! Babe, the other side. > Oh no! C´mon man, make it to Papua. Are you ready? > I am ready! Are you? Are you ready...?
Look at you guys, my gloves... Which direction? Bye.. > Bye... We are going that way. Thank you. Good morning everybody.
We are finally moving on. After catching up with editing that we haven´t finished yet. And, fixing the bikes, changing tires, changing the oil. Getting more batteries for the goproes, so we can get more footages for you guys. We are moving on.
Thank you Makassar for having us here. For your good food and not great food. Just kidding. And, we are heading to the west, I mean the east coast of Sulawesi, now. O oh. Natalie has a problem already. We are moving on to the west coast i mean east coast of Sulawesi. But we wanna go pass Malino the tea plantation.
We want to check it out, and maybe have some coffee there or tea. And, it will take us about 6 hours non stop. Or 200 KMs. Uhm yeah. We shall see, let´s enjoy the road.
OnTheRoadAgain.. It´s really really humid in Makassar, you guys. But I´m glad that we are moving again. So it´s not that hot. > So rainy season started. Yeah, by the way, rainy season started. So it´s gonna be tricky with our off road addiction. But everything shall be okay.
Yeah, it´s so pretty here. It´s right next to the main road. That´s a shooting range there. They even have horses there. I don´t understand. > Tourism forest, pine tree forest. That´s a tourist spot here.
Woah. What the heck is that? Is that a pine flower fell? > It´s like the... Not the flower really. I thought it was a rock. Look at this babe. So pretty here. Watch out, a hole.
We could, somewhere. Get some coffee here could be nice. And the river there. I think we could stop some where in the front there. I´m sure. Oh no. We are going away from it. And the camera is on? > It´s on.. This is Natalie´s picture perfect. River, mountains and paddy fields. > The scenery.
Yeah, so pretty. I wonder if we could go down there and have some coffee there. > Yeah that would be great. Let´s go paddy fields. > So pretty yeah. Wow yeah... On the top they have paddy fields. > Yeah, Did know how they do it. Like, who´s doing the fields everyday. Going up and down that field. My God. Really fit people here. The farmers are really really fit. Can not beat them.
Healthy live style. Look babe, we are getting closer to the place that you wanted to go to. The river...
This is a pretty house there. So gorgeous, it´s like in the painting, you know. When you´re painting the mountain with paddy fields and river. We can stop here. Have some coffee on this bridge. Pretty yeah. Maybe a bit higher. To have a bit of view. > Okay. Okay, we are a bit higher. Should we stop here?
Here would be perfect, babe. That´s perfect there, Ryan. > Yeah to sit down. But where are we gonna the bikes. I got distracted looking for a parking area, I didn´t see this thing. You know, it reminded me of the time we were in Payakumbuh. When we were driving around with Donny.
So beautiful yeah. So we had to wait for twenty minutes. > Something yeah. Ladies are doing laundry here. In the gasoline station. > It´s smart, don´t need to pay for water.
Yeah, the gasoline station was closed before. We had to wait. Is it often? Maybe because they were praying? > No, I think they just closed on the certain time of the day. And then reopen again at two. Because yeah, there´s not enough traffic here, I would say. Oh look, Ryan. Cloves. > Is that coffee? Oh cloves? Yeah, I could smell it now.
Careful, bad road. Ugh, landslide here. Ew, scary. I´m driving on the right side now.
Amazing road to drive through, huh. I mean, it´s a lot better than the main road. > Yeah definitely. This is why offroading in the rainy season could be really tricky. Because look at the main road, even the main road is like this. A lot of mud. Could be mega slippery in the forest now.
Oh my God, look at this on your right. That´s a land slide on your right side. > I don´t see it. Really? Oh my god. > Yeah, here. Jesus Christ. And that´s really deep. Oh boy. Yeah, muddy yea. It´s really really muddy here. Because this thing could fall down at any time, here.
Scary. What is this small huts. What is it huh? Always, if I see a road with trees on top of it. I love it so much. It makes it look really pretty! We finally found Gorengan. How is it, Ryan? > It`s really good, the fried bananas. This warung (shop) here.
And that`s how it looks. What is it? We have fried bananas. Something like empanadas. Sauce. And chocolate bananas. I love this. We just met two other dirt bike riders. So cool.
They do off roading, though. > Oh wow, cool. What is your name? > Sahara Janine. Nice to meet you. Natalie.
What is you name? > Erin. Erin. Nice to meet you. Good-bye.
You got my phone, yeah babe? Let me check. Yes. That was funny, yeah. First taking pictures together and then they told us that they are riding a dirt bike too. I like their dirt bikes. Especially the white one. It looks so clean! And they do off roading. We still have 24 more kilometers or 34 minutes. It`s getting darker now.
Right now is 5.50 pm. Hopefully it´s not gonna get too dark. Not too dark, I mean like street light or something.
Made it to city of Bone, and now is 6.20 PM. It´s a bit quiet here, maybe everybody is at the mosque, praying. But, yeah it´s a bit dark. The road is pretty beat up, but at least they have street light here.
We gonna go straight to the hotel, and hopefully they have a room for us available. So, welcome to Bone everybody. It´s pretty big, right babe. Like a lot of trendy places. It´s a disco light going on. A lot of coffee shops here.
Well, Toraja is one of the producers for coffee in Indonesia. But I never heard of Bone coffee, so I don´t know. Hello everybody and welcome to the hotel Sarlim, in Watampone. Or how the people call it in Bone. We finally found a place to stay for tonight. We got refused from two hotels because of Syariah law.
And I´m going to show you on the map where we drove through today. So from Ujung Pandang or from Makassar we took the main road to Malino. And then to Sinjai, and then we followed the main road up to Watampone. Here, that´s our checkered flag.
We followed the main road because there is not really any side road through the nature we could´ve taken. But, still... There were many houses and sometimes we had beautiful views with paddy fields and rice terraces Which was amazing. And I hope we will be able to make a nice video out of today. And I hope you like our today´s video. If you did, then give us a THUMBS up and SUBSCRIBE down below and then see you on the next travel.
2022-11-14 10:56
Show Video
Other news