Touring an ULTRA Modern Mansion with a Swimming Pool MOAT!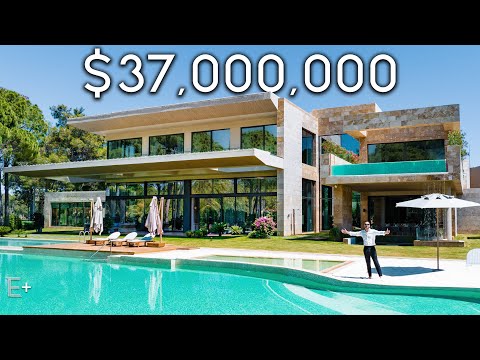 Show Video
Located in the Southwest and bordered by the Taurus Mountains, Antalya is the largest Turkey city on the Mediterranean Coast. But size isn't what draws 13 million tourists to Antalya year after year. It's an elegant getaway brimming with history, luxury, golden beaches, and crystal clear blue water.
And that's just the beginning. Today, we're touring this incredible mansion, located at Kaya Palazzo Golf Resort here in Antalya, Türkiye. Situated in this expensive subdivision, this beautiful home features gorgeous interiors, amazing pool area, and it is also paired with five-star service that is hard to beat. Now, this is a very unique offering, and that's why I'm beyond excited to show it to you. Let's begin.
All right, everyone. Welcome to one of the grand mansions here at Kaya Palazzo Golf Resort. We're going to start our tour on the exterior. Cobblestone driveway brings you to the entry. On my right-hand side, we have this wing of the home where you can find the detached gym and the spa.
You can actually access that space through the grass lawn here or through the backyard, which we'll tour later in the video. Now, on this wing, you can see the travertine finish covered carport where we have the electric golf cart. Since we are in a resort, you don't have to drive your car here. They assign you a golf cart, which is really nice. - [Mikey] I always love when these kinds of resort communities do that.
Driving golf carts is just fun. Absolutely. And property is beautifully landscaped.
It's a nice, warm welcome. Then you have the covered section here. Natural stone floors lead you to the double doors, and these double doors open up to the grand foyer. This has to be one of the most impressive entries we've seen lately, marble floors, double height ceilings, marble walls, this modern staircase that goes up to the second floor.
Look at the size of this chandelier. Then you have these double doors opening up to this space, walls of glass, bringing so much natural light. This is a lot to take in, and I just love how spacious it is and how bright it is. Staircase is all open tread, glass railing, wood slat walls with light fixtures, wall sconces. This is pretty impressive.
- [Mikey] Yeah, I was stunned when I first walked in here. But all of these mansions they have for rental here at the resort are very large in scale. Absolutely.
You do not lack any space. Exactly. Now, welcome to the formal dining room. It's an elegant space.
You have your marble table that seats 12. Even the chairs with leather backs and leather cushions. Then you have your chandeliers above, your drink cart on this side. This entire space faces the backyard.
And I just love how minimalist it is. It's to the point and it is nicely defined off of the entry of the grand living room. I say grand living room because we have two seating areas and it's so spacious, nicely defined with these chevron pattern hardwood floors. Ceiling height is great.
Hallway is nicely separated with these built-ins that are open. And of course, you have your sliding glass doors throughout the space, opening up to an amazing backyard, which I cannot wait to show you. Now, before we move on, let's cover the specs of this property.
So we have five bedrooms, six bathrooms, 16,145 sqft of interior space. Rental price ranges anywhere from $13,000 to $23,000 a night, depending on the season. And as always, you can find more information about this property and Kaya Palazzo Golf Resort in the description of this video. Make sure to check it out.
And I'm beyond excited to be in Türkiye. It's my home country. In fact, I was just looking back and I saw the pastries and baklavas that they have here.
They set it up perfectly for the next guest to enjoy. It's funny you said that because I noticed those as well. Yes. Looks very good.
We've been eating a lot of baklavas here. Yeah, we've been having a great time since we've been here, Enes has been giving me a little culinary cultural tour as well. So this lineup is extremely strong. We're having lunch by the beach, and I'm out of words.
We have Turkish pide, two different styles, and we have Turkish meatballs. Lahmacun, which is essentially Turkish flatbread with mixed meat and vegetables. And we have some spreads. I'm so excited for this lunch.
I don't know how we're going to be able to perform for the rest of the day after eating all this food, but I'm very excited. - [Mikey] I feel super American because I got a cheeseburger. Mikey. I love my country, but I really love Turkish food. That's something that I really miss a lot since I live in the United States. But it's nice that we get treated really well here and we get to enjoy this beautiful place and tour some really nice homes.
All right, now let's cover the first seating area. It's obviously very minimalist. You have your marble coffee tables, two chairs, big couch on the back. Then on the other side, you have your main seating area.
Big sectional couch that can probably seat 12 to 14, coffee table, gorgeous chandelier above. Look at the paneling detail on the back, how it curves. Then you have plaster walls to soften up the space, complemented with wall sconces. TV on the other side.
Again, ceiling height is fantastic. Walls of glass facing the backyard, grounds are beautiful. You have a golf course outside, massive moat, private pool, a lot to take in. And I feel like the design palette of these mansions are very, very comfortable and warm. Now I said mansions because I want to recap something. This is actually our second tour within Kaya Palazzo Golf Resort.
The first property we toured is called the Royal Mansion. It's the biggest mansion offering they have within the resort. That was actually showcased on our main channel, so I'm going to put a link in the description for that. Over there, we went into extensive details in regards to what this resort offers, what are some of the qualities and services you get within these mansions. That one is the biggest mansion they provide within the resort. This one is the second biggest.
And obviously within the service, you also get 24 hour butlers, chefs, security. I mean, you name it, they provide you everything. And within your rental price, all your food and alcohol consumption is also included, which is insane. It's all inclusive. You pay the price once and you're done. Yeah, we checked in and we went into our room and they have snacks, they have bottles of water, they have chips, everything.
In the States, you would get charged an exorbitant price for a bottle of water or a bag of Doritos or something. It was a strange feeling to have all of that included in the offering. It constantly gets refilled, too, which is insane. But they just want you to have a good time here. Come relax and don't worry about anything. Exactly. All right, follow me this way.
We got to check out this beautiful chic powder bathroom. I love the marble floors and how the same marble was used on the walls as well. Then you have this blue marble fabricated sink. Some shelves, LED lit mirrors, separate water closet.
It's a timeless bathroom. I dig the design here. We talked about this on our other tour, but a lot of the design of this home reminds me of some of the houses that we saw in Dubai. Absolutely. Especially the bathroom. Especially bathrooms, the scale, color palettes, and those two homes are also amazing. So, it's a big compliment. Now, follow me this way so we can check out this amazing office space.
Now, at this point, you all know my obsession with offices, and this one is a good one. We have the main desk here, small seating area up front, and on the back, you can see the built-ins with LED lighting, wall paneling to give more depth and dimension to the room, hardwood floors, great natural light coming in. On the other side, we get a proper conference table that seat six, TV. This is a fantastic space and gets better. Has a powder bathroom with a beautiful marble vanity. The only thing missing here is a little coffee bar.
But honestly, on this property, you don't need it. You know why? You have full-time staff. You have an amazing kitchen. They have an Espresso machine there, and probably you can just ask them to bring you one. - [Mikey] Yeah, if you get tired of working in this office, you could always just step out this door right here and take 10 steps and get to your spa. Or that backyard, which is insane.
Absolutely insane. All right, that's it for this wing. I want to jump back to the entry again so we can continue our tour with the left wing where we have the kitchen and the staff quarters. Now, what I love about this property is the scale. I love how wide these hallways are. You get so much natural light coming in.
Ceiling height is fantastic. And welcome to the kitchen. I personally really like the island here where we have some bar seating and it's also a great spot to put the stove and vent above. Then on the other side, you have your dishwasher, main sink, Nespresso machine.
We've been using this thing, and we've been using the Nespresso machine on the other house so much. We love it. I think we're getting one for the office. We talk about Nespresso a lot on this channel. If there's anyone out there that works in Nespresso, just give us a call.
Reach out to us. We are big fans already. And I promise you, Nespresso made their money from us already. Enes and I were literally just talking about this machine. I haven't seen it before, but it's fantastic. It's fantastic. Obviously, it's perfect for your staff to prepare coffee for you, but it's also just as practical for you.
You literally have to just slot in the capsule, press Nespresso on Meccano. If you want to make a cappuccino, they have a frother. That's it. And it tastes fantastic. We plug very few products on this channel. This is one of them. There's a reason why they have Nespresso here because they're reliable and they make great tasting coffee.
Exactly. The rest of your built-ins here nice open modern space. And this is where your chef will prepare your food for you or your staff will wait here and be ready to service you with whatever you need. I also love that you have sliding glass doors. Leading you to a covered patio where you have your outdoor dining area. This table looks so lovely.
You have seating for 10 here. Views are fantastic. Your barbecue area, outdoor bar on the other side, they dress it up really nicely for us. In fact, when you check into this mansion, this is how the property looks. It's welcoming.
It's nice to have baklava at the living room. You have your drinks ready for you. It's a pretty cool experience. If you made it to a point in life where you can enjoy a place like this, you deserve it and you deserve the full service too. Yeah, we've talked a lot about the baklava and the amenities, but we haven't talked about what you get in this backyard, which adds on to how cool this property is. Absolutely. All right, Mikey, let's continue.
Now let's go down to the seating area that's below us. Before I do that, I want to mention something. I hope you guys are enjoying these videos. This year, we are reducing the amount of videos that we're making. And because of that, we're extremely selective when it comes to picking locations and picking the shoots that we want to showcase on our channel.
And we want to diversify as much as possible. And because of that, we travel a lot. And when I say a lot, I really mean it. I don't want to sound like I'm complaining about my life because we have a fantastic life.
What I get to do on a daily basis is something that people just don't get. The fact that we have access to some of the best assets in the world and the way we get treated everywhere we go, it's truly a fantastic lifestyle. But it takes a lot of work and it takes a big team and their hard work too to put these episodes together to showcase you these assets from all around the world. Yeah, the fact is these videos are not easy to edit, and we can't be traveling around the world while producing and editing the videos at the quality that we want. So with the reduction of the number of videos that we're posting, we're hoping that we can bring the quality up a little bit more for everyone who's watching.
And in fact, if you're enjoying the videos, the best thing you can do for us is give it a like. And if you haven't already subscribed to our channel, both channels, Enes Yilmazer and Enes Plus it would mean a lot to us. That's all we ask. In fact, Mikey is so humble to admit this, but he was up till 3:30 last night talking to our production team in LA. And he was here 9:00 am. Ready to shoot.
He's on five and a half hours of sleep because that's what it needs to be done, and we just get it done. But there's a price to making these videos. I know I don't want to sound like I'm complaining, but if you guys appreciate our content, all we ask is your support. That's it. Now, seating area.
Seating area. Firepit in the center. Then you have your built-in seating with cushions. I like that this section is covered.
That way, you can either enjoy the sun on this side or you can enjoy some shade here. If that wasn't enough to add more tranquility to this space. They also have a water feature here. Coming down from your primary bedroom balcony, which we'll see later. Now follow me this way.
Let's check out this outstanding backyard. This looks unreal. There's a massive moat pool that connects to the other estate on the other side, and then you have your own private pool facing the golf course. Beautiful pine trees.
Property is nicely hedged for some additional privacy. You even have a beach area with real sand and a small jacuzzi. You know those photos that you see from Maldives where you're like, This has got to be a rendering. No, it's real. It exists. We're right in front of it right now. Yeah.
Like Enes said, we are touring the second largest mansion that they provide here at the resort. Right now, we toured the largest. But in addition to these, there are five more smaller versions of this one. Correct. And the pool that they have is one of the largest pools I've ever seen.
This one is only for two houses. The other one is for five houses, and it's even bigger. Between the setting, the golf course, this beautiful backyard, the resort. You have a lot to take in here, I got to say. For sure. Now, we have a lounging area here with few lounging beds, umbrellas, and this is your private pool.
This, I believe, is a regular chlorine pool. And the big moat is actually a salt pool. I love saltwater pools. I've never seen one again this size, though. It's incredible.
Can you imagine coming here with your family, with your kids, and just having a good time. And you don't have to worry about food, any of the services needed. You just come here and they take care of everything for you. It'll be great. Pretty fantastic. All right, Mikey, let's bring everybody to this side. Welcome to the covered outdoor seating area.
Your grand living room opens up to this deck section. You have a small seating area there, main seating area on this side. This is fantastic. And, Mikey, let's take everybody to the other side.
We got more to see. We have to see the spa. We have to see the spa. All right, check this out.
There are two detached structures here. The first one that's right in front of us is your gym. It's fantastic that you get a phenomenal space like that where you have a treadmill, a few dumbbells, everything you need, yoga mats. Perfect place for you to work out, looks at an amazing pond on this side. Behind that is another detached structure where you have a proper spa with a sauna room, bathroom, everything you need.
It's overwhelming to think that all these amenities are within one property. That's what makes this offering so unique. You get the safety and the service of a five-star resort, but you also get the privacy of a mansion, which is fantastic. That's why we wanted to come to Türkiye so we can see it in person and share it with all of you. When I say Kaya Palazzo has everything that you need, I really mean it.
Nestled along the exquisite coastline of Antalya. Kaya Belek has an expensive golf course, numerous swimming pools, a water park, and a beautiful, inviting beach. If you enjoy the privacy that you get while staying at one of the mansions. You can always seek seclusion at the beach club pier, exclusively reserved for mansion residents.
Staying here is super luxurious with all the different accommodations and things to do. Something that I'm really impressed with. Is the hotel's all-inclusive offering, meaning wherever you go and whatever service or amenity you enjoy at the resort is already paid within the price of the mansion or the room that you rent. The team and I had to take advantage of this all-inclusive offering at some of the mini restaurants that the hotel has to offer. We started our culinary tour.
With the kebab house. Which offers all of the delicious Turkish food. That I always find myself craving in Los Angeles. Hi, welcome to my home country, Türkiye.
Today, we're having a kebab night. This is diced meat with red pepper, so this one is going to be a little bit spicy. Then you have just regularly sliced grilled beef. Then you have chicken wings. Then you have kebab with pistachios, which is awesome. That's my favorite.
Of course, we also had to try some of the Asian fare and had a sushi night as well. Fried rice, popcorn shrimp, sashimi, it's gone. I'm glad it's gone. It tastes fantastic, and I'm pretty sure we'll get more.
It's so hard to comprehend. When you look at a menu and you see all these delicacies and all these really nice menu items, there's no price. When you ask them, they're like, Order as much as you want till you can't eat anymore. But for our final dinner, we had to go big.
So we tried out their steakhouse, which we've been hearing about ever since our arrival. I even invited my uncle to visit for the night so he could experience what it's like to stay at the resort. We have my uncle joining us. He lives in Türkiye, so it's nice to see him.
I figured we should come and get the Kaya Palazzo experience as well. We're going to get a lot of comments. Your uncle is a handsome man, I gotta say. Yes, sir. The way they cut their meat is different. The way they grill their meat here is different as well.
So I'm really excited on their take and see how it tastes. Little bit of a Turkish take on a steakhouse. That's right.
Our entire team had a wonderful stay at this incredible resort, making it an unforgettable experience for all of us. I don't play golf, but I enjoy a good golf resort. Something about having beautifully maintained grounds always adds up to the tranquility of the place. But we're not done yet because we still have to go back to the mansion to explore the second floor.
I got to say, I really like the staircase design here, how it's so open. You get natural light from both directions, and it brings you to the second floor. Now, off of the landing here, we have the doors opening up to the primary bedroom, which we're going to tour last. But for now, we're going to go right in.
To start our tour with the first guest suite that faces the back of the home. Same neutral tones are also here. You have your massive king-size bed with a padded back wall and LED lighting, corner TV, same hardwood floors. Definitely a good size room. Of course, this guest suite comes with its, own bathroom as well with a walk-in shower. I wanted to quickly mention that bathroom because the room that we're going to tour next has the same bathroom as well, and we'll go into more details there.
Now, what's left is for us to open up these sliding glass doors. So we can check out this balcony that faces the back of this home. Look at these views. Golf course. We even have a pond on this side, and it's just a nice, tranquil environment. And then you have your sliding glass doors opening up to the second guest suite where we have two single beds.
You have your waters, fruit, everything is set up perfectly for you to enjoy the space. And this is your second guest suite. Now follow me this way. So we can check out the walk-in closet and the bathroom.
You have your pocket doors opening up the space. Wardrobes on each side, your vanity, LED lit mirror, your walk-in shower with a rain head, and your separate water closet. They're both enclosed within these fluted glass doors.
Now, we're going to go back to the main hallway again. At the end, we have another guest suite with two single beds. This room is actually a little bit more spacious than the ones that we just toured. You have a nice walk-in closet area, full bathroom, TV. Look at these rooms.
Can you imagine renting this space out and being able to enjoy it and not worry about anything because resort takes care of everything for you. No, I can't imagine that. We work too much for these kinds of grand visions.
I hear you, but it's just a really nice space. Now, what's left besides the primary bedroom. Is the junior primary bedroom, which starts here. Off of the entry, we have these divider walls separating the walk-in closet from the king-size bed.
I like this corner view where you have the golf course on the left-hand side, pond on the right, opens up to the same balcony that we toured earlier, branded towels, branded sheets. Everything is perfectly prepared, clean, and ready for you. Then you have a small seating area here again, opening up to the balcony. It's a really nice bedroom.
I think the size is perfect. It's not too big. It's not too small. It's just right. And I would love to just lay in this bed, open up the automatic shades, and get my day going. - [Mikey] Yeah, that would be great.
I have a question for you. What do you see in these homes that differentiates them from homes that are for sale. Because these are vacation rentals, but to me, they look like mansions that are ready to be lived in, ready to be sold. That's actually a really good question.
So obviously, because they're constantly renting these properties, they got to make sure that everything functions and everything is reliable. That's really important. They might be a little bit stronger, a little bit tougher. Exactly.
Or flooring might be more durable because you're going to have so many different guests come in here with their own baggages. I think the second thing that's important is they have more neutral tones, neutral finishes and details throughout the property. That way, a home like this can appeal to bigger groups of people who might be interested in renting it. That makes sense. We see that on a lot of rental yachts versus yachts for sale.
Exactly. I feel like yachts for sale are specifically built for an owner versus yachts that are catered to charter. They also have more neutral finishes as well. Exactly.
Now let's check out the bathroom, which starts here. Again, marble floors, marble walls, two-vessel sinks, chrome fixtures. You have your walk-in shower here, and you have your separate water closet on the side. Really nice bathroom, toiletries, details, towels. Everything is perfectly set up for you.
With that, we're done on the second floor. Now, let's go check out the primary bedroom suite. The way this room is designed, how we have the king-size bed on this side, then you have your sliding glass door opening up to a private terrace where you can enjoy the views. Within your terrace, you also have your own pool. I feel like all these qualities coming together make this primary bedroom a perfect place for you to enjoy during your vacation. I mean, imagine starting your day here, waking up, walking out to that terrace, and just enjoying, Antalya.
This is fantastic. Look at the natural light that comes into the space. Room is spacious, warm tones, everything is refined, everything is perfectly clean, ready for you to enjoy. That's it. That's what this room is about.
Yeah, this is really nice. I would love to have the opportunity to come stay here. We're staying at really nice suites as well. But these mansions are obviously on another level. Yeah, and the way that they have everything set up for you, staging with the water, with the fruit, they had fruit and baklava and chocolate in our rooms when we first checked in.
I have to say, did you try the orange? Yes, it was- It was one of the best oranges I've ever had in my life. Exactly. But I feel like you're really stuck at baklava.
And how do you not? Yeah, exactly. That was nice. We don't really get that in Los Angeles. I love baklava, so I can relate to that. For sure. All right, welcome to the private terrace.
This is fantastic. I feel like Mediterranean homes are known for their outdoor spaces. And having travertine on the floors as well as the walls, then this infinity edge pool that's just the right size on the second floor is absolutely fantastic. This is lovely. These views, you have the main pool and the moat down below.
This looks like a scene out of a movie, but this is part of your vacation. I love it. I love it too. All right, Mikey, let's go back in. Of course, an amazing primary suite like this comes with its own bathroom. Let's go check that out. By the way, this is the entry off of the landing.
Going behind these divider walls and going through these pocket doors, we first go into the walk-in closet, and it's extremely spacious with two makeup areas, a ton of wardrobe spaces, another modern light fixture here above, and then space flows you into the primary bathroom. Again, I feel like during these two tours, I used the word scale a lot, and I had to because this is absolutely bonkers. These bathrooms, these rooms and spaces are absolutely insane. Look at this fabricated marble tub with an angled back, chrome fixtures.
Then you have your integrated vanity here with two sinks. These floor to ceiling mount mirrors with integrated light fixtures, marble walls, marble floors. Within the walls, they also have these stone-textured sections. It's beautiful, it's elegant. It's not just a nice space for you to enjoy. But it's also a little bit architectural.
So that way you feel like you're staying at a really nice curated mansion rather than just a nice hotel suite or a vacation rental. Exactly. Then you come over here, separate water closet with fluted glass.
And then you have your walk-in shower here with a massive rain head above. And then you walk out because you're like, you know what. I want to enjoy the outdoors a little bit more.
And this is where you come for that. Your outdoor shower that's private for you to enjoy. And I can't stress it enough. If you live in a place with weather as good as it is here, I highly recommend put an outdoor shower to your property. It's just a nice touch. It really pushes you and inspires you to go outdoors and be with the nature.
Yeah, where did we experience outdoor showers before. I remember Oilnut Bay in British Virgin Islands. That one was fantastic. Then we saw another one in Vegas, Blue Heron's property. That's right. We didn't get to experience that one.
But it was a really nice one. It was very nice for sure. Absolutely. I'm sure we've seen more, but that's all that comes to mind right now.
Exactly. It's been a long day for us, but I'm really glad we got a chance to tour this mansion, tour the other one, learn more about the resort, and share it with all of you. Now, let's see this place, at dusk. All right, everyone. That's it from the Grand Mansion.
Hope you'll enjoy this tour. Big thanks to Kaya Palazzo Golf Resort for making this tour possible. And as always, you can find more information about this property.
And Kaya Palazzo Golf Resort in the description of this video, so make sure to check it out. Now, if you enjoyed our tour, give us a like, subscribe, and we'll see you guys on the next one.
2023-08-27 15:59
Show Video
Other news