Touring a €5.400.000 LUXURY HOME on the MOST EXCLUSIVE street in Tenerife!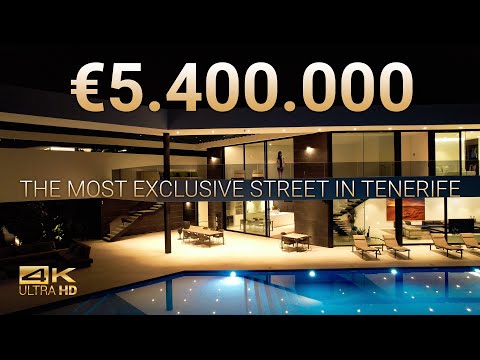 Show Video
Welcome everybody, I'm Angela. Today we are in La Caleta in Tenerife and I'm about to show you this beautiful modern house right behind me. It has 3 bedrooms, 4 baths, and 325 square meters of living area and is currently on the market for 5.4 million € We'll leave more information about this property down at the description. Before I get started I also would like to thank the owners that they allow us to tour this amazing house and we can share it with all of you. Now, let's begin! All right, here we are! From the street level you come inside through this door next to me and on the other side we have this big telescoping gate that opens up to the driveway.
What an impressive entrance, with the polished asphalt that ends up at this beautiful modern carport with a white a frame and the black metal beams, reflecting these beautiful shadow patterns on the sidewall. On my right side, we have white pebbles right next to black volcanic stones from the island, creating this very nice contrast on both sides of the driveway. Let walk up! Look at this bright walkway with porcelain tiles, that takes us up to the front entry of this home. A beautiful modern architecture, withwhite smooth finish, black stone tiles, a big floor to ceiling window and a nice wooden entrance door. Let's take a look inside! Here we are at the entry, where this bright hallway, with the big floor to ceiling window lets a lot of natural light in this home. Now this house consists of two levels.
The ground floor, where we have the living room, the kitchen, the laundry room, the pool area and two additional bedrooms. And the top floor, where we have the main bedroom, a big terrace and the sun deck. Right here are the guest bedrooms. Why don't we start with this one? This pretty-good-sized bedroom is looking to the southeast side of the garden and thanks to these big sliding glass windows, it has a lot of light coming in during the morning.
We have a spacious built-in closet here that I will show you with this liftable coat rack, which I personally really like because that way you have much more space for your favorite clothes. And this flat door pannel with a nice golden color shade inside the wood. Your guests can enjoy this really comfortable AUPING king size bed and watch their favorite movie on this TV. This desk the night tables and the closets are all custom made from the same wood And hat way, the furniture maintains the same balanced style in the whole house.
The guest bathroom is also very pretty and modern with these bright porcelain tiles. A backlit mirror highlights the nice color and texture of the wall behind the floating vanity set. A spacious walk-in shower with a convenien niche, a rain head and a handheld. And next to it, a big frosted glass window letting a lot of natural light in. On the other side, we have exactly the same bedroom and bathroom but the disposition is turned around. Before we see this, let's go out to the terrace.
Look at this beautiful terrace with a lot of privacy to enjoy the morning sun. Now we are in the second guest bedroom that has the same facilities and size as the other one, including the guest bathroom. And look at this control unit on the wall, it has the air-condition, the floor heating and the lights. But now let's go to the entrance hall. The center of this amazing house.
I really love the high ceiling and these big windows that flood all this space with so much natural light. The enormous sliding glass doors connect the kitchen and the living room with the pool area giving us the feeling of freedom inside this house. But the element that gives this place its exclusivity, is this modern, V-shaped, floating staircase with a central landing and a frameless glass railing. From here we get the best view to the living area of this home. In front of me, the living room with this beautiful, dark brown, U-shaped JORI leather sofa and with headrest all around. In the middle a massive wood table set over a nice and soft, color-matching carpet and two CASSINA armchairs on this side.
In front a TV console and behind, these big sliding windows uniting the living room with the pool area. Let's pull them to the side! Sitting in the living room, watching TV, I'm sure you would like to have a drink! Alejandro, can you see where the bar is? [Alejandro] No, I haven't seen it! [Angela] Come with me, I will show you! And before I forget, right at the entrance there is also a little powder room. Here we have the formal dining room, with this big wooden table and six beige, really comfortable ARPER leather chairs. Sitting here, you will always know what's going on in the house.
And right behind the dining table I would like to show you … ... the bar. Hidden away by these two pocket doors. Here we have two MIELE wine coolers, one side for the red wine, I will show you, here and the other side with a lower temperature setting for the white wine. Opening up this side we find a little coffee kitchen with everything we need. Again a beautiful black and white contrast in the kitchen. I love this waterfall edge island with the SILESTONE countertop, and an undermount, double-basin, stainless steel sink in the middle. From here we have the best views while cooking and doing the dishes.
Also perfect storage possibilities with these flat-panel and… soft closing cabinets all around the kitchen. Most of the home appliances are from the swiss brand V-ZUG, like the glass ceramic hob, the dishwasher, the steam oven and the microwave setup. The double fridge with the bottom freezer is from MIELE like the beautiful wine coolers in the bar Everything seamlessly integrated in this wooden wall design. In the corner, a very convenient and spacious office desk with some drawers, which is great.
A hidden, built-in vent in the ceiling and an iPad on the wall. Pretty cool right? Alejandro, did we pass a door walking around the kitchen? [Alejandro] Yes, I think I saw one next to the fridge. [Angela] Let's see what's behind it! [Alejandro] Wow! [Angela] Here we have the laundry and an extra storage pantry. It's spacious with plenty of storage and a SIEMENS washing machine and dryer. Through this glass door here we can also access the back entrance that leads us directly to the car-port.
From there we can take our groceries directly to the kitchen. This outside area has plenty of options, like for example an open air gym, another room, an office, a gaming room, whatever you like. But of course instead of thinking about our "To Do List" we all would like to spend more time at the pool, so let's check out the best part! Here we are, at this amazing pool terrace, with a hidden drain at the border of the pool and it has, kind of, two sections and plenty of seating. Here on this side an outdoor dining table and on the other side an outdoor seating area to enjoy the sun and the fresh air.
The big black metal beams on the roof are creating again this beautiful shadow pattern on the sidewall, that just adds up to the modern architecture of this home. The scale of the architecture and the position of the plants guarantees privacy in every corner, even here outside. And looking towards, incredible views of the sea.
And now, some details about the pool. It's 22 m long, with a nice warm water temperature. It has an automatic cover with a remote control, and all the heating and filter system for the pool and for the house is solar powered by 15 photovoltaic panels on the rooftop of this house.
It has also the perfect length to swim a few laps or to relax listening to your favorite music from those outdoor BOSE speakers all around the terrace. Going this way we have these nice sunbeds with a little table for our refreshments and we arrive to the backside of the pool and the garden. The guest bedroom terrace is easily accessible from here. The garden was created with endemic and tropical plants that are well adapted to the all-year-warm climate in the southwest of Tenerife. The bigger palm trees are perfectly positioned for privacy and the soil is covered with black volcanic stones from the island.
Again a smooth color combination with the black stones, bright tiles and the green plants. This garden doesn't need much to look great. Here we have a tucked shower on this side and I really like this jungle feeling around.
And another modern staircase design, with a central landing and big porcelain slabs that takes us all the way up to the top floor. On this wing we have another outdoor seating and sunbathing area, with some useful furniture and a fridge, very handy for our drinks and snacks. Again, this place is all about these views You get the sea, the golf course and you can see also the little village down at the coast, called La Caleta. It's just a different setting compared to other houses in the area because of its slightly elevated position and the special architecture.
It's super refreshing and very peaceful. Before we continue our tour, I wanted to talk briefly about the area. The small fishing village of La Caleta does retain a lot of its original charm and is one of the little jewels around the spectacular coastline of Tenerife.
During the last decades, La Caleta has also become an exclusive gastronomic corner. Many come here to enjoy some of the finest restaurants on the island, taste some local wines or take a dip in the turquoise waters. Right next to the house we have the beautiful Golf Course of COSTA ADEJE and just a few minutes walk from here we can also find the high-performance Sports Center TENERIFE TOP TRAINING where you can train amongst some of the best athletes in the world all-year-round.
I personally love the environmentally protected area of La Caleta where you can go for a little hike to a white sand beach or enjoy breathtaking sunsets. And now let's talk about the most important room of this house, the main bedroom. As soon as you walk in, you are hit head-on with these explosive views. Again with floor-to-ceiling glass windows all around, perfectly ventilated but still with a lot of privacy. Just amazing. Here I have to talk about brilliant idea that the owners had before building this house.
Before the construction began and the plot was still empty, they built a platform to be able to stand right here at this height where we are now From this point they were able to plan together the disposition of the whole house. Like this they knew that they would have privacy on every corner and amazing views. What a great idea! But now let's continue with the bed. Here we have a very spacious, nice king size bed with a SWISSFLEX mattress and floating night tables on both sides.
Going this way, where we have one of the closets for her. It looks like a high-end boutique store. The symmetry, the aligning, the hanger space, the drawers, everything about it. Obviously it is a good sized closet, where you can reach everything so easily. Here we have a direct sliding door connection to this modern bathroom, with bright porcelain tiles, textured wall behind the floating vanity set, a frameless sensor mirror and an integrated built-in closet. Also, we have a spacious walk-in shower with a rain head, a handheld, a little niche and a big frosted glass window that provides a lot of natural light.
On the other side, we have the same bathroom and closets for him. Alejandro, do you know what's behind this glass window? [Alejandro] Yes, and I think it's pretty cool, you should show it! [Angela] Let's see! So, I have never seen a courtyard between two bathrooms, it is a really unique feature of this house, right? [Alejandro] "Yes, it's so creative" And walking to the other glass window we land in the second bathroom that has the same facilities, style and size like the other one, including the spacious walk-in closet. Let's see the other wing of the top floor. Again, this house is all about outdoors, it's incredible. And I feel like we're gonna keep talking about the views, but I mean, look at these mountains, it's like Hawaii in Europe.
and now at sunset the whole scene gets a beautiful orange color shade. And here we have also a nice sunbathing and seating area with an almost invisible and very refreshing outdoor shower. We also have to talk about the street down here. It's the most expensive street on the Canary Islands, only with luxury villas, daily groomed, in the center with beautiful endemic palm trees and a nice path to walk towards the fishing village or up to the golf course. Now, let's go back to the staircase and to the landing of the top floor.
We have an iPad also up here to control everything and an enormous open space with high ceilings bringing all that natural light in. And since I like Christmas very much, I always like to imagine here a big Christmas tree, to fill up the space with beautiful lights and colors. Walking down on these stairs you can feel all the eyes on you. Perfect for a movie scene with a nice evening dress.
And talking about movies, a big international TV Series was recently filmed here in this house but we can't reveal more information for now. We will post something soon about this production, so make sure you follow us. So, I haven't talked about the technical part till now, that really adds up to the whole living experience of this home. This is the part that Alejandro really likes, right? [Alejandro] Yes. I love this system. [Angela] And you remember, we saw already two iPad's on the wall, but you can also control everything from your smartphone, wherever you are. With the home automation system you get access to every corner and room of this property.
Music, Lights, screens, cameras, alarm system, everything… I hope everybody is enjoying this video. I wanted to make sure you guys saw every detail possible. And for that reason make sure to subscribe to our channel and hit that like button.
Now, we won't be doing justice to a home like this unless we have seen this property at night. Alejandro! Could you hand over my phone please? [Alejandro] Of course, here you go. [Angela] Thank you! All screens down! As you can see, at night this home really comes to life. But what you don't know is that we can also switch off the sun! So this home is extremely private. Whether you are in the living room, main bedroom, all you see is these incredible views, thanks to the architecture and interior design.
As I like to say: "Less is more" And that's pretty much it for this video. It was my pleasure to tour this beautiful house for all of you. I hope everybody enjoyed it, and if you did, make sure to give us a like. If you have any questions or input, leave us a comment below. And if you would like to see more house tours like this, make sure to subscribe to our channel and even turn the notifications bell on. Lastly, before we go, I want to thank the owners for allowing us to tour this amazing house and share it with all of you.
For this property we are the listing agents, so visit us on our website or on social media on the link below. And if you own a unique property or you have a listing that you would like us to show, make sure to get in touch with us. You name it, we tour it! See you all soon!
2023-01-06 00:51
Show Video
Other news