Touring a $59,000,000 Mediterranean Villa in the Most Expensive Neighborhood in USA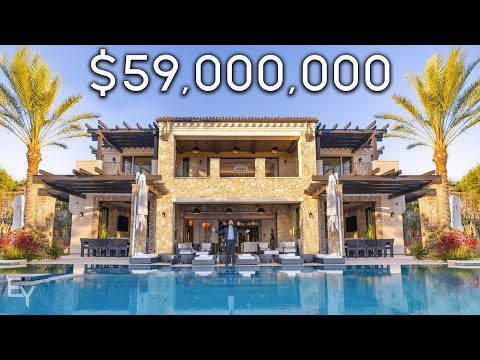 Show Video
Newport Coast, a scenic part of the iconic California coast. Situated between Los Angeles and San Diego, this idyllic waterfront city is home to some of the most lavish and elegant properties in the entire state. And that's why we're back here again. Hey, everyone.
Welcome to another episode. Today we're touring this newly constructed Mediterranean estate located high up in the exquisite Crystal Cove community. Views are absolutely breathtaking, interior is just as impressive, and we are beyond excited to showcase this home to all of you. All right everyone, let's start our tour.
From the street level, we have the staircase bringing you to the entry of this home, complemented with a really nice water feature. And on our left hand side, we have a utility elevator that picks you up from the street level. And also on the other side, we have a cobblestone driveway framed with two beautiful palm trees. That takes you down to the subterranean level of this house.
Where we have the amazing car gallery. We're going to see that space later. And now, facing back to the house, it's a beautiful Mediterranean estate. Stackstone arch openings, tiled roof, shutters, casement windows.
We have a lot of beautiful finishes and details that we're going to cover on this tour. Now, right in front of me, we have the covered entry chandelier above, and this is where we can get a close look to the exterior finish of this home, which is this really nice mixed stack stone that gives a lot of character to this home. Now, follow me this way. This is the main door, steel cased, and I got to point out this custom door handle.
Really nice. And then you go in, you have this secondary covered section with this groin vaulted ceiling that adds up to the character. Steel case windows.
Look into the formal dining room area, and if you continue, you go straight to the courtyard. Now, this courtyard is located right in the center of the home. It brings natural light and fresh air to all the rooms on the first floor as well as the second floor. I mean, look at the amount of natural light you get with this space. Then you have this really cool art piece right in the center, and they have a matching one or a similar one at the pool as well. Now, the other detail I like is the fact that you have sliding glass doors pocketing into the walls and opening up the courtyard to the kitchen, as well as your formal living room.
And the views in front of us are absolutely incredible. With this house, you feel like you're floating above the ocean. We're going to talk about the views in a second.
I also really like this living wall detail here. Even though it's a faux wall, so it will maintain its colors. And we have these two really charming balconies off of the second floor bedroom that adds up to the character of this home. And then you come over here, we have another steel cased, massive front door. This is technically the second entry point of this home.
Opens up to the elevator landing as well as the staircase. And how cool is it, the fact that you walk in. To your courtyard first and then to your home every single day. - [Mikey] All these sliding glass doors are closed. This becomes, I guess, the main front door next to you as well, right? Exactly. Yeah. It's just a really cool space.
Like I said earlier, we have the kitchen on the left. But first, let's pull everybody here so we can check out the formal living room. Look at the barrel ceiling here with all these brick tiles, chandeliers. Then you walk in, you have the Pacific Ocean right in front of you, this massive opening, two separate seating areas.
We have a fireplace complemented with this beautiful stone wall. Two niches, perfect place for you to feature your art. Wood clad ceilings, recessed lights, built-in speakers. And the entire space opens up to the covered section of the backyard, which then leads you to the infinity edge pool looking over these incredible views. Now, before we continue, I want to talk about the specs of this home.
We have six bedrooms, ten bathrooms. Approximately 14,000 sqft of interior space. On the market for $58,888,000. And this home is also available for short term rentals. And as always, we will have more information about this property, this listing in the description of this video, so make sure to check it out. And with that, we're done with the formal living room.
Obviously an incredible space. Look at these views. And going to the other side, we have this opening leading us to the family room.
Two L-shaped couches, leather ottomans, linear fireplace here with a TV above. And I also like the fact that they brought the stackstone to the interior as well, which gives the home a nice cohesive feel. And it's just a phenomenal space for you to sit down, relax, watch TV, and enjoy these unbelievable views.
I mean, this is incredible. - [Mikey] Yeah, these views are incredible. Very beautiful. You look out, all you see is blue. But you said this house is for short term rental as well, right? Yes. So as we go around,
you're going to see a lot of bars, kind of like taps, different rental features that we wouldn't always see in homes for sale. I was looking behind you, of course. So this one is actually not a kegerator. This one makes regular and sparkling water.
Oh, really? Even better. Wet bar. Even better. Exactly. Then you have this backlit panel. It's a nice wet bar.
I believe there's a fridge here also. And then it flows to your informal dining area. Solid wood table seating for eight. It faces the hallway that we mentioned earlier, opens up to the courtyard, and it even has a Miele espresso maker. Before we continue, I want to take a second from our tour and give a special thanks to BetterHelp for sponsoring this video.
To be honest, I know a lot of us struggle with our mental health from time to time, and it can in turn affect our daily life. Regardless if you're someone who struggles from anxiety or depression, or if you just need someone to talk to, we believe therapy can be an amazing tool to utilize if you need help to get in control of your life. If you guys don't know what BetterHelp is, they're an online therapy service that strives to make therapy more accessible and affordable.
All you have to do to get started is to head to their website and answer a few questions about you so that BetterHelp can match you with the right therapist in as little as a few days. And in case the therapist that you match with doesn't quite fit your needs, which is a common thing with therapy, you can easily switch to a new therapist. This way you don't have to deal with the hassle of stressing about your insurance or your network. I know personally, BetterHelp is amazing for someone like myself because the team and I are always on the go traveling to make these videos, and it is hard to be consistent with appointments in person. If you want to see if BetterHelp can be the right fit for you, head to BETTERHELP.COM/ENES. That's BetterHelp to get 10% off your first month.
And I'll also link them in the description of this video if you want to learn more. Once again, big thanks to BetterHelp for sponsoring this video. And now let's get back to our tour. Now let's talk about this gorgeous kitchen.
Look at this island, the way they designed it. Stone fabrication here. And then on the bottom you have a foot rest design for bar stools, I'm assuming. Seems like typically you would have them here. Correct. But they left it all open and minimalist.
Then you also have a built in planter section here. Color of the cabinetry is actually really unique. It's like a light gray with a hint of blue. And I just love how you can see the veins and details of the woodwork as well.
Stackstone is also brought here as a backsplash. You have two dishwashers, main sink with a casement window in front of it. This is the other side of the island. It's massive. And of course, you have another sink here, built in microwave, wood clad ceilings to give you that Mediterranean feel. And they also have some pendant lights to bring color to this kitchen.
Now follow me this way. This is where we have the built in gas cooktop. Then you have the vent above, and they basically clad this entire section with stone as well to match the cohesive design elements of this kitchen. Around the corner we have the chef's kitchen that also comes with a gas stove, fridge, dishwasher, sink, everything you need. There's even a small bathroom there as well.
So I wanted to point that out. Really nice, very spacious kitchen. And I just love the fact that it opens up to this courtyard.
How nice to live like this. This is technically outdoors, but it's encapsulated in your home. So it feels, I want to say more controlled and like kind of it's. Like outside, but not actually being outside.
Exactly. Normally if you just leave your sliding glass doors open, you would feel like something can come in. This still feels like it's part of the interior of the home.
Yeah, it's funny in the comments we get this question all the time. What do people do about bugs in California? It's funny. Like, I'm originally from Texas and I thought the same thing when I moved here. There just aren't really any bugs. It's really nice. The weather's always really good.
Well, that's why everybody praises California weather because not only so nice, you don't really have any bugs. Now, welcome to this formal dining room. We talked about this room briefly off of the entry. That's the steel case window that faces that section. You have French doors opening up to the courtyard as well as the front of the home.
Then you have this beautiful glass table in the center, seating for ten, colorful chandelier above. And they brought the same barrel ceiling detail here as well with these brick tiles to give you that authentic Mediterranean feel. And I think they accomplished that. Nice and elegant. Beautiful formal dining room.
Now we're going to go back to the formal living room area so we can check out the right wing of this house. I'm just going to take the courtyard since it's a bit of a shortcut. Again, you can see the barrel ceiling here.
And now let's focus on this side. Now over here on my left, we have the first bedroom suite that faces the backyard. You have built in closets, king size bed.
The entire room opens up to the backyard, comes with a full bathroom. And it's just nice that bedroom here can also enjoy these views. Now let's go check out this powder bathroom.
Look at the space. Look at the stone on my right hand side, complemented with this art piece. Then you have the vanity in the center. And what's so different about this vanity is the fact that it's actually pulled back from the wall. There's a casement window on the back, so all the water and drain lines are actually running inside of this vanity, which may seem like an easy task, but it's actually not.
A lot of times you have these lines within the walls and then you brought up your cabinet to it and you just poke holes to connect your vanity to these lines. Now think about it. You have a hot line and a cold line coming to this faucet. And then you have a single line that mixes both of those waters going through the vanity into the floors, into the wall, all the way to the ceiling and to this faucet right here. How cool is that? And you know, I'm going to have to ask. There you go.
And that's your ceiling mount faucet right there. Really cool sink. I just wanted to make sure people understand that this is not a vanity. I'm sure this was a lot of work in regards to designing, running all the plumbing lines to make sure it fits the space well, but it still functions properly. Yeah, for the laymans out there. Enes and I had a conversation before we filmed.
Typically, I guess, they run this stuff through the walls because it's easier. So that just shows how well-planned everything is. Because walls have all these cavities versus inside of the vanity is going to be really densely packed with the tracks and drawers and all that. But they made it work. Now, welcome to the main entrance of this home.
This is the front door. Look at this glass enclosed elevator that goes to all three levels. That's right. We have the subterranean level. Which houses that amazing garage, chandelier above. And going through these double doors, we have the office, desk on the right with some built-ins, wood clad ceilings.
You have multiple French doors opening up to the courtyard. Front of the home as well as the side because side also features another water feature. You have a built in desk here, nice fireplace, really nice office with hardwood floors. Now with that, we're done with the first floor. Now let's check out the backyard.
Off of the formal living room. We have the sliding glass doors pocketing into the walls and seamlessly opening up to this covered section where we have two outdoor seating areas. Space heaters above and walking this way. Right in front of us we have this 78 foot triangular infinity edge pool looking out to these amazing views. This is incredible. Yeah, this is a true infinity edge pool and incredible views.
I agree. And this property is so private. It's so peaceful. You can literally see waves rolling in. This is fantastic.
Let's continue our tour. Now, on this side, we have the family room opening up to the outdoors, outdoor dining area. Down below we have an outdoor kitchen with a built-in barbecue, sink. And down below there's actually a swim-up bar.
I don't know if you can see the kegerator from here. And they have bar stools built into the pool as well. Super nice. And coming back to the pool, you have the Baja shelf, incorporated hot tub.
These views, it looks super inviting. This is why people love living in California. Amazing weather, incredible views. It's really nice.
Yeah, I don't think there's much to say beyond that. The camera shows just how nice it is, I think. And the weather is just always perfect. I agree.
And one more thing I want to mention. This property is on a front row, meaning this street has a backside and the front side. And obviously, front side gets these unobstructed views. A couple more things about the house.
It was built two years ago, so it's technically brand new. I love this stack stone that they use throughout. It really warms up the property. And now we're at the pool cabana. The door on my right opens up to a full bathroom. Then you come over here.
You have a really nice outdoor seating area. This section is covered. You have your fireplace. There's actually a TV nicely tucked behind the cabinetry there.
You have your sink. I love the stone countertops over there. Two light fixtures.
And look at the other side. They have a glass insert in the center of this pool. That way you can see people swimming in the pool. And it's just a nice backdrop. It's just fun. I feel like we've seen this before.
Typically, it's like a small little waterfall detail. This one is the general. This is a pretty massive piece of glass. I agree. Show how thick it is real quick. I would easily say probably five or six inches, maybe. Yeah, it is pretty massive.
And there's also a nice art piece here, just like the one that we saw off of the courtyard. And more of these views. Now the backyard continues.
We have another outdoor kitchen here. Small sink, built in grill, pergola design above. And look how nice this outdoor seating area is. They even incorporated a water feature on each side.
That flows to this lower collection pool. And then you have these three stone steps to take you to the other side. Nice fire pit in the center, built in seating. More of these views, and then a putting green. I mean, this is fun.
This view makes me think of a scene where I have a bluetooth headphone, I'm playing golf, I'm running my business, and just looking at these views. It's always like that. Classic American movie scene. Exactly.
Yeah, I can see it also. And wow, it's a lot to take in. Some would say we gotten used to seeing incredible homes.
But every once in a while, I live these moments where I'm at a property and I look out, I go, wow, this is a residential home. You can live here, and you can enjoy this backyard every single day. And to me, that's crazy with these views, it's almost inspiring. And on top of that, you're in Crystal Cove, one of the most premier developments and residential neighborhoods in the entire state, in my opinion. You have beautiful streets.
The entire community is gated. There's an architectural design code for the entire development, so everything looks very cohesive and uniform. You have these beautiful homes.
Streets are meticulously maintained. And on top of that, you're situated high up in the development where you get these unobstructed views. This is absolutely gorgeous. And I was thinking about this.
This property is on the market for sale. It is also available for short term rentals, which means you can come and rent this home for a couple of weeks. Give it a try, see if you like it, and if you do. You can make an offer.
That makes so much sense. I don't know why every home buying experience isn't like that. It is a pretty cool concept. Yeah. And I agree with you. Every home should be like this. Exactly. And with that, we're done with the backyard.
Now let's go to the lower level. Welcome to the lower level I want to showcase the elevator. And on my right hand side, we have the staircase. First, let's check out this amazing bar. Look at this island here with the stone fabrication, stackstone up front with LED lighting. And this island here houses your kegerator, sink fridges.
You have more fridges on the other side. And this back wall design with backlit panels, three TVs, all these spirits. This is a beautiful bar. I feel like I just arrived to a really nice hotel bar here, which is fantastic.
You have seating area over here. And to keep that rustic feeling, they still brought the wood clad ceilings. And this entire lower level is here for you to entertain. And it's just really nice, ceiling heights. And actually, if you follow this hallway here, it leads you to a one bedroom guest apartment.
I say guest apartment because it is the only bedroom on this level has its own bathroom. And there's a secondary bathroom here, which also leads to a spa, because right on the other side, you have your gym. Again, this level is here for you to entertain, work out, feel better about yourself. And you have your Peloton bike here, tonal on the wall, rowing machine, treadmill. And just like I said, it connects to the bathroom as well as the sauna.
And there's also a nice wet bar here with a TV. Now let's go back in. I also want to say this seating area is very elegant. I really like these chairs. Yeah, they're super comfortable.
Also, by the way. Not only they're comfortable. These chairs have this mid century element to them that I really like. If anybody knows the brand, let us know in the comments below. And then you have the seating area here. This might be the biggest L shaped couch we've ever seen. That's a standalone couch.
I'm trying to think, all the L-shaped couches that we've seen. The one in Vegas at the penthouse suite. I was like, We've seen a lot of L-shaped couches. I don't know if I can narrow it down to one. I think that was the biggest one, but that one was almost a built in.
And this one is a standalone. Then you have this gorgeous coffee table in the center, another TV. And then you come over here, you technically have another dining area complemented with this wine wall.
I love how these bottles are displayed. It's obviously temperature controlled. Then they brought the barrel ceiling here as well, giving you that Tuscany feel. There's a small kitchenette here, sink, cabinetry, built in appliances. You can host a dinner here very, very easily. Yeah, and I don't know why.
Something about having a wine cellar in a stone room with barreled ceilings always makes it feel more authentic to me. On the lower level tier. Yeah, exactly. Now let's continue our tour, Mikey.
We have this door opening up to the movie theater. Let's go have a quick look. You have three-tier seating, leather recliners. Massive screen, projector behind, built-in speakers, padded walls. This is a really cool space. Yeah. What I'm looking at behind the camera right now, it looks like a video thumbnail.
It looks really cool. I love this theater. I was going to say it's a contemporary take on a movie theater. Between the wall coverings. These leather recliners with the diamond pattern, and even these I want to say, coffee tables are carbon fiber, by the way. Yeah, very cool. Cool touch.
And yeah, this is your movie theater. Now let's go back in so we can go to the other side. I also want to say we've seen this layout before because we've toured other properties in this neighborhood. They all have subterranean levels, or most of them do.
I don't want to say all the ones we toured have. And it's just nice that you pack the amenities. On the lower level, you have your main floor, and then upstairs you have the bedrooms. Now this door here opens up the laundry room.
Washer, dryer, plenty of cabinetry space. And you also get a sink. And then going through this door, we come to the subterranean garage. Now, calling this space a garage doesn't do it justice. It's approximately 3500 sqft.
It's more of a car gallery. In fact. Look at the cars we have here. Rolls-Royce Ghost. AMG GT Black Series, Model S Plaid . Strong lineup and lot of square footage.
Look at the space. Yeah, this is huge. You could easily fit another four to five cars in here, no problem. Possibly more if you stack them back to back. What's your favorite right here on this lineup? Rolls-Royce, for sure. I thought you would for sure go with the Mercedes. Look, this one would be a lot of fun to drive, but I feel like this is more practical.
And I like that it's subtle. Like you're not going to draw too many eyes on you. You just like that it matches your suit. It does match my suit, but I think I like it because it's more subtle.
And this one, there's nothing subtle about that. There's nothing subtle about this one. Yeah. Really fast car, though. Then we have some built in cabinetry, small kitchenette here, dishwasher, sink. They even have a cooktop. And that's your garage door.
Now, actually, Mikey, can you, come over here. Another cool fact about this home. This property is about 95% self sufficient.
They have batteries, they take natural gas, convert it into electricity, and the waste from that conversion actually heats up the pool. Really? Yeah, exactly. So these are some of the batteries. I believe if you lose electricity from the city grid, this house can maintain itself for two days. Oh, I noticed. Power itself. I noticed they had a solar array. Exactly.
As well on the roof but that's really cool. They were thinking ahead. Yeah. And with that, we are done on the lower level. Now let's go to the second floor so we can check out all the guest suites.
All right, let's go check out the second floor. We have four bedroom suites on this level, including the primary bedroom. And we're going to start our tour with this one right here.
This room faces the front of the home, comes with a private balcony. You have your queen size bed right in the center, wood clad ceilings, built in cabinetry on each side. We have a built in desk here.
And, Mikey, follow me this way so we can check out the bathroom. We have tile floors, vanity, LED lit mirror, walk in shower, good size bedroom, and a good sized bathroom. Now let's go back to the hallway again, because I want to mention.
If you follow this hallway, the door at the end opens up to another laundry room. And the door right here opens up to the second guest suite, which is pretty similar to the bedroom that we just toured. Comes with a queen bed, full bathroom, private balcony, everything you need.
That's the second guest suite. Now, follow me this way. Back at the landing elevator on my right hand side.
And we have a small seating area here. Couch, TV. And this is technically the landing for the primary bedroom and the junior primary bedroom suite. Before we go check out the primary, obviously, we got to check out this room. Queen size bed, French doors, open up to a really nice balcony that looks down to your backyard, as well as these amazing views. Full bathroom here.
Definitely good size. And, yeah, that's it for the third guest suite. Now let's open up this massive pivot door so we can check out the primary bedroom suite. Come on in.
The scale of this room is absolutely insane. You have your king size bed, barrel ceiling here with this crystal chandelier. Nice seating area in front of your fireplace, stone clad wall.
You have your TV in the center. The entire room opens up to these views. And on the back, you can see these two balconies that I talked about at the courtyard, bringing even more natural light to this room. Built in desk area. There's even a coffee maker right next to Mikey.
Let's show it to everyone. Not joking. This is your dream, again. Too much, maybe too much. I drink way too much coffee. Well, you have a nice desk in here, and you have a coffee machine. So if you finish your work, in your main floor office. You can always do work in the morning or at night up here.
If you wake up at 04:00 A.M., you have some ideas, you want to write them down. You can do that in this bedroom. That happens to me all the time. When I'm in the middle of the night, I wake up, but I'm like, I can't go all the way down to my desk just to write these ideas.
I'll go back to sleep. I hear you. I mean, this primary bedroom truly has it all. Seating area, desk, king size bed, amazing bathroom behind me.
And again, I just love that. You have sliding glass doors, seamlessly opening this bedroom to a private balcony, which we're going to check out in a second. Now, you have steel cased double doors opening up to your bathroom. Right in the center, we have this massive walk in shower, all marble. You have your rainhead above. Even your built in bench kicks into the walk in shower, so it serves the shower as well as the outside.
Then you come over here to your freestanding tub, chrome fixture, picture window facing these amazing views. Then you have two doors opening up to the balcony as well. Now, this is where we have the first vanity. You have a makeup area on the right hand side. Cabinetry here, natural stone countertops, this textured back wall, LED lit mirror, massive sink, chrome fixtures. And there's actually another one on this side as well, wall sconces, too.
And then we have two doors opening up to a very spacious walk in closet with an island right in the center. You have plenty of space here, but I want to respect the owner's privacy, so I don't want to go in there. And let's not forget the water closet, which is on the left hand side.
Now let's check out the primary bedroom balcony, which is absolutely incredible. This entire section is covered. Two chairs, fireplace on the other side. And more of these views straight from your primary bedroom. Pretty incredible. All right, everyone, that's it for the tour.
Hope you all enjoy this video. Don't forget, this property is on the market for sale, and it is also available for short term rentals. And we will leave more information about this listing in the description of this video, so make sure to check it out. Now, if you enjoyed our tour, give us a like, subscribe, and we'll see you guys on the next one.
2023-09-12 19:24
Show Video
Other news