Touring a $29,000,000 Italian Inspired Mansion in CALIFORNIA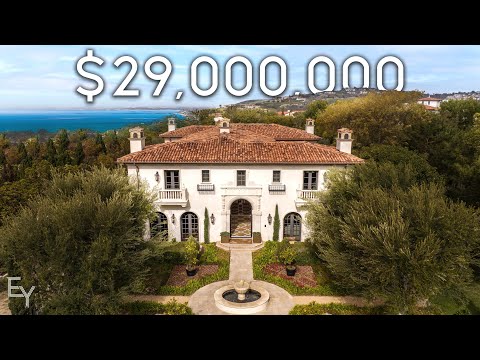 Show Video
(gentle jazzy music) - Hey everyone, today we're touring this beautiful Italian villa in Newport Coast, California. The design elements, textures, details, this house packs so many surprises. It's a wonderful blend of warm and contemporary finishes. It's going to be a fun episode, let's begin. (gentle jazzy music) (gentle jazzy music continues) Alright everyone, let's start our tour on the exterior. We have this gate opening up to the front garden.
Space looks phenomenal. Right in the center we have this beautiful fountain, setting that Italian tone for this property, four olive trees, beautiful landscaping. And if you take that walkway on my right hand side, it takes you to the side yard where we have another patio, and we're going to see that space later. This walkway takes you to the cobblestone driveway that goes down to the lower level where we have the eight-car garage. And in that garage we have some nice cars that we're also going to see later. Now, let's look at the house on the exterior for a second.
Smooth stucco, precast stone trim around the doors and windows. I love those stone balconies right there. We actually have two bedroom suites facing the front of the home and two small seating areas, steelcase doors, and this grand entry takes you to the foyer. Two story ceilings, molding details throughout, beautiful marble floors with inlays. And this entry sets a great tone for the rest of the house. If you follow this hallway, it actually takes you all the way to the backyard, which we'll see later.
And I want to start our tour with the office. Beautiful herringbone hardwood floors, seating area here, French doors behind me, opening up to the front of the home where we have a small seating area, Marble fireplace that really compliments the room. And we have the desk here, built-ins on this side. More of the darker tones to set that really kind of a timeless office feel. Now, let's go to the other side.
We have this opening, taking us to the formal living room. Again, gorgeous hardwood floors, minimalist seating. I really like this marble coffee table here. Chandelier above, four curve-top French doors opening up to the outside. We have a small seating area here.
Courtyard on my right hand side, another fireplace, this beautiful piano, wallpaper. This room looks very timeless and chic. I just love the feel of it. You feel very warm here.
- [Mikey] Yeah, I love that office too. But really, really tasteful wallpaper and I feel like it's always a nice touch, you know. - For sure, especially for a formal living room.
This house has more of a traditional layout, that's why. We don't have that wide open floor concept, rooms are a little bit more closed off. And yeah, this is the entry. That's the office and this is your formal living room. Now, I want to take this French door here, so we can check out this beautiful courtyard.
Natural stone floors, water feature right in this center. I love these wall sconces, French doors opening up to the space. And they have these openings on each side for you to place some flowers, small trees or landscaping to just dress up this beautiful outdoor space. Now, let's go back into the house to check out the staircase landing, which is phenomenal. Again, beautiful marble floors with these inlays. Then we have the staircase going up to the second floor.
Curves beautifully, marble threads, brass railing. Three windows bring in natural light to the landing as well. And I really like how the bottom of the staircase is all smooth complimenting the architectural lines of this home. Now Mikey, can you go back for a second? Can we show the second floor landing? Look how beautiful that corner is, the radius there. It's such an elegant touch. - [Mikey] I feel like typically with these traditional homes we see a lot of like sharp lines and edges.
Is that common? - I mean, you're right. Most of them generally have like 90 degree or like sharper corners versus this one, is a unique take. It reminds me an iPhone, like the edges of the iPhone. And it's such an elegant touch. In fact, I'm helping a friend of mine design a house and his architect and his interior designer are incorporating a lot of these radius' to the home and it just looks beautiful.
Now, before we continue with what's behind me, I want to talk about the specs of this home. We have six bedrooms, seven full, two half baths, 12,234 square feet of interior space on the market for $28,888,888. And I want to give big thanks to the listing agent, Hanna Karcho, for making this tour possible. More information will be in the description and we are excited to be in Newport Coast. Alright, follow me this way. Let's check out this space here, which is the formal dining room.
Alright everyone, before we continue our tour, I want to give big thanks to today's video sponsor, Athletic Greens. I've been using AG1 for the last few months and I love it. As you all know, we travel a lot. We're currently in Colorado.
We were in LA a few days ago and tomorrow we're flying out to Florida. So, living a lifestyle that I live and traveling all the time, it's really hard for me to maintain a good healthy diet. And having AG1 on-the-go is the best thing ever. AG1's formula includes 75 vitamins, minerals, whole food source nutrients, and it's just amazing. All you need is eight ounces of water and a scoop of AG1. You put it together, mix it up, you're ready to go.
It's that easy and that's why I love it. That's why I feel like it compliments my lifestyle so well. AG1 is now offering you an amazing deal where they give you one year supply of D3, K2 plus five travel packs for free with your first purchase order. All you have to do is click the link in the description to check out AG1. And I cannot stress it enough, I love this product.
It's become an important component of my life. It tastes great, easy to make. I bring it with me everywhere I travel, and I highly recommend you try it as well. And big thanks to Athletic Greens for sponsoring this video. And now let's get back to our tour. (gentle music) Glass table in the center with a solid wood leg, seating for eight, chandelier above and above that we have this beautiful cove lighting.
On the walls, they have this padded texture. It's actually not a wallpaper and it just warms up the space, gives this more timeless feel. And then you have the hardwood floors, French doors opening up to that courtyard that we just toured. It's a really nice dining room.
Now, back to the hallway, right on the other side, we have the elevator, powder bathroom, but we're going to check out the first bedroom on this level. King-size bed, TV on the other side, hardwood floors, two casement windows here. They also brought the same crown molding details to this room as well. Nice and cozy. Comes with a full bathroom with marble floors, walk-in shower, everything you need.
And it's just a nice bedroom to have on the first floor of this property. Now, I want to actually bring everybody back here, so we can check out the powder bathroom. It's packed with details. Look at the vanity here with the marble countertop.
All these edges, curved cabinetry. Then we have padded walls here. And Mikey, can we get a close up? You can actually see it better here. Like this is, it's a layer of cloth. - [Mikey] Was it like this in the living room by the entry also, or that was that wallpaper? - That was actually wallpaper, but the dining room is like this.
And I love this border detail that they have. It's even around the vanity. It's so elegant. It's so tasteful. Wall sconces, chandelier above.
This is your separate water closet. Look at the wainscotting on the wall with mosaic marble inlays and so beautiful. This is the powder bathroom. Alright, let's continue, back to the main hallway. Now it gets more interesting here. Before we check out the kitchen and the main seating area, I actually want to take everybody here.
Look how elegant this bar is. You have a small fridge, panda marble countertops, and it's actually book-matching. You can see the seam here going up to the back splash too. Copper sink, upper cabinets, espresso maker.
It's a nice bar. And Mikey, why don't you come this way? Either you can come through the hallway or that opening, we go straight into the kitchen. Without a doubt, my favorite part of this home, I love this space.
Two massive island with marbled countertops. This is panda marble, it's all book-matched with waterfall edges. This island is more for seating and the other one houses the sink and all dishwashers. Now coming here, beautiful shaker cabinetry with inset cabinets. Marble countertops, it's all book-matched with the backsplash, uppers have LED lighting inside.
And coming here, your paneled freezer, I believe. And you have the fridge here. A lot of you are asking us to show inside of these fridges. This one is subzero and this is what the inside looks like. - [Mikey] I know a lot of people want to know, like before these houses are bought, if there is stuff in the fridge. Some of the houses we've been to have a lot of drinks and stuff in the fridge, - A lot of good drinks too! - [Mikey] And we can kind of help ourselves.
Most of them just have water though. - Exactly. Remember the Park City episode. We've gone over like 500 comments from all of you asking us to talk more about hardware. Now, this is not the most technical kitchen ever, but here's one thing that I can teach our viewers for them to assess.
I probably picked the wrong drawer. - Full of glass? - Yeah. There you go. So, if you look at a kitchen cabinet, if you can see the tracks of the drawers on the sides, those are generally cheaper hardware. If they're hidden underneath the drawer, that's more high end.
If it has a cleaner look, it's easier to maintain and kind of lift off the drawers from the tracks and it just looks very sleek and clean. You go low, if you open up cabinets, you're going to see the tracks on the side. You see something custom, it's going to be hidden underneath the drawer.
- [Mikey] My bedside table, tracks on the side, you know? - Yeah. We got to work on that. Alright, now, second island. Mikey, can you come to this side? This is a unique touch on a dishwasher, personally I dig it.
We have four dishwashers here. One, - They're little small ones. - Exactly. Two. You know what's great about this is you don't have to run the full dishwasher, you can run a half load.
You can run them all four, which will serve as a two full dishwasher. It's just a different take. You have this beautiful black farm sink on this island, then you have a 16 inch Wolf Gas stove with a griddle.
And this vent with this darker tone contrasts so nicely against this panda marble. You have your pot filler here. Just a beautiful kitchen.
And color pallets in this house was very well thought out. Like you have lighter cabinets with black hardware. And if you look around, all the French doors have black hardware. So there's this beautiful continuity throughout. And if this wasn't enough, there's actually a full-size pantry here with a little built-in desk.
Phenomenal space, beautiful kitchen. What do you think? - [Mikey] I really like it. I always like white and black together. Usually they don't have black and white stone, but I really like this kitchen.
- Super nice. You even have a nice copper sink here. And if this all wasn't enough, you have your informal dining area off of the kitchen. Four French doors open up to the outside. Beautiful view of your pool, chandelier above.
This could be another seating area too, if you want to, but I think dining area is more appropriate and really nice. You just have your morning coffee here, have your breakfast. I like this house. I'm now personally imagining myself living in it, which is a dangerous place to be. So, let's continue.
We have French doors here opening up to the backyard, which we're going to check out in a bit. Again, beautiful molding details. We have pocket doors here, sealing off this room because this is your main family room. Massive L-shaped couch, beautiful carpet, coffee tables.
That's a custom screen. It's basically, I'm assuming a projector. Oh, they have a projector, short throw. - [Mikey] Oh, that's one of those short throws. - There you go, I was looking up on the ceiling. It's a very spacious room.
You have some built-ins here, another bar. If the bar right next to the kitchen wasn't enough. Same panda marble, dual elevation, pendant lights. And I just realized that they also ran the marble on the back wall here.
It's a super nice bar. And this is your family room. Mikey, can we turn around one more time to show the scale. Fireplace here. This is super cool. Not to mention you have sliding glass doors opening up to a covered patio with a fire pit. And I wasn't going to go there, then I just realized this detail.
It's super nice. So we have hardwood floors in this room, right? They brought the limestone from the exterior to the interior and seamlessly recessed in the tracks. Look how beautiful this looks. - [Mikey] I know you love these like transition details with floors. - I love them.
I mean, it's just something about it bringing two different materials together and incorporating it seamlessly like this. It looks very nice. And yeah, this is your covered outdoor seating area.
That's your backyard. But instead of going this way, actually, I want to take everybody to the other side of the property. Let's open up the French door right here, so we can check out this beautiful outdoor patio. It utilizes the side of the property really well. We have a partially covered section here with these beautiful columns.
Going through this opening, it's a beautiful covered outdoor seating area. But before I talk about the details here, let's take everybody this way. You have this water feature right in the center, landscaping looks beautiful. House is on this side.
And I really like how private this section feels. I know we have an amazing backyard, but it would be great to just walk out here, have your morning coffee, take your phone call, walk around. I, or when I am at my house and when I take a phone call, I pace around our backyard, a lot. So, it's like my ritual.
So, I feel like this would be my spot, even though we have an amazing backyard. - [Mikey] You know what this fountain reminds me of? That people should just like and subscribe to the channel. - Yes. I don't know how you got to that conclusion, but I agree. You all know this, we are terrible at asking, but if you're enjoying our videos, make sure to give us a like, consider subscribing to our channel as well, so you can keep watching these beautiful home tours. And yeah, it's just a really nice space, connects to the courtyard right there.
Landscaping, these midget trees. And then you have the covered seating here. This is another reason why I will spend so much time because you have a TV, fireplace, these beam ceilings, chandelier. It's cozy, it's nice.
You just sit down and disconnect yourself away from the home. And you even have built-in speakers here, come on. Alright, let's continue. Now, another patio space, beautiful natural stone. You can put an outdoor dining area here, another seating area.
You can do a lot with the space. And following this walkway, it takes us to this amazing backyard. Again, extremely private, hedge on this side. And you may be wandering why it's not hedged on the other side, because that's where we get the ocean views. I know from the first floor, it's kind of hard. You can just kind of see the top of it here.
But from your second floor balcony, you get amazing views. Massive yard, grass section in the center. That's your above ground pool, which I'm going to cover in a minute. Outdoor kitchen right there.
And coming here, these are the French doors that open up from the main hallway, straight to the backyard. Outdoor seating, informal dining area, and the house right behind me. Now, let's go check out that amazing outdoor kitchen.
Dual elevation, bar seating, TV on the back with some open shelves. And down below we have a fridge, sink, gas stove, gas grill, everything you need. And a house this size, weather this good, calls for an amazing space like this. Now, let's go this way so we can check out this amazing above ground pool.
Now, I know Mikey is going to want me to try this fruit. What was it called again? - [Mikey] They called Kumquats. I was going to say, you haven't talked about any of the fruit around the backyard. - [Enes] Landscaping here is pretty lavish. - [Mikey] Yeah, anyway, these are Kumquats.
I have one in my hand here. Give it a shot. - You're not supposed to peel this? - [Mikey] I think you might have to peel it, but there you go. - So sour! - Yeah. - Hmm. - [Mikey] Sometimes you get good ones, sometimes you don't.
- I'm pretty sure you were supposed to peel the skin. - [Mikey] I'm pretty sure it had a seed too. Did you eat that? - Well, too late now.
It did taste good though. Alright, above ground pool, it's definitely a statement piece. Massive bar shelf on the left, Jacuzzi is incorporated here, infinity edge throughout. On the inside we have this beautiful timeless white plaster. And on the outside of the pool we have this dark mosaic tile, which contrasts nicely with the plaster. It's massive.
I really like these above ground pools. I'm trying to remember the last few above ground pools that we saw. We saw one in Encino. - Japanese house. - Exactly. And then we saw another one in the Bird Streets with the motorized skylight. - [Mikey] Yeah, that's right.
We don't get to see them that often, but I usually associate these with like kind of smaller properties. So you don't accidentally fall into the pool or something. - You maximize your backyard. - [Mikey] Why would they put this in a yard this size? - To me it's just a design choice. And I agree with what you're saying. Like it's so easy to come to the edge of this pool and you feel comfortable because you cannot really fall into it.
Versus if this was a zero edge, you're right on the edge, you know? And it just looks really nice. It's more of a statement piece, you know, since it's above the ground, and you have a fire feature, beautiful hedging. I mean this pool is amazing. And can we turn this way, Mikey, so we can check out the exterior of this home? I love the proportions and the design of this property.
We have those two balconies, which open up to the primary bedroom and the primary bathroom. But it's so well designed. We're down below, we have a covered seating. And on the other side, that's your informal dining area, beautiful stone railings, all these trim details around the doors and windows. You can see the overhangs with the exposed roof rafters, timeless property.
And with that, we're done with the backyard. Now, I want to take everybody back to the staircase, so we can check out the lower level. Off of the landing, on my right hand side, we have this really nice seating area. Come on in.
Hardwood floors, pool table in the center. Cool light fixture above, some seating. Even have an egress window there in case of an emergency. But a really nice spacious room. Gets better, right next to the seating area, we have the wine cellar.
Mikey, wait a moment. Even this door is steelcase. It's an overkill, but it does look good.
When you walk in you have brick tile floors, built-in cabinetry. This is also temperature controlled. And look at this arch ceiling as well.
Really nice space. And yeah, this is your wine cellar. Next door is the movie theater.
I just love the cozy energy here. Three tier seating. You have some couches here, screen on this side. Even the ceiling is curved following the architectural lines that we've been seeing throughout, mood lighting above, padded walls. Super cozy space. They went little light on the staging here, but obviously in the future, if you want you can do the full built-in movie recliner seats with LED lights.
- The whole thing? - The the whole thing. But right now it's a very cozy, comfortable and a good-sized screening room. Also, Mikey, we forgot to mention.
We toured another property from this developer, in this same neighborhood. - [Mikey] We haven't been to Newport in quite a while. - Do you remember the last house we toured here? Italian architecture? - Yeah. - So it's the same developer. So we'll link that video in the description as well, if you want to check it out.
But yeah, back to the landing. Now, there's a powder bathroom here, since we have the movie theater and the seating area. And going this way, storage closet. This door opens up to the laundry room, two washers, two dryers, some cabinetry. This door opens up to the eight-car garage, which we're going to see in a bit. Follow me this way.
Elevator landing on this level. And this is the last room that we're going to tour. It's currently staged as a gym, comes with a full bathroom. But this is a great room, since it has its own outdoor access, which means you can make this another bedroom. You can have a guest quarters here, staff quarters.
You can do a lot with the space. I personally really like this room. Now, Mikey follow me this way. This is the cobblestone driveway that we mentioned earlier that comes to the lower level and opens up to the eight-car garage. Now this is an impressive space. It's nice to have a garage below your house where you can park your cars and not just a few cars, eight cars in this case.
We have this beautiful Bentley. Can we show the inside real quick? Have I told you this? I almost bought one of these. - Really? - I really like this car. Can you show the inside? The interior is so beautiful. This is also a beautiful spec.
But on the other side we have something little bit more fun. I've never driven one of these. I've never started one of these. - [Mikey] Is this one of the new Corvette's? - Correct. And the way this one looks, I have a feeling it might be modified, so.
I got to say for the price point, this is a pretty impressive interior. Should I start it? - [Mikey] Start it. I like these rear engines. (engine roars) - Okay, it's actually loud, I'd say. (engine roars loudly) - [Mikey] Sounds a lot like a Ferrari or a Lamborghini, I mean. - It does.
And I think that's it for the eight-car garage and the lower level. Now let's go back to the staircase, so we can check out the second floor. (gentle music) Second floor landing, again, beautiful staircase brings you up to this point. Three windows bring in natural light. That's the entry right there. Beautiful radius details on these corners.
And I love how they butt up this marble against the herringbone hardwood floors. This landing looks stunning. Now, this hallway takes you into the first bedroom that is front-facing, comes with its own bathroom. And I don't want to go into that bedroom because it is really similar to the second bedroom, which we're going to check out next. I like that they are separate from each other. And then you have the entry in between.
Again we have hardwood floors here. King-size bed, small seating area, multiple casement windows, crown molding details above. And this one, just like the other one, has a front-facing balcony. I know this is probably late to mention, but we are here in Newport Coast and this house is within the gated community of Crystal Cove.
We've been in this neighborhood before, approximately 680 homes, all luxury properties and the entire community is meticulously maintained. The streets, landscaping, everything is phenomenal, so I wanted to mention that. Let's close the French doors. And over here we have the full bathroom, natural stone finishes, this beautiful walk-in shower with the mosaic banding in the center.
Then we have the vanity here, marble countertop. Really nice bathroom, and a very spacious bedroom. Now, let's take everybody back to the landing, so we can check out the other wing. Off of the hallway we have some cabinetry, small bar area. And going to the other side, we have the elevator landing. Mikey, can we show the inside? Look how nice this elevator is.
They brought the same inlay floors here. There's a nice chandelier, some wood paneling. Beautiful, yeah? - Yeah. Really nice. - Just because it's a small space, it doesn't mean it cannot be special, you know? They fully decked it out.
Alright, third bedroom suite comes with two full beds. I'm telling you, these bedrooms are very spacious. Hardwood floors, molding details, light fixture above, casement windows.
And of course this bedroom has its own full bathroom. And look at the marble details here. Vanity, dressing table, marble mosaic back splash that turns into wainscotting. I love this lip design on top, but my favorite detail is down below. Look how beautiful that molding is.
- That's all stone, yeah? - Yep. And then they brought the same marble to here, to your built-in tub. More mosaic tiles, just beautiful. - [Mikey] Yeah, it's really nice.
- Now, that's it for the third bedroom suite. I want to take everybody back to the hallway, so we can check out the primary bedroom. Look at the entry point for the primary bedroom. Above us is a stained glass ceiling design. Walls are nicely curved, beautiful herringbone hardwood floors.
Then these double doors open up the seating area for the primary bedroom. Look how elegant this space is. Couch, two chairs, finishes, details, accessories. And then on the other side we have the TV. Below that, double-sided fireplace because we have the bedroom on the other side. Wall panelings, cove lighting above, crown molding details.
This beautiful light fixture. This is very, very elegant. - [Mikey] That light fixture is quite large, I like it.
- And because we have a dome ceiling here, it gives us extra ceiling height and that's how they can place this massive light fixture and make it fit the room. It looks beautiful and gets better because this seating area has its own balcony that faces the backyard. And this is just a great addition because you can enjoy the ocean views from here.
Down below is Corona del Mar, Newport Coast. You can see your backyard very clearly, nicely hedged. You can see what's happening down below if people are in your pool, enjoying the outdoor kitchen. Again, this is a nice addition to the primary bedroom seating area. Now, going back in, I want to take everybody to the other side.
This arch opening takes us to the bedroom. Again, beautiful herringbone hardwood floors. I said herringbone a lot on this video. Let's see if I can explain this.
When a plank butts up to the other plank from the side, that's herringbone. Now if two planks meet each other with a 45 degree cut, that's when it's Chevron. - [Mikey] So, use your hands to explain. If the hands are pushed together...
- So like this is Chevron, you see the 45 degree cut? This is herringbone. - Exactly. - So there you go. Looks beautiful. I love the paneling details, crown molding above. Room feels extremely cozy and warm. Massive bed right in the center, two side tables.
This really interesting couch, I was trying to figure out. I guess you can lay this way. It's kind of like landlocked on each side in a way.
But very nice room, definitely spacious. You have a built-in fridge there with a coffee maker, double-sided fireplace. And of course, we mentioned this earlier, primary bedroom has two balconies.
This is the first one. Now I know this is a bit of a stretch, but I'm going to say it. Ever since we've been in Lake Como, something about waking up and going outside as the first thing you do. - Yeah. - It's so nice. Granted, I mean, these view are fantastic, don't get me wrong. Maybe Lake Como is a little bit better.
Clearly, I'm still not over that trip. But, something about walking outside before you have your morning coffee, before you wash your face, I just love it. It's so green here. You're in this beautiful gated community. That's your second balcony right there.
And that's the seating area balcony that we just toured. Alright, let's go back in so we can check out the primary bathroom. It's absolutely gorgeous. Like, they went all out for this bathroom. Look at the floor transition here, seamless to the marble.
And this is where we have the bathroom. Right in the center, we have this free standing tub. And below that, look at all the layers of flooring.
Mosaic marble, border detail, more marble floors, another border to kind of frame this bathroom. And it looks gorgeous. In fact, this bathroom is so spacious they even put a full-size couch here. You can just sit down after a shower. Just, you know, think about stuff. - [Mikey] I don't know why I always like when they put couches in bathrooms.
It's almost like a weird flex, it's, "I can put couch in my bathroom." - I wouldn't do this because I would get lazy here. I feel like after shower I will take like 45 minutes to go outside. And just beautiful finishes. Now, let's talk about the first vanity, which is on this side. Dressing table, you have another mirror section here.
Then this beautiful fabricated sink. Same stone runs as the back splash of the wall. Wall sconces, brass fixtures.
Down below we have the open section for your towels. You have the drawers there. And then going this way, this is your walk-in shower.
I'm going in there. Something about marble that I love, it's such a timeless material and installed well and crafted well, it just looks beautiful forever. I feel like this bathroom will look this good, 30 years down the road.
And you have fixtures on each side. Steam detail, again, inlays on the floors. Look at this mosaic pattern here. And they placed a beautiful slab on the ceiling as well. Chef's kiss, it's gorgeous. - Really nice. - Now, second vanity is here.
Again, dressing table on the other side. This bathroom has its own balcony too, you get the same amazing views. And before we wrap up, water closet, other side has a water closet too. Other side has its own walk-in closet and this one is the second one. Hardwood floors, cabinetry runs all the way to the ceiling, integrated LED lighting. Just a beautiful property.
(gentle jazzy music) (gentle jazzy music continues) Alright, everyone, that's it from Newport Coast, California. I want to give big thanks to the listing agent, Hanna Karcho for making this tour possible. And as always, you can find more information about this listing in the description of this video. Lastly, if you enjoyed our tour, give us a like, subscribe to our channel and we'll see you all next week. (gentle jazzy music continues)
2023-03-20 01:12
Show Video
Other news