Touring a $18,500,000 Luxury Penthouse with a Celebrity Neighbor!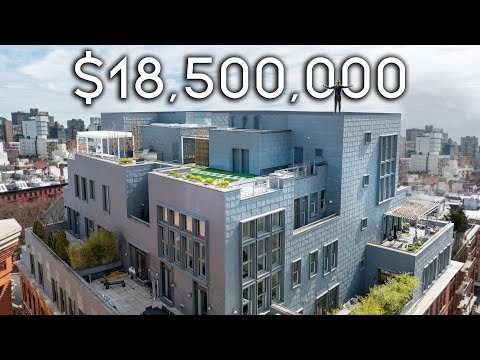 Show Video
(upbeat music) Hey, everyone. Welcome to Soho, New York. Today we're touring an amazing penthouse that's located in this converted historic building that was once a chocolate factory in the late 18 hundreds. Unit has amazing finishes, incredible outdoor spaces, timeless design. It's gonna be a fun episode.
So let's begin. All right, everyone. Welcome to this beautiful penthouse. This is your private elevator landing, and it brings you to this point.
Then you go straight into your first great room. I love the darker hardwood floors, beautiful staging, fireplace right in the center. Four massive French doors open up to your private terrace. And I like that, these French doors also have these clerestory windows above to maximize the natural light coming into the space. It's nice and open. Contrary to a lot of the properties that we toured in New York, you actually have a lot of space here.
I love the warm tones. I really like this great room. - [Mikey] Yeah, like you said, they have some massive spaces in this penthouse. Not to mention they have a rooftop deck with a lot of outdoor space. - [Enes] Correct. We are in Soho. - [Mikey] Yeah. Is this because it's like an older
building that they have these kind of wide open areas? This is so cool. This is why I love New York. This used to be an old chocolate factory. It was built-in late 18 hundreds. Really? Then it was converted into residential, I guess, condominiums. And in 1999, they did the conversion. And the penthouse that we are in right now, and three others, were additions on top of the building.
So these penthouses are only, give or take, 20 plus years old. - [Mikey] Yeah. How the bottom is like this red brick, but the top has this totally different look that's almost like a gray metal siding, right? Correct. It gives you that industrial look.
It's a nice contrast against the brick. And, yeah, you have all the space to yourself. There's a nice dining area here. Bar on this side. We're going to check out these spaces in a bit.
And coming back to the great room, I also want to mention we have a drop down projector. And this is where they have their drop down screen. So you can also watch TV here. Now, follow me this way.
Let's open up this French door so we can check out the first terrace. It's amazing to have an outdoor space in New York City, yet alone two terraces. And these are pretty good sized terraces. You can have 40, 50 people up here, easy, entertain, just enjoy this amazing place. And then you have these built-in planters so you have some nice privacy.
We actually have six French doors opening up to this terrace. One from the primary bedroom, four from the great room, and one from another bedroom, which we're going to check out in a bit. Outdoor seating. This is the metal siding that you're talking about, Mikey, and it gives you that industrial look. It is nice, look.
You can hear the city. It's exciting. It just moves you. You want to get going. - [Mikey] Yeah. So we've toured apartments in New York that are very high, some that are kind of in the middle. We were literally at the most expensive penthouse in the world yesterday. - [Mikey] Yeah.
And that's what, 130 stories up in the air? Correct. Yeah. So that one, you just feel isolated. You're floating above everything. But this one, you actually feel like you're part of the city, part of the movement.
And this is one of the cooler, kind of more historic areas of the city. So you kind of want to be close to it. Couldn't agree more. And that's it for the first terrace. Now let's jump back to the great room so we can continue our tour on the other side. Again, we have this beautiful dining area here.
Marble table, seating for six or seven. And you got to like those attached upholstered back pads for you to sit comfortably. And coming this way, your great room also has an amazing bar. Again, marble countertops here, white cabinetry with flush drawers, pendant lights above.
You have your sink, two half dishwashers, dishwasher drawers. These are really nice. And it's just a beautiful space to entertain and enjoy this penthouse.
- [Mikey] I really like this penthouse. Very warm. It's very, just cozy. It is. Again, I don't want to compare it to the most expensive penthouse, but there's such different products.
Right? This is really livable and warm. Like, you walk in, you immediately feel comfortable. The other one is kind of more of like a statement. When we got here this morning, I was just like, we live an interesting life.
We do. We sure do. Let's not get into that. All right, this door here opens up to the laundry room.
Two washers, two dryers, plenty of cabinetry. So it's definitely good size. And I'm now going to take everybody this way, so we can check out the kitchen.
Warm wood cabinetry, stainless steel countertops, island in the center. We got a lot to cover in this kitchen. But first, I want to talk about the specs of this beautiful unit. So we have six bedrooms, three full, two half baths, approximately 5,350 square feet of interior space on the market for $18,500,000. And I want to give big thanks to the listing agents, Brett Mitchell and Leonard Steinberg for making this tour possible.
Again, we're excited to be here, and I feel like these cozier, more relatable units or houses that we tour, you and I talk more. I feel like we can relate to. Almost, in a way.
- [Mikey] For sure. And another thing, guys, I'm always trying to get to New York. I'm always trying to push Enes to go to New York. I love it here. Something about just New York culture, lifestyle, and the apartments.
Just walking outside. Yeah. So if you all enjoy this tour, and if you like seeing us in New York. Let us know if you would like us to expand our presence here. Visit more often. - [Enes] Mikey will push more on me, and then we'll come here more often. That's right.
All right, let's cover the kitchen, again, I like this warmwood cabinetry, oversized handles. We have a 48 inch gas stove here, right in the center. It's actually a gas cooktop, technically. Then you have a vent above, some open shelving, classic subway tiles.
These are actually the longer ones, so it gives you this timeless industrial feel. Some stainless steel, open shelves, glass fronts. Then you have your built-ins here, microwave, two ovens, wine fridge at the end. Then on this side, you have your massive freezer and fridge, additional cabinetry, just a really nice kitchen, and. - [Mikey] I have one more question before we move on.
I don't want to slow the tour down too much. Subway tiles. Yes.
Is this a style that kind of was created in New York? When you say subway tiles, of course I think of a New York subway system. That's a really good question. I actually don't know the answer. We should probably put it on a screen, because now I'm curious too, it's imitated everywhere. Correct. But I'm curious now if that was a kind of unique New York style that was then just kind of.
Whoever came up with it. It's timeless. It still looks so good. It's relatively affordable to get subway tiles, and it just complements it's perfect for bathrooms, back walls, kitchens. Just clean and minimalist. Exactly. And looks great here.
All right, now follow me this way. Let's check out the second patio. This one is actually bigger, and it wraps around the penthouse. Again, you have some built-in planters here for some privacy, outdoor dining area.
French doors here, opening up to the second great room. I got to talk about a detail. Ready? So they have these French doors, right? If you install them normally, these doors would be flush to the siding, which is fine, but it's not the best way to waterproof an opening. That's why they built these metal moldings encasements around these French doors. So it protects the sliding glass doors, and it's just a nice architectural detail.
It looks nice. - [Mikey] Yeah. I wouldn't really have guessed that was to protect it from water, but it makes sense, it's nice. You see, it kind of serves as a roof over the glass door as well. Yeah, it makes sense. Wanted to mention that. Now, I'm not going to act like Mikey hasn't heard this yet, but we found out this morning that unit right there, your next door neighbor, used to be David Bowie. -[Mikey] Yeah.
- [Enes] He lived there 20-plus years. How cool is that? - [Mikey] Yeah, I can't imagine. Apparently, the previous owner was the previous person who lived here was pretty close with David Bowie. They'd have conversations. They'd hang out. They'd have little snowball fights back and forth right here.
Really cool. Again, this whole neighborhood, very artistic community, kind of draws a lot of characters like that. - [Enes] And I'm going to add up to that. I think there's something beautiful about living in these progressive, cosmopolitan cities like New York, L.A. Where you can just have these unique experiences so randomly. Right.
Like, we came here this morning to tour this unit, and we found out that David Bowie lives here, but it's, in a way, just normal. - [Mikey] Well yeah someone who like shaped the culture of music, like, really a cultural icon, just casually just living next door. - [Enes] Exactly. And that's what makes these cities, like, so exciting, in my opinion.
Yeah. All right, follow me this way. We get some views. Pretty darn cool views, in my opinion. You have the city in front of you. Again, it's exciting.
It's the energy. I'm not a spokesperson for New York by any means, but something about living in the city and experiencing it every single day, that's what you're paying for. That's why you live in New York, - [Mikey] For sure. I got one more thing to say to all those audience members out there who's like, I don't really like when Mikey talks. I'm almost done. But again, this neighborhood, really interesting history.
So this church right here, St. Patrick's Church, and this is right by Five Points, which is if you all have seen Gangs of New York, this is kind of like, very historic part of New York City, just down to the architecture. A lot of, like, red brick, a lot of older looking buildings. And this church actually has a really cool cemetery.
I was over there earlier, and they have some headstones dating back to the mid 18 hundreds. I just can't imagine what this looked like 150 years ago, how different it was. - [Enes] Unbelievable. Just so cool. All right, let's continue.
Rest of your patio here, three French doors opening up. That's the junior primary bedroom. We're going to see it in a bit. Now let's open up this door so we can check out the second great room, which is right here. Again, super spacious.
Love the staging, fireplace is on, cove lighting above. Great natural light coming in. This penthouse has 13 sets of French doors.
How cool is that in New York City? Opening up your patios, - [Mikey] 13 sets? - [Enes] Yes. - [Mikey] Okay. Honestly, that sounds like a lot, but I don't really know if that's crazy or not for a New York apartment. - [Enes] I think it is. The fact that you're disconnected to the outdoors throughout your common spaces is just really nice. And look at this great room.
Again, hardwood floors, so spacious. This penthouse is perfect for entertainment. Then you come over here, and you have another dining area with a chandelier above.
This is the opening from the kitchen. And there's actually a beautiful powder bathroom, around the corner here. And this is how you get from your great room, straight to the second great room. Makes sense. All right, let's continue. Now, we have this long hallway.
We have few bedrooms here. This is the first one. Currently staged as a seating area or as an office. We have a desk here, couch. French doors open up to the first patio that we toured. And just a cozy room.
And again, big thanks to the listing agents, by the way, Brett and Leonard, for making this tour possible. It was a bit of a last minute request. And we've toured Leonard's other listings in the city as well.
- [Mikey] I was going to say you all might remember the one we did in the financial district, Park Place. - [Enes] 30 Park Place. Yeah, that episode did fantastic. Amazing views. Unbelievable views. - [Mikey] Crazy.
- [Enes] Then we toured another one in Tribeca, remember? I guess you can't remember you didn't come to that trip. - [Mike] I do not remember that. But you did edit it. I did edit it. I think that was a while ago, though. - [Enes] Exactly. And yeah, it's a nice, cozy room.
I like these fabric walls. And now let's go back to the hallway. We have a full bathroom here. Walk in shower, gorgeous vanity. Coming to this side, another bedroom.
Let's go have a quick look. Love the bed frame. Cozy, nicely staged. Great natural light coming in. We even have a small desk here. New York City. Somehow I totally missed this room.
I didn't know this was in here. Yeah. All right, let's continue. This door opens up to the junior primary bedroom. Comes with a king size bed, super spacious room. We have some wardrobes here, built-in cabinetry. On the other side, french doors open up.
Extremely spacious. We're in the city. Don't forget that. - [Mikey] I really like this room. I don't know why.
Again, it's just really cozy, also. - [Enes] You know what? I think it's the view corridor. Just like the light it gets. Is this staging furniture or did it come with a house? It is staging. Okay. You're like? I'm going to get their number. I really like it. Yeah.
And Mikey, come to this side for a second. Look at all these historic buildings around you. It's so cool. And then I want to point this window out.
I'll actually go to this side. Freedom Tower, 56 Leonard Street. You got a nice view there. Oh, 30 Park Place. Yeah, 30 Park Place. We just talked about it. There you go.
And let's actually go back out one more time. Again, really nice bedroom. There's actually a fun Easter egg here. Ready? Yeah. Full size wine fridge. Is this an L.A. developer?
That's a fun point, but it's nice. Why not? Well, you have the patio around the corner. Comes in handy. And there you go. That's it for the junior primary bedroom. Now let's go back to the great room so we can continue our tour on the other side.
We have this door here opening up to the primary bedroom suite. Come on in. Light hardwood floors, king size bed. Another massive room. This primary bedroom is huge.
You have a seating area there, but like, a lot of windows, too. Lot of windows. Great natural light coming in. Opens up to the first patio that we covered. I like that, floors here are more on the lighter side, too.
It just kind of frees up the space a little bit more. New York City. I don't know. Now I feel like I'm repeating myself. You have the king size bed here. Nice padded back wall. And following this way, small hallway closet.
Then this is your first walk in closet. It's actually a good size. You have more of the darker cabinetry here. And we actually have another closet that we're going to see in a bit. But first, let's check out the bathroom.
First thing I'm going to say, it's timeless. You have mosaic marble floors. Then you have these glazed tiles on the walls. Floating vanity here, two sinks. And I'm going to go a little off subject here. I don't represent this brand.
I'm not sponsored by them. These are some of the greatest toothpaste I've ever tried. So about three years ago, I stayed in this boutique hotel, and they had Marvis, like, a single pack toothpaste and like, a toothbrush, and I was like, oh my God, this is the greatest toothpaste ever. So I have, like, six different flavors of it at my house. - [Mikey] We literally walked in this bathroom, and Enes was like, oh my God. And I was like, okay, there must be some architectural detail or something in here.
He got excited for it. It's a bottle of toothpaste. - [Enes] That's right. Again, back to the vanity. Super clean, modern. You have your wall sconces.
Then we have a freestanding tub here with a beautiful tub filler. On the corner, you have a walk in shower, glass enclosed. Mikey probably loves this detail. There you go. Medicine cabinet. Love that.
It's a must have for New York City, you know? Got to save that space. Exactly. And also, this building comes with a doorman. Really nice lobby.
There's a beautiful rooftop deck. And there's also another secondary private entry point from Mulberry Street. So I don't know if we covered these details earlier on, on the tour, and I just want to mention that. - [Mikey] We didn't. - [Enes] There you go. I'm glad I said it now, then.
All right, welcome to the second walk in closet. This one is massive. I mean, look at the island in center with this nice padded countertop. So much space. This feels like a walk in closet of a home in Texas. - [Mikey] Yeah, I mean, this is the biggest walk in closet we've ever seen in an apartment in New York this size.
- [Enes] Correct. And it gets so much natural light. You have some built-in seating, open shelves, shoe racks, hangers. It's an impressive space.
And you may think that's it for the walk in closet, but it's not because we have a 24-inch door here. Opening up to another hallway where we have three different rooms. First one is an office.
Technically, it could be another bedroom. We have a nice desk here, same hardwood floors, great natural light coming in. Then on the other side, we have a full bathroom, mosaic marble floors, subway tile on the walls. Look how nice this mosaic pattern is. Then we have a built-in tub, chrome fixture, sink.
It's a nice full bathroom for this side of the penthouse. Now, let's go back to the hallway. I got to show this detail. There's a powder bathroom here for the first great room. And I'm in love with this pedestal sink. I want one.
I don't even know where I would put it in my house. Is it travertine? It's got to be clay, I think it looks so good with a brush nickel fixture. And then you have this mirror back wall with, like, rose gold colored lighting. It's a vibe. Beautiful sink, - [Mikey] Minus the mirror. This reminds me of one of our friends in L.A., House of Shoor.
Something about it. - [Enes] Shy would so dig this vanity here. And if anybody knows the brand, let us know in the comments below. I really mean it. This is a gorgeous pedestal sink. Yeah. Now, lastly, back to the first great room.
Full circle. Now, you may also think that's it for the penthouse, but it's not, because right above us, we have an amazing rooftop deck. (chill-out music) So the rooftop deck starts here. I don't know how we got this lucky with weather, but it's fantastic out here, right now.
Mikey is literally wearing a T-shirt. I brought the coat, but I'm like, I feel ridiculous right now. - [Mikey] Enes is a little bit weather sensitive sometimes. We never know. Oh, get over yourself.
- [Mikey] We never know if it's gonna be hot or cold. - [Enes] There you go. I made the move, right? Look at the views around you.
I mean, it's fantastic. All these older buildings, all this character. It's just amazing. And then you come over here. You have another outdoor seating area. I think for winter,
they took out the cushions for the outdoor chairs and outdoor furniture, right? Yeah. And then let's continue. Then we come over here. We have another partially covered seating area. And then coming this way, we have an outdoor kitchen for common use, which is great.
You have a barbecue, sink, refrigerator, I mean, everything you need, some wall sconces. This section here is partially covered. It's like an outdoor dining area.
But I personally really like the views on this side. New York City, straight from your rooftop deck. And I don't know. I really like this place.
What can I say? - [Mikey] I don't know if it's unique to the older neighborhoods in New York, but I love these little water towers behind you. It's just such an iconic New-Yorky thing. - [Enes] You know why they have them on rooftop decks? - [Mikey] I always thought it was, like, so spiderman had something he could jump off of.
- [Enes] Back in the day. They didn't have the pressure. And, like, the water lines, you need gravity. It makes sense. For water to travel. And, yeah, this is New York City. And that's it for this episode. Hope you all enjoyed it.
Big thanks to Brett and Leonard for making this tour possible. You'll have more information about this listing in the description of this video, so make sure to check it out. And if you enjoyed this New York episode, give us a like, subscribe to our channel and we'll see you guys next week. (upbeat music)
2023-05-01 01:28
Show Video
Other news