Tikslo link. Žalgiris 2021. EP1 [CC]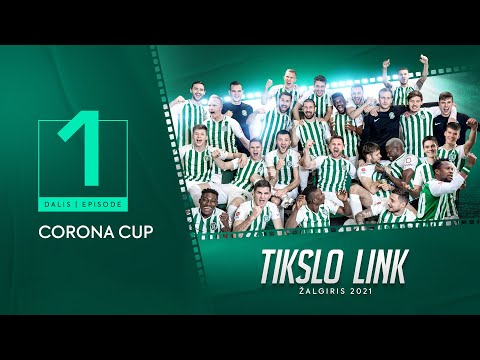 Show Video
75 years of history, victories, big personalities, and devotion from the fans have made Žalgiris Vilnius a legendary football club. To win everything, every possible trophy - that is the goal of Žalgiris. To win, and to finally fulfil the dream of Lithuanian football - to play in the group stages of a UEFA competition. To do what no other Lithuanian club has been able to do. The 2021 season - another quest and journey towards this goal.
Not too much, not too little... is it good? Alright... let's go. In all honesty... my head is a mess right now, but... So many thoughts, so many, I don't know, maybe because there are so many problems, so much left to do. So many unfinished things but... But inside there is a strange confidence.
I will work, the players will work, the coach is motivated...but sometimes that isn't enough. Sometimes all you need is a simple thing – luck. Just a bit of luck. So... Luck.
[Kuklys] Hello. [Gertmonas] How are you, Mantovi? Good morning. Hello. Good morning, good morning... The first time you enter the dressing room, in any new team, you are nervous. Whether you like it or not.
It's natural – new players, a new philosophy... And "Žalgiris" has only one philosophy – to be number one, to win all the trophies. [Mikoliunas] Look, I got presents. From Serbia. Rakija? Rakija? [Kis] Rakija, rakija. Plum rakija.
[Mikoliunas] "Šlivovica". Apple juice. [Cheburin] I am standing here, not moving, waiting especially for you. [Mikoliunas] Really? Hello! [Cheburin] Oh, classmates! [Kuklys] Classmates... It was a very warm first meeting, as if we had known each other for a long time. The first thought that came to mind, when I heard Cheburin was the new coach?... 5-3-2 Today we have first training.
I want to to introduce you our new coach – Vladimir. We have a simple task ahead of us – to prove that we are the best. Did you ever dream of working at "Žalgiris"? Yes – and I'm not going to hide it. To your left! Let's go! [Cheburin] I don't want to raise my voice, you understand... It's not good to raise my voice from the first day. [Kontautas] But you will have to... [Cheburin] I will...
I somehow thought that he will always be frowning. In Russian the word is угрюмый (gloomy), I don't know what it is in Lithuanian. That there will be no jokes...but afterwards I completely changed my opinion.
I should have put on make-up... We knew about the coach, that his focus is on tactics and set-pieces. He started from that, but some players remained really confused. It was difficult, we discussed it a lot amongst ourselves, how will it be, how will it be, why is it all like this... It may seem that 90 minutes is really long, but it is really short. Really short.
So some things we have to have in our head before the game. So we are ready. If our first plan doesn't work, so that we have a second, a third option. Tatko, what is your wife's name? Dunia? So the option, when Tatko cuts inside here – we will call "Dunia". [Tatomirovic] What about "Pamela"? [Cheburin] What? "Pamela"? [Mikoliunas] "Pamela Anderson". You will remember it faster this way. And you will give it your all for "Dunia". After the first training I was telling Nemanja: "Bro, this not gonna be good..."
Because it was little bit strange for us - the coach don't speak any English. I told him - oh it would be very hard to stick together. There was a lot of different characters... more than last year.
From different countries, cultures. [Verbickas] How are we meant to do it, do you know? [Mikoliunas] Dainius, tell us quickly, we have no idea what to do. [Coach] Without elastics, for now without elastics... [Mikoliunas] Hey, we are working in pairs, yes? [Coach] Dabar visi ant grindų atsigulam... Iš pradžių.
[Mikoliūunas] Everyone? [Coach] Everyone. [Mikoliunas] Four coaches, and nobody is telling us what to do... [Coach] 10 seconds without gums, you ready? Whilst the diamond is being polished, you always have rough edges.
That's normal. I looked at it very calmly, I knew that we needed time and patience. [Cheburin] Faster, now now now! [Pavilonis] Come here, stand in pairs… [Cheburin] There's an unmarked player here. [Kuklys] We're doing it straight away? [Coach] 50 percent...
[Kuklys] The others don't know... [Mikoliunas] In English, Justas, say it in English... [Kuklys] Guys, you need to go like this! This is the beginning, later we will do it faster. This is the first time. Go! Good, Vilius, work work work! Ok let's change! And at the same time, I will start telling them, Kolia, so that they can start doing it little by little. Little by little, so that they remember it...
If we start too many things at once, it will be chaos... Set pieces are a part of football. When with one touch you can deliver the ball into the box. With no skills, losses, duels... One touch – goal. Strong pass... I want that the ball goes over there, and Hugo shouts something over here. You need to act, act, act... We need a spectacle.
Good acting. Hugo, understand? OK? OK. Hugo, come on!! [Videmont] Go to hell! [Cheburin] Oh, and the ball is already gone.
Yes, yes, Hugo, scream: "go to hell!" The wall is laughing, and you are already here... Well done, guys, everything will work, only if we do everything confidently. We have to give all of our soul. All of our heart. Heart work. Hard work. "Hard" means strong, yes?
If you ask me about how to manage the corner – I do not know at all. Because I shoot the ball. So it's good, that I shoot it always from the corner, because if you ask me to explain the combinations – 3-2, the combination "carousel", I don't know. I don't know at all.
Every time he says, let's do 3-2, "carousel", or a new with Djibril – I don't know. I just shoot. I hate it.. I hate it when we play, and he says: "everyone, corners, kicks". [Cheburin] Tatko, you have to shout "Dunia", and everyone... Remember, who is "Dunia".
[Tatomirovic] Dunia! [Cheburin] Well done. Well done, good! Tatko, you did it! Bravo, Uzėla! Score... Karolis, look, how good it turned out! Mantas, pass it! It's the 95th minute, come on, more alive! Superb, that's where the shot should be. We're not going anywhere until we score. We spent a lot of times in standard situations, in the tactics, a lot.
I was surprised. Because from all the club, even in France that I went, I swear we never we spend that much time in or standards, like seriously. We spend 1 hour 30… standard situations... and for me it was unusual. Guys! A "friendly game" does not mean that it's a friendly game. In every match, training, kickabout, every one of us has to have this mindset for ourselves and each other. "I am stronger than the opponent, we are stronger than the opponent, our club is stronger than the opponent's club".
Guys, it doesn't matter who is against us, what matters is who is near. [Mikoliunas] Calm, let's go! [Cheburin] I don't like that... [Tamulionis] These passes? [Cheburin] No, no, no... We lost the second ball, we keep losing the second ball.
Soft pass, what a soft pass. Too easy for the goalkeeper. And that's it. All three in the same position...
Two mistakes, two goals conceded. And we don't score our own chances. Look, Vladimir Cheburin, He isn't of that highest quality of coaches, we have to admit it. He isn't a Jose Mourinho or a Pep Guardiola, someone around whom a club can build a five year plan.
But he is a coach that can adapt well. And in Lithuanian football, every specialist has to adapt himself. Hello, I am Eddy. Hello, nice to meet you. Hello, Jolanta from "Žalgiris", Vaidas, our team. OK.
You came like for very long time... good to see. Thank you. When Onazi arrived, I thought to myself - "wow". And Vaidotas said, that "even if he plays here at 70% of his ability – he will still be the best".
When I hear about such a high-level transfer to the Lithuanian league, I immediately start looking for those red flags. I can see them this time, too. Yes, Onazi comes here at the peak age in a football player's career. 28 years old, but all of his best years are in the past.
Oh, the cold. Let's go here. The cold say to me "welcome". Thank you. Mamma mia! I've been training all day, every day, in Nigeria…and I feel really good.
But the most important thing is you have to train with the team. Training with the team is different from training alone. Like you have a match of Supercup. On the 27th, yes? The President told me. It's not all about, how big or how small it is. I just wanted to go to a place where I can be able to express myself,
Get back my rhythm of play… how I used to play – because I was injured. And I want to have a team that has love, and we we can play together, be happy, achieve something at the end of the season. Make history. The most important goal is the group stages. Without question. We have been going towards that for a long time. Of course, the league, cup, Supercup all matter, but there is only one goal – the group stages.
[Cheburin] Unbalance... [Videmont] When do we have the ball? [Cheburin] No... [Videmont] When they have a ball ...? Defense? Attack? [Cheburin] No... We have a ball, attack... You need to focus on this area and we will try to pass the ball there ... He is more strict, he shout more on us. But I spoke more with him, it's strange, because don't speak English. But I spoke more with him more than with these two last coaches.
[Cheburin] Let's go guys... I want to see a game. The team spirit, the passion, the quality. All together, one for each other! And come on guys, we need another victory, to get our confidence for Supercup! Come on, guys!! One! Two! Three! "Žalgiris"! [Cheburin] No need, no need! Pointless, pointless... everyone has already stopped, everyone... [Assistant] Yes, that's what you spoke about...
[Cheburin] Give it to the left! [Cheburin] Let the Devil take you! [Tamulionis] Hey! Hey! [Tamulionis] Mania! [Cheburin] Quieter, quieter, quieter... All of our movements near the box are really dangerous. They are only waiting for our mistakes, and we are doing them one by one.
Tomy, your activity isn't pleasing me at all. It's like you're moving, but you didn't make it in time there, there you were too late, there - too slow. We are simply giving away the middle, because one pops up here, another here, and you are not here, understand? No, you here... Let's go, guys! Come on, come on! [Onazi] Referee, penalty! [Tamulionis] Finally, we scored... [Cheburin] Well done, Tomy, well done! [Cheburin] Translation. [Tamulionis] Yes.
[Cheburin] Three, two strikers, you. One, two, three. Vienas – One – Hugo, here, here…Gama... line, middle. Striker, striker. [Onazi] Ok. [Cheburin] Good luck. Shoot! [Cheburin] Who is he? Tell me his name! We don't need to write anything, that's it. Not bad, not bad...
Of course, we need some physical preparation, but everything is okay. We are really happy that we won. This victory gives us a lot of optimism. Now it's the decisive Supercup match, so with good spirits let's wait for next weekend.
Victory is the most important. A victory always gives you a boost forward. It takes you towards the next victory. I want this tradition to last forever. Guys, we show after victory our traditions, how we celebrate.
Žalgiriečiai, žalgiriečiai, ei, ei! Who won the game? "Žalgiris"! One became ill, then the second, the third... It all spread so quickly. We worked a lot individually, in small groups of 2 or 3...
We were all in one small room, and these players began to fall ill one after the other. The confusion was strong. Really strong, in my eyes. It really threw us off – psychologically, physically, morally. [Uzela] After you get positive, ten days you must stay in quarantine. Saulius, Gustas... that's six... Kiš, Uzia... Eight...
Vide? No. Tadič? Nine. Gertma? No...
Vareika? No... Liuba? No... Tatko? No... Maybe it won't harm the whole team, but it will some of the players. Those, who were really ill. I was training every day.
I went to Silale. I have a garden, lots of space. For me, I don't know, it doesn't seem that it will really harm me... Not physically, but here it will... [Karamarko] Go home! [Gertmonas] Wait, my gloves! Actually, nevermind... Ok, I am going to get changed.
Hi, how I was missing for you, you can't imagine! That prison time... Okay, guys... finally we are free... Hopefully we will be healthy – this is the most important. Our coach is still positive. He will join us, the best, Friday, so you will train with assistant.
But, guys, we must be focused and ready to fight on Saturday. First our match, and show the character. This time is character time. To show that we are strong, no matter what has gone around. Today training guys, easy training, easy training.
Warm-up, passing, "rondo", headers... easy training. I won't say much… Two laps and I waiting for you. [Karamarko] Serious, guys, serious training! [Onazi] You will have to join us Vilma... I am taking pictures for the coach, so that it isn't so boring for him. I am sending pictures…and of you too! and of you too! How is he feeling? Mild symptoms, thank God.
This week will really mean something. Because our physical form had really improved. We had reached our peak, everything was good. Now this week will set us back. Of course, they worked a little, but it's not the same. Without the ball, without anything.
[Onazi] My teeth… [Gertmonas] They took out Gustas, so he isn't running, no need… [Pavilonis] Oh, that Gustas is always crying… Of course I will pick up… Hello, coach, how is your health? …and Eddy Onazi said: "coach, don't worry, I played in Italy – over there they're obsessed with tactics. That's understandable – it's a part of football. Without tactics it will be a kickabout. Yes, it's a big part of football. Tactics, tactics…
Everyone wants to shoot a lot, but you have to get to that… How do you say it, step by step? They say, learn English! I am learning… it's difficult, but I am learning… What influence did it have? Of course, at this stage of the pre-season, to stop for two weeks… You have to come back and start from scratch. And it is such a disease, because of which the human body actually weakens… It's a real pity, when all of the work that you put in during the pre-season goes to waste. Hello! Welcome! Thank you.
Finally we are all together. Hopefully that break will be for us, for better. Of course, we all understand that it took a lot of powers of yours. But nobody said it will be easy. For that reason I want to announce that... We had a shareholders' meeting, was confirmed bonus for champions name – 100,000 euros.
So nothing lowered. Let's go to work! It's better to work twice as hard than to rest like this... But what? This is the situation, we have to deal with it... It's not that it's a pity for the work that we put in... Disappointing? Well... we make plans, and then God changes them...
We are welcoming you today to the Vilnius "Sportima" indoor arena. We will see the second matchday fixture between the champions of Lithuania, titleholders "Žalgiris" Vilnius, and after a long break, making a comeback to A Lyga, "Dainava" from Alytus. [Referee] You can go. [Venslovaitiene] Ugh, inside, you know, everything is turning, I can't describe it.
Twelfth season... This is the first match for "Žalgiris" Vilnius this season, we know perfectly well, that the team's players spent time in isolation, Some of them had caught the coronavirus more seriously, not everyone will be able to the help the team from the capital today. We are on the brink of a surprise, Deividas Matulevičius is standing by the penalty spot, and let's take a look...1:0 "Dainava" takes the lead... It's Kyeremeh, Kis... [Venslovaitiene] Score! Yes! It's 1:1! [Venslovaitiene] Oh, yes! The ball bounces comfortably to Hugo Videmont, and the Frenchman equalises the score. No, Haimulic's free kick is unsuccessful...
But here's a shot on goal and it's 2:1! "Dainava" take the lead!! Linas Klimavicius punishes his former team, and now the drama has reached its peak. "Žalgiris" are both a man and a goal down. Karamarko is being subbed off, Saulius Mikoliūnas is coming on into his position.
I think Saulius is much more attack-minded than Karamarko. Brazinskas comes out, Sairinen... will "Dainava" manage to hold on?! Sylvestr, Brazinskas!.. and it's 2:2! "Žalgiris" scores in the end of massive commotion, and the scorer is none other than Captain of the team Saulius Mikoliunas! 2:2 here in "Sportima" and this is a huge blow to "Dainava"... Great game, great fight, and that's one more team challenging for the title, losing points.
[Mikoliunas] In a few days we have another really important game. Hey, guys, don't forget, the fans are waiting. We have to hand it to the players. Two days after two weeks in quarantine we had the match against "Dainava", we came out and gave it our everything. Well done.
In all honesty, I was a bit surprised at how we played that day. [Cheburin] Good, good, good! Play, guys, play! One touch. We are professionals, so we have to do it a bit faster. OK? OK? [Onazi] Quality, quality! [Cheburin] You are all rushing somewhere... Calm down, play with the ball on the ground.
Play calmer, where are you rushing to? That's why nothing is working out. [Cheburin] Good, good! [Onazi] Sorry, bro... I don't kill you, I take the ball... [Kyeremeh] Rokas, somebody is injured... [Bopesu] Eddy is stupid, my friend! How he injured me in training.
[Cheburin] Thank you, everyone! [Onazi] Thank you! Guys, tomorrow training free... [Bopesu] Hey, you shoot it by the ear, you saw that? [Onazi] That's his problem! [Videmont] Every time it's his problem! [Onazi] Oh my God! [Cheburin] He take your tactics... [Onazi] Yes. [Bopesu] Hey, referees, you saw? I win! [Onazi] Why is he celebrating? [Onazi] No, no, I could have caught it like this! [Bopesu] But before Eddy put me ball here I go back... [Onazi] Bro, the ball is fast... How do you expect me to receive it?
[Bopesu] No, no, no... [Onazi] I don't play again please. [Bopesu] I win. [Onazi] Yes, you won. No problem. [Bopesu] Thank you. You saw? [Videmont] I saw a lot of things in my life, but this was... Welcome to the LFF Stadium in Vilnius, today we will see the Supercup game, the winner of which will win the first title of the season. As usual, it's the Champions against the Cup winners.
That is "Žalgiris" Vilnius against "Panevezys". This match was postponed because of Covid-19. Initially it was meant to be held at the end of February, on the 27th, but both teams had outbreaks of Covid-19. And it was decided to postpone the game. Pass to the left, to Hugo Videmont, It's a dangerous situation, Videmont against Floro, and a goal! Tomislav Kis with the goal, a great piece of play by "Žalgiris"... Videmont – Kis – showing their quality once again.
Kis goes past Bissi... The central defender has given him so much space... It's the second goal! Tomislav Kis is dominating "Panevezys". We know he can score in the top corner, so no surprises there. His teammates are kissing his boots, and it's a second goal.
Two goals in the first-half. [Pavilonis] The devils have come... [Venslovaitiene] Tomy, what are you doing? No fouls here, but Elivelto is really technical, he falls inside the box and wins a penalty! Penalty kick... [Pavilonis] In added time... In this situation there is a big difference between 2:0 and 2:1.
Ernestas Veliulis hits in the corner, and although Gertmonas guessed the way and dived well, the shot is too accurate and too powerful. How well can you see from here? Not bad. I can't see only one corner. We are back in the LFF Stadium in Vilnius...
Elivelto again... past Kuklys, shot on goal... Eliveltooooo! Brazilian magic in the LFF Stadium! It's unreal what this man is doing here today. A completely dominating performance in this match. Out-of-this-world performance, and "Panevezys" needed less than four minutes to equalise the score.
Elivelto is a real game-changer... We are getting closer and closer to penalties. [Cheburin] It's not defending, it's an open field that anyone can go through. [Gertmonas] The player has more pressure to score than the goalkeeper to save. The penalty kick is teh penalty kick, it's a lottery. If it's a good kick, there is nothing you can do.
[Videmont] I will shoot second. [Cheburin] Hugo, number two... [Kis] Me first? [Cheburin] You first? You want to? [Kis] I can. [Cheburin] Third you...Matas? You will shoot or not? [Vareika] No... [Cheburin] No confidence? [Videmont] Confidence, guys, confidence! [Cheburin] You? No? You? [Uzėla] Of course. [Mikoliunas] We are fighting for the trophy, guys! [Videmont] Easy, just focus on the shoot.
[Mikoliunas] One! Two! Three! "Žalgiris"! Wow! Edvinas Gertmonas collects the ball. [Venslovaitiene] Thank God... Hugo Videmont is up next... Against Broetto, he shoots and the goalkeeper saves it. [Venslovaitiene] You can do it. Wait, wait, wait! Accurate shot... Edvinas Gertmonas was close...
[Venslovaitiene] It's okay... you will save the next one. Uzela. Show what you can do. Karolis Uzela.
And Broetto! Broetto is saving "Panevezys". Karolis Uzela rips his shirt in anger. What an opportunity for "Panevezys"... [Venslovaitiene] Help us God. To take the lead in the shootout... Another left-footed player, but this time Gertmonas saves it. An incredible shootout.
As you prepare, such is the kick. That's the answer. Broetto saves again... [Venslovaitiene] God, God...
Shoots... and the Brazillian scores so assuredly, and "Panevezys" win the Supercup, another title into the trophy cabinet of this young club. Where is everybody? Do we have to go outside, do you know? What is happening there? Congratulations... [Mikoliunas] Thanks!
2022-06-30 17:58
Show Video
Other news