THIS COUNTRY DOES NOT WANT INDIAN TOURISTS!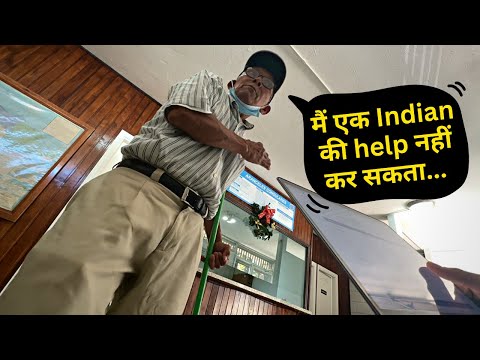 Show Video
Long live Mother India. Open the gate. I couldn't enter Nicaragua because I am an Indian passport holder. The officer told me that Indians have a special rule and we cannot go directly to the country.
I have reached Tegucigalpa, it is the capital city of Honduras. The time is 3:45 pm and the bus took more time to reach the city. Since it was the express bus it had to come fast, but it took time. The embassy will be closed at 5 pm. This is another tension.
The taxi driver asked for more money so, I am waiting for my Uber. It will come in another 2 minutes. I have booked the hostel, I will keep my bag and go to the embassy. I am in Honduras and I am going to Nicaragua Embassy to take a Nicaragua visa. Immigration officers did not allow me to enter the country because of my Indian passport. But I also have an American visa.
If you have American Visa, you can enter Nicaragua without Visa. Since I was an Indian passport holder, he was shocked because no Indians come to this place. These people always think that we are trying to cross the border illegally. The can't understand that you are in a Traveller can also come They did not allow me because I am an Indian. In the previous video, you saw that I was very tensed! We have to fill out the form but the form never proceeds if we enter the nationality as 'India' I will go to the Nicaragua Embassy and ask them for a visa. Uber has come.
-Should I pull the front seat? No, thanks. -Where are you going? Hostel Palmira. I was in this city 2 days back and I have come here again. This is the centre of Tegucigalpa.
I have booked the same hostel which I had booked before. 'Palmira hostel' The hostel is not very good because that is the only option as tourists don't come to the city. I am going to my hostel from Uber. I have come back to the hostel. I have lifted my bag so many times that I look like a worker at a railway station.
I have booked the Uber and I have changed my clothes. Uber has also arrived. -Should I go to Nicaragua Embassy? Yes. -Embassy is right here. This one? -This is the loation. 'Embassy of Nicaragua' Which building among these? This looks like a residential house.
This might be the embassy. The Ambassador should be available because only 15 minutes are left. The time is 4:45 and the embassy will be closed at 5 o'clock. Should I press this? I don't think it's open. The gate is closed.
I think there is another gate. The guard will be sitting inside, I will ask him once. -It's right there. Is it closed now? -No, it will be open. -Knock on the gate. The guard told me to knock on the gate.
This is the embassy. I think the doorbell is not working. Republica De Nicaragua, America Central. 'Embajada' means Embassy. This is the embassy. The doorbell is not working.
And the Guards are not opening the gate. What kind of rule is this? The person whom I asked was a house guard and there is no guard for the embassy. Neither the doorbell is working.
This is the embassy, I cannot see anyone outside. Why don't you open it? I can cuss them because they don't understand my language. I am standing in front of the embassy.
I also visited the border. I tried all the possibilities. These are the problems which we face using an Indian passport. This is the struggle behind the Indian passport.
But anyways... I am born in India and I am ready to face it. We cannot do anything about that. I am a proud Indian and I am going to face the problem. India also has many advantages.
Open the door. There are 16 more minutes before 5 o'clock. I came here at 4:35 pm. This is the condition of the embassy.
Long live Mother India. Open the gate. Long live Mother India. Open the gate. They might drink in night, so they have thrown the bottle outside.
Is this a joke? Nobody is responsing! Inside the Embassy... -I think it's closed now, you come back tomorrow. -Okay, I will come tomorrow. I think they have closed before the timings today.
Even if the officers are inside they are not opening the gate. I will come here tomorrow morning and try it again for the last time. If the matter doesn't get resolved tomorrow, if they don't give the visa or make a problem again, I will go from this country. Is it open? I was about to leave the house, the guard told me that he will call and check it once.
He told me to knock on the gate but nobody is coming out. He has gone inside his house to call the embassy offices and tell them to open the gate. Let's see if they open the gate. When the house guard called the officers, A guard came out from the building wearing a blue uniform. He did not know English.
I know basic Spanish. I explained the situation to him. He told me to come tomorrow at 9:00 am from the back gate. He told that he cannot give any information regarding this. Even that makes sense because he is just a guard.
Since there is nobody. he told me to come tomorrow at 9:00 am. I will come here tomorrow and try it again because this is the last option I have. If the matter doesn't get resolved there is no solution to it. When I was at the border of Nicaragua... You might have seen my previous videos.
After reaching the immigration. There was a bus in which more than 40 Europeans were there. Europeans were there and many other nationality people were also there. I saw an Australian passport.
I saw a German passport. I saw an England passport. All the Europeans were sitting inside the bus. The bus driver went to the immigration with a bunch of passports. The officers did not see the passport, they just put the stamp and told the bus driver to go. There is a $13 border entry fee.
The visa is free if you have a US or Schengen visa. There is no need to pay for the visa, it is free if you have a US or Schengen visa. Since I am Indian, they made me wait for a long time and ask for the visa fee. They harassed me because, I am Indian. One of the officer was good.
The officer told me to fill out the form online and come after a week. I told him that I am not going to come. Then he told me to come after three days and I will get the entry.
How can I fill out the form when it never proceeds? A window popup showing that 'Contact the embassy' Coming to the embassy and trying it again was my last option. It was closed now. I will come here tomorrow and try it again.
Otherwise, I will leave this country. Honduran coffee is very famous and this is the popular branch. It is a very popular company and they have many branches. I will drink coffee at 'Espresso Americano' Before drinking, I will also show you a beautiful view of the city I liked the country very much. People are very friendly. No tourists come here.
This country is very unexposed and untouched. Expectations which I had after visiting El Salvador and Guatemala and also Honduras... This country was beyond my expectations. So I liked this country. I was drinking coffee and there are vehicles in a line. Cars are standing in a line.
There were two girls inside the car. They were more than 30 years of age. They were staring at me.
She was staring at me for a very long time. I did not make eye contact and I started to drink my coffee. They have ordered the coffee and a girl came from here. A girl who works here told me something in Spanish very fastly. I couldn't understand much.
She was told something like... 'Why is he sitting alone' I'm not sure about it. Girls tease men a lot. That's so weird! Do you want a photo with me? -Yes.
There is no sunlight. I look good in sunlight. -Without sunlight also you are looking good. Is this snapchat? -Yes it is snapchat. -Just because of filter. I am in trouble since morning and the girls are teasing me continuously.
I will go to the gym. I will complete my work and go to sleep. I will meet you tomorrow. This is the next day and I have come to Nicaragua Embassy. I got to know that they only accept US dollars.
I searched in many ATMs, I couldn't find US dollars. I don't want to waste today also. I will give my passport and tell him that 'I will bring dollars, you please process my visa' The embassy should not get closed again because of me searching for dollars. Yesterday, the guard told me to come from behind.
I am searching for the back door. The front door was there on that side. I don't see any gate here. I think this is the one.
Republic of Nicaragua Is this a joke? There is a poster here. 'The embassy is open from 9 am to 12 pm on weekdays' The official time is till 5 pm and the guard told me to come back tomorrow. I am very tensed. Thank you my friend.
This is the third day and I have come to the embassy again. I have brought my laptop and I will show them if they ask me to fill out a form. I will show them that the form never proceeds if we select 'India' as the nationality. Let's go to the embassy and check it out. If I don't get it today, I will take a flight and then go to Costa Rica.
It's been many days and I have wasted a lot of time, so this is going to be my last try. The time is past nine, the embassy is open. Let's go.
This is the back gate and the guard told me to come through this Gate. I think this is the gate. -You go to the website, -put you name, passport number and other details. -Did you understand? -Did you understand? -You fill all the details. -If it's not possible on laptop, try it on your phone. When will the Ambassador come? -I don't know whether he will come or not.
-Just do as I said. -Then also if its not working, there is a problem in your laptop. There was an old man at the counter.
I went there and explained the situation. In return, he started to talk Spanish. He gave me a form and told me to visit the link. He told me to fill out the form on the link. That is the same link which I got at the immigration centre. He also told me that 'You will get the permission once you filled out the form' I had American Visa and I was eligible for Visa on arrival.
After filling out my name, place of birth, date of birth and country, After that, it asks for the nationality. As soon as a put 'India' as nationality, the form gets resetted and tells us to visit the embassy. A window pops out and tells that 'You are not eligible for this form' How can I fill out a form if it is not proceeding? I explained the situation to them.
I told them in English and also used Google Translate to make them understand. There was a lady and she helped me a lot. I told the lady and she told the officer that 'The form never proceeds' The officer told me that 'There is a problem in your laptop' I also did it on my phone. They told me, 'You have a problem with both devices or you don't know to fill out the form' I have travelled to 40 countries, will I ever make mistake in my name and date of birth? I am 26 years old and will I make a mistake in that? After that, he told me to get the form filled by someone else. I explain the situation to them.
A friend of mine 'Raja Explorer' you might have seen his videos. He also has an Indian passport, travelled in this route and he also has an American Visa. He had also faced the same situation as mine.
His form was not filled, he tried for multiple days. He came three days to the embassy continuously and got the visa on the third day. The same old man had given the Visa to my friend.
I called my friend Raja Ghosh. I explained the situation. My friend told the officer that 'You have given me Visa' He also sent a photo of the visa. My friend told him that 'I am also an Indian passport holder and the form never proceeds' My friend sent the photo to the officer and told the officer 'You had given me the visa' But the officer is not ready to accept it. He is very helpless and he was speaking Spanish very fastly so I could not understand anything. And then he tried to change the conversation.
As always, I have come to the same coffee shop again. 1 Large cappuccino with normal milk and with 1 sugar. With extra short of espresso. -It's 4$. -Please give me your ID. Everyone is helpless and nothing can be done.
They are not understanding my words. I don't know why... It feels like this is a country on Jupiter's planet. It's the worst! A funny thing happened. I had to be very sad and scold the officers at this moment.
I'm starting to laugh. I went to the gym yesterday night. There is a gym here.
You have seen how girls tease men. We cannot do anything about Honduran girls, there were two American girls in the gym. I don't know what they were doing in Honduras. I think they work in Honduras. I was exercising and a girl asked my name. I don't spell my name fully in the foreign countries.
I don't tell 'Paramvir' or 'Paramvir Singh Beniwal' Because they cannot pronounce it. I tell them 'Param' or tell them to call me 'P' I told my name as 'Param' I continued my exercise and I came back home. Just now I received a text on my Instagram. Both the girls found out my ID just by 'Param' Can you believe it? There are so many people in the world named 'Param' But there are fewer people named 'Paramvir' I am the only one with 'Paramvir Singh Beniwal' I think one more person is there. I have checked it on social media.
This is so weird! After visiting the embassy, I drank coffee and came to the Gastro gallery restaurant. This restaurant has an Indian menu. A local friend of mine told me that Indian food is good in this restaurant.
There are no Indian restaurants in this country. They had menu of different cuisines and they also had an Indian cuisine menu. I met the main Chef.
I asked about the special dish here. He recommended 'Chicken korma' along with 'Garlic naan' It has been many days of eating Indian food and I am going to eat it today. Very excited.
2023-05-27 10:53
Show Video
Other news