This City Will Always have my Heart EP.16 | Pakistani Visiting India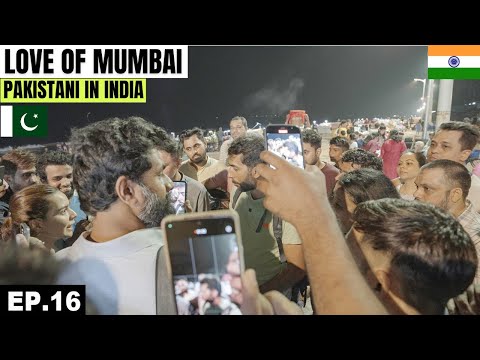 Show Video
We have been tracing you for quite some time. Waiting for the Mumbai meetup so that we can come and meet you. These are homemade mutton kebabs for you. I came home from work after a 1.5 hour ride and she told me that she wanted to meet you.
Thank you so much for coming. Assalam Alekum. Namaste. Good Morning. Sat Sri Akal. Yes, Prakash. We need to take the next left. I'm in a rickshaw right now and we are headed towards BMW. Not from here. Keep going. We need to go to the BMW showroom.
We are in the rickshaw and Prakash is our driver. We are almost there. Need to take a left now. Today we are gonna pick our motorcycle. After that, we'll see if we still have some time to ride in Mumbai. Explore the area and share with you all.
I haven't done any motorcycle ride in Mumbai yet. Except for when we got here from Pune. I need to guide the driver so that we reach the correct location.
We are at BMW now. Rakesh has found another issue with the motorcycle. It's rear suspension has also stopped working. They are replacing it now.
They have already done a lot of work. Clutch plates have been replaced. Gear shifter has been fixed. Repair work of lock is still underway.
So clutch and gear have been taken care of. Lock is still being repaired. And now suspension as well. As soon as the motorcycle is ready, we'll go for a short round of Mumbai.
Please go ahead. We don't want to cause any distractions. In the meantime, we'll go for lunch with some people who have gathered here to meet us. Shall we? I didn't even sit on Royal Enfield before today. Today I'm sitting with Imran on his motorcycle and going for lunch.
I'm wearing my helmet because safety is very important. We just need to go 1 km. Our lunch has been served. We have Sushmita from Bangalore.
She's the one who ordered the food. Please tell the viewers about the food. We have ordered Surmai Fish. These are actually fried fish slices. It's an Indian fish. And we also have some chicken lolly pops. It's almost 5:30 pm. The repair work of our motorcycle has been going on since morning.
They fix one thing and find out that there are some other minor fixes needed. The good thing is that once our motorcycle is cleared from here... The next part of our journey from here onwards will be much smoother.
I do make sure to get the motorcycle serviced regularly. But some parts have their onw lifetime and they have to be replaced before that. I've requested them to replace anything that might need replacement even after next 3000 km.
The work is almost complete. If we get it now, we can go for a test ride. Let's see what happens.
Since we don't have much time here, I'm running on a tight schedule. I just want everything to be done quickly so that we can spend our time exploring Mumbai. Mumbai deserves more time.
All done. Bismillah... In the name of Allah... Thank you so much. *Prayer for the journey* May Allah make this little ride from BMW to our hotel, a smooth one. I'm not even my proper riding gear.
The hotel is almost 5 km away. And... It's 6:15 pm. It's like we spent a complete day here. We paid 24 thousand INR here.
What happened here... I hope it's not a one way road. Other people are going in this direction as well. The major tasks involved the repair of faulty ignition switch. Well, we need to find the correct route too.
Other than that, there were clutch plates and springs. Engine oil has been changed. Rear shock absorbers have been changed. It was quite a substantial task.
Took a lot of our time and money. I think 24 thousand INR must be around 300 USD. One thing is for sure. If I wanted to get all this work done in Germany or anywhere in Europe... Even Middle East for that matter...
I'd have ended up spending around 1200 USD for sure. The service was rather inexpensive over here. They have also given me a discount though.
A discount of 2000 INR. Anyways... The guy who took care of it, Rakesh, did a great job.
A very down to earth and nice guy. He spent a lot of time on my motorcycle. I really liked it. Special thanks to you Rakesh.
If you ever get to meet Rakesh from BMW, please thank him from my side. We still need to go for another few minutes. We'll go to our room, get the riding gear on and start with our ride. That's Sun City. We did face some difficulties on the hotel front today.
We made booking in few hotels... But when we got there, all of them told us that there isn't any room. And that they were already fully booked.
However, booking.com showed available rooms. I booked the rooms before going there. The previous hotel was also fully booked.
Probably some web series is being filmed here. This is our room in Andheri West. Our previous hotel was not too far from here.
We paid around 6 or 7 thousand per night there. Unfortunately, there wasn't any room available there anymore. It was a nice place though. Over here, we are paying almost the same rent; 6000 INR. It's a decent room.
We didn't have too many options and we wanted to take a hotel near BMW. But we just have to spend one more night here. So it's okay. I'm planning to go outside and explore some areas of Mumbai. Let's see if we can capture anything.
Although it's sunset time already but still we might be able to record something. So... we are going to Juhu beach now. You know these names... Lokhandwala, Bandra, Juhu... You must have heard these names many times in movies. So I though to go check them out.
So I have arranged a meetup at Juhu beach. I just announced it at 7:10 pm. It's scheduled for 8:30 pm. I don't know how many people can manage to get there in this little time. Right now, I'm 9 km away from Juhu.
According to navigation, we'll get there in 40 minutes. If ETA is 40 minutes for me, I don't know how much time it will take for our viewers. But even if there are two dozen people there, it will be a good meetup.
So many people showed up yesterday on a 1 hour notice. Now, Mumbai is a big city. Yesterday's meetup was in the southern part. I received a lot of messages from people in the north, complaining why I didn't have the meetup here. And it's almost impossible to get there in 1 hour. So I thought to have one meetup here; at 1 hour notice.
We are riding through a small market. Many shops are already closed. I noticed that the Urdu/Hindi of Mumbai is very sweet. Many people talk with swag. I'm getting so much love here.
We are almost there. I think we are already in Juhu. The beach is on the other side, behind these buildings. It looks like a nice area. I can see a lot of international food chains. I'm getting beach vibes here.
We need to look for a suitable place to park our motorcycle. That's an important issue. Well... Thank God we found the parking. Editing must be a big task for you. Yeah.
Editing takes one full day. I know you spend late hours editing your videos. That's how it works. It takes one whole day. Hi Sir. Assalam Alekum. How are you?
Alhamdulillah... Good. We have been tracing you for quite some time. Waiting for the Mumbai meetup so that we can meet you. Actually I'm arranging meetups but I'm not allowed to post that one day before. My father has dementia. When you do your 'Assalam Alekum'...
He always replies loudly... 'Wa Alekum Salam'... He thinks you are talking to him. When you are on our TV, he thinks you are talking to him. Thank you so much for this. Convey my greetings to him. It's like a daily dose of medicine for him.
Thank you so much. And it's Halal entertainment for our community. Thank you so much. Abrar bhai... I don't even cut a cake on my birthday... Please go ahead... All of us will eat it.
O... it's a trend in Mumbai... We don't cut cake on our birthday as well. No worries.
Bismillah... Which cake is this? Black Forest. You can give me on piece... Hi. How are you? Good. What's your name? Kevin.
I've been messaging you. Thank you so much Kevin. People are rushing to come here. Some are still out of breath. It feels great. People of Mumbai are really nice. We have been following your videos for quite some time now. Thank you so much. It would have been great if it were Sunday today.
How did you go on the Middle East tour? Great. I personally loved it. I don't know if people liked it or not. But I sure did. It was great. I liked the Oman part a lot.
You went to inaccessible places in Oman where we can't go. You went there and showed it to all of us. I mean there's no way we could have seen that. Thank you so much. Similarly, Palestine and Syria are very close to our hearts.
I hope you'll like the Indian vlogs as well. Actually I have a very short visa. So I'm just touching different places. How many more days in India? It's my 12th day here. So, another 18 days to go. For how much more time will you be in Mumbai? May be till tomorrow. Please stay a little longer. Ajit will also come the day after tomorrow.
Actually my visa is only for 30 days. Where will you go now? I'm going to Ahmedabad and from there, Rajasthan. And then Agra and Delhi. You are not going to Madhya Pradesh? No, I'm not. But I'll come again. Your prayers brought me here once. We'll meet you in Delhi.
Actually the trip will be incomplete without Kashmir. But it will need a lot of time. You can go to Ladakh and I'll show you around. Assalam Alekum. How are you? Good.
Bro, following you is not easy. I won't have known it, if you hadn't posted the pictures in the status. We have been following you since Germany. We sent you so many messages but didn't get any reply.
Thank you. These are homemade mutton kebabs for you. Ajit told me to take care of this. They must have gotten cold by now but you can try them here if you like.
Thank you so much. I have so much stuff with me that I don't know how to take with me. Thank you so much. Say 'Hi' to Ajit from me. Thank you so much. Came home from work after a 1.5 hour ride.
And she told me that she wants to go and meet you. Thank you so much for coming. She also made a sketch. Thank you. How are you? She's a big fan of yours. Thank you so much Fatima.
It was so nice to meet you. My mother in law is your fan. Thank you so much everyone. Thank you so much. Allah Hafiz.
Ma Sha Allah we had such a nice meetup here. There were so many people. That too on just a 1 hour notice.
Google works in mysterious ways here. It's beyond me. I mean what's the point of making us go through this buying market. We were riding on the main road. That would have been much better. Anyways, it's still okay. This way you get to see footage of different bazaars and markets.
Our dinner has been served. And I have some really nice people with me who are here to meet me. One of them is Mohsin who is sitting here. The name of this hotel is Persian Darbar.
Thank you. What's your name? Muhammad Chand. Thank you Muhammad Chand. It's been made especially for you. Thank you Sufyan.
You are Sufyan, right? Yes. It has been a hot day. But it has just started raining. It's exactly 12 in the night. We are in Mahim at the moment.
Although I'm pretty exhausted... But you never visit Mumbai everyday. Better not waste any opportunity to meet people.
Assalam Alekum How are you? How are you Abrar? I'm good. What about you? Thank you so much. You went through all the trouble to get here. It's no problem at all. As a matter of fact, traffic is much better now.
Assalam Alekum Wa Alekum Salam Let me just remove my helmet. He's my elder brother, Shoaib. Thank you so much Shoaib. See you soon again. Pay my regards to Salim. Until next time.
We are now headed straight to our hotel in Andheri. It's 12:45 am now. The weather is much better now due to rain. Mumbai looks much different now. Last night I came back around 3 am after meeting so many people. I was quite exhausted so I had a good night's sleep.
One has to process all the information in one's head after such eventful days. The love that Mumbai has given me will always stay with me. Thank you so much guys.
Remember me in your prayers. Don't forget to Like, Subscribe and Share. Allah Hafiz.
2023-04-28 06:20
Show Video
Other news