This City SURPRISED me the most EP.19 | Pakistani Visiting India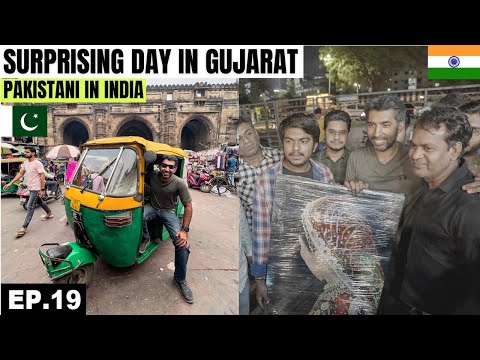 Show Video
The whole 3-gate area just has markets. Ahmed Shah had built it for himself. It used to be inside the fort.
It's among the mosques with unique architecture. The grave is in front of us whereas the rest of stuff is ... The most special thing about this place is the windows. The detailed work on the pillars is exceptionally beautiful. Similarly, every monument here is different from the other. The architecture is really unique.
We have come to one of Gujrat's most famous food places. This painting is for you. Thank you so much Prakash. It's really nice. Thank you Prakash. This is made by you? Yes. Ma Sha Allah you are very talented.
What you are doing is a once in a lifetime thing. Not everyone can do that. You are doing a service to all of us who cannot travel. We are in the old town of Ahmedabad. The whole old town is a part of UNESCO World Heritage.
In 2017, it became the first Indian city to get the status of UNESCO World Heritage site. It's the biggest city in Gujarat with a population of 7 million. All the noise in the background is enough to suggest that it's a metropolitan city.
There is a huge cotton industry here. The products of this city generate an estimated revenue of 80 billion USD every year. There are 3 historical gates in this city.
We are standing next to the market beside the main gate. The city was historically called Ashawal. Then came the Muzaffarid dynasty whose ruler Ahmed Shah laid the foundation of this city. We are gonna explore this city today. Although it's quite loud and noisy, I'll try my best to capture it. We are going to visit the historical sites.
This is the same place that we passed through yesterday on our motorcycle. It was nice meeting you Abrar. His name is Abrar as well and he came here immediately after seeing my story.
Actually we went up the 3 gates and posted a story. As soon as we came down, he was here. Nice meeting you. Thank you. How did you spot us here? He just saw us. I have Daniyal here with me and along with him is Mohsin.
They also came to meet me last evening. You already know Rahul. They are helping me explore their city. Let's go. The whole 3 Gate area has many markets, selling different types of stuff. Right in front of it and behind me is the Bhadra Fort.
Built by Ahmed Shah, it was a huge area. But now it is completely surrounded by markets. The only part of the fort that is left is the front entrance area. There are some historical mosques here. One of them is the most famous mosque here; Ahmed Shah Mosque or Royal Mosque.
Built by Ahmed Shah, it used to be inside the fort. It's a functioning mosque, to this date. It's one of those mosques around the world that have their own unique architecture. It makes you feel as if you have traveled back in time a 1000 years. Not only because of the original style of construction of the mosque... But the renovation work also ensured it stayed that way.
Just as you enter, you get the feeling of being at some historical place. Really impressive. It's one of my favorite mosques now. Especially because I haven't seen this sort of preservation work anywhere else. Ma Sha Allah, it's really beautiful.
Right now we are in... probably, the most unique and weird restaurant, not just in Ahmedabad but worldwide. In fact, it's a tea stall. In front of us is a grave... And the whole place is full of people sipping on their cups of tea. We are also having tea with bun maska.
There used to be a graveyard here before. With a tea stall in front. People would come for tea and sit right here. With the passage of time...
Since people used to sit here... These guys took this place from government and turned it into a restaurant. Now all the graves are inside.
I haven't seen anything like this before; and I'm sure that neither have you. It feels quite weird, having tea in a graveyard. I think even the dead might need their rest. Let's just finish our tea and get going.
There are many mosques in Ahmedabad. One of them is a 16th century mosque... It's called Sidi Saiyyed Mosque. It's a rather small mosque, situated in the middle of a square.
Very historical indeed. The most special thing about the mosque is the gauze of its windows. It looks as if it's a depiction of some tree. It's made from different smaller pieces. The first looks makes you think it's just one piece.
But that's not the case. There are 5 or 6 windows like that. It has a single one room hall where people offer their prayers. Each mosque here has a different architecture from the other. This one is a 16th century mosque; some are even older while others are newer. Each mosque depicts the architecture of its own time period.
We are here to see the Jamia Mosque of Ahmedabad. It's not just the biggest mosque... but also among the most beautiful historical monuments here. It was constructed in 1423 after the Royal Mosque.
Its construction style is quite similar to that. Just like that, you can see a lot of pillars here. There are almost 256 pillars here. The most impressive feature is the detailed and beautiful artwork done on the pillars. The same is true for the domes.
Every dome will have a different design pattern. Really impressive. It's the main attraction in the historical old town here. Our Rangeeli (motorcycle) is parked in the hotel parking.
And we are enjoying old town Ahmedabad on Mohsin's motorcycle. Because I don't have energy to ride my motorcycle in this traffic again. As the motorcycle gets bigger, you face more issues in small roads. It's better to move around with locals, like this.
Much easier to record like this. The first Swami Narayana Temple in the world was built in Ahmedabad in 1822. It's a sect in Hinduism. Just like the other monuments that I visited in old town... Even here, every monument is different from the other with its own unique architecture. Really beautiful.
You can see how beautifully the colors used in the interior complement each other. Quite impressive and colorful. The exterior is also adorned with beautiful colors in a similar manner.
Every monument is unique. The fine detailed work on the columns in fabulous. The most impressive historical buildings of this tour are in Ahmedabad.
We are here at the most famous veg food place in Gujarat. I have ordered Kathyawari. It's similar to a Gujarati plate. It's a little more spicy than the other. These two young men have just joined us. They are Faiz and Sahil. They have traveled for 7 hours from Kach to meet us.
I invited them to stay here tonight, with us. They can go back home tomorrow. This is Gopi Restaurant, right? Why don't you come here and tell our viewers about these dishes... Let me explain.
We have Kathiyawari curry. This is Urad. Also known as Maash. Masala brinjal. Potatoes and peas.
We have some rotis. What's this? It's called Bhakri. It's made from wheat flour and gram flour.
This is the place. Sort of a paratha made from methi. We also have bread made from pearl millet. So we have at least 3 different types of roti breads. We also have paapar. And cutlets. Made from potatoes? Yes. And other vegetables too. Is this sweet? No. It's dhokla, made from lentils.
Dhokla? Right. Garlic chatni. I haven't even heard the names of 90 percent of these items. But I must have eaten them for sure. Although the names are unfamiliar.
All these are Gujarati names. Kathyawari. Thank you. There's some salad in our plate as well. We also have a dessert. What's the name?
Fruit shake. This is butter milk. Chaach. Butter milk. This is butter. Some green chilies. Lets start our meal in the name of Allah...
I really wanted to try the veg food here. Let's eat now. I'm very hungry. Try this with roti.
Sure. The quality of veg food that you get in India is matchless. What's the name of your YouTube channel? Do share you channel's link. I'll put that in the description. Bhavya Akhani So nice to meet you.
What are the plans for your India tour? I haven't skipped even a single video of yours. Germany to Pakistan. Middle East. Oman. Thank you so much. You weren't allowed to enter Syria. I mean Yemen. That's my wife. Hi. How are you?
You guys are from Ahmedabad? Yes. We watch you vlogs all day... on repeat. On repeat? Wow. Thank you. We have seen everything at least 5 times. Thank you so much for this.
The whole series. The way you showed us Turkey, Saudi Arabia and Oman... Amazing. It was very nice talking to you. Thank you so much.
We watch your videos ... non stop ... You have inspired me to learn riding a motorcycle and travel. It's great.
Where do you wanna go? Anywhere in India or Outside. The way you showed us Iran and Iraq is amazing. It made me want to go myself. I hope my Indian videos will make you want to explore India as well. India is really beautiful.
Assalam Alekum. Wa Alekum Salam. How are you? He misses you a lot. Thank you so much Prakash. Nice meeting you. I wanted to get in touch with you because I wanted to paint you. I wanted to do an exhibition of your paintings. I didn't have anything so I brought you this painting for you. Thank you so much Prakash.
It's been two years since we exchanged our first messages. I have seen your Germany to Pakistan series thrice. Thank you so much. Thrice... Every single second... Even my son watched all your videos. I have a painting of our Gujarat culture. I'll have to see if ...
Don't worry about the movement. I'll take care of that. Even I was concerned about the size. So I'll take care of everything. Okay. We'll do something about it. Lets open it. Which side to open?
You can do it from any side. Thanks a lot Prakash. Thanks Prakash. It's really good. You made it yourself? Yes. Ma Sha Allah... You are really talented. I'll keep it in my house. It will always remind me of you.
Come here. Stand next to me. Thank you so much brother. Nice meeting you. Summit. Nice meeting you. I have an exam in two days. Good luck for that. Your blessings are what I need. All the best.
We have watched all your series. My daughter is a big fan of yours. Thank you so much. Whenever we have time, we just watch your videos. I always say that travel is for myself but videos are for my viewers. Video making is a very hectic job. I try to give my viewers the same experience that I get.
I give it my best. If you guys keep on enjoying the video, I'll keep making them. What you are doing is a once in a lifetime thing. Not everyone can do that. You are doing a great service to all of us who cannot travel. It's not possible to match you.
Your prayers and well wishes are all I need. It's the love that I get wherever I go. You dropped everything to come here and meet me. Means a lot to me.
We never thought we could meet you so easily. It's all because of your prayers. I didn't know that I could visit India. I thought I could travel the whole world but not India. But here I am. But I have always wanted to visit Ahmedabad. The city center is really beautiful.
Thank you so much. I don't know if my camera is working. Well, my camera is over here. Lighting is back. I thought I had already met half the people.
We watch your videos. We saw Pakistan through your lens. I started following you since your Iran tour. When you said goodbye to end your Dubai tour... I felt really bad that we won't be seeing you soon. But see I'm in your own city now.
I was in Baroda and I came here specially to meet you. I was in Baroda last night. I guess you saw that story a little late. I had an exam so I turned off my Instagram. I read your post a few days back that you are here and you'll be visiting Gujarat. We stayed in Baroda last night.
Thank you so much and have a safe return journey. It's a long way back home. Probably a couple of hours. So nice to meet you.
I'll try that I'll keep showing you such family videos like this. He's my boss and that's my team. Thank you so much for arranging this meetup. Let me hold this for you. It's no problem at all. It was such an amazing meetup. Thank you so much Ahmedabad. I'll always remember you.
Special thanks to Benelli for arranging this meetup. Hopefully you must have enjoyed this vlog. Please don't turn this off without pressing the Like button. Because it takes a lot of effort. I try my best to create good content for you.
Remember me in your prayers. Allah Hafiz
2023-04-27 10:12
Show Video
Other news