The Real Fascinating Bali at ULUWATU TEMPLE walk / Don't MISS or SKIP (WITH SUBTITLE)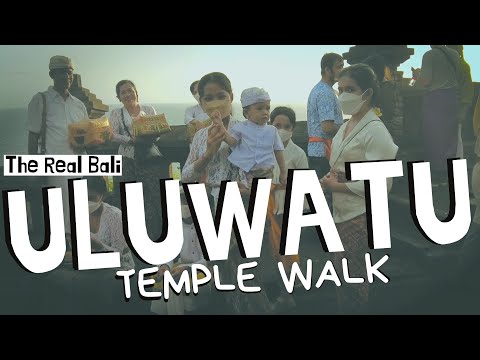 Show Video
Welcome everyone to watch The Fascinating Real Bali at ULUWATU TEMPLE walk. Stay tune and keep on watch these video till end, I will promise these will be guided tour with very interesting informations about these temple, culture and tradition about these Hindu Balinese people. Right now we're at main complex, approaching to ticket counter through parking facilities.
You can see there were too much of police and security presents today here. Today is 30 June 2022, I'm purposely choose to walk on these date so that all of you will be virtually experiencing the PUJAWALI CEREMONY 2022 at ULUWATU TEMPLE So you gonna watch some real culture and tradition of BALINESE along with me. Let's me explain about these temple first.
PURA LUHUR ULUWATU is a SEA TEMPLE located at the very tip of the south south of the island of Bali. These large temple complex where you can walk, look out to sea with huge cliffs or experience the mystical atmosphere of Balinese spiritual dance called KECAK. Most of the religious activities will be held here according to Balinese Calendar like KUNINGAN, and GALUNGAN festival. Before I'm continuing with all the information Be reminded that please wear a proper outfit that can cover your knees and shoulder.
Don't be panic, the security is not going to force you to wear a 'sarong' like these girl. or denies your entry. They will provide you a free long silk type fabrics to just cover yourself. Most of the parking today is full because Balinese from all over island coming here to perform PUJAWALI CEREMONY, so you can expect the crowd and strict protection from security.
Okay, lets continue with the history of these temple. PURA LUHUR meant as Luhur is "something of divine origin" and ulu the "land's end" and watu the "rock" or "cliff" in the old language. As usual Pura is known as temple. So it's a ' DIVINE TEMPLE ON THE CLIFF END ' These temple is considered one of most important worship complex out of six most important along with the mighty Pura Besakih near Karagesam regency.
Most of the visitor here will be enjoying watching the sunset from cliff vantage point and kecak dance. Guys, we're near to entrance counter. Please look for the cloths if you want to cover your knees and shoulders. Yup I can see one of the staff is distributing the clothes. Normally, most of the time the temple staff will be distributing free clothes here. Even these humble and kind staffs will tie the clothes for you or just ask them. Approaching inside the ticket counter now.
Seems to both left and right side counters are quite busy. After almost 8 minute, I had managed to get my foreigner adult ticket for around USD1.50 Hey, what a nice WELCOME MONKEY STATUE... Just know before scanning the ticket, I were provided with a clothes, ask me to tie on the hip area. Officially we're inside the the TEMPLE COMPLEX See these beautiful greenery landscape.
I will quickly walk you to PUJAWALI CEREMONY first. My concern is you must watch that particular scene which devotees comes with offerings from bottom of temple stairs. Sometimes, temple committee staff won't allow you to get near the devotees or film the scene, when it's get too crowded or they can't handle the situation. Oops!! My camera gimbal were not responding a bit, sorry for the rough shake...
Always remember, the best time to visit Uluwatu Temple will be throughout March to mid October where most of the celebration will be held on the season and the weather will be quite tolerate with minimum monsoon rain and clear sky to watch sunset. While we're approaching to the temple, let me remind you to always have an eye for your kids, elderly and belongings. These monkeys here is notorious for snatching whatever they could. I reckon some of these devotees are returning back to their place after finished their prayers to avoid Bali's congested traffic network. Enjoy a 360 degree view before we're gonna enter the temple now.
Quite overcrowded with visitors near Kecak Dance entrance. It's not so worthy if we squeezed in these kind of too much people. We're at Coastal View Entrance to SEA TEMPLE or PURA LUHUR The temple were built 70 metre high from the cliff, though I could not confirmed when it's built but some source from old devotees told me just now the small temple were already built around 8th century.
Then temple were designed and expanded by the Javanese on 11th century. Watch out, these monkeys might become aggressive anytime. The majestic view of Balinese view, far away at other cliff you can see the Kecak Dance's open stage. Just mesmerize with the scenery guys, we have plenty to explore here. Those visitor are comfortable with the kids, it's actually very safe here. These is my third time to visit here, I never met any incident with humans, only the monkeys will give you hard time.
Now, we're at top of Pura Luhur Temple. I will try to get as much of footages of the PUJAWALI CELEBRATION. So far, I hope guys you enjoyed the video. DON'T FORGET TO SUBSCRIBE THE CHANNEL The ceremony will held twice a year according to Balinese calendar or precisely 210 days Sorry we can't enter the gate, because the PUJA (prayers) is going on, only devotees allowed inside.
Quickly we will move to the temple's middle entrance point the devotees is climbing through the stairs with their holy offerings The security already told me to move but anyhow I will to get few more extra seconds. Furthermore about the ceremony, the celebration normally held after two weeks of GALUNGAN DAY. The ceremony will be lead by a priest with some sacred rituals and tradition. Whole temple will decorated with clothes and handcraft ornaments According to the local belief yellow and white is sacred colour which symbolize yellow as a holy and white is pure or wisdom We will leave these scene to quickly go the monkeys park to around the whole complex Get a glimpse of sun rays view on the other side of cliff, while waves are crushing the shore. What a nostalgic moments to view!! Ooppss!! I will pause the caption for a while so that you can enjoy the views.
Welcome back, I will resume the caption again See these friendly Balinese guys. They're very charming, friendly, polite and very respectful to tourists. What you're watching now is a real Bali that still exist when first I came here in 2009, almost 13 years ago but that same culture still exists. Incredibly their tradition never change for very long time. We're walking at cliff edge walking path toward Monkey Garden. The ambience music from Kecak Theatre. We will go there later if we get a chance. Uluwatu Temple ( PURA LUHUR) on the other side of cliff towards the sunset.
These is where we need to get ready if there will be any assault from the monkeys. I need to hold my camera as tight I could. Just assess the situation for a while before start to walk inside. Hope to make it safely. These guys already stole something from the tourist behind me Okay, nothing happen to me but they grab my water bottle. Can you hear it guys my water is splashing around..
Nope, I don't feel safe. I will try to again with the crowd, maybe a bit safe. Try to make another attempt to cross. Can you spot my water bottle, that guy still holding it. No eye-contact, I will keep on walking. That's it, we can't cross these place too many of them.
The lady that we saw just now is brave enough to get back the belonging of one of the tourist, that get snatched. The monkeys still behind the lady to get back that stuffs.
2022-07-25 17:28
Show Video
Other news