The Inspiring Big Sur Coast, Morro Rock to Plaskett Creek – Ep 17 Pacific Coast Bicycle Tour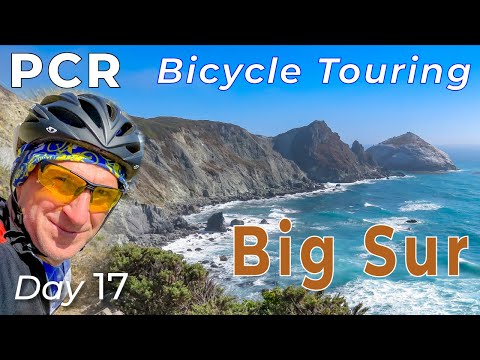 Show Video
Hey, welcome. Deeg Quest here. In this episode, the story continues of my tour of Southern California, Oregon and the Pacific Coast route. On the previous episode. Lots of spokes Leaving Pismo, San Luis Obispo and Morro Bay.
This might be the earliest I've ever taken off. We'll see how the day goes. There's some light in the mountains.
I don't think it would make for a good picture. But... I don't know, it could. It's a really hazy. Silhouetting of the mountains. with exceptional weather and a working bicycle, I'm planning for significant miles today to begin the Big Sur coastline.
I leave Morro Bay State Park and get a view of the iconic morel rock. Stopping for breakfast at the charming town of Cayucos energizes me to continue on to Fiscalini Ranch Preserve for some off road biking. As I travel down highway one, I pass through San Simeon and make a stop at Elephant Seal vista. The winds pick up as they start climbing, but the views at Ragged Point are worth it. The ocean views carry on as I end my ride at Plaskett Creek campground My planned path was, uh under construction or something So I couldn't go through. So I'm taking this other way. Hopefully it gets me through okay.
Through the high school route, I see my path though. Assuming I can get across. It takes a little maneuvering to get back on track, but eventually I find the path Where am I going? Where am I going? the meandering path keeps me guessing if I'm heading the right way. More or less, I keep on the planned route and get a nicely lit view of morel rock Going to get pictures. The skies and visibility are the best I've had since reaching the coast, but the temperatures remain on the cooler side More construction.
Not too busy right now. This isn't too bad either This is my planned route. It looks like Maybe I can get breakfast. If I find a place that's appealing. I judge, mainly by how the bike, Bike parking situation is. at Cayucos, This café with outdoor seating is a relaxing way to fuel up for the ride. A nice benefit of touring, adding in a cinnamon roll to breakfast without hesitation.
If only all the roads were like this, it would be great. Back to one, Highway one. 230, San Francisco. I'm taking notice of all the distant sides to San Francisco. This serves
as a benchmark and motivational milestone. Ah Oh, wind picking up. It was so pleasant too. Big fields, next to big ocean. Big field, big ocean.
See some cows, but no other animals. 13 miles into the ride today. It's slow going just because I'm stopping a lot. Passing Harmony Headlands State Park Harmony Headlands. It looks like a hiking trail type park.
Big, big country, big country, big hills, big open fields. I stopped for a short call with my wife. There's some tourer bikes coming the other way, past me. Yeah. It's pretty warm here, too.
Well I'm going to try to get some more miles. I want to get pretty far today, if I can. Yeah. I actually stopped at a restaurant and I got an early start. I went the wrong way. Went a mile before I realized it. I wasn't really paying, I just assumed I was going the right way. But I shouldn't of.
Yeah. Alright, Bye. A deer. Would be nice to see a buck. A little bit of a climb. My planned route took me off Highway one and up a very steep road.
I question myself. and if I should have stayed on the main highway. I soon remember why I wanted to go this way. When I reach Fiscalini Ranch Preserve. This area piqued my interest when I originally set up the route.
It ends up being a short but enjoyable side excursion. It's a pretty cool area. Pretty cool. I like it. On top of a bush.
What are you doing? Hello. There's many places to stop and enjoy the ocean and beach. I capture a distant view of Hearst Castle. But it's too far up, and off course to consider riding there. I'm not going up there. [cyclist] Hello. Hey
[cyclist] The wind make things tough today. Oh man, I knew it would be some, but it is hard. A cyclist comes by and we ride together a few miles until we reach the Elephant Seal viewpoint. Man, they're all over the place. [cyclist] There's the Rocky Mountain Pass and Utah. [cyclist] I've never seen that part of the country.
Okay. Yeah. Utah. Another windy day. Not quite as bad as the other day. Some stretches of Highway one have no shoulders and limited visibility.
More headwinds! At the time I ride through, the lighter traffic makes it manageable. Stormy, from the wind. Fog rolled in, fog rolled in. It's cooler. and windy.
another 25 miles, to go. It's almost 2:00. I know it's going to be tough, but I'll still be in daylight, in 4 hours. I don't know if the camera will pick it up, but. you can kind of get an idea of the wind speed seeing the shadows and the clouds on the ground.
When they said road narrows, they weren't kidding. The thing is narrow, narrow. Wind, my nemesis, my new nemesis. This is going to be a big mileage day. I don't know if it's going to break my record for this tour. It's going to get close, to the longest day Hill climb, hill climb. Narrow road.
Now into the Big Sur coastline, There's plenty of ups and downs and curvy narrow roads. This is an isolated area with mostly no cell phone coverage. The Los Padres National Forest. Ragged Point. Starting about 15 miles back in San Simeon, There isn't many service options for the next 80 miles At ragged point, there happens to be a small deli open.
I grab a tasty sandwich and take in the spectacular views. A few tourists are here and I take some picture for a few people [Lady] Do you want me to take a picture of you there? Sure. Yeah. Thank you.
One of the ladies returns the favor and takes one for me. Unlike the first week of long sustained climbs, this section has many short 300 to 700 foot ascents and descents. This quickly adds up the climbing total. That, along with the wind, saps my energy. Even though the winds remain strong, the hills and cliffs provide some relief.
[passing car] You're almost there! There's a bunch of rollers and stuff in here. Roller, roller, roller. Every once in a while you hear the sea lions. Way down below, 500 feet elevation above the water.
You can still hear them. [man] Oh, my God, you were amazing. [man] You went up that hill with that bike and those bags.
[man] We were watching you, we were like, how is he doing that? Thanks! Each turn, climb and descent is rewarded by inspiring ocean lookouts. Gorda has gas. Could have bought food here, it looks like, maybe, maybe, maybe I'm going to check the map up here. Yeah, they have a little mini mart here.
It's like, come on.... ridiculous These views are ridiculous. More climbing! With the high winds, I'm able to capture the clouds moving over the mountains like a time lapse. But it's real time. I believe I'm coming to a camp spot. I hope.
I'm tired from the day's effort and ready to stop when arriving at the Plaskett Creek campground. I try to self register, but there are no pay envelopes and the camp host is not available. I find the hike / bike on the map and set up camp anyway.
Later, a park official stops by and collects the fees. The hike / bike section is in a pleasant and relaxing open space. The overall campground is full, but there are no other bike campers here.
covering a lot of miles. Outstanding views, and my wheel issue seemingly behind me, my morale is fully restored. At each viewpoint stop today, I would say to myself, "I can't believe I'm riding through this".
Driving this section is amazing, but bicycling it, so much more. Of all the far out places I've been in the last 17 days, this is the first one that doesn't have mobile service. I'm not able to contact my wife, so I hope she doesn't worry too much. Now resting in the heart of the Big Sur coastline. Tomorrow I continue and expect a similar spectacular experience on the next episode. More Big Sur.
Spectacular views, Waterfall, rockfall tunnel and iconic bridges. [cat] [horn] You got'a watch out for these RV drivers. A lot of them are rentals too. [bird] Ride a 100 feet stop, ride a 100 feet stop. That's a long day.
A good chance for food. Maybe a breakfast burrito? [bells] Slow going, just because I'm stopping a lot. Eating... taking pictures, taking videos and generally enjoying. [birds] [lady] Will you take our picture? Oh, sure. [bird] Almost hit a lizard, didn't even move, looked alive too.
got a hitchhiker beetle on me, on my computer. [horn] Couldn't tell if that was an angry honk or a friendly honk. that was close to an angry honk.
2023-03-20 10:20
Show Video
Other news