The Beautiful Walled Medieval Village from the South of France | Aigues-Mortes | TRAVEL VLOG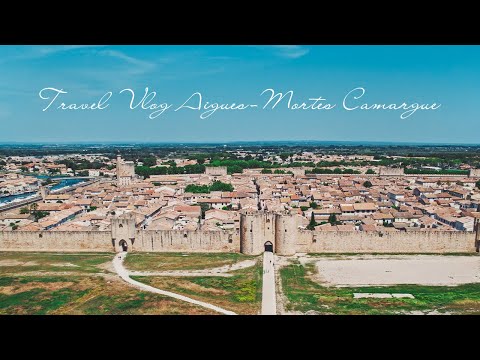 Show Video
Hello Mash and Aya. We are staying in Aigues-Mortes, a walled medieval town in the south of France! This port city, where Louis IX launched the Crusades in the 13th century, is famous for its historical buildings and the pink-colored salt fields of the Camargue. Last time we were here we checked into a nice hotel. Now we are going for a walk into town. We are now going to climb the ramparts We're going to start at the top of this tallest tower. There is the tower that we saw from the distance. So it was here. The sun is dazzling. 
So you can see the whole city from here. There seem to be several towers on the city walls. Look! The sea is pink. First of all, the pink color you see at the back here is a pond, a salt field. And in the foreground is the town.
And we're now going to walk around these walls. This tower that we are in seems to be the tallest. You can see the pink color of the pond from above. There are some tours that take you out to far away places for sightseeing by boat. If we could stay one more night, we would have loved to take the boat ride too. We take a walk in the tower.
Aya feels like singing when she comes to a place where her voice echoes lol They say they were aiming their guns at the enemy through this gap. This tower looks like a dungeon in a video game. This building is very nice. Yes, it is. Kawii.
I especially like the part about the stairs. The view of the city from the ramparts is wonderful! Utopia-like scenery It's quite a long way to walk around. Bullet holes? I love the scenery of the café, it's very attractive. Commemorative banknote is 0€.
We collect commemorative banknotes, not commemorative medals, at tourist attractions. But this is only the second banknote I have yet to collect, lol. The surface of the banknote depicts the city walls Strolling through the city again Aya seems to be interested in the dress.
Let's take a look inside the store. Did you buy clothes? Yes, I did. It is nice! Kawaii. A little too long. lol A little hem is missing. Let's cut it and adjust it. The store owner also said "you can cut it". This is a cute Mr. Wampy. It was good. It was a little expensive, but I'm glad I bought it.
It's a memory of your trip. Wear it many times this summer. The nice thing about the South of France is that the doors and ornaments of the houses are beautiful and pretty. Alleys are also very charming For dinner, we chose a restaurant we found at lunch.
Mash's appetizer is octopus carpaccio Aya forgot the name of what it was lol How is it? Delicious. It's been a long time since I've had seafood. It is delicious.  I want to eat seafood because I am near the sea. It is good. It is very good salad with raisins. It is a little sweet. great. what does Aya's taste like? What is this? It was different from my image.
Is it cheese? Cheese and yogurt? Aya has a look on her face that I don't know what it is lol It tastes like yogurt and cheese. It is good. Looks crisp. It has a little sourness. Delicious. Mash chose shrimp as main dish. Aya chooses steak Is it good? Yes. Camargue salt from the salt fields I saw earlier. It was on all the tables. It's a local product indeed.
1.2.3.4.5...5 prawns. Is it good? Yes, it is. It tastes a little exotic.  Mash dessert is Baba au Rhum Aya has Crème brûlée. It's lemon-cinnamon flavored, unlike the usual, which is unusual. Oooh! Very soft. It has a strong lemon and cinnamon taste. Delicious. Unusual flavor.
Baba au Rhum is also fun because different stores have different flavors. It is moist with syrup and alcohol. How is it? It's delicious! Is this different from the Baba au Rhum you have had? This one is lighter and weaker in certain courses than the others! It tastes citrusy and very fresh. After all, this region tastes citrusy. Maybe. Maybe they like the clean taste.
We enjoyed a delicious dinner. It's cold. lol It was quite hot at noon, but it cools down in the evening. It is still May. But even though it was hot, it was pleasantly hot, not like summer. Yes, it was. May is a good time. Would you recommend this time of year? This is my first time in May in the south of France and it was very nice. I would recommend it.
And at night, it is quiet because there are no tourists. The moon was beautiful and we made our way outside the city walls. Since I don't have a bathtub at home, a hotel with a bathtub is a good chance...I take a long soak in the hot water.
This bath salt was given to me by Nami, who was with me until the morning. It is a bath salt made from salt from the Camargue in this area. This is a product of the company Nami works for. It is imported to Japan. It is enriched with minerals, improves blood circulation, and promotes perspiration. I could relax slowly. Lucky to be able to stay on a full moon night. Good night. Very opulent from breakfast! The quietness of the morning, the sound of the birds and the wind, the sound of breakfast, very soothing. So let's get ready and go! Today we are going to the salt fields.
We leave the city and head towards the pond. Salin d'Aigues-Mortes The Aigues-Mortes salt fields of Salins du Midi, a major French salt manufacturer. You can buy souvenirs and take a tour of the salt fields here. There are three tour options: bicycle, walking, and small train. We chose walking tour because we wanted to go around freely and leisurely.
This is 4km course and this is 12km course. 4km course, please. Turtles are crossing the road. Small turtle. The turtles are a little surprised at us.
It's a beautiful turtle. Yes, it is. It's a good start. Yes, it is. Lucky to meet turtles. And I will replenish my energy with a coke, lol.
Now it's cooler because the sun is hidden by clouds. There are flamingos. It is a flamingo. You can see the ramparts over there. This way. It's quite far away. It is quite a walk just to get here, so in midsummer, I recommend you to come here by car or cab and take a train tour in the salt fields.
Flamingos were flying in the sky, weren't they? It is wonderful. Oh! It's pink! It's a great pink color. The water is pink! It's rather red. Plankton? Algae? is the pond red due to plankton? I don't know the details, but it probably looked like that.
Is the salinity still high? I wonder~ The history of the salt fields goes back to the 18th century; Salin de midi was founded in 1856. This is a pile of salt. A machine is collecting salt. Aya, it is very fun. Yes, it is. Mash, look at that. It is very sparkling over there. Is this salt shining? Let's go! Of course, but do not enter or swim in this sea. The sign said so. Yes, that's right. But those who think of swimming here are very brave. lol Normally I wouldn't think of going in. Yes, that's right. lol
But I guess there are people who try to enter. Small train tours. They seem to take you to places that are too far to go on foot. I recommend booking early. It is a beautiful pink color. It is. And if you look here.... You see the salt is crystallized. Crystals are big. It looks like snow.
Salt crystals here too You can climb the salt mountain It's so wonderful. Beautiful! Aya is drinking Coke. I love Coke. It's like a cola commercial. lol Flamingos are flying.
We have arrived at the salt mountain It is a very big mountain of salt when you see it up close. It's amazing! It's already a mountain. It's a real mountain. This is salt, right? It smells very salty. Yes it is! It's white. It looks like a snowy mountain. It is interesting. It's like climbing a mountain in the desert.
But it is not soft like a dune where your feet go into the sand. Yes, very hard! Great view. It was a hard mountain, like concrete. Yes, it is. It's amazing. That's cool!
The view from the top was amazing. To be able to climb the salt mountain is a very rare experience. It is wonderful. It is cool. It reminds me of the cartoon Evangelion. He~. Is this how tall the robot in Evangelion is? Hmmm... lol I think it is much taller. That's amazing! The scenery also reminded me of Evangelion. See also here.
It is shaped like a whale. Yes, it is. It looks like a very large whale salt statue. The wind was so strong that my hat almost flew off. It is a good wind.  It looks like a sea breeze. Yes, it is.
It was very good. Delightful. It feels good. Tour groups are coming to climb. I can't see the flocks of flamingos from here. I think they are farther away. Is this a resting place? I think so.
It's a nice place. Survivalist. Let's take a break for 5 minutes. There are chairs! That's nice. It is very comfortable. Great scenery here too! They say you can see more flocks of flamingos depending on location and timing. We only saw a few flocks, but they were beautiful. They were beautiful and cute. The Roug Camarg marshes are about 150,000 hectares in size. The most famous French salt is "Salt of Guérande" and "Salt of Camargue". The "fleur de sel" (flower salt) of this "salt of Camargue" is a delicate salt crystal and is much loved by cooks.
Now let's go back to the city.  It's a very large dandelion-like seed. Wow! That's big! I'm so surprised. What kind of flower is this? Interesting.
It's fun to discover things on the way back. There are many chances to meet cats in the south of France. Tonight is the last dinner.
I will have a hamburger. Soupe de poisson The french fries were in an unusual shape. The hamburger and fish soup were both delicious. I had some time the next morning, so I went to buy some souvenirs. I met the cat I met yesterday, and I met her again today.
The postcard shows what the place is famous for... By the way, other famous things in the area are white horses and taureau (uncastrated bulls). Chocolates in the shape of fish. And I forgot to take a picture of it, but Fougasse d'Aigues-Mortes (Fougasse d'Aigues-Mortes) is very delicious......fruity and sweet bread.... This is my last walk in the town. I don't want to leave yet... Last town walk. I hope everyone enjoyed this 4-part vlog on the South of France. Mas and Aya had a great time. We have already started to plan our next trip...lol
Then we will return to Paris by train. Thank you for watching. Good bye. See you next time!
2022-06-12 01:56
Show Video
Other news